The snow sparkled atop Hogsmeade's magical shops, and the towers of Hogwarts loomed high above in the distance, pulling us in. Meanwhile, hundreds of visitors, donning cloaks and Gryffindor shirts, wands in hand, excitedly bounced throughout the village. As we approached the entrance, "Hedwig's Theme" played in the background and we heard the conductor shout out, "All aboard the Hogwarts Express!" We became acutely aware of the stupid smiles on our faces. But we didn't care. Finally. We were finally there.
For Potterheads, this is what visiting The Wizarding World of Harry Potter at Universal Studios Hollywood is like.
The Wizarding World of Harry Potter: This Way To Hogwarts/Scott Smith
When you've been waiting for something for almost your whole life, there's always a fear that it won't live up to your expectations. But as soon as we stepped into Hogsmeade, those fears disappeared. Just like magic.
And everything in sight was simply perfect.
Everything within The Wizarding World appears just as it did in the movies. Down to every last detail.
The pictures inside Hogwarts move and talk. Real props from the movies are scattered throughout the park. The Forbidden Forest surrounds Hogwarts, where the Weasley's flying car lies. Potted mandrakes line the Herbology greenhouse. The Hogsmeade shops are blanketed in glittering snow and they're stocked with the same products you'd buy regularly, as a wizard. Even The Wizarding World's staff looks the part, wearing wizard and witch hats, and non-muggle clothing.
So what's all of the hype about? What really happens when visiting The Wizarding World of Harry Potter? Let's take a look.
Attractions
Hogwarts School of Witchcraft and Wizardry
So you didn't get your letter when you turned 11. Much to my disappointment, neither did I. But at least now, we can visit Hogwarts.
In all its glory, the castle towers over the rest of the park. The line to ride Harry Potter and the Forbidden Journey weaves through many of Hogwarts's rooms and halls, such as the Gryffindor Common Room, the Defense Against the Dark Arts classroom, and Dumbledore's Office, making the line just as — and if not more — exciting than the actual ride itself!
Harry Potter and the Forbidden Journey
This ride is awesome. Get ready to mount your broomstick and soar with Harry past scenery of Hogwarts and surrounding lakes, mountains, and forests, meanwhile nearly escaping death by Dementors, the Whomping Willow, giant spiders in the Forbidden Forest, and a Chinese Fireball.
If you get motion sickness easily, you might feel like vomiting halfway through. I sure did. But I'd do it again and again.
Flight of the Hippogriff
If we're being honest, this is one of the wimpiest roller coasters we've ever had the displeasure of riding. Here's the thing: the ride couldn't have lasted more than 15 seconds. So after waiting in the scorching heat (Universal, why isn't there any shade while waiting in this line?) for almost an hour, this ride was the biggest letdown there ever was, when it comes to coasters. Unless the wait is 10 minutes or less, don't waste your time with the Flight of the Hippogriff.
Butterbeer Cart
This is the moment we've all been waiting for. Our first sips of Butterbeer.
There are two options, frozen or regular. And the regular Butterbeer wins. By far.
Butterbeer is reminiscent of cream soda, but it tastes more like butterscotch. It's creamy and frothy and sweet. But it's not too sweet, either. It's pure happiness in a cup (or in a $13 souvenir mug, if you're fancy like that).
Frog Choir
This performance is the strangest thing ever. Four cloaked people, beatboxing and singing, while holding huge croaking frogs atop pillows, dancing around on stage, is what you can expect from this spectacle. You'll get a laugh, for sure.
Three Broomsticks
Firstly, something needs to be said about the ambiance inside the Three Broomsticks. When you walk in, you'll feel as though you're going to meet Harry, Ron, and Hermione for a few Butterbeers, straight out of a scene in The Prisoner of Azkaban — the resemblance to the real Three Broomsticks is spot on.
British pub fare, complete with fish and chips, bangers and mash, and shepherd's pie, are among the tasty offerings at the Three Broomsticks. Pair them with a Butterbeer, and happiness levels will shoot through the roof.
Hog's Head
But when Butterbeer simply won't do, Hog's Head pub serves up drinks to those 21 and up!
Three special wizard brews are offered on tap: Hog's Head Brew, a Dragon's Scale, and Wizard's Brew. Other muggle beers are also available at Hog's Head, but why would you want those?
Ollivanders
Inside Ollivanders, you'll gawk at the floor-to-ceiling, dusty shelves full of carefully crafted wands, and it'll bring back memories from The Sorcerer's Stone. Ollivander himself will also assist in one wand choosing one lucky wizard!
Filch's Emporium of Confiscated Goods
From Marauder's Maps and replicas of movie props, you'll find tons of interesting items that Argus Filch supposedly confiscated from Hogwarts students throughout the years.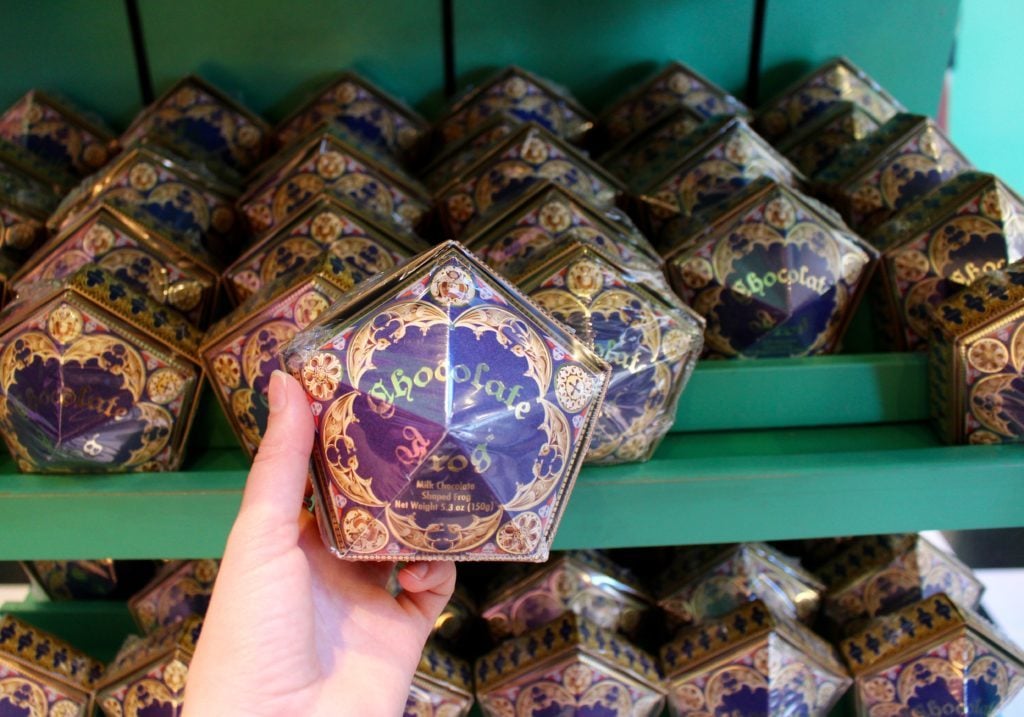 Honeydukes
From Bertie Bots Every-Flavor Beans and Chocolate Frogs, to Peppermint Toads and chocolate-dipped pretzel wands, you can buy every sweet treat from the Harry Potter series, and more!
And let's be real. You know we had to buy the Bertie Bots Every-Flavor Beans! My friend lost the game, with a vomit-flavored bean.
Owl Post
You can send real mail from the Owl Post to all of your Potterhead friends, addressed by quill and complete with a Hogsmeade seal! Plus, you can buy stationery, stamps, and your very own (stuffed) owl.
Zonko's Joke Shop
Channel your inner Fred and George Weasley at Zonko's Joke Shop and pick up a few novelty items to trick your friends with.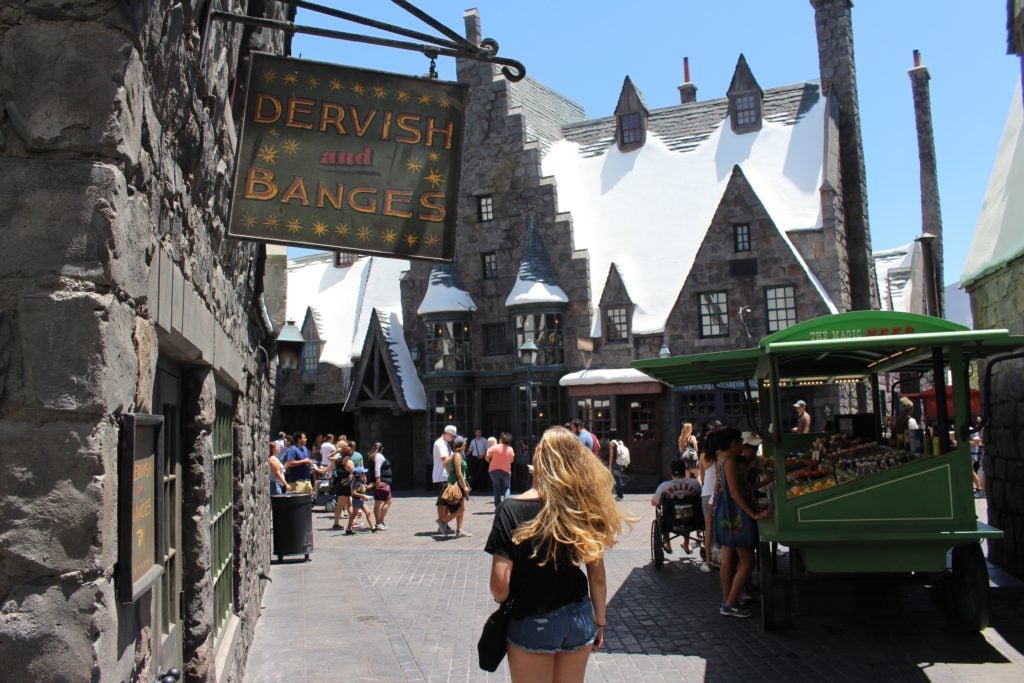 Dervish and Banges
Always wanted to be a part of Gryffindor's Quidditch team? Now's your chance. At Dervish and Banges, pick up your Quidditch equipment and uniforms to prepare for your first game!
Gladrags Wizardwear
If you really want to be a witch or wizard, then you need to look the part, too. At Gladrags Wizardwear, wizard clothing, hats, jewelry, and accessories are at your fingertips.
Wiseacre's Wizarding Equipment
Before you start classes at Hogwarts, you can pick up everything you'll need at Wiseacre's Wizarding Equipment. Between the hourglasses, crystal balls, and telescopes, there will never be a shortage of interesting magical gadgets and gismos to discover.
Triwizard Spirit Rally
The Triwizard Spirit Rally is an exciting procession of Beauxbatons, Durmstrang, and Hogwarts students, hyping up the Triwizard Tournament.
Somehow, we missed this attraction during our visit.
CLICK HERE to purchase your admission to The Wizarding World of Harry Potter at Universal Studios Hollywood.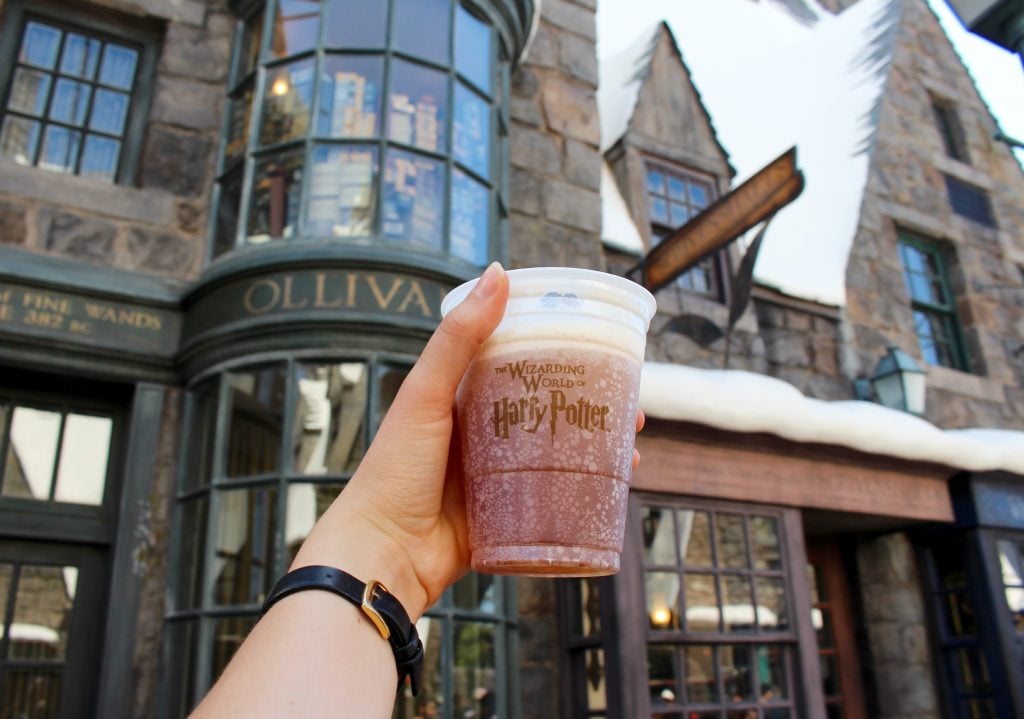 Before visiting The Wizarding World of Harry Potter at Universal Studios Hollywood, note:
DO CLICK HERE to purchase your admission to The Wizarding World of Harry Potter at Universal Studios Hollywood so that you can avoid the long ticket lines.
DO head past Hogsmeade and straight into the line for Harry Potter and the Forbidden Journey before it gets crazy long. Come back to Hogsmeade later.
DO try the Butterbeer. It's everything you've been missing in your life.
DO buy the Bertie Bots Every Flavor Beans inside of Honeyduke's BUT save money by filling up a bag yourself, instead of buying the prepackaged beans.
DON'T waste your time on the Flight of the Hippogriff ride.
DON'T forget to bring sunscreen. The San Fernando Valley is known for its outrageous temps!
Visiting The Wizarding World of Harry Potter
Visiting The Wizarding World of Harry Potter lived up to every expectation we had. No, it was even better than we expected. It allowed us to escape the muggle world for a day, and we've been waiting for that for a long time. If you could drink Butterbeer, fly on your broomstick, roam the Forbidden Forest, and explore Dumbledore's Office, wouldn't you jump at the chance? Of course, you would. So what are you waiting for? Los Angeles can't be too far from wherever you are.
And remember, you can always apparate here!
CLICK HERE to purchase your admission to Universal Studios Hollywood.
Did you know…
When you book travel or purchase something through our links, we receive a small commission, at no extra cost to you? Your support enables Maddy's Avenue to keep producing helpful travel content. Thank you!
Are you planning on visiting The Wizarding World of Harry Potter at Universal Studios Hollywood? What was your favorite part?
*This post contains affiliate links. When you make a purchase through the links on our website, we will receive a small commission, at no extra cost to you. We never recommend any products/services that we don't absolutely love. These commissions help keep Maddy's Avenue up and running, and we thank you for your support!