It's no secret that I'm one of the biggest Potterheads to ever live. I've read all of the books at least twice and watched each movie more times than I can possibly count. And I have my own wand.
So during my last trip to London, visiting the Harry Potter Studios in London* was a must. Obviously.
If you're a Harry Potter fan, visiting the studio will instantly become your favorite London memory. I am 100% sure of this.
Why? Well, because your favorite books and movies will come to life before your eyes. You'll see, and learn about, exactly what went into making those eight magical movies, over ten beautiful years. And it'll be so mind-blowing that you just might break down into tears.
It's just that brilliant.
*Oh, and just to be proper, this excursion is formally referred to as the Warner Bros. Studio Tour London; but we'll be calling it the Harry Potter Studios from here on out. Also, this post contains affiliate links.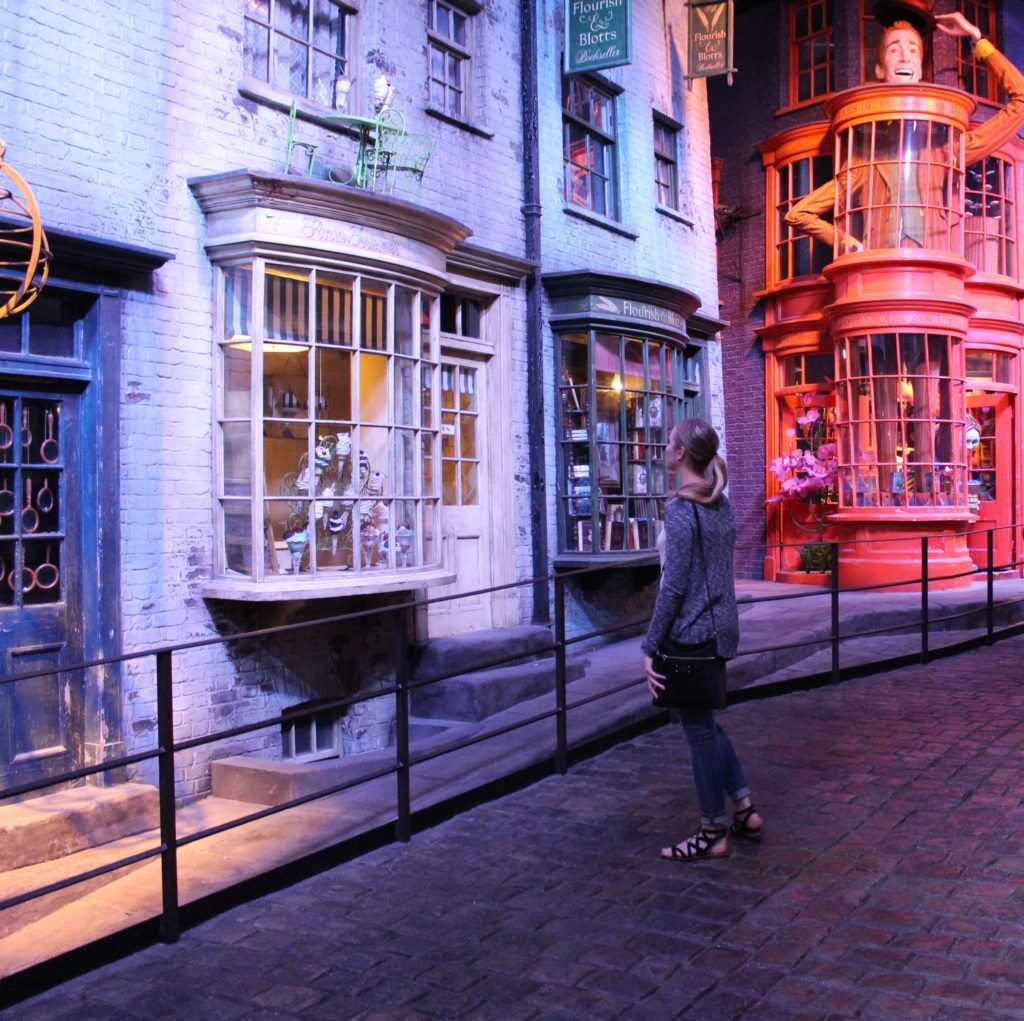 Visiting the Harry Potter Studios in London:
For Potterheads, this is the ultimate London experience. Hands down.
Sure, seeing Big Ben and riding the London Eye is nice and all, but for me, the real London highlights were walking down Diagon Alley, seeing the Fat Lady and the set of the Weasley Burrow, and drinking Butterbeer. Nothing compares to all of that, guys.
And as you can imagine, when we arrived in Leavesden and climbed aboard the shuttle bus, the excitement was real. (To avoid navigating trains and shuttle buses, you can book this tour, which includes roundtrip transportation! I highly recommend this option.)
People donning capes and their house colors recited spells and their favorite lines, while also giddily discussing what they couldn't wait to see. Because, hello, we were about to step foot inside the place where our favorite magical world came to life!
What to expect at Harry Potter Studios in London:
When we entered the studio, we picked up our audio guides (definitely purchase the audio guides, guys!), and queued to begin our self-guided studio tour. First, we watched a short film, which hyped up the Wizarding World, all that J.K. Rowling created, and what we were about to see.
And chills came over my whole body.
This was actually happening.
Next, it was time to enter the Great Hall, which is so much smaller than it looks in the movies! And also, don't expect to look up and see floating candles and stormy clouds overhead. Remember, the ceiling is "just bewitched to look like the night sky!"
Nevertheless — bewitched ceiling or not — seeing the real thing in real life took my breath away.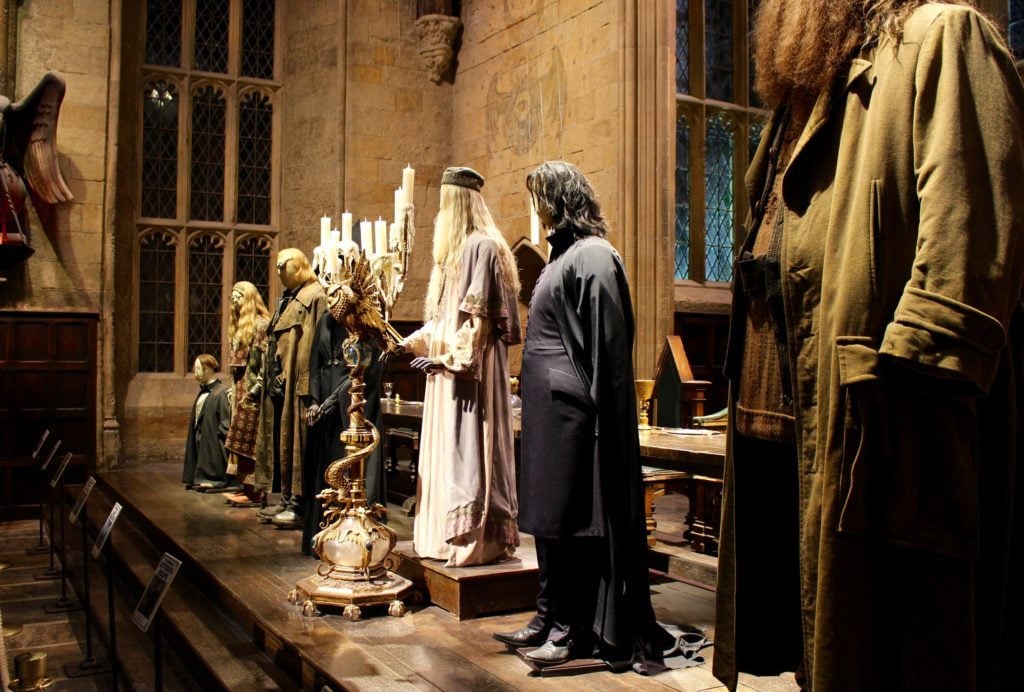 In the Great Hall, you'll find the costumes of everyone's favorite characters, such as Dumbledore, McGonagall, Hagrid, Snape, and many more. And the Sorting Hat is there, too!
Next, you'll enter the main room and become overwhelmed by the movie magic you'll see and learn all about for the next few hours.
First, you'll lay eyes on Harry's, Hermione's, and Ron's costumes from the Yule Ball, props from the Great Chocolate Feast, areas dedicated to Costume Design, Hair and Makeup, and the gates to Hogwarts.
All of the little details amazed me; and surely they'll have the same impact on you.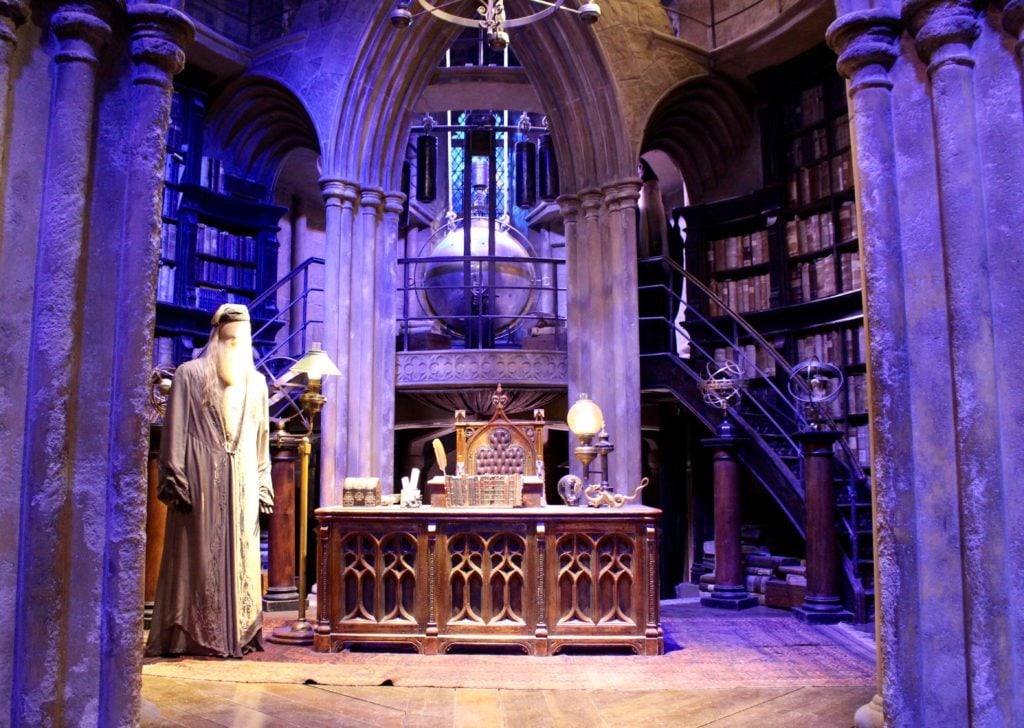 Over the next couple of hours, in this same giant room, you'll see the sets for the Gryffindor Common Room, the Boys' Dormitory, Dumbledore's Office, the Potions Classroom, The Leaky Cauldron, the Ministry of Magic, Umbridge's Office, the Malfoy Manor, and more.
There are also areas dedicated to special effects, a room that holds thousands of props manufactured for the movies, and a giant wall of Hogwarts's famous moving pictures.
But that list is only scratching the surface…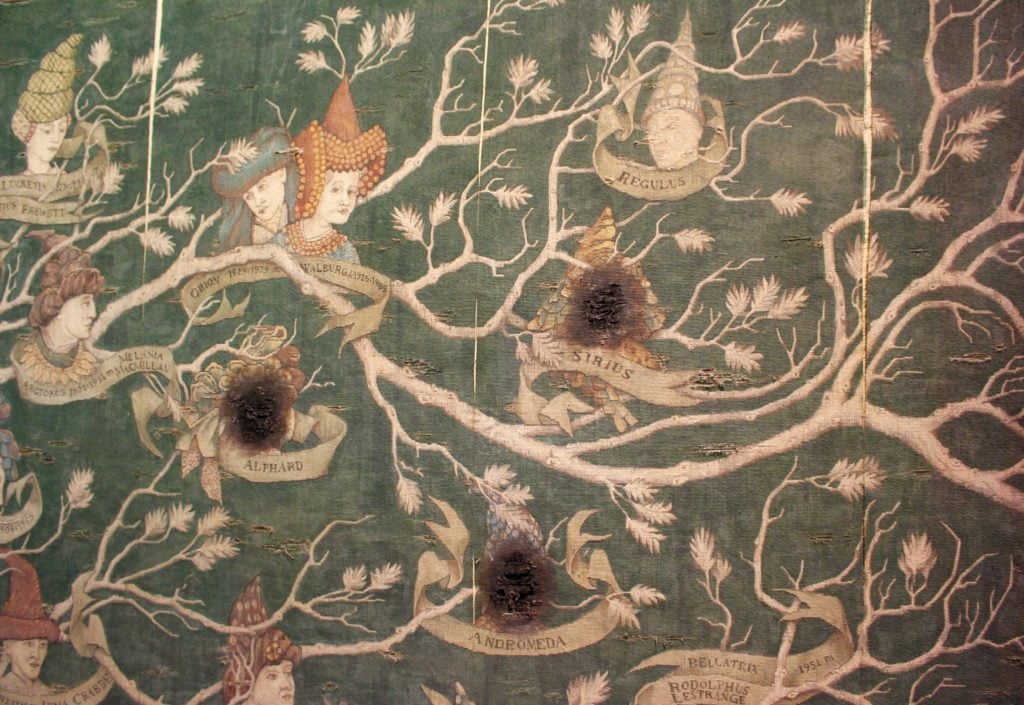 Really, the amount of magic you'll experience never ends, and I don't want to spoil it all by telling you everything that you'll see.
It will take you about two hours (or maybe even more!) to get through the first part of the studio tour.
Then, you'll have a break to fill up on Butterbeer and food.
The Harry Potter Studios in London is one of only four places in the world that you can drink authentic Butterbeer. So please don't miss your chance!
(Though honestly, the Butterbeer at The Wizarding World of Harry Potter in Los Angeles is much, much better.)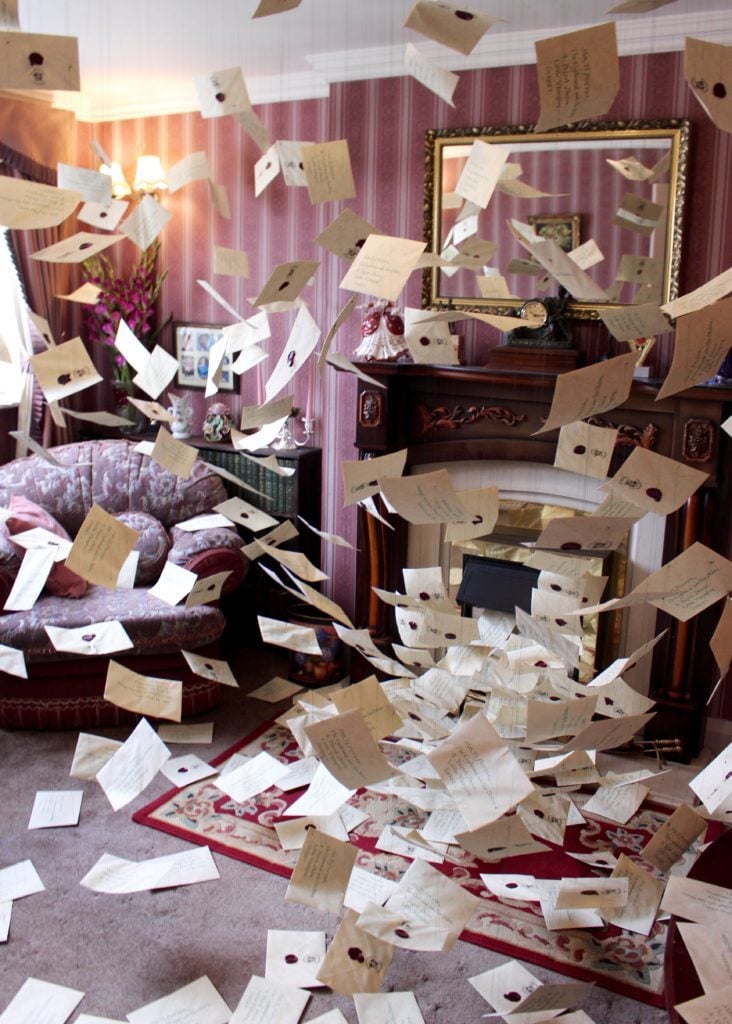 Once you've had your fill, you'll head to the backlot to check out the Dursley's house, the Knight Bus, the Potters' Cottage, and more! And as long as it's not freezing or raining outside, it'll be nice to get some fresh air.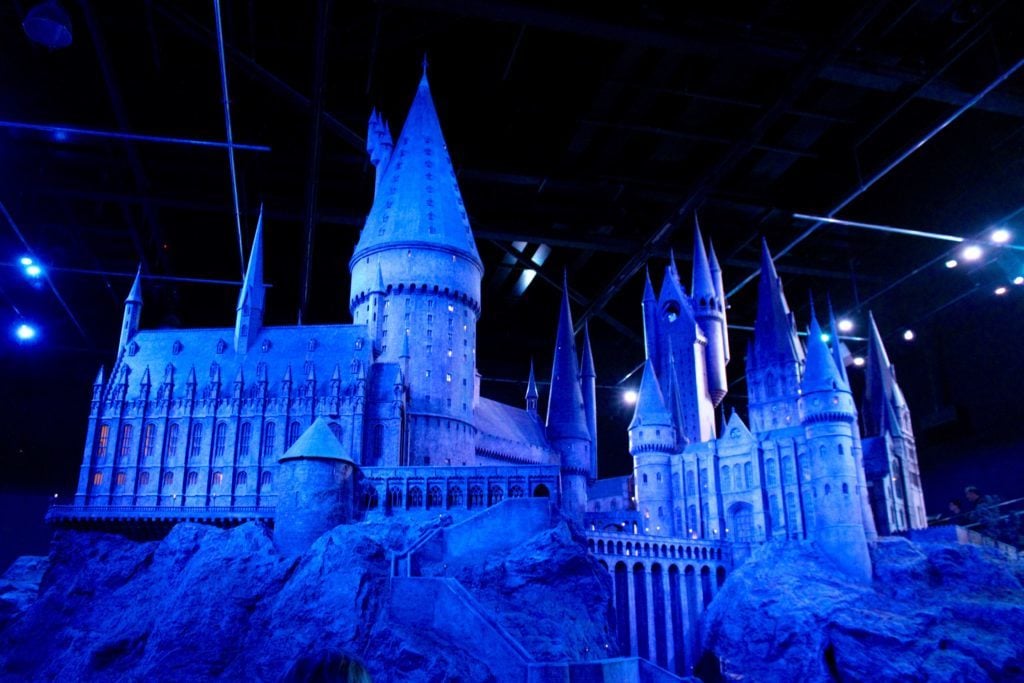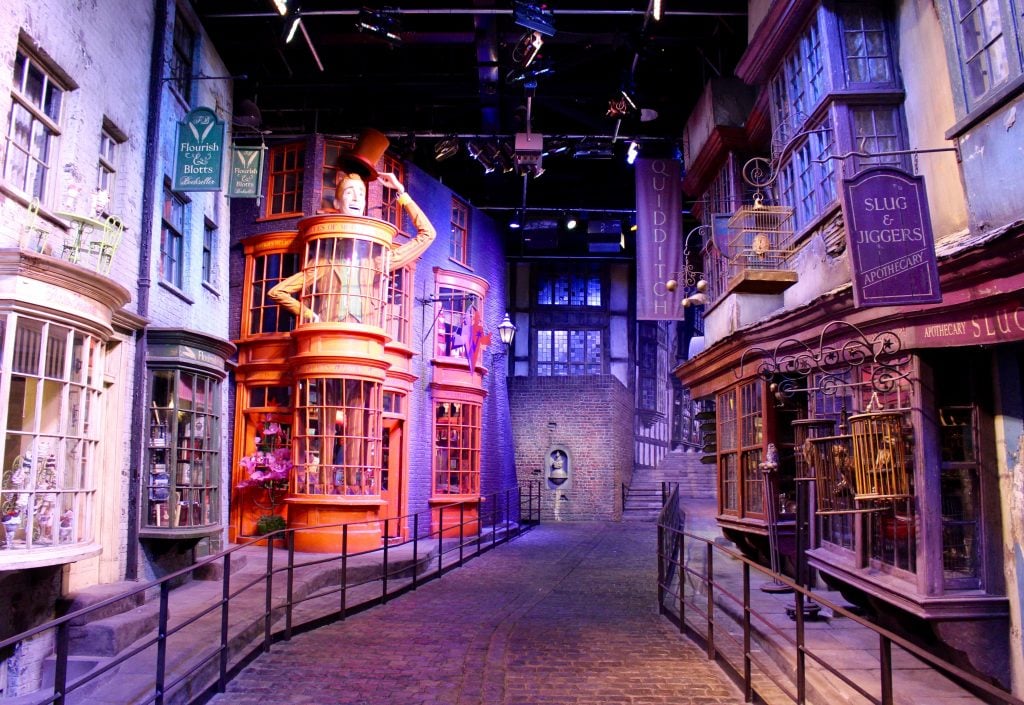 And guys, just when you think your day couldn't get any better, it does. That's when the last leg of the studio tour begins. And this just might be the best part!
I don't want to ruin it, but let's just say that Kings Cross, the Hogwarts Express, Hogwarts Castle, and Diagon Alley are involved. And your jaw will drop over and over again when you spot each one.
The Harry Potter Studios in London
As if it weren't obvious enough already, I am a huge advocate for the Warner Bros. Studio Tour London. After going there and experiencing such an enchanting place, how couldn't I be?
If you take nothing else from this blog, hear me on this: you must visit the Harry Potter Studios in London.
Got that? Good.
How to get to the Harry Potter Studios in London:
The Warner Bros. Studio Tour London lies just an hour outside of London, in Leavesden, and it's easy enough to reach, via public transit.
All you have to do is make your way to Watford Junction by overground train, and from there, a shuttle bus from Warner Bros. Studio Tour London will pick you up and drive you right to the studio! It's as simple as that.
You can also take a cab (but this will be very expensive – not recommended) or drive yourself if you've rented/hired a car.
The last, and possibly best option, is to book a tour that includes transportation. This tour coordinates your rides to and from the studio, and includes your ticket.
CLICK HERE to book your ticket to the Harry Potter Studios with Roundtrip Transportation from/to London!
What to Pack for England
Remember that the season of your visit to England will help determine what you need to pack!
Of course, summer is warmer, and you can dress as you would in this part of Europe. But as expected the winter is very cold. Always bring a beautiful coat in winter!
Here are a few top tips of what to wear in England:
Quick England Tips
Have you visited the Harry Potter Studios in London? What did you think? If not, do you plan to visit someday? Hopefully soon?!
*This post contains affiliate links. When you make a purchase through the links on our website, we will receive a small commission, at no extra cost to you. We never recommend any products/services that we don't absolutely love. These commissions help keep Maddy's Avenue up and running, and we thank you for your support!