So, you're spending 3 days in London. The city is large, bustling, packed with incredible architecture, ancient monuments, great international food, amazing shopping (or window shopping!). You could live in London your entire life and never see it all.
Here's the thing: London is massive, and as a visitor, there are endless attractions to occupy your time. So you're going to need a plan. And a good one at that.
With this Ultimate 3 day London Itinerary, we've got you covered. Here's everything you should see, eat, and experience during your 3 days in London.
Three Days in London: The Ultimate London Itinerary
This 3 day London itinerary gives you everything you need to plan your trip, and extra options if you have more time to spend in London. Most of the the famous attractions are in central London but I have also suggested some options a little outside the center.
Explore the bridges crossing London's south bank with the north, visit a royal residence or two such as Buckingham Palace and Kensington Palace. Head to the iconic Trafalgar Square, stroll Hyde Park and Kensington Gardens. Go shopping on Regent Street, Covent Garden and Oxford Street, thrift vintage classics in Camden Town, explore the British museum, and drink a pint in a classic London pub. This 3 day London itinerary has you covered for all the iconic London sights.
Save these in Google maps ready for visiting London, and we can get started on your 3 days in London itinerary!
Where to Stay in London
Before we start talking about what to do in during your 3 days in London, let's quickly talk about where to stay!
We chose to stay at this super stylish and comfortable 4-star hotel in Chelsea.
Chelsea is a very safe, upscale neighborhood in Southwest London with lots of shopping. It's only a couple of Tube stops away from the central London, so we absolutely loved staying in this area. You can find other great deals on Chelsea hotels here.
Places to stay in London
Other safe, centrally located neighborhoods with lots to see and do include the West End, Bloomsbury, and Victoria. Some favorites in great areas of London are:
You can find amazing accommodation deals throughout London with this link!
3 Days in London – Day One:
Your first day in London should consist of acquainting yourself with the most popular touristic sites, so that you can start to dig deeper, as soon as possible! These are some of the top choices for your first day in London
Palace of Westminster, Big Ben, and Westminster Bridge
London's monuments really don't get any more iconic than the Palace of Westminster and Big Ben, and the adjacent Westminster Bridge. So it only makes sense that you start your 3 days in London here!
Westminster Bridge is one of the 35 bridges that cross the River Thames, connecting the north bank with the south bank. Across the bridge on the north side is the Palace of Westminster which is the home of English Parliament, and is also known as the houses of Parliament. This is the meeting place for the House of Commons and the House of Lords in the United Kingdom, all important decisions are made here. There is always a buzz of energy around the place!
As the name suggests this was originally built as a home for the Kings of England but several fires over the years have destroyed huge parts of the building, so heads of state were relocated to other palaces and the government remained in the offices. The building had significant renovation works completed in the 19th century which took over 30 years to complete.
The famous clock tower, is actually correctly named Elizabeth Tower but is more commonly known as its nickname, Big Ben. This famous clock tower was renovated very recently with the clock being quiet for 5 years. The clock and its iconic bells were finally back to normal service in 2022.
Walk around the area, stroll over the bridge, and simply enjoy the architecture and the city buzz.
Recommended Tour
This guided tour combines the houses of Parliament with Westminster Abbey. Take this walking tour around these historical buildings with a knowledgable tour guide so you don't miss a single detail.
Westminster Abbey
Not far from the Palace of Westminster, is Westminster Abbey. This is the place that iconic events are held, the Royal family usually get married here and state funerals and coronations are held at Westminster Abbey. Of course 2023 has held the coronation of King Charles at Westminster Abbey and the Queens funeral was held there the year previously.
The current building dates from 1245 but this has been a site of royal events since the William the conqueror was crowned here in 1066. Since then it has hosted over 40 coronations of British monarchs as well as weddings and funerals. Westminster Abbey is also the final resting place of thousands of historically significant people, including prime ministers, monarchs, poets and military leaders.
Visiting Westminster Abbey is a wonderful thing to add to your London itinerary, the building itself is incredible, and inside there is a huge collection of artworks and artefacts. There is a lot to get around and no miss the historical importance of some of the items so here is a great place to take a tour. This guided tour combines a walking tour of Westminster Abbey and the Palace of Westminster, with a guide to make sure you don't miss anything important.
Recommended tour
Westminster Abbey is also included in the London Pass, a digital pass with entrance and skip-the-line tickets to over 85 attractions. It is well worth adding to your London itinerary. Get your pass here.
London Eye
Originally opened in 2000 as the Millennium Wheel with planning to be a temporary attraction to mark the start of the new millennium, the London Eye is now the most popular paid tourist attraction in London, attracting over 3 million visitors every year. The wheel when opened was the largest ferris wheel in the world but now has slipped to 6th place and is now the tallest ferris wheel in Europe.
The London Eye is likely the most expensive attraction you'll encounter during your 3 days in London, but the views really are worth it. Located next to the South Bank Centre on London's South Bank, right on the edge of the River Thames, and opposite Covent Garden, the views are spectacular, seeing much of London's iconic skyline, including views across to Big Ben.
One full rotation on the ferris wheel takes about 30 minutes, allowing ample time to spot all of London's impressive landmarks and better acquaint yourself with the city. Add this to your London itinerary to take an aerial view of what to see during your 3 days in London.
Recommended Tour
On good weather days the line can be long so book a skip the line ticket so you don't waste your day waiting in line.
Photo by David Iliff; License: CC-BY-SA 3.0
Buckingham Palace
Buckingham Palace is the official London royal residence of the Queen, and it's one of the few royal palaces still fully operating today. You can purchase tickets to tour the lavish staterooms of the royal palace and see its exquisite furnishings, sculptures, and paintings.
Buckingham Palace is also the home of the iconic balcony, where the royal family gather to stand following important state occasions such as weddings, funerals, and most recently the coronation of King Charles III. If you time your London itinerary around the annual Trooping the Colour you will also see the royal family gather here to watch the displays and events around Buckingham Palace.
Before your visit, you should also check when the Changing of the Guard will occur, so you can witness this royal spectacle as well. This is one of the best things to do during your 3 day London itinerary and is an iconic historical daily occurrence dating back centuries.
Recommended tour
If you purchase the London Pass, you will also have access to the Queen's Gallery, this is a dedicated space within Buckingham Palace where important works of art and sculptures are displayed. The collection is periodically rotated with items from the royal collection and showcases stunning ancient art and jewels. Get your pass here.
A view from Hyde Park/dabrat718
Hyde Park or Green Park
Hyde Park and Green Park are both royal parks of London. If you're blessed with good weather, a stroll, and a nice picnic or bike ride through the park will be a lovely way to spend a couple of hours.
If the weather's not ideal, swap the park visit for one of the items in our "even more time" category at the end of this article. An alternative park to visit is Regent's Park, it isn't as famous or iconic as Hyde Park but as one of the eight royal parks in London it is a nice idea to add it to your list.
Borough market/FollowYour Nose
Borough Market
For foodies (and anyone with an appetite), the Borough Market is the perfect place to grab a bite; it is the UK's most famous food market, after all.
Under the railway lines, the Borough Market bustles with people, as all kinds of stands sell dairy products, baked goods, fresh produce, and meat products. Meanwhile, street food stalls serve up some of the best food in London!
From artisanal chocolates and vegetarian Indian food, to creamy gelato and freshly baked baguettes, whatever you're craving, you can find it at the Borough Market.
Recommended tour
Indulge in all that Borough Market has to offer alongside exploring eateries and pubs along the way from London Bridge with this Secret Food Tour. British food can get a bad rep but this tour will show you how the Brits enjoy good food, washed down with British ales, beers and ciders.
Day Two:
Your second day during your London itinerary can be a little easier start. Start off with a good breakfast before heading over to Tower Bridge, then to the Tower of London and view the incredible crown jewels!
Go for Brunch in Shoreditch
Londoners love their brunch. It's the greatest meal of the day! If your 3 days in London fall on the weekend, brunching is especially necessary.
Friends of Ours is our top choice for brunch in London because everything they serve is delicious (times 1,000), thoughtful, fresh, and plated to impress.
Pictured above is their Eggs Asparagus (two poached eggs, seasonal baby asparagus, beetroot and lime hollandaise, black sesame seeds, and beetroot sprouts, on seeded toast) and their Smoked Salmon and Scrambled Eggs (in-house lime cured and green tea smoked salmon, with three scrambled eggs, on seeded toast). Brilliant!
Located in Shoreditch this this is also a great part of of the city to wander when you visit London. There are plenty of cool shops, industrial chic buildings and quirky cafes to browse.
Tower of London
Famously the site of many royal executions and imprisonments, (looking at you Henry VIII!) the Tower of London is one of the iconic sites you have to visit during your 3 days in London.
Originally founded by William the Conqueror in 1066 to keep out hostile Londoners, the Tower of London still stands smack in the middle of London. The Tower of London is a medieval fortress and UNESCO World Heritage Site, which has been continually built and rebuilt over the centuries.
While strolling outside of the fortress, informative signs bring the Tower of London's history to life, and you'll also notice how sections of the fortress look different than others, due to the reconstructions over time.
If you'd like to tour the inside, you can buy tickets online, or wait in line and buy them upon arrival.
The Tower of London is also where the crown jewels are housed, which of course you absolutely cannot miss. These are the crowns, tiaras, and jewellery worn by the royal family for coronations and state events. Many of these jewels are very old and incredibly beautiful, you are unlikely to see anything like this anywhere else! Some of the items in the crown jewels have a complicated history, so it is good to be mindful of this when visiting, a guided tour can help explain the history behind the jewels.
Recommended tour:
This Tower of London Entrance Ticket Including Crown Jewels and Beefeater Tour is a great way to discover the history of the Tower of London and the crown jewels. You will also learn about the significance of the Beefeater guards, and learn about the various points around the site, including where Queen Anne Boleyn met her execution.
Tower Bridge
The Tower Bridge is another one of the city's most famous and striking landmarks.
After you've finished up at the Tower of London, you should make your way over to this bridge to snap lots of photos, see the bridge part for boats to pass underneath, walk across the bridge, and even go inside of the bridge to look down on London through glass floors and see the bridge's engine rooms.
Recommended Tour
Get your admission for Tower Bridge as part of the London Pass. Pick up your pass here.
Eat delicious Indian food
India used to be part of the British Empire and as part of this there is a rich and varied Indian culture throughout the Uk. London is no exception and has many incredible Indian supermarkets and restaurants.
Brick Lane is famously packed with international cuisine and Indian food features heavily in many of the eateries here. Due to the long standing Indian heritage in the UK, chicken tikka masala is actually of of Britain's national dishes, so obviously you should eat Indian food when you visit London. From spicy curries and flavor-packed samosas, to garlic naan and mango lassis, the Indian food in London is on point.
If you want to savor the best Indian food in the city, Dishoom is the place. We could go on and on (and on) about how delightful this place is, but you should really just try it for yourself.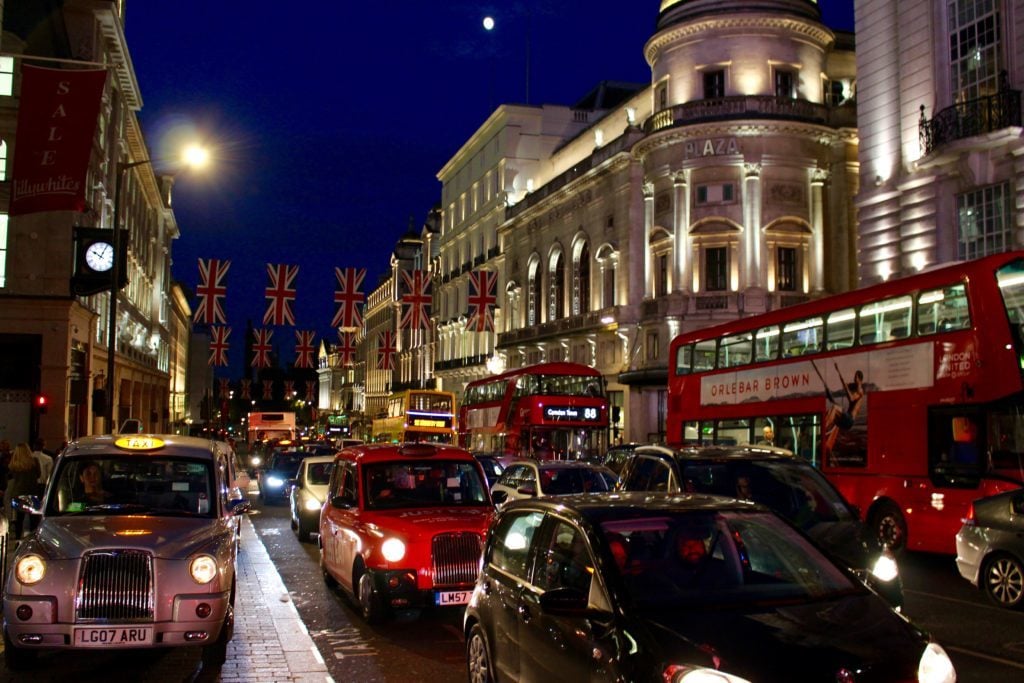 Covent Garden
Come nightfall, jolly people fill Covent Garden, ready to eat delicious food, see theatre and opera performances, drink lots of beer, and enjoy the many street performances.
For a great night on the town, snag a reservation at one of Covent Garden's best restaurants (Hello, Dishoom!), then see one of your favorite broadway shows (obviously, purchase your tickets well in advance), or enjoy a few hours of drinking and dancing with locals and tourists alike.
Covent Garden is always bustling but the evenings are when it really comes alive. Make sure a visit here is part of your London itinerary
Day Three:
Today for your London itinerary you can head a little outside of central London to indulge your inner Harry Potter nerd. Finish the day with more indulgent British cuisine, after passing through iconic British landmarks.
Warner Bros. Studio Tour London
If you're visiting London, it's probably safe to assume that you're also a Harry Potter fan. Because, why wouldn't you be?
Just one hour outside of London lies the Warner Bros. Studio Tour London, where all eight Harry Potter films were created over ten years.
There, you'll see how the movies came to life. You'll see many of the movie sets, such as Diagon Alley, Dumbledore's Office, the Gryffindor Common Room, the Ministry of Magic, and Hagrid's Hut; you'll see the real costumes and props used in the movies; and you'll learn all about how the film makers implement special effects, do hair and makeup, manufacture props, and more.
And you'll sip on frothy Butterbeer!
This ticket includes admission to the studios, as well as transportation from London. We highly recommend it as part of your London itinerary!
Recommended tour:
Understandably the studio tour is really popular so be sure to book your Warner Bros. Studio Tour London – The Making of Harry Potter ticket in advance.
Further reading: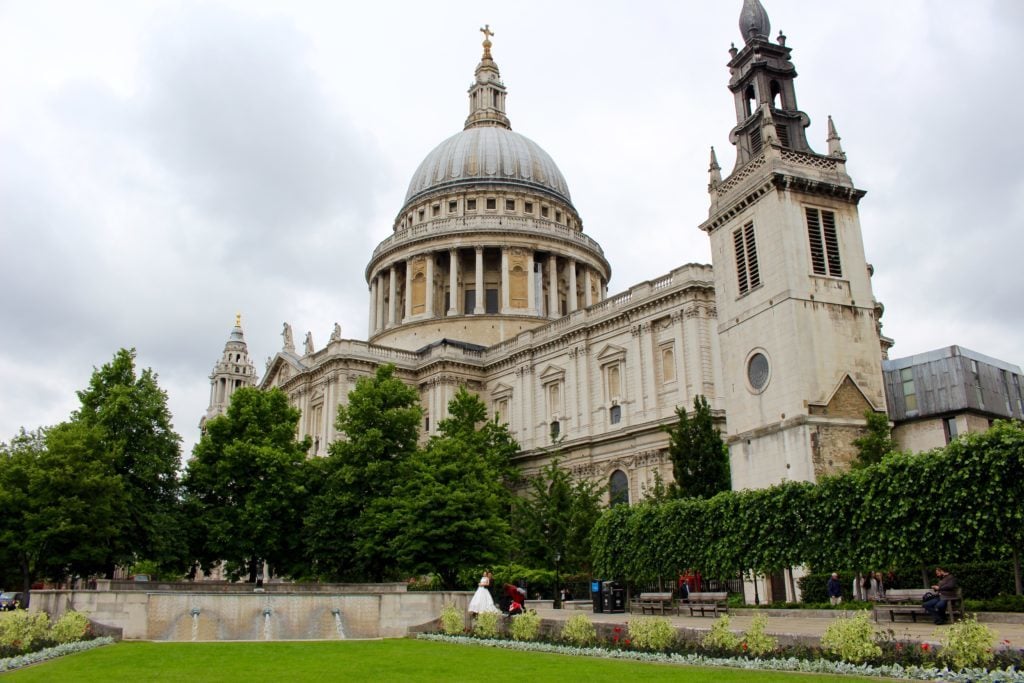 St Paul's Cathedral
St Paul's Cathedral is one of London's most widely recognized buildings, for two reasons. One: You can spot its dome from many places throughout the city. And two: It's wildly beautiful.
Constructed between 1675 and 1710, St Paul's Cathedral is a historic gem that's beautiful both inside and out. The surrounding gardens also provide a wonderful setting to relax your feet and admire the church's beauty!
Disney fans will also recognise the steps of St Paul from the bird lady in Mary Poppins. Visit here and you will see the flocks of birds gathering just as they do in the movie!
Recommended tour:
Book a ticket in advance with this St. Paul's Cathedral Entrance Ticket to be sure you avoid any lines.
Millennium Bridge
The Millennium Bridge — also known as the bridge terrorized by Death Eaters in Harry Potter and The Half-Blood Prince — is a great work of architecture and engineering.
From the bridge, you can admire London's skyline and the River Thames, and once you reach the other end, you can snap a photo of the bridge, with St Paul's big, beautiful dome peeping over the background buildings.
Often, wonderful musical street performances occur there, so that's an added bonus as well.
Fish and chips
For dinner, you've got to try England's most-loved dish: fish and chips. You just can't leave London without indulging in this hearty, oh-so-typical meal!
Being an island the UK has a major fishing heritage and much of London used to be part of the docks and fishing industry. Fish and chips is a descendent of this industry that lives on and is a favorite of almost every British person. It is cheap, cheerful, hearty and filling, an absolute must for your London itinerary.
Baileys is often called the best place to chow down on fish and chips (and perhaps some mushy peas, too), because the portions are huge, the prices are minimal, the service is fast and friendly, and because their fish and chips — put simply — rock.
And if you have even more time…
If you get through all of the above in just three days (unlikely) or if you have more than 3 days in London, here are some other places you should absolutely visit!
And you can always swap these activities out for those listed above, if they tickle your fancy a bit more.
Browse Ultimate Luxury in Harrods
When it comes to shopping, Harrods is as luxurious as it gets. This department store is high on every visitor's list, as it's more than just a department store. So much more. When Harrods originally opened it was famous as the store where you could buy everything, in the 1970s it was even known to be able to buy a lion cub!
Thankfully now the store has a much more ethical product selection and is home to many of the worlds most iconic and luxury brands. The Harrods Food Hall is also an institution in its own right and is absolutely worth a browse.
It's a never-ending maze of giant rooms, each one featuring different items such as purses, perfumes, furniture, souvenirs, art, makeup, jewelry, and more.
And then there's the food. You'll find different restaurants and eateries inside Harrods, offering take-away food, desserts, seafood, pizzas, tea, steaks, and lots more. It's absolutely mad! The Harrods Food Hall is the ultimate luxury supermarket experience, even if you are on a tight budget you should indulge in a little purchase of something decadent.
If you can, have a look around Harrods and eat in one of its restaurants. We indulged at The Tea Room for lunch, dessert, and tea (of course!), and it was worth splurging for. It is also a great place to have a famous English Afternoon Tea.
Natural History Museum
The Natural History Museum quickly becomes a favorite for all those who visit. And that's not just because entry is free! It is, after all, one of London's top museums.
This museum features specimens from different eras throughout history, including dinosaurs, whales, butterflies, lizards, and beetles, and it all couldn't be more interesting. That's not all, though.
To give you a better idea, some recent exhibitions have been the Bauer Brothers art exhibition, David Attenborough's Great Barrier Reef Dive, Cocoon gallery, and Pond Life.
Stroll around Little Venice
If you throw out the chaos of thousands of tourists and the ungodly heat of Italy's Venice, you'll end up with London's smaller, quieter, more English version: Little Venice.
When you've had enough of London's hustle and bustle, Little Venice is the perfect place to find peace and quiet to just relax!
Spend hours exploring famous museums…
London has no shortage of incredible museums and you could spend weeks, maybe even months exploring them all. From the historical and iconic National Gallery and British Museum, to lesser known niche museums such as the Museum of Brands and the Cartoon Museum, there is something to interest you endlessly and pack out any London itinerary.
The London Pass has some great options for entrance to museums and monuments that you may not necessarily always be able to access as easily. You can book skip-the-line passes and tours that require a little more planning.
Here are some of the monuments and museums that are worth adding to your London itinerary:
Three Days in London: The Ultimate London Itinerary
After spending 3 days in London, surely you'll have fallen for the city like millions of others have. You'll wish you had more than just three days there. But you'll also be happy to know that, with this London itinerary, you'll have experienced the absolute best that London has to offer, from the popular tourist sites to every locals' favorite spots.
Three days in London might seem short, but with this itinerary, you'll see, do, and eat everything necessary for an unforgettable trip to England's capital.
What to Pack for 3 Days in London
It is no secret that the weather in the UK is very unpredictable and you can experience several weather types all in the same day. In Spring and Fall you can have a stunning warm and sunny morning quickly turn to heavy rains and very cold. Prepare for every eventuality and pack layers!
These are some of the essentials I recommend for your 3 days in London:
Quick Tips for 3 Days in London
Further reading:
What's your take? Have you spent 3 days in London before? What are your favorite things to do? Are you visiting soon for the first time? What are you most looking forward to? Do you have any questions/concerns?
*This post contains affiliate links, which means if you make a purchase through a link on this website, we will receive a small commission, at no extra cost to you. These commissions help to keep Maddy's Avenue up and running. Thank you for your support!
Is it worth going to London for 3 days?
Absolutely yes! While it is totally impossible to see everything with 3 days in London it is a great starting point to go to some of the best spots, such as the Natural History Museum, Trafalgar Square, Buckingham Palace, and seeing the crown jewels. You will probably find even more things you want to do the next time you visit London.
How many days are ok for London?
3 days in London is a great amount of time to enjoy the city and it not feel you are missing out, but remember there is so much to do in London you could have a packed London itinerary and still barely scratch the surface. If you want to explore lots of famous museums like the British museum, National Gallery, Tate Modern, National Portrait Gallery, Albert Museum and London Transport Museum you will need more than a three day London itinerary.
How much money do you need for 3 days in London?
London can run very expensive depending on what it is you plan to do. Factor in admission tickets, travel costs, and set yourself a food budget. Food options can be very cheap to incredibly expensive, so plan what you think is appropriate to spend per meal, but if you can definitely factor in a few splurge meals at top restaurants. Buying the London City Pass is a great way to save on lots of attractions if you plan it well.
Is 3 days enough time in London?
3 days in London isn't enough time to see every part of London, however you can cover a lot of things and hit the tourist hotspots as well as some local gems. This London itinerary should give you enough ideas on what to do and what to visit during your 3 days in London