Of the many places we traveled to in the last year, Vancouver, Canada ranks in our top ten favorites. To many people, that might seem sort of strange. Because really, what's there to do in Vancouver anyway? Well as it turns out, there are endless incredible experiences to enjoy in Vancouver – you just need to know where to find them!
After spending an entire week in Vancouver, we weren't ready to leave. With so much to see, do, eat, and experience, we could have easily stayed another week in our Downtown hotel. So without further ado, here's our guide of what to do in Vancouver!
*This post contains affiliate links.
What to do in Vancouver
Stanley Park and the Seawall
Surrounded by the English Bay and Vancouver Harbour, Stanley Park is the perfect place to relax and enjoy the brilliant views of the city, mountains, and ocean all at once.
For about $15 USD, we rented two bicycles and rode along the Seawall and underneath the fall foliage.
Our visit to Stanley Park made for a quick escape from the city's hustle and bustle, without actually leaving the city!
FlyOver Canada
A must-do for all tourists, FlyOver Canada is "The Ultimate Flying Ride."
You may not have time to see all of Canada during your trip, so FlyOver Canada is the next best thing. Buckle up, and prepare to be amazed! FlyOver Canada is a simulated flight ride which incorporates motion seating, scents, and wind, while you soar over (a film of) all of Canada's most stunning scenery.
We really felt like we were flying over Canada, and there were even moments that I felt nervous, because we were "flying" so close to the mountain peaks or and the lake surfaces.
The entire experience was invigorating, exciting, and very well put together; in other words, you shouldn't miss it!
You can purchase tickets online for FlyOver Canada here.
Capilano Suspension Bridge Park
Via free shuttle, we ventured fifteen minutes outside of Downtown to Capilano Suspension Bridge Park.
The park is situated in North Vancouver's temperate west coast rainforest, serving as the best way to connect with nature, without really leaving the city.
In a series of footbridges suspended over 100 feet in the air, we walked under thousands of towering evergreens, breathed in the fresh alpine air, and passed by various waterfalls. We spent hours at the Capilano Suspension Bridge Park, relaxing and feeling as close to nature as ever. It was a true treetop adventure!
Avoid the queues! You can purchase your Capilano Suspension Bridge Park tickets here!
Granville Island Public Market
All foodies should visit the Granville Island Public Market on Grandville Island.
We had a field day here! This market is a bustling configuration of bright food stalls, handmade products, freshly caught seafood, bright produce, and so much more! This market is the true gem of not only Granville Island, but also of Vancouver as a whole.
You can book a foodie tour of the Granville Island Public Market here!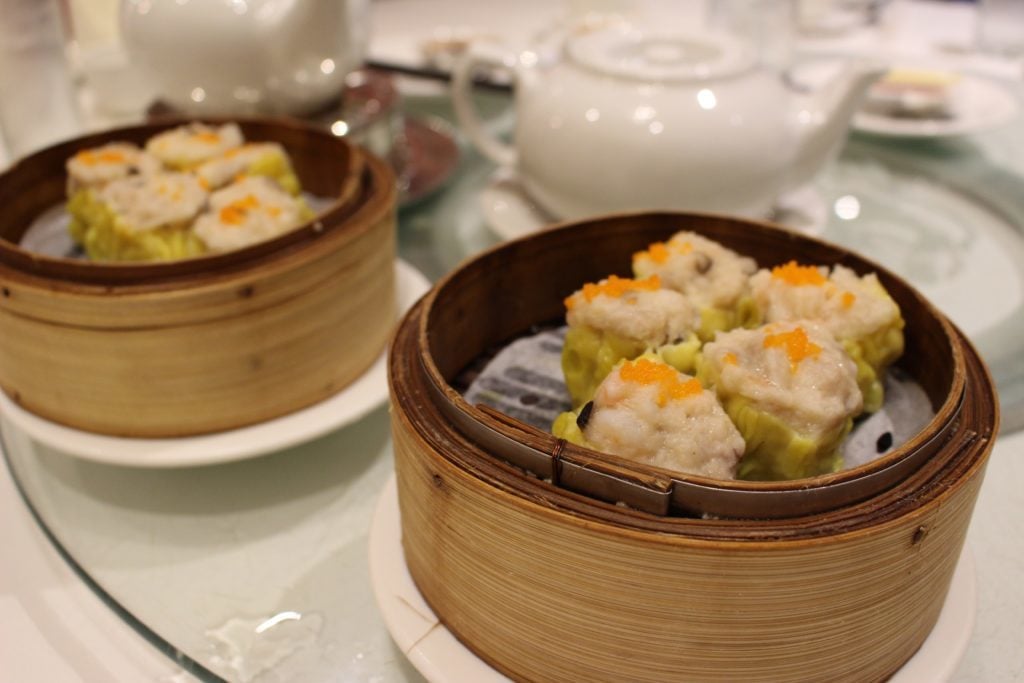 Vancouver Foodie Tours
Vancouver's culinary treats are waiting for you, you just need to know where to find them! On a tour with Vancouver Foodie Tours, our guide showed us to some of the city's greatest eateries. From ginger-lime margaritas and fine wines, to dim sum and gelato, our tour was 100% delicious! But you don't have to stop there!
Make sure to visit some of Vancouver's best restaurants on your own, too!
Seriously, this is a foodie tour you can't miss! Click here to book your tour now!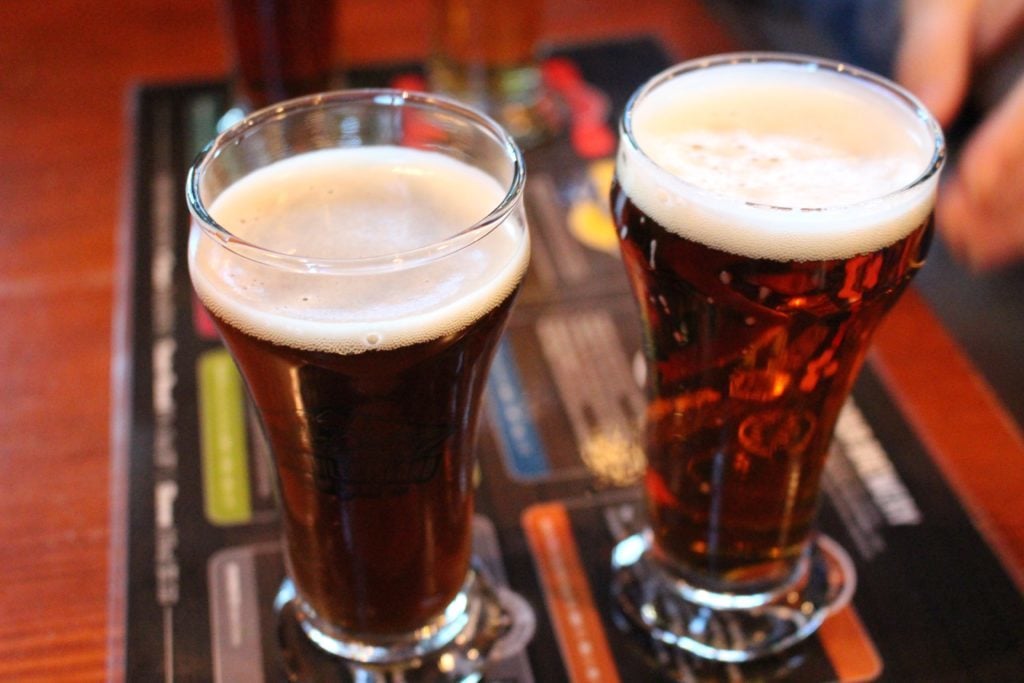 Drink local beer
Since Vancouver is the up-and-coming microbrewery capital of the Pacific Northwest, the thing to do in Vancouver is to drink a craft beer or two. Or a lot more than two… And maybe have some poutine on the side.
I'd bet that you can find a brewery on just about every other block! Well, I'm probably wrong, but it sure does seem that way.
Glug, glug, glug.
VanDusen Botanical Garden
Who doesn't love a great botanical garden?
No matter the time of year, VanDusen Botanical Garden has something to offer. However, if possible, a springtime visit is best for the garden's most beautiful blooms. During our visit, the annual Festival of Lights was in full swing with over one million lights brightening the garden into a festive winter wonderland!
Vancouver Christmas Market
Of course, this is a seasonal draw to Vancouver, but if you plan a trip in November or December, the Vancouver Christmas Market is a must!
If you've ever been to a German Christmas market, then you'll know exactly what to expect: festive German food, handmade Christmas trinkets, glühwein and cider, and lots of Christmas cheer!
Explore Vancouver's best neighborhoods
Downtown
In Downtown, you'll find an eclectic group of people for people watching. Plus, there is never a shortage of things to do in Downtown.
In particular, Robson Street is full of great shopping and restaurants, and Granville Street offers boutiques and many exciting venues for shows, movies, concerts and more!
Downtown is also home to the lovely Stanley Park.
Want to stay in Downtown? Find amazing deals on accommodations here!
Chinatown
As you'll notice, Vancouver has a gigantic Chinese population. So while there, it's only fitting that you explore Chinatown's markets, sample some dim sum, drink hot tea, and experience Chinese-Vancouverite culture. Spend a few hours milling about Chinatown!
Want to stay in Chinatown? Find amazing deals on accommodations here!
Gastown
Gastown is one of the most popular neighborhoods among tourists, and rightfully so. With its Victorian architecture, cobblestone streets, and iconic steam clock, Gastown is one of Vancouver's prettiest districts. And did we mention the endless list of delicious restaurants and chic shops that can be found in Gastown?
RELATED READING: Where to Eat & Drink in Vancouver: The Ultimate Foodie Guide
Granville Island
Of course, the crown jewel of Granville Island is the Granville Island Public Market. By itself, it's enough to warrant a visit to the island. But there is also much more to discover! Artists' workshops, pubs, restaurants, and stores line the streets of Granville Island, making it the perfect place to mosey, day or night!
Yaletown
Yaletown is the cool, trendy neighborhood in Vancouver. Once a bustling industrial district, Yaletown's warehouses have transformed into awesome eateries and specialty shops. Yaletown also comes alive in the nighttime with its bustling bar scene.
Want to stay in Yaletown? Find amazing deals on accommodations here!
Let's face it: I'm just about ready to move to Vancouver. That's how much I loved it.
Now book your trip and follow this guide of what to do in Vancouver! Guaranteed, you'll enjoy it just as much as we did.
Did you know…
When you book travel or purchase something through our links, we receive a small commission, at no extra cost to you? Your support enables Maddy's Avenue to keep producing helpful travel content. Thank you!
Over to you: If you haven't visited Vancouver yet, what are you waiting for? If you have, what are your favorite things to do in Vancouver?
*This post contains affiliate links. When you make a purchase through the links on our website, we will receive a small commission, at no extra cost to you. We never recommend any products/services that we don't absolutely love. These commissions help keep Maddy's Avenue up and running, and we thank you for your support!