When it comes to Europe, Berlin usually tops every millennial's list. And with street art galore, booming nightlife, tantalizingly cheap eats, and such rich history, why wouldn't anyone want to visit Berlin?
During the past year, we've traveled to Berlin a whopping three times — each time, growing more and more fond of Germany's capital. Alas, Berlin is just one of those cities we, as 20-somethings, can't get enough of.
Since we've been back in the States, attending classes and working, all we want to do is return to Berlin. We've been thinking long and hard about the all the things we love about Berlin, and now, it's time to share those thoughts with you. Here is our list of the top 10 things to do in Berlin, perfect for first-timers and those who already know and love Berlin! *This post contains affiliate links.
The Top 10 Things to Do in Berlin
#1 Neue Heimat
Neue Heimat is the coolest place to hang out in Berlin, hands down. Weekly, from Thursday through Sunday, this graffiti-clad industrial venue offers young people a place to chill, drink beer and cocktails, eat from a variety of food carts, listen to live music, dance, ice skate, see local art, and so much more.
Located in the hip, artsy district of Friedrichshain, Neue Heimat is the place to spend a night out or a relaxing Sunday afternoon. Neue Heimat is low-key and local, but has something for everyone!
Where: Revaler Str. 99, 10245 Berlin (Friedrichshain)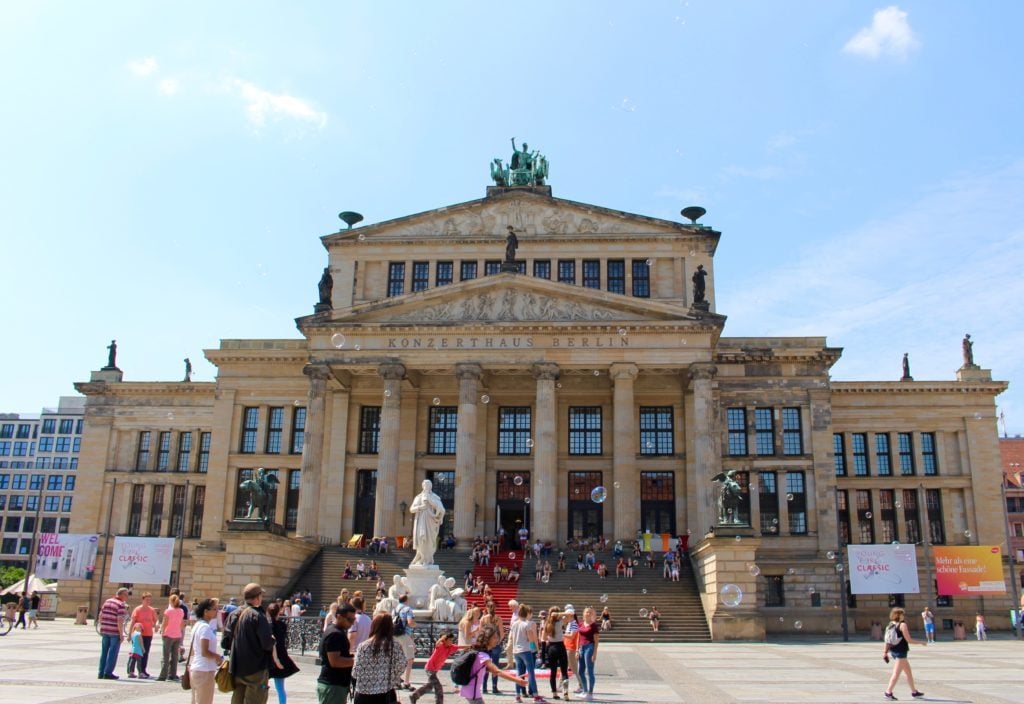 #2 Gendarmenmarkt
Gendarmenmarkt is the most beautiful square in Berlin, and perhaps in all of Germany. Surrounded by the extravagant façades of the Konzerthaus, French Cathedral, and German Cathedral, Gendarmenmarkt is a place to gather and enjoy good company.
In the summer, make sure to enjoy Gendarmenmarkt's stunning architecture in the sunshine.
During the holiday season, visit Gendarmenmarkt's Christmas market for live music, shopping, endless consumption of glühwein, beer, gingerbread, sausages, and so much more!
No matter the season, add this square to your must-see list!
Where: Gendarmenmarkt, 10117 Berlin (Mitte)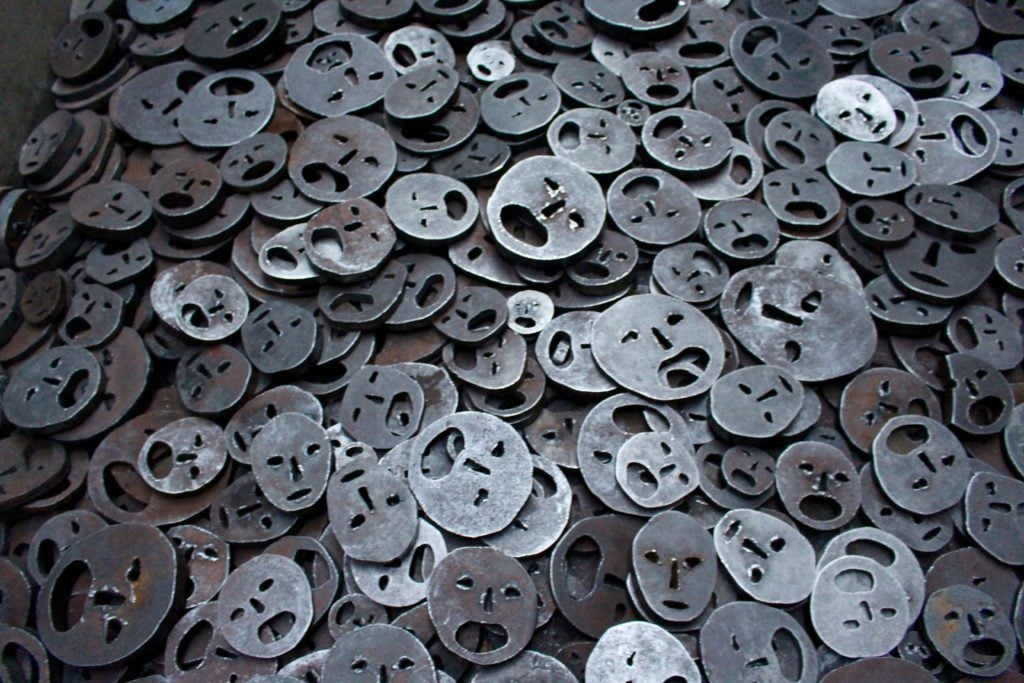 #3 Jüdisches Museum Berlin
If you're going to visit a Jewish Museum, you should do so in the country that once tried to decimate the entire Jewish population.
This museum exhibits not only the history of the Holocaust, but also of Judaism in general, and the lives of different Jewish people throughout the centuries.
The museum's most powerful exhibition, the Fallen Leaves, is found in a room entitled the Memory Void, in which over 10,000 iron faces litter the empty room. As you walk over them, loudly clanging each face against another, it's like each one is staring up at you, screaming and crying. In that moment, their suffering somehow feels so much more real — though we will never really be able to fathom what they went through. This is an experience you cannot leave Berlin without.
Where: Lindenstraße 9-14, 10969 Berlin (Kreuzberg)
#4 Deutsches Historisches Museum
Also known as the German Historical Museum, the Deutsches Historisches Museum details hundreds of years of German history in the forms of art, artifacts, furniture, films, culture, and more.
If you're interested in learning more about German history, especially apart from well-known World War I and II history, this museum is a must!
We spent hours and hours looking through the museum's trove of incredible paintings and historic artifacts.
Where: Unter den Linden 2, 10117 Berlin (Mitte)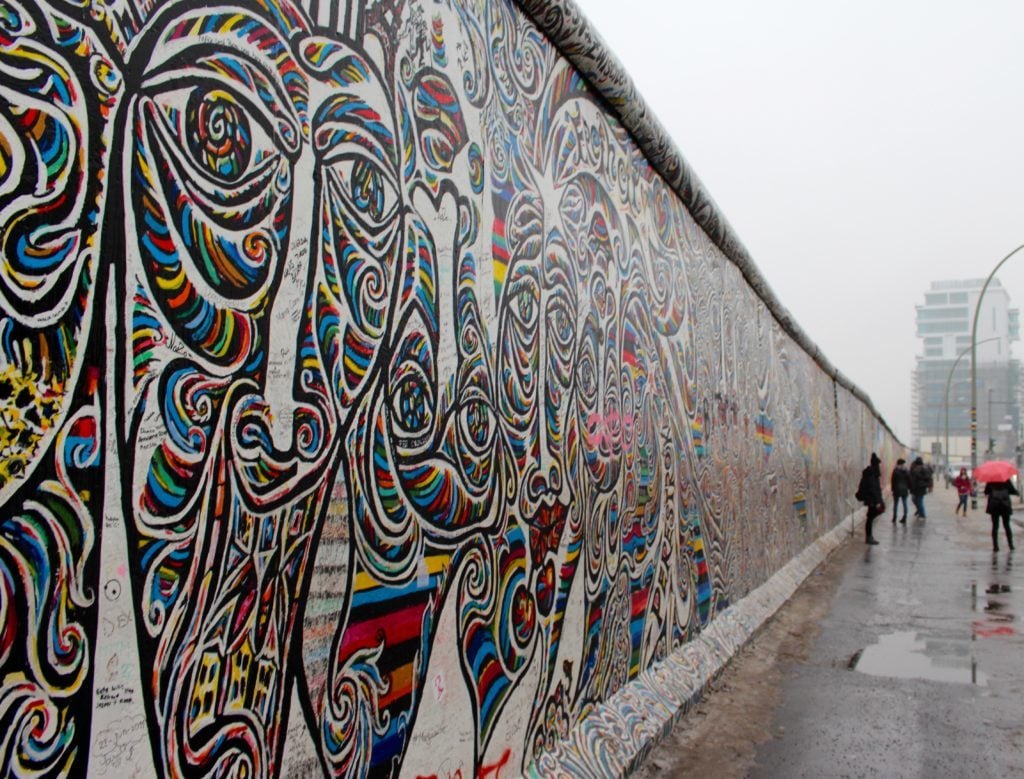 #5 East Side Gallery
If there's one thing Berlin is known for, it's its population of free-spirited creatives; their presence echoed most throughout the city's street art, and especially through the East Side Gallery. This 1.3 kilometer stretch of the Berlin Wall still stands today, and has been converted into a masterpiece for everyone to behold.
Why not take your time, stroll along the wall, and admire the magnificent urban art? But while you do, don't forget the significance of the concrete that lies behind those pretty layers of paint.
Where: Mühlenstraße, 10243 Berlin (Friedrichshain)
#6 Tiergarten
Tiergarten is Berlin's largest and most popular inner-city park, often found on travelers' lists of top 10 things to do in Berlin.
On the outskirts of the park, you'll find famous landmarks, such as the Brandenburg Gate, the Memorial to the Murdered Jews of Europe, the Reichstag Building, and more. As you walk through the park, you'll come across lakes, statues, monuments, and of course, endless greenery.
The Tiergarten serves as the perfect escape from Berlin's hustle and bustle!
Where: Str. des 17. Juni 31, 10785 Berlin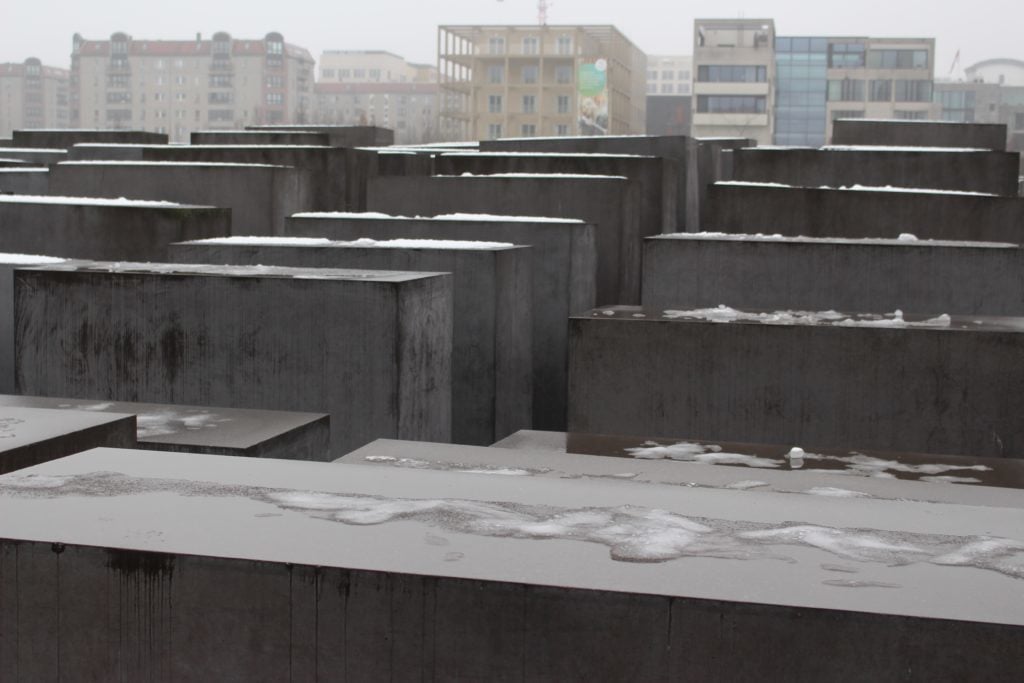 #7 Memorial to the Murdered Jews of Europe
Those lost in the Holocaust still linger heavily in the hearts of Berliners. So in 2003, New York City architect, Peter Eisenmann, designed the Memorial to the Murdered Jews of Europe as a place to remember the Holocaust.
The Memorial features a vast grid of 2,711 concrete pillars of staggering heights, which you can enter from any of its four sides, walk between the pillars, and gather with others to honor those lost.
Underground, an information center provides more information about the horrors of the Holocaust.
Where: Cora-Berliner-Straße 1, 10117 Berlin
#8 Pub Crawl
During our third trip to Berlin, we decided to join a pub crawl to celebrate the New Year.
During the crawl, we met so many cool, like-minded people from around the world and we experienced five different bars throughout Berlin. Because let's be real, Berlin is just as much about partying as it is about history and museums!
You can't go to Berlin and not drink liters of beer, go to tons of pubs, and meet lots of awesome people. These are the minimum requirements for a trip to Germany's capital.
#9 Berliner Dom & Museum Island
The Berliner Dom is the largest cathedral in Berlin, and in our opinion, it's the most beautiful, too. Take a guided tour of the Berliner Dom, or explore it on your own. Afterward, sit out in the sun and enjoy Museum Island's elegant architecture.
Undoubtedly, Museum Island can be found on every traveler's list of things to do, as it's a UNESCO World Heritage Site, complete with the Berliner Dom and five notable museums to enjoy.
Where: Am Lustgarten, 10178 Berlin
#10 Pergamonmuseum
Found on Museum Island, the Pergamon Museum is Berlin's most popular museum.
If you're interested in ancient history, the Pergamon will probably be at the top of your list! Housing ancient treasures such as the Ishtar Gate from Babylon and the Altar of Zeus, the Pergamon is, by far, Berlin's most impressive museum.
Where: Bodestraße 1-3, 10178 Berlin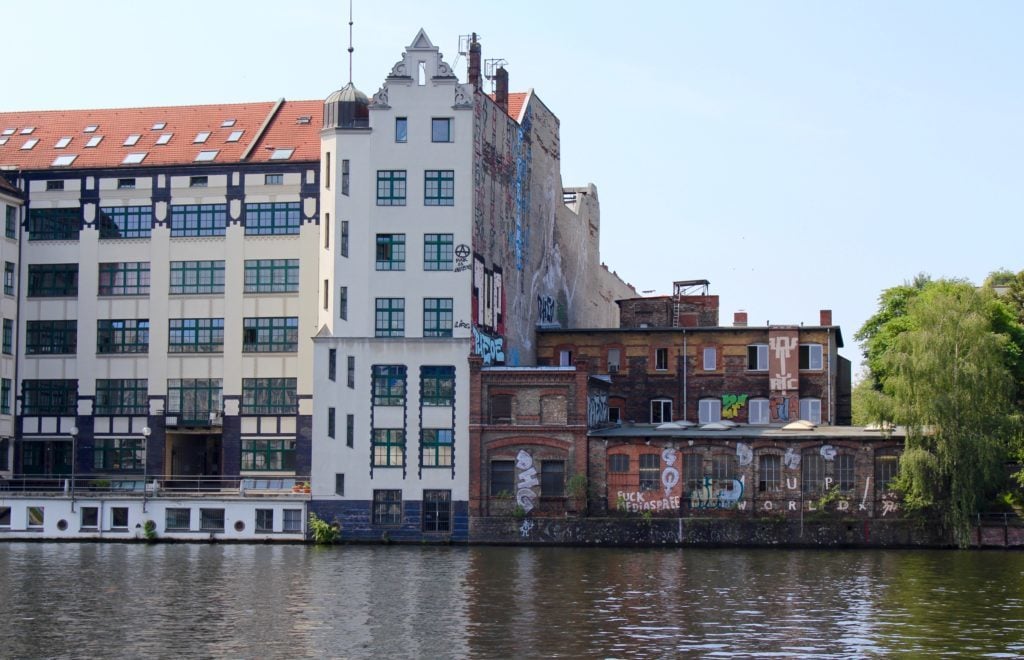 What to Pack for Germany
Remember that the season of your visit to Germany will help determine what you need to pack!
Of course, summer is warmer, and you can dress as you would in this part of Europe. But as expected the winter is very cold. Always bring a beautiful coat in winter!
Here are a few top tips of what to wear in Germany:
Quick Germany Tips
Related articles:
Over to you! What are your favorite things to do in Berlin? What would you add or remove from our list of the top 10 things to do in Berlin?