Excited to get the most out of your 3 days in Lisbon? With this 3-Day Lisbon Itinerary, you'll soak up enough sights, knowledge, and flavors to leave you smitten with Portugal's ancient capital city.
With 3 days in Lisbon, you'll have plenty of time to experience the best of Lisbon – or Lisboa, in Portuguese!
You'll wander glossy limestone-tiled streets, marveling at impressive architecture and magnificent Baroque churches. You'll try classic Portuguese pastries (Hello, pastel de nata!), sip on local wine, and people-watch in bustling city squares. You'll savor stunning sunsets over the sparkling Tagus River and go back in time as you explore the colorful Pena Palace. And of course, you'll sample authentic eats – from bacalhau and peixe grelhado to queijadas and travesseiros – and delight in traditional Fado music. Just to name a few!
Consider this Lisbon 3-Day Itinerary your guide to a perfect trip to Lisbon.
In this Lisbon Itinerary, you'll find the best places to stay, what to see, what to do, where to eat, and everything else in between!
Ready for the most magical 3 days in Lisbon?
How to Get to Lisbon
Before we get to the good stuff (like the best things to do in Lisbon), the important stuff. Logistics.
Via Airplane
Once you arrive at the Lisbon Airport, navigating to the city center is easy. There's a direct metro line from the airport to Baixa. Hop on the "Aeroporto > Saldanha" line and you'll reach downtown Lisbon in about 20 minutes. Make sure to snag a Lisbon Card so that all of your public transportation trips are free! You can also call an Uber or Bolt car; driving also takes about 20 minutes, barring traffic.
Via Train
If you're taking the train to Lisbon from elsewhere in Portugal or Spain, you will likely get off at Lisboa Santa Apolonia station in the São Vicente district of Lisbon. From there, you can either walk to your hotel, hail a taxi, hop in an Uber or Bolt, or take public transportation. Most likely, your hotel will still be a 20-minute walk away, if you're staying in Baixa.
Via Bus
If you're bussing to Lisbon, you will likely end up at Estação do Oriente (Lisbon Oriente) station in the Parque das Nações area. This isn't the most convenient stop, so your best bet is to take a taxi! Otherwise, you can take public transportation, you just may have to make a change or two along the way. From Oriente, the journey to Baixa will take about 25 minutes via taxi and at least 30 minutes via public transport.
Best Lisbon Neighborhoods to Explore
About half-a-million people live in Lisbon, across many different neighborhoods that all radiate beauty, antiquity (did you know that Lisbon predates Rome by four centuries?) and feature an eccentric balance of street art and classical architecture.
The following neighborhoods are the main ones you will explore with this 3-Day Lisbon Itinerary.
Baixa: It's no secret that Baixa is the most prominent neighborhood in all of Lisbon! Fancy the city's most popular monuments, squares, and attractions by wandering the heart of Lisbon. AKA Baixa Pombalina, Lisbon Downtown, and Lisbon City Centre.
Bairro Alto: This shabby-chic neighborhood is becoming recognized for offering more than just a night out. Relish in the unique gastronomic offers, art galleries, and street art that make up this historic hill.
Chiado: Nestled in between Bairro Alto and Baixa is the quaint, luxurious neighborhood of Chiado, where there's no shortage of boutique hotels, clothing stores, cafés, and dining experiences.
Alfama: The oldest and most romantic neighborhood in Lisbon, (possibly all of Europe?). Alfama offers rich history and delightful miradore views among its many steep hills.
Belém: Come here for the pastel de nata, stay for the museums, churches, and historically significant sites.
Where to Stay in Lisbon
With only 3 days in Lisbon, it's important to stay in a central location. That way, you can take breaks in between sightseeing. Baixa (Downtown), is the city center, so of course, it's a convenient base for exploring all of Lisbon's major attractions. Due to its historical reconstruction after the 1755 earthquake, the Downtown is also in line to become a UNESCO World Heritage Site. This is the most popular neighborhood, staying here makes using this three-day Lisboa itinerary a breeze!
Brown's Central Hotel
Situated in the core of Lisbon's Pombaline Downtown (Baixa) is Brown's Central Hotel, my #1 hotel recommendation in Lisbon. This historic 18th-century building is brimming with old-world charm, chic luxuries, and artistic flair.
Head to the hotel's vintage-style bar and lounge to enjoy your welcome drink – a tangy, warm concoction of lemon juice, passion fruit purée, and almond liqueur – simultaneously timeless and unique, like the hotel itself. Welcome to Brown's Central Hotel!
Retreating to a plush king-size bed, opulent white-marble bathroom (complete with a robe and slippers – the best!), in-room Nespresso machine, and flat-screen smart TV was a fabulous way to end long, incredible days of Lisbon exploration.
To complete my suite at Brown's Central Hotel: soundproofing, blackout curtains, and a Marshall Stanmore speaker – a nice touch.
But my favorite part about my stay was the sumptuous breakfast spread. Definitely opt for the included breakfast when you book! It's the best hotel breakfast I've ever had, bar none. After a restful night of sleep, head down to breakfast with your pre-coffee-coffee in hand, and you'll be ready to take on the steep hills of Lisbon.
Click here to book your fabulous stay at the Brown's Central Hotel. I promise, you'll be glad you did!
Best Luxury Hotels in Lisbon
Best Mid-Range Hotels in Lisbon
Best Budget Accommodation in Lisbon
Ready to book your 3 days in Lisbon? Click here to find the best deals on Lisbon hotels! Most accommodations on this site offer free cancellation too, so there's no harm in diving right in!
Get a Lisbon Card
Before you arrive in Lisbon, do yourself a favor and buy a Lisbon Card online. The card includes free public transportation – including free admission to the Santa Justa Lift and all of the elevators and funiculars. You also gain free access to the LISBOA Story Center, Chiado Museum, Convent do Carmo Archaeological Museum, Sintra Palace, Rua Augusta Arch, Pena Palace & Park, Belem Tower, and more.
Click here to purchase your Lisbon Card! You'll love all the savings, promise.
Best Things to Do in Lisbon in 3 Days
Phew! Now that the logistics are out of the way, let's talk about the best things to do in Lisbon.
This Lisbon Itinerary for 3 Days covers everything from the best things to do in Lisbon, a variety of fabulous restaurants and bars, historic sights to see, and so much more.
There's a seemingly endless amount of sights to see and food to eat in and around the captivating city of Lisbon. That said, don't feel like you need to do everything! Feel free to follow this itinerary to a T or use it loosely to create the Lisbon city break of your dreams.
Day 1 of 3 Days in Lisbon
Start your first day in Lisbon getting the lay of the land from above the city, then make your way through the buzzing streets and squares to explore churches, take in panoramic views, and learn about Lisbon's history along the way.
If you're a foodie, you may also want to squeeze in a food tour to discover some of Lisbon's best food, wine, and more.
1. Take a Food Tour
If you prefer to get to know new places through your tastebuds, then consider taking a Lisbon Food Tour!
On either of the foodie tours below, you'll explore on foot, visit some of the city's best eateries, and savor 16+ tastings of traditional Portuguese food and drink, with a local expert foodie guide. From iconic pastries and local wine, to delicate seafood dishes and sweet liqueurs, you're in for a real, authentic treat!
Choose one of these food tours:
You have multiple start-time options, so you should be able to squeeze in your foodie tour on Day 1.
Both of these tours sell out well in advance, so make your booking ASAP!
2. Visit São Jorge Castle (Saint George's Castle)
Snag a coffee and a traditional Portuguese pastry at the historic and iconic Confeitaria Nacional, in Praça da Figueira (just a few minutes walk from Brown's Central Hotel). Then hop on the 737 bus, up to the historic Moorish castle, Castelo de São Jorge.
Seated at the top of the Alfama district, watching over the entire city, is the São Jorge Castle. The backbone of Lisbon's history – with structural origins dating back as early as the 1st century BC – this is the site where famous Portuguese explorer, Vasco da Gama, returned after his legendary voyage to India. (You'll learn more about Vasco de Gama on the morning of Day 3, in Belém.)
Familiarize yourself with the heritage of Lisbon at the castle's museum, Núcleo Museológico, then climb one of the great towers of the castle, where you may stumble upon a camera obscura. You can enjoy the gardens, grab a pastry (and water!) at the Café do Castelo, or simply enjoy the sweeping city views at the Castelo de São Jorge viewpoint!
3. Take the Scenic Route to Alfama
On your way down from the castle, take the scenic route and stop at these breathtaking lookouts in the hills of Alfama:
4. Stroll Around Alfama
A labyrinth of alleys draped with drying laundry lead you through Lisbon's renowned and romanticized Alfama neighborhood.
After an active morning at the castle, allow yourself a break and enjoy sitting at a quaint café for a while. There, you can decide if you want to do more sightseeing, or simply people-watch and pop into some shops as you stroll around.
Alfama hosts many historical monuments and churches, but also some of the steepest hills in town! Pace yourself.
Visit Sé de Lisboa (Lisbon Cathedral)
As you roam Alfama on foot… The oldest and most well-known cathedral in all of Lisbon, the Sé de Lisboa, is a must-see!
After you're done touring the inside, head across the street and wait for the iconic 28 tram to arrive in front of the Lisbon Cathedral so you can snap one of the most-photographed moments in Lisbon!
While you're there, take a gander at Igreja de Santo António (St. Anthony's Church), said to be built at the site of St. Anthony's birth!
Other Alfama Must-Sees
If you're up for it, take a 15-minute walk east to explore these other notable, historic sites in Alfama:
Igreja e Mosteiro de São Vicente de Fora (Church and Monastery of St. Vincent): The largest collection of baroque tiles in the world is found here, impressive!
Panteão Nacional (National Pantheon): You'll be wowed by the gorgeous pantheon, where the tombs of adored Portuguese heroes and important figures rest. (Free entry with your Lisbon Card!)
Both the Pantheon and Church of St. Vincent have miraculous views from the top!
6. Head to Baixa (Downtown/City Centre)
Next up, it's time to explore Baixa!
As you make your way from the Alfama district to the historic Baixa district, you'll notice the streets flatten out, and the curved alleys become linear. Welcome to Pombaline Downtown!
After the infamous earthquake, fire, and tsunami of 1755, the Pombaline District was rebuilt by the 1st Marquis of Pombal (Sebastião José de Carvalho e Melo). Chief minister to King Joseph I, revered for implementing this preventative design you see today.
On your way to our first major square, Praça do Comércio, do yourself a favor and stop into Brunch Café for an almost-too-perfect-to-eat acaí bowl. Next door, take a moment to appreciate the ornate ceiling of Igreja de Nossa Senhora da Conceição Velha. (I know you've already seen a lot of churches today, but this is captivating!)
P.S. Find all of my top café, restaurant, and bar recommendations toward the bottom of this 3 Days in Lisbon Itinerary!
7. Stop by Praça do Comércio (Commerce Square)
You've made it to Lisbon's monumental Praça do Comércio, or Terreiro do Paço, as the Lisbonites call it. This plaza is easily the most recognized, and reflects the pride of the Lisbon people and kingdom after the devastation of the 1755 earthquake.
Standing as the grand entrance to Lisbon, this square is where explorers and merchants planned their sea voyages to Asia, and where they returned home carrying exotic spices and goods.
8. Marvel the Arco de Rua Augusta (Rua Augusta Arch)
Another one of Lisbon's must-sees is the Rua Augusta Arch, that gorgeous triumphal arch in the background of your photos at the Praça do Comércio. Climb to the top (or take the lift, it's been a long day!) of the arch for a magnificent view of the plaza and the Tagus River, as well as an up-close and personal look at the detailed carvings on the arch itself. Entry is free with your Lisbon Card.
In Latin, it reads, "The Virtues of the Greatest": the strength, resilience and achievements of the Portuguese people.
The arch is the gateway to the lower city of Lisbon, and a structure you'll likely pass under more than once. Now, you've finally made it to Lisbon's busiest pedestrian street, the Rua Augusta!
9. Spend Time in Dom Pedro IV Square (Rossio Square)
Next, take a leisurely stroll down lively Rua Augusta, headed for the "living room of Lisbon": Dom Pedro IV Square. Café breaks and souvenir shopping detours along the way are welcome!
When you've reached Dom Pedro IV Square, commonly, Rossio Square or simply, "Rossio," you'll know right away. Characterized by traditional calçada portuguesa (Portuguese pavement) in the "Largo Mar" wave mosaic style, fragrant seafood restaurants, and tons of shopping opportunities, Rossio is one of Lisbon's most frequented squares. This has been the case since the Middle Ages!
Rossio Square features the Column of Pedro IV, a 75-foot (23-meter) column topped with a marble statue of King Peter IV, framed by two majestic baroque fountains. Take a seat and watch the world go by for a little.
Also in Rossio is the Dona Maria II National Theater and the gorgeous Rossio train station.
10. Sunset at the Elevador de Santa Justa (Santa Justa Lift)
If you've followed this Lisbon itinerary more or less, you should be nearing sunset, the best time to ride the Santa Justa Lift. Located at the end of Rua de Santa Justa (super close to Brown's Central Hotel), take a ride in this gothic tower up to one of the best viewpoints in Lisbon.
The Santa Justa Lift was inaugurated as a public transport system in 1902. It's the fastest way to get from Baixa to Barrio Alto, and the coolest. This wrought-iron elevator stands 147 feet (45 meters) tall, and looks incredibly similar to the Eiffel Tower… Of course, that's because it was built by Raoul Mesnier de Ponsard, an admirer of Gustave Eiffel!
Why not sip on a pastel-de-nata-inspired cocktail or a glass of wine while you wait in line to go up?
Don't miss out on a specialty drink at the little bar "Paradoxo." You keep the mug, too. How cute!
11. Relax, Wine, and Dine at Terraços do Carmo
After you've taken in one of Lisbon's magnificent sunsets, walk across the bridge and down the stairs to the right, you'll happen upon the Terraços do Carmo (Carmo Terraces) in Chiado!
These three terraces were built after the 1988 fire, and offer beautiful views of Rossio Square and St. George's Castle. The lower terrace has lounge chairs for relaxation – from there, watch nighttime in Lisbon come to life! Sometimes, they host movie nights on a projector here, too! Check here for the schedule.
Just above is Carmo Rooftop, restaurant, bar, and event space set between the Santa Justa Lift and the Covento do Carmo (Carmo Convent). A one-of-a-kind location to enjoy a cocktail, tapas, and night of dancing! We'll explore more of Chiado on Day 3 of your three days in Lisbon.
P.S. Find all of my top café, restaurant, and bar recommendations toward the bottom of this 3 Days in Lisbon Itinerary!
Day 2 of 3 Days in Lisbon
Ready for your second day in Lisbon? Well, actually…
Day 2 is the perfect day to escape the city for a little while, on a day trip to charming Sintra & Cascais. You can't miss the amazing Pena Palace!
12. Take a Day Trip to Sintra & Cascais
Hop in an air-conditioned minibus for a private tour of some of Portugal's most historic and picturesque attractions. I highly recommend this Sintra and Cascais Small-Group Day Trip from Lisbon if you want a skip-the-line, small-group experience, with all details handled for you!
Click here to book your Sintra & Cascais day trip now!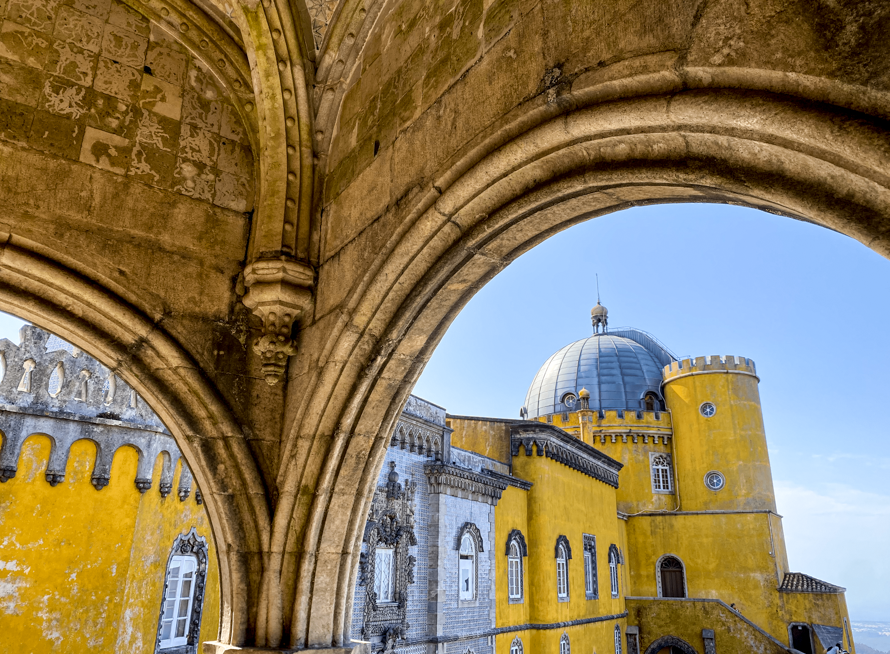 Tour Pena Palace
Your first stop is the colorful Pena Palace. One of Portugal's Seven Wonders… (Best to just keep your camera out for this whole day!)
Situated in the Portuguese Riviera is Sintra's Pena Palace, a Romanticist Castle in the Sintra-Cascais Natural Park. You may be surprised to learn that this vast forest is actually man-made! During construction in the mid-1800s, King Ferdinand II ordered exotic trees to be planted on over 200 hectares of mountains surrounding the castle. In fact, "pena" translates to white rock, which is what the National Park started off as! Breathe in the fresh air and admire massive sequoias (from California) and ginkgos (native of China).
Click here to book your Sintra & Cascais day trip now!
Wander Around Sintra
Next, do as the royal families and elites did during the 19th century, by retreating to the endearing town of Sintra, enshrouded in nature with marvelous views of the Atlantic Ocean.
Spend a couple hours meandering the alleyways. Pop into the cork stores, where you can purchase all kinds of handmade cork souvenirs. Sip on some sweet Ginjinha (a cherry liqueur). Try Queijadas and Travesseiros, two rich, delicate pastries hailing from Sintra. Visit the Olga Cadaval Cultural Center. And do whatever else suits your fancy!
On the hill leading up to this little town, there are some lovely street vendors offering handmade jewelry, hand-painted painted cork gifts, and leather goods. Pick up something to remind you of your time in Sintra!
Who doesn't love a day tour that includes time to roam freely? Click here to book your Sintra & Cascais day trip now!
Admire Cabo da Roca
The next stop on your Sintra & Cascais day trip is Cabo da Roca, the westernmost point of Europe! What a rush. Enjoy the fresh Atlantic breeze as you stand atop these cliffs.
Snap a photo of Portugal's oldest lighthouse, and take in just how small you are compared to the vastness of the sea. A wonderful memory, plus, you can say you've been to the edge of the world!
Soak up Sun in Cascais
The final stop of this epic day of adventure is Cascais, whose modern vibe starkly contrasts the ancient historical sites you've explored so far.
King Luís I and the royal family adored Cascais in the late 1800s; they moved here every summer (and I don't blame them). Thus, what once was a small fishing village became a high-end beachside metropolis.
Of course, Cascais has something you can't find in the city center: a BEACH! Be sure to bring your suit and a towel, but be prepared; the water is freezing! Of course, there's no shortage of delicious food and shopping boutiques – two things you can always count on in Portugal.
P.S. Try the baked sea bass at MIR Restaurant and Bar! The perfect way to end your Sintra and Cascais Small-Group Day Trip from Lisbon. Click here to book it now.
13. Check Out Praça dos Restauradores
Your Sintra and Cascais day trip tour drops you in Downtown Lisbon, right in Praça dos Restauradores: another gorgeous, historic square.
In the square's center, you'll find Monumento dos Restauradores, which stands to commemorate Portugal's liberation from Spain in 1640. You'll also notice the intricate pattern of Portuguese pavement, beautiful! Surrounding the square is an eclectic mix of Art Deco and 17th-century buildings, such as the Teatro Eden (Eden Theatre), and Palacio Foz (Foz Palace).
North of this square is some extremely high-end shopping on the Avenida de Liberdade "Lisbon's 5th Ave," and south is the familiar Rossio Square.
There are endless restaurants to choose from in these areas, but before you dine, consider taking nearby Funicular de Lavra (Lisbon's oldest funicular) up to Miradouro do Jardim do Torel for sunset. You only have three sunsets in Lisbon, why not?
Day 3 of 3 Days in Lisbon
I couldn't leave a trip to Belém out of this 3-Day Lisbon Itinerary. You've got to, even if just to say you went to Pastéis de Belém! After visiting Belém, explore some more on foot, and cap it off with an evening of Portuguese Fado music, traditional food, and wine.
No doubt, your last of 3 days in Lisbon will have you falling deeper in love with this City of Light!
14. Explore Belém
Hop in a taxi or take the 15 tram to Belém, the popular historic district a few miles west of Lisbon's city center. Once you get there, the best way to see all the must-see sights in Belém is by joining a free walking tour.
On the tour, or self guided if you prefer, you'll hit these spots:
Palácio Nacional de Belém (Presidential Palace of Belém)
Torre de Belém (Belém Tower) – UNESCO World Heritage Site
Monastero dos Jerónimos (Jerónimos Monastery) – UNESCO World Heritage Site
Padrão dos Descobrimentos (Monument to the Discoveries) – go to top for views
Visit a Museum in Belém
After the tour, there are a few awesome museums to check out, if it suits your fancy. They include:
Museu Coleção Berardo (Berardo Collection Museum)
Nacional de Arqueologia (National Museum of Archaeology)
Museu Nacional de Etnologia (National Museum of Ethnology)
Museu de Arte Popular (Popular Art Museum)
15. Stop by the Ponte 25 de Abril
On your journey back to Lisbon's city center, stop at the Ponte 25 de Abril, the famous suspension bridge that looks incredibly similar to the Golden Gate Bridge in San Francisco!
For a small fee, you can check out the inside, or simply enjoy walking along and admiring the Tagus River (the bridge is not crossable by foot).
16. Explore Cais do Sodré
Next, spend a couple hours exploring the coastal neighborhood of Cais do Sodré.
Normally visited by partiers due to its vibrant nightlife, this area is also a nice place for an afternoon stroll. Of course, you can always come back at night to party, if you like the vibe!
Pink Street
Pink Street is one of Lisbon's most Instagrammed streets, simply because of its seemingly random pink paint! It's also in Lisbon's former red light district, which hasn't completely faded away. Come here for the novelty, but stay for a drink at one of the many happening outdoor bars under the hanging rainbow umbrellas.
Time Out Market
Okay, the Time Out Market can get super crowded, but for good reason. There's a myriad of different eclectic foods to try and drinks to sip, as well as fresh fish, fruits, vegetables, and local delicacies.
17. Chill Out in Praça Luís de Camões
Take the Ascensor da Bica up to Praça Luís de Camões (Luís de Camões Square) and relax at A Brasileira, one of Lisbon's best cafés, for a refreshment or bite to eat.
While you're enjoying yourself, have a ponder about life, just like the famous Portuguese poet, Luís de Camões, would.
Camões is Portugal's most successful and celebrated writer – his work is often compared in quality to that of Shakespeare! His statue in the center of this square is perfectly placed to be appreciated by Lisbonites, since it's the junction between Baixa, Chiado, and Bairro Alto.
18. Take in the Convento do Carmo Ruins
Next, walk along the Rua Garrett to the somber yet beautiful Convento do Carmo ruins (Carmo Convent). The convent was a Gothic church, intentionally left roof-less and in disrepair after the devastation of the 1755 earthquake, tsunami, and fire.
Fascinatingly, the Carmo Convent is also home to the buried wife of Christopher Colombus. There's a small archaeological museum inside to learn more about its history, as well as marvel at ancient artworks that survived the destruction.
19. Marvel Igreja de São Roque
If you aren't bored of churches yet, we've saved the best for last. It lies just up the hill from Carmo Convent.
Though the white Neo-Classic exterior of the Igreja de São Roque (Church of Sao Roque) may look boring, it's merely a disguise; what you'll see inside is astonishing.
The painted wood ceiling and extravagant gold leaf features are unbelievably gorgeous. This is Portugal's first Jesuit church and one of the first in the world; it definitely stirs the emotions!
20. Sunset at Miradouro de São Pedro de Alcântara
This viewpoint is one of Lisbon's liveliest and most visited, and for good reason. The view here is marvelous – just as much at night as it is in the daytime. Plus, there is a surplus of seating areas, a café, bar, and a mellow garden on the level below.
Let yourself be enchanted by the setting sun illuminating the pastel buildings and clay rooftops of eastern Lisbon, all the way from Avenida da Liberdade to the southern part of the Tagus River. Know your last night in Lisbon will be one to remember!
Hop on the Gloría Funicular down to Praça dos Restauradores, and you'll conveniently be back down to Baixa and your (likely) hotel location. Get ready for a night out!
21. Bairro Alto for Fado, Tapas & Dancing
Bairro Alto is undoubtedly where you should spend your last epic night in Lisbon!
First stop is A Tasca do Chico, a traditional Fado (Portuguese music) house. And since Anthony Bourdain went there, we're going there.
It can get crowded and hot, but if you enjoy lovely melancholic live music, Portuguese wine, and tapas, you'll enjoy this experience! Just be sure to either make a reservation or arrive before the music starts at 8:30 pm, so you can secure a table.
If you've got it in you, the bar district in Bairro Alto is absolutely poppin'. You walked through it on your way to A Tasca do Chico, so there's no getting lost! You can't go wrong with just walking into the bar with the best music!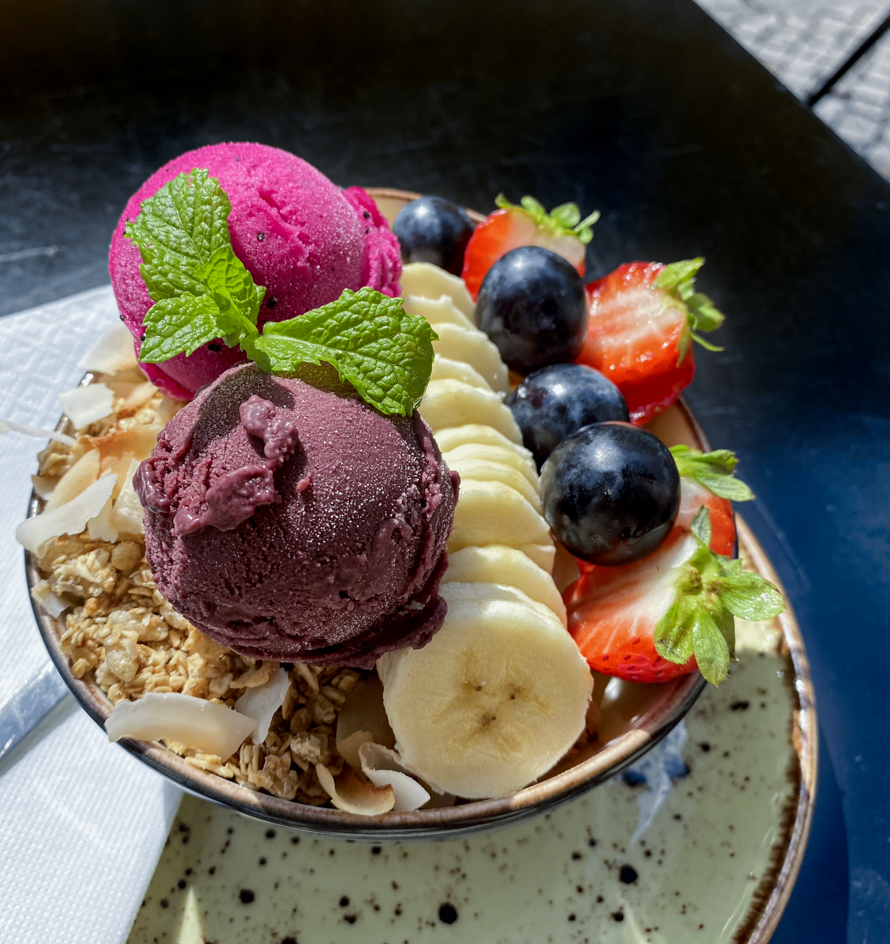 Where to Eat in Lisbon in 3 Days
Now to answer the question: Where should I eat during 3 days in Lisbon? This section has you covered with the best bites and bevvies!
Coffee/Breakfast in Lisboa
Lunch in Lisboa
Dinner in Lisboa
Alma: Alma (which means "soul" in Portuguese) is revered chef Henrique Sá Pessoa's two-Michelin-star restaurant. Come here to appreciate worldly, imaginative, avant-garde cuisine. You know it's going to be good if food legend Anthony Bourdain visited. (Dear vegans, Alma has a fabulous vegan tasting menu!) Of course, you should make a reservation well in advance.
Needle in a Haystack: Take part in family-style meals in a cozy little restaurant in Alfama. This dining experience is extraordinary and won't break the bank! Needle in a Haystack's menu includes traditional Portuguese dishes like bacalhau (codfish), as well as some fresh vegetarian bites.
Peixaria do Rossio: Sit here for hours ordering different plates of fresh seafood, yummy drinks, and basking in the ambiance of an evening in Rossio Square. Peixaria do Rossio has an excellent central location (and thus, can be a little touristy, but hey, you're a tourist!).
Bars, Pubs, & Nightlife in Lisboa
A Tasca do Chico: A tiny, lively fado (Portuguese music) house, with traditional tapas and local wine. Another place Tony graced with his presence.
3-Day Itinerary Lisbon: Lisbon Travel FAQs
Is 3 days enough for Lisbon?
With three days in Lisbon, you can hit all of the major tourist attractions, as well as pay visits to the historical sites around the city, such as Pena Palace and Sintra. Three days in Lisbon is the perfect amount of time for your first visit in Portugal if you just have one week in the country. If you spend each half-day touring a specific neighborhood, you can get a good grasp on the history and essence of each district. There's a ton to see in Lisbon, but three days is just enough to get you hooked on this City of Light!
Should I go to Lisbon or Porto?
You should go to both Lisbon and Porto, as each city offers its own unique claim to fame. In Lisbon you'll find a fast-paced city break, whereas in Porto you'll find more slow-paced sightseeing. Both Lisbon and Porto have important cathedrals and historic buildings, but Lisbon has significantly more museums, monuments, and historically significant neighborhoods. Porto is a nice change of pace from Lisbon, where you can take a break from the city life and enjoy sipping Port wine.
Is Lisbon worth visiting?
Yes, Lisbon is 100% worth visiting. Lisbon has become one of the top travel destinations in all of Europe – and for good reason! Lisbon has a very intriguing and colorful past to learn about, as well as modern museums, art galleries, and culinary offerings to discover. It is also one of the least-expensive capital cities in Western Europe. Lisbon is worth visiting if not simply to walk along the gorgeous streets of Calçada Portuguesa while snacking on a traditional pastel de nata pastry.
Is 2 days in Lisbon enough?
Two days in Lisbon is likely not enough time to see all of the popular attractions around the city. If you plan to visit just the city itself, two days is enough to simply visit the neighborhoods, stop at the most popular historical sites, and sample some traditional Portuguese dishes. If you want to venture out to other nearby historical sites, such as Pena Palace in Sintra, then two days in Lisbon is not enough time.
How many days do you need in Lisbon?
You need at least three days in Lisbon in order to see the most famous historical monuments and landmarks in and around the city center, and to visit the neighborhoods. With three days in Lisbon, you'll also have enough time to explore the famous Pena Palace, as well as the historical towns of Sintra and Cascais.
What is the best month to visit Lisbon?
One of the best months to visit Lisbon is October, right after the tourist high-season of summer is over and the weather has cooled down. If you visit in September, you may still find large summer crowds and higher prices. The spring months of March, April, and May are also great times to visit Lisbon, before the high season kicks in! During this time, the weather is mild, rates are lower, and crowds are sparse.
Is Lisbon walkable?
The city of Lisbon is built on seven hills, so though Lisbon is walkable, you will be walking up hill, a lot. This makes walking a little bit exhausting, but it doesn't change the actual distance between neighborhoods, which is not much. Lisbon is definitely a walkable city, but not for those with severe mobility problems. If you don't want to walk, Lisbon has a great public transportation system – which you can access for free with the Lisbon Card! Get your Lisbon Card here!
3 Days in Lisbon Itinerary: The Ultimate 3-Day Guide for First-Timers
After three days of visiting Lisbon, the open-minded, resilient energy of this city and its people will have you head over heels!
Lisbon is one of the most affordable, sunny, and welcoming cities to visit in all of Europe. If you're lucky enough to spend 3 days in Lisbon – basking in the chic luxury of the Brown's Central Hotel, wandering bustling streets, trying traditional Portuguese cuisine, and taking a day trip to explore the wonders of Sintra and Cascais – I'm confident you'll have been put under Lisbon's spell. No doubt, you'll be back to bask in the Lisbon sun again soon enough.
FIND MORE PORTUGAL INSPIRATION HERE!
SAVE THIS LISBON ITINERARY ON PINTEREST FOR LATER!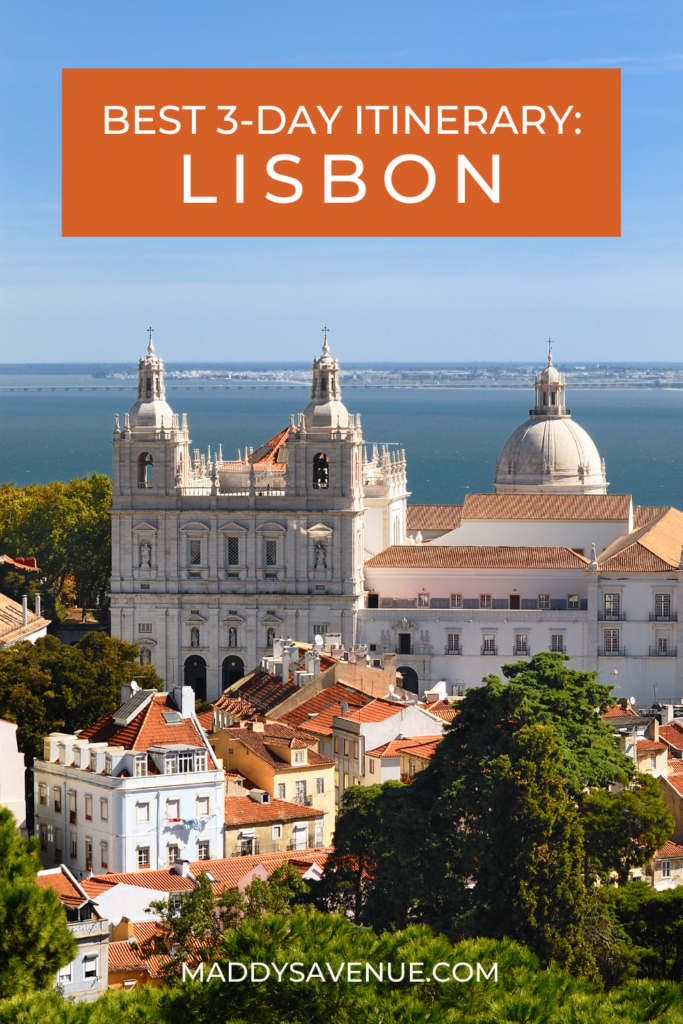 When you book travel or purchase something through our links, we receive a small commission, at no extra cost to you? Your support enables Maddy's Avenue to keep producing helpful travel content. Thank you!
Maddy's Avenue spent three days in Lisbon, Portugal as a guest of Brown's Central Hotel and embarked on this Sintra and Cascais Small-Group Day Trip from Lisbon free of charge. As always, our opinions are 100% honest and completely our own. This post may also contain affiliate links, which help keep this site running, at no extra cost to you! Thank you for your support. :)