Fisherman's Wharf, Union Square, Lombard Street, Alcatraz. Yeah, we've heard it all before. And all of those places, well, they're getting old.
Actually, they've been old.
As they say, let's stray off the beaten path. Let's discover some of the awesome, totally underrated things to do in San Francisco! Shall we?
Here are 12 underrated things to do in San Francisco!
---
Wondering Where to Stay in SF?
We'll get back to the top underrated things to do in San Francisco in one sec. Because I know it's hard to know which neighborhood to stay in, I thought I'd throw in a quick tip.
If you're unsure where to stay, the best and non-touristy neighborhoods are North Beach, The Marina, Alamo Square (near Hayes Valley), and The Castro.
CLICK HERE to find the best accommodations in San Francisco for the lowest prices!
---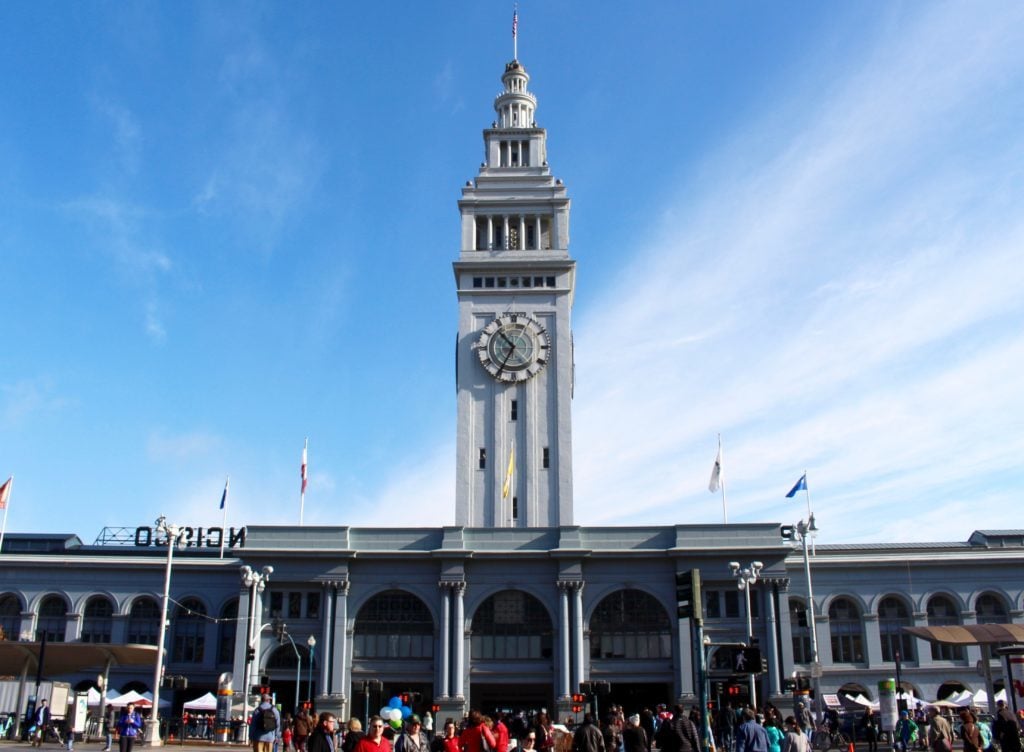 1. Peruse the Ferry Building
On any given day, the Ferry Building Marketplace brims with busy food stalls, restaurants, and markets, selling the finest specialty goods the city has to offer. Favorites here include Blue Bottle Coffee for the city's best brews; Hog Island Oyster Company for mouthwatering clam chowder, scallops, and oysters; Cowgirl Creamery Artisan Cheese Shop for a delectable selection of cheeses; and Heath Ceramics for beautiful handcrafted pottery.
On Tuesdays and Thursdays (10 a.m. to 2 p.m.) and Saturdays (8 a.m. to 2 p.m.), the Ferry Plaza Farmers Market is held outside of the Ferry Building, featuring the freshest of produce, artisanal cheeses and breads, handmade pastas, and everything else in between.
2. Check out the street art in Clarion Alley
Even people who live in San Francisco haven't heard about this alley in the Mission, decked out in beautifully colorful, and often politically-charged, street art. If you're a fan of murals, make sure to stroll through Clarion Alley with some friends and take lots of photos.
3. Take a Food Tour
San Francisco is home to some of the best food in the States, so eating should be a focal point of your trip.
Book a food tour with a local foodie guide who will take you to some of the best places to eat in the city. From Mexican to Burmese, Indian to Japanese, there are so many cuisines to experience, all with their unique SF twist.
Consider booking one of these food tours – and you can't go wrong, because they all have amazing reviews.
4. Spend a night out in North Beach
North Beach is a neighborhood that most tourists don't venture into, and that's a real shame! This area is known as San Francisco's "Little Italy," but it's much more than that.
While there are plenty of great Italian restaurants and gelato shops, North Beach is also the home to loads of local boutiques, bakeries, coffee shops, restaurants, and bars.
Day or night, you can't go wrong exploring North Beach.
5. Relax in Dolores Park
Infamous Dolores Park is a place where locals gather to relax, have picnics, play games of soccer and hacky sack, among other activities – if you know what I mean. It's all your preference. And from what I've heard and seen, the cops just choose to turn a blind eye.
On a sunny day, bring a blanket, have a little picnic, and people watch!
6. Practice Yoga at Grace Cathedral on Tuesday Nights
Here's a quirky one! Every Tuesday night, donation-based yoga classes are held in the Grace Cathedral on Nob Hill. Feel a part of the community as you gather together in church… to practice yoga!
"16th Avenue Tiled Stair Project,"Ed Bierman, CC BY 2.0
7. Climb the 16th Ave Tiled Steps
We're not sure what's more beautiful, the intricately designed mosaics on this 163-step flight of stairs, or the views of San Francisco and the ocean from the top!
Those are two good reasons to visit the 16th Avenue Tiled Steps, and a good workout might be a third.
8. Visit the Academy of Sciences on Thursday Nights
Every Thursday from 6-10 pm, the Academy of Sciences turns into a nightlife hotspot for those over 21. Discover the depths of the sea and far-away galaxies, over live music and cocktails with friends!
NightLife at the Academy of Sciences is a favorite among locals, and you're sure to love it, too!
9. Eat Mexican food in the Mission
The Mission District is a mix of seedy people, cool street art, hipsters, and even more so, awesome Mexican food. If you leave San Francisco without eating Mexican food in the Mission, and particularly at La Taqueria, then you're doing it wrong! Never in your life – not even in Mexico – will you have better tacos or burritos!
10. Visit Breweries in Oakland
Oakland isn't exactly in San Francisco, but it is just a short BART ride away. One afternoon, why not venture out of the city to experience the awesome biergartens located in the up-and-coming, hipster neighborhood of Oakland?
Drake's Brewing and Lost & Found both feature outdoor spaces to eat, play games, chill with friends, and of course, drink lots of beer. Bring on the good times and good beer!
11. Take a Trip to Napa or Sonoma
Taking a day trip to California's wine country (home to the best wine in the world) is totally feasible from San Francisco. If you have a car, the one-way journey takes an hour.
If you don't have a car, then you can book this Small-Group Napa and Sonoma Wine Country Tour with Lunch. It has amazing reviews and includes tastings at a variety of the best wineries in the region.
And if you'd prefer a private tour of the wineries (I don't blame you!), then book this Private Sonoma and Napa Wine Tour from San Francisco.
"Fiery," Chris James, CC BY-NC-ND 2.0
12. Hike or Drive up Hawk Hill
Hawk Hill is located in the Marin Headlands, directly across from San Francisco, lending the most beautiful views of the Golden Gate Bridge and the city that you'll ever see. You can either hike or drive to the top of Hawk Hill; the choice is yours. But one thing is for sure: you should not miss this breathtaking view!
The Most Underrated Things to do in San Francisco
Well, there you have it, friends! Those are the top ten underrated things to do in San Francisco! Next time you visit, make sure to swap some of San Fran's touristy icons out for some of these underrated places and sights. If you do that, you're guaranteed to have an unforgettable trip!
Did you know…
When you book travel or purchase something through our links, we receive a small commission, at no extra cost to you? Your support enables Maddy's Avenue to keep producing helpful travel content. Thank you!
What do you think the most underrated things to do in San Francisco are? How many of these have you done? Which items haven't you heard of? Let us know in the comments below!