After spending three days in Antigua, we know one thing for sure: there's just no place like it.
The city's streets burst with color and colonial character, live music flows from the many cool bars, the expats and locals intermingle happily, the food is on point, the history and culture couldn't be richer, and the craft beer scene is on the come up. This sounds like the Central American city of your dreams, doesn't it?
We sure think so.
From coffee drinking and chocolate making to hiking volcanoes, cooking Guatemalan food, and exploring markets, here's how you should spend three days in Antigua, Guatemala!
Three Days in Antigua, Guatemala:
The Culture & Food Capital of Guatemala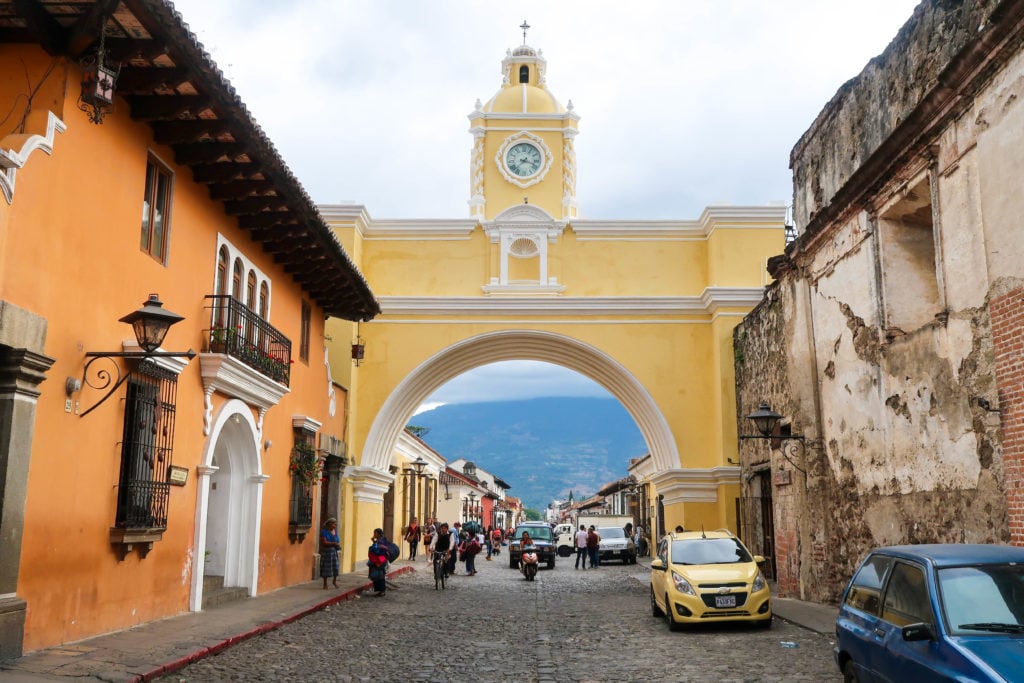 Where to Stay in Antigua
Before you can spend three days in Antigua, you first have to book a place to stay!
Since one of the city's greatest attractions is the pastel-colored colonial buildings, it only makes sense that you should stay in one of them! Within the city, you'll find plenty of hotels with rustic yet romantic charm.
Of them all, we'd recommend either the Serendipity Boutique Hotel, or of course, the famous Casa Santa Domingo.
However, if you're looking for a unique experience, then you should check out the Filadelfia Coffee Resort & Tour.
This resort lies just outside of the city on a historical coffee plantation and offers gorgeous grounds, volcano views, peace and quiet, and coffee!
Click here to find the best deals on accommodations in Antigua, Guatemala!
Day 1
Checking in
As soon as you arrive in Antigua, head to your hotel (hopefully it's the beautiful Casa Santo Domingo) and drop off your luggage!
Now it's time to hit the town!
Coffee at Fat Cat
But first, coffee!
As you probably know, Guatemalan coffee is legendary. If you want to experience Guatemala's finest beans, roasted to perfection, and then crafted into the ultimate cup, then there's only one place to go: Fat Cat Coffee House. Hands down, Fat Cat is the city's best coffee shop. They pay so much attention to each cup that we swear you'll never have coffee this good again.
While you can, of course, get a delicious cappuccino or latte, real coffee enthusiasts will also be excited to find Chemex-style brews, as well as Japanese-style cold brews, and cups made via Aeropresses or siphons.
Oh, and if coffee isn't your thing, then Fat Cat's iced chai latte will also hit the spot — it's so delicious!
Explore the City
Now that you're energized, it's time to explore beautiful Antigua! Forget the map, and simply roam the streets to see what you find!
Between the cobblestone streets and bright-colored buildings, old, crumbling churches, cute boutique shops, bustling local markets, artisan craft stores, little cafés, and street performers, there's so much to discover.
The more you see, the more you will realize how special Antigua is. With its rich history, welcoming people, and undeniable charm, a part of you will never want to leave!
Spend a few hours just exploring…
Lunch at El Rincon Típico
After walking around for a while, you'll be hungry!
If it's an authentic, local dining experience you're after, then you should head to El Rincon Típico.
After you find an open table at this always-crowded establishment, sit down and wait for your server to find you. While you're waiting, look around to see what people are eating to figure out what you want, because the waiter won't hand you a menu; he/she will only quickly rattle off the day's meats and sides, and you're expected to be ready.
We ordered the rotisserie chicken plates served with some refreshing coleslaw, crispy seasoned potatoes, and fresh, handmade tortillas, along with bottomless agua de jamaica to drink.
No doubt, this was one of our favorite dining experiences in Antigua. We know you're going to love it, too!
Bean to Bar Workshop
Coffee beans aren't the only famous beans to come out of Guatemala. So tell us, how do you feel about cacao?
The Maya were the creators of the first chocolate, so what better place to learn to make your own? At ChocoMuseo, you can join a Bean to Bar chocolate workshop for about $25 per person.
First, you'll learn about the history of cacao and its relationship with the Maya, and then you'll learn exactly how cacao is processed and eventually transformed into chocolate bars! Then finally, you will make your own chocolate by pouring chocolate liquor into molds and adding your own ingredients, such as coffee beans, chili powder, or candied ginger.
You will also prepare and taste three different cacao drinks that the Maya and Conquistadores used to drink!
All in all, this fun experience takes about two hours, and it's completely worth it — especially if you're addicted to chocolate like we are.
CLICK HERE to book your chocolate-making class!
RELATED READING:
Dinner Time
Your second of three days in Antigua will start very early, so tonight you should have a relaxed dinner and an early night in. Sound good?
Since Antigua is such an ex-pat city, you can take advantage of all kinds of international cuisines.
So tonight, what'll it be? Authentic Texas barbecue, Mexican food, or both?
If you're feeling some barbecue and a laid-back atmosphere, then Pappy's BBQ is just the place. One of Pappy's owners is originally from Austin, Texas, so you know you can count on this joint to deliver some epic barbecue.
Succulent mains like fall-off-the-bone pork ribs, pulled pork sandwiches, brisket grilled cheese, and fried chicken, and side dishes like coleslaw, Momma's potato salad, and seasoned French fries are all on the menu. And it is all delicious. 
Just make sure to wash it all down with one of Antigua's craft beers — our favorite is the IPA by Antigua Cerveza!
However, if you're craving tacos, then Cactus is the perfect spot. We highly recommend the Shrimp Mojo Chipotle tacos with spicy garlic-chipotle shrimp, avocado, and cilantro, along with a refreshing michelada or Gallo! So much yum.
And alternatively, if you're feeling extra hungry —and a little naughty — go to both places! They're right next door to each other, so why not have tacos for an appetizer and barbecue for the main event? That's what we did anyway… Oops!
Bedtime
If you're like us then you need between six and eight hours of sleep to function completely. Head back to your hotel and tuck yourself in by 11 pm at the latest — tomorrow morning will be an early one!
Click here to find the best deals on accommodations in Antigua, Guatemala!
Day 2
Hike Volcán Pacaya
It's 4:30 am! Rise and shine!
Your three days in Antigua just wouldn't be complete without a volcano hike, considering that there are four of 'em in the vicinity. And since your time is limited, your best bet is to hike Volcán Pacaya, which is the smallest of the four volcanoes.
The entire hike takes about five hours, and it is awesome!
You need to book a hiking tour, which will include a guide and transportation to/from Pacaya.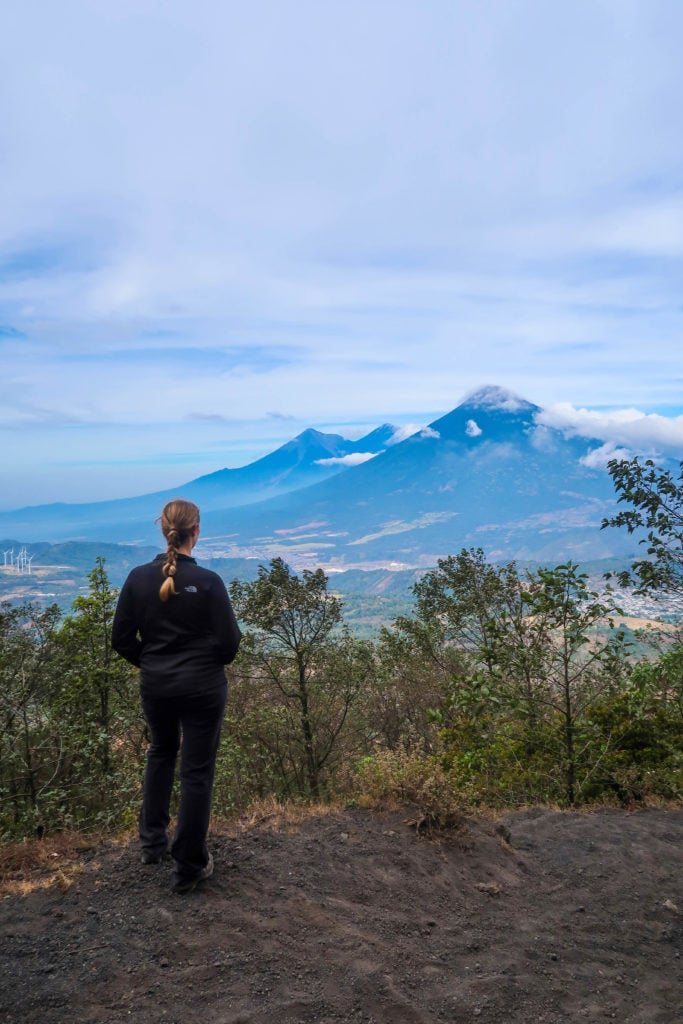 On a good day, the top of Volcán Pacaya will boast incredible views of the highly active Volcán de Agua, Volcán Acatenango, and Volcán de Fuego. You'll also get to see where the hardened lava has flowed as a result of Volcán Pacaya's eruptions.
This hike is semi-challenging but totally doable for those who aren't in the best of shape. Make sure to bring warm layers because it gets cold as you ascend the volcano!
Click here to book your Pacaya Volcano Day Trip in advance!

Lunch at La Cuevita De Urquizú
After completing your hike at Pacaya, you're going to be starving. So before anything else, it's lunchtime!
Since it's so important to eat local food during your three days in Antigua, your next stop should be La Cuevita De Urquizú, All of the locals love this place for its super-authentic stews (such as pepián) and other traditional dishes. When you come here, don't expect anything fancy — instead, expect good, cheap local eats, served buffet style.
After lunch, head back to your hotel for a quick shower, and get ready for the rest of your day! (Click here to find the best deals on accommodations in Antigua, Guatemala!)
Shopping
Next, it's time to explore more of the city to do some shopping! From souvenir shops to high-end boutiques, Antigua has it all, so finding the perfect souvenir to take home will be easy.
If you're looking for the best kind of keepsake — high-quality leather boots or sandals that you can wear all the time — then stop by Uxibal. This workshop puts a modern spin on traditional Guatemalan designs, resulting in some of the most beautiful, handmade shoes you've ever seen! Plus, if you're feeling inspired, Uxibal can custom-make shoes for you, depending on your own unique vision!
Another must-visit shop is Casa de Artes for high-quality folk arts and crafts.
Pre-Dinner Cocktails
After shopping, kick the night off with some drinks at Café No Sé, a little dive bar serving up great mezcal cocktails.
Hang out for a while in the dimly lit bar, relax, and enjoy the funky atmosphere and live music.
Dinner Time
After a cocktail or two, your stomach will tell you that it's time for some food! so you better head over to Porqué No? Café for dinner. This little restaurant and bar is one of the hottest spots in the city. The place is two levels, but occupies a space the size of one of the city's corner convenience stores. That just means it's a super intimate dining experience, right?!
We started off dinner with a caprese salad dressed with superb olive oil and a little side of homemade pesto. Maddy got the beef tenderloin steak topped with a creamy peppercorn sauce, and her plate was licked clean!
With my stomach being weak from food poisoning in Lake Atitlán (Hey, it happens!), I chose the barbecue chicken baguette, instead of some of the heavier (and more exciting) options. But even still, the homemade bread, tender chicken, melted cheese, and the savory barbecue sauce made for a great meal.
Go out on the town
Even though it's been a long day, you can't miss a chill night out in Antigua!
For starters, head to Antigua's best craft brewery, Antigua Brewing Company, and kick back on their rooftop with a few beers.
Then, if you're feeling up to it, head to one of the cities most popular bars or clubs: Las Vibras de la Casbah, Lucky Bar & Game Room, or La Sala.
When you go out in Antigua, one thing is for sure: you'll have a great evening surrounded by Guatemalans and foreigners alike!
Day 3
Brunch at Casa Santo Domingo
Last night may have gone a little later than usual, but you only have one more day in Antigua. Make the most of it!
Hop out of bed, get dressed up, and head to Casa Santo Domingo for a delicious, authentic Guatemalan brunch.
Explore the Street Market
After brunch, head for Antigua's Street Market for a dose of the locals' lifestyle.
In this hectic market, you will find everything imaginable: people of all ages, old and young; all kinds of fresh produce, meats, and seafood; household goods; local handicrafts that make for great souvenirs; colorful textiles; and so much more.
If you really want to get a feel for local life, the central market is always the place to go. And since you will be one of the only tourists at the market, you can guarantee yourself an authentic experience!
While there, chat with the vendors, try exotic fruits you've never seen before, and shop for the perfect traditional blouse. Do, see, and discover as much as you can in this giant, and totally awesome street market.
Cooking Class
Since the last few days have been jam-packed with action, your last day should be a little more relaxed, yet still fun! The best way to accomplish this is through a cooking class – don't you think?
During our three days in Antigua, we took a cooking class to learn how to make the famous pepián, along with frijoles volteados, tortillas, rice, and rellenitos for dessert! As we cooked, we drank bottomless red wine, and had so much fun learning Guatemalan cuisine with the school's super fun and professional staff.
In the end, we made phenomenal pepián (the country's best if you ask me!) in huge quantities. Since it was just the two of us, we couldn't finish it all, and we decided to give it to a family of three that we found on the street. If you're not going to finish your food, you can also pack it up and give it to someone in need!
Click here to book your cooking class in Antigua – which we can't recommend enough!
Explore More
After your cooking class, you have some time to walk around the city a little more.
Maybe you have more shopping to do, or maybe you just want to people-watch in the city's main plaza.
This will also be your last chance to take all the photos of Antigua's beautiful streets before the sun goes down, so make the most of it!
RELATED READING:

Dinner at Fridas
The last night of your three days in Antigua means a fantastic meal is in order!
During our time in Antigua, our absolute favorite meal was at FRIDAS, a Mexican restaurant doing it the right way; the ingredients were fresh, authentic, and full of flavor, yet super modern and innovative.
While the menu is full of dishes everyone raves about, we recommend getting their tacos gobernador, which are shrimp tacos with beans, chipotle mayo, and avocado; the braised carnitas tacos; and lastly, the burrito al pastor (probably the most delicious burrito ever).
Pair it all with a margarita to top off what might just be the best meal of your three days in Antigua!
Three Days in Antigua, Guatemala
After spending three days in Antigua, one thing is for sure: you will have fallen head over heels with this city.
Between the bright-colored colonial buildings, traditional textiles, and handicrafts, the incredible restaurants, fun bars, awesome live music, rich history and culture, and the chilled-out vibes that you will find throughout the city, you won't want to leave Antigua. Ever.
Before your three days in Antigua come to an end, we bet you'll already be planning your return! We know we were…
Did you know…
When you book travel or purchase something through our links, we receive a small commission, at no extra cost to you? Your support enables Maddy's Avenue to keep producing helpful travel content. Thank you!