Today, we're talking about one of my favorite things ever: Thai/Lao vegan larb. And it's about time.
As I ate my way through Thailand and Laos, I couldn't get enough of the coconut curries, the spicy stir-fries, and the tangy soups. (You can relate, I'm sure.) But nothing captured my attention (and my heart) quite like larb did.
(If you aren't familiar, traditionally, larb is a minced meat salad. It's packed with texture and the flavors of lime, chili, toasted sticky rice, lemongrass, and fresh herbs. It's probably the greatest salad ever created – and that is no exaggeration.)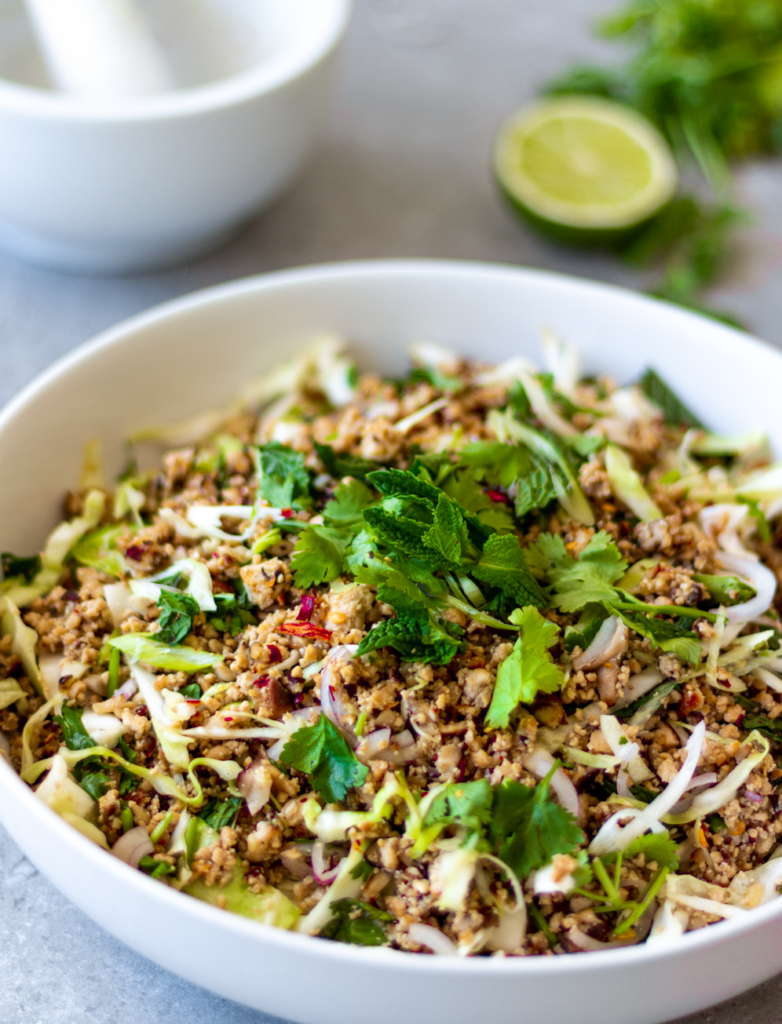 As I melted in the Northern Thailand heat, and chilled out by the river in Vang Vieng, I set out to eat as much larb as I possibly could… So that, when I got home, I could create the best, most authentic recipe for vegan larb, ever. And today, I couldn't be more excited to share it with you!
This salad is irresistible. It's:
Tangy, spicy, umami, fragrant, herbaceous, sweet; positively flavor-packed.
Succulent, chewy, crunchy, leafy; full of brilliant textures.
Fresh, healthy, bright, colorful; vegan.
Hands down, this is one of my favorite things to make, and to eat. I hope you love it too.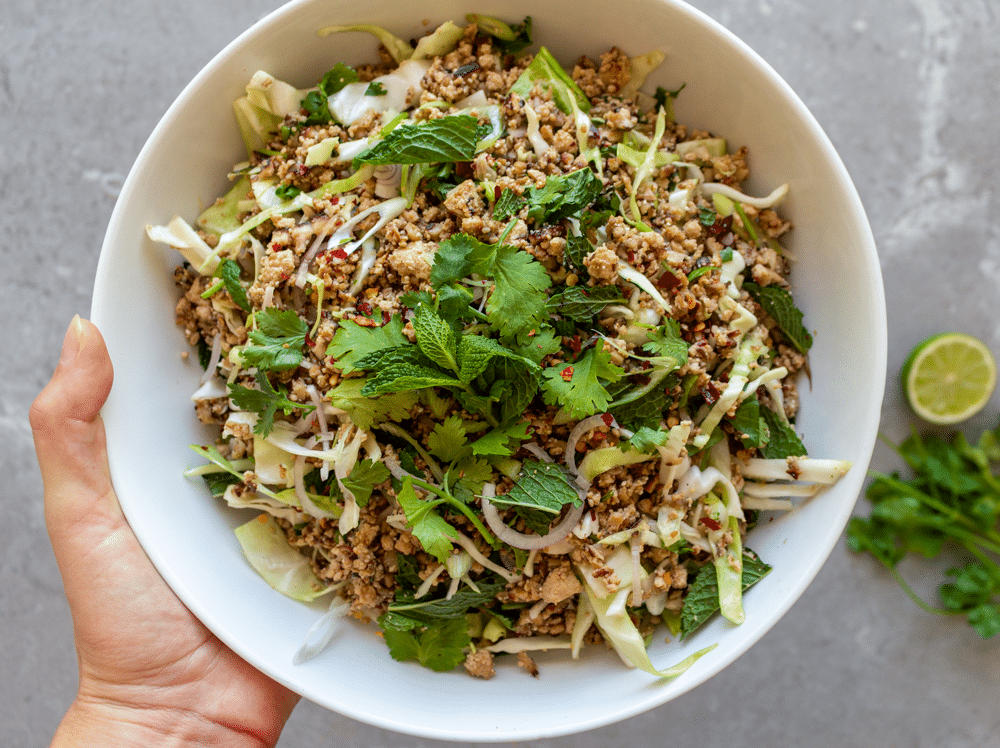 What is larb?
Larb – also known as laap, larp, lahp, lahb, or laab – is a minced meat salad from Laos. Larb is the unofficial national dish of Laos, but it's also a popular and traditional dish throughout Thailand. You may have heard of larb gai (chicken larb).
Traditionally, ground chicken, duck, or pork is the base for larb, and the other key ingredients include fresh herbs, toasted sticky rice, hot chilis, shallots, garlic, and other aromatics. The dressing is typically just fish sauce (or vegan fish sauce, in our case), palm sugar, and fresh lime juice. And there's always a crunchy element, like cabbage, cucumber, or lettuce.
Arguably, the most important element is the sticky rice. In this salad, sticky rice is toasted (together with aromats like galangal, kaffir lime leaves, and lemongrass) until it's golden brown and then ground into a coarse powder. This special substance has the ability to absorb any moisture it touches, turning each little speck of rice into a toasted, flavor-packed vessel of goodness.
Larb can be eaten alone, with a side of rice, or scooped up into lettuce leaves to make lettuce cups/wraps. It's also commonly served with green papaya salad (som tum).
How can you make larb vegan?
To make this recipe plant-based, I swap out the ground meat for crumbled firm tofu and minced shiitake mushrooms. This pair makes for a delicious and nutritious substitute in this epic salad; they take on the flavors we add to them and provide the perfect "meaty" texture.
I also use a high-quality vegan fish sauce, instead of regular fish sauce.
It's as easy as that! And I promise, just as delicious. The flavors are all there. And the textures are, too!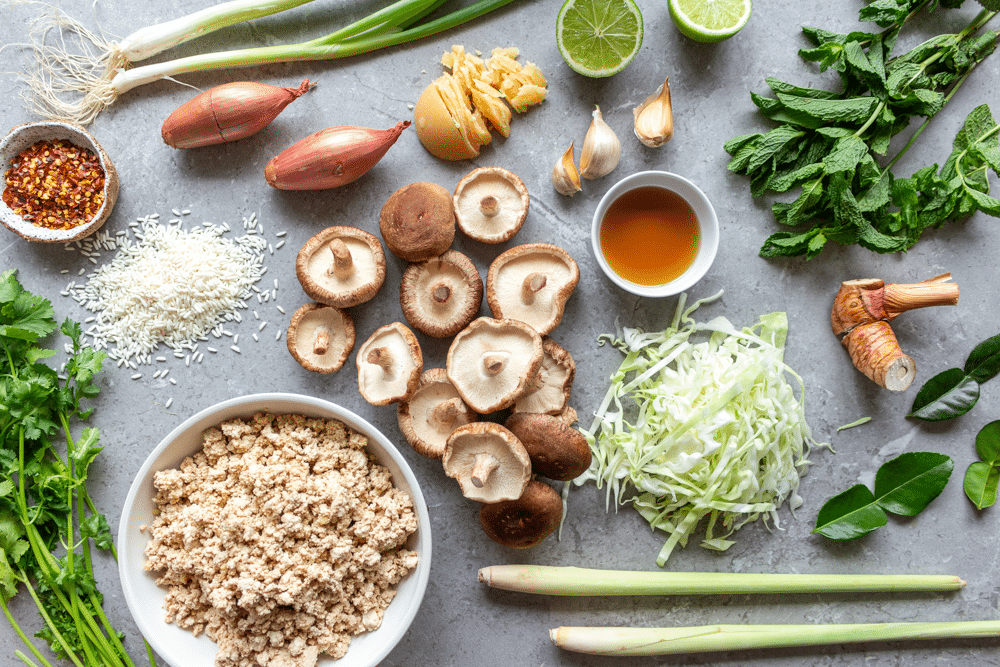 The ingredients
To make this vegan/vegetarian larb salad, you will need the following ingredients:
For the salad:
for the toasted rice:
Galangal
Lemongrass
Kaffir lime leaves
SHOP THE recipe:
How to make this vegan larb recipe
Making this vegetarian larb recipe is easy. All up, it will take you one hour.
Here are the steps, at a glance:
Toast and grind up the sticky rice and aromatics
Crumble and marinate the firm tofu
Prep the fresh veggies
Make the easy dressing
Stir-fry the tofu and mushrooms
Toss the salad together and enjoy!
Toasting & grinding the sticky rice
The most important component of larb is the toasted and ground sticky rice. If you skip this step, your larb will be sad and lacking in flavor. So don't!
In a wok or cast-iron pan, you'll toast the sticky rice, galangal, kaffir lime leaves, and lemongrass until the rice is golden-brown. Then, grind it up in a mortar and pestle, spice grinder, or food processor until you have a fine mixture, similar to the consistency of coarse sand. And that's it!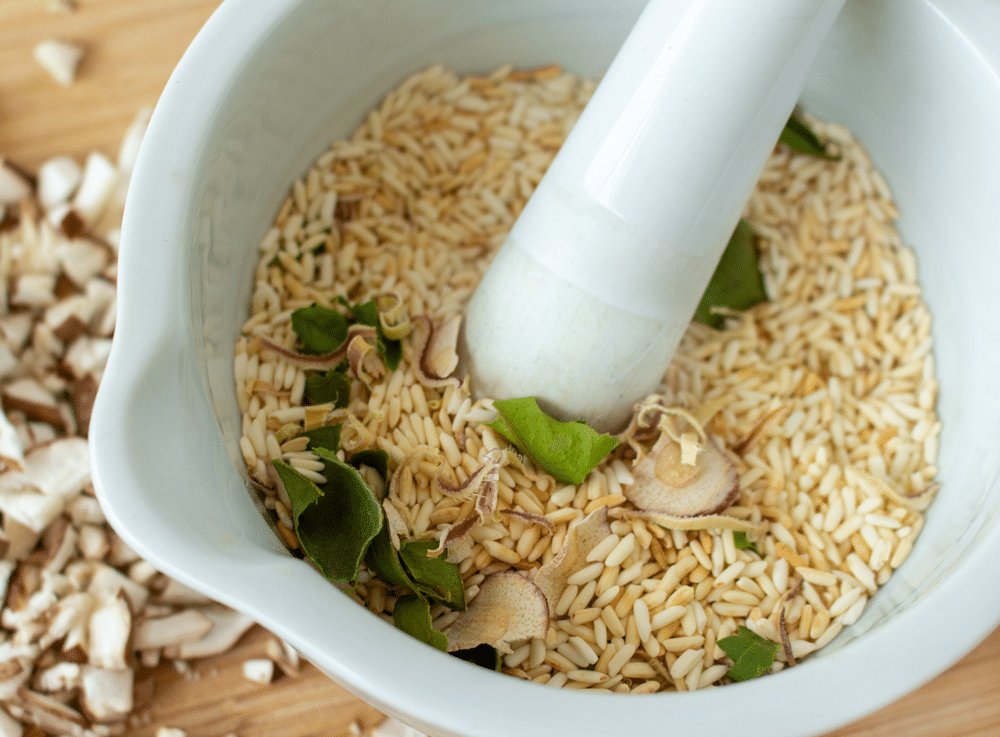 What's the point of this?
When you add the rice mixture onto the hot salad, the moisture from the vegetables and the dressing softens the sticky rice so that a toasty, aromatic flavor infuses the entire salad. It's divine. A gift from the Rice Gods, really.
This step is easy, but a little time-consuming. However, you can keep the leftover toasted rice mixture for up to three months, so you can quickly and easily make this larb salad again and again!
MAKING AND ASSEMBLING THE THAI LARB SALAD
Once your toasted rice mixture is ready, the rest of the process is quick and easy!
First, to marinate the tofu, you'll use your hands to crumble the tofu into small pieces that resemble minced meat. Then, marinate it with some soy sauce and garlic.
Next, prep the rest of your veggies by mincing the shiitake mushrooms, slicing the cabbage, shallots, and green onions, and separating the herb leaves from the stems.
Then, make the dressing by combining the vegan fish sauce, lime juice, and palm sugar in a bowl.
Lastly, stir-fry the tofu and mushrooms in your wok until they're beautifully golden-brown.
Turn off the stove, and assemble the salad in the hot wok, by stirring in the dried chili (feel free to make it as spicy as you like), the dressing, and the toasted sticky rice powder. Once the sticky rice powder has a moment to soften, toss in the sliced cabbage, shallots, and fresh herbs.
Serve immediately and enjoy!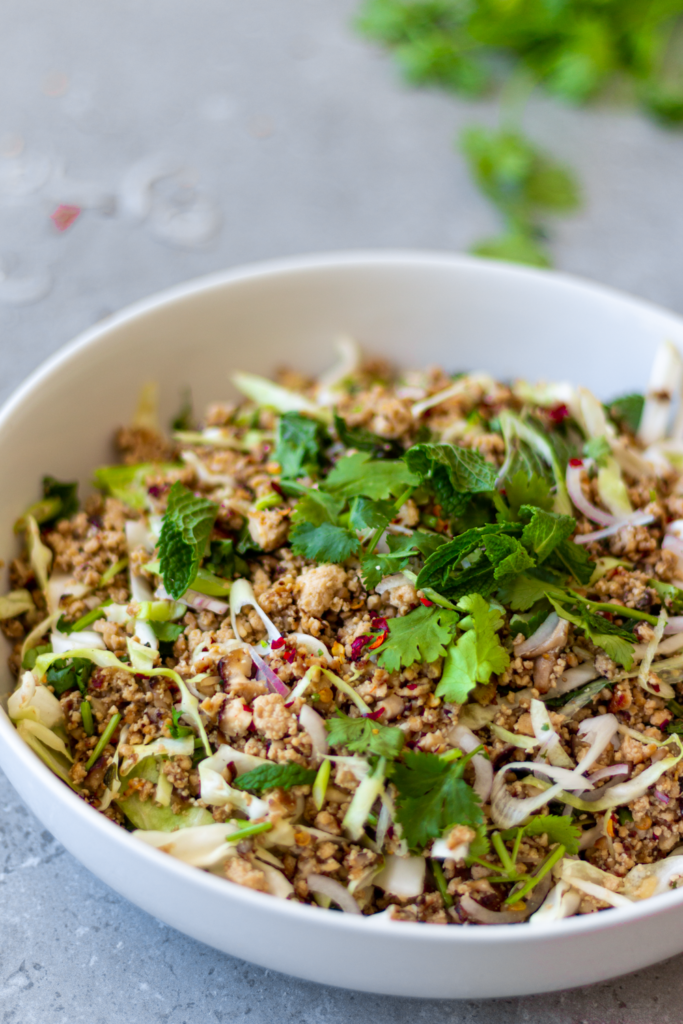 Do you have everything you need to make this epic vegan larb? Shop the recipe here:
Authentic Vegan/Vegetarian Larb with Mushrooms & Tofu
Are you ready to make my traditional Thai/Lao vegan larb recipe?
A go-to of mine at Thai dinner parties (my favorite kind of party to host – I am obsessed with Thai food), this larb is the dish that everyone always remembers; it's the one they ask me to make, again and again!
So if there's one thing I'm sure of, it's that you're going to love this flavor bomb of a salad too – whether you are vegan or totally not! Enjoy!
If you make our vegan version of this traditional Thai larb recipe, please leave your review below! If you share any pictures on social media, make sure to tag @maddysavenue so we can see!
Print
Authentic Vegan Thai Larb Salad with Tofu & Mushrooms
This authentic recipe for Thai/Lao vegan larb is packed with texture and the flavors of lime, chili, toasted sticky rice, lemongrass, and fresh herbs. It's tangy, fragrant, succulent, and totally irresistible!
Author: Maddy's Avenue
Prep Time:

15 mins

Cook Time:

40 mins

Total Time:

55 minutes

Yield:

4

servings

1

x
Category:

Salad

Method:

Stove

Cuisine:

Thai/Lao

Diet:

Vegan
FOR THE TOASTED STICKY RICE:
3/4 cup

sticky rice

5

–

6

thin slices of galangal*

6

–

8

kaffir lime leaves, roughly chopped

1

lemongrass stalk (light bottom part only), thinly sliced
FOR THE SALAD:
1

brick firm tofu (

400g

or

14oz

package), crumbled

2 tbsp

soy sauce

1

clove garlic, minced

18

shitake mushrooms (

250g

or

9oz

), minced

4 tsp

sunflower oil (or other flavorless oil), divided

4

small Thai shallots (or

1

long banana shallot), thinly sliced

1 cup

mint leaves

1 cup

cilantro leaves

2

green/spring onions, thinly sliced on a diagonal

1/4

head of green cabbage, thinly sliced (about

2 cups

)

2 tsp

hot chili flakes (or more to taste)
Lime wedges, for serving
FOR THE DRESSING:
Instructions
Crumble the firm tofu up with your hands, until it's the consistency of minced meat. Add the tofu into a bowl with the soy sauce and minced garlic to marinate for 20 minutes.
Heat a cast-iron pan on the stove over medium heat. Toast the sticky rice until it's lightly golden, agitating the pan often to achieve even coloring. About 10 minutes.
Add the galangal, kaffir lime leaves, and lemongrass. Continue toasting for a further 10 minutes, until the aromats are toasted and fragrant, and the rice is evenly golden-brown. Allow it to cool. Then, in a mortar and pestle, food processor, or spice grinder, pulverize the sticky rice mixture until it is a semi-fine, sand-like texture.
Heat a large cast-iron pan or wok on the stove over high heat. Heat the oil, then add in the tofu and mushrooms. Stir occasionally, allowing the pieces to brown on the bottom before stirring again. Ensure to scrape up any brown bits from the bottom of the pan for extra flavor. (Depending on the size of your pan/wok, you may want to stir-fry the tofu and mushrooms separately, one after another, so they can brown adequately. You never want to crowd mushrooms, or they will steam rather than brown.)
At the last minute, stir in 3 heaped tablespoons of the sticky rice powder and dried chili flakes. Remove the wok from the heat, then immediately toss in the dressing.
Toss in the mint, cilantro, green onions, shallots, and green cabbage.
Serve immediately, with lime wedges, and enjoy! Serve the larb as a main meal with rice and papaya salad, inside of romaine/cos lettuce cups as an appetizer, or as a side salad!
Notes
If you can't find galangal, you can use ginger.
This recipe yields more toasted sticky rice powder than you need so that you can make larb easily many times. It will keep for a few months in the pantry.
If you can't find vegan fish sauce, use soy sauce instead.
If you're not vegetarian, you can use regular fish sauce.
Feel free to serve the larb inside romaine/cos lettuce cups as a fun dish to eat with friends!
You can also serve the larb with a side of rice and/or a side of green papaya salad (som tum).
Keywords: authentic vegan larb, authentic vegetarian larb, thai larb, lao larb, authentic larb recipe