For months, I've debated whether or not to share my lasagna bolognese recipe. After all, it's top-secret and mark my words, a version of it will be served in my restaurant one day…
But after thinking it through, I've decided that it's way too delicious not to share with you guys. Really, it would be cruel to keep something so good all to myself.
Now, if it's credentials you want, I have 'em. For starters, every time I bring this lasagna bolognese to a party or family gathering, the people go crazy. It's always the first thing to be devoured. It's so good that someone has literally tried to pay me $100 to make them their own batch. Plus, bits and pieces of this recipe were picked up through my travels in Italy and then tweaked to perfection in my kitchen.
Essentially, the title "The Best-Ever Lasagna Bolognese" couldn't be more accurate.
Layered with freshly made pasta sheets, my famous bolognese sauce, a ricotta-cheese-and-spinach mixture, topped with a cheesy béchamel sauce, and baked to golden-brown perfection, you are going to fall in love.
Guaranteed, you've never had better lasagna in your life.
Okay, so I know, I've hyped up this lasagna quite a bit. But the only way you're really going to know is if you try it for yourself. (Do it, do it!)
If you're ready to try my life-changing, best-ever lasagna bolognese with fresh pasta, ricotta-spinach layers, and ooey-gooey cheesy béchamel sauce, then let's get started.
The Best-Ever Lasagna Bolognese with Fresh Pasta and Béchamel Sauce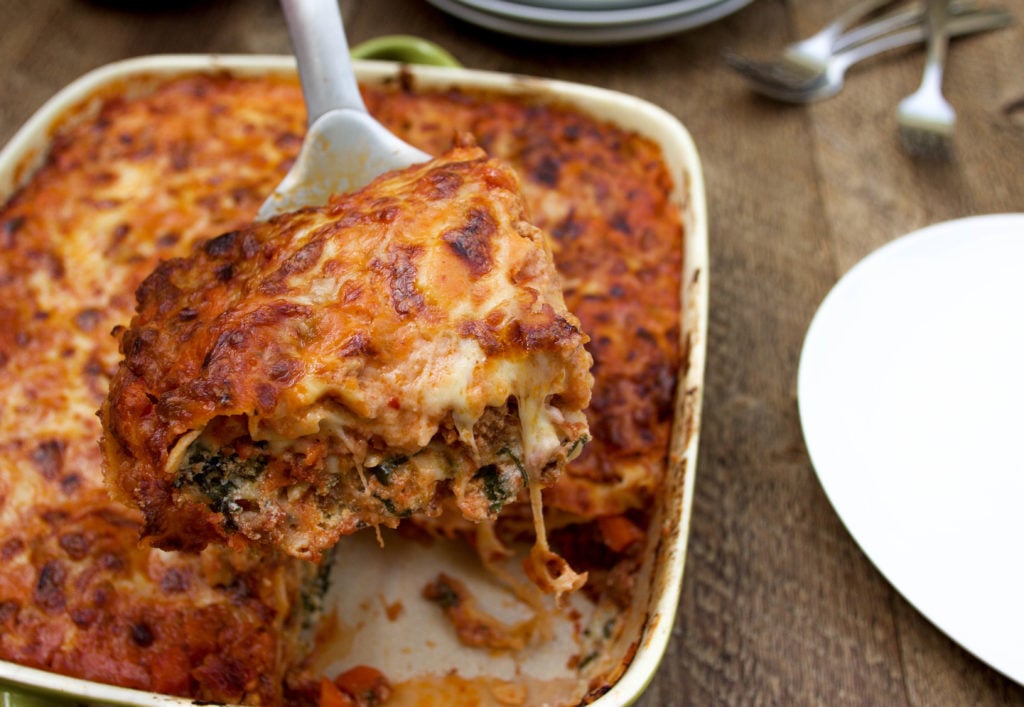 In your decision to make this lasagna bolognese, you should know something. A lot of love, time, and effort is required.
This isn't your average lasagna, and it doesn't come together with an average amount of work. Oh, no.
We're slow cooking this bolognese sauce so the flavors of the Chianti Classico, beef, pork, sweet carrots, aromatic black truffle, and San Marzano tomatoes can marry together into a rich, flavor-packed sauce.
We're also making pasta from scratch, with a recipe that I picked up during a cooking class in Florence, Italy.
Then we're layering everything together and baking it off in the oven until it's brown, bubbly, and beautiful.
If you have six hours to spare for the best lasagna bolognese ever, then you're in for a treat.
Special Ingredients & Equipment
To make this lasagna, there are a couple of special ingredients and pieces of equipment you'll need, which you may not already have. I'll list them here now.
Special ingredients:
Special equipment: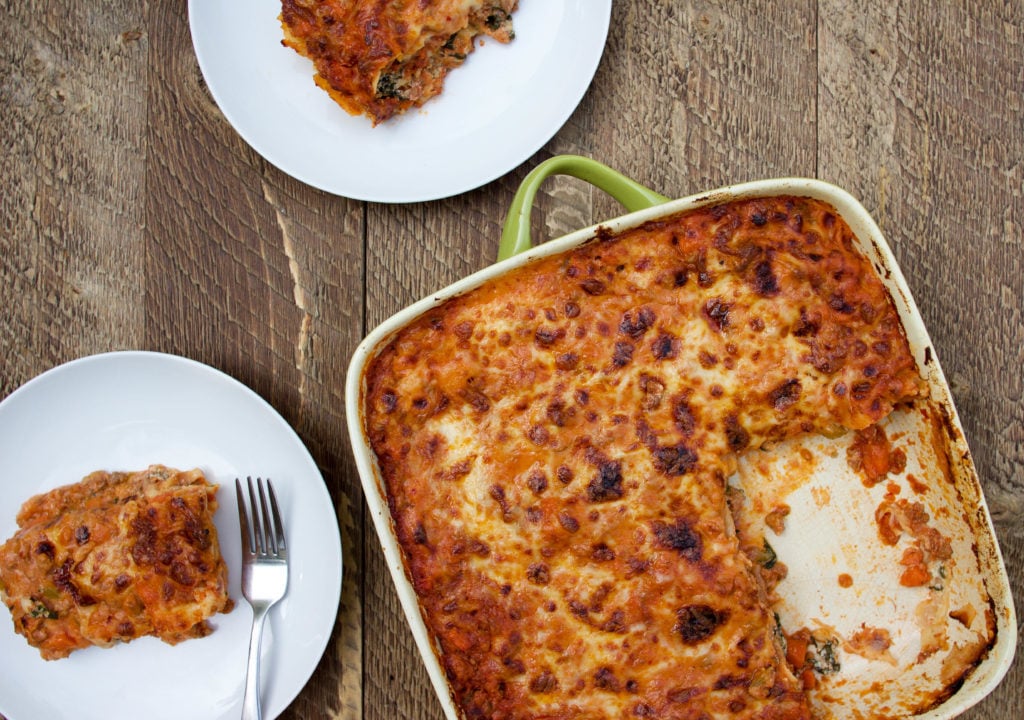 The Best-Ever Lasagna Bolognese with Fresh Pasta and Béchamel Sauce
If there's one thing I know in this life, it's that you're going to love this lasagna bolognese recipe.
Yes, it may take a little (okay, a lot) of time to make, but it couldn't be more worth it.
This lasagna bolognese is perfect for taking to parties, serving at family gatherings, prepping your meals for the week, and my favorite: eating it on the couch, in your pajamas, while watching a movie.
I hope you love this lasagna bolognese as much as I do!
Print
Lasagna Bolognese with Fresh Pasta and Béchamel Sauce
This lasagna is layered with freshly made pasta sheets, flavor-packed bolognese sauce, and a ricotta cheese and spinach mixture. Then it's topped with a cheesy béchamel sauce, and baked to golden-brown perfection. So good.
Author: Maddy's Avenue
Prep Time:

100 minutes

Cook Time:

250 minutes

Total Time:

350 minutes

Yield:

8

–

1

0

1

x
Category:

Main Dish

Method:

Stove & Oven

Cuisine:

Italian
For the bolognese sauce:
3 tbsp

olive oil

4

carrots (minced)

1

yellow onion (minced)

3

celery stalks (minced)

4

cloves garlic (left whole, smashed to release flavors, peeled)
salt (to taste)
black pepper (to taste)
red pepper flakes (to taste)

1.5

pounds ground beef (80% lean)

1

pound ground pork (90% lean)

2 tbsp

tomato paste

1.5 cups

Chianti Classico red wine

2

28-oz. cans San Marzano tomatoes (puréed)

1 cup

beef broth or water

1

parmesan (or pecorino) cheese rind

1 tbsp

balsamic vinegar

1/2 tsp

black truffle oil

1/2 tsp

white granulated sugar
For the fresh pasta sheets:
3 cups

"00" flour

4

large eggs

1 tbsp

extra virgin olive oil

1 tsp

salt
For the ricotta-spinach filling:
2 cups

ricotta cheese

1

10-oz. package frozen spinach (defrosted, water removed)

1/2 cup

parmesan cheese (grated)

1

egg

1

pinch nutmeg

1/2 tsp

black pepper (freshly cracked)
For the béchamel sauce:
1 tbsp

butter

1 tbsp

all-purpose flour

2 cups

milk (warm)

1 cup

mozzarella cheese (grated)
Other ingredients:
3 cups

mozzarella cheese (grated)
Instructions
For the bolognese sauce (make one day ahead):
Heat your Dutch oven on the stove over medium-high heat. Add in olive oil. Once the oil is hot enough, add in carrots, onion, celery, whole smashed garlic cloves, salt, pepper, and red pepper flakes. Stir frequently until onions are translucent.
Add in ground beef and ground pork. Season the meat with salt and pepper. Stir and break up the meat into small chunks.
When the meat is lightly browned, add in tomato paste, continue stirring, and cook the tomato paste down for two minutes.
Add in wine. Stir in and scrape up all the browned bits from the Dutch oven. Let the alcohol evaporate for two minutes.
Next, stir in San Marzano tomatoes, beef broth, and cheese rind. Season more with salt, pepper, and red hot pepper flakes.
Bring to a boil, lower the heat, cover, and simmer for 3 hours.
Remove the cheese rind and whole garlic cloves.
Stir in the balsamic vinegar, sugar, and black truffle oil. Season with more salt and pepper to taste.
For the fresh pasta sheets:
In your mixer bowl, add in the "00" flour and create a well in the middle with your hand. Crack eggs into the well, along with salt and extra virgin olive oil.
Attach the paddle to your mixer and set it to the lowest speed.

Mix until the ingredients incorporate and the dough comes together into small, sticky clumps.

Gently knead the dough with your hands for about 10 minutes, until smooth. Add flour to your work surface as needed, to ensure your dough does not stick.
Form the dough into a ball and wrap it tightly in plastic wrap. Place in the refrigerator to chill for 15 minutes.
Remove the dough from the refrigerator and cut it into three even pieces.
Replace the mixer paddle with the pasta roller. Set the mixer to the lowest speed. Run each piece of dough through the pasta roller. Start with setting #1 (the widest setting) and continue the process through setting #8 (the thinnest setting), until you've rolled out all the dough into pasta sheets for lasagna.
Later, you may need to cut the sheets to fit properly in the pan.
For the ricotta-spinach filling:
Defrost frozen spinach, and squeeze all of the excess water from the spinach with your hands.
In a bowl, mix together the ricotta, spinach, parmesan, egg, nutmeg, and black pepper, and set it aside.
For the béchamel sauce:
In a pan over medium heat, melt the butter completely, then whisk in the flour. Continue whisking vigorously for one minute to cook the flour.
Add in a small splash of milk, and whisk. Continue adding in milk, a little at a time, whisking all the while. If any lumps form, just keep whisking. The sauce should become thick.
Bring the sauce to a low boil, and continue whisking for 2-3 minutes.
Stir in the mozzarella cheese, allowing it to melt. Turn off the stove.
To make the lasagna:
Preheat the oven to 350 degrees.
In a lasagna baking dish, smooth a small spoonful of bolognese sauce over the bottom of the pan.
Add one layer of pasta sheets. Smooth a thin layer of the ricotta-spinach mixture on top. Add a sprinkling of mozzarella cheese. Cover the cheese with bolognese sauce.
Repeat this pattern until the pan is almost full to the top, ending with the bolognese sauce. Re-whisk the béchamel sauce and pour it over the top of the lasagna. Sprinkle on a bit more mozzarella.
Bake for about 40 minutes, uncovered, until the top of the lasagna is bubbling and golden-brown.
Allow the lasagna to set and cool down for at least 20 minutes before digging in. Enjoy!
Notes
For assembling the lasagna:
For the fresh pasta:
For the bolognese sauce:
Keywords: lasagna bolognese, lasagana bolognese with fresh pasta, lasagna bolognese with béchamel, lasagna bolognese with spinach and ricotta
Did you make our lasagna bolognese recipe? Let us know how it went in the comments section below and tag @maddysavenue in your photos on social media! If you have any other questions, leave them below.