Hello, friends. Today, we're talking about granola. The world's best homemade granola, to be precise.
And yes, while I know that "best" is a lofty claim, there's one simple reason I feel perfectly okay about it: Because it really, truly, and simply is.
Crunchy and chewy, sweet yet slightly salty, and addictively delicious but oh-so healthy, this is what granola dreams are made of.
Loaded with perfectly toasted oats, nuts, and seeds, dried fruit, and coconut flakes, all delicately coated in maple-cinnamon-vanilla goodness, you're going to love this granola.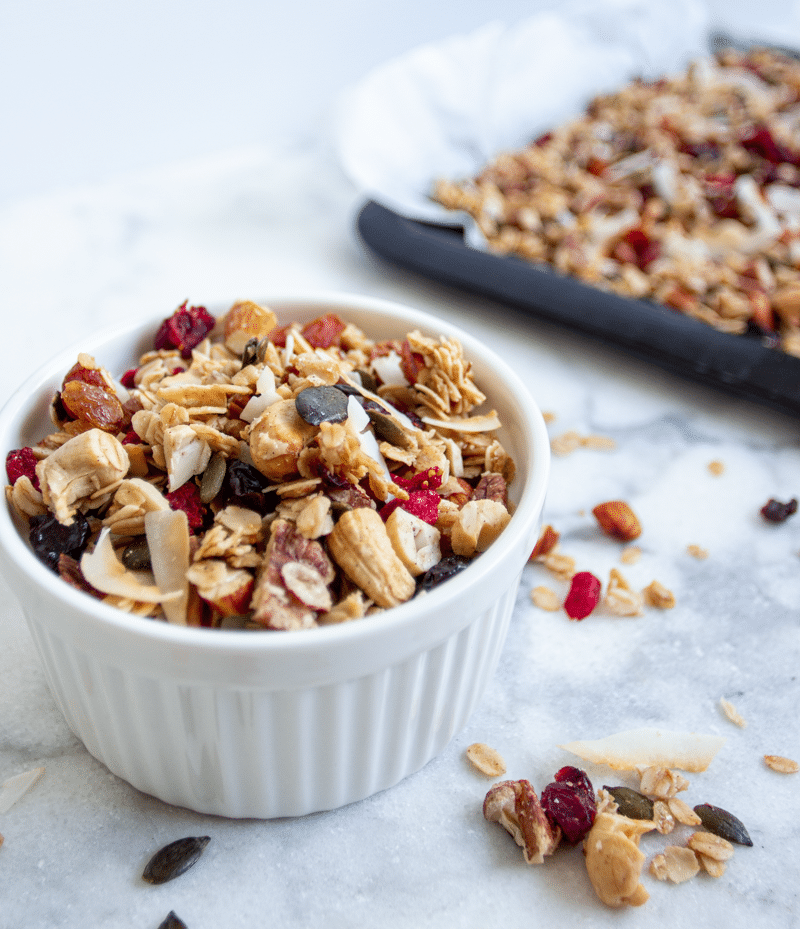 The Best Homemade Granola Recipe
A recent trip to visit my family in Southern California reminded me how much I love my mom's granola. I could not stop eating it while I was home. So naturally, I requested her recipe — or "guess-ipe," as she calls it — to make back home in Australia and to share here with all of you!
You are going to love this recipe. Not only is it easy to make, but also it's…
Super nutritious
Quick
Crunchy
Chewy
Coconutty
Perfectly sweet and salty
Loaded with dried fruit
Full of nuts and seeds
Vegan
If you've been searching high and low for the absolute best granola, then you have come to the right place.
(And if you haven't been searching, then how lucky are you, to have this brilliant gift appear. Right before your eyes. On this very screen. It's as if you just stumbled upon a pot of gold. Only, this stuff tastes a whole lot better.)
A little disclaimer: This is premium granola! So in other words, it ain't cheap. But if you can justify spending a few extra bucks, this stuff is going to rock your breakfast world. That I promise you.
Let's get to it…
Ingredients for Homemade Granola
Let's chat ingredients, shall we?
Thankfully, this granola recipe calls for basic pantry staples, so chances are you can whip up a batch right now. (Plus, they're all ingredients you can buy in bulk, making your soon-to-be granola obsession more affordable.)
To make the best granola ever, you'll need:
Rolled oats
Raw nuts and seeds
Dried fruit
Coconut flakes
Maple syrup
Vanilla extract
Coconut oil
Sea salt
For my dried fruits, I personally love to use a combination of apricots, golden raisins, sour cherries, goji berries, and cranberries. For nuts, I like cashews, pecans, pepitas, and almonds.
However, you can mix and match your nuts, seeds, and fruit as you like, or based on what you have on hand. Just keep the oats to nuts/seeds to fruit proportions generally the same! There are more nuts, seeds, and fruit in this recipe than in most other granola recipes, and that's why it's extra delicious.
---
A little note on cinnamon:
Did you know that there are two main types of cinnamon? Cassia and Ceylon. There are a few kinds of cassia cinnamon, while Ceylon comes from Sri Lanka only.
There's a lot to say on this particular topic, but I will leave you with this: For this recipe, I highly recommend using Ceylon cinnamon; it is sweeter, milder, brighter, and more delicate, and even has some floral notes. Cassia cinnamon is more heavy and intense.
If you don't have any Ceylon cinnamon, you can get it on Amazon here. You will love it!
---
The Method: How to Make Granola
Okay, now let's talk about how we make the granola. (As always, you can find the recipe at the bottom of the post!)
First, preheat your oven to 275°F or 135°C, and line two baking sheets with parchment/baking paper.
Then, in a saucepan over very low heat, you will stir in the coconut oil, maple syrup, Ceylon cinnamon, vanilla extract, and sea salt. Allow it to melt together for a few minutes – we are simply aiming for the coconut oil to melt, the salt to dissolve, and everything to combine. Remove from the heat and allow it to cool down.
Next, in a large bowl, add in your oats, nuts, and seeds, and pour over the oil mixture. Toss until every oat, nut, and seed is lightly coated with the liquid.
Now, use a spoon to spread the granola into two thin layers, across the two baking sheets. Bake them for 15 minutes, then quickly remove the sheets from the oven to toss the granola, allowing it to cook evenly.
If you want clumpier granola, then gently flip the granola with a spatula, instead of tossing it. Then press down on the granola with the spatula, forming a compact layer – this should help the pieces stick to each other.
Replace the sheets in the oven. Bake for 8 more minutes, and then spread the coconut flakes across the two sheets. Bake for about 7 more minutes, until the coconut has toasted up nicely.
Remove the granola from the oven and let it cool down. And don't eat it yet! (Easier said than done.)
At this point, you may look at the granola and think it needs to bake longer. But trust me, it will crisp up perfectly as it cools!
Once completely cooled down, mix in the dried fruit, and you're all finished.
Serve your epic granola with yogurt and fruit, put it on top of smoothie bowls, eat it as cereal with some nut milk, or as a snack like trail mix. Put it on top of desserts or even throw it into a salad that needs a little sweet and crunchy element.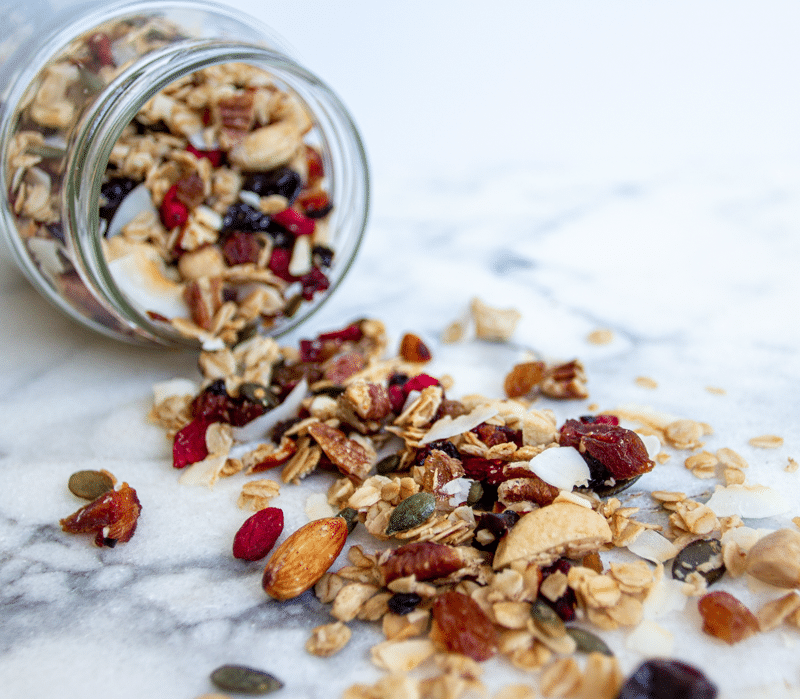 Storing Your Granola
This recipe makes about 20 servings of 3/4-cup servings. Which, luckily, is a lot of granola! (Also proof that dreams do come true.)
This recipe will keep in your cupboard in an air-tight jar for about a month. You can also freeze your granola for up to about 3 months. (Though I'm quite sure you'll have eaten the whole lot by then!)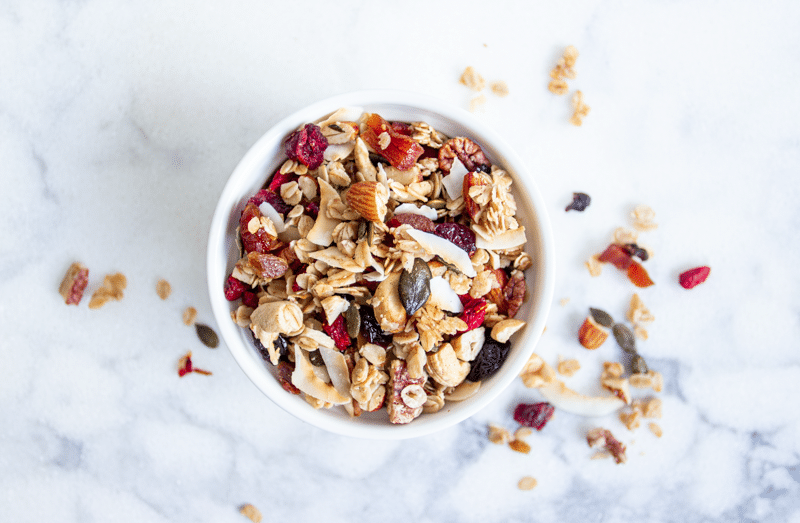 The Best Homemade Granola Recipe
Okay, friends.
Equipped with the absolute best homemade granola recipe known to humankind, this is where I leave you.
I predict that the delicious aromas of maple, cinnamon, toasted nuts and oats will soon fill your home and your heart with joy. And I foresee many delicious breakfasts in your future.
Now go forth, and make epic granola.
And let me know in the comments section below how it went!
Print
The Best Homemade Granola Ever
You're going to love this easy and healthy granola recipe! It's loaded with perfectly toasted oats, nuts, and seeds, dried fruit and coconut flakes, and delicately coated in maple-vanilla-cinnamon goodness.
Author: Travel Alphas
Prep Time:

15

Cook Time:

30

Total Time:

45 minutes

Yield: about

20

servings

1

x
Category:

Breakfast

Method:

Oven

Cuisine:

American

Diet:

Vegan
1/2 cup

maple syrup

1/2 cup

coconut oil

1 tsp

vanilla extract

1 tsp

Ceylon cinnamon

1 tsp

sea salt

4 cups

rolled oats

3/4 cup

raw pecans, roughly chopped

3/4 cup

raw cashews, roughly chopped

3/4 cup

raw almonds, roughly chopped

3/4 cup

raw pumpkin seeds (pepitas)

3/4 cup

dried apricots, roughly chopped (Turkish are best)

3/4 cup

dried goji berries, roughly chopped

3/4 cup

golden raisins, roughly chopped

3/4 cup

dried cranberries, roughly chopped

1 cup

raw coconut flakes
Instructions
Preheat the oven to 275°F (135°C) and line two baking sheets with baking paper.
Heat a saucepan over low heat and add in the maple syrup, coconut oil, vanilla extract, cinnamon, and salt. Stir to combine. Once coconut oil has melted, turn off the stove, and allow the mixture to cool off.
In a bowl, combine the oats, nuts, seeds, and the liquid mixture. Toss well. Split the mixture between the two baking sheets, and spread it out evenly.
Bake for 15 minutes. Quickly remove the sheets from the oven, flip/toss the granola, and bake for a further 8 minutes. Quickly remove again and sprinkle the coconut flakes on top, and bake for 7 more minutes.
Remove from the oven, and allow the granola to cool completely. Mix with the dried fruit. Enjoy!