Just in time for winter, the ultimate cozy soup recipe has arrived to the blog. This classic vegan minestrone soup is so warming, nourishing, and delicious that I wouldn't be surprised if you want to make it every week.
That's the case for me anyway.
But unfortunately, since summertime is just around the corner here in Byron Bay, Australia, I must say goodbye to this soup for a few months.
To me, the holidays are a time to bundle up by the fireplace, sip on hot chocolate or mulled wine, play in the snow, and eat hearty food, like this delicious vegan minestrone soup. It's my second holiday season in Australia, and I still cannot wrap my brain around the fact that I now spend the holidays in 80% humidity, covered in sweat and sand, picnicking under a beach tent in paradise, drinking heaps of rosé. (I realize — or should I say realise? — it could be worse.)
But I digress. As I mourn the loss of my ability to make this soup for a while, it's my pleasure to share it with you.
Here's my recipe for classic one-pot vegan minestrone soup!
How to Make
Vegan Minestrone Soup
Whether you're plant-based or not, you're going to love this minestrone.
It is:
Flavorful
Herbaceous
Highly nutritious
Hearty
Texturally interesting
Cozy
The perfect wintertime dinner
Even better the next day as leftovers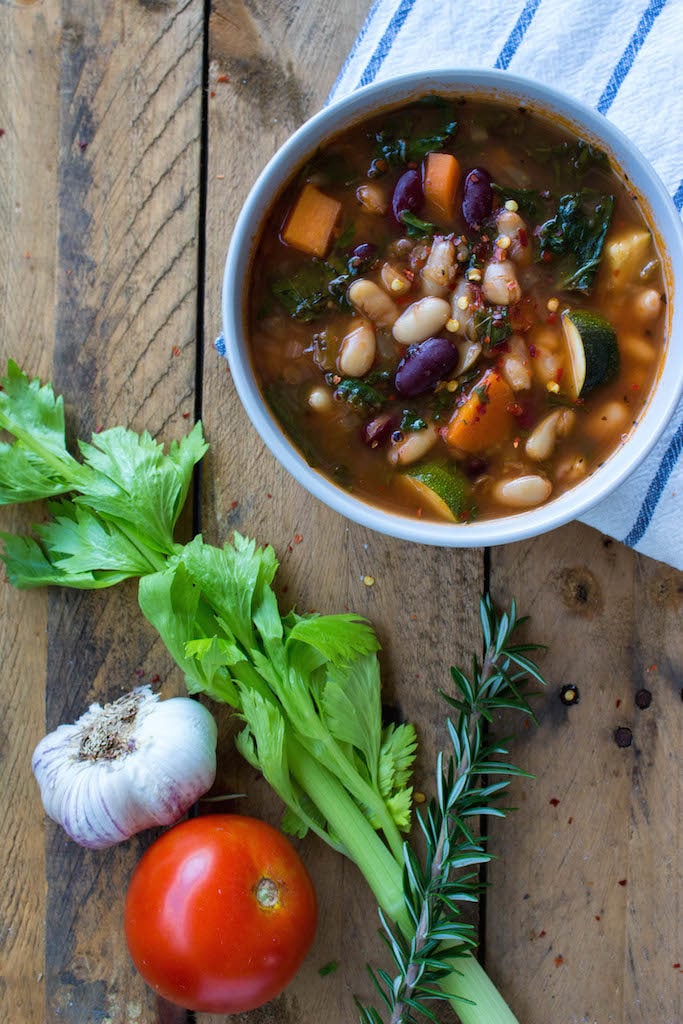 Between the fresh vegetables, heaps of herbs and chili, red wine, and nutritional yeast, this soup is full of flavor.
The creamy white beans, leafy kale, fresh carrots and zucchini, and rich, thick broth give the soup a variety of interesting textures.
It's also packed with nutrients vital to a balanced plant-based diet. Just to name a few: iron and protein (from the beans and lentils), Vitamin C (from the kale and tomatoes) to help absorb the iron, and Vitamin B12 (from the nutritional yeast).
Ingredients for Plant-Based Minestrone
One of my favorite things about this soup is that I usually have the ingredients on hand, and I bet you do too.
I always make sure to have a stockpile of canned beans, lentils, San Marzano tomatoes, and veggie stock for when a soup craving strikes.
Our herb garden has been thriving lately, and our fridge is always full of fresh veggies. For this soup, I like to use onion, garlic, celery, carrots, zucchini, and kale, but you can really use whatever veggies you have on hand.
Nutritional yeast, which imparts a cheesy flavor, is a pantry staple for all plant-based cooks.
And red wine. And, well, that's just a given.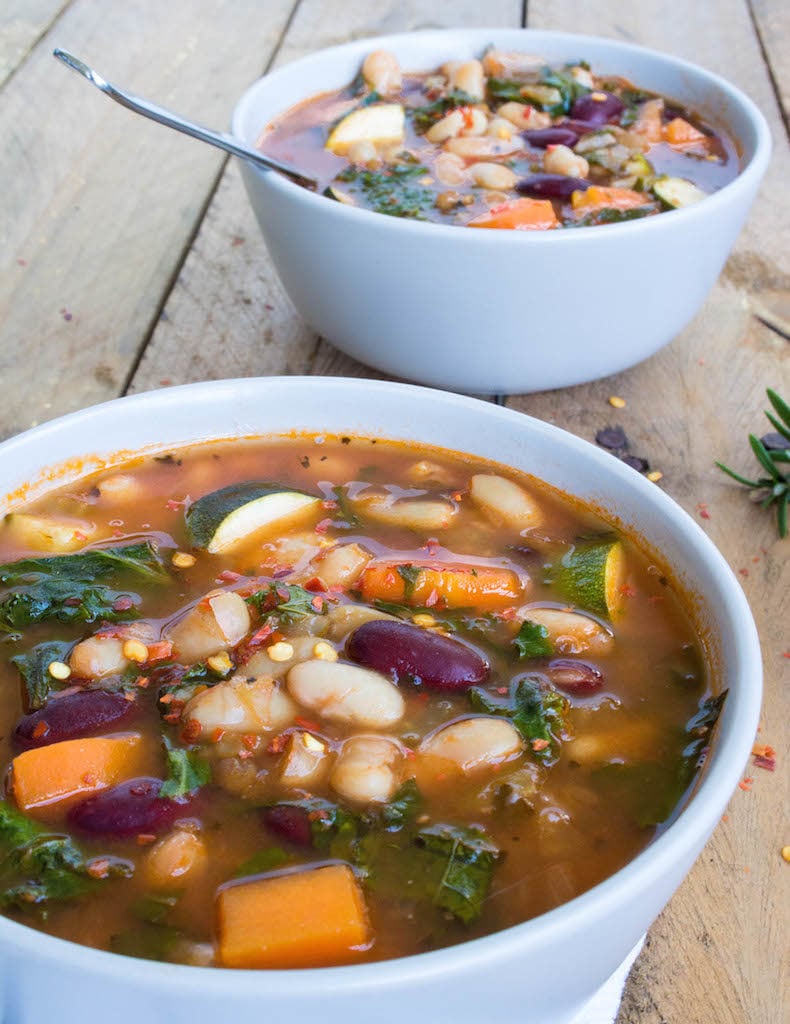 Vegan Minestrone Soup
With winter just around the corner, I can't wait for you to fall in love with this recipe.
Because this soup incorporates so many typical fridge and pantry ingredients, you can whip up this plant-based minestrone in a snap (and maybe make a bit extra to freeze for later). It takes about 1.5 to make, but the steps are super easy to follow and well worth the wait.
It's absolutely delicious, wholesome, and super nutritious, and pairs perfectly with a cold and cozy evening.
Happy cooking, y'all.
Print
Vegan Minestrone Soup
This recipe for classic vegan minestrone soup is packed with nutrients and so delicious. It's easy to make and full of flavor, featuring fresh veggies, herbs, red wine, nutritional yeast, and more.
Author: Maddy's Avenue
Prep Time:

15 minutes

Cook Time:

75 minutes

Total Time:

90 minutes

Yield:

6

bowls

1

x
Category:

Soup

Method:

Stove

Cuisine:

Italian

Diet:

Vegan
4 tbsp

olive oil

1

red onion, diced

4

garlic cloves, crushed & minced

2

celery stalks, diced
salt, to taste
pepper, to taste
red chili flakes, to taste

1 tbsp

tomato paste

1/2 cup

red wine

2

carrots, chopped

3.5 cups

puréed tomatoes

6 cups

vegetable stock

2 tbsp

basil (dried)

1 tsp

rosemary (dried)

1

bay leaf (dried)

1/4 tsp

thyme (dried)

1/4 tsp

oregano (dried)

3 tbsp

nutritional yeast

1 tsp

agave syrup

1 tsp

balsamic vinegar

2

zucchini, chopped

3

(14 oz.) cans cannellini beans, drained & rinsed

1

(14 oz.) can kidney beans, drained & rinsed (optional)

1

(14 oz.) can lentils, drained & rinsed (optional)

1

bunch kale, de-stemmed & chopped
Instructions
Heat a large pot on medium-high heat and then add in olive oil. Once olive oil is hot, add in onions, garlic, and celery.
Sauté until golden brown, stirring occasionally. Season with salt, pepper, chili flakes.
Stir in tomato paste and cook down for two or three minutes, stirring constantly.
Deglaze the pot in red wine and allow the alcohol to cook out, a further three minutes.
Optional step: If you have canned whole or diced tomatoes, I recommend blending into a smooth sauce before adding.
Stir in tomato sauce and veggie stock, nutritional yeast, herbs, bay leaf, agave, and balsamic vinegar. Season with salt, pepper, chili flakes.
Turn down to medium-low heat and add in carrots.
When carrots are about 3/4 done cooking through, add in beans, lentils, zucchini, and kale.
Turn down to low heat and simmer for about 30 minutes, or until carrots and zucchini are totally cooked though and the broth has become slightly thicker.
Remove bay leaf. Season to taste with more salt, pepper, and chili flakes.
If desired, garnish with fresh herbs, a little extra virgin olive oil, and serve with garlic bread.
Notes
If you have fresh herbs on hand, you may use them, adjust measurements to your taste and strength in flavor of the fresh herbs.
If you have the time to make your own beans and lentils from scratch, that is highly recommended.
If you can find canned San Marzano tomatoes, use them. They are the best.
Keywords: vegan minestrone
Have a question? Comment below! Did you make this vegan minestrone soup recipe? Let us know how it below, and make sure to tag @maddysavenue in any pictures you post on social media!