With its lively cities, legendary surf breaks, snow-capped mountains, lush vineyards, incredible national and state parks, and epic fusion food, the Golden State offers a wealth of experiences and unparalleled landscapes to discover. From the mainstream to the completely unknown, this California bucket list (written by a Southern California local!) contains 50 of the best things to do in California before you die.
Whether you're a visitor or a long-time resident, there's always something new to discover in California – and always a view that'll take your breath away. Are you ready to explore California?
How many experiences have you already checked off of this California bucket list? Which ones still remain?
Ultimate California Bucket List:
Top 50 Things to Do in California
Here are all of the best things to do, see, eat, drink and places to explore in California, split into three regions: Northern California, Central California, and Southern California!
Northern California Bucket List Experiences
1. Road Trip Up (or Down) Pacific Coast Highway
The famed road trip up or down the Pacific Coast Highway (AKA PCH or Highway 1) is necessary to experience the best of California's scenic coastlines, rugged hills, sunsets, and laidback beach towns.
Points of interest along the way include (but certainly aren't limited to) San Francisco, Big Sur, Carmel-by-the-Sea, San Luis Obispo, Malibu, Santa Monica, and Laguna Beach.
2. See the Point Reyes Lighthouse
Maine isn't the only state that boasts incredibly scenic lighthouses! Seek out breathtaking scenery, solitude, and a sunset over the Pacific Ocean at the Point Reyes Lighthouse.
The Point Reyes National Seashore is a beautiful and vast stretch of protected California coast. Hike the Tomales Point Trail to the lighthouse, and back!
About 30 minutes away from the start of the trail, you will find Hog Island Oyster Co. If you like oysters, DON'T MISS the chance to come here. The oysters are the best in the world – in my opinion. And the setting is unbeatable. Pack a picnic and buy oysters to shuck there, or make a booking in advance for the restaurant.
3. Walk under the Cypress Tree Tunnel
20 minutes north of the Point Reyes Lighthouse lies another historic landmark that's easy on the eyes: the Cypress Tree Tunnel.
Don't forget your camera; you'll certainly need it!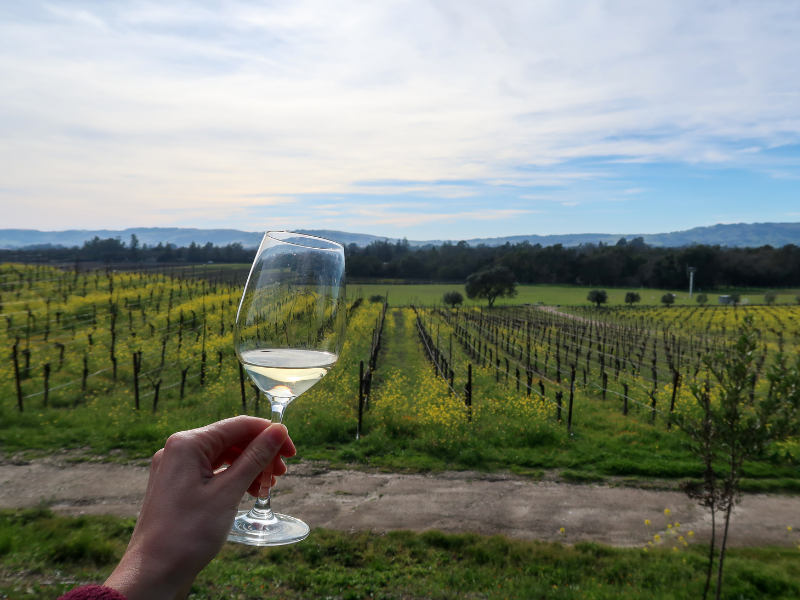 4. Go Wine Tasting in Sonoma and Napa
California produces some of the best wine in the world, if not the very best. For oenophiles, it would be a shame not to visit the famed Northern California vineyards of Sonoma County and Napa County – especially if you're stopping in nearby San Francisco!
Though they're right next-door to each other, the two wine regions couldn't be more different. If you have to choose one or the other, know this: Napa is quite upscale, exclusive, and expensive, whereas Sonoma is more chilled-out, affordable, and friendly. My personal choice, for the vibe and the varieties in wine, is Sonoma.
Whichever you choose, Northern California wine country is a must-add to your California bucket list!
Consider booking a day tour of the best wineries in the area!
Top Experiences in Sonoma & Napa
5. Visit the Glass Beach in Fort Bragg
Exploring Northern California's craggy coastline? Then make sure to stop at Glass Beach in Fort Bragg, a beach piled high with rainbow-colored sand… or more like shiny pieces of sea glass from years past when locals would dump garbage into the sea from the northern side of town. One of the few cases where pollution resulted in something beautiful!
6. Hike up to Half Dome in Yosemite National Park
The 16-mile roundtrip hike to Half Dome is not for wimps. But if you're up to the challenge, the triumphant feeling of finally summiting Half Dome and looking out over all of stunning Yosemite will be worth the effort!
If you're not massively into hiking, a trip to Yosemite is still a must on your California Bucket list, for the endless nature, wildlife, and incredible landscapes. You can even do a day trip from San Francisco, though I'd recommend staying at least a few days.
Click here to find great deals on lodges, hotels, campsites, and more, within Yosemite National Park!
If you have limited time, then consider this Yosemite National Park and Giant Sequoias Day Trip from San Francisco!
Top Experiences in Yosemite
7. Camp in Big Sur
Big Sur is a rugged, wild stretch of coastline in Northern California where there is hardly cell service and wildlife abounds. Offering many lush coastal State and National Parks, Big Sur is one of the best places to experience California's natural beauty.
And camping – or better yet, glamping – is surely the best way to experience the area. Different campsites are scattered throughout, as well as glamping resorts, complete with luxury yurts and farm-to-table restaurants.
Consider glamping at Ventana Big Sur – this was my favorite camping experience ever!
8. Drive, Bike, or Walk the 17-Mile Drive
The small toll necessary to drive the 17-Mile Drive through Pebble Beach and Pacific Grove is worth it for beautiful views of the rocky coast, grand mansions, and famous golf courses!
Don't forget your camera!
9. Visit McArthur-Burney Falls Memorial State Park
The McArthur-Burney Falls Memorial State Park presents the opportunity to hike, fish, picnic, and camp among California's most beautiful waterfalls.
For all you nature lovers, this State Park is a California must-see.
10. Enjoy the Peaceful Scenery of Half Moon Bay
Half Moon Bay is one of the most stunning stretches of California coastline, along the Pacific Coast Highway.
If you're journeying on Highway 1, don't just pass through; instead, check into a hotel and enjoy the peaceful scenery for a while.
Just 25 minutes south of San Francisco, it's the perfect place to stop for one last nature hurrah before plunging yourself into the craziness of the city.
11. Savor Lake Tahoe's Unspoiled Beauty
This California alpine lake couldn't get any prettier. I think it goes without saying that Lake Tahoe should be on your California bucket list.
Whether you're a photographer, a water skier or wakeboarder, a snowboarder, or a hiker, there's something for everyone to enjoy in Lake Tahoe. Try finding a more scenic place to do any of those activities – I dare you!
Consider booking this Lake Tahoe Semi-Private Photography Tour to ensure you capture Lake Tahoe's most stunning mountain and lake views — and even learn some photography tips along the way! This tour has amazing reviews.
Top Experiences in Lake Tahoe
12. Whale Watching in Monterey Bay
Few sights will take your breath away more than Monterey Bay's humpback whales surfacing, and even jumping out of the ocean.
Sightings aren't at all uncommon, so book a whale watching tour, and prepare yourself for a real treat!
13. Hot Air Balloon above Napa Valley's Vineyards
The only thing better than drinking world-famous Napa Valley wine? Drinking it from a hot air balloon, soaring over Napa's vineyard-covered hills and glistening lakes. One of the best and most unforgettable things to do in California!
Book this Napa Valley Hot-Air Balloon Ride which includes a sparkling wine brunch!
Top Experiences in Napa Valley
14. Bike across the Golden Gate Bridge
The Golden Gate Bridge is the most iconic landmark in all of California. If you really want to experience the engineering feat that is the Golden Gate Bridge, why not bike across it?
With all of the traffic, the height, and the wind, it's a thrilling experience. If you're nervous, the panoramic views of the San Francisco Bay Area will keep you going! Turn around at the end of the bridge, or continue further to explore the quaint city of Sausalito.
Top Experiences in San Francisco
15. Fine Dine at The French Laundry in Yountville
This three-Michelin-starred restaurant and foodie mecca is one of the best restaurants in California. And the head chef, Thomas Keller? An absolute legend.
If you have a couple hundred dollars to blow on the best fine-dining experience of your life, The French Laundry is a must. (And so is the wine pairing!)
It goes without saying, you need to book well in advance.
16. Browse the Ferry Plaza Farmers Market
The Ferry Building is one of my fave places in San Francisco!
Daily, San Francisco's Ferry Building is filled with a variety of artisanal food and specialty shops, markets, and restaurants. Three days a week, there's also a bustling outdoor farmer's market selling the freshest produce, handmade pasta, bread, and so much more. A must on every foodie's California bucket list!
By the way, if you can't make it to Hog Island Oyster Co.'s farm (see #2 above), then make sure to dine at their restaurant here in the Ferry Building. It's incredible!
17. See the Redwoods
Of course, the redwood trees should be on your California bucket list! When you see the redwoods in real life, it'll be hard to believe they are actually that huge. After all, they are the tallest trees in the world!
Make sure to drive along the Avenue of the Giants, a stunning highway that runs through the Humboldt Redwoods State Park.
California's natural beauty just never stops impressing, does it?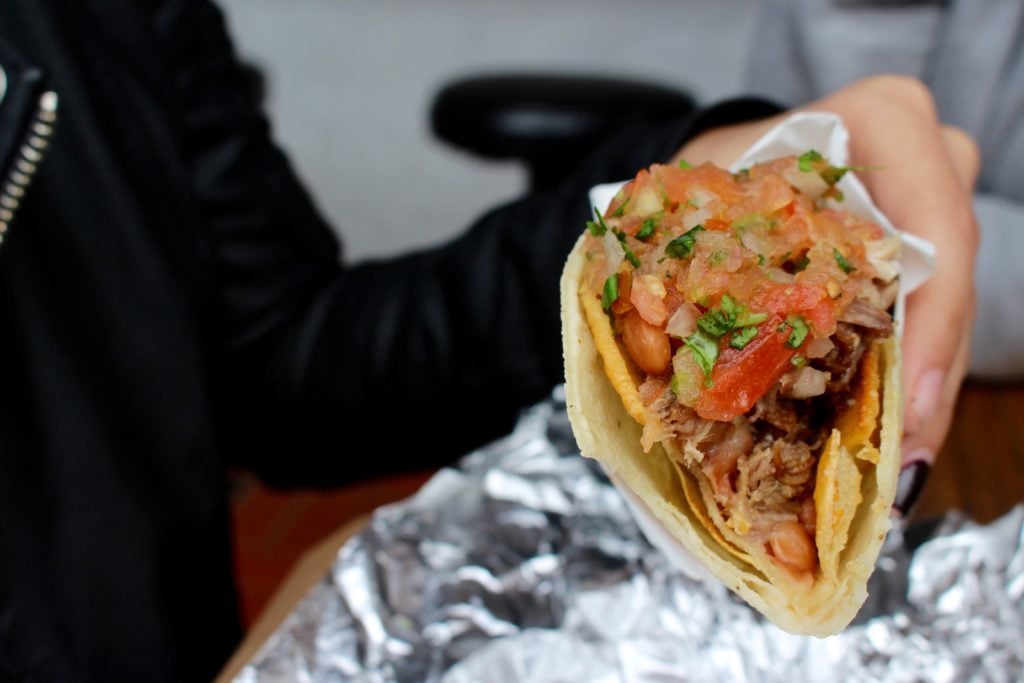 18. Eat Mexican Food in the Mission District
San Francisco's Mission District is home to the world's best tacos and burritos. Really. If you love Mexican food – or even if you don't – you must try La Taqueria's legendary food!
If you have some time, I recommend booking this Secret Food Tour of San Francisco's Mission District!
Top Experiences in San Francisco
19. Visit the Monterey Bay Aquarium
If you're planning to explore Big Sur and doing the 17-Mile Drive, there is a good chance you will find yourself in Monterey. So why not experience the wonder of the sea? Especially if you are with kids!
Over 35,000 sea creatures live and thrive at the Monterey Bay Aquarium, which showcases one of the world's richest aquatic regions. It is epic!
Central California Bucket List Experiences
20. Explore Sequoia National Park
Nestled into the Sierra Nevada mountain range, this forrest is another must for your California bucket list.
Sequoia National Park, AKA the Land of Giants, is one of the USA's oldest and most impressive national parks. General Sherman – the largest living single-stem tree on Earth, estimated to be 2,300-2,700 years old – will blow your mind.
21. Ride ATVs over the Pismo Beach Sand Dunes
If you're looking for a little adventure and a super fun time, head for the sand dunes!
Grab some friends, rent a couple of ATVs, and zoom over the sand dunes at Pismo Beach. This beautiful central coast town is also known for its wineries and stunning beaches; it's also home to a gorgeous beach resort: the Dolphin Bay Resort & Spa. If possible, stay there!
22. Ski/Snowboard at Mammoth Mountain
Get your snow gear ready! Are you skilled enough to ride some serious steeps and powder at California's premier mountain resort?
Summertime in Mammoth Lakes is also stunning; there so many lakes and hiking and biking trails to explore! Oh, and don't forget to check out the hot springs.
Find the best deals on Mammoth Lakes accommodations here!
23. Visit the Danish Town of Solvang
Take a trip to Denmark without ever leaving Southern California! Solvang was originally settled by Danes back in 1911, and still cherishes its Danish heritage, architecture, and character today. Not to mention – there are plenty of traditional Danish bakeries to visit!
The town is also known for its many wineries, so make sure you're thirsty!
Find deals on Solvang accommodations here.
24. Visit a Spanish Mission
21 Spanish missions scatter California's coast. If you want to catch a glimpse into what life in California was like hundreds of years ago, visit a Spanish mission! These missions are the oldest historical buildings to visit throughout the state, though some are in better condition than others.
The Santa Barbara Mission (pictured above) is known as the queen of all the missions because the architecture is stunning and so well-preserved. If you're passing through beautiful Santa Barbara, make sure to stop here.
25. Go Horseback Riding in San Luis Obispo
The beauty of San Luis Obispo is not discussed enough! With acres upon acres of wide-open spaces, the best way to experience San Luis Obispo's peaceful scenery is on horseback.
Then wrap up the experience with some wine and cheese!
26. Wine & Dine in Paso Robles
Paso Robles is an underrated wine and foodie mecca out in the farmlands of Central California.
My last visit here was a mother-daughter trip full of epic wine and food and incredible hilly vineyard views. Plus, Paso's little country downtown is the cutest.
From Justin and Daou to Eberle and J. Lohr, Paso wineries give Napa's a run for their money!
Make sure to stay at the beautiful Allegretto Vineyard Resort. I love this place!
Southern California Bucket List Experiences
27. See the Super Bloom in Death Valley
Most of the time Death Valley looks, well, dead. But about once per decade, when the weather patterns are just right, the valley and surrounding mountains erupt with a spectacular show of yellow, pink, and purple wildflowers. Make a point of seeing this rare super bloom once in your lifetime!
In addition to the super bloom, Death Valley boasts colorful rock formations, dramatic landscapes for hiking and picnicking, a ghost town from the gold rush, and the most spectacular sunrises at Zabriskie Point. Just make sure you bring your water, sunscreen, and a hat because Death Valley is one of the hottest places on earth!
Fun fact: Death Valley is also 282 feet (86 m) below sea level, making it the lowest point in North America.
28. Hike to the Hollywood Sign
When you visit Los Angeles, can you really leave without hiking to the Hollywood Sign?
Well, yeah, you can. But why would you want to? This hike is relatively short and easy, super scenic, and the perfect opportunity to bring some nature into your city time. Plus, the sign itself is an icon!
Touristy, but also worth your time; unlike the Hollywood Walk of Fame, feel free to give that one a miss.
Top Experiences in Los Angeles
29. Watch the Sun Set at Sunset Cliffs Natural Park
This 68-acre coastal attraction offers expansive views of the ocean, Southern California's rugged coastline, and even the occasional cliff diver. These jagged cliffs paired with gentle pink sunsets serve as a haven for photographers and nature lovers alike.
San Diego is the perfect place for an oceanside holiday. Need a hotel? Click here for the best deals in San Diego!
30. Take a Food Truck Tour of LA
Los Angeles isn't only known for the Hollywood sign and movies. Because of its diverse population and access to amazing produce, LA is probably the fusion food capital of the world. And because the sun's always shining, the best place to find it is on a food truck!
For a day of deliciousness – think spicy Korean tacos and sushi burritos – take yourself on a foodie food truck tour of LA. Downtown LA is the best place to start!
Love guided food tours? Check out this Downtown LA Food Tour where you'll try some of LA's staple foods and learn about Downtown's fascinating history.
Ready to book your California trip now? These are my go-to sites to snag the best deals!
31. Scuba Dive/Snorkel at Santa Catalina Island
There's more to the Golden State than just the mainland! California also has eight Channel Islands. The most accessible is Catalina Island; you can catch a quick ferry to Catalina Island from three different ports: Long Beach (LA County), San Pedro (LA County), or Dana Point (Orange County).
If you want to snorkel or scuba dive with bright-colored fish and coral reefs, Catalina Island is the place to do it!
Catalina is the perfect place for a 2-day island getaway! Explore the outdoors and the underwater world. Snorkel or scuba, kayak, hike, swim, camp, and hang by the beach. Sounds heavenly, no?
32. Catch Waves in Surf City
As its name implies, Surf City, USA is the place to catch a wave or two. For those who don't know, we're talking about Huntington Beach.
If you're an avid surfer, you're obviously going to bring your board and check out the different breaks along the California coast. Huntington should be one of them.
If you're a beginner, take a lesson from the pros! There are a few different surf schools in the area and plenty of other kooks in the water, so I can't think of a better place to learn. Can you?
33. Overlook Los Angeles from Griffith Observatory
For the most spectacular views of LA, head to Griffith Observatory, located on the southern slope of Mount Hollywood. From the Observatory, use the public telescopes to see the stars and ponder the universe, hang out at the café, and take in the city views.
If possible, go for a sunset picnic!
Top Experiences in Los Angeles
34. Visit San Diego's Legendary Breweries
San Diego is home to some of the greatest craft breweries in California – and the world! If you love beer, or just want to try something new, spend a day or two in the Gaslamp tasting different beers and touring San Diego's many breweries!
Some of my favorite breweries include Belching Beaver, Green Flash, Mikkeller, and Modern Times. There are also taprooms on just about every block, pouring new and interesting creations.
Find great deals on accommodations near all the San Diego breweries here!
35. Visit Pacific Park on the Santa Monica Pier
Roller coasters and ferris wheels over the Pacific Ocean? That's a thing? In Santa Monica, yes indeed!
Touristy? Check. Ridiculous? A little. Crowded and touristy? Definitely. Fun? Also, check. So come get your funnel cakes and hot dogs, and enjoy the sea breeze! The Santa Monica pier is a can't-miss on your California bucket list and an easy stop on a road trip up or down PCH/Highway 1!
Find deals on beachy Santa Monica hotels here!
36. Eat a Cheeseburger at In-N-Out Burger
Because, really, what says California better than a Double-Double and fries from In-N-Out?
Hot tip: If you're vegetarian, you don't have to miss out on this legendary meal. Ask for a grilled cheese… with grilled onions. And maybe even make it "Animal Style"!
37. Explore Venice Beach
Named after Italy's Venice comes a raunchier, more hipster, more Californian counterpart: Venice Beach.
While in LA, don't miss strolling through the canals in Venice Beach. Enjoy a peaceful walk among the sunshine and flowers as boats float along the waterways.
Plus, make sure to explore Abbott Kinney, known as "America's Coolest Street" for its throng of epic bars, chic restaurants, delicious coffee, and boho-hipster boutiques.
Right next door to Santa Monica, Venice is a great place to base yourself for a stay in LA.
38. See Sea Lions at La Jolla Cove
Sea lions are always out to play in La Jolla. On a sunny day, throw on your suit and go for a swim.
The sea lions are relatively friendly and accustomed to humans, but it's probably best to enjoy their company from afar anyway!
39. Visit the San Diego Zoo & Safari Park
Haven't been on an African safari just yet? The next best thing might just be spending a day at the San Diego Zoo & Safari Park, where you'll encounter elephants, rhinos, zebras, lions, and giraffes, among many others.
Ready to book your California trip now? These are my go-to sites to snag the best deals!
40. Visit the Flower Fields at Carlsbad Ranch
Each spring, Carlsbad Ranch's vast flower fields are a beautiful sight to see!
A field of flowers might sound boring, but trust me, it's truly epic. If you're in the area, don't miss it.
41. Experience The Broad in Downtown Los Angeles
Downtown's contemporary art museum, The Broad, is a stunner and my favorite museum in LA.
Though the line for free entrance is usually hundreds of people deep, the masterpieces on display are worth waiting for.
The trick is to arrive before it opens, and prepare to be wowed!
Top Experiences in Los Angeles
42. Twirl Under the Urban Lights at LACMA
The Urban Lights sculpture is just one of the many pieces worth seeing at the Los Angeles County Museum of Art (LACMA).
Even if you don't visit the actual museum, make sure to stop by this iconic, photogenic Los Angeles landmark as you explore the La Brea and Fairfax neighborhoods.
43. Visit the Original Disneyland
California has its fair share of theme parks, but Disneyland is the must on your California bucket list.
In 1955, Walt Disney opened the original "Happiest Place on Earth." It's necessary to experience the magic that is Disneyland at least once in your lifetime – especially at the original! And if you can time your visit between Halloween and the New Year, the experience will be all the more magical.
California Adventure (right next door) is less magical, but is home to some epic rides and rollercoasters, so get a Park Hopper ticket and go to both!
44. Watch the Sun Set in Laguna Beach
I may be biased because it's my hometown, but Laguna Beach is one of California's most beautiful coastal towns. The best way to wrap up a beach day in Laguna is over an intensely stunning sunset.
My all-time favorite place for beachfront food and cocktails in Laguna is The Deck. You can't beat the ocean views!
Find deals on Laguna Beach accommodation here! Trust me, you'll want to stick around for a few days at least.
45. Visit the Wizarding World of Harry Potter
Potterheads, are you ready? You can finally live out your dreams of shopping in Diagon Alley, sipping pints of Butterbeer, and attending Hogwarts School of Witchcraft and Wizardry. Which house will you be sorted into?
Since the Wizarding World is part of Universal Studios Hollywood, there's plenty of other movie magic to discover and rides to enjoy at this amusement park.
RELATED READING:
46. Experience Apple Everything in Julian
Julian is famous for its legendary apple pies! Visit Julian to wander through the orchards, pick fresh fruit from the centuries-old apple and pear trees, learn to make apple cider, and of course, eat that delicious apple pie!
Find quaint Julian accommodation options here!
Ready to book your California trip now? These are my go-to sites to snag the best deals!
47. Explore Joshua Tree National Park
Joshua Tree National Park is a dreamy desert oasis, perfect for a romantic getaway or girls' trip out in nature. Hiking, rock climbing, and bouldering by day? Sipping wine, gazing up at the Milky Way by night? Yes, please.
Known for its rugged rock formations against stark desert landscapes, spiny Joshua Trees, and incredible star-gazing conditions, Joshua Tree National Park is one of California's top outdoor destinations. There are also a number of beautiful, desert chic, hipster airbnbs and accommodations, from old airstreams to cabins to off-grid homes.
Top Experiences in Joshua Tree
48. Take a Trip to Palm Springs
Iconic palm trees and windmills set against towering mountains. Hot weather. Beautiful resorts and pool cabanas. Designer outlet shopping. World-renowned music festivals nearby. Stylish hotels and spas. Nightclubs and casinos and golf courses. And hot springs. Vintage shops and midcentury-modern architecture. That's Palm Springs in a nutshell. r
Palm Springs has everything you need for an easy and unforgettable trip with your mates. Just a quick skip from LA or San Diego, don't miss it!
49. Check out Salvation Mountain
Artist, Leonard Knight, spent 25 years of his life transforming an ordinary hill nearby Salton Sea into a sculptural masterpiece. It's hard not to be impressed by Salvation Mountain's inspiring messages and bright murals!
If you're heading out to Palm Springs, Joshua Tree National Park, or Indio (hello Coachella and Stagecoach!), then this landmark may be on your way. The perfect stop to stretch on your road trip!
50. Bike Around Newport Beach & Balboa Island
Whenever I'm back home in Southern California, I love heading up to Newport Beach and renting a bike. Cruise along the boardwalk in the sunshine, check out the massive waves at The Wedge, take the ferry over to Balboa Island, admire the beautiful homes, and enjoy the fresh sea air.
If you're not into biking, it's also fun to rent a duffy boat and float around the Newport Harbor. Don't forget wine and a cheese board.
While in Newport, a stop at Bear Flag Fish Co. for a fresh fish burrito, tacos, or a poke bowl is non-negotiable!
Bonus: Walk Along the Beach
Any beach! One of the simplest, yet best things to do in California.
My favorite is Laguna Beach, forever and always.
50 Bucket-List-Worthy Things to Do in California
From exploring the steep streets of San Francisco to the dirt trails of Yosemite, those are my picks for the top 50 best things to do in California. If these 50 items aren't already on your California bucket list, add them.
If they are already on your California bucket list, but you haven't completed all of them, you better get started!
There's lots of California (AKA the Golden State, the gem of the West Coast) left to explore, and we're running out of time!
Did you know…
When you book travel or purchase something through our links, we receive a small commission, at no extra cost to you? Your support enables Maddy's Avenue to keep producing helpful travel content. Thank you!
California Travel FAQs
What is the coolest thing in California?
Talk about an impossible question to answer! The coolest thing in California is probably the fact that, in one day, you can enjoy the waves and sunshine on a sandy beach and go skiing or snowboarding at one of the many beautiful ski resorts. Otherwise, of course, California's boundless natural beauty is the coolest thing about the Golden State!
What are some things exclusive to California?
Incredible national parks – like Yosemite National Park, Lassen Volcanic National Park, Channel Islands National Park, and Joshua Tree National Park – the original Disneyland and Knott's Berry Farm, movie/television studios all over Los Angeles, the incredible wine regions – like Napa, Sonoma, Temecula, and Paso Robles – and the beautiful, sunny Pacific coast beaches are some of the many great things exclusive to California.
What are good bucket list ideas for California?
Hot air ballooning over Napa Valley, hiking to Yosemite's Half Dome, learning to surf in Huntington Beach, and brewery hopping in San Diego are some good bucket list ideas for California. This article lists 50 great bucket list ideas for your trip to CA!
How can I spend 4 days in California?
Before you decide how to spend 4 days in California, consider how big this state is. It's best to choose a region first (Northern, Central, or Southern California), and then decide how you'll spend your time. California has something for everyone, so consider what you're most interested, and plan from there! Beach activities, hiking, foodie experiences, snow adventures, lake fun, shopping, museums, wine and beer tastings, sports games, and amusement parks are just a few of the categories to consider!
What are the best things to do in California?
There are so many incredible things to do in California! This guide details 50 dreamy things to do in California to add to your bucket list!
SAVE THIS POST ON PINTEREST!
Over to you! What do you think the top things to do in California are? What's on your California bucket list? How many of these items have you already checked off of your California bucket list?