This Kauai itinerary includes everything you need to know for an unforgettable trip to Kauai.
I've got you covered with:
The best areas to stay in
How to get around the island
Which excursions to book
The most beautiful beaches to visit
The most delicious poké, shave ice, and coffee shops to stop by
And so much more!
Feel free to use this table of contents to jump around, or read on to plan your own perfect Kauai itinerary.
About This Kauai Itinerary
My trip to Kauai was absolutely packed with magic, and I already can't wait to go back!
I feel like Mother Nature put on a show just for us. But then, that's what it's always like in Kauai.
There were dolphins, whales, and turtles. Torrential downpours and rainbows. Sunshine, stunning beaches… and sunburns. Palm trees swaying in the warm breeze and the most immaculate sunsets. And chickens, everywhere. Naturally.
This island is extraordinary, wild, and awe-inspiring – everything I hoped it would be.
I hope that when you follow this Kauai itinerary, you'll have a similar experience!
Extra Things to Notes:
As mentioned, I think this itinerary strikes the perfect balance between adventure and relaxation. And, as usual with Maddy's Avenue guides, there's a heavy emphasis on seeking out the best local food!
This is a seven-day Kauai itinerary. You could do the most important things in 4 days if you're pressed for time.
I stayed in the Poipu Beach area, so this itinerary is centered around that. Based on my experience – and the area's micro-climate (less rain), plentiful dining options, and calmer ocean waters – I think it's the best place to stay!
There is a bit of driving involved in this itinerary, but keep in mind that the views are always stunning – and you'll never drive more than a 2-hour stretch at once. This is a small island, after all!
To fully experience the island, there are a few tours you absolutely must book. (Like this helicopter tour and this raft tour.)
Of course, feel free to switch around the timeline I've outlined to suit your schedule best. And, as always, if you have questions, leave them in the comments section at the bottom of this post!
How Much Time in Kauai?
This itinerary for Kauai covers up to seven days.
Even though there's enough to keep you busy on Kauai for up to two weeks, I think that one week is the perfect amount of time. If you need more time to simply chill out, recharge, and drink mai tais, then plan on two weeks.
Four full days is the absolute minimum. There are too many amazing experiences awaiting you to plan for any less!
Whether you have four days or seven days, this itinerary will lead you to all of the best beaches, poké shops, food trucks, viewpoints, and beyond!
How to Get Around Kauai?
Kauai's many natural wonders and historic towns span the entire island, all strung together by one main highway that rings around the island's exterior. There's a lot to see and do, but if you don't have your own car, you're going to have a tough time.
The only way you won't need a car, is if you plan to stay at a resort the entire time. (And if so, this is not the itinerary for you!)
Rental Car (Best Option!)
To get around Kauai efficiently, you need to rent a car. The roads are well-paved and getting from place to place is very straightforward (there's only one main highway, after all!).
This is my favorite website for snagging affordable rental car deals!
When you arrive at the airport, you'll head outside, and either hop on your rental car company's free shuttle, or walk across the street to their booth. It depends which company you go with, but the process is straightforward either way.
NOTE: Make sure to set Lihue Airport (LIH) as your rental car pick-up and drop-off location. If you search for "Kauai" you won't get any results! This is my favorite website for scoring great deals on rental cars. You can book with confidence with free cancellation. Click here to book your rental car now!
Other Transportation Options
Uber
Uber is available on the island, but there are three caveats to mention:
It's very expensive.
There aren't many drivers available.
If you rely on Uber for a ride early in the morning or late at night, you'll be sorry! It's very likely that no one's coming for you.
While in Kauai, we used Uber a few times for rides to restaurants and bars when we planned to have a few cocktails (lychee martini, anyone?). At least once, we had no choice but to accept rides home from random, generous locals. (Side note: I found the locals to be so nice and friendly on this island!)
Public Transportation
There are buses on the island. I didn't take the bus at all, though I've heard that the bus system isn't very convenient for travelers as the buses don't go to many of the places you will want to see.
You can check the bus map and schedules here, but for convenience's sake… Just rent your own car (and make sure to set LIH as your pick-up/drop-off).
Walking Around
If you plan to stay in one place (i.e. just in Hanalei or just in Poipu), then walking short distances may be an option. But remember, that Hawaiian sun is strong! Reef-safe, natural sunscreen is a must.
Best Areas to Stay in Kauai
Choosing where to stay on the island is a big deal!
Your main options are:
The South Shore (best option): Poipu, Koloa
The North Shore: (second-best option) Princeville, Hanalei
The West: Kapa'a, Wailua
The East (not recommended): Waimea, Hanapepe
Note: No matter where you stay, you can expect to spend $200+ per night. This varies, though, depending on what time of year you visit. And remember to BOOK IN ADVANCE, especially for the high season (April-October). This island is small, and the best places sell out quickly!
Why You Should Stay in the South
Even though the island is small, this area receives way less rain than the North Shore. If you are visiting during the wet season (November-March), then this is especially important to consider!
Koloa's history-rich Old Town could not be more adorable. Plus, the beaches in this area are beautiful! The resorts are fabulous (better than in the North). There are plenty of delicious restaurants, food trucks, and coffee shops close by – and even more in nearby Lihue!
And lastly, it's conveniently located: only 20 minutes from the Lihue Airport, 30 minutes to the boat harbor for your raft adventure, and just 1 hour all the way up to the North Shore.
Where to Stay on the South Shore
Still looking? This is my favorite website for scoring deals on hotels. From beachfront resorts to quaint rental properties, click here to find the perfect place to stay in the Poipu Beach area. My favorite part? There's usually free cancellation, just in case.
Why You Should Stay on the North Shore
As mentioned, this area gets a lot more rain than the South does! But if you're visiting during the dry season, no worries!
If you're after a super relaxed vibe and local Kauaian feel, then you are going to love the North Shore. The beaches here are incredibly beautiful (hello, Tunnels Beach!), and the surf pumps. There aren't as many dining options, but enough great ones to keep your interest, for sure!
There are plenty of amazing hiking trails nearby; you'll never tire of the insane views of the Hanalei Valley and the endlessly lush mountains.
The only downside is that Hanalei and Princeville are a bit further away from the rest of the places you'll visit on the island.
Where to Stay on the North Shore
Here's my carefully curated list of the best places to stay on the North Shore.
If you want to soak up the North's chill vibes, but still get in plenty of action, then a great option may be to stay in the North for half of your trip, and head South for the rest!

Wherever you choose, this is my favorite website for scoring amazing deals on accommodation. From beachfront rental cottages to fantastic 5-star resorts, click here to find the perfect place to stay in the North Shore. My favorite part? There's usually free cancellation, just in case.
Ultimate Kauai Itinerary: Up to 7 Days in Kauai
Phew, now that the logistics are out of the way, let's get into the best part of this Kauai itinerary!
Here's what you should do with up to 7 days on the beautiful Garden Isle.
Day 1: Explore the North Shore
Day 1 is all about exploring the North Shore. If you're staying in the South Shore (my recommendation!), it makes sense to make the most of your day by heading, straight from the airport.
Pick Up Your Rental Car
Aloha! Once you arrive at Lihue Airport, it's time to pick up your rental car. As mentioned above, you can't fully experience Kauai without a rental car. It's a non-negotiable cost.
Ideally, your flight will arrive early enough to make the most of Day 1.
Hop in your car, blast Hawaiian Roller Coaster Ride (yes, from Lilo and Stitch), and gear up for an unforgettable adventure!
Hot tip: This is my favorite website for finding the best deals on rental cars! You can lock in your reservation now with free cancellation, just in case. Make sure to set Lihue Airport (LIH) as your pick-up and drop-off location! Click here to book now.
Enjoy Your First Poké Bowl
Your first stop on the Garden Island should be for nothing other than poké! (If you're not familiar, poké is a Hawaiian staple: a dish of fresh, raw cubes of fish – typically, tuna – marinated, and often served with rice and other toppings. It is beyond delicious.)
Nearby the airport, you have two excellent fish markets to get your fix immediately: Lawai'a Fish Co. and Konohiki.
By the way, I discovered that the more a fish market look like a "hole in the wall," the better! Grocery store poké? Absolutely, yes.
So walk up to the counter, ask for the staff member's recommendations, and trust them! Get one or two different "flavors" over rice, and you'll be in for a great time.
Savor your poké in the parking lot (yep, while it's cold and fresh as can be!). Then, it's time to head to the North Shore… With a few obligatory stops along the way!
Drive Up the Royal Coconut Coast
Known as the Royal Coconut Coast, the east side of the island is full of coconut groves. Enjoy the lush greenery – and always keep an eye out for chicken, rooster, and nene (Hawaiian geese) crossings!
As you drive up the 56 Highway, you'll see at least one roadside coconut stand selling fresh coconuts.
Pull over, order a fresh coconut, and enjoy its sweet refreshing goodness under the Hawaiian sun.
You can't not!
Stop at the Hanalei Valley Lookout
Once you reach the town of Princeville, you'll come across one of the most magnificent lookouts on the island: the Hanalei Valley Lookout.
A perfect photo op, take in the mind-blowing views of Kauai's soaring mountains and waterfalls, and the lush valley floor down below, filled with farmers' fields.
Make friends with the locals (the chickens) before heading to the next stop!
Explore the North Shore
Now that you've made it to the North Shore,
In the North Shore, make sure to check out these spots:
Watch the Sunset at Tunnels Beach
This is everyone's favorite beach for a reason. Watching the sun set over the green mountains and cliffs that kiss the sandy shore of Tunnels Beach is a quintessential Kauaian experience.
P.S. On your way over to Tunnels Beach, I wouldn't blame you if you stopped by a market to grab a few sneaky treats. (Like a local craft beer or kombucha.) Let's call it a pre-dinner sunset picnic.
Dinner & Mai Tais in Hanalei
For dinner in Hanalei, choose between locals' favorites*:
Tahiti Nui: a low-key Hawaiian restaurant with "world-famous" mai tais, seafood, and live music
Bar Acuda: a cool place for imaginative tapas and cocktails
The Dolphin Restaurant: a laid-back spot for fresh seafood and sushi
*I say that, because they were recommended to us by a local on the plane over!
Day 2: Helicopter Tour & Beach Time in Poipu
Day 2 could be the best day of this entire Kauai itinerary. Soaring above the Garden Isle's mystifying landscapes on a helicopter tour is hard to beat. Plus, great coffee, healthy eats, and craft beer are in store!
Grab a Coffee at Aloha Roastery
Kick off Day 2 with an excellent cup of specialty coffee and an equally perfect pain au chocolat at Aloha Roastery, in Lihue, on your way to the airport.
Yeah, I still don't know which was better: the coffee or the croissant.
I guess that's a good sign.
The minimalistic, cool vibe is also perfect for calming your nerves for what's to come next…
Go on a Helicopter Tour
A bit of a splurge, but 100% worth every penny, you must go on a helicopter tour over the Garden Isle.
Soaring over the lush rainforests and turquoise waters of Kauai – past the craggy, sacred, endlessly stunning Nā Pali coastline, through rainbows, into volcanic craters, and alongside hundreds of gushing waterfalls – is a surreal experience that you will never forget.
You may even see whales breaching from the sky!
I've traveled to some of the most incredible corners of the world, but have rarely felt this level of awe.
For the adrenaline rush, I chose this 45-Minute Doors Off Helicopter Tour. And I'd do it a thousand times over!
But if you want a more relaxing flight, then choose this Epic Air Kauai Helicopter Tour (65 minutes) or this Amazing Air Kauai Helicopter Tour (45 minutes). Both of these tours have the doors on, the only difference is in the length! Our pilot said that the views are just as spectacular with or without doors.
Top Tips for Your Helicopter Tour
Have a Healthy Lunch in Lihue
On your way back to Koloa, stop by Lihue for a fresh smoothie, açai bowl, salad, or sandwich. There's no shortage of fresh produce on Kauai, so take advantage!
Plus, the fruit – from pineapples to coconuts to bananas – is insanely sweet and ripe. Nothing like what you get on the mainland! You'll want to eat as much of it as you possibly can!
The Greenery Cafe, Aloha Aina Juice Cafe, and Aloha Craft Cafe are all great options.
Stop by Kauai Beer Company
Ready for a little after-lunch craft beer?
While in Lihue, don't miss the opportunity to stop by Kauai Beer Company for a beer-tasting flight.
Swim & Relax at Shipwreck Beach
Shipwreck Beach is the beautiful yellow-sand beach on the western side of the Poipu area.
At this beach, you'll find a stunning rocky cliff, crystal clear waters, big waves (perfect for surfing), and you guessed it: some friendly chickens roaming around.
This is the perfect beach to spend an afternoon at in Poipu, relaxing after your adrenaline-rushed morning.
If you swim, be careful of the currents!
Pool Time at Your Resort
Who doesn't love a post-beach pool hang? Especially if you're staying at the Grand Hyatt or Koloa Landing.
Both of these resorts feature beautiful pools, surrounded by lush gardens – and serve up strong mai tais pool-side. Mahalo!
Dinner & Cocktails at Your Resort
Tonight, have an easy dinner at your resort.
You have an early wake-up call tomorrow! It's time to see the Nā Pali Coast (from the sea, this time).
Note: Both the Grand Hyatt and Koloa Landing have good food options! (The picture above is at Holoholo Grill at Koloa Landing.)
Day 3: Nā Pali Coast Boat Tour & Waimea Canyon
On Day 3, it's time for a boating adventure to the sacred Nā Pali Coast. Along the way, sea turtles, dolphins, and whales may grace you with their presence! Then, eat (the best!) poké for lunch, relax beach- or pool-side, and finish off with an authentic Hawaiian dining experience.
See the Nā Pali Coast (from the Sea!)
The Nā Pali Coast is a sacred place of extraordinary beauty. You can't come to Kauai and not see it.
Soaring mountains and rugged, emerald-green sea cliffs, narrow valleys, giant sea caves, and gushing waterfalls, razor-sharp ridges, desolate beaches, black volcanic rock, and lush vegetation make up the Nā Pali Coast State Wilderness Park.
The catch? You can only see it three ways: via helicopter tour, boat excursion, or a treacherous multi-day hike on the famous Kalalau Trail. You can't drive there!
Raft Adventure to Nā Pali
This Raft Adventure: Na Pali 1/2 Day Snorkel Tour was one of the BEST things we did in Kauai – and probably one of the funnest (read: craziest and most chaotic) things I've done in a long time!
Clutching to the rope "railing" of our blow-up raft (for dear life), we navigated the seas – launching over huge waves, getting absolutely soaked, laughing and screaming the entire time.
Along the way, dozens upon dozens of small spinner dolphins joined us. They swam with us for about 30 minutes, jumping out of the water and showing off their impressive acrobatic spinning and flipping skills. The water couldn't have been clearer (see the video below!) and the experience was among the most magical you could possibly imagine!
Since our visit fell in whale season (it was February), we also saw a few gigantic humpback whales breaching. So special!
And when we reached the Na Pali Coast? We all just stared – jaws dropped – in awe of the place's unreal majesty.
This Raft Adventure also includes craggy sea cave exploring (so cool!) – and, apparently, amazing snorkeling. Though I can't personally vouch for that; the sea was too rough that morning, so we didn't have the chance to snorkel.
If you're up for a lot of laughs and an unforgettable adventure, then this Raft Adventure: Na Pali 1/2 Day Snorkel Tour is for you. Keep in mind, it books out well in advance. So book it NOW! You won't regret it.
Other Boat Excursions
If you're after a calmer experience of the Na Pali Coast (fair enough), then these two catamaran tours are the best options. Choose between a morning snorkel tour or a sunset tour!
Get Poké at Ishihara Market
After your raft tour, you're going to be starving! So head straight to the back of the Ishihara Market to get some poké!
Our rafting guides told us that this was the best poké in Waimea (one of our guides was actually a fisherman and sells his fish directly to this market, so he knows it's super fresh!), and we agreed. Actually, this was the best poké we had on all of Kauai.
There's a giant assortment of poké "flavors" to choose from, but definitely go for the "Menehune Special" for one of your choices! It SO good.
This market has been a mainstay in the area for 90 years. You'll love it!
Dessert at JoJo's Shave Ice
A bit further Waimea's main street, you'll find JoJo's Shave Ice, a Kauai classic since '92.
JoJo's makes all of their syrups in house, which makes all the difference! You'll obsess over the creamy coconut topping… Until you find your vanilla or macadamia nut ice cream at the bottom, which is equally smile-inducing.
So yum!
Visit Waimea Canyon State Park
After your Raft Adventure to the Na Pali Coast, there's no way you're going to have the energy for a big hike in Waimea Canyon State Park, but you can drive up to see the amazing views from the many lookouts!
You can drive (carefully, the roads are winding!) to each of these lookouts:
Note: You have to pay $5 per person to enter the park, but it's worth it. (Though if you plan to come here to hike, you may as well save this for another day!)
Beach/Pool Time
After your excursion on the seas, you're going to be exhausted. I think I took a 4-hour nap after!
So head to the beach or pool (or your bed) to chill out.
Have a low-key dinner, some drinks, and get ready for Day 4!
Day 4: Beach Day & Epic Hawaiian Food
It's been an action-packed few days, so on Day 4, relax. Hang around Poipu, eat some more flavor-packed poké and fresh shave ice, and laze the day away at the beach.
Breakfast at Little Fish Cafe
You've been warned, Little Fish Café is busy first thing in the morning. But wait in line, and you won't be disappointed.
Have a coffee and an açai bowl, bagel, or smoothie on the grass in the sunshine, as roosters roam around you. (I discovered: they love eating blueberries out of your hands!)
Go to the Beach in Poipu
Down in Poipu, you have a few beautiful beaches to choose from:
Eat Lunch in Koloa
For lunch, you guessed it: more poké! And maybe some cold macaroni salad – another Hawaiian tradition. Head up to the charming, historic town of Koloa and stop by Koloa Fish Market. (As you can see from the image above, I took mine to-go, to Baby Beach!)
If you need a break from poké (I'd be shocked if so!), then Kickshaws, Taco Libre, and D Green's BBQ (all food trucks!) are great choices in Koloa.
Shave Ice in Koloa
Next up, more shave ice. It's hard to determine which joint serves the best shave ice on the island (because they are all really good!), but The Fresh Shave's is certainly the freshest! The overwhelming aroma of fresh-squeezed oranges when you walk in the door is proof enough.
I went for the Fu Man Chu, topped with strawberries, bananas, and cream.
Dinner at Keoki's Paradise
Possibly my favorite dinner on the island, Keoki's Paradise is a whole tiki bar vibe, in the best way possible.
Just the atmosphere (complete with live music!) alone makes Keoki's worth visiting. But the food and mai tais live up to the rest of the experience. Famous for their traditional huge Hula Pie, save room for dessert!
Make sure to make a reservation in advance!
After-Dinner Cocktails at Stevenson's Library
Stevenson's Library at the Grand Hyatt is the place (and just about the only one!) to go out in Poipu for a few late-ish-night cocktails.
Dark, cozy, a little moody, and clad in beautiful hardwood, this bar feels like a tropical luxury gentlemen's lounge from a bygone era. Stand, sit at a table, or have a seat at the bar. This is the place to be for locals and tourists alike, because as I said, it's the only option!
The restaurant also serves sushi at dinnertime; I didn't have any, but I can report that it looked very good and fresh.
Day 5: Wailua River Kayaking, Waterfall Hike & Hanapepe
On Day 5, more adventure is in store. Kayak down the Wailua River, hike to a waterfall, and have dinner in historic Hanapepe.
Kayak Down the Wailua River
This Wailua River and Secret Falls Kayak and Hiking Tour is up next.
Kayaking along the Wailua River, listening to birdsong, and floating by such luscious vegetation, is an amazing experience. But also, your guide is going to give you a good dose of Hawaiian history, finally! You'll also learn about Hawaiian legends, folklore, and native wildlife.
Then, you'll hike up to Secret Falls, also known as Uluwhehi Falls, where you can swim in the watering hole below.
Click here to book your Wailua River and Secret Falls Kayak and Hiking Tour.
Dinner at Japanese Grandma's
The historic town of Hanapepe, on the east side of the island, was Disney's inspiration for the movie Lilo and Stitch! And that's where tonight's dinner location is.
At Japanese Grandma's you'll find a lovely backyard garden area and great live music, the perfect way to spend a balmy evening in Kauai. Oh, and for the main event? Sushi! Specialty rolls, hand rolls, nigiri, and sashimi. Plus poké, soba, salads. Local beer. And sake.
My highlight was definitely the crispy rice with fresh spicy tuna on top (see the photo above!).
P.S. While in Hanapepe, make sure to take a photo at the Lilo & Stitch Mural and browse the cute shops!
Day 6: Coastal Hiking, Ziplining & Rum Tasting
Your last full day is fit for hitting the beautiful coastal Maha'ulepu Heritage Trail, ziplining, rum tasting, and a lavish beachfront seafood dinner!
Savor a Coffee at Dark Horse Coffee Roasters
In Koloa Old Town, housed in an old Buddhist temple from 1938, you'll find Dark Horse Coffee Roasters.
The perfect pit stop for a really good cuppa and a bagel, I loved this coffee and went a few times!
You can't go wrong with a classic oat latte here (it' is very's strong and delish!), but their salted maple specialty drink is also worth trying.
Hike the Maha'ulepu Heritage Trail
Before the heat of the day sets in, head out for a coastal hike on the Maha'ulepu Heritage Trail. Getting out for sunrise would be ideal!
Starting at the east end of Shipwreck Beach and finishing at Punahoa Point to the west, this round-trip, beach-side trek is just shy of 4 miles long. This walk shouldn't take you more than 2 hours to complete, though no one would blame you for stopping often to gawk at the views!
Along the way, keep your eyes peeled for sea life. If you're lucky, you may see monk seals, whales (in the winter), dolphins, and turtles!
If you do see seals or turtles on the beach, remember to keep your distance; don't disturb them!
Wear a hat and don't forget to bring some water!
Zipline Over Kauai's Lush Forest
Ready for another adventure?
I don't know about you, but ziplining above the treetops is always a favorite activity of mine in tropical destinations. So exhilarating!
From Koloa Old Town, you can join the Koloa Zipline Day Tour to experience the island's longest ziplines.
Every day, there are 7+ different time slots to choose from (the last one is at 3 pm), so you can easily wrap up your morning hike and have some lunch (and let it settle, ha!) before you zoom above the jungle.
Click here to book your Koloa Zipline Tour!
Kōloa Rum Tasting at Kilohana Plantation
On your way back from your Wailua River and Secret Falls Kayak and Hiking Tour, stop by the Kōloa Rum Company's Tasting Room for a complimentary tasting!
Tasting are first-come, first-served basis, so just show up when you're ready to drink! Tastings are offered every hour, from 10:15 am to 4 pm.
Dinner at Beach House Restaurant
For your last supper, go out with bang at Beach House!
Sitting pretty, beach front in Poipu, this restaurant is home to heavenly sunsets, strong mai tais, and passionfruit (lilikoi) martinis.
Of course, it's a little pricey… But you're worth it. And so are the ahi poké tacos and the succulent fish and lobster pasta.
Make sure to make a reservation in advance!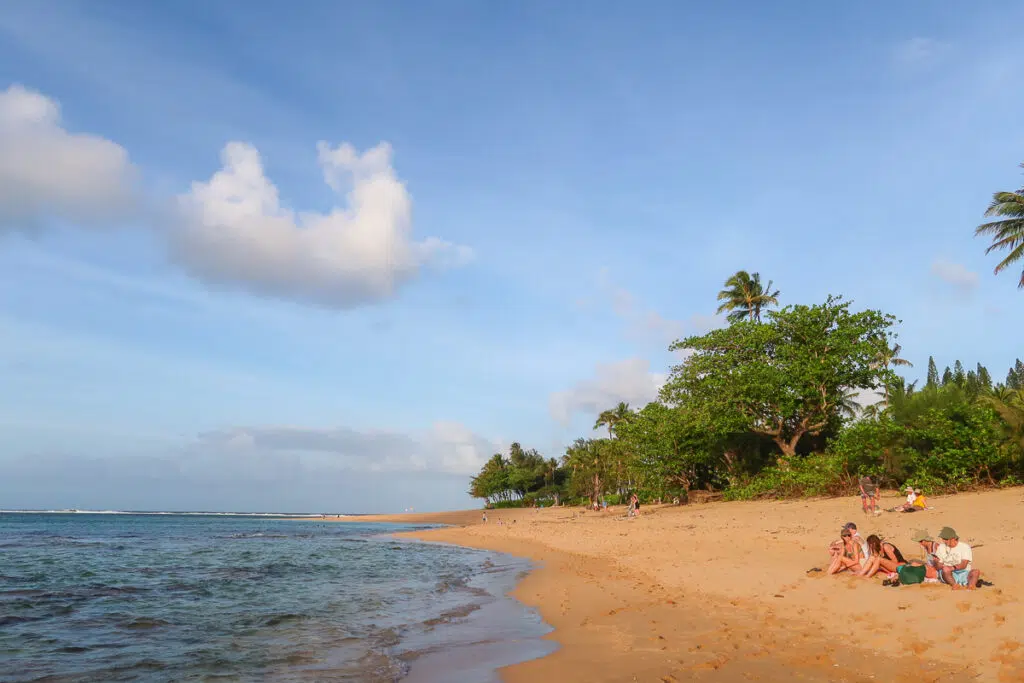 Day 7: Good Food & Go Home
Sadly, it's your last day in paradise. Spend it well by savoring more fresh fruit, sushi, and beach time!
Final Fruit-Forward Breakfast
When we arrived at Anakē's Juice Bar, I was super confused. Where is it?!
Turn out, this juice bar is inside of the little Kukuiula Market, but don't let that deter you… Their juices, smoothies, and açai bowls are very good – and worth the wait if they're busy. (Which they typically are!)
Everything comes in to-go packaging, so take your breakfast straight to the beach!
Beach Walk
Go for a beach walk at your favorite beach in Poipu.
Soak up the views one last time, and work up an appetite, because you're not going to want to miss this last food truck!
Final Meal at Kauaʻi Sushi Station
I saved the best for last!
Kauai is home to dozens of delectable food trucks! My favorite was, without a doubt, Kauaʻi Sushi Station.
As pretty as it is delicious (and this sushi is very pretty), you are going to love this sushi! It was one of my favorite meals of the entire trip: quick, cheap, super fresh, and beyond delish.
Right down the street from the airport, this is the perfect last meal before you head home!
Best 1-Week Kauai Itinerary:
Epic Adventures, Hawaiian Food & Relaxation
Well, my friends! That's my ultimate Kauai vacation itinerary, perfect if you have between 4 and 7 days on this magical paradise of an island.
Follow this itinerary exactly, to switch it up to suit your specific schedule. Either way, you're sure to have an unforgettable time on this lush, magnificent, wild Garden Isle.
Aloha!
Kauai Vacation Packing List
Hiking boots (my favorite ones, ever!)
Flip flops
Small backpack (for hiking)
Waterproof dry bag (perfect for exploring waterfalls, kayaking, boating, etc.)
Swimsuits
Beach/pool cover-ups
Hats
Shorts/skirts
Dresses
Tanks/shirts
Lightweight jacket (storm systems can roll through quickly on the island)
Lightweight pants (for your helicopter tour, it can be cold up there!)
Travel insurance (if you don't have American health insurance, this is SO important)
Must-Book Excursions on Kauai
Your Kauai itinerary wouldn't be complete without booking an excursion from each of these categories! So get to it, they sell out quickly!
Helicopter Tour
Raft or Boat Tour
River & Waterfall Tour
Zipling Tour
Kauai Itinerary: Kauai Travel FAQs
How many days do you need in Kauai?
Kauai is a small island, but it's packed with things to do! From exploring the lush nature (this is the Garden Isle, after all!) to relaxing at the beautiful beaches, you won't get bored on this island. The ideal amount of time is 7 days, but definitely no less than 4 days. With 7 days, you'll have ample time to relax, while also going on amazing adventures, such as a helicopter tour, river kayaking and waterfall adventure, a raft or boat trip to the Na Pali Coast, hiking in the Waimea Canyon State Park, and more. Plus, you will experience some of the island's best food, from poké to açai bowls. If you want more time just to chill out and relax, you could easily spend 2 weeks on Kauai. This Kauai itinerary (for up to one week) details everything you should do during your vacation in Kauai.
What to do with 5 days in Kauai?
With 5 days in Kauai, you will have time to see some of the island's historic towns, visit the most beautiful beaches, and go on plenty of adventures in nature – from hiking and surfing and kayaking to snorkeling and rafting. Plus, you will have enough time to just relax and drink a mai tai! This Kauai itinerary covers all of the best things to do in Kauai in 5 days.
Is it necessary to have a car on Kauai?
Yes, it is 100% necessary to rent a car during your trip to Kauai – that is, unless you plan to never leave your resort. Though Uber and public transportation do exist on Kauai, they are inconvenient! Uber is very expensive and there aren't many drivers out and about (especially very early or late). Public transportation is inexpensive, though the system does not specifically cater to tourists, so in order to get to where you want to go, you may have to walk a lot to and from bus stops; you'll also waste a lot of time waiting for the bus. While in Kauai, you should plan to rent a car. You'll have a lot more fun and freedom if you do! This is my favorite website for scoring deals on rental cars. Make sure to put Lihue Airport (LIH) as your pick-up/drop-off location!
What is the number one thing to do in Kauai?
The number one thing to do in Kauai is going on this doors-off helicopter tour. Absolutely nothing beats the adrenaline rush of soaring above the Garden Isle, taking in the incredible views of lush jungles, gushing waterfalls, the Na Pali Coast's craggy emerald mountains, the red dirt ridges of the Waimea Canyon, and the amazingly azure ocean waters that crash against the island's volcanic-black-rock shores and yellow-sand beaches. Nothing beats this experience! A close second is this Raft Adventure to the Na Pali Coast; it's one of the most fun things I've ever done – and all of the marine life you're likely to see on the way – from dolphins to turtles to whales – makes the experience all the more magical.
Is 7 days in Kauai enough?
Yes, 7 days in Kauai is the perfect time to spend on this marvelous island. With 7 days in Kauai, you will have enough time to check all of the best experiences off of your list – from adventures in nature to drinking mai tais, from lazing at the beach or pool to soaring through the skies in a helicopter, from surfing the island's best breaks to eating the most delicious Hawaiian dishes and fresh seafood! This Kauai itinerary details all of the best things to do on the island in 7 days!
SAVE THIS KAUAI ITINERARY ON PINTEREST FOR LATER!
When you book travel or purchase something through our links, we receive a small commission, at no extra cost to you? Your support enables Maddy's Avenue to keep producing helpful travel content. Thank you!
Disclaimer: This post may contain affiliate links. When you click through a link on this page and make a valid purchase, Maddy's Avenue may receive a small commission (at no extra cost to you!). We only recommend products/services that we believe in and know you will love too. Your support enables us to continue making helpful travel content. Thank you for reading, and thank you for your support!