Are you visiting Milan, but want to flee the busy city streets for day? Are the mountains, fresh air, and glistening waters of Lake Como calling your name? I get it. Because I felt the same! So I decided to plan out the perfect self-guided day trip from Milan to Lake Como.
From Milan, to Como (the lake's namesake city), Bellagio, Varenna, and back, I packed in as much as I could into one day: charming villages and quaint cobblestone lanes; spectacular views, boat rides, beautiful gardens and villas; and of course, fresh pasta, gelato, and local wine.
If you want to take a self-guided day trip to Lake Como from Milan, you've come to the right place.
This article includes everything you need to know about taking a day trip to Lake Como from Milan – including trains and ferries, and the best things to do as you explore the quaint towns of Como, Bellagio, and Varenna.
Your Guide: How to Day Trip from Milan to Lake Como
While organized day trips are available to take you to Lake Como and back to Milan in a day, taking a self-guided day trip will be much more rewarding!
And it's easy to do, too.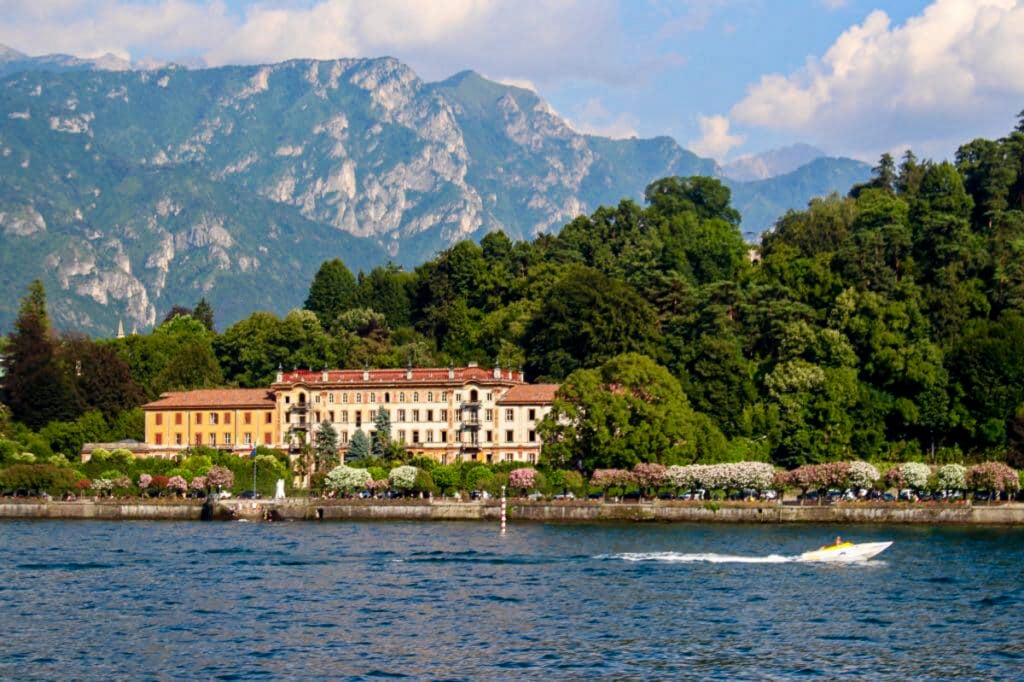 Which Towns to Visit
On a day trip to Lake Como from Milan, you'll have time to explore a few of Lake Como's villages. I recommend visiting:
Como;
Bellagio; and
Varenna.
Each place is special and beautiful in its own way. Plus, they're close enough to each other that you can comfortably see them all in one day without having to rush.
Here's how…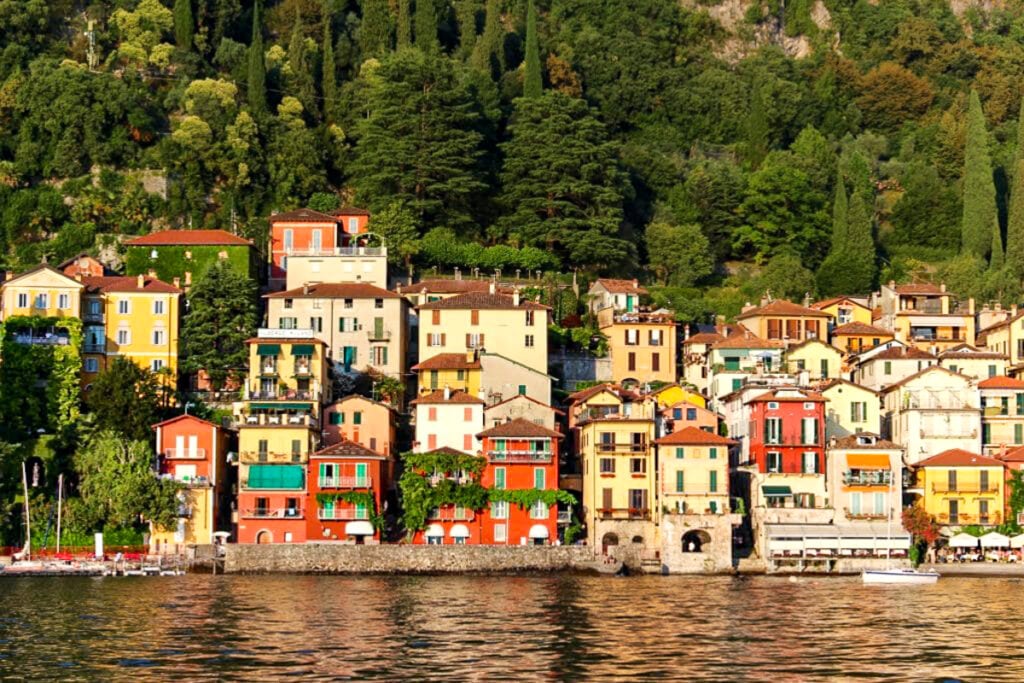 Your Roundtrip Route: Milan to Lake Como
Here's the route you should take between Milan, Como, Bellagio, and Varenna:
Train: Milano Centrale train station to Como San Giovanni station
Ferry: Como to Bellagio
Ferry: Bellagio to Varenna
Train: Varenna-Esino train station to Milano Centrale train station
P.S. You can also embark on this route in reverse; Milan to Varenna and Como to Milan.
Why This Route?
Why this route? And why these towns?
Como (the city)
Well, Como is the biggest town on the lake. This ancient city is ridiculously charming and walkable, and there's plenty to do and see – from churches to piazzas.
I thought that Como was more authentic than some of the other villages. It's absolutely steeped in history, since at least the Bronze Age (which occurred between 3300 BC and 1200 BC). Amazing, right?
Unlike many other villages that partially shut in the low season, Como welcomes you year-round! (Perfect if you're visiting in the winter.)
Plus, taking the scenic ferry from Como to Bellagio means you have 45 minutes to savor the incredibly picturesque backdrop of tiny, colorful villages and soaring mountains!
Bellagio & Varenna
Bellagio and Varenna are also non-negotiable stops.
They're both endlessly enchanting, with gardens, famous villas, stunning shores, wine bars, lakefront restaurants, souvenir shops, quaint promenades, and more.
If you leave Milan first thing in the morning, follow this route, and catch the last train back to Milan – you will have plenty of time to experience all three towns.
Alternative Day Trip Routes
Keep in mind, you can also take the train to/from Varenna-Esino train station, skipping Como completely. (I wouldn't recommend this, but it's an option!)
In that case, you could simply spend the day in Varenna on your own, if you're looking for something more chill.
Another option would be to could embark on this Villa Balbianello and Flavors of Lake Como Walking and Boating Full-Day Tour (which leaves from Varenna).
Or, you could complete the "Golden Triangle" by taking the ferry from Varenna, to the nearby villages of Bellagio and Menaggio, and back again.
You could also opt for total convenience and let someone else figure out the transportation for you! Simply book this guided Lake Como Day Trip from Milan – which has amazing reviews!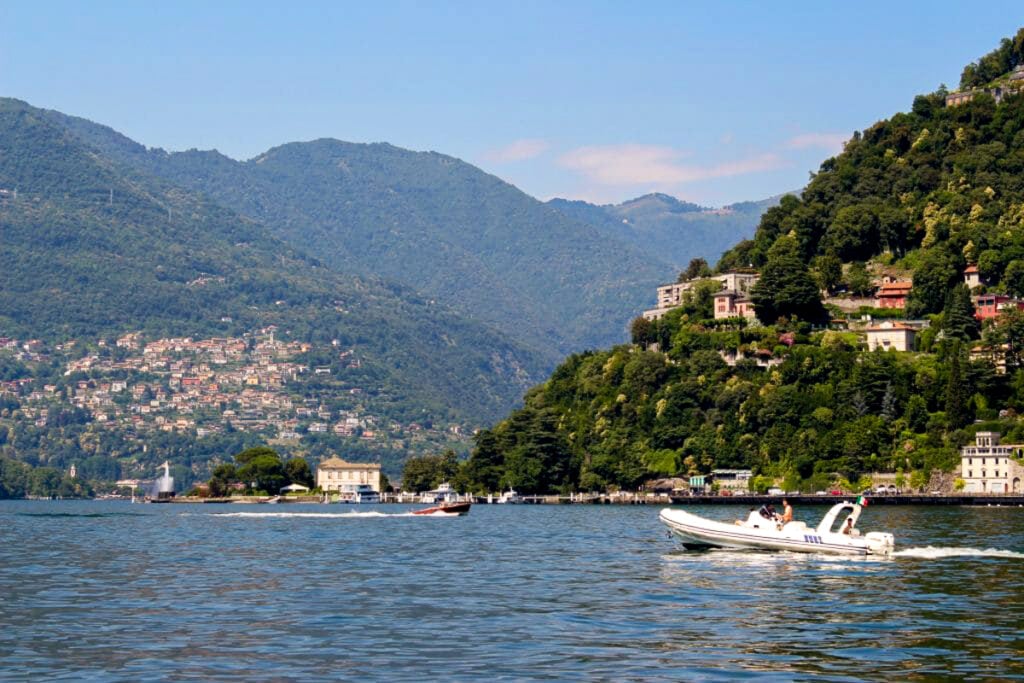 How to Purchase Train & Ferry Tickets
Train Tickets
For the route I recommend, you'll need to purchase two sets of one-way train tickets for your day trip to Lake Como from Milan.
Milano Centrale to Como San Giovanni; direct trip, about 40 minutes.
Varenna-Esino to Milano Centrale; direct trip, about 65 minutes.
You should purchase your tickets online from TrenItalia. You can simply keep your tickets on your smartphone; no need to print them out. I recommend purchasing your tickets a few days ahead of your trip, just in case!
If you can, take an early train to Como (around 7 AM), and one of the last trains back from Varenna to Milan (around 8-9 PM). If you do that, you can easily spend three or more hours in each town!
For both one-way train tickets combined, you can expect to pay as little as €12 per person (for second class).
However, if navigating the trains by yourself seems like too much stress, you can simply book this Guided Lake Como Day Trip from Milan. I didn't personally go on this tour, but it has great reviews!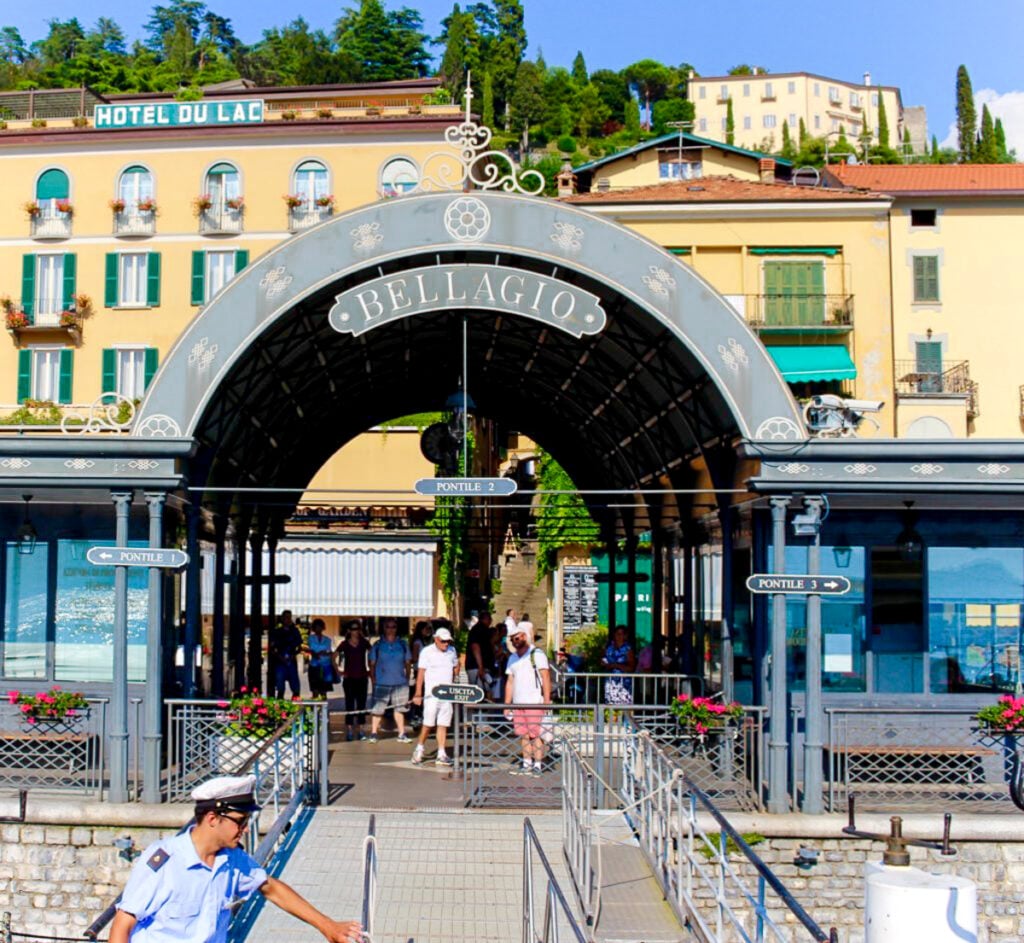 Ferry Tickets
You'll also need to purchase two sets of one-way ferry tickets.
Fast boat from Como to Bellagio; 45 minutes. (Make sure NOT to purchase slow boat tickets.)
Bellagio to Varenna; 15 minutes.
You can purchase ferry tickets online, or in person at the ferry terminals.
If you book tickets online, you obviously don't have to waste precious time standing in line! Either way, make sure to check the ferry time tables before you leave for Lake Como, so you have a plan!
Quick Ferry Tips
You can check timetables and fares, and purchase tickets, from the official website.
Make sure to purchase the fast boat/hydrofoil from Como to Bellagio (45 minutes). The slow boat takes hours!
If you choose to purchase your tickets in person, buy them as soon as possible so you don't miss out (high season is busy!) Once you arrive in Como, head straight for the waterfront and buy your ticket to Bellagio. As soon as you step off the ferry in Bellagio, purchase your ticket to Varenna.
Sometimes, the weather, waves, and other factors, make the ferries run less, skip certain piers, or not run at all.
If navigating the ferries seems too complicated, simply book a guided Lake Como tour, like this Lake Como Day Trip from Milan.
What to Do During a Day Trip to Lake Como from Milan
Now that we're all set with the route and tickets, let's talk about Como, Bellagio, and Varenna, and what to do there!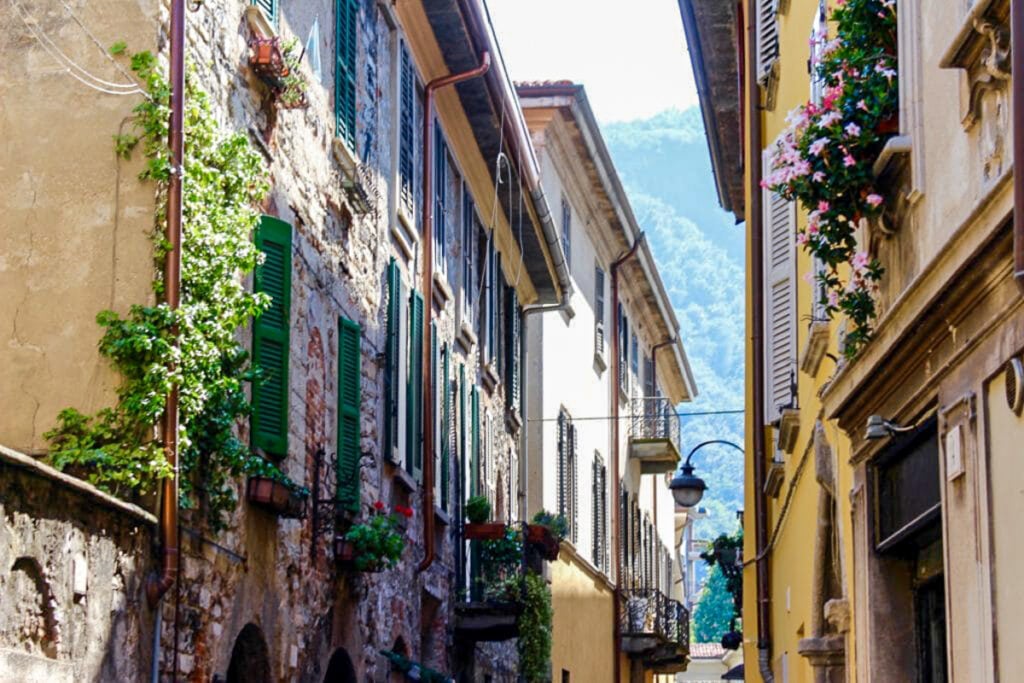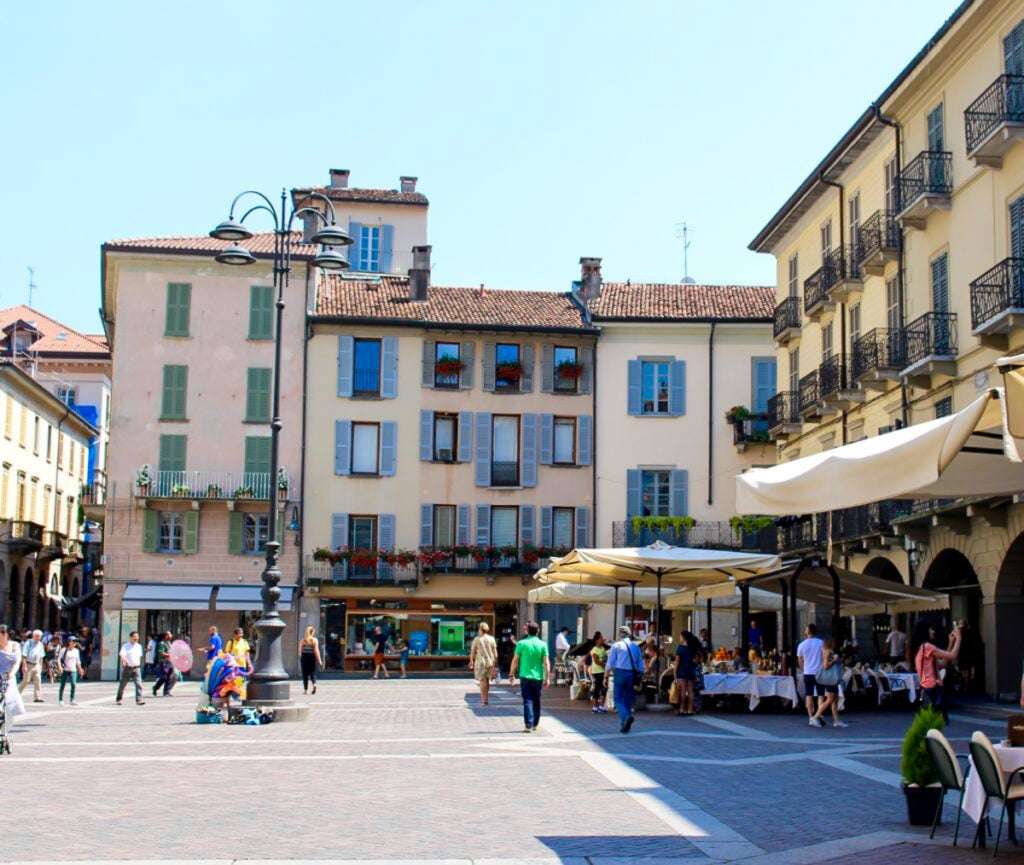 1. Explore Como's History-Rich Streets
Como is the largest of the three towns you'll visit during your day trip. There's plenty to do here, and no time to waste!
While in Como, spend a few hours roaming the quaint streets, browsing the many souvenir and wine shops, strolling along the lakeside promenade, and possibly taking a dip if it's warm.
Make sure to stop by the beautiful Cattedrale di Santa Maria Assunta, the Piazza Alessandro Volta (Como's loveliest square) and the medieval city gate, Porta Torre. If you want to learn about the history, consider taking a 1-hour guided walking tour.
Then, pop into Visini or Osteria del Gallo for a classic Italian lunch and some wine; whichever you choose, you can't go wrong! Or, if you're feeling fancy, book a table in advance at the one-Michelin-starred I Tigli in Theoria.
If you have time, you can also take the 7-minute funicular up to the peaceful town of Brunate, for incredible panoramic views over all of Lake Como and the chance to see another adorable town.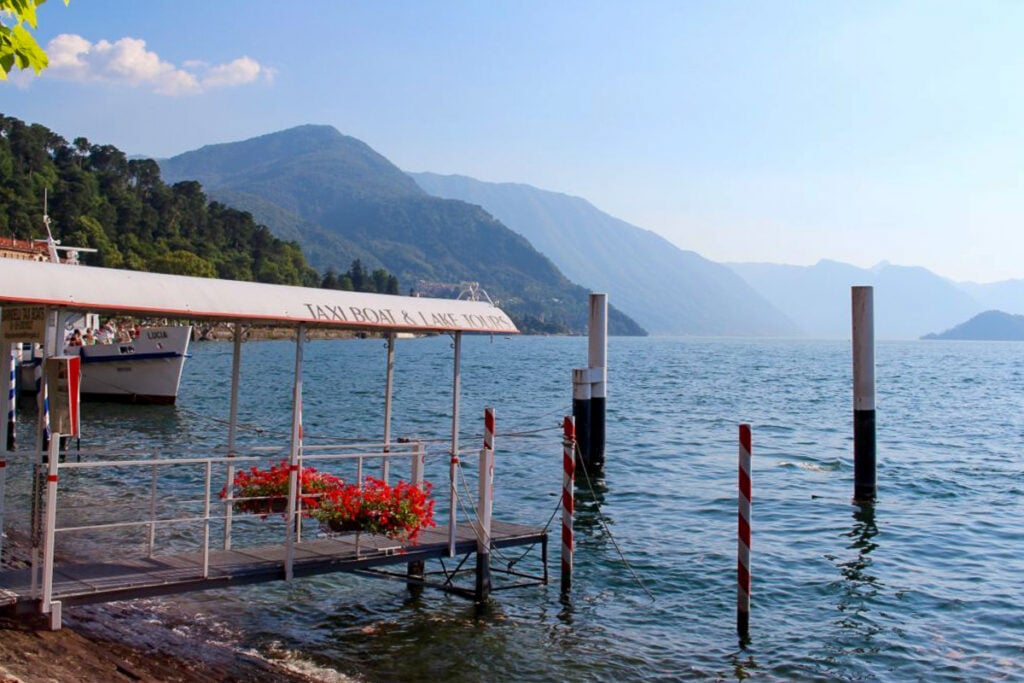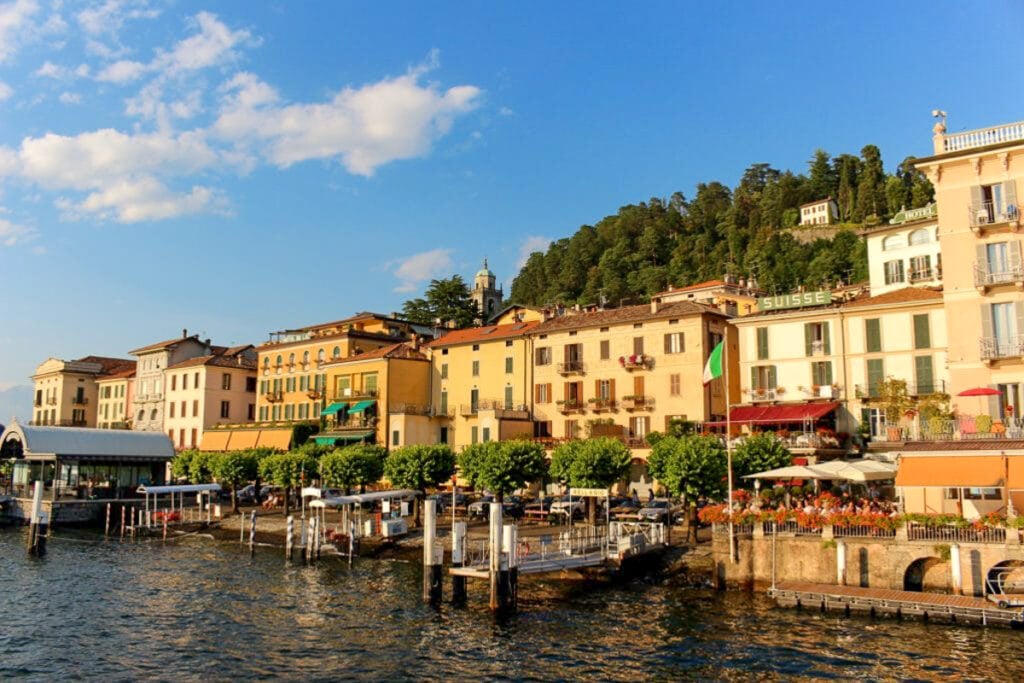 2. Stroll Around Beautiful Bellagio
Tall mountains, cypress trees, grand villas, and adorable cafés make up the lakeside town of Bellagio; and it goes without saying, but Bellagio is absolutely stunning.
While in Bellagio, roam the streets and pay attention to the details: the pretty pink flowers, the old cobblestones, beautiful iron lanterns, bright-colored shutters, and sweet little balconies. Honestly, if all you do in Bellagio is look around, it's enough to keep you entertained for hours… This village is just so splendid.
Next, visit a wine shop to learn and taste some local wines. I really enjoyed my tastings at Enoteca La Principessa!
At 3:30 PM, you can join a guided tour of the famous Villa Serbelloni's amazing 50-acre park and gardens. The views are unreal!
If you feel like taking to the water, then consider renting a kayak to explore the Lago di Como on your own!
Lastly, don't forget to savor some fruity gelato, lakeside, before catching the ferry to Varenna!
3. Savor the Splendor of Varenna
Varenna absolutely stole my heart. While Bellagio seems to be everyone's favorite town on Lake Como, I have to disagree! When your ferry approaches Varenna, you'll know why I feel this way; in that moment, you'll believe that you've never seen anything so unbelievably picturesque in your life.
In Varenna, make sure to visit the botanical gardens at the eclectic waterfront villa, Villa Monastero. (It closes around 8 PM in the summer, so you should have plenty of time!)
Savor an amazing dinner at Al Prato – or choose somewhere along the lakefront, and just enjoy the views.
Then, walk up and down the steep cobblestone alleyways and simply explore.
Before you leave, make sure to watch the sun dip behind the mountains as the sky turns pink. There's no better way to wrap up your day trip to Lake Como – especially with a glass of wine in hand!
Should You Stay Overnight in Varenna?
Phew! Now that you know just how much there is to do on Lake Como, you might be thinking: "Should I stay overnight?" And I don't blame you!
At the end of your day trip route, why not spend the night in Varenna? Maybe soak up a whole extra day on Lake Como?
If you have the time, then, YES! Of course, you should stay overnight.
If I were you, I'd choose one of these options in Varenna!
Whichever you choose, you can't go wrong. The main thing to keep in mind is that ALL decent accommodation in Lake Como sells out far in advance (particularly between April and September). So if you do want to spend a night in Lake Como, book it now!

This is my favorite website for booking affordable accommodation in Italy. Typically, free cancellation is available, so you can book now with confidence!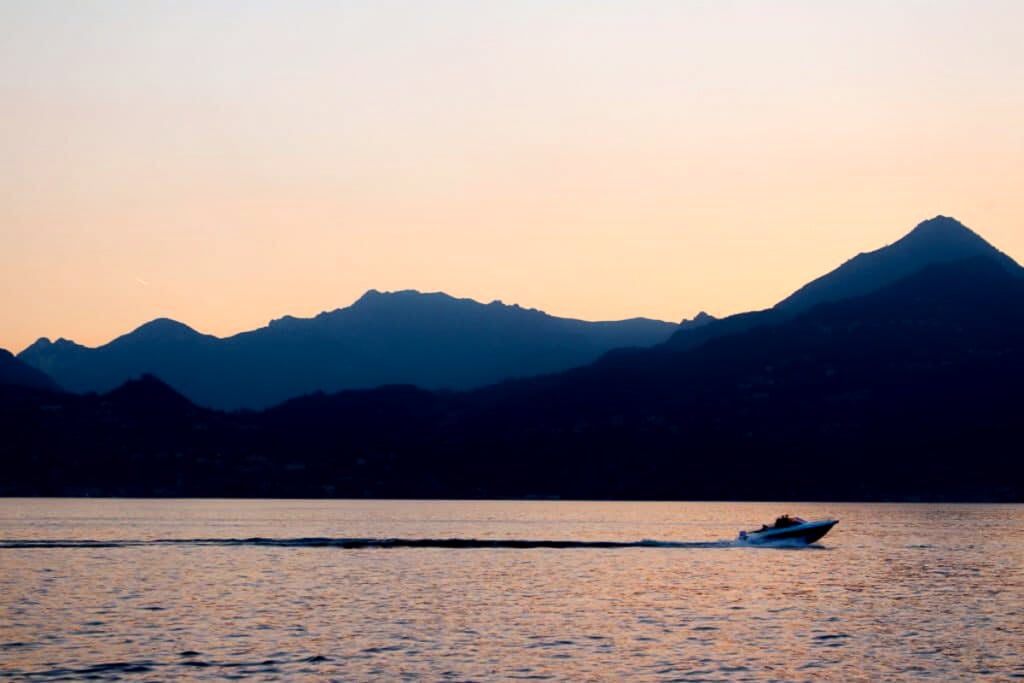 How to Take a Perfect Day Trip to Lake Como from Milan
So, there you have it my friends! Enchanting villages, incredible views, opulent villas, local wine, delicious food, and unforgettable memories await you in Lake Como.
If you're considering taking a day trip to Lake Como from Milan, I promise, you won't regret it!
Milan to Lake Como Day Trip: Travel FAQs
Is Lake Como worth a day trip?
Yes, Lake Como is absolutely worth a day trip from Milan! This lake – and the charming, centuries-old villages that surround it – are absolutely stunning. From boat rides, strolls along quaint cobblestone alleyways, and tasting delicious local wine, to exploring luxurious villas, swimming, hiking, and kayaking, there are endless fun things to do in Lake Como! It's easy to take a day trip to Lake Como from Milan. You'll leave Italy's third largest lake (after Lake Garda and Lake Maggiore) with a full heart and super fond memories.
Is there a direct train from Milan to Lake Como?
Yes, there is a direct train service from Milan to Lake Como. You can either choose to arrive in Como (the city) at Como San Giovanni station, or in the village of Varenna at Varenna-Esino train station. No matter which station you choose, the journey should not take more than 65 minutes. This guide details how to get to/from Lake Como, as well as what to do while you're there.
Is the train from Milan to Lake Como scenic?
Yes, the train from Milano to Lake Como is absolutely stunning! Your eyes will be glued to the window, as you watch city streets and signs fade away as you approach the magnificent Italian Alps.
How do I get from Milan to Lake Como without a car?
Getting to beautiful Lake Como without a car is easy! You can either take the train or the bus. The quickest option is the high-speed, direct train – tickets are cheap, too! This guide details the best way to get to Lake Como via train, as well as what to do and see once you arrive!
Can I do Lake Como in a day?
Yes, you can do Lake Como in a day. You can choose to take a guided day trip from Milan, or you can explore on your own self-guided tour. With a full day, you will have time to explore up to 3 towns on the shores of Lake Como. You can choose to see Como, Bellagio, and Varenna (this is my recommendation!) or you can embark on the so-called "Golden Triangle" to discover the villages of Bellagio, Varenna, and Menaggio.
How much time do you need in Lake Como?
You need at least one day in Lake Como, so you can easily just take a day trip from Milan. You can choose to go on your own, or go on this top-rated guided tour. With one day, you'll have time to see up to three towns (such as Como, Bellagio, and Varenna) if you take the direct train from Milan and then make use of the Lake's extensive ferry system. If you have even more time available, you should stay longer in Lake Como. Anywhere between 2-5 days would be ideal, so that you have time to explore a few villages in depth, do some water activities, go hiking, stroll through some immaculate gardens and luxurious villas, and take in all of the incredible scenes on Lake Como.
How long is a day trip to Lake Como from Milan?
You should plan for your day trip to Lake Como from Milan to take up an entire day. If you take this popular guided tour, you can expect it to last about 9 hours. But if you take a self-guided trip, you should plan to take one of the first trains from Milan to Lake Como (around 7 or 8 am) and take one of the last trains back (around 8 or 9 pm). It's going to be a long day (about 12-14 hours), but I promise, it's worth it! Of course, you can decide when you want to leave/return (trains run all day long), so your day trip can be shorter. But there's so much to see and experience in Lake Como, you'll want to relish every last hour that you can!
Is it worth going to Lake Como from Milan?
Yes, it is 100% worth going to Lake Como from Milan. Taking a day trip from Milan is super easy, and you'll never regret spending a day on the sparkling shores of Italy's third largest lake. This place – with its soaring mountains, picturesque towns, local wines, lovely restaurants, and opulent villas and gardens – is absolutely enchanting! Read on for details on how to take a day trip to Lake Como from Milan.
What to Pack
Depending on the season you visit will depend on the layers you need, summer is very warm but the winter is incredibly cold. Italy is very stylish and Italians famously dress well, so avoid white sneakers where possible and opt for a smart shoe or boot. Always have a beautiful coat in winter, it will hide anything less stylish you may be wearing as you explore in the colder months.
Here are a few top tips of what to wear:
Quick Tips
SAVE THIS POST ON PINTEREST!
MORE ITALY INSPIRATION:
Have you been to Lake Como before? Which town is your favorite? Did you stay overnight, or take a day trip from Milan?
This post contains affiliate links. When you make a purchase through the links on our website, we will receive a small commission, at no extra cost to you. We never recommend any products/services that we don't absolutely love. These commissions help keep Maddy's Avenue up and running, and we thank you for your support!