For so long, travelers thought that Milan was nothing more than Italy's busy, boring business capital. Somehow, they overlooked the fact that Milan is bursting with vibrant culture, mouth-watering cuisine, brilliant art and architecture, rich history, and of course, incredible shopping. And so, foolishly, they neglected to spend at least one day in Milan, exploring everything that Lombardy's bustling capital city has to offer.
But you? You don't have to make that same mistake.
If you've decided to visit Milan, then you've made the right choice. Now, only one question remains: How should you spend one day in Milan?
With only one day in Milan and so much to do, you need to be strategic with every move. Will you shop until you drop? Seek out Milan's hidden gems? Visit art museums? Or will you try to fit everything in, with just 24 hours?
Well, it'll be tough. But the good news is that you can, indeed, conquer Milan in only one day. Believe it or not, it'll be just enough time to get a feel for the fast-paced city life, eat some delicious food, see Milan's most beautiful sights, and go shopping!
And then, you can be on your merry way to Lake Como. How's that sound?
So without further ado, here's the perfect itinerary for one day in Milan!
The Ultimate Guide to One day in Milan, Italy
Photo by Phil Beard
Where to Stay in Milan
With only one day in Milan, it's important to choose a centrally located hotel so that you don't waste any time.
We decided to stay at the Hotel Dei Cavalieri, which is located just steps away from the Piazza del Duomo and a subway station. Our room was spacious and comfortable, the staff was very accommodating, and the view from the hotel's rooftop bar is gorgeous. Overall, we'd recommend staying at the Hotel Dei Cavalieri.
However, some other reasonably priced, centrally located hotel options are:
You can find more great deals on Milan accommodations here!
Anyway, once you arrive in Milan, head straight to your hotel to drop off your luggage. Then, it'll be time to explore Italy's fashion and design capital!
What to Do in Milan
Take a Guided Walking Tour
To make the most of your 24 hours in Milan, it's a good idea to book a 3.5-hour or 6-hour guided walking tour. That way, you'll see all of the city's main sites, learn the history behind them, and get skip-the-line access to Da Vinci's world-famous masterpiece!
We chose the Best of Milan Experience tour, and we think it was the best way to see Milan in such a short amount of time. The tour started early, at 9:30 am, and took us to all of Milan's best sites.
Duomo di Milano
To kick off your day in Milan, you should start off at the iconic Duomo di Milano.
By far, the Duomo di Milano is the city's most impressive structure, partly because it took six centuries, thousands of workers, and tons of pink-tinged white marble from Lake Maggiore to complete the cathedral.
And on top of all that, the Duomo di Milano is absolutely gorgeous. Colorful tiles, stained-glass windows, and ornate stone pillars line the inside, meanwhile hundreds of statues, gargoyles, and figures adorn the cathedral, inside and out.
Today, the Duomo is Italy's largest Gothic complex and one of the world's largest churches in the world.
Photo by Jeff Krause
Galleria Vittorio Emanuele II
Opened in 1877, the Galleria Vittorio Emanuele II is one of the world's oldest (and most beautiful) shopping malls.
And since this is Milan we're talking about, there's no way you can leave stopping by for a stroll and some window shopping!
Prada, Versace, Gucci, and Louis Vuitton are just a few of the luxurious shops you can expect to find there.
---
OTHER ITALY POSTS:
---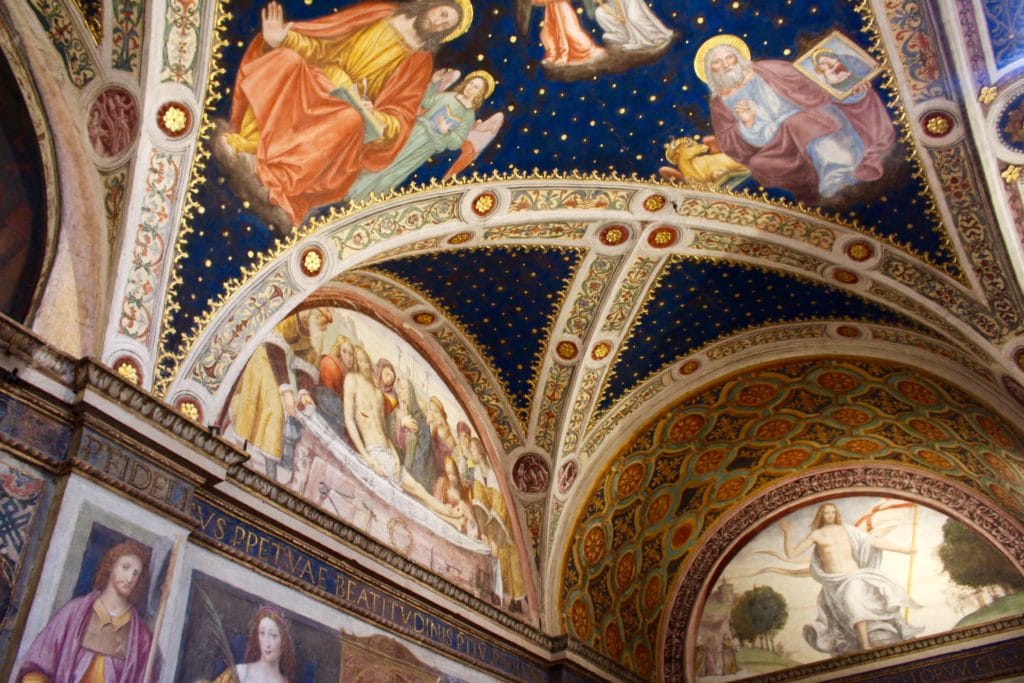 Chiesa di San Maurizio al Monastero Maggiore
From the outside, the Chiesa di San Maurizio al Monastero Maggioreseems very modest and unassuming. But on the inside, it's anything but!
On our Best of Milan Experience tour, we stopped here for a bit to gawk at the church's gorgeous murals, and to learn about its history. This 16th-century church, which was one of the most important Benedictine convents in Milan, is absolutely stunning, and it was one of the highlights of our tour.
When in Milan, don't miss this church! Compared to the Duomo, it's smaller and much less crowded, yet its colorful frescoes, woodwork, and architecture will make you wonder why more people aren't flocking to visit! Plus, it's free to enter.
Castello Sforzesco
In the 15th century, the Sforza dynasty built its iconic red-brick Castello Sforzesco atop the remains of a 14-century Visconti fortress.
During the Renaissance, the Sforza ruled over all of Milan from the castle, and today, its tower and surrounding walls still stand tall over the city.
While in Milan, make sure to walk the castle grounds, relax near the fountain, do some people watching, and then take a stroll through nearby Parco Sempione.
RELATED POST: How to take a Self-Guided Day Trip to Lake Como from Milan
See Da Vinci's 'The Last Supper'
During your time in Milan, perhaps the most important thing to see is Leonardo Da Vinci's world-famous masterpiece: 'The Last Supper.'
It's absolutely mind-blowing.
Even if you're not super into art, I promise, there's no way you won't appreciate the history and technique behind this legendary piece of art.
However, know this! It's next to impossible to get tickets to see 'The Last Supper' on your own, because they're always sold out. This is why it's so important for you to book a tour of Milan, which includes entry to see Da Vinci's incredible work.
Don't wait until the last minute to book your ticket to 'The Last Supper,' because you'll be totally bummed if you have to miss out.
Photo by slayer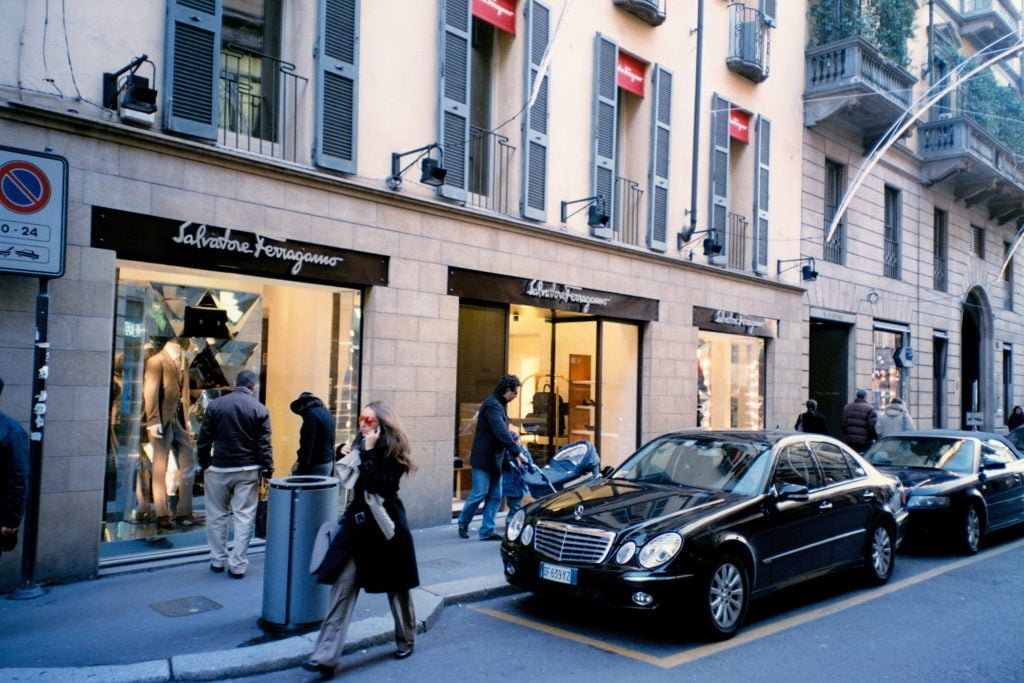 Walk down Via Montenapoleone
As you stroll through Milan, make sure to walk down Via Montenapoleone.
This street is one of Milan's most luxurious shopping streets, filled to the brim with fancy cars, stylish locals (and maybe even some models and celebrities), and of course, world-renowned designer boutiques.
Whether you have a big budget to blow, or you just want to window shop, this street is a fashion-lover's paradise.
In Italy's fashion capital, this chic street is one you can't miss.
Shop and Stroll in Brera
Next up is the Brera District of Milan, which is an absolute must for any art fanatic!
Brera, the city's Bohemian-style artistic district, consists of many galleries, artisans' workshops, and little shops selling art supplies.
But in addition to the area's unrivaled art scene, Brera is a beautiful, historic district that offers some of the city's best restaurants, bars, and shopping! Take some time to simply wander and get lost in this stunning, historic district.
Oh, and if you have some extra time, then make sure to visit Pinacoteca di Brera (an amazing gallery, housed inside a 19th-century monastery)!
Photo by Jeff Krause
Visit Navigli
Did you have any idea that Milan has waterways?! In fact, Venice isn't the only Italian city featuring picturesque canals!
After exploring the city's highlights, make sure to wrap up your day in the charming Navigli District. This lesser-known area of Milan is home to lots of boutiques, art, great restaurants, and some of the city's best nightlife.
A favorite local pastime is to come to Navigli on a summer evening to relax, stroll the canals, and enjoy an aperitivo or two at a restaurant's outdoor patio.
RELATED POST: How to take a Self-Guided Day Trip to Lake Como from Milan
One Day in Milan
If you're one of the few lucky ones who've decided to spend one day in Milan, Italy, then you've made the right choice.
For some reason, many visitors don't expect Milan to be the fast-paced, cool, modern metropolis that it is. They expect it to be all business, and all boring. But I'm here to tell you that that's just not the case!
Your 24 hours in Milan will be jam-packed with amazing things to do, see, and eat. There really is no other way.
But before you visit Milan, consider this. Milan is unlike any other city in Italy. So don't try to compare it! Take it as it is.
Explore the city's vibrant culture, brilliant museums, stunning architecture, great shopping, and rich cuisine. Do that, and you'll be in for a lovely day in Milan that you won't regret or forget!
Click here to find great deals on accommodation in Milan and to book your stay!
---
OTHER ITALY POSTS:
---
Have you been to Milan before? Did you spend more than one day in Milan? Overall, what did you think of the city?
*This post contains affiliate links. When you make a purchase through the links on our website, we will receive a small commission, at no extra cost to you. We never recommend any products/services that we don't absolutely love. These commissions help keep Maddy's Avenue up and running, and we thank you for your support!