The idea of long-haul flights and all that they entail (cramped, uncomfortable chairs; questionable airplane food; recycled air; lack of real sleep) just isn't very appealing.
I've never met anyone that actually enjoys long-haul flights. That is, unless they have bottomless champagne, a bed, gourmet food, and fuzzy slippers in first class…
But since you're reading this article, it's safe to assume you aren't that person. Sadly, I'm not either.
However, after enduring countless long-haul flights between California and Europe, Asia, and South America (sometimes in the middle seat — *cringe*), I've learned how to make the best of them! And that's why I've compiled the ultimate list of survival tips for long-haul flights.
These tips will help you get through your long-haul journey with ease and comfort. And who knows, you may even start to like long-haul flights! (Unlikely, but definitely possible.)
Here are 20 crucial survival tips for long-haul flights!
20 Crucial Tips for Long-Haul Flights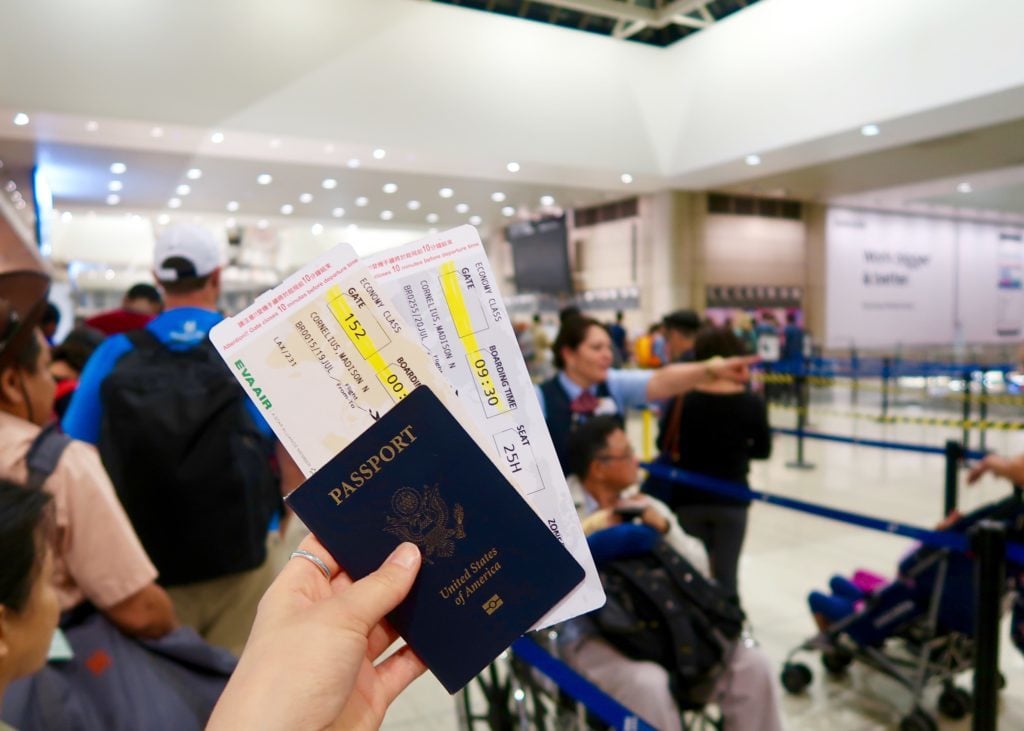 1. Select the aisle seat
When you're purchasing your plane ticket, make sure to choose the aisle seat — there is no other acceptable option.
Nabbing the aisle seat will allow you to get up and move around as much as you want, without having to disturb your rowmates. You also won't be sandwiched between the wall and another person, or two other people. With the aisle seat, you'll be free to stretch out your legs and arms into the aisle when you need to.
(P.S. If you're traveling with a partner, it's far better to choose the two aisle seats across from each other, rather than having two seats directly side-by-side. That way, neither of you gets stuck with the middle seat!)
2. Exercise before your flight
If you can squeeze in a quick run or a trip to the gym before heading to the airport, do it.
Sitting down all day long is hard to justify, but at least if you can get your steps in before, you will feel much better! Exercising pre-flight will also allow you to expend some energy, making it much easier for you to sleep on your flight.
3. Pack a good book
If you're like me, you love to read, but just can't squeeze reading into your busy schedule. Long-haul flights are the perfect opportunity to dive into a great book — or maybe a few!
To bring all of your favorite books with you without all the extra weight, make sure to invest in a Kindle!
Reading the Lonely Planet guidebook for your destination is always a fun, useful way to pass the time.
4. Bring an inspiring coloring book
If you're the artistic type, consider bringing a travel-inspired adult coloring book with you.
Just don't forget to pack colored pencils!
5. Charge all of your devices
Before you hit the road, make sure to charge all of the devices you'll need for your journey: your Kindle, phone, iPad, laptop, etc.
Some airplanes offer lots of free entertainment, but some offer none at all. You should always come prepared with charged devices to keep yourself entertained.
It's also a good idea to bring along a portable charger, just in case!
6. Wear closed-toe shoes
Wearing closed-toe shoes for long-haul journeys is always a good idea. Airplane lavatories are not clean, and you do not want whatever's on the floor to get on your feet. Closed-toe shoes for the win!
Plus, closed-toe shoes will keep your feet protected from other people's stray suitcase wheels while walking around the airport, and keep them warm on the plane.
7. Bring snacks
The quality of the food offered on your long-haul journey largely depends on who you're flying with; some airlines' food is great, while others' is absolute crap.
Firstly, don't rely on the airplane food being acceptable and edible — bring your own. Secondly, it'd be foolish to expect that the food offered will be enough to tide you over — most likely, you'll get hungry and will be thankful that you packed ample snacks!
Some of my favorite snacks to pack are almonds, banana chips, granola bars, grapes, and my mom's banana bread!
READ MORE: How to Create a Travel Comfort Pack for Your Carry-On Bag
8. Dress comfortably
Unless you're trying to score an upgrade to first class, there is no reason to get all dressed up in fancy clothes!
Comfort is what we're going for, people.
For women, that means comfy leggings or yoga pants, a flowy top, a sweater or cardigan, and some sneakers or boots.
For men, some nice sweatpants, a t-shirt, a hoodie, and some sneakers will do the trick.
9. Stick with wholesome foods before boarding
The last thing you want to do before a long-haul is eat a giant, unhealthy meal that will just sit there in your stomach and make you instantly regret your decision. Changing time zones is hard enough on your digestive system as it is, so don't worsen the situation.
In other words, a big cheeseburger with fries and a beer right before a long-haul flight is a big no-no.
Instead, go for lighter, healthier foods like salads, fruits, soups, and sandwiches.
10. Stay hydrated
Nothing dehydrates you like airplane travel does.
I cannot stress enough how critical it is to drink tons of water before, during, and after your flight! Drinking more water will help you fight jet lag, increase your energy, help prevent headaches and dry skin, and aid digestive health.
I always bring a reusable water bottle on long-haul flights. When the flight attendants come around giving out water, I ask them to fill up my entire water bottle, rather than accepting a puny (and wasteful) plastic cup of water.
11. Avoid drinking alcohol
Even though alcohol is often free on long-haul flights, it's best to avoid it altogether.
(Okay, or maybe just one glass of wine…)
Really though, nothing dehydrates like alcohol, and staying hydrated is top priority if you want to kick jet lag's butt!
12. Use headphones or earplugs
Crying babies? Annoying passengers? Loud airplane engine? People snoring?
No problem.
If you have a pair of noise-canceling headphones, make sure to bring them. You can use them to drown out the noise — and watch movies!
A good, ol' fashion pair of earplugs will also do the trick. I recommend these earplugs, which are ease discomfort from air pressure and reduce harsh noise.
13. Get up and stretch often
Every hour or so (unless you're lucky enough to fall into a deep sleep), get up and move around. Go to the back of the plane and stretch. Walk up and down the aisles. Get up often to use the restroom.
Do whatever you have to do to keep your blood flowing and avoid soreness — just make sure not to disturb other passengers!
14. Wear compression socks
If you don't have a pair of compression socks for airplane travel already, get some now.
Compression socks are important because they increase your blood circulation while flying, and they also reduce the risk of swollen, painful ankles, and in extreme cases, blood clotting.
As soon as you settle into your seat, slip these babies on and get ready for a comfy flight!
15. Bring a neck pillow or over-sized scarf
If you embark on a long-haul flight without a neck pillow, you will be miserable.
You should invest in a good memory foam neck pillow that provides full ergonomic support. This one is so comfy, soft, and everything you want in a travel pillow. Don't believe me? Just read the reviews…
Another option is to bring a soft over-sized scarf to wrap around your neck as a pillow. This is much more versatile because it can double as a blanket and triple as an outfit accessory during your trip!
16. Use a pillow for lumbar support
Since you brought your own pillow or scarf for neck support, you're free to use the airline-provided pillow for something else: back support.
Economy seats are not the best, so you need all of the back support you can get. Place the pillow behind your lower back, and you will be way more comfortable!
17. Bring all of the essential toiletries
When it comes to long-haul journeys, there are certain travel-sized toiletries you should always have in your carry-on. When deciding which toiletries are "essential," bring anything that will help you feel cleaner and more refreshed!
READ MORE: How to Create a Travel Comfort Pack for Your Carry-On Bag
18. Change into a fresh outfit midway through
If your long-haul journey includes a long layover, then you might want to change your clothes midway through. Who knows, you may even want to change halfway through your flight, if it's long enough.
Wearing fresh clothes will help you feel cleaner and all-around better. Out of all the tips for long-haul flights on this list, I think this is the most crucial!
(It's also a good idea to have another lightweight change of clothes in your carry-on, should your checked bag go missing.)
19. Use an eye mask
If you want to survive a long-haul flight and actually get some sleep, then an eye mask is an absolute must. A contoured one (like this) that doesn't put pressure on your eyes is best.
20. Take a light sleeping pill
If you want to stay sane for your long-haul journey and actually get some sleep, then a light sleeping pill may help do the trick.
Right before you board the plane, it's a good idea to set your watch to the local time at your destination. That way, you can figure out when you should take your sleeping pill and try to get some rest. Ideally, you'll start getting used to the time change before you even arrive!
20 Crucial Tips for Long-Haul Flights in Economy Class
If you want to survive a long-haul flight without going insane, then make sure to follow the 20 tips above. Do that, and you'll make it through your long journey with nothing but comfort and ease. When you arrive at your destination, you'll be well-rested, refreshed, and ready to tackle your next adventure!
Follow the 20 tips for long-haul flights above, and your next journey will be a breeze.
READ MORE: How to Create a Travel Comfort Pack for Your Carry-On Bag
Did you know…
When you book travel or purchase something through our links, we receive a small commission, at no extra cost to you? Your support enables Maddy's Avenue to keep producing helpful travel content. Thank you!
What are your best survival tips for long-haul flights? If you have any genius tips, we'd all love to know. Let us know in the comments below.