Of all the markets I've explored around the world, there's one that stands out above the rest: the Chichicastenango Market in the Western Highlands of Guatemala.
Known as the most colorful market in Central America, it's also one of the largest and most historic. Since well before the Spanish Conquest, different Maya groups have traveled far and wide to Chichicastenango to trade their colorful textiles, ceramics, fresh produce, traditional medicines, and more.
To this day, the tradition continues. Twice a week, Chichicastenango's streets explode into a sea of colorful chaos – perfumed by the smoky aromas of street food and incense. Visiting Chichicastenango Market, and witnessing this vibrant hub of Mayan culture, is an experience you'll never forget!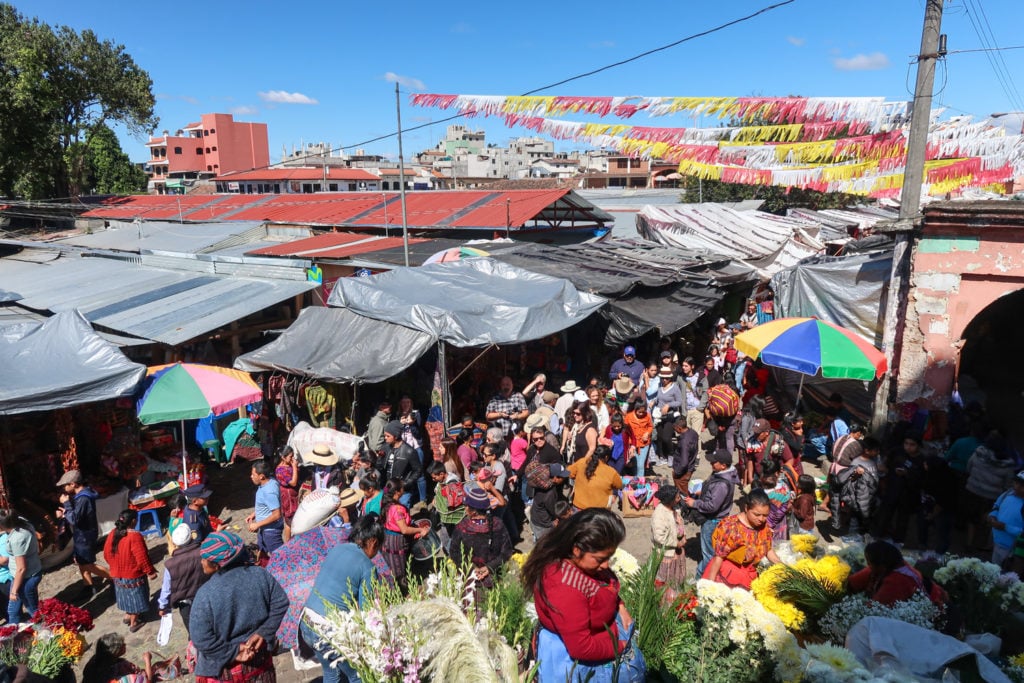 If you're planning to visit Chichicastenango Market, you're in the right place.
This guide details everything you need to know about visiting the market – from how to get to Chichicastenango, what to do and see while you're there, and some top tips to help you have the best possible day in Chichi!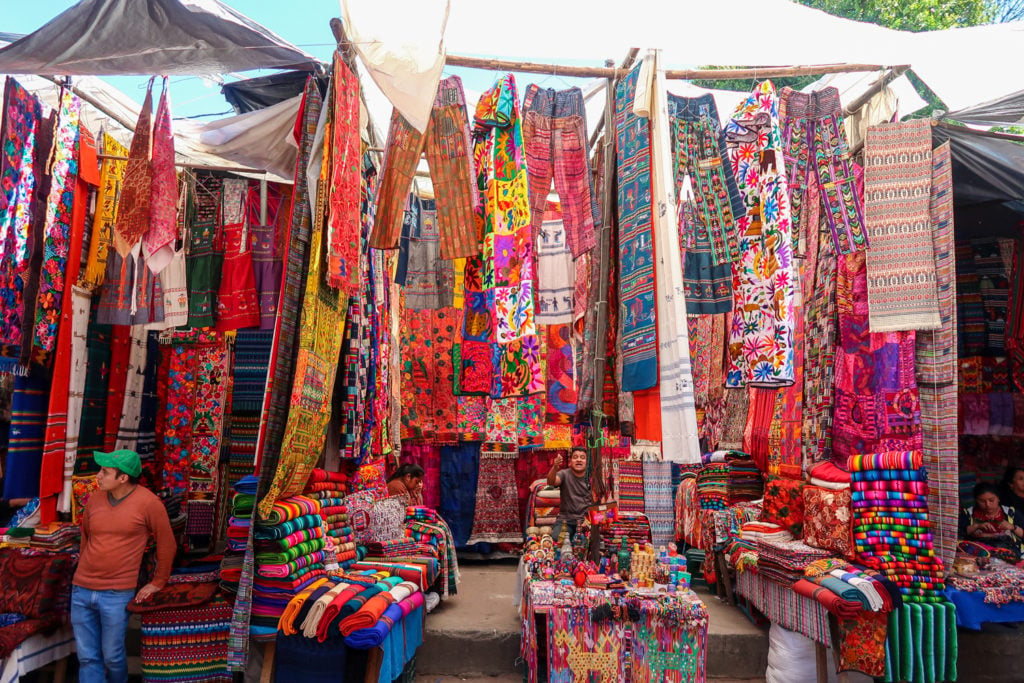 Is Chichicastenango Worth Visiting?
Let's get this question out of the way first.
Since Chichicastenango is usually a day trip destination – and because it's growing more and more popular among tourists as the years go by – you may be wondering: Is the Chichicastenango Market worth visiting? Will it live up to the hype?
After going to the market and experiencing it myself, my answer is an absolute, 100% yes. This market is worth visiting.
The Chichicastenango Market is an explosion of colors, smells, and sounds. It's hectic, in the best way possible. And I was also surprised by how few tourists were there. (Overall, it feels more like a market by the locals, for the locals.) There are also a few different attractions in town that are well worth exploring, but more on that later!
If you don't spend a day in Chichicastenango, your trip to Guatemala will be incomplete!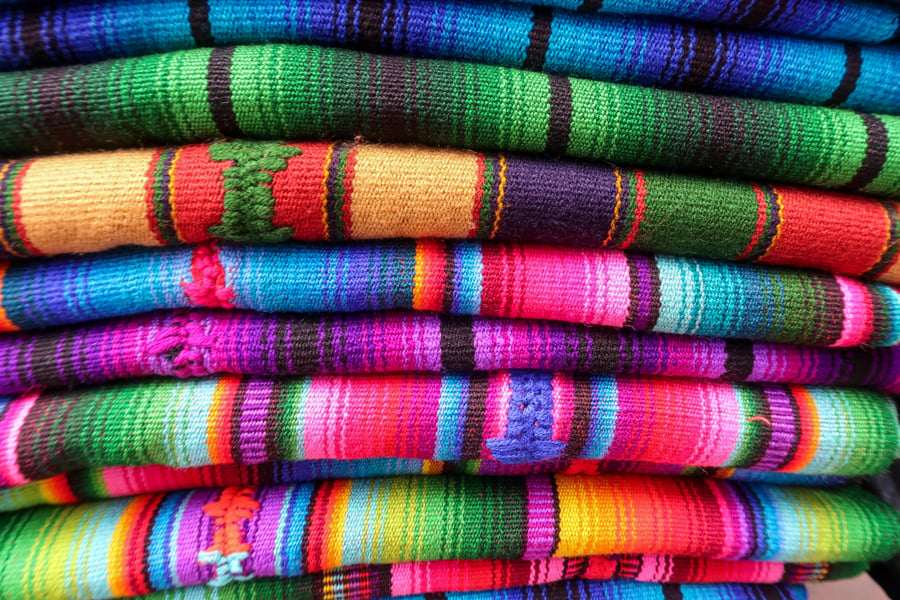 Chichicastenango Market Day: Thursdays & Sundays
Every Thursday and Sunday, the tiny town of Chichicastenango (lovingly known as Chichi, by locals and tourists alike) turns into the world's largest, open-air handicrafts market. Thousands of local Maya people come to purchase and sell goods of all types – and these days, so do hundreds of travelers.
From colorful textiles, paintings, and pottery, to traditional clothing (like huipil, the traditional dress of Maya women), wooden instruments, and intricately carved masks, you will find a culmination of all of Guatemala's best goods and souvenirs at the Mercado de Chichicastenango.
Plus, you'll also find vegetable market stalls selling all kinds of "exotic" produce, street food, flowers, incense, traditional healing remedies, and other non-handicraft items at the market.
Even more importantly, a visit to the Chichicastenango Market offers an immersive cultural experience. You'll interact with the local people (even if you can't communicate – the local population mainly speaks K'iche!), see how they live, and learn about their centuries-old traditions.
Must-Know Tips for Visiting Chichicastenango Market
1. Visit on Thursday
The Chichicastenango Market occurs every Thursday and Sunday, until about 6 pm. I visited on Thursday, and highly recommend you do the same.
During the 4 hours I spent there, I only saw about 100 other tourists, among thousands upon thousands of locals.
From what I can tell, Thursdays are way more low-key, since hoards of tourist buses drive into town on Sundays!
2. Stay Alert
The market is extremely crowded, giving pickpockets plenty of opportunity!
While browsing, make sure to keep your valuables in hard-to-access places. If you have a backpack, keep it on your front side. And if you have a jacket with interior pockets, keep your money, camera, phone, etc. there.
An even better idea is to wear an RFID-blocking money belt to keep your things safe. This will come in handy during your travels through Central America. Click here to purchase my recommended money belt.
Better safe than sorry!
3. Bring plenty of Quetzales
Every purchase you make at the market will be in Quetzales (or possibly American dollars). No credit cards here. Before you arrive, make sure to take out plenty of cash so you can buy whatever catches your eye, plus food and drinks!
There are a few banks in town though, in case you run out.
4. Shop Around for the Perfect Item
As you roam the market, you will notice that many of the vendors sell seemingly identical items. If you see something you like, but don't particularly like one of the colors, or how the zipper looks, for example, just keep looking.
Chances are, you will find a similar item at another stall that fits your exact requirements. This market is just that huge.
5. Be Prepared to Haggle
Since Chichicastenango is part of Guatemala's tourist trail these days, you can expect the prices here to be a little higher than at smaller markets throughout the country.
But, generally speaking, you should also never accept the first price you're offered. At the Chichicastenango Market, the initial price will often be 30-60% more than what the seller would accept if you negotiated with them.
After you ask for the price of something, come back with a much lower price (but not too low, you don't want to be rude!), and continue until you come to a happy, middle-ground agreement.
If the seller is being unreasonable, just walk away. Chances are, they will run after you and accept your offer – and if not, you can go look elsewhere!
6. Say "No Gracias" and Keep Walking
I expected the vendors to be a lot pushier than they were, but I did encounter a few vendors who just couldn't seem to take "no" for an answer.
Expect that some Chichi sellers will be a bit aggressive when trying to close a sale. So be equally as assertive. If a seller starts to hassle you, firmly say "no, gracias" and keep on walking… Eventually, they'll give up.
7. Ask Before You Snap a Photo
Remember to be respectful of the local Guatemalan people. Don't snap someone's photo without asking them first. You may also want to ask first if you're photographing their products.
8. Consider Staying Overnight
I wouldn't blame you if you wanted to stay in Chichicastenango overnight to experience more of this historic town and refuel after a busy day of shopping! The drive is long. You may also want to hit the hiking trails at the Parque Ecologico Los Senderos del Abuelo.
There aren't many places to choose from, so if I were you, I'd go with the Hotel Museo Mayan Inn. It's definitely an antique, as this hotel used to be a monastery. Click here to book your stay.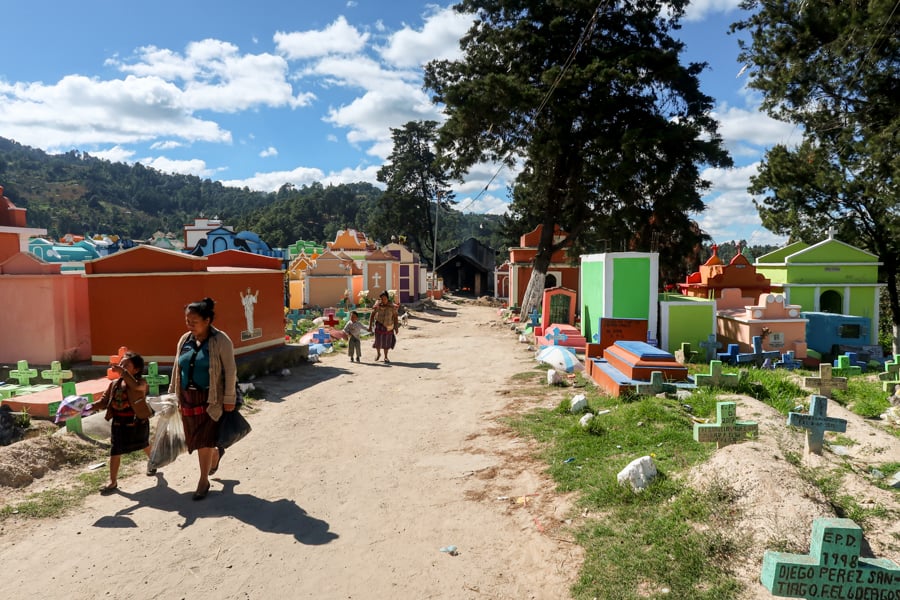 Other Can't-Miss Attractions in Chichicastenango
The Chichi Market is obviously the main attraction in this little town, but before you leave, make sure to check out these other experiences!
All of these activities are absolute musts while in Chichi.
Iglesia de Santo Tomás
The Santo Tomas Church is the cultural centerpiece of the Chichi Market, and the town. Dating back to the 16th century, the Spanish built this church atop an existing Maya temple (sadly, this was a common practice by the Spanish). The 18 steps leading up to the church are original though – they symbolize the 18 months of the Mayan calendar.
It is said that the Popul Vuh, the K'iche Maya's story of creation – and one of the only sacred texts to survive the Conquest – was discovered here at the Santo Tomas Church.
Today, locals frequent the church to practice both ancient ancestral religious rituals and Catholic ceremonies. On market day, you will see local people crowding the steps, burning incense and praying, vendors selling flowers, corn, drinks, and more.
To say this church is sacred would be an understatement!
Chichicastenango Regional Museum
Inside of the Santo Tomas Church, you will find the Chichicastenango Regional Museum, which is home to plenty of indigenous stories and artifacts – from pottery to weapons. Some of them date back more than 3,000 years.
Chichicastenango Cemetery
Down the hill from the market, you will stumble across one of the most colorful cemeteries in the world! Checking out the many above-ground tombs and strolling the grounds is an interesting cultural experience, and an absolute must.
It's a good idea to use the buddy system when exploring here, just to be safe!
Pascual Abaj
Make sure to hike up the hill to see Pascual Abaj. This pre-Columbian religious site is home to a centuries-old Maya stone idol, known as Pascual Abaj. Chichicastenango's local community of Maya K'iche people still practice sacred rituals and ceremonies here.
If you are lucky, you may see a local shaman performing rituals, possibly with fire and incense, flowers and herbs. You may also see locals leaving offerings. You'll also catch some great views of the cemetery and surrounding mountains.
As with so many places in Guatemala, this mystical site has a strong – almost eerily strong – spiritual energy.
Same as with the cemetery, don't hike up here alone.
Mirador de Chichicastenango
Before or after you visit Chichicastenango Market, make sure to pull over at the Mirador de Chichicastenago (viewpoint) for incredible, sweeping vistas of the jungles and mountains of the Western Highlands.
There, you will also find Los Senderos del Abuelo (AKA Grandpa's Hiking Trails), just in case you thought to bring your hiking boots.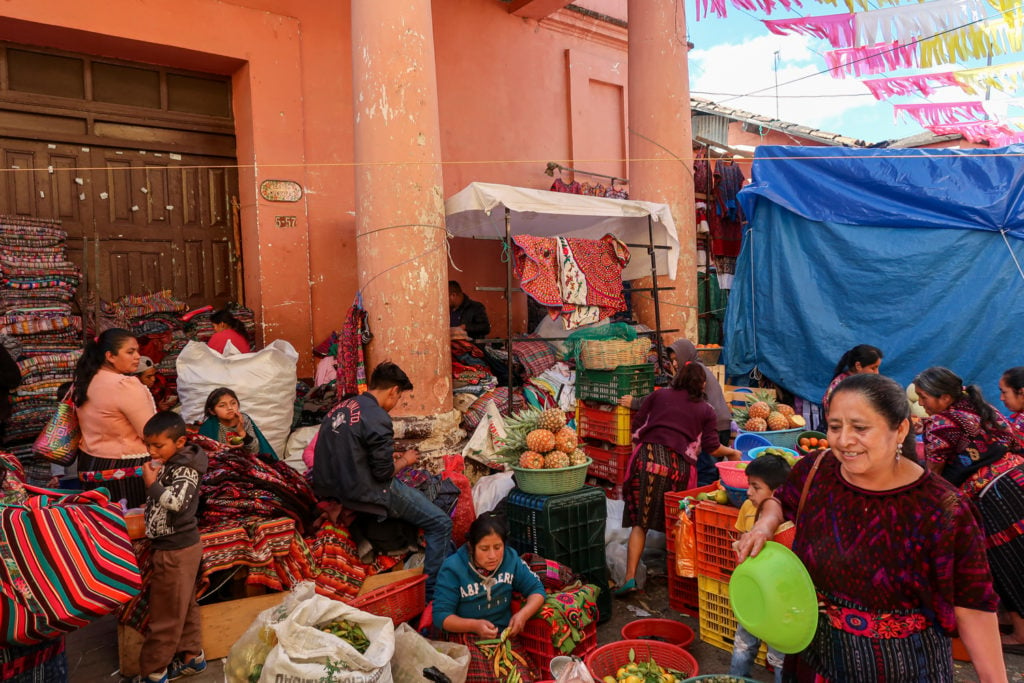 How to Get to the Chichicastenango Market
Before you can take a day trip to the Chichicastenango Market, you need to arrange transportation.
If you're staying in a popular and nearby tourist place such as Lake Atitlán, Quetzaltenango (Xela), or even Guatemala City, getting to Chichicastenago is easy, you have a few options.
As mentioned, the market is only open on Thursday and Sunday, so plan accordingly!
Take a Guided Tour
There are many different guided tours you can book, whether you're traveling from Lake Atitlan, Guatemala City, or Antigua.
I didn't take a guided tour, but if I could do it again, I would. Without a guide, I think I missed out on some of the interesting Chichicastenango history and cultural insights about the Maya K'iche people.
Here are the top guided tours to choose from!
Hire a Private Driver
I decided to take a private car to and from the market, which was $70 USD roundtrip from the lake. For me, this was nice, as I didn't have to adhere to any sort of bus schedule. I decided when I wanted to head out in the morning, and when I was ready to leave, my driver was there waiting for me.
If you want to arrange a private car, you can do this either at your hotel reception or through any travel agency.
If you'd rather go without a guide, you can take a shared tourist shuttle bus from most tourist destinations in the country.
From Lake Atitlán, the shared tourist shuttle costs roughly $20 USD per person, each way (or $30 for roundtrip). From Xela (Quetzaltenango), Guatemala City, and Antigua, it's roughly $30 per person, each way.
You can arrange your shuttle bus beforehand through travel agencies online, or by inquiring at your hotel reception when you arrive. Book in advance because the shuttles sell out on market days – especially during high season.
Ride a Chicken Bus
If you want a super local, vibrant experience, you can take a chicken bus (a local bus) to and from the Chichicastenango Market. You may be hot, uncomfortable, and definitely less safe than with any of the other transportation options, but it will be a cultural experience you will never forget!
Taking a chicken bus is the cheapest way to get to and from the market, coming in at less than $10 USD roundtrip from Lake Atitlan.
Why You Must Visit the Chichicastenango Market
After you've experienced the Chichicastenango Market (and all of the other attractions in this town!), you will agree: This market is magic. Exploring this place is something I'll never forget. And if I ever return to Guatemala, then I'll be back in a heartbeat.
During your trip to Guatemala, don't miss the chance to visit Chichicastenango – on a Thursday or Sunday. Since it's such an easy day trip, you have no excuse to miss out. You're going to love it!
WANT MORE GUATEMALA INSPIRATION?
Check out these Maddy's Avenue articles:
Chichicastenango Market: FAQs
What days can you visit the market in Chichicastenango?
The Chichicastenango Market is open on Thursday and Sunday. Between 8 am and 6 pm, the market is in full swing. If you're visiting the Chichi Market from Guatemala City, Antigua, Lake Atitlan, or Quetzaltenango, you can visit Chichi on a day trip – though many travelers prefer to stay overnight for a more relaxing and immersive experience. (It's a long way to travel in a day!)
Is the Chichicastenango Market safe?
Yes, overall, visiting the Chichicastenango Market is safe because there are so many people around. That said, the chaotic environment and close contact with thousands of people presents the perfect opportunity for thief and pickpockets. Theft is a well-known issue within the market, so keep an eye on your belongings. Don't be flashy with money and other valuables. And if you are wearing a backpack or purse, keep it zipped tight and wear it on the front of your body. A money belt is a super handy item to have at the Chichi Market! (Click here to get my recommended money belt.)

Exploring the streets of Chichicastenango is safe enough during the daytime, as long as you use common sense and stick to the buddy system whenever possible.

Within the market, you need not be concerned about your physical safety, though it's always important to stay vigilant and aware of your surroundings when traveling in Guatemala.
Where is the Chichicastenango Market?
The Chichicastenango Market is located in Guatemala's jungle-dense Western Highlands, in the department of El Quiche. This little town, home to Maya K'iche people, is about 90 miles (and 3 hours) away from Guatemala City, the country's capital.
Is Chichicastenango worth visiting?
Yes, Chichicastenango is definitely worth visiting! This small Maya town, located in Guatemala's Western Highlands, is home to the largest and most vibrant craft market in all of Central America.

The famous Chichicastenango Market brings the town to life every Thursday and Sunday, offering a unique cultural experience that you won't find anywhere else. You'll see locals in their traditional Maya dress, witness sacred religious practices, and have the chance to try some local street food. Not to mention, there's an incredible array of goods and traditional Maya handicrafts to peruse. You're sure to find something special at this market!

There are also a few other must-see attractions in Chichi, including the Santo Tomas Church, the Maya idol Pascual Abaj, the super-colorful Chichicastenango Cemetery, and more.
When you book travel or purchase something through our links, we receive a small commission, at no extra cost to you? Your support enables Maddy's Avenue to keep producing helpful travel content. Thank you!
Have you visited the Chichicastenango Market before? Do you have any tips to share with fellow travelers? Are you planning to visit and have a question? Leave your comments below!
Disclaimer: This post may contain affiliate links. When you click through a link on this page and make a valid purchase, Maddy's Avenue may receive a small commission (at no extra cost to you!). We only recommend products/services that we believe in and know you will love too. Your support enables us to continue making helpful travel content. Thank you for reading, and thank you for your support!