Of all the markets we've explored around the world, there's one that stands out above the rest: the Chichicastenango Market.
Every Thursday and Sunday, the tiny town of Chichicastenango, Guatemala turns into the world's largest handicrafts market, filled with thousands of local Mayan people purchasing and selling goods of all types. From colorful textiles, paintings, and pottery, to traditional clothing, wooden instruments, and intricately carved masks, you will find a culmination of all of Guatemala's best goods and souvenirs at the Mercado de Chichicastenango.
Plus, you'll also find all kinds of produce, street food, flowers, incense, and other non-handicraft items at the market.
Visiting the Chichicastenango (Chichi) Market in Guatemala
As you can imagine, the Chichicastenango Market is the best place to purchase all of Guatemala's best artisanal items. But even more than that, it's an immersive cultural experience where you'll interact with the local people, see how they live, and learn about their traditions.
Is Chichicastenango worth visiting?
Since Chichicastenango is usually a day trip destination, you may be wondering if it's really worth the trek. Is the Chichicastenango Market worth visiting? A lot of people seem to ask this question.
After going to the market and experiencing it ourselves, our answer is an absolute yes. Without spending a half-day at the Chichicastenango Market, your trip to Guatemala will be so very incomplete!
In this post, we'll explain why Chichicastenango is worth a visit, plus our best tips and information about the day trip.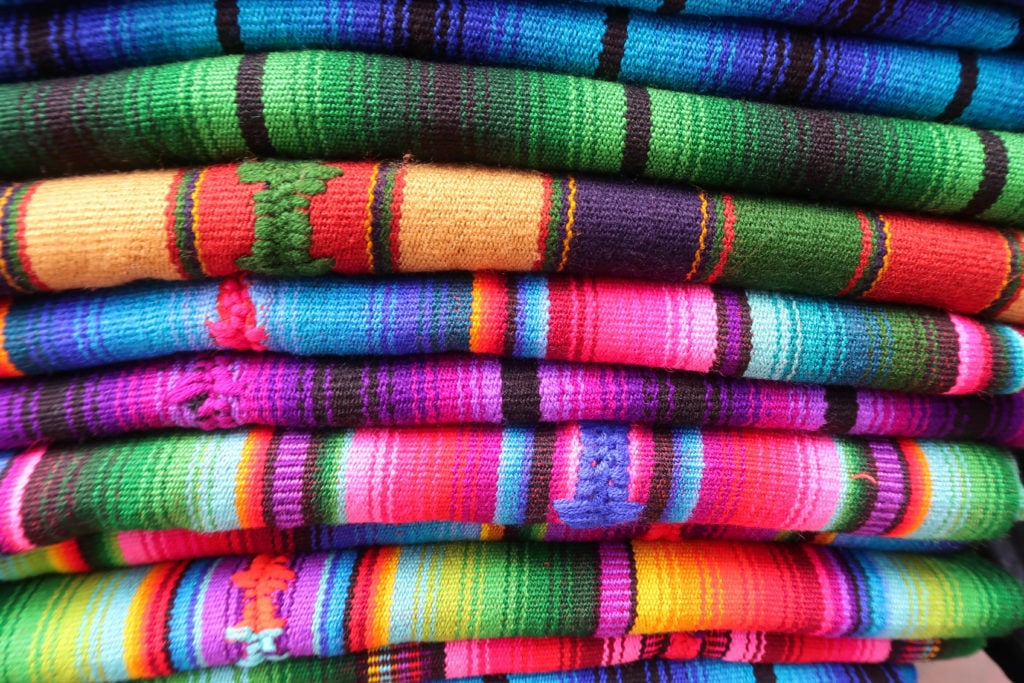 What it's like to visit the Chichicastenango Market
The Chichicastenango Market is an explosion of colors, smells, and sounds. It's hectic, in the best way possible.
As you roam through the market, you will feel overwhelmed by everything: the crowds, all of the vibrant items you want to buy, and every vendor calling out to you.
Our approach was to take the market as it came, which meant looking into every stall and scanning to see if anything piqued our interests. We weren't looking for anything specific, and simply waited for the best items to catch our attention.
We loved the canvas art depicting Mayan traditions and nearby scenery, the colorful clothing, and the vibrant blankets. All of the small trinkets and souvenirs were also too cute to ignore.
During the high season, you might think that the market would be flooded with tourists, but it's really all for the locals — you'll only see travelers sprinkled in here and there.
One of our favorite parts of visiting the market was watching the dynamic of the locals. Markets like this are where life takes place — not only money and goods are exchanged. When you look around, the smiles, laughs, cultures, and knowledge flowing from one person to the next are what really count.
As you explore, pay attention not only to the goods, but also to the people around you, their ways of life, and their stories.
After you've experienced the Chichi Market, you will know what we mean. This market is pure magic. It's something we'll never forget. And if we ever return to Guatemala (and we sure hope we will!), then we'll be back at this market in a heartbeat.
Tips for visiting the Chichicastenango Market
Tip #1: Visit on Thursday
The Chichicastenango Market occurs every Thursday and Sunday, from 6 am to 6 pm. We visited on Thursday, and highly recommend you do the same.
During the 4 hours we spent there, I'd guess we only saw about 100 other tourists out of the thousands upon thousands of locals that were there.
From what we can tell, Sundays are far more touristy and busy than Thursdays are, with hoards of tourist buses driving into town.
Tip #2: Stay alert
The market is extremely crowded, so there are plenty of pickpockets on the loose!
While browsing, make sure to keep your valuables in hard-to-access places. If you have a backpack, it may be a good idea to keep it on your front side, even if that means you look a little silly. And if you have a jacket with pockets on the interior, then make sure to keep your money, camera, phone, etc. in there.
Better safe than sorry!
Tip #3: Bring plenty of Quetzales
Every purchase you make at the market will be in Quetzales (or possibly American dollars). Before you arrive, make sure to take out plenty of cash so that you will have enough to buy every item that catches your eye, plus food and drinks!
Tip #4: Shop around for the perfect item
As you roam the market, you will notice that many of the vendors sell seemingly identical items. If you see something you really like, but don't particularly like one of the colors, or how the zipper looks, for example, then just keep looking.
Chances are, you will find a similar item at another stall that fits your exact requirements. (The market is just that huge!)
Tip #5: Be prepared to haggle
As you may know, you should never accept the first price you're offered. That price will often be at least two times more than what the seller would accept.
After you ask for the price of something, come back with a lower price, and continue until both parties can come to a happy agreement. If the seller is being unreasonable, just walk away. Chances are, they will run after you and accept your offer – and if not, you can go look elsewhere!
Tip #6: Say "no gracias" and keep walking
We expected the vendors to be a lot pushier than they were – which was a pleasant surprise! However, we did encounter a few people who just couldn't seem to take "no" for an answer.
If a seller starts to hassle you, firmly say "no gracias" and keep on walking! Eventually, they'll give up.
Getting to the Chichicastenango Market: How to get there
Before you can take a day trip to the Chichicastenango Market, you will need to arrange transportation.
If you're staying in a popular and nearby tourist place such as Lake Atitlán or Quetzaltenango (Xela), this is easy to do, and you have a few options!
Guided tour:
Firstly, you can book a tour through a travel agency once you arrive in Lake Atitlán or Xela. This kind of tour will likely include your transportation, a guide, a meal, and a strict schedule.
Tourist shuttle:
Another option is to take a tourist shuttle. From Lake Atitlán, this costs roughly $12 USD per person each way, and from Xela it's about $15 USD per person each way. You can arrange your shuttle beforehand through travel agencies online (just search for your route), or by inquiring at your hotel reception when you arrive. It's recommended to book in advance, since the shuttles do fill up!
Chicken bus:
If you want a super local, vibrant experience, you can also take a chicken bus (a local bus) to and from the Chichicastenango Market. You may be hot, uncomfortable, and much less safe than with any of the other transportation options, but it will be a cultural experience you will never forget!
Also, taking a chicken bus is the cheapest way to get to and from the market, coming in at less than $10 USD roundtrip.
Private car:
We decided to take a private car to and from the market, which was $70 USD. For us, this was well worth it, as we didn't have to adhere to any sort of schedule. We decided when we wanted to head out in the morning, and when we were ready to leave, our driver was there waiting for us!
We also learned so much about the history and culture of Guatemala by talking to our driver during those few hours. If you want to arrange a private car, you can do this either at your hotel reception or through any travel agency.
Why You Must Visit the Chichicastenango Market
During your trip to Guatemala, make sure to take a day trip to the town of Chichicastenango on a Thursday or Sunday.
Just imagine all of the amazing goods you'll bring home with you to color your home and your wardrobe, the insights you'll gain into the history, cultures, and lives of the local Mayan peoples, and all the fun you'll have. And on top of that, the sheer size of this market will absolutely blow your mind!
Since visiting Chichicastenango is such an easy day trip from popular tourist places like Lake Atitlán and Xela, you have no excuse to miss out. You're going to love it!
Did you know…
When you book travel or purchase something through our links, we receive a small commission, at no extra cost to you? Your support enables Maddy's Avenue to keep producing helpful travel content. Thank you!