Well, it's high time to confront one very controversial topic head-on: Edinburgh versus Glasgow. Which Scottish city is better? And which city should you visit during your trip to Scotland?
Truth be told, there's a simple answer to the battle of Edinburgh versus Glasgow, and you might not like it:
It's a tie.
Though only 51 miles separate the two cities, their cultures, personalities, and atmospheres couldn't be further apart. Each city has its own charm and allure, and to really get a feel for Scotland, you need to visit both cities. However, I understand that, sometimes, time doesn't allow for what's ideal. And sometimes you need to make a difficult choice. So I'm going to break it down for you!
Now, let's compare the different aspects of Edinburgh and Glasgow to help you decide which city you should visit during your trip!
Edinburgh or Glasgow: Which City is Better?
The Culture
Edinburgh Culture
Edinburgh is the capital of Scotland, and as such, it's also the country's hub for traditional culture. The moment you arrive, this is apparent. You won't get very far into Edinburgh without seeing a very old whisky bar, an offering of some haggis, and someone in a kilt, playing the bagpipe.
But don't get us wrong, Edinburgh's culture runs much deeper than that. With impressive historical museums, brilliant history of literary, artistic, and theatrical greatness, traditional pubs, and its medieval city center, Edinburgh holds a firm grip on traditional Scottish culture.
Glasgow Culture
Glasgow, on the other hand, is the home of all things cool and modern. And – believe it or not – while Edinburgh is the country's capital, Glasgow is the country's capital of culture.
In 1990, Glasgow was named a European Capital of Culture, because of its thriving contemporary theatre, visual performing arts, and music scene, its innovativeness in design, architecture, and modern art, and its proclivity for spreading its forward-thinking ideas and culture far past its city's borders.
The Winner? Glasgow.
The Restaurants
Edinburgh Restaurants
Edinburgh features many traditional, Scottish restaurants, while also boasting a variety of ethnic eateries. A couple of the restaurants we dined at in Edinburgh were slightly average, meanwhile, others were spectacular.
Oink is one of those places that falls into the spectacular category. Oink's deliciously affordable pulled pork sandwiches – topped with your choice of sage & onion, apple sauce, chili relish, or haggis – can't be beaten.
Now, for El Cartel. It's not often that you find a worthy Mexican restaurant outside of Mexico or the USA, but El Cartel is a definite exception. Honestly, we'd make the roundtrip journey to Edinburgh just to eat at this restaurant, and then go back home. It's that good. The duck carnitas tacos, carne asada tacos, street corn, and mushroom quesadillas are all musts. And don't forget to enjoy a few mezcal shots and a margarita!
Glasgow Restaurants
On the other hand, every last morsel we ate in Glasgow was delicious.
Glasgow boasts a vibrant, varied foodie scene that tempted us to never leave. From spicy Indian cuisine and perfect Neapolitan pizzas, to mouth-watering pork bao, delicate seafood dishes, and authentic Chinese dumplings, Glasgow had everything we craved. And it was all of the highest quality and flavor possible!
We give Glasgow five stars for its incredibly awesome restaurants – especially in the West End, Finnieston, and Merchant City areas.
Check out our Glasgow Dining Guide for all of the best places to eat and drink.
The Winner? Glasgow.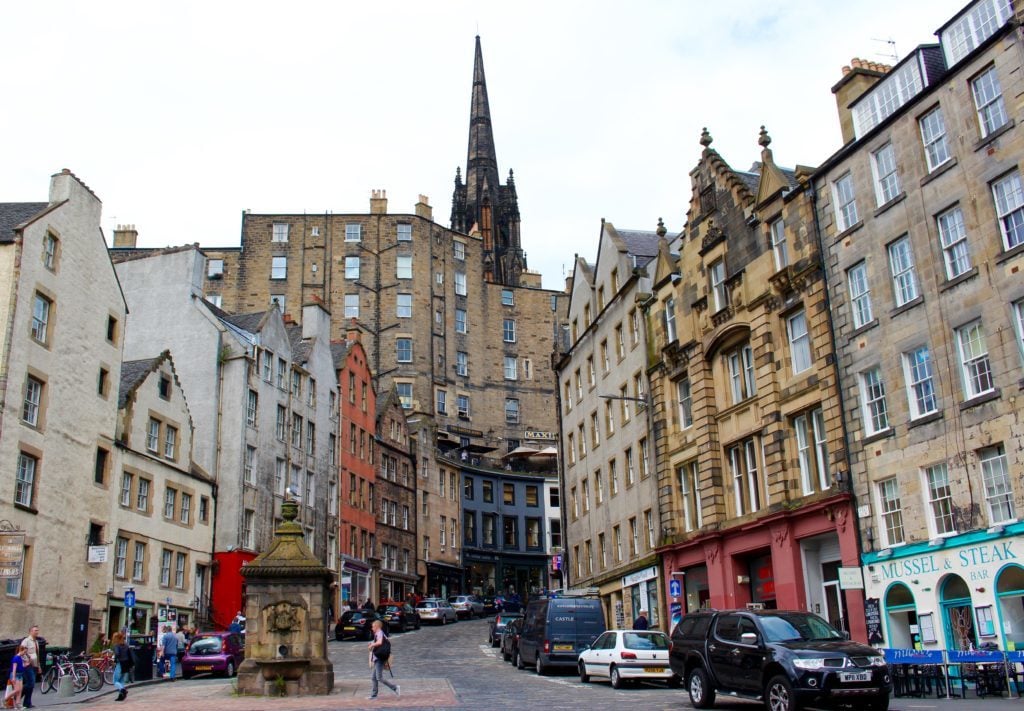 The Architecture
Edinburgh Architecture
From the day we arrived in Edinburgh, until the day we left, I felt like I was on some sort of medieval movie set. Especially on the Royal Mile, with the Edinburgh Castle looming in the distance. Everything just seemed too perfectly preserved and too insanely charming to be real.
In reality, though, visiting Edinburgh feels like time traveling back to the city's medieval heyday. Walking down the beautiful cobblestone streets past centuries-old, gothic-style buildings is something we won't soon forget!
Make sure to explore the Old Town and experience the magic for yourself!
Glasgow Architecture
Glasgow's development peaked during the Industrial Age, between the 18th century and the first half of the 20th century. So basically, its buildings are much newer than their Edinburgher counterparts!
Throughout the city, you'll find stunning Victorian-style buildings. From the Clock Tower at Central Station, to the St. Enoch Subway Station and the Royal Exchange, the Victorian-style dominates.
However, the city also produced its own "Glasgow Style," which was influenced by the Art Nouveau movement. This style is highlighted by the unique Glasgow School of Art, Queen's Cross Church, and Scotland Street School!
The Winner? Edinburgh.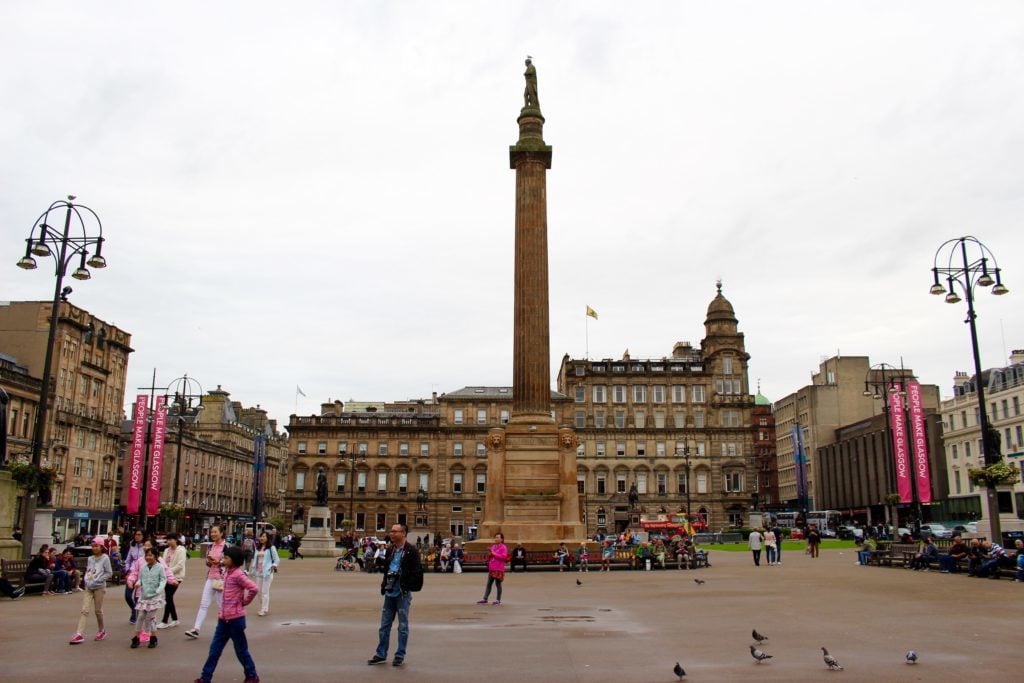 The Locals
Edinburgh Locals
It seems that in Edinburgh, the locals are hit or miss — just like in thousands of other cities around the world! We encountered very pleasant people in Edinburgh, as well as some very rude people.
Glasgow Locals
Glaswegians have a saying that goes, "People Make Glasgow." Glasgow has been voted the world's friendliest city, and everything and everyone we experienced in Glasgow showed us that that statement is true.
Every single person we met in Glasgow — from our Airbnb host and Uber drivers, to restaurant waitstaff, museum clerks, shop owners, and even random people on the street — was incredibly kind, friendly, easy to engage, and willing to help us with recommendations, tips, and directions!
Each time we met someone new, we left thinking, "Wow, that person was so nice… The people here really do make Glasgow."
The Winner? Glasgow.
The History
Edinburgh's History
When you walk through Edinburgh's Old Town and along the Royal Mile, it's as if you can feel the city's history living and breathing around you, and it also looks as if you're inside of a Harry Potter movie — which I love.
As a loyal and raving Harry Potter fan, I think The Potter Trail is Edinburgh's most important history. History buffs might argue, however, that the city's medieval, Scottish history is what's most fascinating!
While in Edinburgh, you can take an Underground Vaults Historical Walking Tour to go underneath Edinburgh's streets, listen to ghost stories, and explore historic vaults.
And of course, visiting Edinburgh Castle is a must, so make sure to get your hands on this Skip the Line Edinburgh Castle Ticket!
Glasgow's History
Though most of Glasgow's historical monuments are distant memories, which have since been replaced with new and innovative buildings, Glasgow's story can be traced back through many centuries.
The Glasgow Cathedral – which still stands today – was built in 1119, and sparked the beginnings of medieval Glasgow. And the beautiful University of Glasgow – which is now one of the city's top attractions – was founded back in 1451.
The Winner? Edinburgh.
The Hotels
Edinburgh Accommodation
When it comes to fancy, five-star hotels, Edinburgh is the winner. If you can, stay at The Balmoral Hotel, located smack in the center of Edinburgh. The Balmoral Hotel is, by far, the best hotel in the city.
Other incredible five-star hotel options include The Caledonian and the G&V Royal Mile Hotel.
However, if you're looking for a budget-friendly hotel, Edinburgh has no shortage of great options.
You can find great deals on Edinburgh accommodations here.
Glasgow Accommodation
Glasgow is also home to some nice hotels, though they're a lot more affordable! Glasgow's five-star, yet budget-friendly hotels are Blythswood Square, Hotel du Vin Glasgow, and lastly the Hilton Glasgow.
You can find other great deals on Glasgow hotels here!
The Winner? Glasgow.
The Nightlife
Edinburgh Nightlife
A night out on the town in Edinburgh might consist of a pub crawl, or a ghost tour followed by a couple of whisky bars. There are also some centuries-old, traditional bars throughout the city — such as The White Hart — that are worth visiting!
Glasgow Nightlife
If you're looking for a fun night out, Glasgow is the city for you! After all, the old saying goes, "You'll have more fun at a Glasgow funeral than you will at an Edinburgh wedding."
Glasgow is home to a bumping nightlife scene and hoards of young, fun-loving people. So in other words, a night of drinking, dancing, singing, and whatever other mischief you get up to, will likely last until the wee hours of the morning. And when you wake up later that morning, you won't even be mad about it.
Also, ask anyone, and they'll tell you that the Sub Club is the place to go.
The Winner? Glasgow.
The Outdoors
Outdoors in Edinburgh
Edinburgh certainly isn't lacking in the outdoor recreation department. You can easily feel as though you've left the big city (without actually going anywhere), by just visiting one of the city's many parks!
Summiting Arthur's Seat is a beautiful, and somewhat challenging, hike and it's located just outside the city center. The views of Edinburgh, the sea, and Holyrood Park from the top simply can't be beaten!
Calton Hill is a must-visit UNESCO World Heritage Site in Edinburgh. Atop the hill, you'll find stunning views of the city, along with historical monuments like Dugald Stewart's Monument, the Nelson Monument, and the National Monument.
The Princes Street Gardens, located in city center, also provide a breath of fresh air and benches to rest your feet after lots of Old Town exploring.
The Royal Botanic Garden is also a beautiful place to spend some time outdoors, to escape the capital's constant hustle and bustle!
Outdoors in Glasgow
Glasgow rivals Edinburgh with its many parks to enjoy nature!
The Pollock Country Park is a lovely place to go for a stroll, maybe have a picnic, and appreciate the company of some very hairy, very cute Highland coos!
Kelvingrove Park is another beautiful outdoor space, perfect for soaking up the sunshine, going for a walk or jog, relaxing, and playing with the many doggies you'll meet there.
The Glasgow Botanic Gardens — especially during the springtime — are also a great place to spend an afternoon in nature.
The Winner? Edinburgh.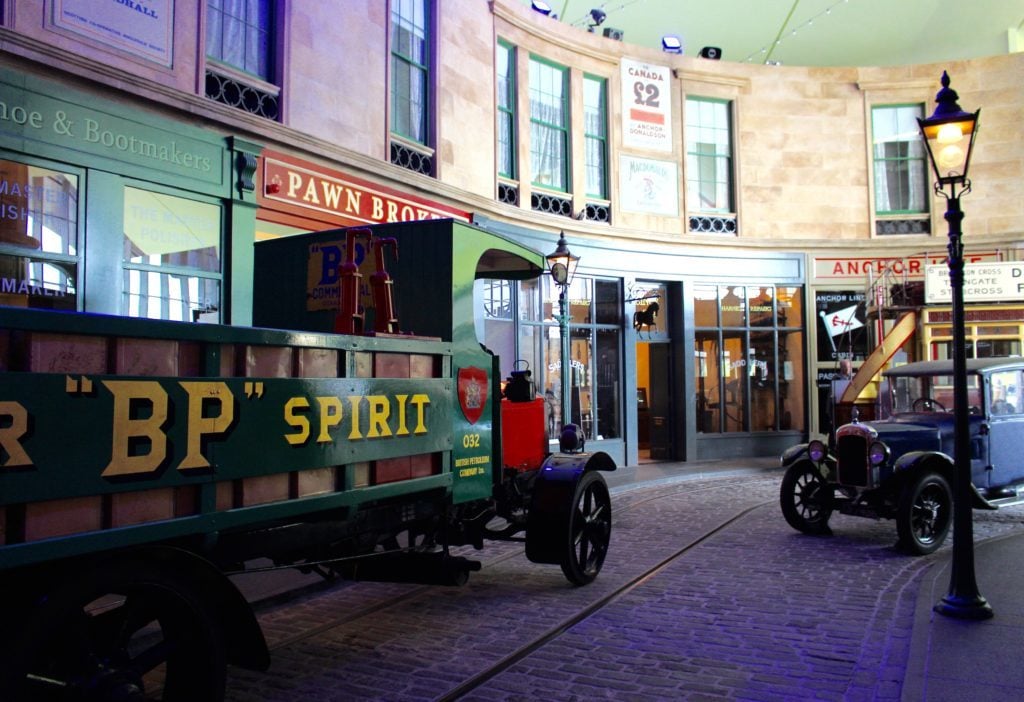 The Museums
Edinburgh Museums
When in Edinburgh, there's one museum you need to experience: the National Museum of Scotland. This museum covers the details of Scotland's rich history, telling stories about everything from art, design, and fashion, to science, nature and technology.
For anyone who loves art, the Scottish National Gallery is also a must! The museum has a variety of different pieces on display, and entry is free!
If you have an hour or two to kill, the Camera Obscura and World of Illusions is also worth a visit, because it's likely completely different from any other museum you've visited!
Glasgow Museums
Glasgow boasts a wide variety of awesome museums that you won't want to miss!
The Riverside Museum of Transport and Travel is one of the most unique, surprisingly interesting museums we've ever been to. This museum is a real gem, and in 2013, it won the European Museum of the Year award. Plus, it's free to visit!
The Kelvingrove Art Gallery and Museum, The Glasgow School of Art, and the Hunterian Museum are all full of incredible art and historical artifacts.
When in Glasgow, try to visit as many museums as you can. There are many things that the Glaswegians do well, but of them, their museums might just be the best!
The Winner? Glasgow.
The Festivals
Edinburgh Festivals
Every year, Edinburgh plays host to the Festival Fringe, which is the world's largest arts festival. This festival turns Scotland's capital into one giant party, for three whole weeks, every August. From opera and theatre, to circus and comedy, this arts festival floods the street with thousands of performances.
Edinburgh also holds the Royal Edinburgh Military Tattoo, an unforgettable celebration of Scottish dance, music, and military processions. As Edinburgh Castle lights up in pink, blue, and purple hues, nearly 1,000 different dancers, singers, bagpipers, and drummers regale an eager crowd.
A number of other festivals also take place in Edinburgh throughout the year!
Glasgow Festivals
Unlike Edinburgh's popular Festival Fringe, Glasgow doesn't have one single festival that dominates the scene; rather, it hosts various awesome ones throughout the year!
Some of the most popular Glasgow festivals include Celtic Connections, which is a winter music festival that shows off traditional Celtic artists, the Merchant City Festival, which shows off all aspects of Glasgow's culture, and Pride Glasgow, Scotland's biggest LGBT celebration!
The Winner? Glasgow.
The Geography
Edinburgh's Location
When it comes to location, Edinburgh is situated in the perfect spot for day trips out of the city!
Here are a few highly-rated day trips departing from Edinburgh:
Glasgow's Location
Glasgow is also a great base for exploring the rest of Scotland, too. There are many day trips you can take from Glasgow, to get out of the city for a bit and experience Scotland's natural beauty.
Here are a few highly-rated day trips departing from Glasgow:
The Winner? It's a tie.
Edinburgh vs. Glasgow: Which City Should You Visit?
So, should you visit Edinburgh? Or should you visit Glasgow? Well, if you have time to visit both, you should.
Both cities have their own unique perspectives and personalities, and your experience in Glasgow will be completely different than in Edinburgh! And that's simply because each city is awesome, in its own way!
But if you only have time for one city, now you have all of the information to make a decision, based on each city's offerings and your own interests!
If you're down for the modern — even hipster — culture which entails stylish, yet delicious restaurants, laid-back bars, contemporary architecture and art, cool performing arts venues, and an overall chill vibe, Glasgow is your place.
Yet, if you're more interested in history, medieval architecture, posh bars and restaurants, fancy hotels, and outdoor activities, Edinburgh might be the city for you.
So, what do you say? Which city will prevail in the argument of Edinburgh versus Glasgow?
We say both cities are winners.
Did you know…
When you book travel or purchase something through our links, we receive a small commission, at no extra cost to you? Your support enables Maddy's Avenue to keep producing helpful travel content. Thank you!
What's your take on Edinburgh versus Glasgow? Which city do you prefer? Let us know below in the comments section!
*This post contains affiliate links. When you make a purchase through a link on our site, we will receive a commission, at no extra cost to you. These commissions help keep Maddy's Avenue up and running, and we thank you for your support!