As the culinary and cultural capital of Mexico, beautiful Oaxaca City has so much to offer to everyone who visits.
From the city's rich history, archaeological sites, and indigenous cultures, to its bustling markets, art galleries, street food stands, and incredible museums, there is so much to discover in Oaxaca City, Mexico.
I don't think a city has ever stolen our hearts quite as quickly as Oaxaca did. That may just be due to the beauty of the place. Or the friendliness of the locals. Or the amazing food. But likely, it's a combination of all of that, and more.
The sheer amount of fascinating things to do in Oaxaca blew our minds. And we bet you'll feel the exact same way.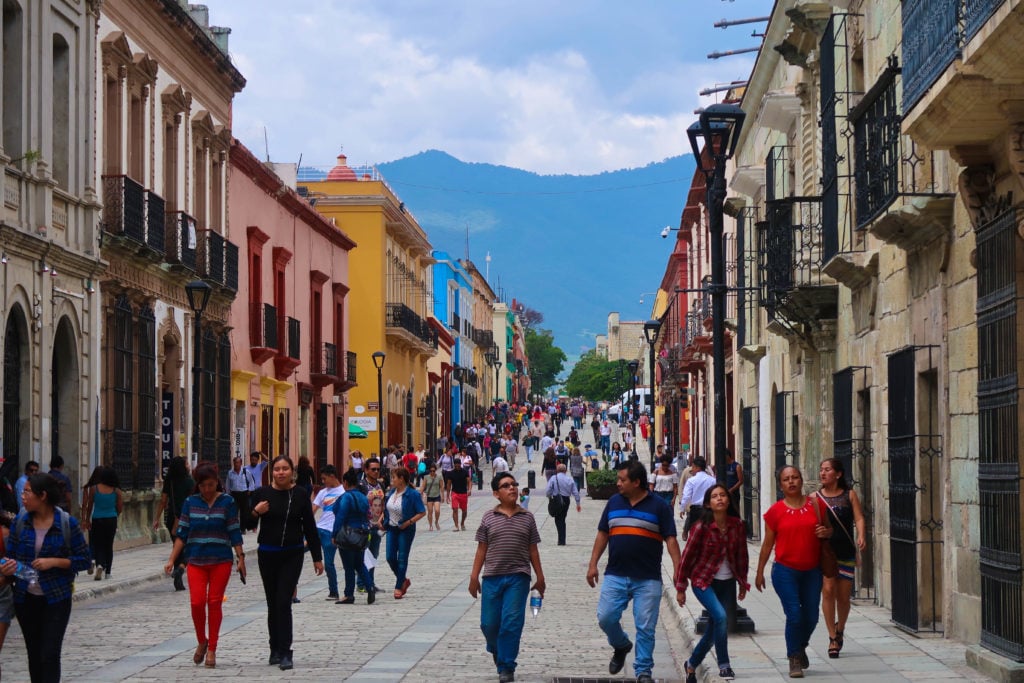 Seriously, all of the things to do, see, eat, and discover in Oaxaca City are almost overwhelming — you might just need a week to complete them all!
So without further ado, here are 20 amazing things to do in Oaxaca City, Mexico during your next visit.
Top 20 Best Things to Do in Oaxaca City, Mexico
1. Stay in a charming bed & breakfast
Oaxaca is filled to the brim with authenticity, culture, tradition, and charm. In other words, you won't find any huge international hotel brands as you roam the streets. Instead, you'll stumble upon plenty of cute, historic bed and breakfasts with typical decor and beautiful courtyards.
During our week in Oaxaca City, we stayed at the Hotel Casa de la Tía Tere and loved every minute of it!
We highly recommend this bed and breakfast for its friendly staff, good location, and great value. You can read all about our stay here.
To book the Hotel Casa de la Tía Tere click here.
You can find other great deals on Oaxaca City accommodations here.
RELATED POST: Where to Stay in Oaxaca City, Mexico
2. Stop by Templo de Santo Domingo
The Templo de Santo Domingo is arguably the most beautiful structure — inside and out — in all of Oaxaca.
Mainly built between 1570 and 1608, the best artists came all the way from Puebla and elsewhere in Mexico to help construct the Templo de Santo Domingo.
Because it's such an earthquake-prone region, the stone walls and pillars are incredibly thick, meanwhile its domed interior is adorned in ornate paintings, a gilded altar, and masterful sculptures.
Simply put, the beauty and all of the small details are mind-blowing.
3. Meander through Mercado de Benito Juárez
El Mercado de Benito Juárez is a maze of colorful market stalls selling everything from street snacks, and typical ingredients, to traditional clothing, handmade pottery, home décor, and hand-painted crafts.
If you're looking for some souvenirs to bring back for friends, or some items to color your home, this market is a great place to start. This market is also another great place to start understanding more about the local culture and people.
Just make sure to clear a couple of hours in your schedule. This market is huge and demands plenty of time to see, taste, and experience everything it has to offer!
4. Visit the Museo de las Culturas de Oaxaca
Even if you're not a huge fan of museums, the Museo de las Culturas de Oaxaca is a must.
During our travels, we've been to countless museums, but this one has been the most spectacular.
Set in a centuries-old monastery, the building itself is an important piece of the city's history.
However, inside the museum, you will also find precious ancient artifacts from the Pre-Colombian era, as well as from during and after the Conquest.
You will see art, learn about the many indigenous cultures that have thrived in the area, and be blown away by the museum's amazing exhibitions and organization.
The Museo de las Culturas de Oaxaca is one of the best things to do in Oaxaca, so do not miss it!
RELATED: For great deals on centrally located hotels in Oaxaca, click here!
5. Try the street food
The street food in Oaxaca City is legendary.
Eating the street food in Oaxaca is like taking a bite out of the city's rich and varied history — these recipes have deep indigenous roots, use centuries-old techniques, and have been passed through families for generations.
As you walk down the streets, stop at any one of the delicious-smelling stalls, and you will be rewarded with a very cheap, very good meal.
Some of the street food you'll encounter will be tlayudas, tamalas oaxaqueños, memelas, tetelas, and empanadas oaxaqueñas.
For more on Oaxacan street food, click here!
Photo by Miguel Dorantes
6. Explore Monte Albán
You can't leave Oaxaca without visiting some indigenous archaeological sites! Especially the mother of all the ruins: Monte Albán.
Monte Albán was one of the earliest cities in Mesoamerica, and it was the main sociopolitical and economic center for the Zapotecs for roughly 1,000 years. Other peoples, such as the Olmecs and the Mixtecs, also lived here in succession.
The ingenious centuries-old engineering of Monte Albán's pyramids, canals, terraces, and dams will blow your mind!
CLICK HERE to book your day trip to see the ruins.
7. Learn about traditional textiles
Look around, and it won't take you more than five seconds to realize that textiles are a huge deal in Oaxaca.
So much so, that there's an entire museum dedicated to textiles: El Museo de Textil de Oaxaca. While textiles may not strike you as the most fascinating thing in the world, they are. Trust us, and don't miss this museum!
Another one of the highlights of our trip was visiting a traditional textile workshop in Teotitlán del Valle. There, we learned about the dyeing and weaving processes the indigenous peoples of the region have been using for centuries.
After seeing the hard work that goes into these beautiful textiles, you're going to want to buy them all!
Photo by Mike Rowe
8. Visit a mezcalería
Throughout the city, you will encounter lots of different mezcalerías — or mezcal bars.
Since mezcal is huge in this region, it'd be a crime if you didn't stop in to at least one mezcalería for a tasting!
At some mezcalerías, you will need to make a reservation in advance, but at others, you can simply walk in, strike up a conversation with the bartender, and proceed to taste and learn about all kinds of different mezcals!
Our recommendations for mezcalerías are Los Amantes and El Cortijo!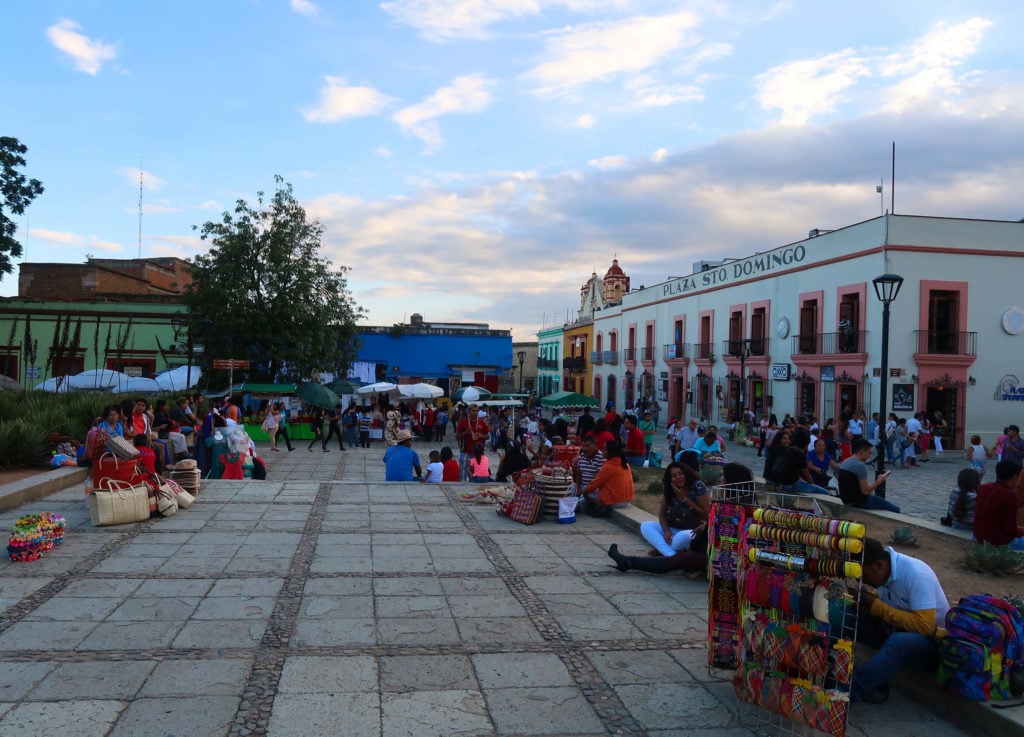 9. Shop for local crafts
Oaxaca is one of the last places in Mexico — and in the world — where handicrafts are still made with love, care, and tradition, rather than being mass-produced.
Whether you want to buy something to decorate your home (such as a hand-woven tapestry, some pillows, a vibrant blanket, or a hand-painted alebrije), or something to wear (like leather huaraches, a wicker tote bag, or a traditional blouse), you will find it in Oaxaca!
A great place to shop for crafts is the Mercado de Artesanias, however there are all kinds of stalls and shops throughout the city. Just be ready to barter!


10. Feast at the Mercado 20 de Noviembre
The Mercado 20 de Noviembre is a food market in the center of the city which features dozens of food stalls that serve all kinds of typical Oaxacan meals. From pollo con mole and enfrijoladas, to tlayudas and tetelas, you can find it all in the Mercado 20 de Noviembre!
There's also a section of the market called Pasillo de los Tasajos, which is essentially a smoky hallway lined with stands selling freshly grilled meats, served alongside grilled onions and spicy salsas. Meat-lovers, this is a must!
RELATED: For great deals on centrally located hotels in Oaxaca, click here!
11. Check out the art galleries
As you roam the city streets, you will happen upon countless art galleries showcasing all kinds of art, from Oaxacan folk to modern art.
Make sure to stop into each (or, at least, most) of the galleries to enjoy their brilliantly colorful paintings and sculptures. And if you have the budget for it, feel free to splurge on a one-of-a-kind piece!
We found ourselves completely blown away by this city's art, and we have an inkling you'll feel the same.
12. Hang out in the Zócalo
El Zócalo is Oaxaca City's main square, so of course, you can't miss it.
In the square, you will encounter hundreds of local people hanging out, chatting, laughing, just passing through, and selling fresh fruits, foods, clothing, and traditional crafts. In other words, this is where you will watch life in Oaxaca unfold.
We recommend finding a shady place to sit and just relaxing for a while, observing and taking everything in!
13. Take a cooking class
Want to learn how to make mole from scratch? How about fresh tortillas? Or maybe even tamales wrapped in banana leaves?
Since Oaxaca is Mexico's known culinary capital, it makes sense that you should take a cooking class during your trip. No doubt, this is one of the best things to do in Oaxaca. In fact, we bet it'll be the highlight of your trip!
All cooking classes in Oaxaca cost roughly $100 per person, but we promise it's worth the splurge. You can book your cooking class by clicking here!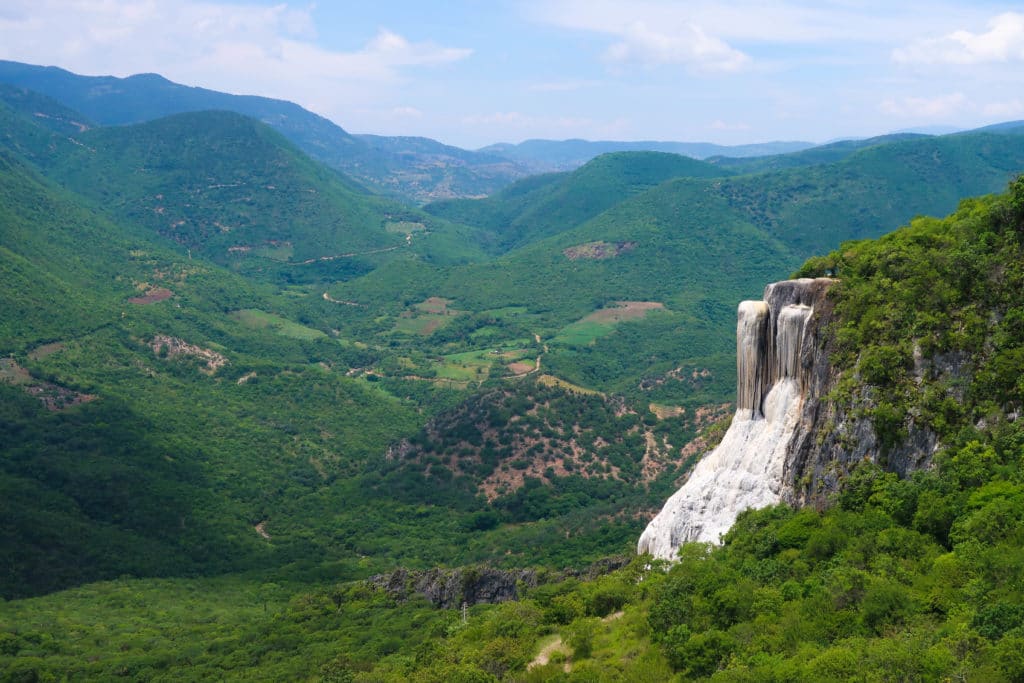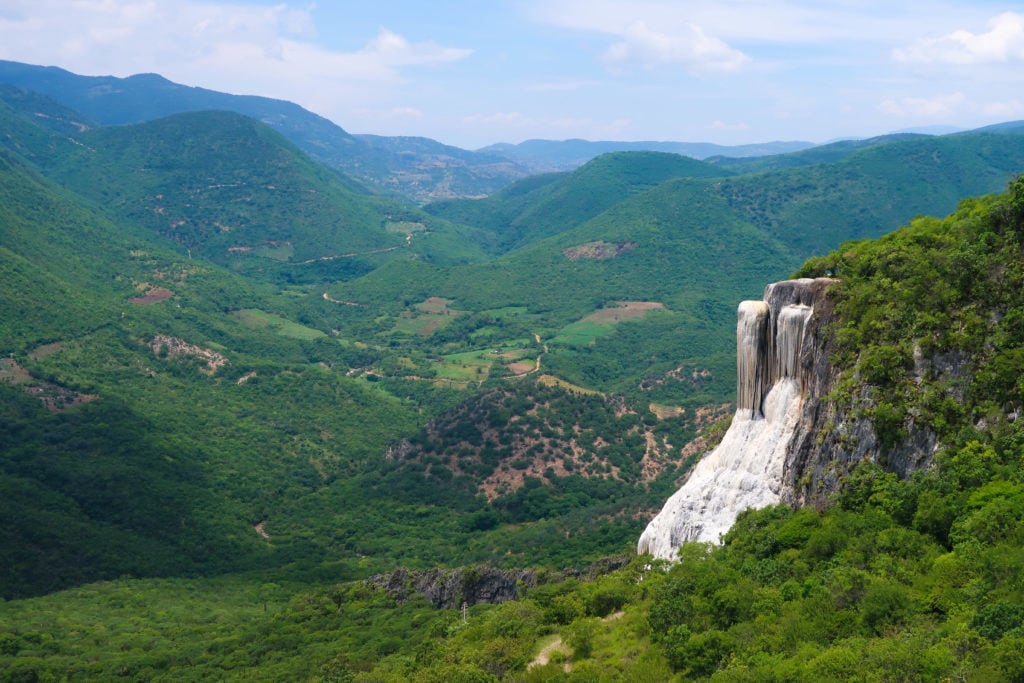 14. Go to Hierve el Agua
Just outside of Oaxaca City you will find some of the most enchanting mountain scenery you might ever see! While in Oaxaca, we recommend taking a day trip to explore the state of Oaxaca.
Along the way, make sure to stop at el Hierve el Agua, which is a set of natural rock formations that look like a frozen waterfall! There are also places to swim in natural springs, so bring a suit.
This day tour includes visits to Hierve el Agua, as well as Mitla (see #19), El Tule (see #17), Teotitlan del Valle (see #7), and a mezcal distillery (see #18).
We took this day tour to see Hierve el Agua, and we cannot recommend it highly enough! CLICK HERE to book your tour.
Photo by charlieontravel.com
15. Stroll through the Ethnobotanical Garden
Around the back of the Templo de Santo Domingo, you will find a peaceful botanical garden filled with all kinds of beautiful cacti and other regional flora.
Oaxaca's Ethnobotanical Garden is a beautiful place to visit and enjoy a slow wander.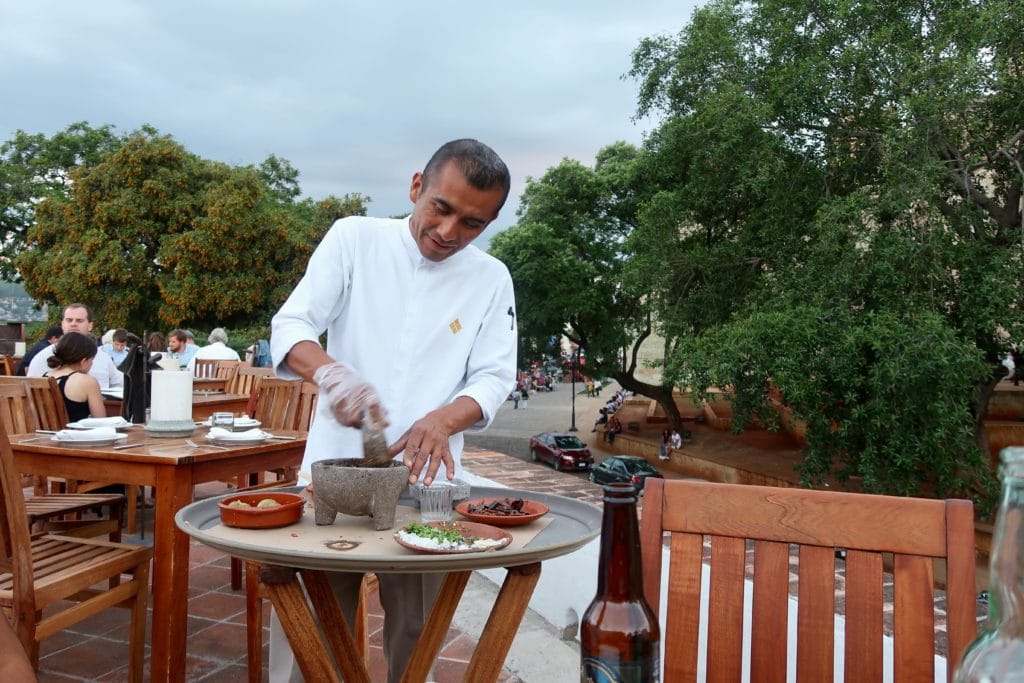 16. Dine at Oaxaca's finest restaurants
As you might've guessed, Oaxaca is home to some of Mexico's best restaurants, so splurging on a few fine meals is nonnegotiable. You have to do it!
We highly recommend Casa Oaxaca, Los Danzantes, and Origen.
However, if you can only go to one, make sure it's Casa Oaxaca (we think this is the best restaurant in the city). And make sure to request a table on the rooftop, overlooking the beautiful Templo de Santo Domingo and those old cobblestone streets.
It's also worth noting that — in addition to street food and fine-dining restaurants — Oaxaca has plenty of amazing mid-range restaurants on offer.
You should also check out Itanoni, Casa Taviche, Cabuche, and Mexita (this one is Napoli-style Italian food and it is a good and welcome addition to all of the city's Mexican eats).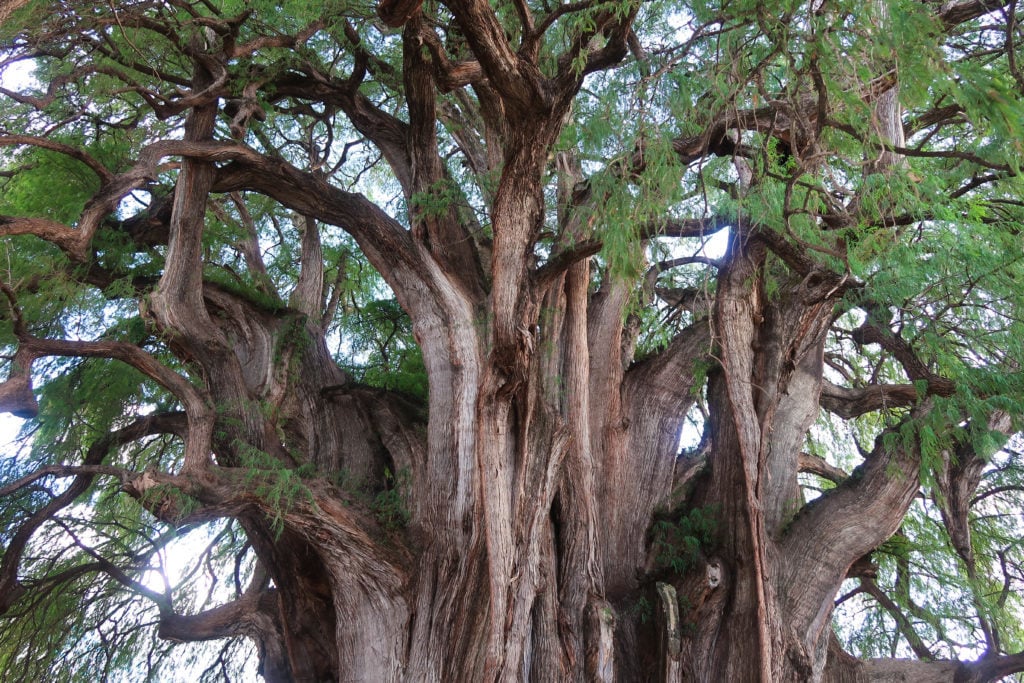 17. Gawk at El Tule
While looking at a tree might not seem like one of the top things to do in Oaxaca, it totally is.
El Tule is, by far, the most impressive tree we've ever seen — considering that it's more than 2,000 years old, 119 feet in circumference, and 116 feet tall!
After you've gawked at El Tule for a bit, feel free to roam around the tree's super adorable hometown: Santa María del Tule.
For an awesome day trip to El Tule (as well as Mitla, a mezcal distillery, Hierve del Agua, and Teotitlán del Valle) click here!
Photo by Russ Bowling
18. Tour a mezcal distillery
If you haven't picked up on this yet, mezcal is the drink of choice in Oaxaca, so it's only fitting that you should go to a distillery to see how it's made!
During our day trip around the region, we stopped at El Rey de Matatlán for a tour of the distillery, as well as lots of mezcal tastings! It was so much fun to learn about the process of making this smoky, strong, and super delicious liquor. We even bought a couple of bottles to bring home!
For an awesome day trip to a mezcal distillery (as well as Mitla, El Tule, Hierve del Agua, and Teotitlán del Valle) click here!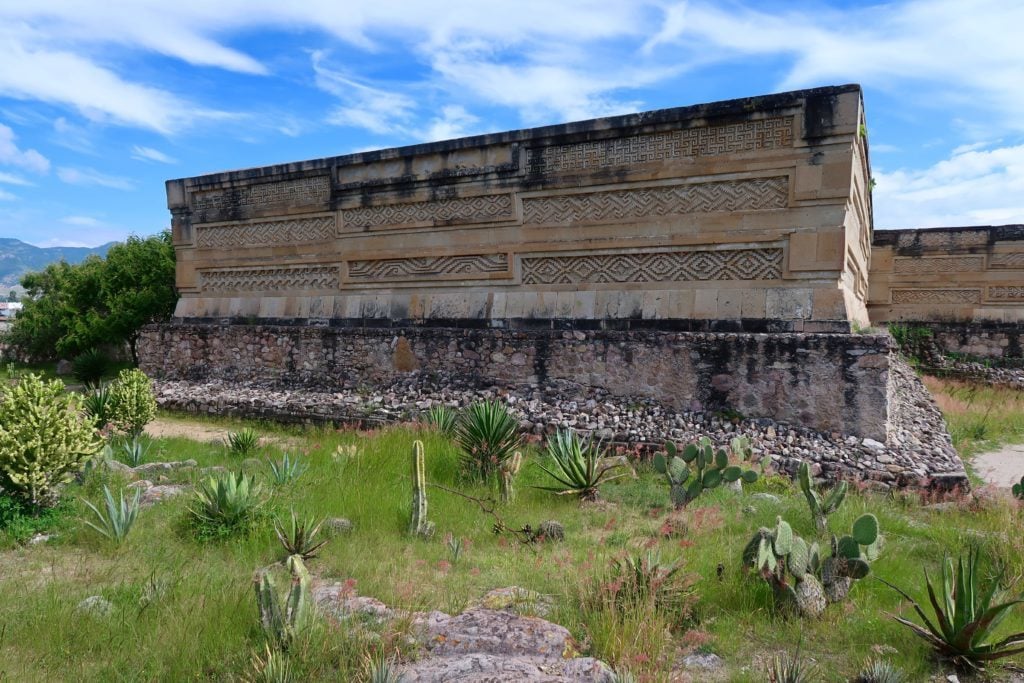 19. Visit Mitla
After Monte Albán, Mitla is the second most important archaeological site in the state of Oaxaca. Mitla — a Nahuatl word which translates to Place of the Dead — was thought to be a sacred burial ground for the Zapotecs.
If you have some extra time, you should make sure to visit these ruins as well!
For an awesome day trip to Mitla (as well as a mezcal distillery, El Tule, Hierve del Agua, and Teotitlán del Valle) click here!
20. Take pictures of everything
With its bright-colored façades, cobblestone streets, wrought-iron details, and peaceful tree-lined plazas, Oaxaca is one of the most beautiful cities we've ever seen.
So take pictures of everything with your mind… And your camera. These are moments you will want to share and savor for the rest of your life!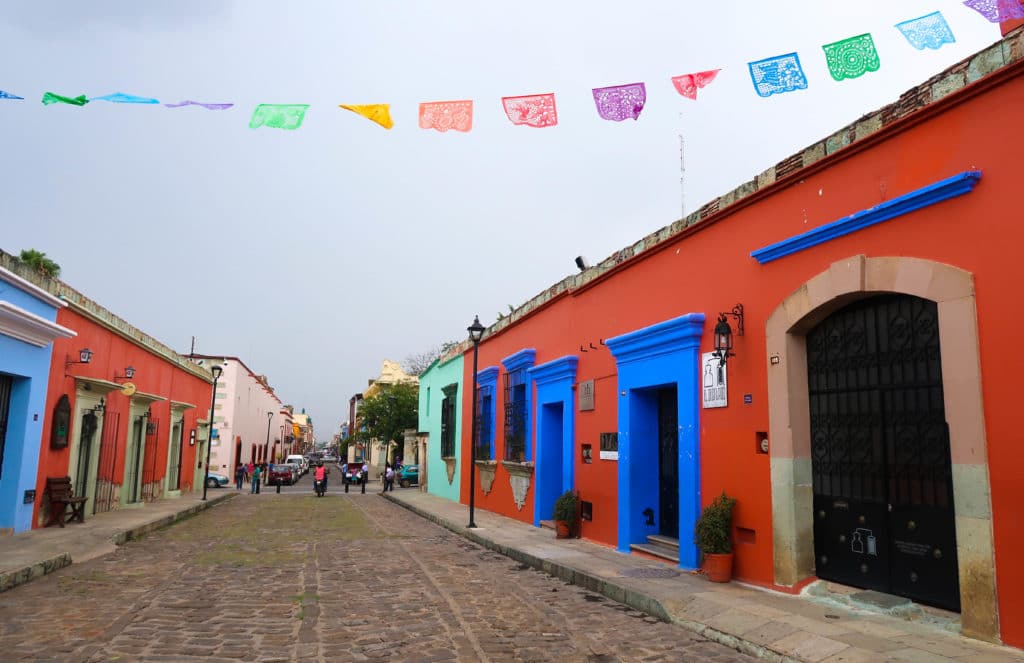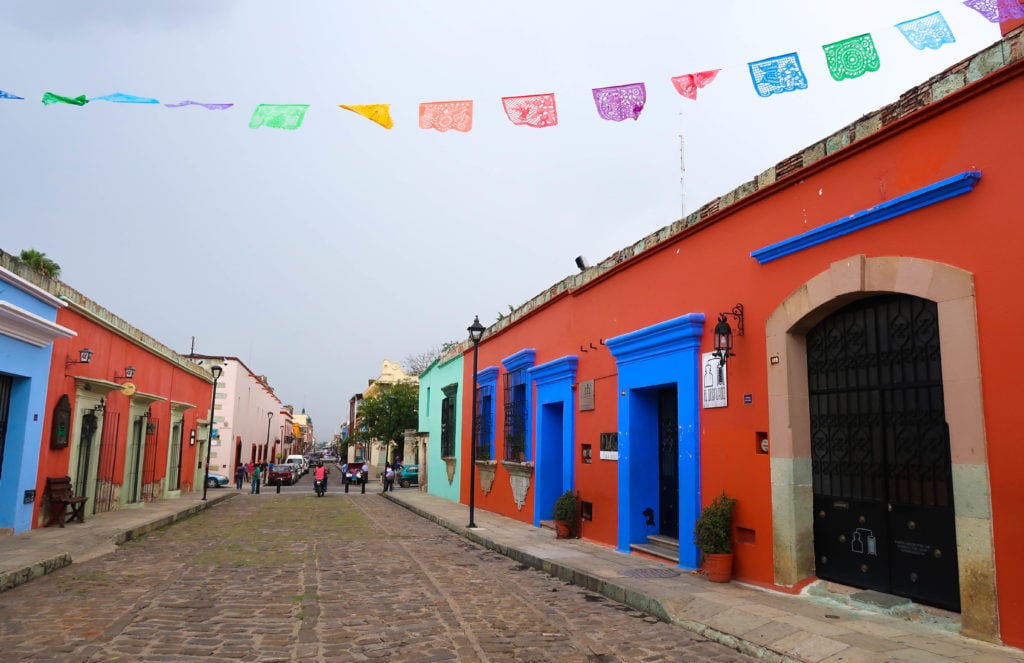 Top 20 Best Things to Do in Oaxaca City, Mexico
Well, there you have it, friends! Those are the top 20 most incredible and unforgettable things to do in Oaxaca City, Mexico.
As a city of so many cultures, so many beautiful peoples, so much great food, and such beautiful scenery, we know your trip to Oaxaca will be packed with lots of fun, exploration, and discovery!
If you're looking for more on Oaxaca, check out these posts:
What are your favorite things to do in Oaxaca City, Mexico? Let us know in the comments below!