Planning to visit Oaxaca City? (Lucky you.) From bustling markets, smoky street food stalls, charming mezcalerías, colorful colonial architecture, and world-class restaurants to indigenous archaeological sites, vibrant handicrafts and textiles, and incredible museums – there are countless fun, unique, and enriching things to do in Oaxaca City, Mexico!
As the undeniable cultural and culinary capital of Mexico, the amount of authentic experiences and mind-boggling flavors that await you in Oaxaca City (also known as Oaxaca de Juarez) is almost overwhelming.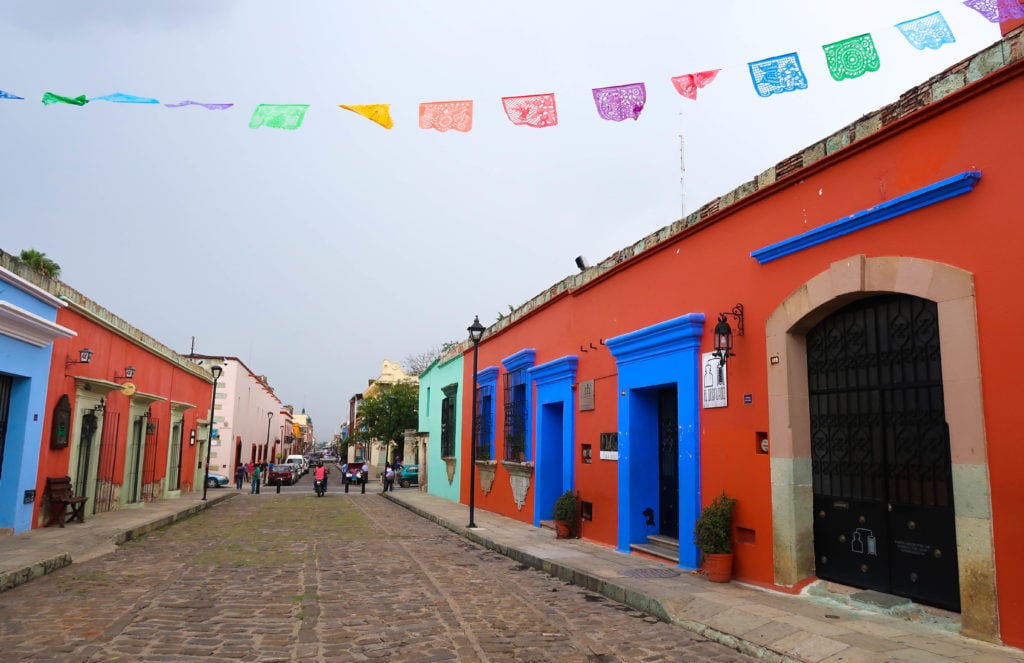 Personally, I've visited Oaxaca as a tourist and lived there as a digital nomad. I have explored this amazing colonial city (and the surrounding area) extensively. So with that experience under my belt, I've rounded up my top picks for the best things to do in Oaxaca City and its surroundings – along with where to stay, what to eat, and some other must-know tips!
Let's get into it. Here are the 25 amazing things to eat, see, and do in Oaxaca City!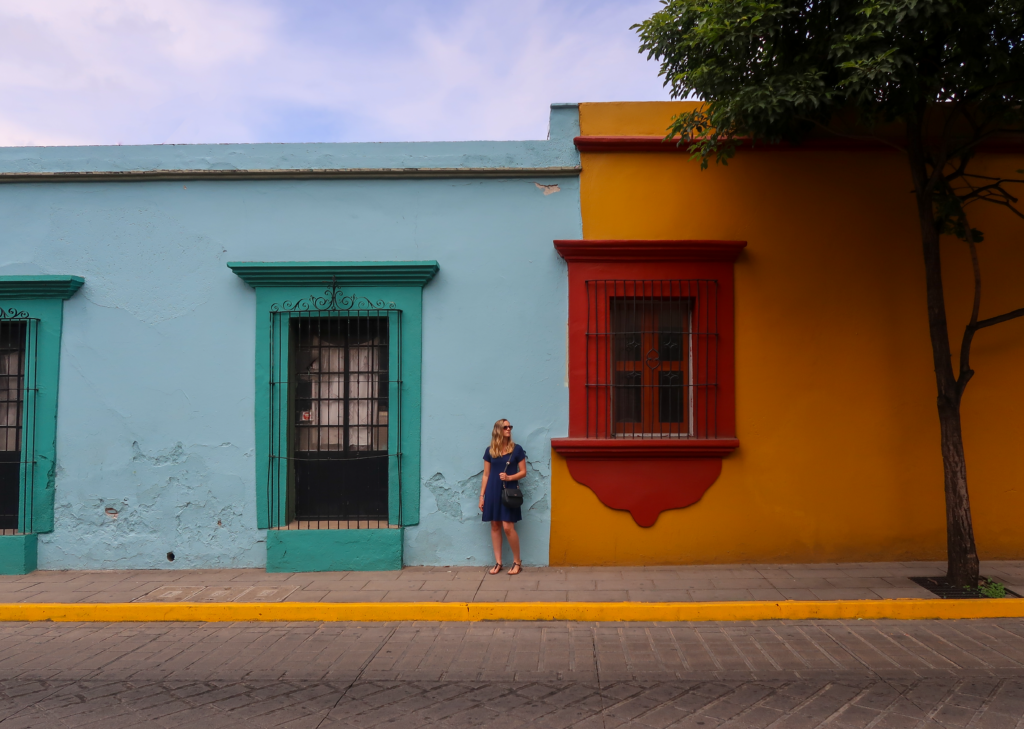 This blog post covers the 25 best things to do in Oaxaca, plus other need-to-know tips, info, and recommendations. It's a comprehensive guide for your trip to Oaxaca!
Use this table of contents to jump to specific sections of the post.
Where to Stay in Oaxaca City
Before we dive into the fun stuff, let's get the logistics out of the way! Shall we?
Oaxaca is filled to the brim with authenticity, culture, tradition, and charm. In other words, you won't find any huge international hotel brands as you roam the streets. Instead, you'll stumble upon plenty of cute, historic bed and breakfasts with typical decor and beautiful courtyards.
There are also plenty of other options, ranging from fine hotels to budget-friendly hostels.
Here are my top recommendations on places to stay in Oaxaca!
Affordable Luxury
Quinta Real Oaxaca: A UNESCO World Heritage Site, this hotel is set inside of the 16th-century Convent of Santa Catalina de Siena. It is BEAUTIFUL and the location is perfect. For a unique, romantic, all-around amazing stay, choose Quinta Real Oaxaca. This is my top choice, stay here!
Palacio Borghese Hotel Boutique: So luxurious and charming, you'll feel like Mexican royalty when you stay here – only, without the high price tag!
Casa Antonieta: This luxe hotel in the city center is set inside of the loveliest colonial building – but it's revamped with a modern, hipster vibe. Casa Antonieta's rooms and courtyard are beautiful and the rooftop bar is sublime!
Mid-Range
NaNa Vida Hotel Oaxaca: You'll love the pops of color and cute decor in this quaint little hotel in the city center.
La Casa de Pino: The family who runs this hotel is so incredibly welcoming and kind! The rooms are lovely and there's a pool too. I loved my stay here!
Hotel Casa de la Tía Tere: Amazing value for money, friendly service, and a fab location. I loved the fact that there was a pool in the courtyard too!
Budget
You can find other great deals on Oaxaca accommodations here.
Top 25 Best Things to Do in Oaxaca City, Mexico
Now for the fun part: The best things to do in Oaxaca City, Mexico.
After living in this amazing city, I can confirm that these are the best, can't-miss, and most fun things to do in Oaxaca City!
1. Head to El Zócalo
First things first, head to El Zócalo.
El Zócalo is Oaxaca's main square, located smack in Oaxaca city center. Home to the Oaxaca Cathedral, it's the perfect place to people-watch and discover what local life is like.
In the main square, dozens of street food stalls permeate the lively atmosphere with smoky, mouth-watering aromas. Fresh fruit stands offer to quench your thirst on sweltering days. And hundreds of local people gather to relax, catch up, laugh, dance to live music, and sell traditional handicrafts, clothing, and souvenirs. It is a real hub of local culture.
Why not buy some fresh fruit with a sprinkle of Tajín (chili, lime, salt)? Or some nieve (Mexican sorbet)? Then find somewhere to sit, and spend some time taking it all in. Make sure to pop into the Oaxaca Cathedral, too!
2. Visit the Museo de las Culturas de Oaxaca
No doubt, exploring the Museo de las Culturas de Oaxaca is one of the top things to do in Oaxaca City. During my travels, I've been to countless museums, but this is one of the most spectacular.
Set in a centuries-old monastery, walking through the historic building itself is an experience. It's beautiful. But as you roam through the monastery, you'll also learn about the many indigenous cultures that have thrived in the state of Oaxaca – and find yourself blown away by the precious artifacts and amazing art from the Pre-Colombian era, and from during and after the Conquest.
NOTE: The museum is currently closed on Saturday, Sunday, and Monday. So plan accordingly!
3. Try the (Amazing) Street Food
Want to taste the best of Oaxaca? Then head to the streets!
Deep indigenous roots, centuries-old techniques, and sacred family recipes make up Oaxaca's street food scene… And honestly, tasting these traditional dishes is an honor. The tricky part is knowing how and where to find Oaxaca's best street food vendors!
The best strategy? Take a street food tour with a local food expert. Over 4.5 hours, this Authentic Oaxaca Food Tour (Eat Like a Local) will lead you through local markets and streets to a variety of the best food stalls. You'll savor more than 20 different local specialties and learn about Oaxacan food and culture along the way. This food tour is a can't-miss experience!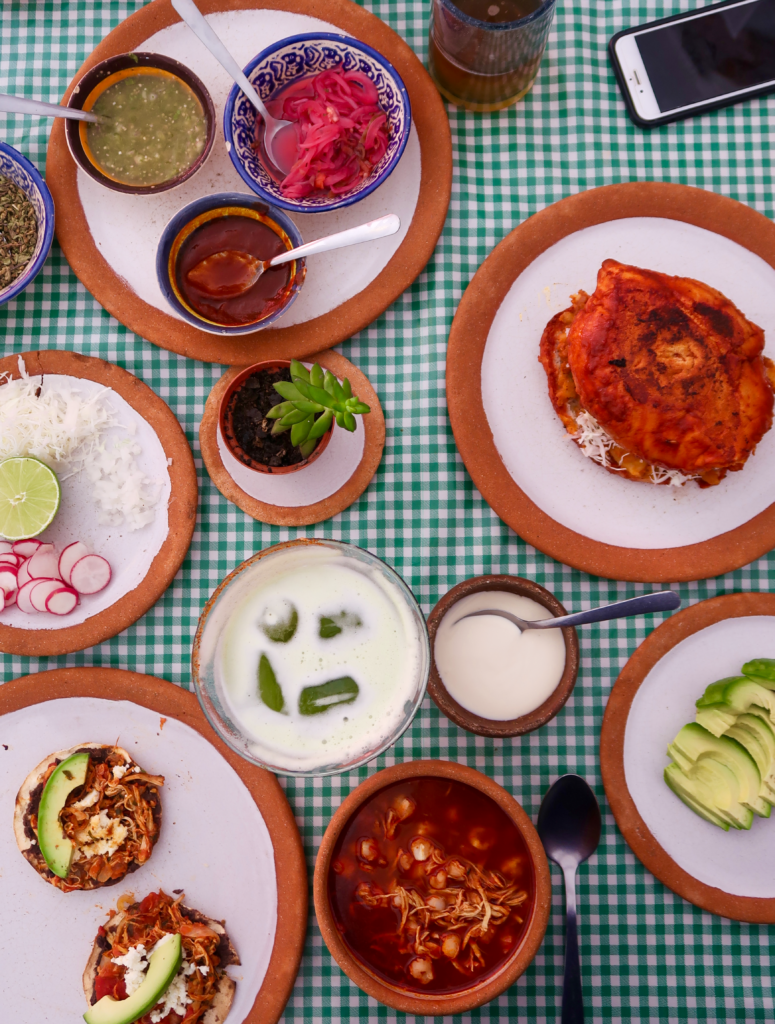 Every meal is precious when you travel; this Authentic Oaxaca Food Tour will ensure you taste the best of the best! Click HERE to book your Authentic Oaxaca Food Tour.
HOT TIP: If you prefer to go it alone, then it's always a good idea to stop at the most delicious-smelling stalls (especially the ones crowded by locals!) and see what looks interesting to you. Some of the dishes you have to try include tlayudas, tamales oaxaqueños, memelas, tetelas, and empanadas oaxaqueñas. (Unsurprisingly, they all incorporate corn in some way!) Oh, and before you go, here's some required reading: 10 Tips for Keeping a Happy Tummy While Traveling in Developing Countries
Top-Rated Oaxaca Tours:
4. Explore Monte Alban
A trip to Oaxaca would be incomplete without visiting an indigenous archaeological site or two! Especially Monte Albán, the mother of all the ruins in the state of Oaxaca and a UNESCO World Heritage Site.
Monte Albán was one of the earliest cities in Mesoamerica and the main sociopolitical and economic center for the Zapotecs for roughly 1,000 years. Other peoples, such as the Olmecs and the Mixtecs, also lived here in succession.
The ingenious centuries-old engineering of Monte Albán's pyramids, canals, terraces, and dams will blow your mind!
The best way to experience Monte Albán is with an expert tour guide so that you can fully grasp the magnitude of what you're seeing.
I recommend booking this half-day tour to Monte Albán.
HOT TIP: If you're crunched for time, and tossing up visiting Monte Alban or other ancient ruins sites like Mitla, Yagul, or Xaagá, don't. Monte Alban is a must! The others are nice to see, but aren't the top priority. CLICK HERE to book your Half-Day Guided Tour of Monte Albán.
5. Stop by Templo de Santo Domingo
The Templo de Santo Domingo is arguably the most beautiful church – inside and out – in all of Oaxaca.
Mainly built between 1570 and 1608, the region's best artists came all the way from Puebla and elsewhere in Mexico to help construct this church.
Oaxaca is an earthquake-prone region, so the church's stone walls and pillars are incredibly thick. Meanwhile, its domed interior is adorned in ornate paintings, a gilded altar, and masterful sculptures.
The beauty and all of the intricate golden details inside Templo de Santo Domingo are worth checking out!
6. Dine at Oaxaca's Best Restaurants
As you might've guessed, Oaxaca is home to some of Mexico's best restaurants. So splurging on a few amazing dining experiences is non-negotiable! You have to do it! You'll also have the opportunity to try local (and delicious!) delicacy ingredients like chicatanas, huitlacoche, and escamoles.
I've dined at most of Oaxaca's top restaurants, and I can tell you that these are the best ones you can't miss… In order of priority! Some of these are "fine" dining, but mostly they're just super special, Oaxaca-specific dining experiences.
Oaxaca City's Top Restaurants
Casa Oaxaca's rooftop dining area, which overlooks the beautiful Templo de Santo Domingo and those old cobblestone streets, is truly special. Not to mention… The amazing, modern Mexican food, attentive service, and table-side salsa-making create an all-around unforgettable dining experience! But you should really make sure you go to Levadura de Olla, Alfonsina, and Las Quince Letras too.
Compared to similar experiences in, let's say, Europe or the USA, fine dining in Oaxaca is very affordable. Also, it should go without saying, but: You MUST make reservations in advance!
7. Meander through Mercado de Benito Juárez
El Mercado de Benito Juárez is a maze of colorful market stalls offering everything from street snacks and typical ingredients, to traditional clothing, handmade pottery, home décor, and hand-painted crafts.
Primarily, El Mercado de Benito Juárez is a perfect for exploring and starting to understanding more about the local culture and people. I think you can find better handicrafts and souvenirs elsewhere, but there are still some great gems to uncover!
Personally, I always like to purchase a few staple ingredients for my kitchen here – including mole negro paste, packed with roughly 30 delicious ingredients. (This is an amazing thing to bring home with you!)
Make sure to clear a few hours in your schedule. This market is huge and demands plenty of time to see, taste, and experience everything on offer! In fact, you may need to return a couple of times.
NOTE: Over the years, this market has become increasingly touristy – as has Oaxaca! If you're looking for a true local's experience, then make sure to visit the Mercado de Abastos (see #15).
8. Visit a Mezcalería for a Mezcal Tasting
Ever heard of mezcal? Put simply, mezcal is the smokier, edgier (and more delicious) cousin of tequila and it is the thing to drink in Oaxaca.
Throughout the city, you will encounter plenty of different mezcalerías – or mezcal bars. And in my opinion, it'd be a crime if you didn't stop in for a mezcal tasting!
At some mezcalerías, you will need to make a reservation in advance. But at others, you can simply walk in, strike up a conversation with the bartender, and proceed to taste and learn about different mezcals!
For learning and sipping, my top recommendation is Mezcalillera! El Cortijo and Los Amantes are two other options, but you can also just meander and see what you stumble upon!
9. Take a Cooking Class
Oaxaca is the undisputed culinary capital of Mexico, so if you have any interest in traditional Mexican or indigenous Mesoamerican cuisines, then you should take a cooking class in Oaxaca. No doubt, your cooking class will be a highlight of your trip! It's one of the best ways to get a hands-on experience with Oaxacan culture, fresh produce, delicious food and cuisine.
Want to learn how to make mole sauce from scratch? How about fresh tortillas, and salsa? Or maybe Oaxacan tamales wrapped in banana leaves? In this Oaxaca cooking class, you will! But first, you'll visit a traditional market to pick up the best, freshest ingredients!
All cooking classes in Oaxaca cost roughly $80 per person, but I promise, it's worth the splurge.
CLICK HERE to book your Oaxaca Cooking Class with a Market Tour!
P.S. If you're a vegetarian, no worries! There's a Oaxacan Vegetarian Cooking Class just for you!
Can't-Miss Oaxaca Excursions:
10. See the Street Art in Xochimilco
Roaming the charming neighborhood of Xochimilco and checking out the street art is one of the most underrated things to do in Oaxaca!
While there are a few cute cafés and restaurants here, the area is largely residential: home to quaint colonial buildings and the city's best street art!
The murals here are super colorful and mostly represent different aspects of Mexican culture. A must for art lovers and Instagrammers alike!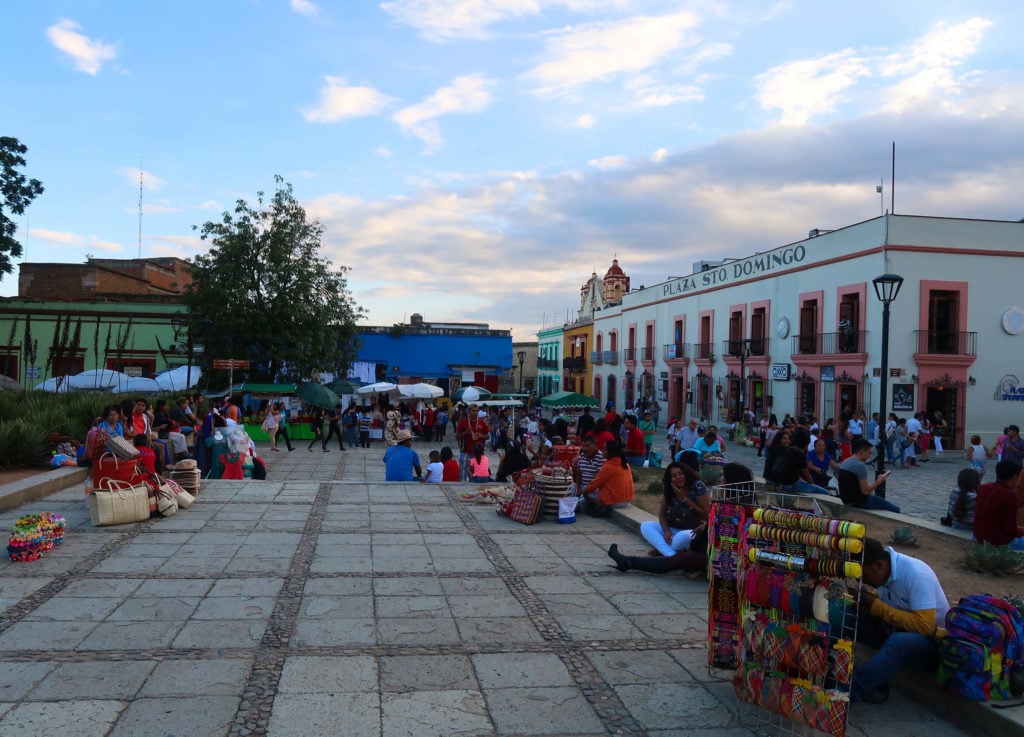 11. Shop for Local Crafts
Oaxaca is one of the last tourist destinations on earth where handicrafts are still handmade with love, care, and tradition. Whether you want to buy something to decorate your home with (such as a hand-woven tapestry, beautiful textured pillows, a vibrant blanket, or a hand-painted alebrije), or something to wear (like buttery leather huaraches, a wicker tote bag, or a traditional blouse), you can find it in Oaxaca!
An amazing place to start looking – and understanding what kind of crafts are typical of the area – is at La Casa de las Artesanías de Oaxaca. The shop has everything (albeit at higher prices, no bartering here!) in a calm environment.
After that, a great (more local) place to shop for crafts is the Mercado de Artesanias. However, there are all kinds of street vendors, stalls, and shops throughout the city. Just be ready to barter!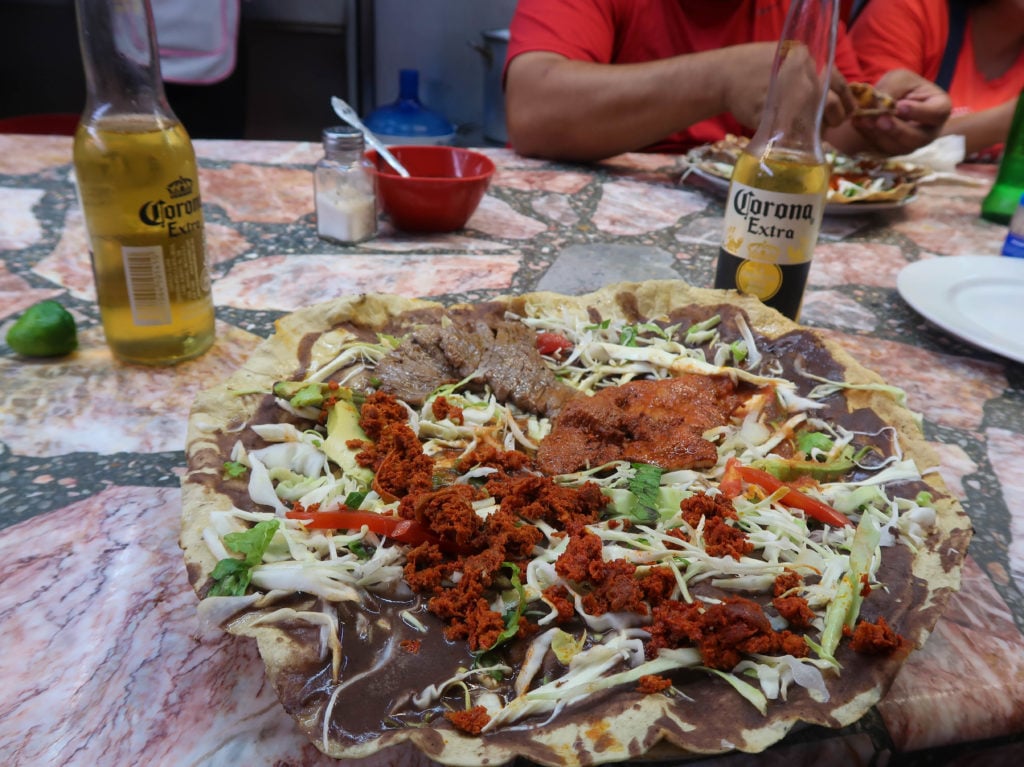 12. Feast at the Mercado 20 de Noviembre
The Mercado 20 de Noviembre is a food market in the center of the city, featuring dozens of food stalls and all kinds of delicious Oaxacan food and local cuisine. From pollo con mole and enfrijoladas, to tlayudas (pictured above!) and tetelas, you can find it all in the Mercado 20 de Noviembre!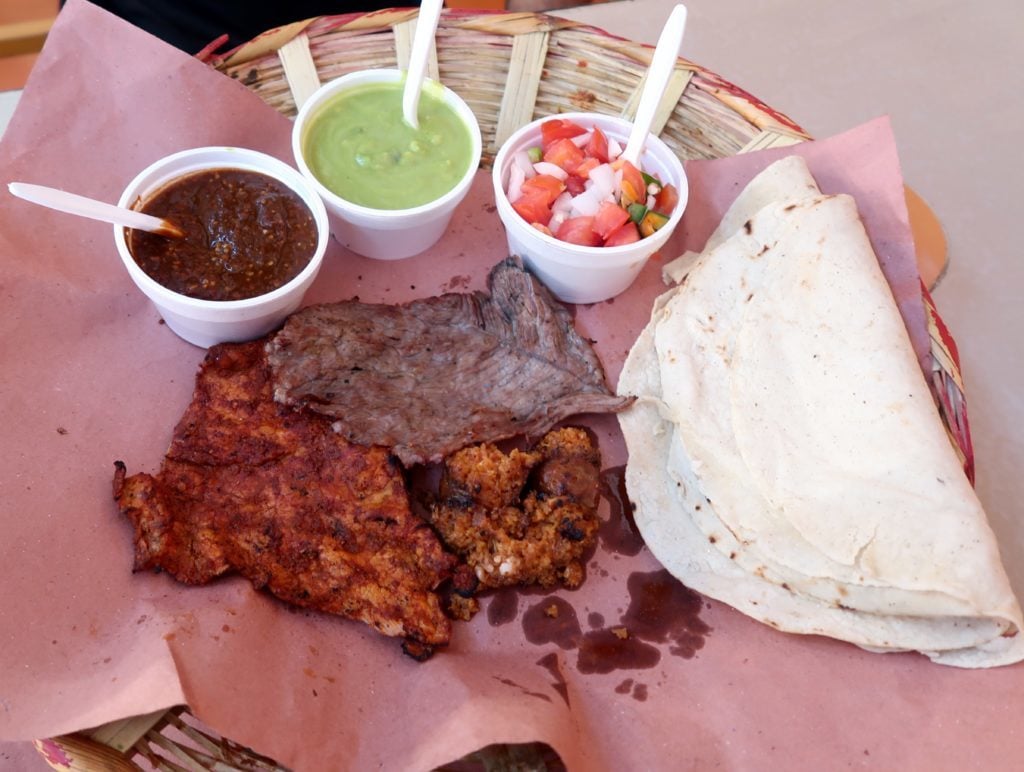 There's also a section of the market called el Pasillo de los Tasajos, which is essentially a smoked-out hallway lined with barbecues grilling steaks, sausages, and more – and serving them up alongside grilled onions and spicy salsas. For meat-lovers, this is a must!
RELATED: For great deals on centrally located hotels in Oaxaca, click here!
13. Stroll through the Botanical Gardens (Jardín Etnobotánico de Oaxaca)
In the Oaxaca city center, around the back of el Templo de Santo Domingo, you'll find the city's treasured Ethnobotanical Garden, filled with all kinds of beautiful cacti and other regional flora.
The Jardín Etnobotánico de Oaxaca is a peaceful place to visit, enjoy a slow wander, and take some photos among the cacti.
My advice? Visit Jardín Etnobotánico de Oaxaca right when it opens at 8 AM to avoid the crowds and the heat!
14. Learn about Traditional Textiles & Weaving
Look around, and it won't take you more than five seconds to realize that textiles – and specifically, wool rugs – are a huge deal in Oaxaca, Mexico.
Museo Textil de Oaxaca
So much so, that there's a small but lovely (and free!) museum dedicated to Oaxacan textiles: El Museo de Textil de Oaxaca.
While textiles may not strike you as the most fascinating thing in the world, they are, indeed. This ancient art form is a key piece of Oaxaca's cultural puzzle, so make sure to stop by.
Teotitlán del Valle
No doubt, a cultural highlight of your trip will be visiting the traditional Zapotec weaving village of Teotitlán del Valle (located 30 minutes outside of Oaxaca).
In this cute pueblo, you will discover endless textile workshops and showrooms to visit, where a master weaver will show you the incredible natural dyeing and weaving processes that the Zapotec peoples have been using for centuries. (FYI: The Zapotec are one of Oaxaca's most significant and enduring ancient indigenous cultures.)
After seeing the love and hard work that goes into these stunning textiles, you will want to buy them all!
HOT TIP: This day trip makes a visit to Teotitlán del Valle, as well as some other attractions (like ancient ruins and mezcal factories) in the Oaxaca valley. CLICK HERE to book your Full-Day Tour of Mitla, Hierve el Agua, Teotitlán del Valle, a Mezcal Distillery & El Tule!
15. Explore the Mercado de Abastos
Ready for an adventure? You'll find one within the Abastos Market's dizzying maze of colors, sights, and smells.
If you're looking for an authentic and local market experience, then you'll agree: this traditional market is way bigger, way better, and far more interesting than any of the markets in the city center.
About a 15-minute walk from the Zócalo, the Mercado de Abastos is well and truly off the Oaxaca tourist trail. You will find everything in here, from fresh produce and food stalls, to bakeries, carnicerías, clothing, shoes, pets, home goods. It goes on and on.
Make sure to set aside a few hours, as this is one of the best things to do in Oaxaca City!
HOT TIP: While the market itself isn't dangerous, I feel that the general neighborhood is a little sketchy! When you walk there, keep to the busy streets, and aim to visit in the early afternoon. While in the market, keep a watchful eye on your belongings; theft isn't uncommon for ditzy tourist types. :)
16. Stroll the Quiet Streets of Barrio Jalatlaco
Even though the enchanting 18th-century neighborhood of Barrio Jalatlaco borders busy El Centro, it flies under most tourists' radars.
This cute, quiet neighborhood of cobblestone streets, colorful buildings, murals, and sweet little coffee shops is one of Oaxaca City's last hidden gems. It's the perfect place to escape the crowds and soak up the beauty of Oaxaca.
Grab a coffee to-go and enjoy a relaxing morning stroll – and feel as if you've gone back in time.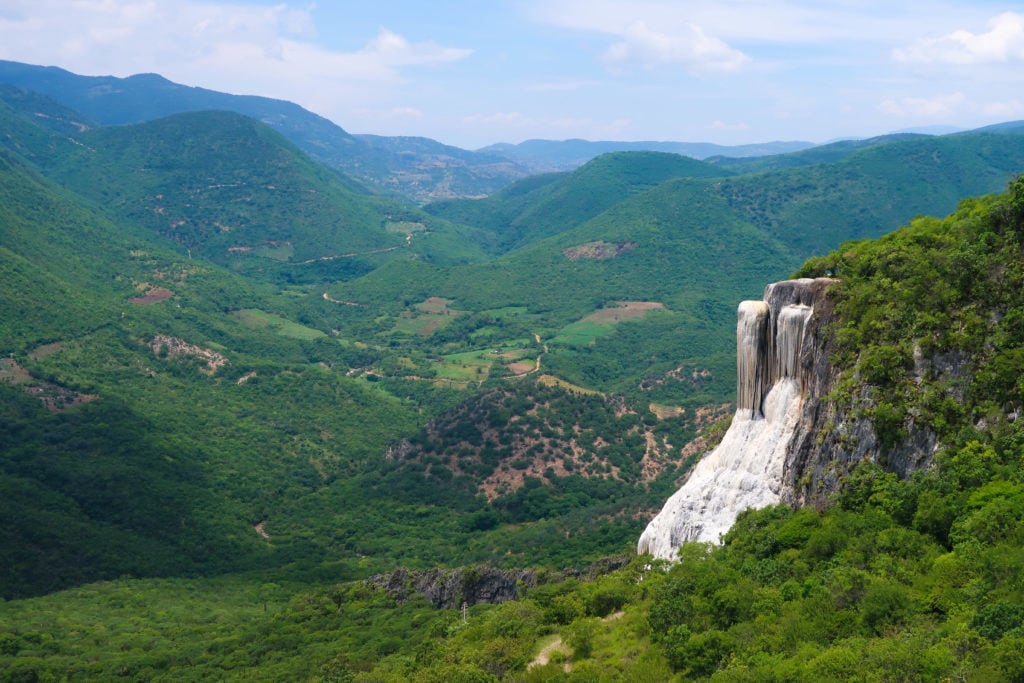 17. Go to Hierve el Agua
When you visit Oaxaca, it would be a shame to spend the entire time on cobblestone streets. Make sure you get out into the enchanting, mountainous Oaxaca Valley to explore one of Oaxaca's natural wonders: Hierve el Agua.
A sacred site for the Zapotecs, Hierve El Agua is a stunning spectacle. There, you will find two petrified waterfalls (made up of calcium carbonate) as well as green and blue pools filled by natural mineral springs. You can swim in them, so make sure to bring a swimsuit!
HOT TIP: Since it's a 90-minute drive from the city center, you may want to take this combo day trip. This day trip will take you on a guided tour of Hierve el Agua, as well as Mitla, El Tule, Teotitlán del Valle, and a mezcal distillery. CLICK HERE to book your day trip.
18. Sip on Hot Chocolate (and Atole!)
Oaxaca is famous for its amazing chocolate – and therefore, for hot chocolate, made in clay pots, and laced with cinnamon and almonds.
Atole, on the other hand, is a hot corn-based drink… It's actually of Aztec origin, but if you've never tried an atole, you can in Oaxaca!
Here are my favorite places for Oaxacan hot chocolate (and atole):
19. Visit the Tlacolula Sunday Market
Have you heard of a "tianguis" before? Well, you'll find one in the town of Tlacolula de Matamoros every Sunday!
A "tianguis" is a traditional Zapotec and Mixtec open-air market that spills out across many streets, creating a sprawling sea of aromas, sights, sounds, colors, and culture.
If you're a foodie, eating here is an unparalleled and super authentic experience. You'll try some scrumptious indigenous dishes you may never lay eyes on again!
HOT TIP: While you're there: BUY. THE. CHOCOLATE. I already mentioned that Oaxacan chocolate – with its rich combination of cinnamon, almonds, and sometimes chili – is insanely good. I found that that's especially the case at the Tlacolula Market!
20. Tour a Mezcal Distillery
If you haven't picked up on this yet, artisanal mezcal is the drink of choice in Oaxaca. The nearby region of Santiago Matatlán is actually the "World Capital Of Mezcal", so why not go there are see how it's made?
To give you a quick idea, first the mezcaleros roast the hearts (or piñas) of agave plants in underground pits with hot rocks for (up to) a few days. Next, the pits are uncovered and donkeys or mules macerate the agave with a stone tool (called a tauna) to aid the fermentation process. And finally, the cooked agave plants are distilled into delicious mezcal!
Take a day trip around the region, where you'll stop for a mezcal tour and a mezcal tasting. You'll have so much fun learning about how to make this smoky, strong, and delicious spirit. Make sure to buy a couple of bottles to bring home too!
For an awesome day trip to a mezcal distillery (as well as some other amazing regional sites) click here!
HOT TIP: If you'd rather rent a car and take a day trip on your own, my guide, How to Take the Best Self-Guided Day Trip from Oaxaca City (Route & Tips!), will show you how!
My Recommended Oaxaca Day Trips:
20. Check Out the Art Galleries
As you roam the city streets, you'll happen upon countless art galleries showcasing all kinds of art, from Oaxacan folk to modern art.
Make sure to stop into each (or, at least, most) of the galleries to enjoy the brilliantly colorful paintings, sculptures, and more.
HOT TIP: If you want to dive even further into Oaxaca's art scene, make sure to check out the Museo de Arte Contemporáneo de Oaxaca (MACO). , where you'll find contemporary art by the likes of Rufino Tamayo, Francisco Toledo, and other great Oaxacan artists.
22. Visit Mitla
After Monte Alban, Mitla is the second most important archaeological site in the Mexican state of Oaxaca. Mitla is thought to be a sacred burial ground for the Zapotecs. And it makes sense, since Mitla is a Nahuatl name translating to Place of the Dead.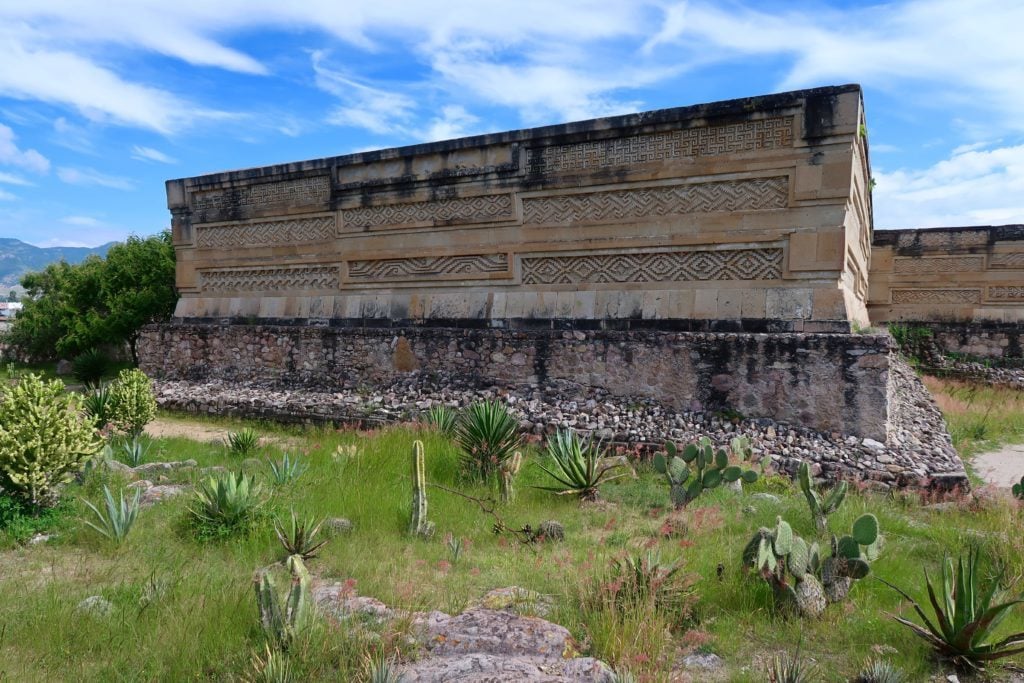 If you have some extra time, you should make sure to visit Mitla as well as Monte Albán.
CLICK HERE to book your Full-Day Tour of Mitla, Hierve el Agua, Teotitlán del Valle, a Mezcal Distillery & El Tule!
HOT TIP: If you'd rather rent a car and take a day trip on your own, my guide, How to Take the Best Self-Guided Day Trip from Oaxaca City (Route & Tips!), will show you how!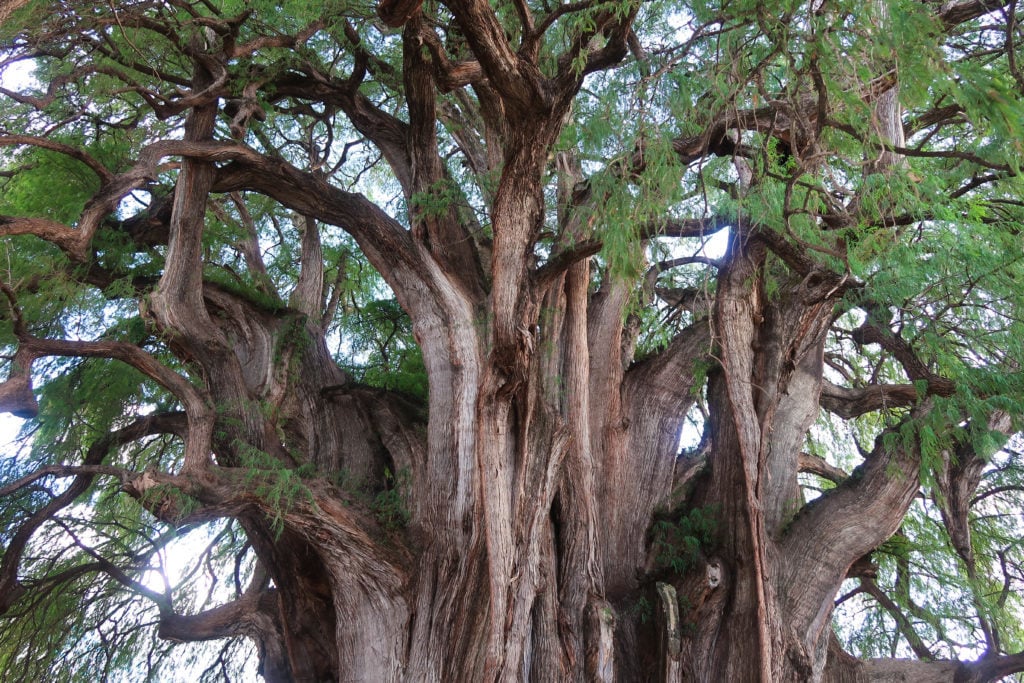 23. See El Tule
While looking at a tree might not seem like one of the top things to do in Oaxaca, it totally is.
El Tule is, by far, the most impressive tree I've ever seen… considering that it's more than 2,000 years old, 119 feet in circumference, and 116 feet tall!
After you've marveled El Tule for a bit, feel free to roam around the tree's adorable hometown of Santa María del Tule and do some people-watching.
This tour is one of the best day trips from Oaxaca, and includes a stop at El Tule (as well as Mitla, a mezcal distillery, Hierve el Agua, and Teotitlán del Valle). Click here to book it!
24. Drink at a Rooftop Bar
Mezcal cocktail? Amazing view? What more could you ask for?
When your feet get tired from all the exploring, head to one of Oaxaca's rooftop bars!
Here are some of my favorites:
Amá Terraza: My favorite spot in town, find natural wines, epic cocktails, delicious bites, and the most beautiful atmosphere here. (This is the rooftop bar at Casa Antonieta, one of my top hotel recommendations! Click here to book your stay.)
Puro Burro y La Pulquísima: Prices are on the friendlier side here. The drinks (from mezcal and pulque to micheladas), happy hour, food, service, and views are all-around great.
Los Amantes Mezcalería: A little pricy, but that's because the ambience and views of the Templo de Santo Domingo cannot be topped! The cocktails are fab either way!
25. Experience Day of the Dead (Día de los Muertos)
Day of the Dead (Día de los Muertos in Spanish) is a Mexican holiday and festival where families and friends gather to welcome back the souls of family members who have passed away. Undeniably, as a traveler, the best place to experience Day of the Dead is in Oaxaca.
If you go to Oaxaca during Day of the Dead celebrations, you'll be met with intricate altars decked in flowers, candles, and religious figures. Not to mention, markets bursting with altar decorations, mole sauce, chocolates, and tamales, and a sea of endless sugar skull faces. All of this, and more, is Mexico's way of celebrating and remembering the lives of lost loved ones.
Day of the Dead festivities take place every year on November 1st and 2nd. If possible, plan your trip to line up with these dates, and you will be set for the cultural experience of a lifetime!
As a Mexican cultural center, of course, there are lots of other amazing annual festivals to experience in Oaxaca! Consider visiting during La Guelaguetza (a celebration of indigenous Oaxacan culture, every July), Semana Santa (Easter celebrations, every April), and Las Posadas and Christmas (Christmas celebrations, in December, of course).
RELATED READING: 20 Festivals to Experience in Your 20s
Oaxaca City Travel FAQs
How do you pronounce Oaxaca?
If you don't speak Spanish, this can be a tricky one! In case you're not sure, Oaxaca is pronounced like [wa-ha-ka].
Is it worth going to Oaxaca?
Absolutely! There are endless reasons to visit Oaxaca! Oaxaca City is one of the top destinations to visit in Mexico for its bustling markets, rainbow-colored colonial architecture, incredibly rich history and indigenous cultures, artisan galleries and workshops, friendly locals, and some of the world's best street food. In this blog post, I've detailed the top 10 reasons why Oaxaca is worth visiting.
What is Oaxaca best known for?
There are countless unique and enriching cultural and culinary experiences to discover in Oaxaca. Some of the best things to do in Oaxaca City include visiting indigenous archaeological sites like Monte Alban and Mitla, trying local street food, sipping Mexican hot chocolate and local mezcal, exploring the bustling markets, going to the many museums, swimming at Hierve el Agua, experience Day of the Dead celebrations, and so much more. This article includes the top 25 things to do during a visit to Oaxaca, Mexico.
Is Oaxaca good for tourists?
Yes, Oaxaca is pretty safe for tourists. Like any other destination, it's important to keep your wits about you, be aware of your surroundings, and do your research before you arrive. Speaking from years of personal experience traveling through Mexico, Oaxaca is one of the places I feel safest – especially in the tourist neighborhoods of El Centro and Barrio Jalatlaco.
Is Oaxaca, Mexico cheap?
Oaxaca City, Mexico has become increasingly popular among tourists over the past five or so years. The first time I visited in 2016, and I barely saw any other foreigners. Nowadays, it's a lot busier… And the prices reflect that! There are certainly cheaper places you could travel to in Mexico (like Cholula, Mexico), but still, Oaxaca is by no means expensive.

Oaxaca City is still a very affordable destination. To give you some examples: You can easily stay at a very nice hotel for $100 per night or stay at a hostel for about $20 per night. A half-day trip to Monte Alban is only about $35. You can take a full day trip to Mitla, Hierve el Agua, Teotitlán del Valle, a mezcal distillery, and El Tule for roughly $45. A meal from a street vendor or traditional market will cost you about $2. A coffee from a nice coffee shop costs about $3-4. A local beer is $2-3, and nice mezcal cocktail will be between $5-10. A meal at a mid-range restaurant that caters toward travelers can cost anywhere from $5-20. Of course, the nicer restaurants (see #6 above for recommendations!) cost a bit more, but are still "cheap" compared to on-par restaurants in the USA or Europe. All in all, Oaxaca is a very affordable place to travel to!
What to Pack for Oaxaca City
What to pack for your trip to Oaxaca City of course varies on the seasons. Check the weather before you travel and as a general rule pack layers. Year round there are a few essentials I would recommend:
Comfortable footwear: A lot of Oaxaca City is really walkable so make sure you have comfortable shoes that don't ruin your time exploring this incredible city. These are my go-to boots for colder months or you can pack a good pair of sneakers. A decent pair of comfortable sandals like these are perfect for the summer.
Water bottle: Speaking of walking around, remember to keep hydrated! Bring a reusable water bottle to save on plastic bottles.
Sunscreen: This is Mexico, the sun is strong and it gets hot, remember to pack a good mineral sunscreen and avoid the sun in the middle of the day during the hotter months.
Bug spray: If you are prone to being eaten by bugs pack a deet-free bug spray and keep it with you to reapply during the day.
Lightweight scarf: This always comes in useful, it is great to keep in your bag for when visiting religious sites and is also great to use when the sun gets a little strong, even when it gets cooler! This scarf is always handy to pack.
Quick Tips for Oaxaca City
HOTEL: I use this website for scoring amazing deals on accommodation worldwide. There are some incredible hotel options in Oaxaca City, stay in a UNESCO World Heritage site in Quinta Real Oaxaca or enjoy a family vibe at La Casa de Pino.
HOSTELWORLD: If you're traveling on a budget, this is the best website to score cheap hostel deals.
VACATION RENTAL: I use this site for finding the perfect vacation rental for an unforgettable getaway.
TRAVEL INSURANCE: Never go on a trip without travel insurance! If you are a remote worker and/or traveling regularly, SafetyWing has an awesome monthly subscription for digital nomad insurance (I currently use SafetyWing).
GUIDED TOURS & EXCURSIONS: Many of the tours I recommend are hosted with Viator, which also works with local tour operators.
CHEAP FLIGHTS: Oaxaca City airport is the obvious choice if you are flying straight in. Get great deals on flights using my favorite flight fare aggregator.
TRAVEL GEAR: A collection of all of my must-have travel gear are all listed here. But most important to remember is bug spray, and suncream, nobody needs bites and burns on their vacation photos!
CAR RENTAL: It's unlikely you will need a car if you are staying in Oaxaca City but if you are using this as a starting point for a road trip and need a rental car book in advance here for the best deals.
How to Get to Oaxaca City
Via Airplane (Recommended)
The safest and quickest way to take a trip to Oaxaca is by flying there. Of course, there are domestic flights available throughout Mexico to Oaxaca City – and there are plenty of one-stop flights available from the USA. Los Angeles, Dallas, and Houston have direct flights to Oaxaca now too!
From the airport, you can easily grab an official private taxi (especial), or take a shared shuttle (colectivo) to the city center for around $10 USD per person. Depending on the size of your group, a private taxi may be cheaper (and have less stops, too!). The drive usually takes about 15-30 minutes, depending on traffic.
Many Oaxaca City hotels offer a pre-arranged shuttle service, so that may be an option for you too.
Take the Bus
If you're taking the bus from Mexico City, Puerto Escondido, or elsewhere in Mexico, first of all, make sure to book a daytime-only trip. Second of all, if possible, plan to travel with ADO's first-class service; it's super comfy, making your travel time pass quickly. From the bus station, you will need to take an official taxi to your hotel (there is no Uber in Oaxaca!).
Drive Yourself
If you're traveling from Puerto Escondido, or somewhere else nearby, you can drive yourself to Oaxaca.
However, for safety and ease, I wouldn't recommend this option. Once you're in Oaxaca City, you will have little use for a car. The city is very walkable and taxis (if necessary) are very affordable. Plus, depending on where you're traveling from, it can be dangerous to drive yourself to Oaxaca City.
If you're convinced on road-tripping through Mexico, know this: it is not safe to drive the highways after dark.
Click here to find the best deals on rental cars in Mexico.
Looking for a specific route? This website offers bookable routes via buses, private shuttles, and more, to/from other locations in Mexico.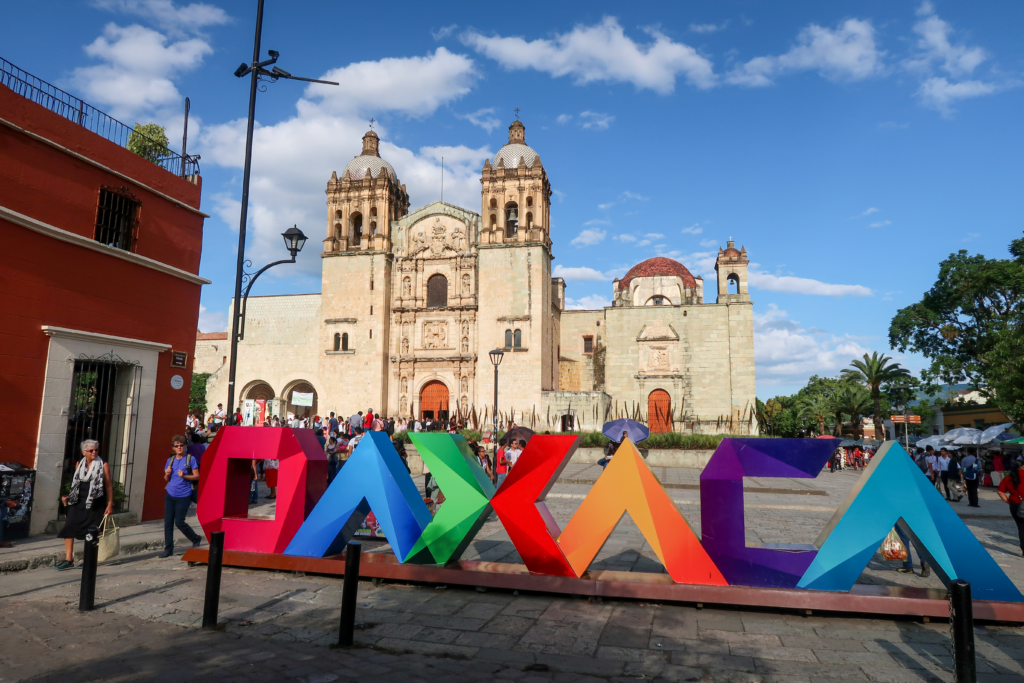 25 Absolutely Amazing Things to Do in Oaxaca City
Well, there you have it, friends! Those are the top 25 most incredible and unforgettable things to do in Oaxaca City.
Between its fascinating history, incredible food, smoky mezcal, warm and friendly locals, indigenous archaeological sites, Day of the Dead celebrations, beautiful arts and handicrafts, and surrounding natural beauty, Oaxaca City is home to an overwhelming variety of unique and enriching experiences.
Plus, with its bright-colored colonial façades, cobblestone streets, wrought-iron details, and peaceful tree-lined plazas, Oaxaca is one of the most beautiful cities I've ever seen.
I don't think a city has ever stolen my heart as quickly as Oaxaca did. And if you follow this guide of the best things to do in Oaxaca, Mexico, my guess is, you'll feel the same.
MORE MEXICO TRAVEL INSPIRATION
What are your favorite, top things to do in Oaxaca City? Let us know in the comments below!