When you start daydreaming about your trip to Scotland, one all-important question will come to mind: When is the best time to visit Scotland? And the short answer is this: August.
August is your best bet when it comes to weather, scenery, and festivals, though of course, the prices are a bit steeper.
Here's why visiting Scotland in August is best…
Scotland in August: What to expect.
The heather is (usually) in full bloom.
Scotland is gorgeous enough as it is. But when the Highlands explode into a picture-perfect postcard of purple heather, it's like nothing you've ever seen before!
While there's never a guarantee that you'll see heather during your trip, it usually begins blooming late-July or early-August!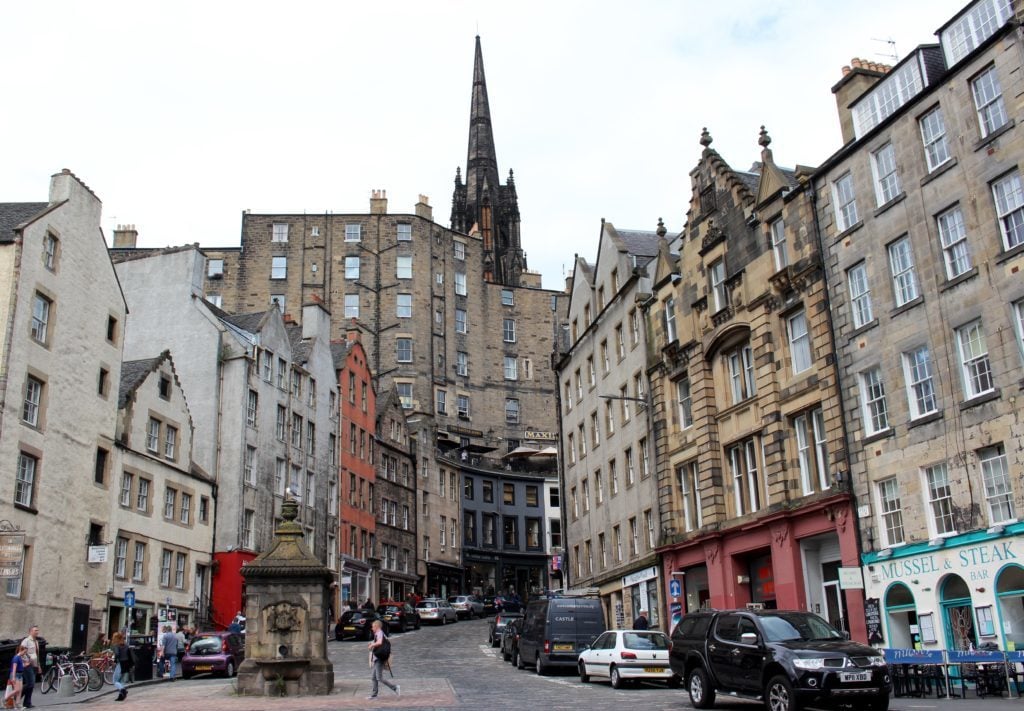 It's (somewhat) warm.
Let's face it. You don't travel to Scotland for its weather.
However, August is usually Scotland's warmest month. During August, temperatures average at around 19 °C (or 66 °F), though you can get lucky with a random heatwave. Overall, you can expect mild temperatures during Scotland's summer months.
With that said, temperatures in August are near perfect for traveling. It's not too hot, and it's not too cold. With all the hiking, walking, and exploring you'll do, Scotland's moderate climate is just right.
You might also like: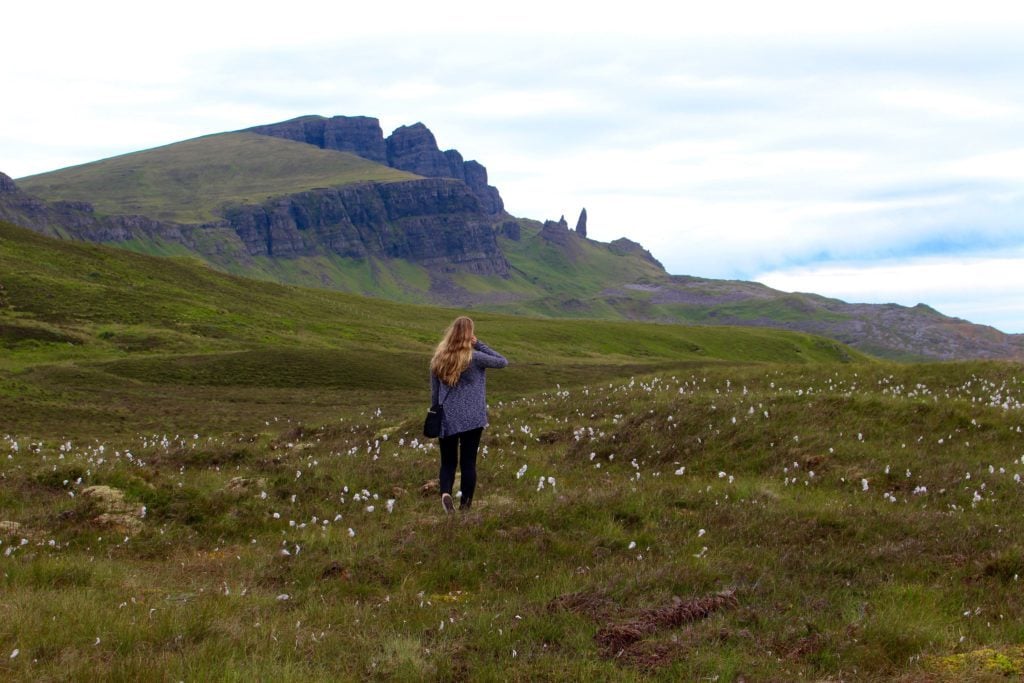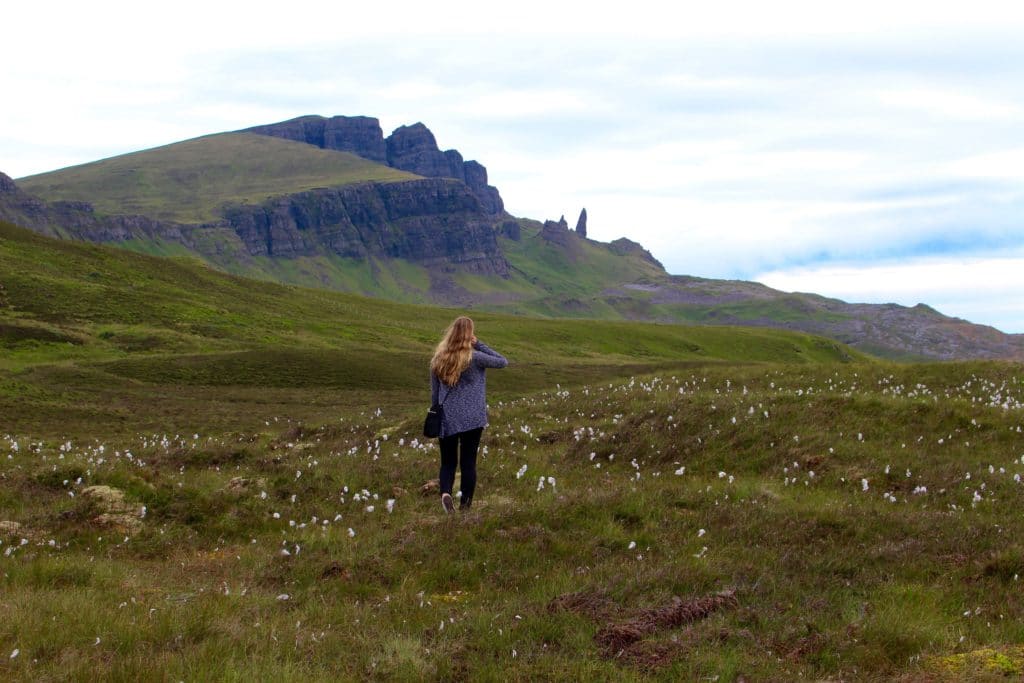 It's doesn't rain (as much).
Scotland's weather is 100% unpredictable, except for one general rule: it will rain.
As far as rain goes, you should always be prepared. It might rain a little during your trip, or it might rain a lot. But you can bet that it will.
Scotland in August can be anything from clear skies and sunshine, to grey, cloudy days. However, August usually sees less rain than other months!
Options for exploring outdoors are endless.
Since the weather is "good" in August, you'll have endless opportunity to explore everything Scotland has to offer. From hiking to castle-view picnics, there's no shortage of things to do.
One of the best things you can do? Get out of the city! Rent a car and explore the rugged coastlines, cruise through the Highlands, wander the quaint towns, and visit all the castles you can.
If you're keen for a self-driving adventure, I recommend you use this website to find the best rental car deals!
In addition, when I visited Scotland in August, I booked quite a few guided tours in and around the cities.
These are the ones I recommend.
Things to do in (and around) Edinburgh in August
Things to do in (and around) Glasgow in August
The Military Tattoo Festival is in full swing.
With Edinburgh Castle as the backdrop, the Royal Edinburgh Military Tattoo is an unforgettable celebration of Scottish dance, music, and military processions. As the castle lights up in pink, blue, and purple hues, nearly 1,000 different dancers, singers, bagpipers, and drummers regale an eager crowd.
Throughout August, the bagpipes' music emanates throughout the city, but this spectacle is best experienced up close and personal. You won't want to miss it!
The world's largest arts festival takes place.
The Edinburgh Fringe Festival turns Scotland's capital into one giant party, for three whole weeks, every August. From opera and theatre, to circus and comedy, this arts festival floods the street with thousands of performances.
No matter what, you're bound to have a great time at the Fringe!
*In addition to the Tattoo and the Fringe, loads of other festivals occur throughout Scotland during August.
The Highland Games are on.
Between Scottish dances, traditional sports, bagpipes, and kilts galore, the Highland Games are the perfect way to learn about Scottish heritage. Every year, from May to September, visitors can enjoy over 80 different Highland Games throughout the country.
Where to Stay in Glasgow in August
Planning to stay in Glasgow for a few days during your trip? (You should! Glasgow was my favorite stop, by far.)
It's busy in August in Glasgow, so make sure to book in advance to secure the best price! This website has the best deals on Glasgow accommodation – and most of the accommodation options offer free cancellation.
Luxury
Mid-Range
Budget
Where to Stay in Edinburgh in August
Whether you're in town for the Fringe or to explore Edinburgh's many attractions (like the Edinburgh Castle, Arthur's Seat, the "haunted" underground vaults, or Harry Potter filming locations), you should plan to stay for 3 days at least.
As we've established, August is Edinburgh's busiest month. So if you wait to secure accommodation, you'll be sorry! This website has the best deals on Edinburgh accommodation – and usually, there's a free cancellation option in case your plans change.
Luxury
Mid-Range
Budget
Scotland in August:
When is the Best Time to Visit Scotland?
If you're planning a trip to Scotland, I can say for sure, the best time to go is August. With so many exciting cultural events going on (like the Fringe, the Military Tattoo, and the Highland Games) and the best possible weather, visiting Scotland in August is worth the higher prices. Enjoy!
You might also like:
Did you know…
When you book travel or purchase something through our links, we receive a small commission, at no extra cost to you? Your support enables Maddy's Avenue to keep producing helpful travel content. Thank you!
Have you visited Scotland in August before? When is your favorite time to visit?