If you're visiting Florence and looking for the perfect day trip, your search ends here. Hiking in Cinque Terre is the answer.
If you didn't already know, the Italian word cinque means five. There are five villages in Cinque Terre, and in just one day, you can experience them all, by hiking or taking the regional train from one village to the next.
And that's exactly what we did, on our Cinque Terre Day Trip with an amazing company called Walkabout Florence.
We booked Walkabout's Cinque Terre Day Trip, which ensured a seamless day trip from Florence, filled with beautiful beaches, coastal hiking, a knowledgeable guide, and lots of gelato — of course!
If you're planning on hiking in Cinque Terre, you should consider booking a tour with Walkabout Florence. Here's what you can expect from the Cinque Terre Day Trip…
Manarola
Along the azure waters of the Ligurian Sea, bright-colored buildings burst with color and gardening terraces line the lush, green cliffs of Manarola. As soon as we stepped off the train from La Spezia, I fell for Cinque Terre. Hard.
Our time in Manarola, a village of 400 inhabitants, began with a guided walk. We meandered through the town and the garden terraces, way up high. As we walked and gawked at sweeping views of pink, blood orange, and yellow houses, with the shining sea in the background, our guide, Fabian, told us interesting stories and facts about Manarola.
CLICK HERE to learn more, and book your Cinque Terre Day Trip with Walkabout Florence.
At the end of our guided walk, Fabian brought us to the most spectacular viewing point of Manarola, before leaving us for free time in which we could check out the local shops or watch beachgoers plummeting from high rocks into the inviting ocean water.
After our free time was up, we hopped aboard a five-minute train for Corniglia.
---
OTHER ITALY POSTS:
---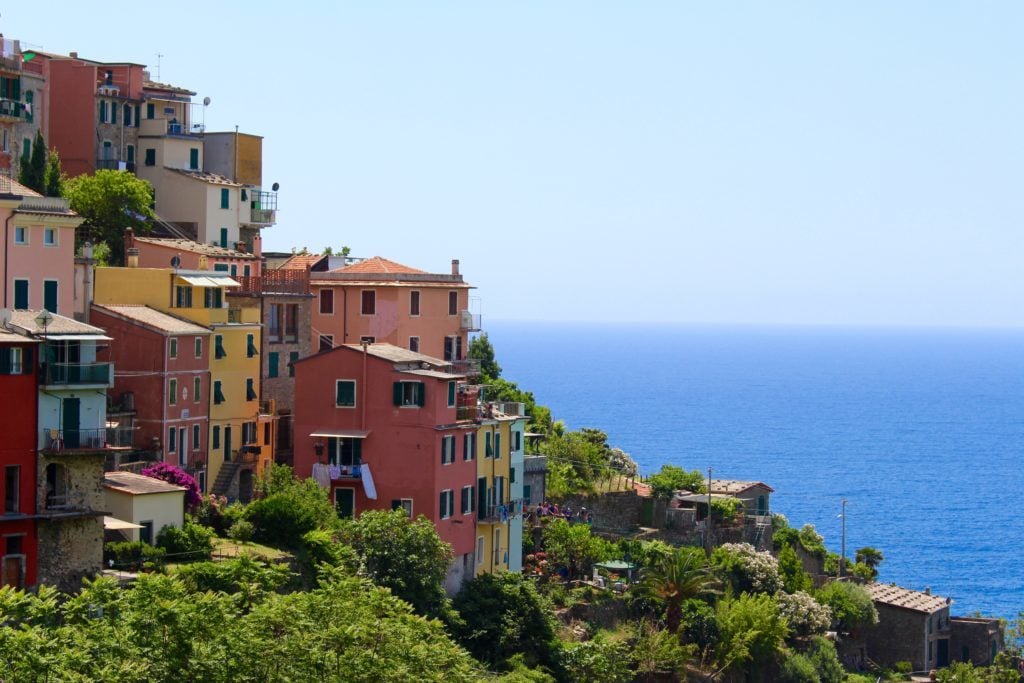 Corniglia
After a quick walk through Corniglia, we headed up to a family-run restaurant called Ristorante Cecio, which features incredible views over the small seaside village.
Originally, pesto comes from Liguria, so we indulged in a fresh pesto pasta with potatoes and a beautiful plate of mixed, freshly caught seafood for lunch. A big, hearty lunch was necessary to energize us for the hike to come! (And it was included in the tour price!)
From Corniglia, we hiked to Vernazza! After spending so many days in Florence, doing nothing but consuming tons of gelati, pasta, pizza, and panini, we were ready for some exercise.
The hike wasn't too terribly difficult, but it was a scorching day, which made the hike all the more challenging. The views during the hike, however, were unbeatable. For miles, we saw the lush Ligurian coastline with colorful villages scattered here and there, azure waters, and wisps of clouds. Nothing else. By far, the hike was the greatest part of the tour!
It took us 45 minutes to reach Vernazza, but others needed a lot more time. For us, hiking quicker meant more free time in Vernazza!
CLICK HERE to learn more, and book your Cinque Terre Day Trip with Walkabout Florence.
Vernazza
Once in Vernazza, we had only one thing on our minds: gelato.
Our guide, Fabian, recommended a little gelato shop along the harbor, claiming their cinnamon gelato is the best ever. It really was lovely, but the kiwi-banana flavor was to die for.
Next, we stripped off our sweaty clothes, threw on our bathing suits, and sprinted for the water.
After that long, sweaty hike, the seawater couldn't have been more refreshing. It was the perfect temperature.
We swam and tanned for a bit, and then decided we should dry off and have a glass of white wine, hailing from Liguria. It was just what we needed!
After exploring Liguria's shops for a few minutes, we caught the next train to Monterosso.
CLICK HERE to learn more, and book your Cinque Terre Day Trip with Walkabout Florence.
Monterosso
Monterosso's Old Town is absolutely magical, so as soon as we hopped off the train from Vernazza, we beelined for it!
We spent about 30 minutes browsing the shops and snapping photos of the quaint streets, draped with clotheslines.
Something about Cinque Terre's rustic shutters, its old, peeling paint, and its many balconies lined with bright flowers and drying clothes, just makes me smile. It's almost too damn beautiful to be real. Almost.
With a bit of free time left, we kicked back at the beach and had some more white wine. Because how could we resist — especially on such a hot day?
Usually, at this point in the tour, Walkabout Florence arranges a boat from Monterosso to Riomaggiore, for beautiful views of Cinque Terre from the sea. Unfortunately for us, though, the water was too rough for the boat ride, so we took the train. Yet that meant one important thing: more free time in both towns! So we were more than okay with that.
CLICK HERE to learn more, and book your Cinque Terre Day Trip with Walkabout Florence.
Riomaggiore
When it comes to Riomaggiore, I'm torn. I can't decide which is more beautiful, Riomaggiore or Manarola. It's safe to say that they're both incredibly beautiful, and they're usually the favorites of those lucky enough to visit Cinque Terre.
While in Riomaggiore, we did nothing but admire the views. We kicked back on the rocks surrounding the harbor, and we simply watched people happily swimming below as the waves rolled gently in.
Just before we caught the train back to La Spezia, where we'd hop back on the bus to Florence, there was one thing left to do: eat more fresh seafood.
We needed calamari, smothered in lemon juice. And so that's exactly what we got. Mmmmmm.
CLICK HERE to learn more, and book your Cinque Terre Day Trip with Walkabout Florence.
Hiking in Cinque Terre
If it wasn't clear enough already, hiking in Cinque Terre with Walkabout Florence is a must during your trip to Italy. It's a long day, full of stunning vistas, fresh, tasty food, exploring, and hiking. On a trip to Italy, what more could you ask for?
Nothing.
So then it's decided, when you visit Florence next, you're heading for the sea, and hiking in Cinque Terre!
All the details:
The price for this tour starts at €90 for adults and €85 for youth (the hiking part of the tour is optional, and costs extra).

The tour is 12 hours long.
The tour departs from, and arrives back at, the Firenze Santa Maria Novella train station in Florence.
You can book your Cinque Terre Day Trip with Walkabout Florence HERE.
---
What to Pack for Italy
Depending on the season you visit will depend on the layers you need, summer is very warm but the winter is incredibly cold. Italy is very stylish and Italians famously dress well, so avoid white sneakers where possible and opt for a smart shoe or boot. Always have a beautiful coat in winter, it will hide anything less stylish you may be wearing as you explore in the colder months.
Here are a few top tips of what to wear:
Italy Quick Tips
OTHER ITALY POSTS:
---
Have you been hiking in Cinque Terre? Which village is your favorite?
*This post contains affiliate links. When you make a purchase through the links on our website, we will receive a small commission, at no extra cost to you. These commissions help keep Maddy's Avenue up and running, and we thank you for your support!
Maddy's Avenue went hiking in Cinque Terre as guests of Walkabout Florence. As always, all opinions are our own.