As the capital of Tuscany and the birthplace of the Renaissance (and gelato!), there's a lot to discover during your first visit to Florence. This 3-day Florence itinerary covers everything you need to know!
Ready to visit the magnificent Duomo and marvel at masterpieces by the likes of Michelangelo and da Vinci? To sip a glass of Sangiovese as the sun sets over the Arno River? To learn how to make pasta from scratch?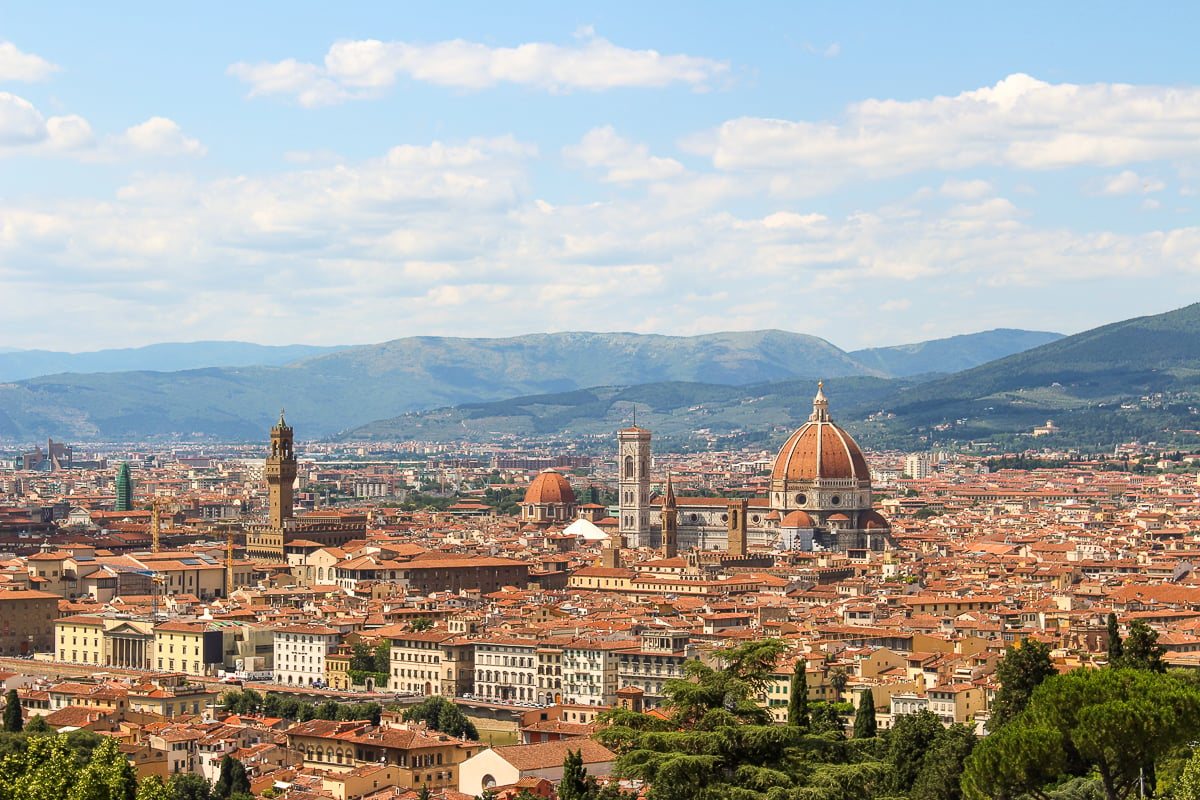 And, of course, to experience Florence's incredible foodie scene? From humble cucina povera (peasant-style) dishes to bistecca alla fiorentina (Florentine steak), freshly shaven truffles to pecorino cheese, and negronis to Tuscan wines, you're going to eat and drink very well in Florence!
After visiting Florence multiple times, I've created the ultimate 3 days in Florence itinerary for first-timers.
It includes all of the city's highlights: delicious food and wine, Florentine history, culture, art, and architecture. Plus, an optional day trip through the Tuscan countryside. Andiamo!
Florence Itinerary Overview:
How to Spend 3 Days in Florence
Here's a super quick overview of how you'll spend three perfect days in Florence (A.K.A. Firenze in Italian).
Day 1: Visit Florence's iconic Duomo, climb to the top for epic views, and see Michelangelo's David at the Accademia Gallery on this skip-the-line guided walking tour; eat delicious Tuscan-style food; explore the center on foot; savor some gelato; go on this donation-based historical tour; enjoy an aperitivo; watch the sunset from Piazzale Michelangelo.
Day 2: During this Tuscan cooking class, shop for ingredients at the Mercato Centrale Firenze before learning how to make pasta, tiramisu, and other classics from scratch (as you drink local wine!). Not a fan of cooking? Go on this food walking tour instead. Then, climb to the top of Giotto's Bell Tower, pop into the Baptistery of St. John, see the crypt inside of Basilica Santa Reparata, and visit the Opera del Duomo Museum. Next, visit a wine window to sip vino in the street. And finally, enjoy a typical Tuscan dinner. Florentine steak, anyone?
Day 3: On Day 3, choose to go on a day trip through Tuscany or stay in Florence and explore more! Pick this guided one-day Tuscany tour or this vintage Vespa tour of Tuscany. Then, have dinner at the Mercato Centrale! OR explore the Uffizi Gallery; roam around Oltrarno (the quieter, cooler side of Florence); stroll through the Boboli Gardens and Pitti Palace; enjoy a rooftop aperitivo; and walk along the Arno.
Read on for all of the details! Below, you'll find the best things to do in Florence in 3 days! Plus, where to stay, where to eat, and other must-know tips.
Day 1: Florence Itinerary
Your first day is going to be action-packed!
Put on your comfy walking shoes and get ready to explore the city's medieval streets, museums, and must-see spots. All the while, you'll learn about Florence's rich history and key figures – from the Medici Family to Brunelleschi to Michelangelo.
And yes. Plenty of delicious food, Aperol spritzes, and Italian wines are in your future too…
Coffee & Breakfast
If you're like me, you like to start the day with a coffee and a pastry (like a cornetto – or "Italian croissant").
Ala Grande Caffè, Rooster Cafe Firenze, and Coffee Mantra are my top picks for coffee and breakfast to start Day 1.
Keep the other two cafés you don't go to in your back pocket for Days 2 and 3!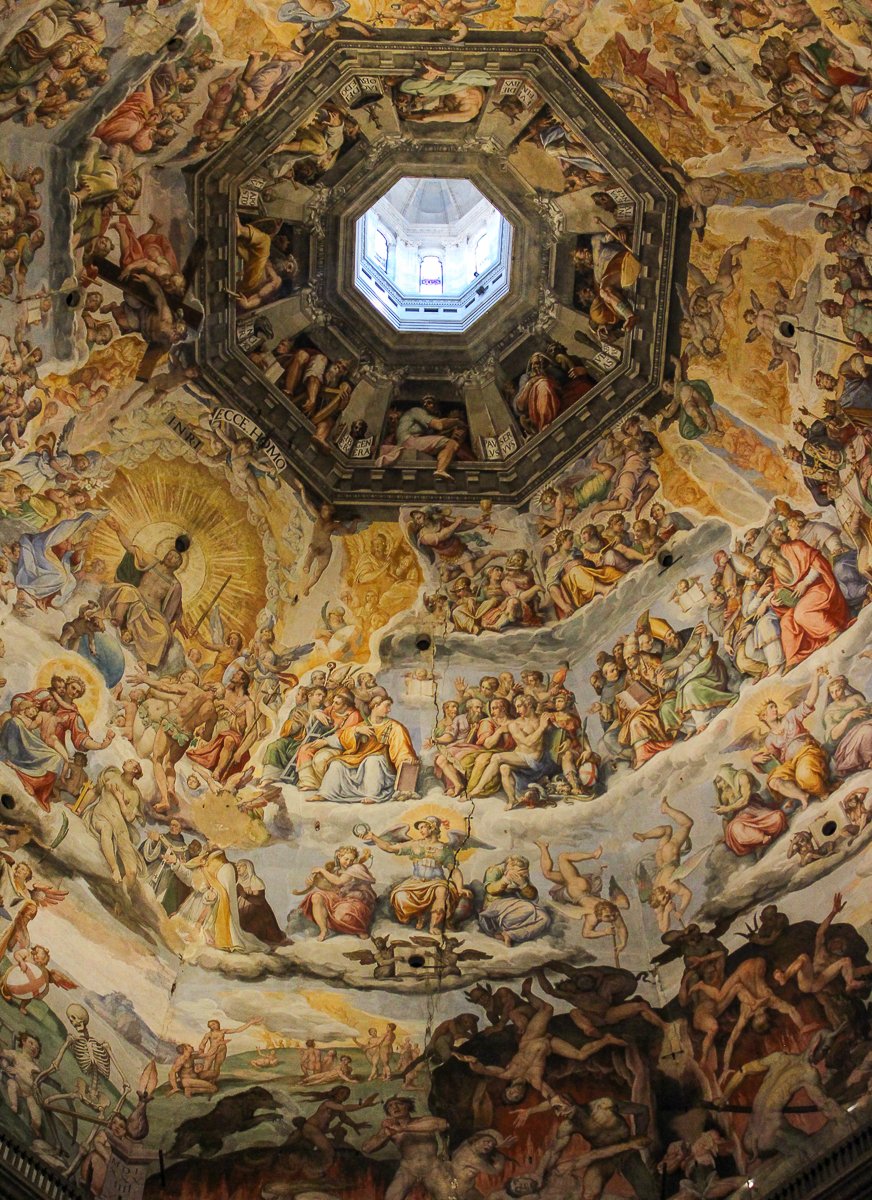 Visit the Duomo & Climb Brunelleschi's Cupola
Start off your first of 3 days in Florence in the Piazza del Duomo to visit the city's most iconic architectural masterpiece: the Cathedral of Santa Maria del Fiore (Cattedrale di Santa Maria del Fiore). Or, simply, the Duomo.
I went on this Skip-the-Line Duomo Climb & Cathedral Tour, and I recommend you do the same! (It also includes a skip-the-line visit to Accademia Gallery, see #3!)
Clad in the most exquisite green, white, and pink marble, and adorned with intricate marble statues and stained glass windows, it took 140 years to construct the Duomo.
But the most impressive feature, of course, is its ingenious self-supported brick dome, designed by Filippo Brunelleschi – one of the founding fathers of Renaissance architecture.
On this Skip-the-Line Duomo Climb & Cathedral Tour, you'll learn about the history behind Florence's most prized Renaissance construction.
Then, you'll climb 463 steps up, to stand atop the dome! The panoramic views from the top are unbelievable.
And equally as enchanting are Giorgio Vasari's frescoes of The Last Judgment that adorn the interior of the dome. You'll admire them up close as you climb.
I have been on many guided tours with the operator of this tour, and each one has been fantastic. Including this one! Their guides are always super knowledgeable and thorough. I highly recommend it.
Click here to book your Skip-the-Line Duomo & Accademia Gallery Tour!
Great news! This tour includes a Brunelleschi Pass, which is valid for three days. After the tour, on your own, you can use the pass to visit the Opera del Duomo Museum, Battistero di San Giovanni (Baptistery of St. John), and the ancient Basilica of Santa Reparata, and climb up the Campanile di Giotto (Giotto's Bell Tower). These Florence attractions are all must-sees! I've included these activities on Day 2. Click here to book your guided skip-the-line tour of the Duomo & Accademia Gallery.
Important note! Religious sites in Italy have strict dress codes. To enter the Duomo, your shoulders and knees must be covered! Wear pants, or a long, flowy dress or skirt, and bring a light scarf to cover your shoulders.
Visit Accademia Gallery & See Michelangelo's David
Florence was the birthplace of the Renaissance, and nothing symbolizes that more than Michelangelo's world-famous masterpiece: David.
No photo can do justice to its perfection; you must see it with your own eyes!
On this skip-the-line tour (also mentioned in #2), you'll visit the Accademia Gallery (Galleria dell'Accademia) to marvel at David.
Plus, you'll see other works by Michelangelo (including his Prisoners), Giambologna, Botticelli, and other famous Italian artists.
Click here to book your small group Skip-the-Line Accademia Gallery & Duomo Tour!
Important note! If you'd rather visit the Accademia Gallery on your own, then make sure to purchase your ticket in advance to avoid the long ticket line!
Lunch at All'Antico Vinaio
It's lunchtime! And you can't not include All'Antico Vinaio in your Florence itinerary!
You'll know you've found All'Antico Vinaio – the most famous and delicious sandwich shop in all of Florence – when you see the huge line of hungry people.
Get in line for your fresh Schiacciata bread sandwich, filled with the most epic of combinations… Like salami, creamy house-made pecorino cheese, cream of artichokes, and spicy eggplants. Or beef carpaccio, cream of pistachio, stracciatella cheese, and chopped hazelnuts. There are a few vegetarian-friendly options too!
Then, self-serve your wine, and eat your sandwich in the street. Or inside, if you can snag one of the few seats.
Insider tip: There are two All'Antico Vinaio locations right across the street from each other. They are the same, so go to whichever one has the shorter line!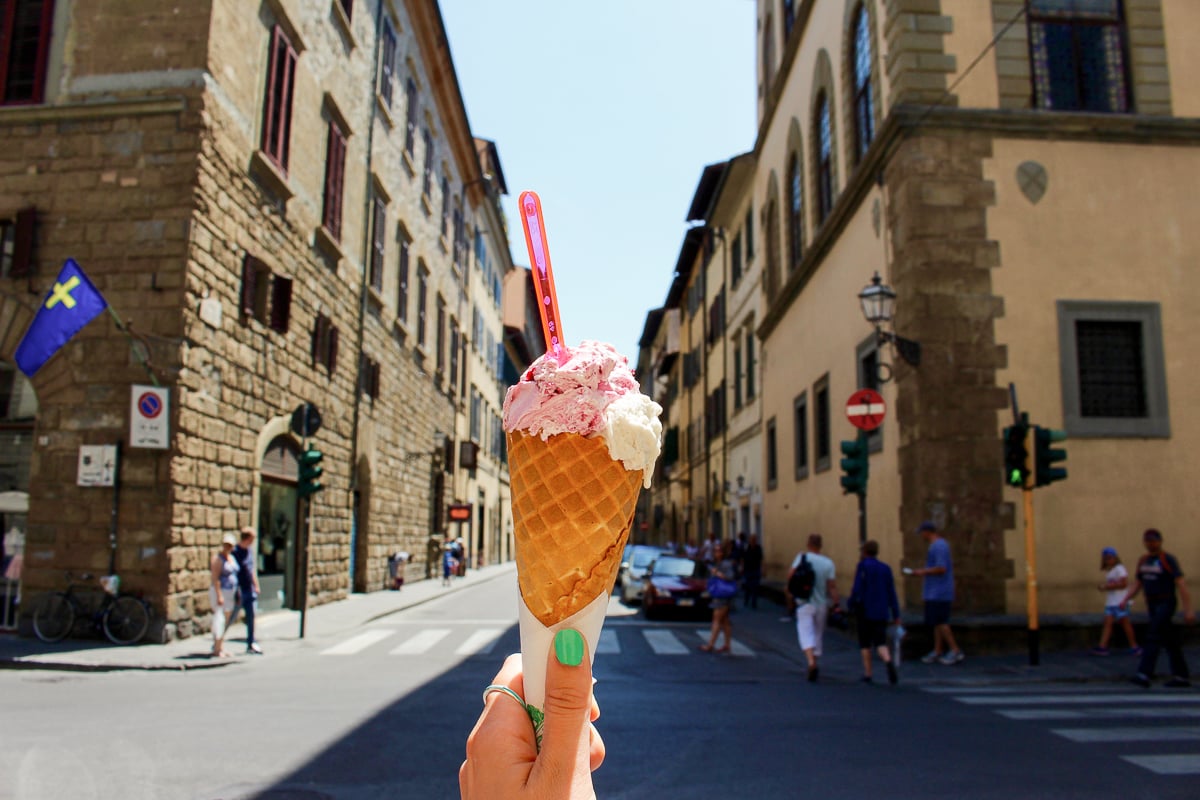 Gelato at Gelateria Dei Neri
What's a day in Florence without gelato?
With all the classic flavors you love, plus originals like gorgonzola and walnuts or Mexican chocolate, Gelateria dei Neri is my favorite spot for a little gelato pick-me-up on a hot afternoon! You'll love it too.
You also can't go wrong with La Strega Nocciola or My Sugar!
Explore the City on Foot
Ready to roam the charming streets of Florence, gelato in hand? It's time to wander and get to know the city.
As you go, keep your eye out for these must-sees:
Piazza della Signoria: The Piazza della Signoria is the main piazza in Florence! The heart of the city. The town hall, Palazzo Vecchio dominates the scene with its tall clock tower. But you also need to check out the Loggia dei Lanzi (an outdoor gallery of Renaissance sculptures), the Fontana del Nettuno (Neptune Fountain), and the replica of Michelangelo's David.
Basilica di Santa Croce: Located in the Piazza di Santa Croce, you'll find this beautiful neo-Gothic Franciscan church which features immaculate frescoes by Giotto. Plus, the grand tombs of Galileo Galilei, Michelangelo, Gioachino Rossini, and many other famous Italians are inside! It costs €8 to enter.
Piazza della Repubblica: This is one of Florence's main squares – the one with that iconic merry-go-round! It's lined with nice (albeit touristy and overpriced) cafés and the beautiful Arcone Triumphal Arch which was built in 1895.
Via del Corso: Starting from the Piazza della Repubblica, roam down the Via del Corso, one of Florence's best shopping streets. From local boutiques to international shops, this street is a haven for fashionistas, window shoppers, and people-watchers alike!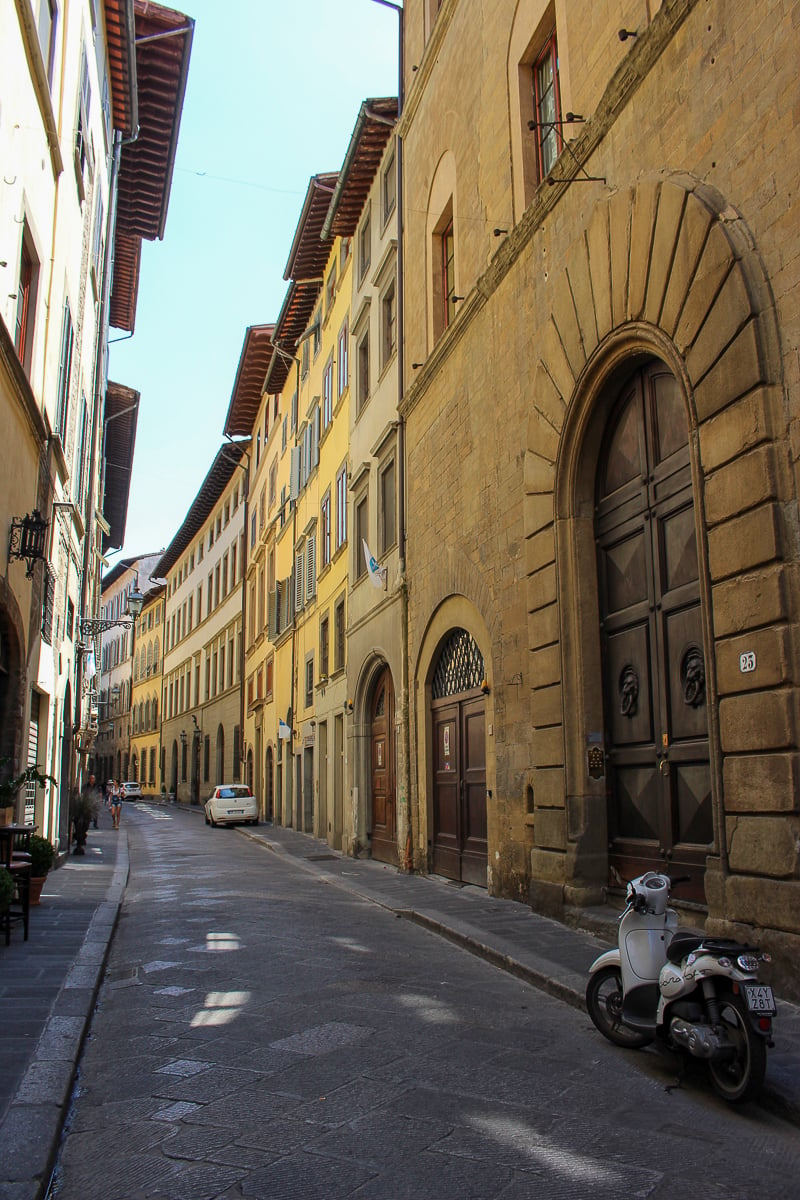 Via de' Tornabuoni: This is probably the most luxurious shopping street in Florence; here, you'll find Salvatore Ferragamo's original shopfront (definitely pop into the Museo Ferragamo!), as well as many Italian and international designers, from Gucci to Versace to Tiffany & Co.
Mercato del Porcellino: The Piglet Market is one of the oldest continuously operated markets in the world! Here, you'll find stalls selling Florentine leather goods; make sure to haggle if you see something you like! The symbol of the market – the Fontana del Porcellino – is a bronze statue of a wild boar. It's said that you should rub his nose for good luck!
Arno River: Of course, Florence is separated into two sides by the Arno River. Stroll along the river and cross the many bridges – especially the Ponte Vecchio! This part of Florence is especially dreamy at golden hour.
Ponte Vecchio: This medieval bridge (which actually has Roman origins!) is the only bridge that survived WWII. The view from this historic bridge is lovely, but there are also about 20 different jewelry and souvenir shops built on top of it. The Ponte Vecchio is a must on every Florence itinerary – even if it is always crowded and chaotic in the daytime!
Important tip! As in all of Italy, pickpockets target tourists in crowded areas. Always stay aware. Never keep valuables in your back pockets or in backpacks/bags that can be unzipped easily. Use a crossbody shoulder bag like this or a belt bag like this, and keep it in front of your body!
Enjoy an Afternoon Aperitivo
You've walked a lot today – and you're not done yet! So take a break.
Do as the Italians do and enjoy an afternoon aperitivo. That is, an appetite-stimulating cocktail, like a negroni or a spritz – and maybe a little snack.
I don't know about you, but I love a good negroni. This classic cocktail was actually invented in Florence in 1919!
For your aperitif in the historic city center, head to SE·STO Rooftop Bar (at the Westin Excelsior) for fabulous drinks and city views!
Or, for a fun experience, go for a wine-tasting session at Firstglass! Views of the Ponte Vecchio are included.
Mainstay Florentine cafés like Caffè Sant'Ambrogio and Rivoire are also options.
Go on a Guided Walking Tour
Next up is an essential guided historical walking tour that'll give you a broad understanding of Florence's tremendous historical and cultural significance.
On this donation-based Renaissance & Medici Tales Tour, you'll learn all about the rich and powerful Medici family – and the pivotal role they played in shaping (and funding!) the Renaissance.
And you'll pass by iconic Florence landmarks (i.e. the Palazzo Vecchio and the Duomo) and some hidden gems, while learning the stories behind them.
The tour runs daily at 10:00 AM or 4:30 PM and lasts two hours. Click here to make your reservation (for about $3!). Then bring some cash to tip your guide; the amount is up to you.
Obviously, the low cost of this tour means the group will be large! If you want something more intimate, go on this Private Medici Family Walking Tour.
This small group Sunset Walking Tour with Wine & Food Tastings is also a great option for foodies.
P.S. Another popular donation-based tour is this Mysteries and Legends of Florence Tour, where you learn about the "dark side" of Florence. It includes stops at the Piazza del Duomo, Via del Campanile, and Piazza della Signoria (among others) as you learn true stories about Florence's curiosities and superstitions, conspiracies and betrayals, murders, and more. This one starts at 7:15 PM. Click here to book it.
Watch Sunset at Piazzale Michelangelo
The Piazzale Michelangelo should be on every traveler's 3 days in Florence itinerary!
No matter what time you head up to Piazzale Michelangelo, you'll be met with a spectacular Florence skyline view. But especially at golden hour and for sunset! (Plus, a bronze replica of Michelangelo's David, and an intense crowd…)
My advice? Bring a bottle of Tuscan wine and a couple of glasses. Maybe some cheese. Grab a seat on the steps and drink in this wondrous view and the excited atmosphere around you.
P.S. This may be the most famous viewpoint in Florence, but it's actually NOT the best one… Check out Day 3's details for the best, relatively secret spot!
Have Dinner in San Niccolò
After you watch the sunset, head back down the hill and you'll find yourself in the charming neighborhood of San Niccolò.
It's been a long day, and you'll be hungry! So pop into one of the many restaurants along Via di S. Niccolò. Hostaria del Bricco is a great option.
Afterward, there are plenty of bars in this neighborhood to check out. You can also admire the Porta San Niccolò and the Torre del Belvedere, glowing in the golden night lights.
Day 2: Florence Itinerary
Your second day in Florence should be all about food and wine! After all, that's what Tuscany does best. Pace yourself!
And yes, plenty of important historical sites are included in today's Florence itinerary too!
Central Market Tour & Traditional Cooking Class
Your Florence itinerary wouldn't be complete without this Cooking Class & Market Tour!
I had SO much fun during this small-group cooking class, learning to make traditional Tuscan and Italian dishes. Here's how it went.
The experience started off with a visit to the Central Market to gather farm-fresh ingredients, sample some traditional bites, and learn about Tuscan cuisine.
Next up, at the cooking school, the chef demonstrated how to make Tuscan-style bolognese… While we sipped local wine!
Then, finally, we got our hands dirty! First, we made bruschetta to snack on as we cooked (and drank more wine)! Next, we all made batches of ravioli and pappardelle together from scratch – kneading the dough, rolling it out, stuffing the ravioli, and cutting the pasta! Then, we learned to make classic tiramisu.
And then, finally, came the best part: the feast! So good.
At the end, we received recipe books to recreate the dishes at home. And to this day, I still do!
This cooking class was a highlight of my Florence itinerary! You'll love it too.
The class starts at 9 AM. Make sure to come hungry!
Click here to book your Cooking Class & Market Tour.
OTHER OPTIONS!

If you'd rather learn to make pizza than pasta, then book this Pizza and Gelato Cooking Class at a Tuscan Farmhouse (this one is outside of the city; transportation included!) or this Florence Gelato and Pizza Cooking Class (within the city center).

On the other hand, if you love food but don't actually like cooking… Go on a foodie walking tour instead! Choose between this 10 Tastings of Florence With Locals Private Tour or this Small-Group Florence Food Walking Tour.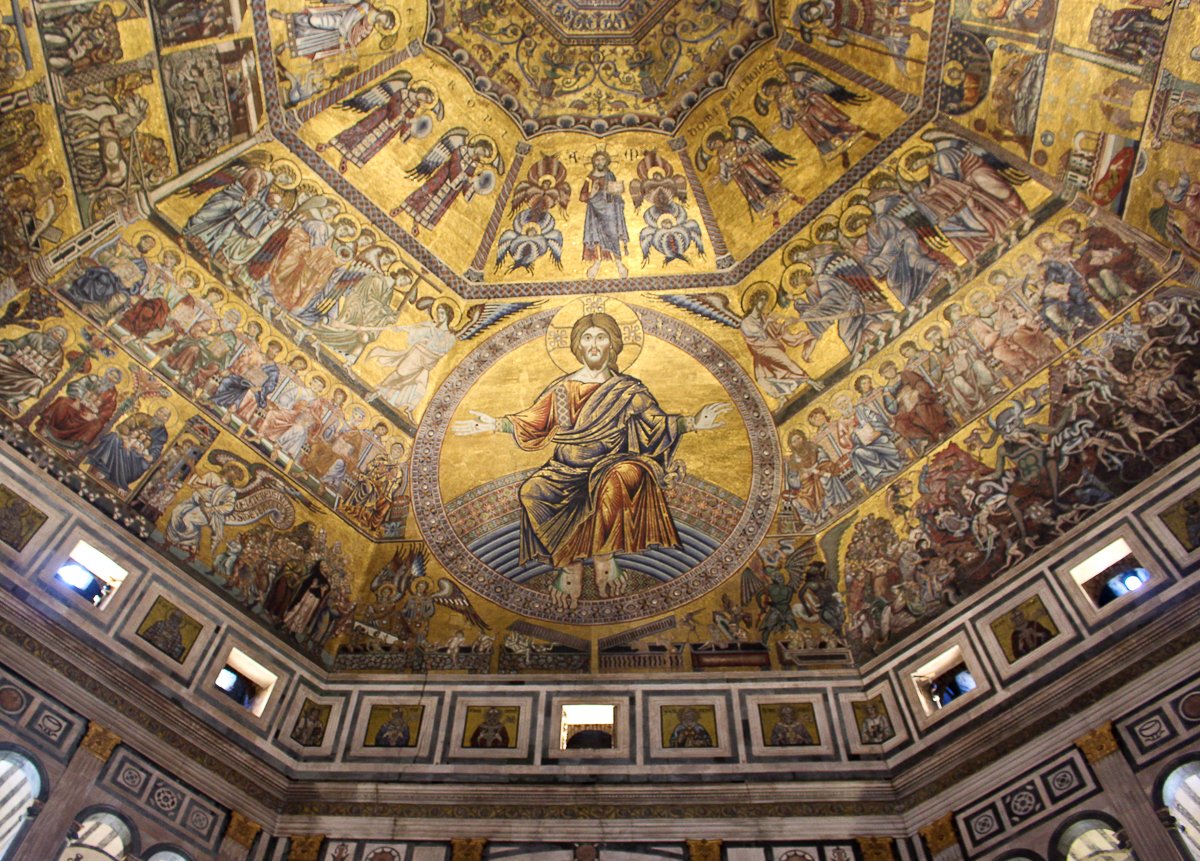 Visit the Monuments in Piazza del Duomo
It's time to walk off your cooking class!
Remember the Brunelleschi Pass that came with your Skip-the-Line Accademia Gallery & Duomo Tour on Day 1?
It's time to use it to…
Stop by a Wine Window (Buchette del Vino)
Next up on your Florence itinerary is ordering a drink from a wine window (or buchette del vino) and sipping it in the street.
In the early 1630s, when the bubonic plague swept through Florence, locals served wine through these tiny windows to avoid contact. And in 2020, the trend resurged.
Florence is home to countless wine windows, but just a couple of blocks away from the Piazza del Duomo, you'll find one of the best: Cantina De' Pucci.
Walk up to the window, ring the bell, order your favorite drink, and enjoy the novelty of it!
Savor a Traditional Florentine Dinner
Ready for a fabulous dinner?
Then head to Ristorante del Fagioli (ideally, with a reservation).
This rustic restaurant serves traditional Florentine cuisine at its finest – at a very reasonable price (despite its inclusion in the MICHELIN guide to Tuscany!).
Between crostini di fegatini, fagioli, and all sorts of pasta dishes, along with perfectly cooked bistecca alla fiorentina, osso buco, and braciola della casa, it's going to be hard to decide what to try…
But one thing's for sure: this is Florence food heaven!
Note: This restaurant is closed on Saturdays and Sundays!
If you need a Plan B, then head to Pensavo Peggio for "Grandma's Lasagna" (pictured above). This restaurant is always packed with locals and I loved all of the dishes I tried here!
Day 3: Florence Itinerary
For your third day in Florence, you have two options. Either head out of the city for a day trip around Tuscany or spend time exploring the Oltrarno neighborhood of Florence.
Whatever you choose, here's what to do on Day 3!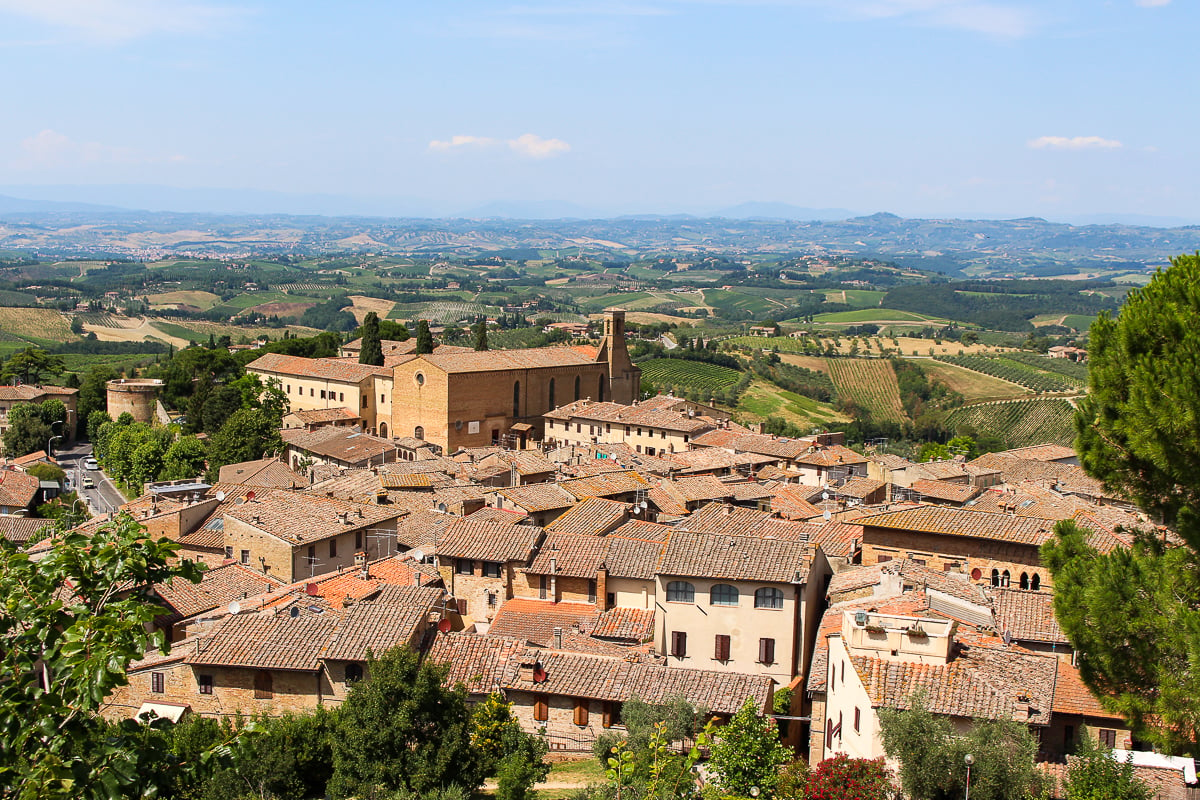 Option 1: Explore Tuscany on a Day Trip
(Recommended Option!)
In my opinion, you can't spend 3 days in Florence and not explore more of the beautiful region of Tuscany! It's a must on your Florence itinerary.
(That is, if you don't have a separate leg of Italy trip dedicated to Tuscany already).
I have done many day trips from Florence, but here are my two favorite Tuscany ones: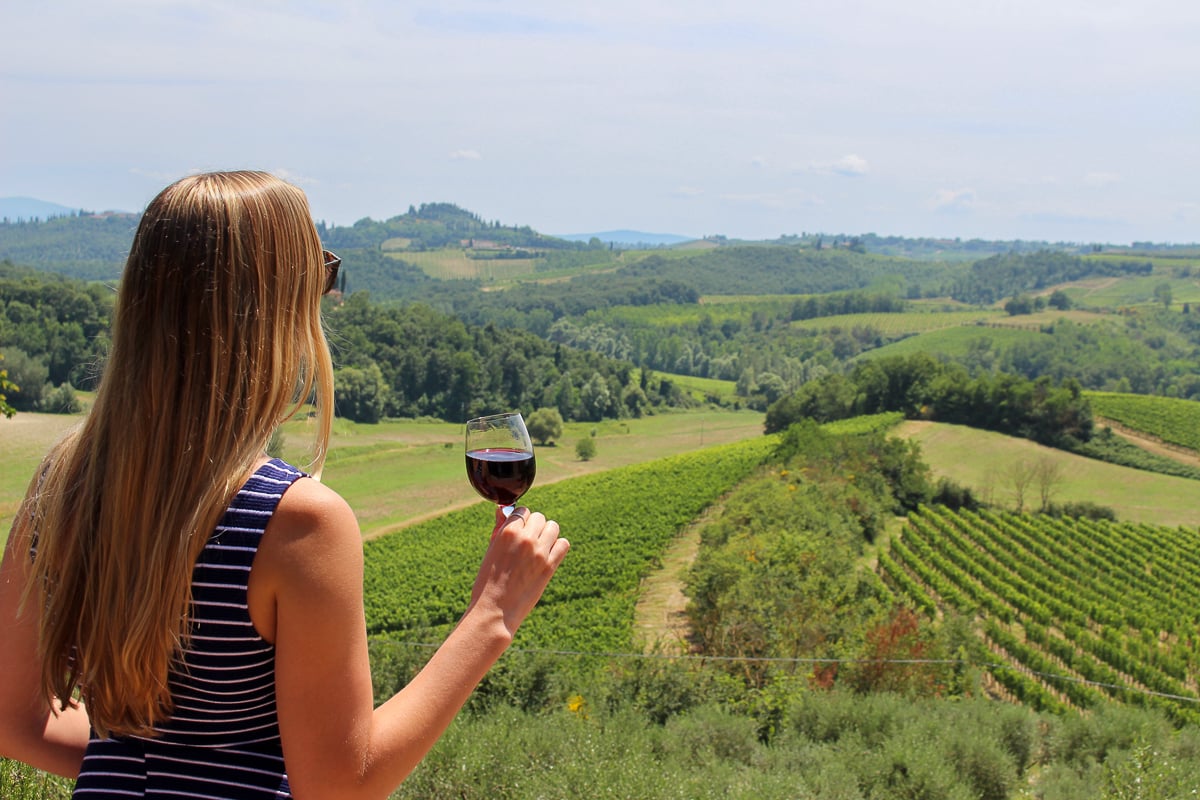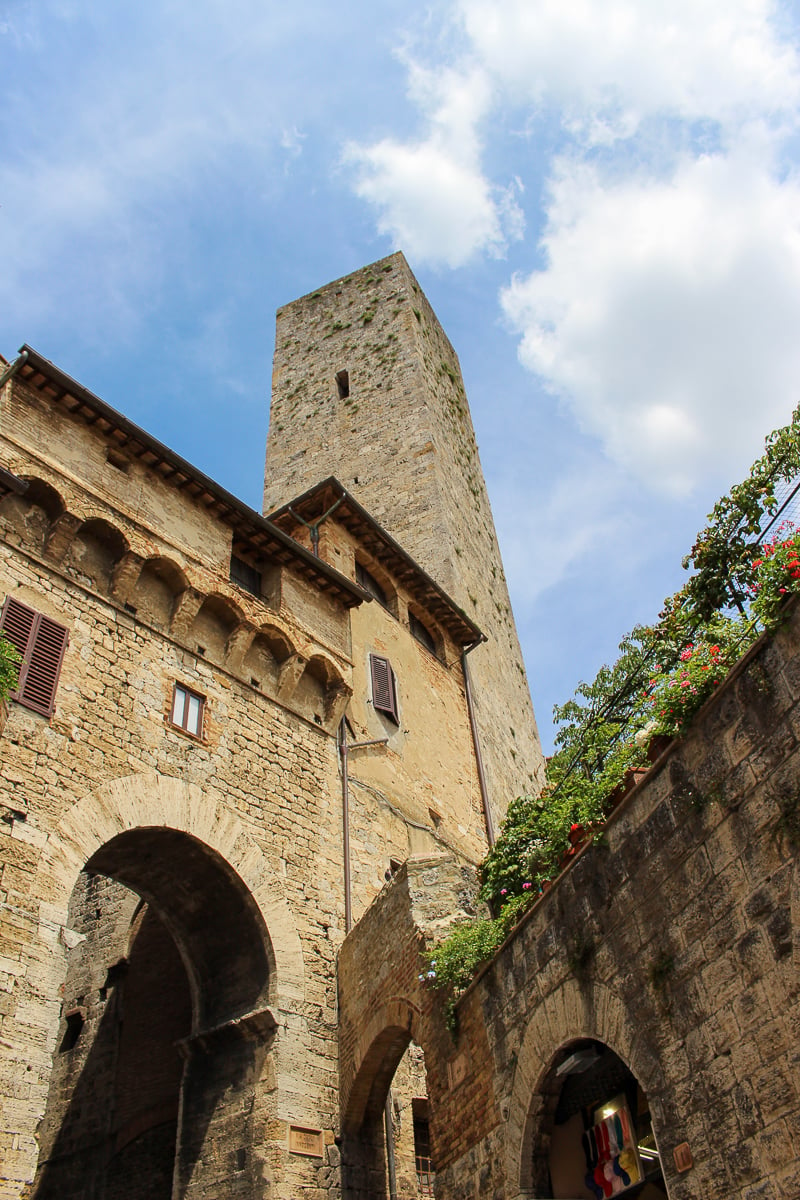 Tuscany in 1 Day: Siena, Chianti Vineyard, San Gimignano & Pisa
Let me start by saying… I love this Tuscany tour so much that I have done it twice! You're going to love it too.
This tour is the ultimate exploration of Tuscany. In just one day, you will…
See the beautiful city of Siena, marvel at the Duomo di Siena (beyond stunning!), try traditional Sienese fruitcake, and learn about the city's unique traditions (like the Palio).
Visit a family-run winery in the hills of Chianti for an incredible farm-fresh feast of charcuterie, handmade pasta, salads, and more – over bottomless wine and epic views.
Explore the enchanting medieval hilltop town of San Gimignano, check out the towers, and browse the artisanal leather shops. Plus, try some of the world's best gelato… Literally! They've won the Ice Cream World Championship.
Roam the lovely streets of Pisa and see the Leaning Tower of Pisa.
This tour is the perfect encapsulation of Tuscany: incredible views, amazing wine, delicious food, marvelous architecture, charming centuries-old towns, and gelato.
Click here to book your Tuscany in One Day Tour.
Vintage Vespa or Fiat Tour of the Tuscan Countryside
Looking for a guided self-driving adventure through the Tuscan countryside? This is it!
I did this Vintage Vespa Tour of Tuscany with my brother and I can confirm: this experience is definitely bucket list material!
You have the option of choosing to drive a vintage Vespa OR a Fiat 500 car. So choose whichever you're more comfortable with, and follow your guide out of the city, and onto the country roads of Tuscany!
You'll stop by the best viewpoint of Florence, and then drive past centuries-old castles, medieval towers, little villages, endless rolling hills, olive groves, and wildflowers.
Then, you'll visit a lovely Tuscan farmhouse for a delicious lunch of fresh pasta and an antipasto platter of local cheeses, bruschetta, cured meats, artichokes, olives, bread, and more.
And of course, red wine. (But not too much, if you're the designated driver!)
This tour is SO MUCH fun.
Click here to book your Vintage Vespa Tour of Tuscany.
Alternatively, click here to book your Fiat 500 Tour of Tuscany.
P.S. In this guide, I've detailed seven magical day trips from Florence so you can explore all of the best options – from guided tours to vineyard visits to self-driving adventures.
Eat at Mercato Centrale
After your adventure, you're going to be hungry!
Conveniently, the drop-off location for the Tuscany in One Day Tour is right next to the train station and Florence's main market, Mercato Centrale (also known as the Central Market or San Lorenzo Market).
For dinner, beeline it to Mercato Centrale's second level. There, you'll find a stunning array of eateries and bars, offering everything from handmade pasta blanketed in freshly shaven truffles to pizza margherita to Florentine steak.
This is a quick, easy dinner option after a long, exhausting (but amazing) day trip. You're welcome!
P.S. If you have even more time in Florence, then you'll have to come back at lunchtime to try the ultimate Florentine street food dish: panino lampredotto. You'll find it on the market's ground level.
Option 2: Uffizi Gallery & Oltrarno
If you decided not to explore Tuscany on a day trip, then today will be all about Renaissance art and exploring Florence's coolest neighborhood.
Alternatively, if you have more than 3 days in Florence, here's how you can fill your time!
Visit the Uffizi Gallery
Set aside two to three hours to explore Florence's best art museum: the Uffizi Gallery.
Prepare to be blown away by priceless pieces crafted by Italy's foremost artistic geniuses, such as Botticelli, Michelangelo, Titian, Caravaggio, da Vinci, and Giotto.
Make sure to purchase your ticket in advance online! Then you won't have to wait in line on arrival. You can either select the single ticket option – or choose the combo ticket which includes the Pitti Palace and Boboli Gardens. Click here to grab your ticket.
Alternatively, you can choose to go on this Uffizi Gallery Small Group Tour with a Guide which already includes your ticket. Your guide will lead you through 50 rooms, to the gallery's most impressive masterpieces, and tell you all about them. Click here to book it.
Explore More of Oltrarno
Next, it's time to explore the neighborhood of Oltrarno, which literally means "the other side of the Arno River."
This side of Florence is less touristy, more affordable, and absolutely packed with cool restaurants, bars, and historic sites.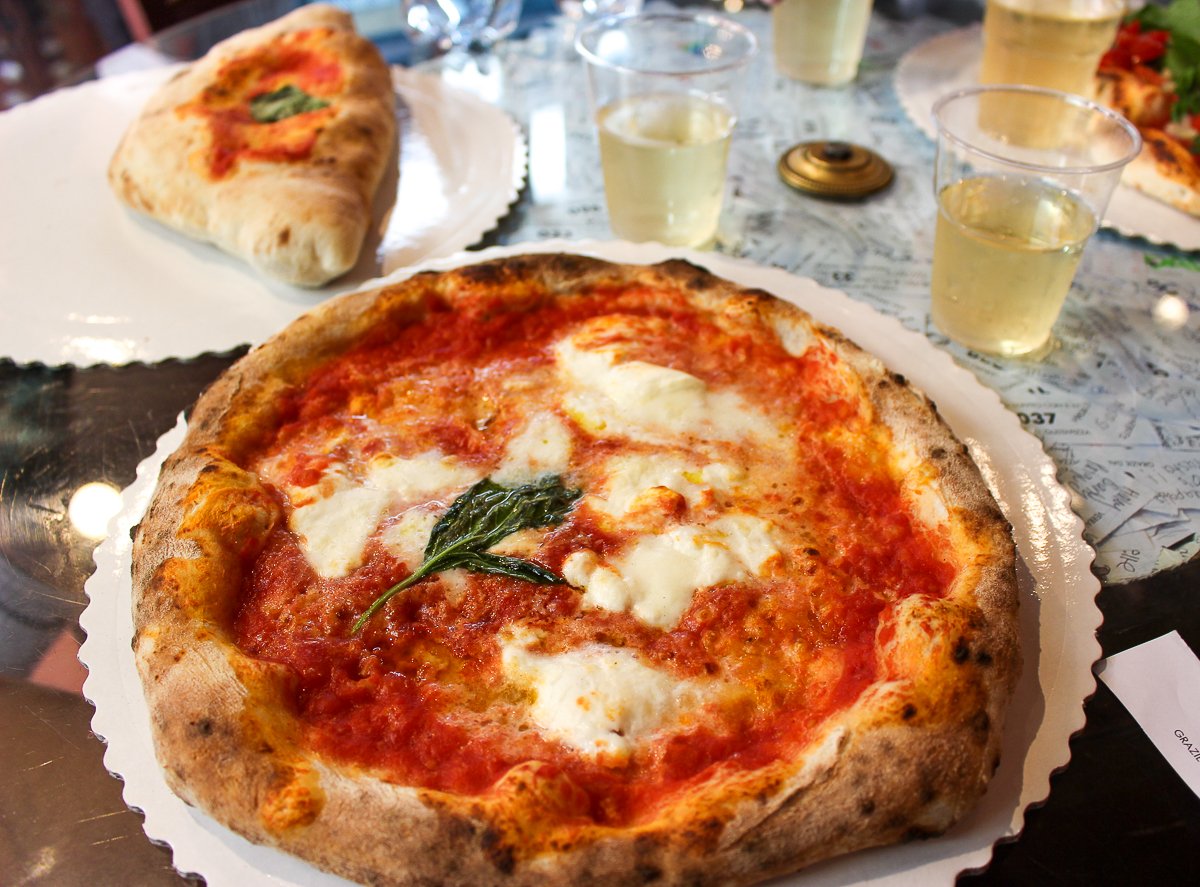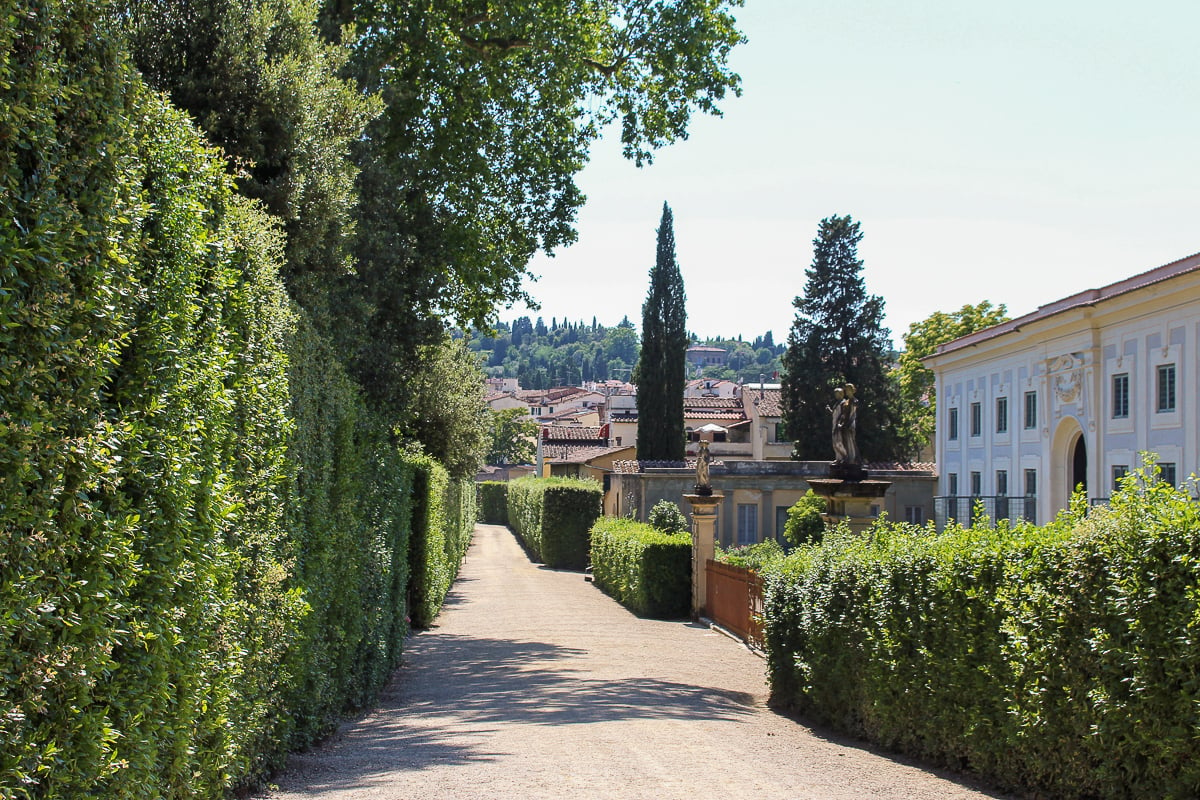 While in Oltrarno, there are a few attractions you can't miss:
P.S. Toward the end of this guide, I've shared the best neighborhoods and hotels in Florence. But here's a hint: Oltrarno is one of them! In Oltrarno, consider staying at Hotel Lungarno, Ponte Vecchio Suites & Spa, Casa Botticelli, or Palazzo Guicciardini.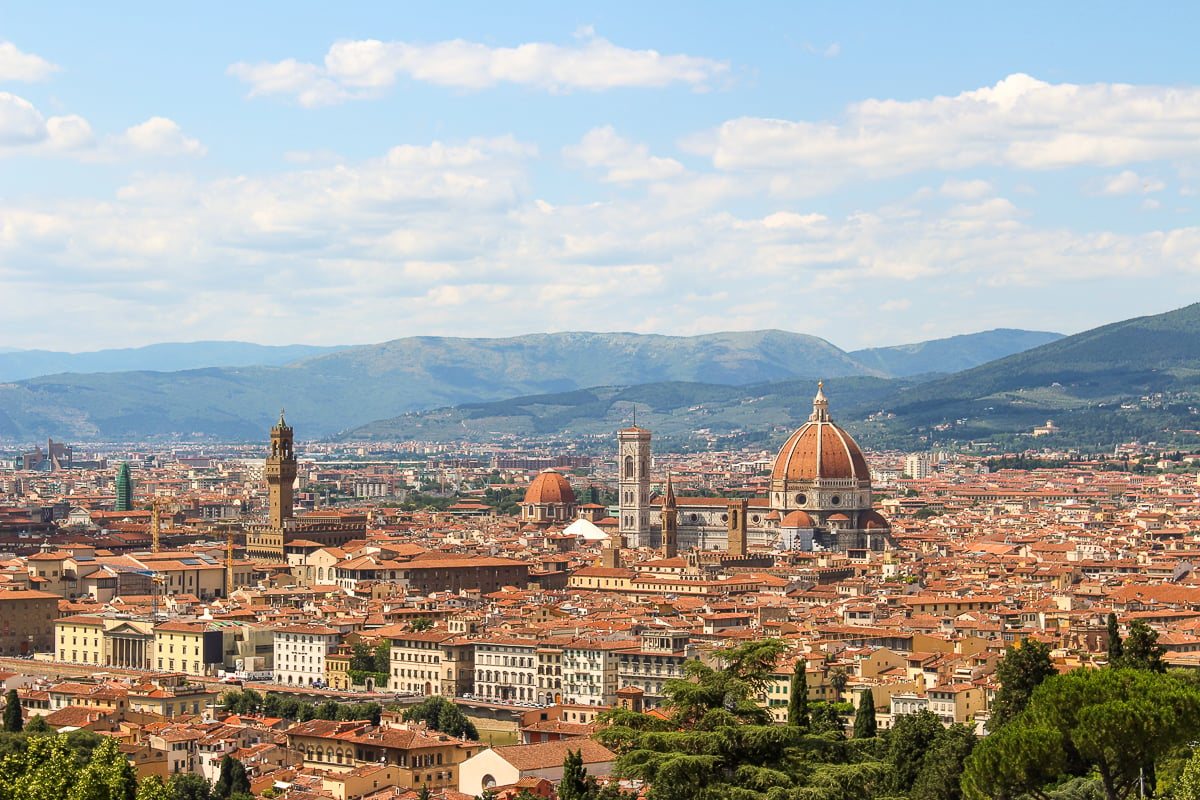 For the absolute best panoramic view of Florence (and without the crowds of Piazzale Michelangelo!), head to Basilica di San Miniato. Seriously. You can't beat this view! It's perfect for sunset, or during the day.
And finally, have dinner in Oltrarno. Head to whichever charming trattoria catches your eye – there are plenty to choose from!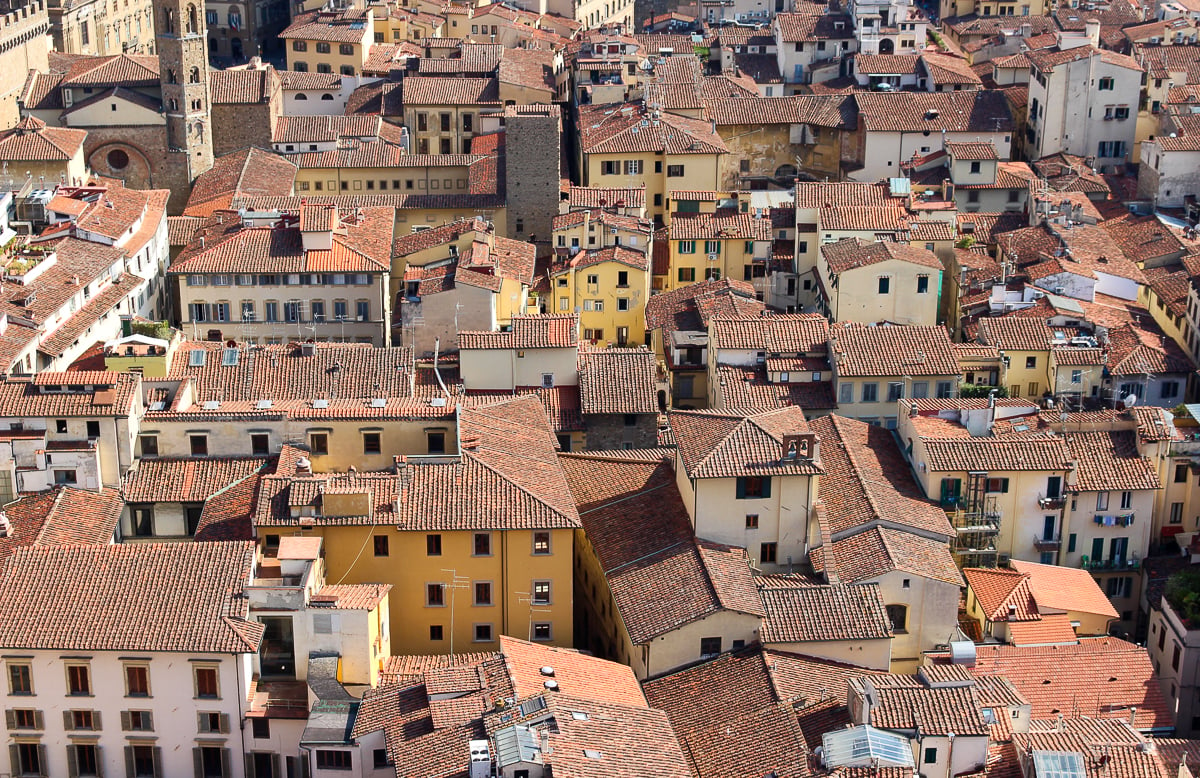 Where to Stay in Florence
Don't underestimate the importance of choosing accommodation wisely in Florence.
Book a hotel or reserve a vacation rental that features a central, convenient location so that you can walk everywhere!
Historic Center
The most popular (and most expensive!) neighborhood to stay in is Duomo/City Center. Staying in Florence's historic center ensures you'll always be amongst the action (and noise/crowds) and within close walking distance of all the must-see attractions in Florence.
The surrounding neighborhoods of San Lorenzo and San Marco, Santa Maria Novella, and Santa Croce are also great options, though you'll have to walk a bit more to get to the Duomo and the Piazza della Signoria. That's okay, though! Walking the beautiful streets is one of the best things to do in Florence anyway!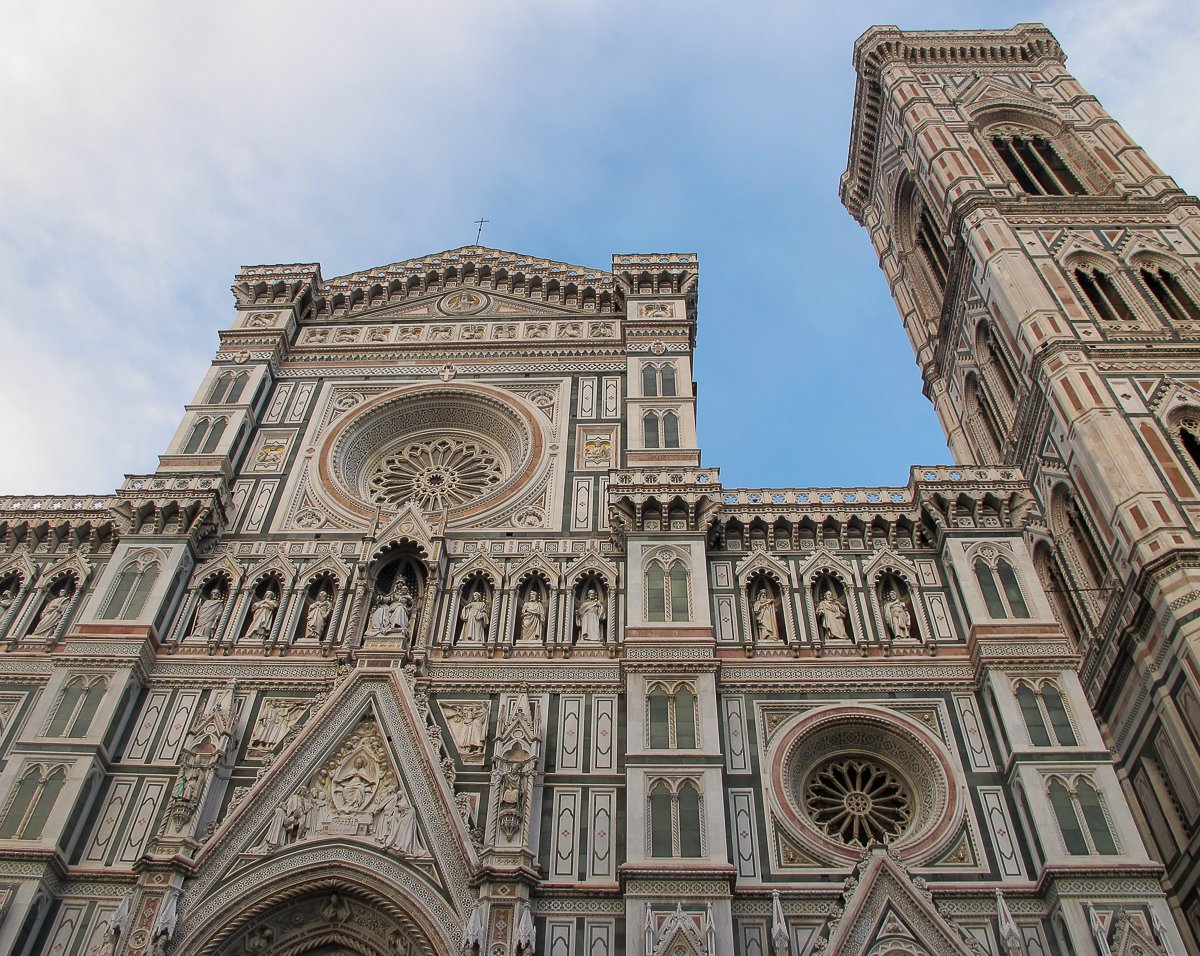 Oltrarno
Oltrarno (including Santo Spirito and San Frediano) is the coolest neighborhood to stay in Florence. This area, on the other side of the river, is full of awesome bars, restaurants, and cafés. It's home to attractions like the Boboli Gardens and Pitti Palace, historic city gates, and beautiful churches – and the famous Piazzale Michelangelo is nearby.
But best of all, staying in Oltrarno is significantly more affordable than nearby the Duomo.
Otrarno and Duomo are my top picks for where to stay in Florence!
Also note: it's very hot in Florence in the summer, but quite cold in the winter! Make sure your hotel room has air conditioning or heating, depending on the season you're visiting.
Here are the best places to stay during 3 days in Florence!
Luxury Accommodations ($$$$)
Higher Mid-Range Accommodations ($$$)
Lower Mid-Range Accommodations ($$)
Still looking? This is my favorite website for finding great deals on accommodation in Florence. From luxury apartments to chic yet affordable hotels, find your Florence accommodation here!
Florence Itinerary: Travel FAQs
How many days is enough to visit Florence?
Even though Florence is a small city, there is a lot to do! At a bare minimum, you need 2 days in Florence. With 2 days, you will see many of the city's main highlights and eat some delicious food. But ideally, you should spend 3 days in Florence to see all of the top attractions – such as the Accademia Gallery, Uffizi Gallery, Florence Cathedral (and climb up the Duomo and Giotto's Bell Tower), Pitti Palace, and Boboli Gardens – and to go on a historical walking tour, take a cooking class, drink at a wine window or two, and dine at some of the best restaurants. Plan on 4 days in Florence if you want to do all of the above and take a day trip through the Tuscan countryside.
When is the best time to visit Florence?
The best time to visit Florence is either in the spring (April and May or the fall (September and October). June, July, and August are the busiest months to visit Florence; these months are also very hot!
How to get to Florence?
From the Florence airport, you can hop on the T2 tram to the Unità stop, which is located in the Santa Maria Novella neighborhood (it's a 7-minute walk to the Piazza del Duomo, for reference). You can also take a taxi to the city center for a flat rate of €22. If you have a lot of luggage or a large group, click here to book private transportation.

From elsewhere in Italy or Europe, you can also take the bus or train to Florence. Click here to find the best train and bus fares in Italy! Via train, you will arrive at the Florence train station, Firenze Santa Maria Novella. Via bus, you will arrive at the Florence bus station, Firenze Autostazione. Both of these stations are about a 10-minute walk to the Duomo. Hop in a taxi if you have a lot of luggage or a long walk to your hotel.
Is 3 days enough to see Florence?
3 days is the perfect amount of time to spend in Florence. There are so many things to do in Florence, that you could easily spend all 3 days sightseeing, visiting museums, and eating and drinking your way through the city. Alternatively, during one of those 3 days, you could go on a day trip to explore the Tuscan countryside. This Florence itinerary gives you options for both!
Are 2 days in Florence enough?
2 days is just enough time to scratch the surface of the best things to do in Florence. As the birthplace of the Renaissance, there are so many museums, art galleries, palaces, churches, cathedrals, piazzas, and gardens to explore! Plus, amazing cultural activities like cooking classes, historical walking tours, foodie tours, and wine tastings await. Ideally, you should plan to spend 3 days in Florence – or even 4.
SAVE THIS POST ON PINTEREST FOR LATER!
3-Day Florence Itinerary: Ultimate First-Timer's Guide
Well, there you have it friends, my ultimate Florence itinerary for first-timers!
I've packed it will all of the best things I've done in Florence, after visiting multiple times.
From delicious restaurants and gelato shops, to my all-time favorite Tuscany day trip and this Vespa adventure, and from this awesome cooking class and market tour to the best art museums, attractions, and places to enjoy an aperitivo, you're ready for the trip of a lifetime.
I am so confident that, with this itinerary at your fingertips, you're going to have the best 3 days in Florence possible!
MORE ITALY TRAVEL INSPIRATION
Planning to spend 3 days in Florence soon? Do you have any questions? Have you been to Florence before? What were the best experiences included in your Florence itinerary? Share in the comments below!
Disclaimer: This post may contain affiliate links. When you click through a link on this page and make a valid purchase, Maddy's Avenue may receive a small commission (at no extra cost to you!). We only recommend products/services that we believe in and know you will love too. Your support enables us to continue making helpful travel content. I went on many of the tours included in this Florence itinerary in collaboration with the operators, though I never recommend anything I don't fully enjoy. Thank you for reading, and thank you for your support!