To travel the Amalfi Coast of Italy is an absolute blessing. The iconic stretch of Amalfi coastline is southern Italy's top travel destination, and a certified UNESCO World Heritage Site! If you are wondering about the best things to do in the Amalfi Coast, this guide is for you.
In the Amalfi Coast, you'll find an abundance of beautiful beaches, historic sites, and picturesque towns. Plus, wondrous hikes with stunning coastal vistas, exquisite swims in the crystal-clear Tyrrhenian Sea, and elevated foodie experiences await you.
No doubt, an Amalfi Coast trip will leave you with memories to last a lifetime!
Ready to be wooed by southern Italian charm and the ethereal landscape of the Amalfi Coast? Here's your guide to the 10 best and most memorable things to do in Amalfi Coast!
Feel free to use this table of contents to jump to sections you'd like to read about!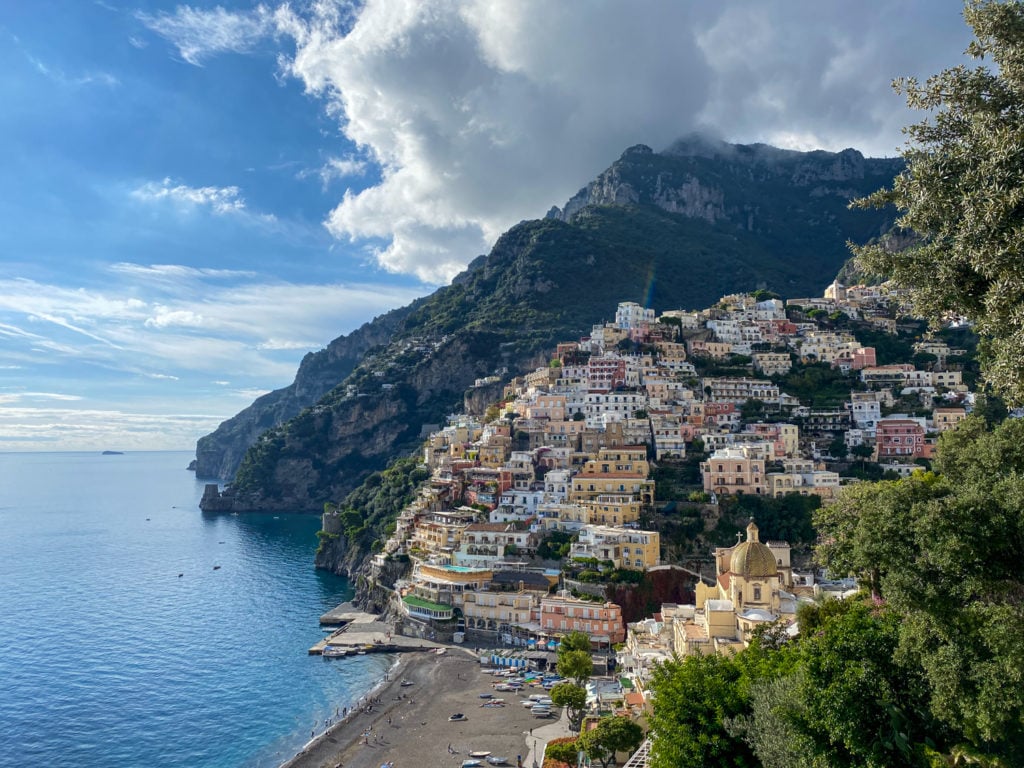 10 Best Things to Do in Amalfi Coast
#1 Luxuriate in Positano
No matter how many days you plan to spend visiting Amalfi Coast, you simply must visit Positano – the heart of the Italian Riviera! I fell head over heels, and you will, too.
Perched upon a rugged mountainscape, the romantic pastel community of Positano gazes out over the Tyrrhenian Sea. It's the most picturesque town on the Amalfi Coast.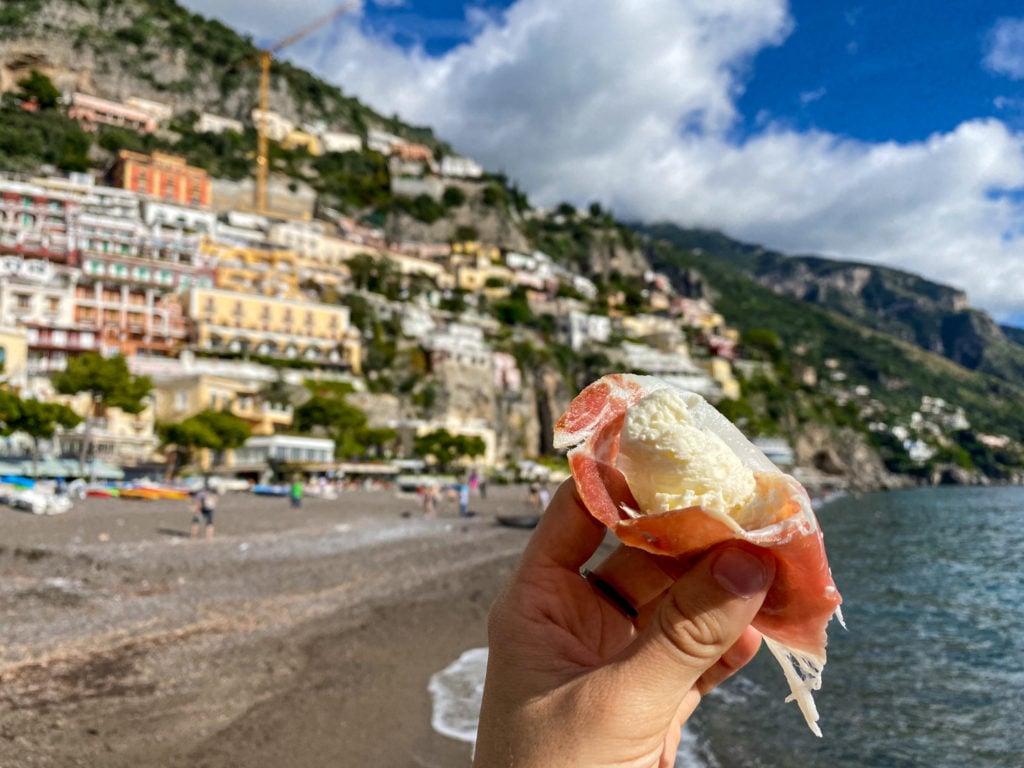 Bask in the simple luxuries of Positano; relax at Arienzo Beach, enjoy a beach picnic (prosciutto and burrata are the key to my heart), treat yourself to lovely linen clothes, and even have a pair of leather sandals custom-made to fit your feet perfectly.
Then, show up fashionably (late) to sunset aperitif at Il Tridente, Aldo's Cocktail Bar & Seafood Grill, and Franco's Bar. Yes, all three. Order an Aperol Spritz at each. Obvi!
Finally, splurge on a room with a balcony overlooking the Bay of Positano (it's worth whatever the cost), and wake up to stunning views of an Amalfi coast sunrise. An unforgettable experience!
If you can swing it, you have to stay at Le Sirenuse! Not only are the ocean views amazing… but so is literally every other little detail.
You can find amazing deals on Positano hotels, B&Bs, villas, and more on this site!
#2 Take a Hike
You may be surprised to hear that hiking is an essential part of your Amalfi Coast trip… But simply savoring these breathtaking views as much as possible is one of the best things to do here.
Bear in mind that after one hike, your legs may feel too much like limoncello – I mean jello – to do the another! (If thats the case, no worries. There's always somewhere to enjoy another Aperol instead.)
"II Sentiero Degli Dei" (The Path of The Gods)
Long before Vespas and SITA buses, locals used this path to travel about the steep cliffs along the Amalfi Coast, between Nocelle and Bomberano. The historic hike is about 4 miles (7 km) long, and boasts amazing views.
Make your way to either village (Nocelle from Positano, or Bomberano from Amalfi) and take part in The Path of the Gods, a classic Amalfi Coast hike. Views etched into your memory forever! (Okay, your camera roll, too.)
If you'd appreciate the wisdom and company of a true Positanian, then book this Trail of the Gods Hike with Local Guide Saveria Fiore. Her guidance is strongly recommended!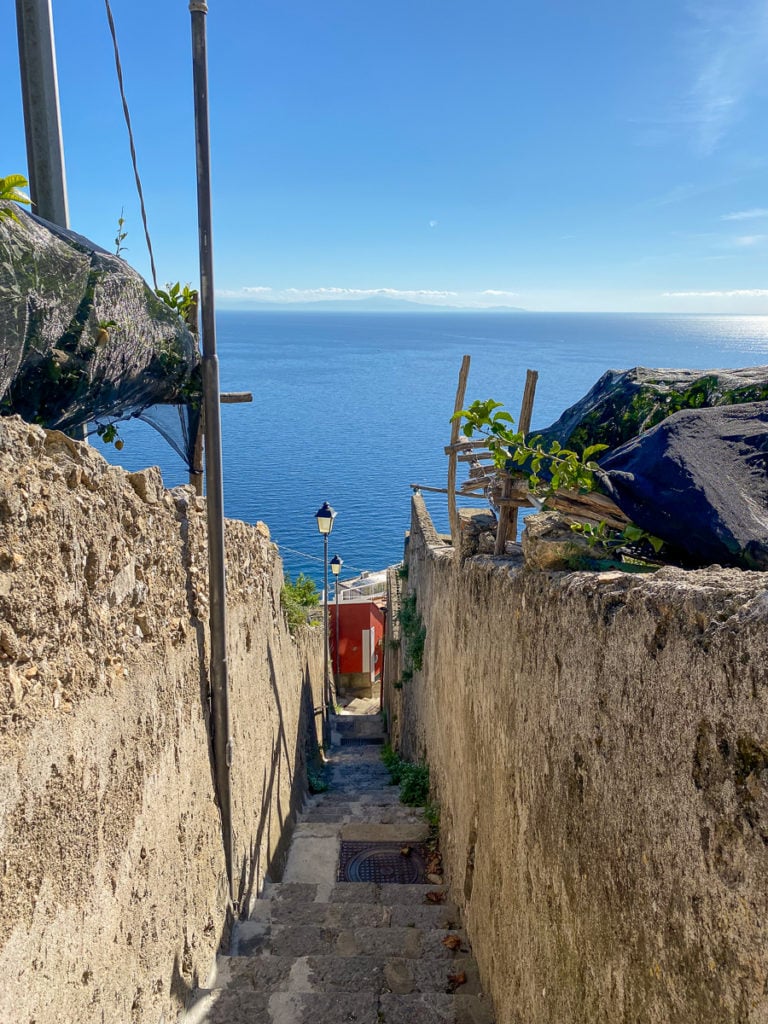 Hike to Ravello
Crave a workout after all that pasta and pizza? Then hike among lemon trees and olive groves to Ravello!
I can't tell you that, because this hike is shorter than The Path of The Gods, it's easier. After climbing the 1,500 ancient stairs to Ravello, I couldn't possibly fathom hiking Path of The Gods the next day!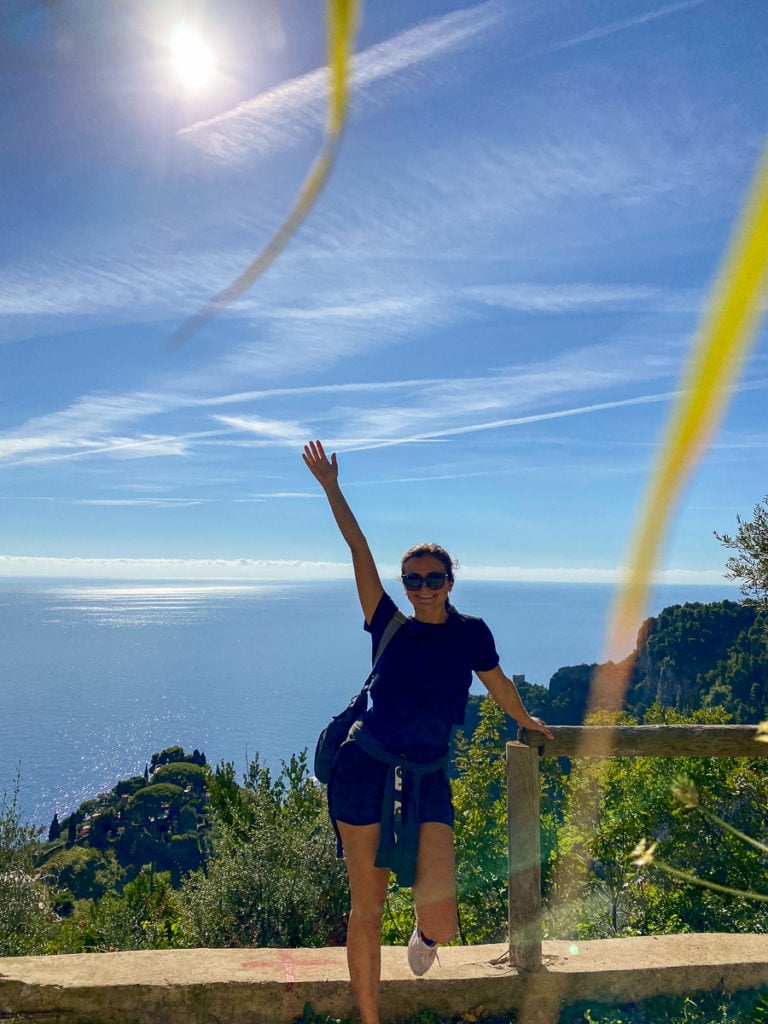 You can begin and end your hike in Atrani (like I did), or Amalfi, or even in Maiori. If you prefer a more relaxed experience, take the bus or a taxi up, and hike down instead.
Either way, you'll delight in stunning views of the Tyrrhenian Sea along the Amalfi Coast. Be sure to pet one (or all) of the cute Amalfi cats along the way!
Check out this guide to the best things to do in Ravello!
#3 Walk Around Amalfi Town
Amalfi town is where most tourists make home base during their Amalfi Coast tour. Whether you're staying in Amalfi town, or just visiting for the day, be sure to take in the grand Port of Amalfi, and walk around the city's main square, Piazza Duomo.
Fancy some souvenir shopping? Something really special to gift your loved ones is Amalfi paper! Since the Middle Ages, Amalfi has made paper by hand; it is the pride of the people and exquisite to the touch. Choose an Amalfi paper bookmark or stationery, perhaps. Learn more at the fascinating Museo Della Carta (Museum of Paper).
Points of Interest in Amalfi Town
Spiaggia Grande (Marina Grande Beach)
Fontana di Sant'Andrea (Fountain of Saint Andrew)
Duomo di Amalfi (Amalfi Cathedral)
Antico Arsenale della Repubblica di Amalfi (Maritime History Museum)
Grotta dello Smeraldo (Emerald Grotto)
#4 Stroll Ravello's Villas
Leisurely stroll about the bodacious villas of Ravello, Amalfi's romantic mountaintop town. Let time slip as you soak in some of the most gorgeous views found along the Amalfi Coast.
Villa Cimbrone
The dramatic gardens of Villa Cimbrone command your attention. You'll be stunned by the architecture, fountains, gardens, statues, and dreamy views throughout. Most notably, the Terrazzo dell'Infinito (Terrace of Infinity) – with its bust sculptures and panoramic view to impress.
Villa Rufolo
The ancient Villa Rufolo combines lush gardens with enchanting Romanesque, Gothic and Moorish architecture. Learn history at the tower museum with splendid views atop. It's no wonder one of Italy's most renowned festivals, Ravello Festival, takes place at Villa Rufolo!
#5 Visit Atrani: The Smallest Town in Italy
The tiny medieval town of Atrani, just a short walk from Amalfi, is a must visit. This historic fishing village is incredibly charming and powerfully fantastical.
Ancient arches support the Amalfi Coast road as it curves around Atrani town. When you're finished padding around the black-sand and ceramic-piece beach, let the arches lead you in. Meander this beautiful town through puzzle-like alleys, pausing to take in the scents and sounds of authentic Italian life around you.
Points of Interest in Atrani
Collegiate Santa Maria Maddalena (Collegiate Church of Santa Maria Maddalena)
Chiesa di San Salvatore de' Birecto (Church of San Salvatore de' Birecto)
Piazza Umberto (main square)
P.S. While I was staying in Atrani, Denzel Washington was in town for movie production! Did I mention this place is absolutely stunning?
MORE AMALFI COAST TRAVEL INSPIRATION: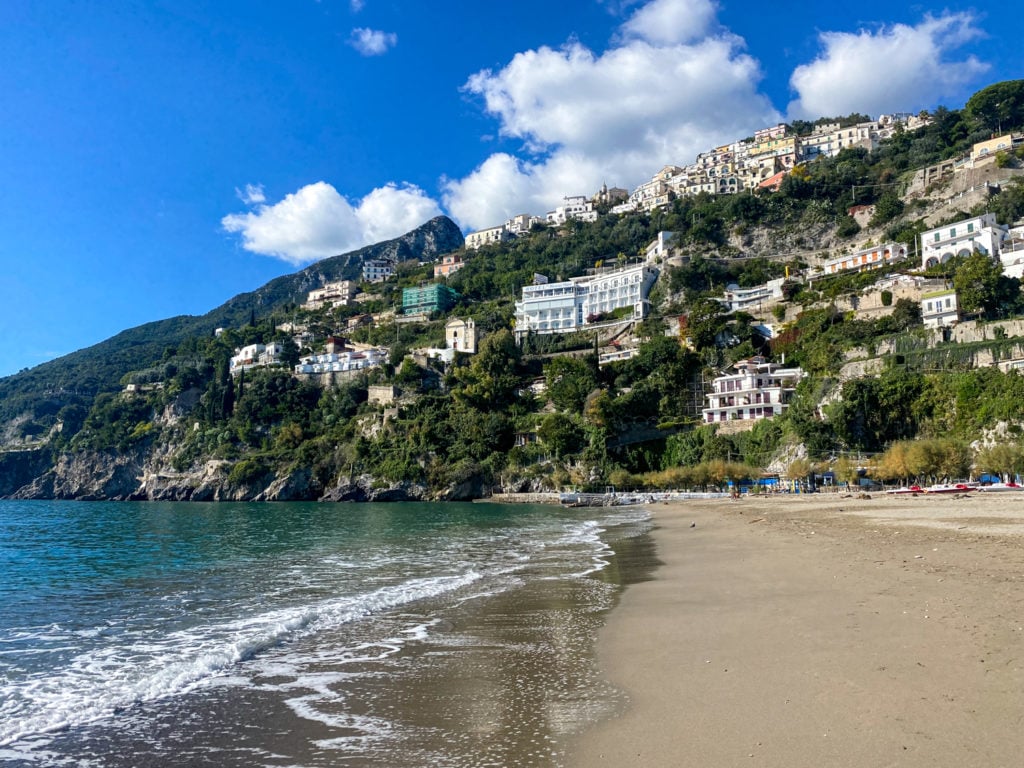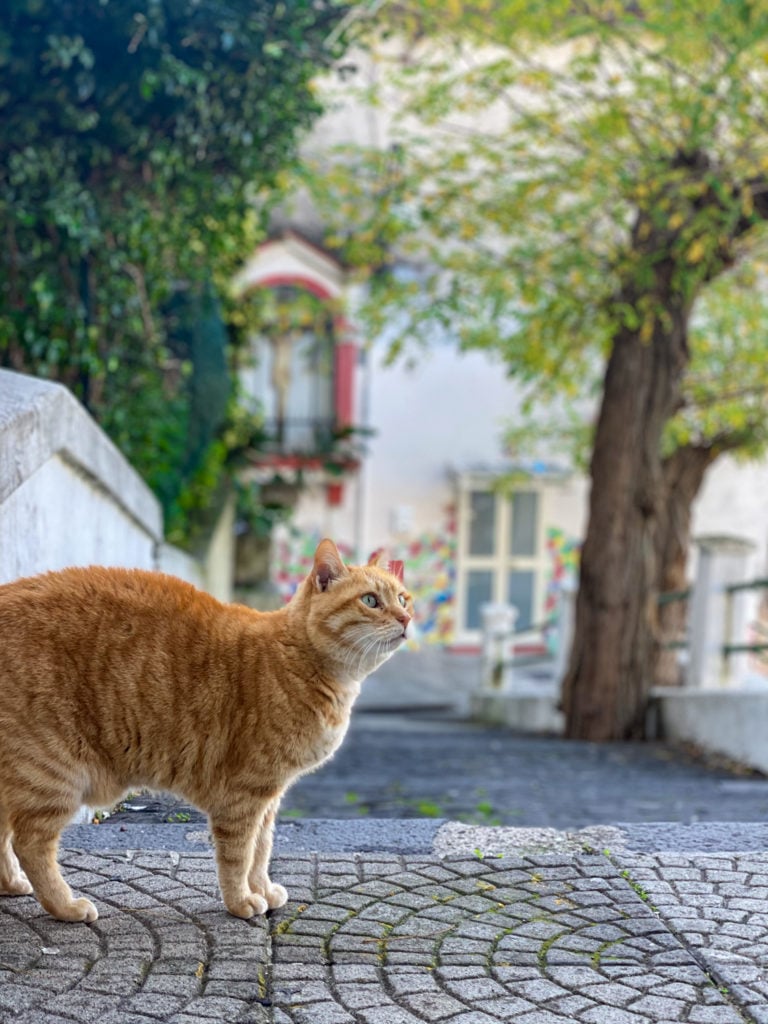 #6 Explore Amalfi's Hidden Gem: Vietri sul Mare
Lesser-traveled Vietri sul Mare is often called the "Gateway to the Amalfi Coast."
Vietri is the quintessential Amalfi Coast: dazzling majolica (riggiole) domes, beach clubs, a historic town, and of course, amazing food. I decided to spend the night, and highly recommend at least a day trip to Vietri sul Mare!
Unlike Positano's busy Marina Grande Beach, beach days in Vietri sul Mare are more spacious. Visit the ceramic museum (and pick up a beautiful new piece), then head to the Villa Comunale Vietri sul Mare, the "Parc Güell of Amalfi Coast" for gorgeous views and colorful ceramic mosaics.

Of course, snap a photo at this Instagrammable street corner!
Check out this guide to the best things to do in Vietri sul Mare!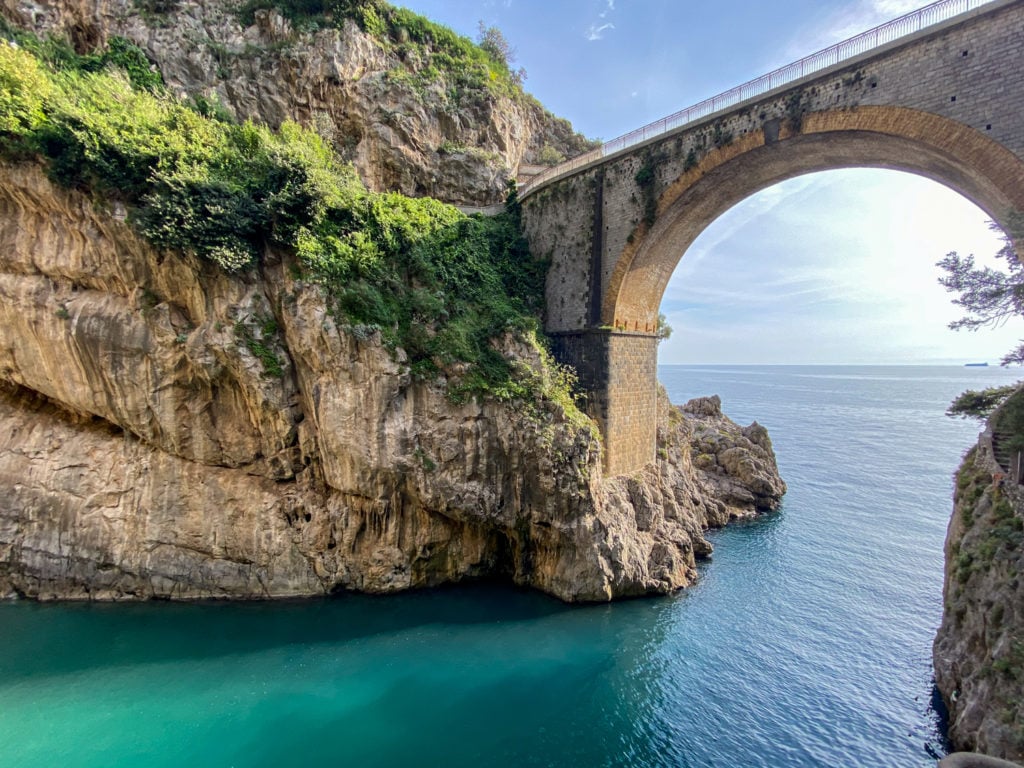 #7 Swim at Fiordo di Furore
Welcome to the only fjord on the Amalfi's beautiful coastline! This bridge is certainly a popular photo-op, but we want the full experience. Descend the staircase and relish in the refreshing Tyrrhenian Sea. If you're really adventurous, bridge or cliff jump!
The sun is only overhead here for a few hours of the day, but in the afternoon, you can still find a small patch of sun-lit water.
You've found your perfect spot to dive into the bright blue sea! I'll forever treasure my moments at Furore Beach on the Amalfi Coast.
#8 Explore Li Galli Islands
The Li Galli Islands, three private islands off the coast of Positano, are the mythical home to the sirens of the sea. Enjoy amazing scenery and snorkeling in the turquoise waters surrounding.
I did not get a chance to explore the Li Galli Islands, but my friend said that renting a boat and cruising around is incredible! They also happen to be shaped like a dolphin, how cute!
Rent a boat, or book this Li Galli Boat Tour from Amalfi.
Based in Sorrento? Book this Amalfi Boat Tour, which takes you to Amalfi, Positano, and the Li Galli Islands!
#9 Day Trip to Capri
You simply cannot visit the Amalfi Coast and not travel to the island of Capri. Sunbathe at one of the beautiful beach clubs, then take the funicular up to La Piazzetta. Snap photos of the stellar viewpoints, shop, stroll the gardens, and eat!
Some of the top attractions in Capri are seen from the water, including the Faraglioni rock formations, the Grotta Azzurra (Blue Grotto), Grotta Bianca (White Grotto), and the Grotta Verde (Green Grotto) sea caves, and the Faro Di Punta Carena (lighthouse).
This Capri Island Boat Ride with Swimming, Sights, and Limoncello tour picks you up right at Marina Grande Beach and checks all the boxes!
Points of Interest in Capri
Anacapri
Giardini di Augusto (Gardens of Augustus)
Villa Lysis
Arco Naturale (Natural Arch Rock Formation)
Monte Solaro Chair Lift
Pro Tip: Book this Li Galli Islands and Capri Boat Tour from Amalfi. A two-in-one of the best things to do on the Amalfi Coast!
#10 Savor Delicious Amalfi Coast Cuisine
Of all the Amalfi Coast things to do, eating well is the easiest (and maybe the most important?) to execute.
The Amalfi Coast is famous for fresh seafood, so make sure to try a cuoppo fritto (paper cone filled with fried seafood, and sometimes veggies and cheese, served with a lemon wedge) for on-the-go lunch.
And of course, delight in lemon everything. Try delizia al limone (sponge cakes filled and covered with lemon curd). And of course, you can't not sip on limoncello (a refreshing lemon liqueur).
Amalfi Coast flavors are one-of-a-kind!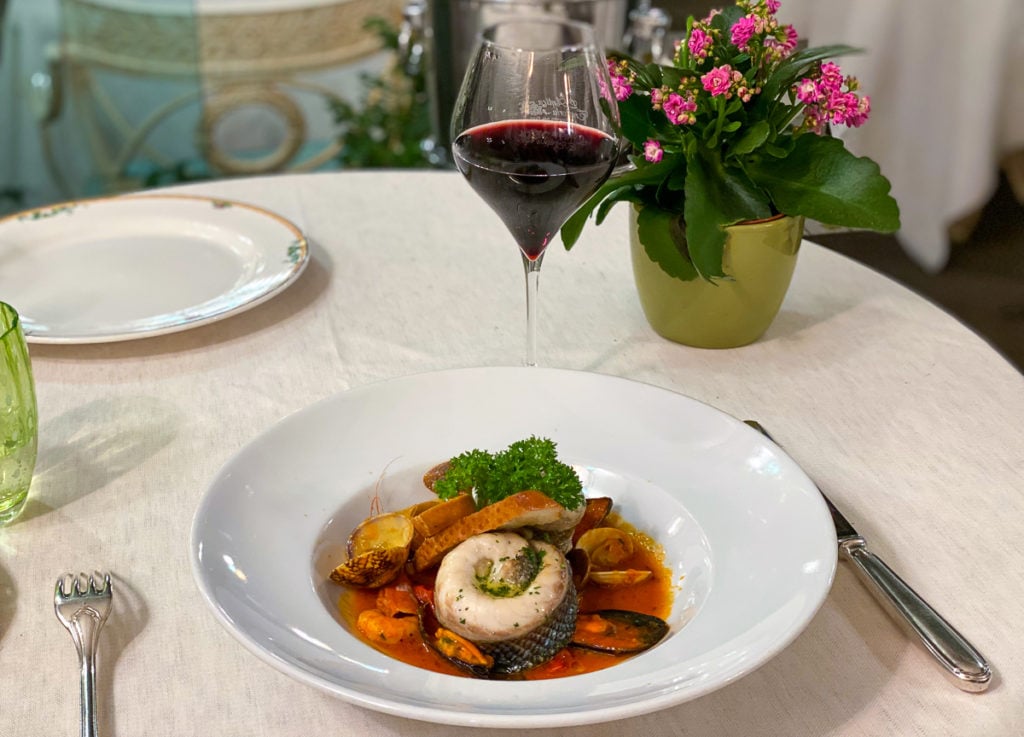 While in the picturesque towns of the Amalfi Coast, go above and beyond for at least one extravagant dining experience. I recommend ordering Pasta al Limone and Frutti Di Mare with fresh Scialatielli pasta at least once!
An evening in Amalfi town calls for dinner at Terrazza Duomo Amalfi across from the glowing Amalfi cathedral.
When you visit Positano, choose your Michelin Star: Ristorante La Sponda, Next2, and Da Vincenzo.
Staying in Sorrento? You MUST get dinner at L'Antica Trattoria. Thank me later.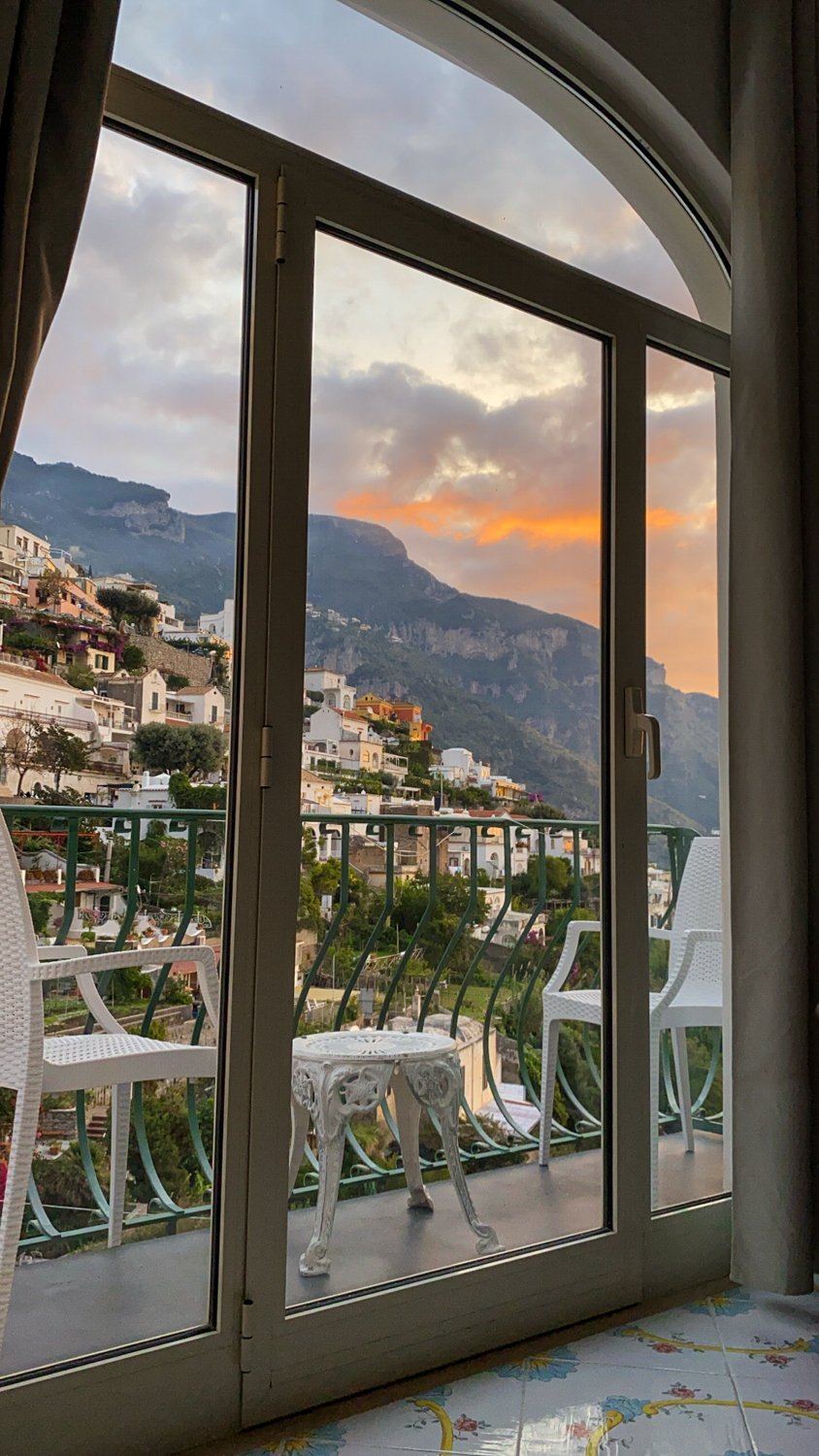 Where to Stay in Amalfi Coast
Now that we've covered the best things to do in Amalfi, let's go over the need-to-know info.
The 13 towns and villages of the Amalfi Coast are all located in the province of Salerno, in the Campania region of Italy. Below, I've detailed the towns I'd recommend staying in, and where to stay in each one.
For the sake of this article, I've included Sorrento, though it's not technically part of the Amalfi Coast.
Something else to keep in mind, villages are typically more affordable, and just a short ride away from the main towns!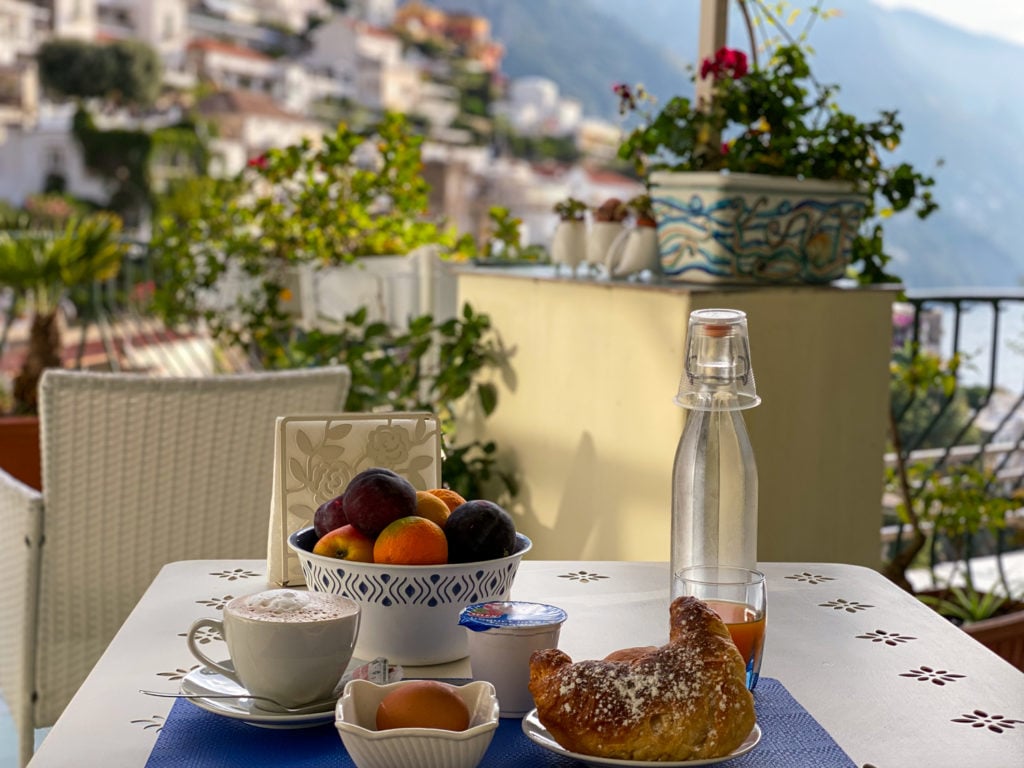 Best Places to Stay in Amalfi
Vietri Sul Mare
In Vietri sul Mare choose Aquaboutique Wellness & Spa (luxe), Palazzo Suriano Heritage Hotel (mid-range), or B&B Rosaria Amalfi Coast (budget).
Positano
In Positano, of course, if you can swing it, you have to stay at Le Sirenuse (ultra luxury). Venus Inn B&B (mid-range) and Hotel Bougainville (budget) are also great options.
Ravello
While in Ravello, go for Villa Cimbrone (luxury) or Monte Brusara Relais (mid-range).
Amalfi
If you stay in Amalfi town, I recommend NH Collection Grand Hotel Convento di Amalfi (luxury) or B&B Al Pesce D'Oro (budget).
Sorrento
And last, but not least, in Sorrento you can't go wrong with Grand Hotel Ambasciatori (luxury) or Mistral Luxury Suites (mid-range).
Still looking? Here's my favorite website for finding the best deals on Amalfi Coast accommodations – from luxury resorts and hotels, to apartments, B&Bs, and hostels. Free cancellation is usually included, so you can book in advance with confidence. (The best places in Amalfi sell out well in advance in high season!)
How to Get Around the Amalfi Coast
Most travelers pick one town as their "home base," then use ferries, cars, scooters, or buses to visit the other towns and attractions in Amalfi Coast.
Personally, I'd choose to stay a night or two in each town for a more immersive experience. You'll have to haul your luggage around more, but it's worth it! The choice is yours.
Either way, here are the best modes of transportation around the Amalfi Coast.
Scooter Rental
Renting a scooter could be a great way to get around (if you have significant experience!) as you experience the best things to do in Amalfi Coast.
They're easy to park roadside, when permitting, and very maneuverable. Of course, you won't be able to use a scooter as your main mode of transportation, as they don't fit conventional luggage.
Click here to rent your scooter to explore the Amalfi Coast.
Car Rental
Overall, I do not recommend renting a car on the Amalfi Coast. Especially in the high season.
Freedom of the open road is liberating… However, driving in Italy (specifically in the south) is a bit anarchic. Italians are passionate and fast drivers – we love that about them!
But if dodging buses around sharp turns on narrow cliffside roads sounds dangerous, that's because it is. As for parking… Fuhgeddaboudit!
Ferries
The ferries are a brilliant way to get around the Amalfi Coast. They're fast and offer amazing views of the coast. Though they're a bit more expensive than buses, ferries are the ideal mode of transportation.
Get your tickets online or at the port. But keep in mind that during the off season (around November to late March), the ferries are out of service (except from Sorrento or Naples to Capri).
Buses/Public Transportation
The Amalfi Coast's public transportation system is great, but the high season causes delays. Travel is an adventure, after all!
SITA bus offers stops all along the Amalfi Coast, as well as routes to Sorrento, Salerno, and Naples. Mobility Amalfi Coast stops at all the little villages, as well as sights such as the Fiordo di Furore.
Be sure to purchase your ticket at a bar or tabaccheria (tobacco shop) beforehand, and don't miss the last bus (usually around 8 pm) or you'll have to taxi back.
Private Transfers
I say, play it safe and stress-free with public transport and private transfer for your Amalfi trip.
If you're traveling solo, private transfers can be a bit pricey, but your driver may give you a little Amalfi Coast history and insider tips along the way!
Click here to find the best private transfers in the Amalfi Coast.
The 10 Best Things to Do in the Amalfi Coast
The Amalfi Coast is special; there's nowhere else in the world quite like it.
Ideally, we'd stay forever and really have the chance to do all the Amalfi Coast has to offer.
But one thing's for sure: the essence of the Amalfi Coast will be in your heart forever.
Add these 10 best things to do in Amalfi Coast to your Amalfi Coast Itinerary. Fond memories of citrus-scented Amalfi Coast towns, warm Italian hospitality, and refreshing turquoise waters will beckon you to return.
Amalfi Coast Travel FAQs
Is there a lot to do in the Amalfi Coast?
Yes, there is no shortage of things to do in the Amalfi Coast! From soaking up the sun on the sand to exploring ancient villages and hiking dramatic landscapes, this region offers something for everyone. And of course, no trip is complete without indulging in the delicious seafood and limoncello that the area is known for. Whether you're looking to relax or to explore all that the Amalfi Coast has to offer, you're sure to have a memorable trip.
What is the best month to go to the Amalfi Coast?
The best month to go to the Amalfi Coast depends on what you're looking for. The weather is most pleasant from April to October in the Amalfi Coast, but crowds are at their peak during the summer months. If you're looking for smaller crowds and a more relaxed atmosphere, consider visiting in the spring or fall. Keep in mind that many restaurants, hotels, and tour companies are closed for the low season, in the winter months. If you visit during this time, you'll be met with colder weather, lower prices, less people, and less things to do; so there are definitely some pros and cons.
What are the best things to do in the Amalfi Coast?
The Amalfi Coast is one of the most picturesque and popular destinations in Italy. This article details 10 of the best things to do while you're there! From hiking from one village to another and swimming in the incredible turquoise waters, to exploring sea caves by boat and indulging in delicious seafood and lemon-flavored everything, you'll find something for everyone on this list. Plus, no matter what you do, the views are always breathtaking! So if you're looking for the perfect coastal Italian vacation, be sure to add this UNESCO World Heritage Site to your list.
SAVE THIS POST ON PINTEREST FOR LATER!
When you book travel or purchase something through our links, we receive a small commission, at no extra cost to you? Your support enables Maddy's Avenue to keep producing helpful travel content. Thank you!
Disclaimer: This post may contain affiliate links. When you click through a link on this page and make a valid purchase, Maddy's Avenue may receive a small commission (at no extra cost to you!). We only recommend products/services that we believe in and know you will love too. Your support enables us to continue making helpful travel content. Thank you for reading, and thank you for your support!