If you're reading this Amalfi Coast itinerary for 3, 4, or 5 days, chances are you're planning to explore the dreamiest coastline in Italy. Congratulations! Whether it's your first or fifth visit, an Amalfi Coast trip is cause for celebration.
Dreams of swimming in the azure Tyrrhenian Sea; hiking along ancient coastal trails; sipping on Aperol spritzes at sunset; fine-dining on fresh seafood; and savoring lemon-infused everything (hello, limoncello!) are about to come into fruition. You'll drool over the impossibly romantic views of Positano, live lavishly on the island of Capri, and stroll the luxurious villas of Ravello. Not to predict the future, or anything!
After exploring this incredible coastline in depth, I've put together the best itinerary for Amalfi Coast I could dream of. There's an abundance of natural and historic wonders to discover along the Amalfi Coast. You'll also find that simply being present to the small moments of daily life is brilliantly magical here. Pause to look around and breathe it all in. Pet the adorable Amalfi Coast cats, connect with locals, and savor the moment. An Amalfi Coast trip is a dream come true!
This guide will give you a useful and customizable Amalfi Coast vacation itinerary that includes it all: the best places to visit, where to stay, how to get around, what to see, the best things to do in the Amalfi Coast, where to eat, and more!
Whether you have 3, 4, or 5 days, this is the guide for you!
About the Amalfi Coast Region
First let's learn a little bit more about the Amalfi Coast (Costiera Amalfitana) and its significance as a protected UNESCO World Heritage Site. The majestic landscapes and rich cultural history make the Amalfi Coast one of the world's most desirable travel destinations!
The Amalfi Coast is a 50-kilometer (31-mile) stretch of luscious coastline in the Province of Salerno of Italy's Campania region. It comprises 13 small villages and towns, from Positano to the west, to Vietri sul Mare to the east.
Cradling the Amalfi Coast, the Lattari Mountains offer stunning contrast to the bright Tyrrhenian Sea and Gulf of Salerno, which are both part of the Mediterranean Sea. Dramatic cliffs plunge into the depths of the sea, as colorful towns and villages are strung along the hillsides above. There is no shortage of inspiration and wow-factor here!
The extraordinary Amalfi Coast has been settled by humans since prehistoric times. Citrus groves, olive groves, and vineyards thrive in the fertile soil of the Amalfi Coast. The land is a stellar illustration of Mediterranean landscape, and has seen centuries of maritime, cultural, and artistic evolution. From mountaintop to seashore, people have long been enamored by the energy and beauty Amalfi Coast. You soon will be too!
How to Get to The Amalfi Coast
Now for a little logistics. The most common points of access for an Amalfi Coast trip itinerary are Naples, Sorrento, and Salerno. The closest international airport to the Amalfi Coast is Naples International Airport, about an hour-and-a-half away from Amalfi Coast by car.
Often, travelers who arrive in Naples – either from northern Italy or from another country – use the large port city of Sorrento as their "home base" to explore the Amalfi Coast. Though Sorrento is not technically part of the Amalfi Coast, Sorrento is beautiful, affordable, and offers plenty of ferries, cars, and buses to Amalfi Coast towns. (Click here to find the best deals on Sorrento accommodation.)
Alternatively, if you're traveling to the Amalfi Coast from cities in Southern Italy, you can begin your Amalfi Coast trip from Salerno and work your way from east to west. You can also take a bus or car from Naples airport to Salerno in under an hour!
Since I was already in Southern Italy, I used Salerno as my access point, and spent a night in the (cutest) "gateway town" to the Amalfi Coast: Vietri sul Mare (just 10 minutes from Salerno).
How to Get Around the Amalfi Coast
The Amalfi Coast Road is a winding, narrow, cliffside road connecting all the towns and villages along the coast.
Due to immense traffic in the high-season and lack of clear driving rules and parking, I don't recommend renting a car.
Renting a scooter is a great idea for day trips, as long as you're a practiced driver! Click here to book your scooter.
Public transportation in Amalfi Coast is a great way to get around too. It's cheap, frequent, and (mostly) reliable. The bus systems (SITA and Mobility Amalfi Coast) offer local and regional routes running all season long. Just be aware, buses can be full and/or late during summer.
Ferries are the most enjoyable way to travel the Amalfi Coast. Just note that only Amalfi, Positano, Maiori, Cetara, and Minori have ferry service. Also, during the off season (November to late March), the ferries are not in service.
For both buses and ferries, you'll need to purchase tickets ahead of time in a bar, tabaccheria (tobacco shop), newsstand, or ferry ticket offices at the port.
Private transfers on the Amalfi Coast are expensive, but they provide you with peace of mind… Hiring a private car is worth it! Click here to book your private driver.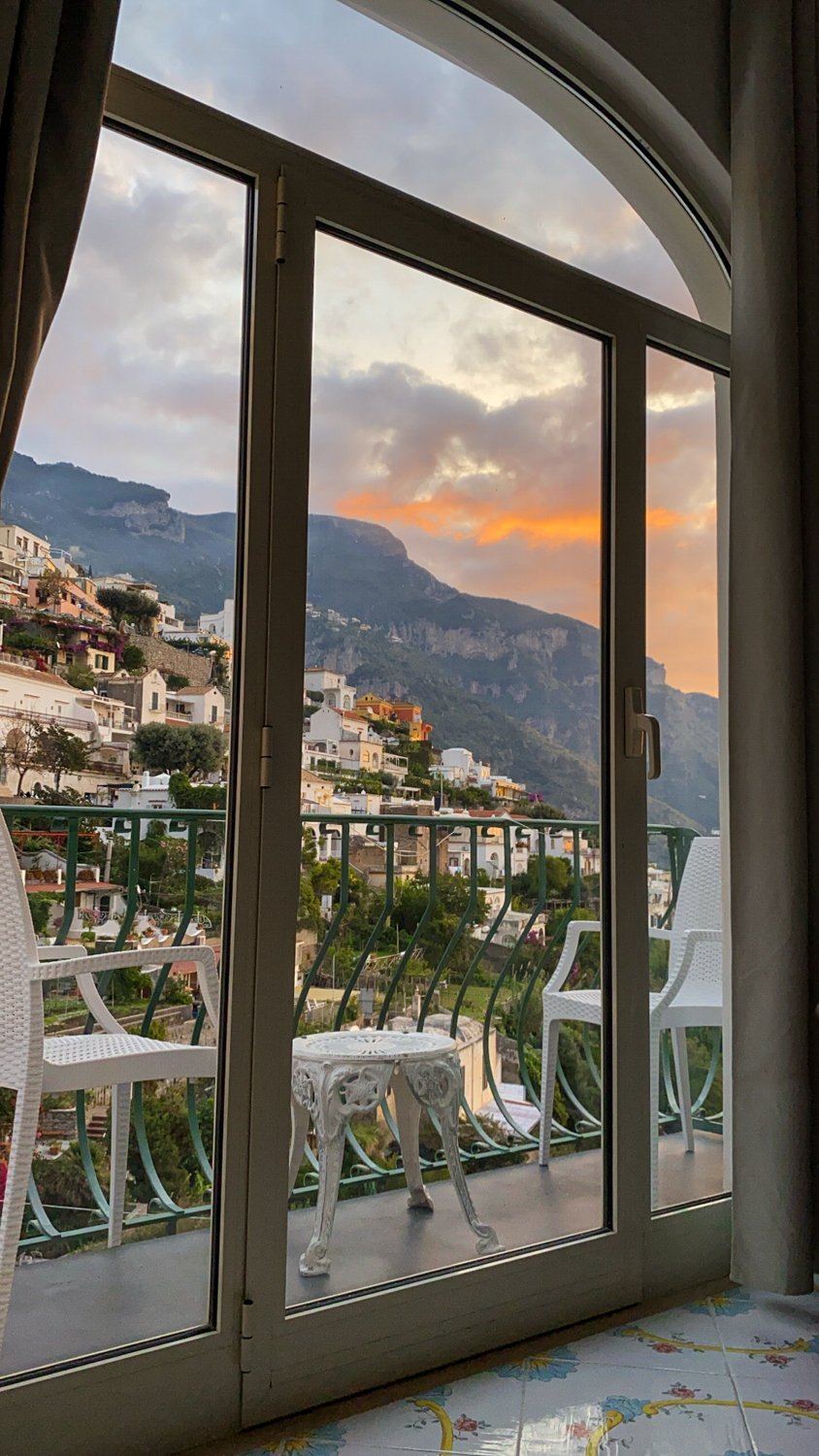 Where to Stay in Amalfi Coast
No matter where you choose to stay, your time spent in Amalfi Coast will be wonderful!
Generally, staying in smaller villages (Atrani, Praiano, Furore, Minori, Maiori, etc) will come with a lower price tag. If you want extreme luxury, Il San Pietro di Positano is one of the most expensive – I mean nicest – hotels in all of Italy!
As for having a "home base" versus sleeping in a different town each night, I think it's better to move around. That way, you can get the full experience and discover each town more deeply. Savor an epic sunset and a slow morning in each location. Find your favorite restaurants. Go swimming. Eat all the gelato. And spend less time in transit, back and forth.
Below, I'm sharing the gems I discovered along the Amalfi Coast (in every price range!), plus some hotels in Sorrento, too.
Positano
Positano is usually only visited as a day trip, however, if you can swing it, spend at least one night! Positano is the most picturesque of all the Amalfi Coast towns.
Amalfi
Basing yourself in Amalfi town is a great option because of its central location, ferry port, and myriad of restaurants and hotels. Afterall, this is Amalfi Coast's namesake!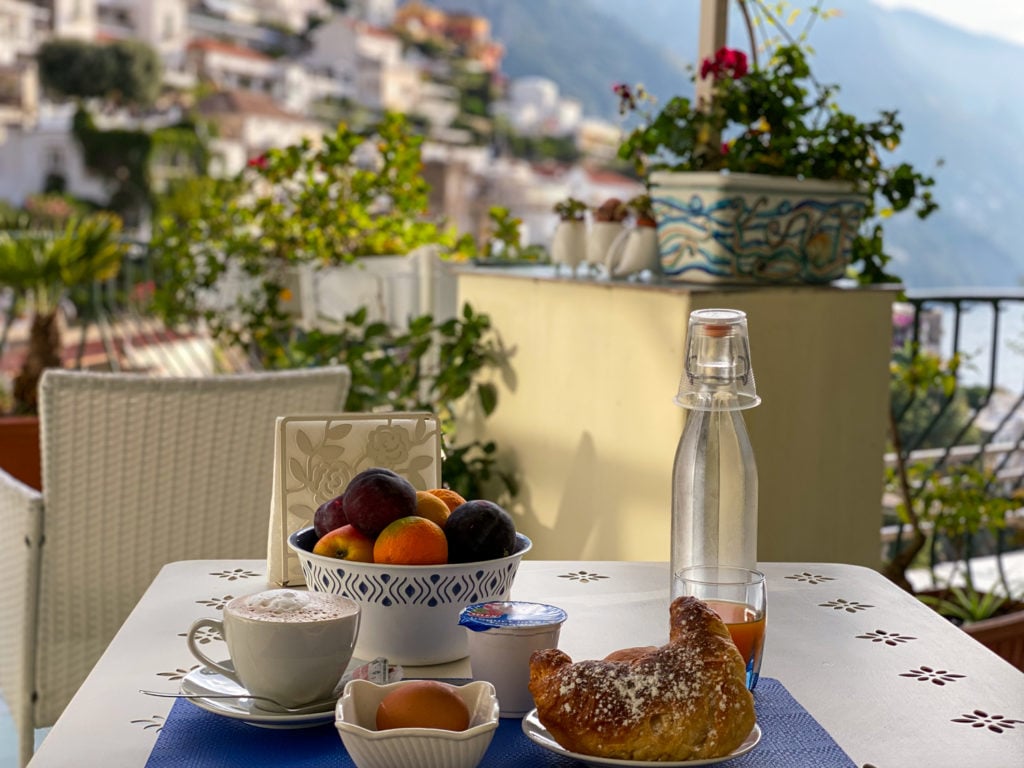 Atrani
Just a ten-minute walk from Amalfi town is whimsical Atrani, the smallest town in all of Italy. I enjoyed staying in Atrani for its charm, location, and value.
Ravello
The romantic mountaintop village of Ravello is revered for its impressive gardens and historic villas. Staying in Ravello is glamorous as well as practical since it is centrally located.
Sorrento
If you're looking for the most bang for your buck, I recommend staying in Sorrento and taking day trips to the Amalfi Coast; public transportation is easy, cheap, and plentiful from Sorrento. Whether you're staying in Sorrento for your whole trip, or just for the night before you head to Naples, you'll find a wide array of lodging to suit your needs!
Still looking? Here's my favorite website for finding the best deals on Amalfi Coast accommodations – from luxury resorts and hotels, to apartments, B&Bs, and hostels. Free cancellation is usually included, so you can book in advance with confidence. (The best places in Amalfi sell out well in advance in high season!)
Amalfi Coast Travel Itinerary (3, 4, or 5 Days)
The Perfect Amalfi Coast Itinerary Overview
Here's a quick overview of your dreamy Amalfi itinerary. Below, you'll find the details of what to see, do, and eat in each place!
RELATED READING: 10 Unforgettable Things to Do in the Amalfi Coast
Day 1: Vietri Sul Mare & Amalfi Town
Welcome to the spectacular Amalfi Coast! On Day 1, you'll spend time exploring the hidden gem of the Amalfi Coast: Vietri sul Mare. After, take the scenic route (the ferry!) to Amalfi Town to relish in a fabulous oceanside evening.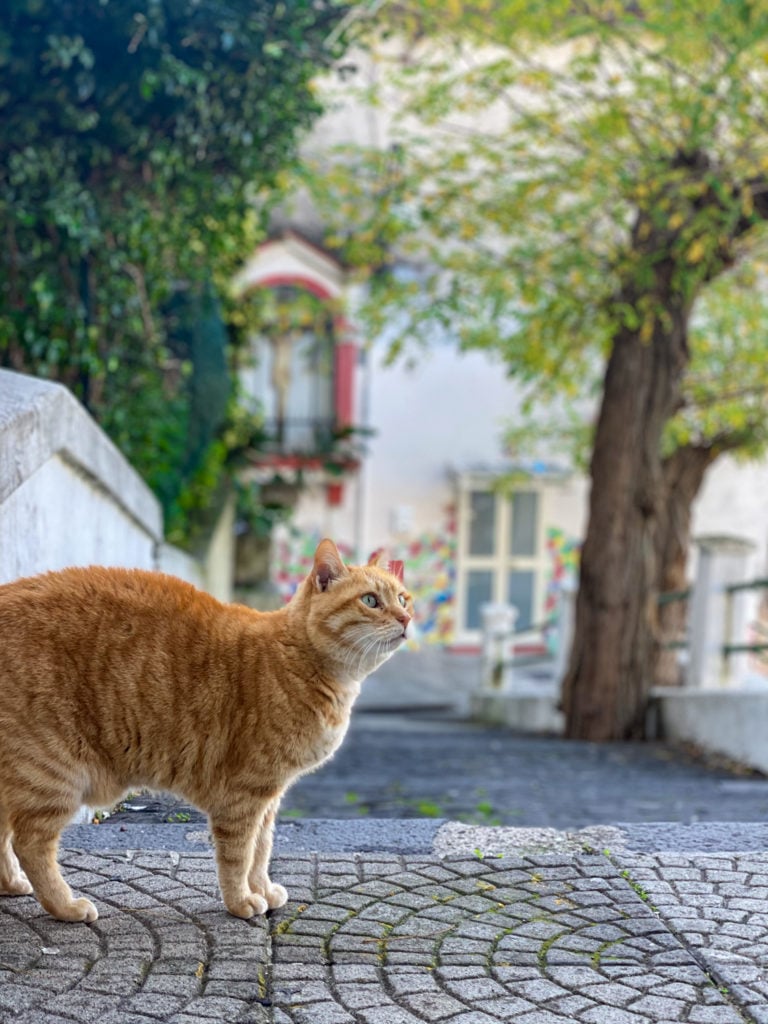 Vietri sul Mare
If you were to look at an Amalfi Coast map, you'd find Vietri sul Mare on the eastern edge of the coastline. This destination is often overlooked, but I think it should be included in every Amalfi Coast itinerary.
Vietri is one of the most picturesque villages of the Amalfi Coast! Plus, this town is a historic producer of traditional Italian ceramics.
Stay here a night, or spend a half-day seeing all the highlights. Don't forget to snag a handmade ceramic souvenir (obviously!), and be sure to swim at one of the spectacular beaches!
P.S. Vietri Beach is home to the longest stretch of sandy beach in all of Amalfi Coast.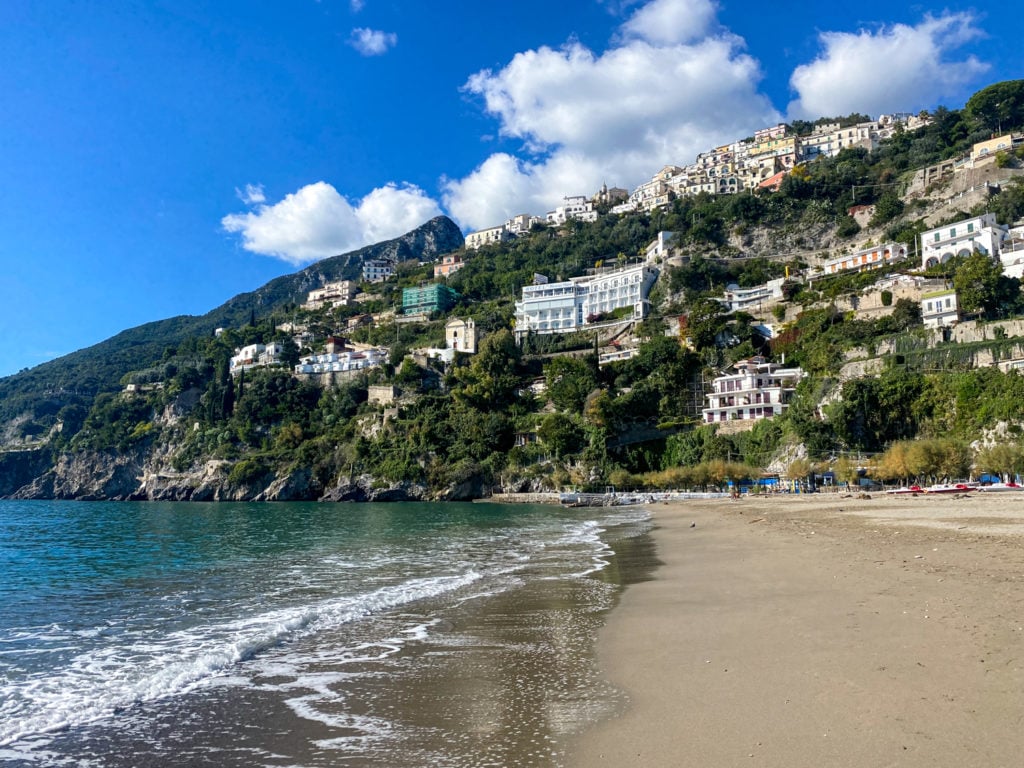 Things to Do in Vietri sul Mare
Where to Eat in Vietri sul Mare
Russo Cafe Pasticceria: Delightful pastries and coffee with panoramic views of the Mediterranean Sea.
Ristorante 34 da Lucia: Dine on the freshest local seafood and pasta at this family-run restaurant – alongside Vietri locals and accompanied by… wine.
Ristorante La Sosta: Come to this traditional family restaurant for dinner and just let the owner order for you. Trust me.
Amalfi Town
Welcome to the namesake of the Amalfi Coast. Limoncello, soft handmade paper, cuoppo fritto (cardboard cones filled with fried seafood), and gelaterias galore! If that sounds like a dream, that's because it is. Spend your first afternoon on the Amalfi Coast strolling about Amalfi's main street, Ruga Nova Mercatorum, and savor the sights, scents, and flavors.
Things to Do in Amalfi Town
Where to Eat in Amalfi Town
Saracen Tower: How does fresh fish, great service, and unreal views of the Tyrrhenian Sea sound?
Cuoppo d'Amalfi: Grab this famous Amalfian street food for a snack between shopping. What's not to love about succulent deep-fried seafood (and maybe some potatoes, too), with a generous squeeze of lemon on top?
Taverna Degli Apostoli: Another gem serving up high-quality seafood and other local classics under the glowing lights of the cathedral.
Day 2: Atrani & Ravello
Day two of our Amalfi Coast itinerary begins with a jaunt around adorable Atrani, and offers an optional hike to Ravello. Once you reach this mountaintop town, take your time wandering about the beautiful villas.
Atrani
It's true that Atrani is the tiniest town in all of Italy, but this former fishing village boasts big charm!
There's no major "to see" list here. Simply stroll along the black-sand beach, grab a slice of pizza at Mistral Pizzeria, and check out Piazza Umberto, the main square. Keep it simple!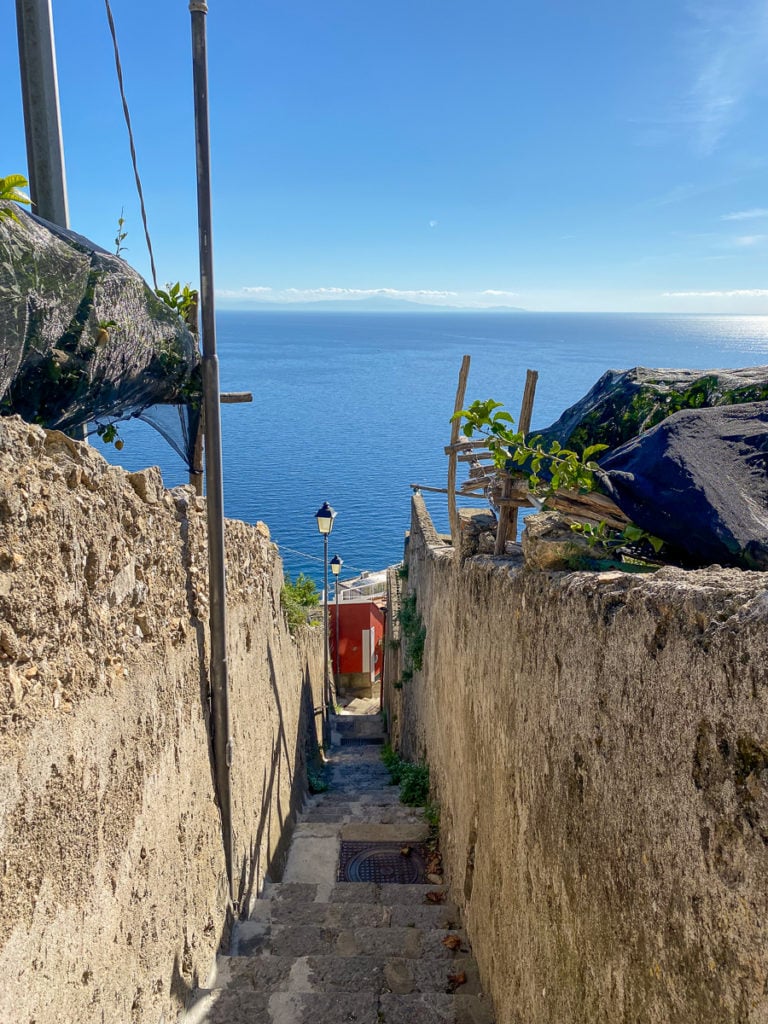 Now you have a choice. Hike the 1,500 ancient stairs up to Ravello among the lemon trees, or use a car or bus to save your energy.
If you take the stairs, make your way to the big church on the corner of Atrani (Collegiate Santa Maria Maddalena) and head up the stairs on the right. There are plenty of signs and cats to help you along the way!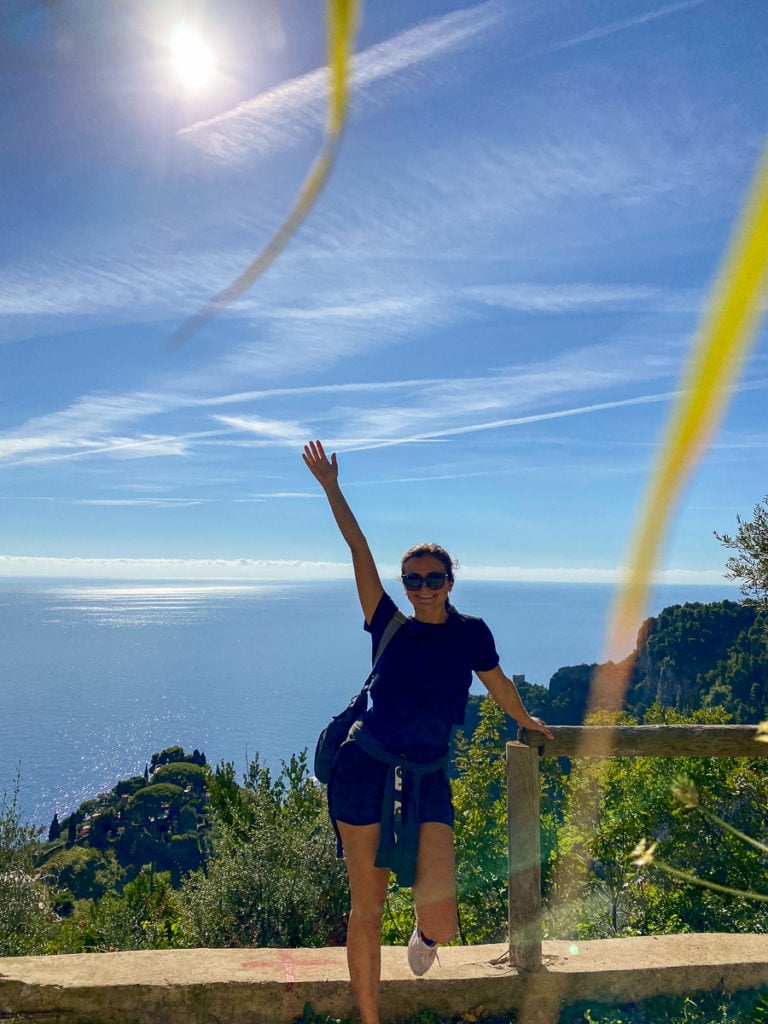 Ravello
Of course, this Amalfi Coast itinerary includes delighting in the elegance of Ravello.
Explore the little town square before heading to the villas.
At each villa, you'll pay a small entrance fee to admire the impossibly perfect gardens, striking architecture, and wondrous vistas of Amalfi's rugged hills and deep blue seas.
Villa Rufolo
This is the home of Ravello Festival, a classical music festival that's made Ravello world-famous.
Enjoy the magnificent architecture, fantastical flowerbeds, and wondrous Italian stone pine trees "umbrella trees".
Is this… heaven?
Villa Cimbrone
The lavish gardens, fountains, statues, and sculptures are captivating… But the Terrazza dell'Infinito (Terrace of Infinity) is the pièce de résistance. You've arrived at the ultimate viewpoint of the entire Amalfi Coast!
Where to Eat in Ravello
Il Panino: The perfect spot for a sandwich and a spritz or coffee in between villas.
Il Flauto di Pan: To wine and dine in the gardens of Villa Cimbrone says it all.
Salvatore Ravello: This restaurant is well-known for its wonderful cuisine and spectacular sea view.
Day 3: Outdoor Adventure & Positano
How about a little adventure? For the third day of your Amalfi Coast trip, relax at the Fiordo di Furore beach and explore a sea cave, or hike the epic Path of the Gods. Spend the rest of Day 3 basking in the sunshine in luxurious Positano!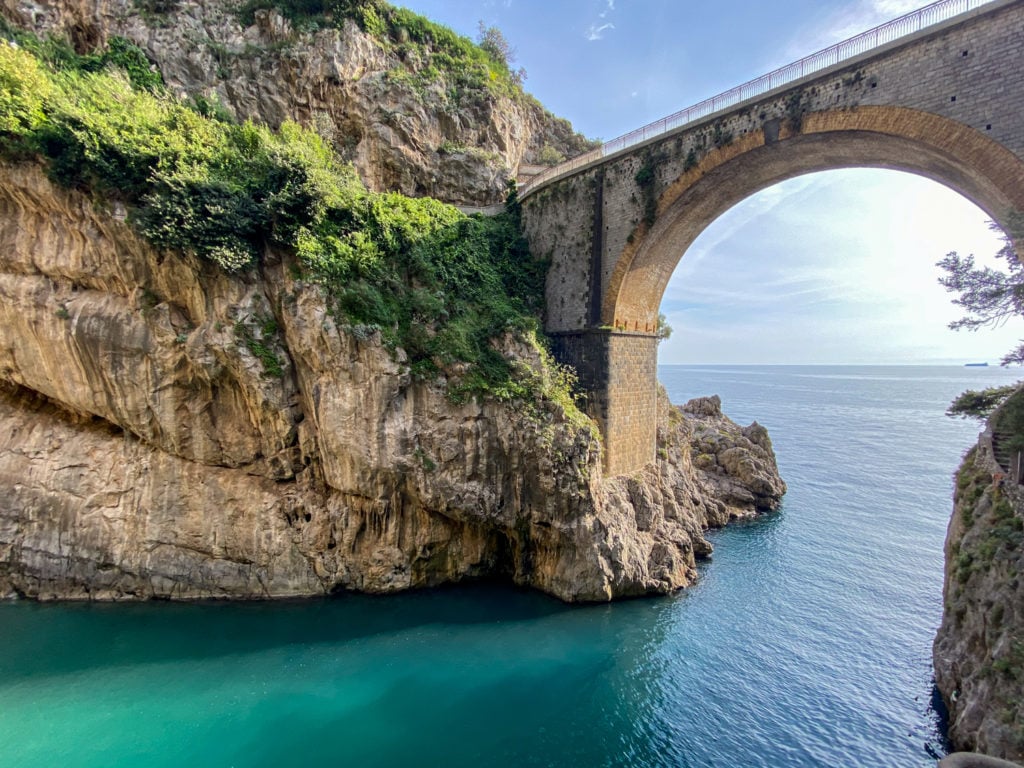 Fiordo di Furore
The Fiordo di Furore is a quaint beach framed by the iconic Amalfi Coast road bridge overhead.
Maybe you recognize this beach from the Red Bull cliff diving world championship! But you don't need to cliff dive to enjoy the glimmering water and warm pebble beach.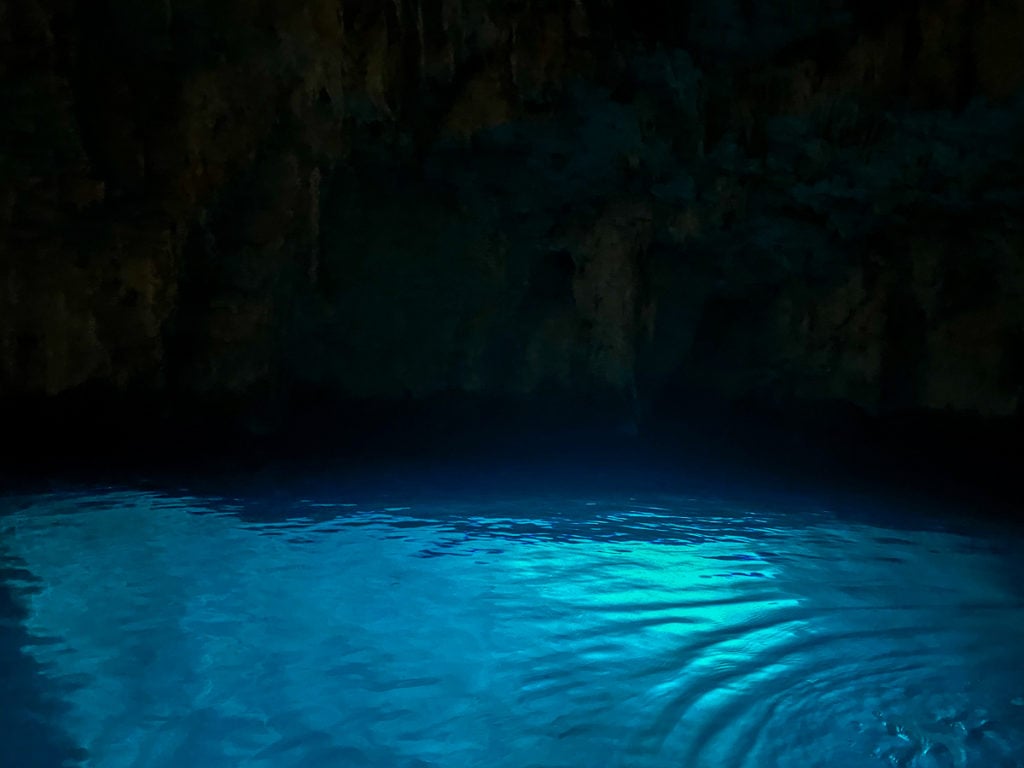 Grotta dello Smeraldo
Not to be confused with the Blue Grotto of Capri, the Grotta dello Smeraldo (Emerald Grotto) is a small sea cave that is lit up from natural light passing under the rock formations. It's a cool sight, and the tour is short but sweet.
How to Get There
Wondering how to get to these sites? You can take the Mobility Amalfi Coast bus, or try one of the many Amalfi Coast boat tours!
This Amalfi Coast Private Boat Tour from Positano, Praiano or Amalfi brings you to see the grotto and fjord, with a glass of prosecco in hand (perfect for bigger groups, as it's a little pricey on your own!). Click here to book it.
Otherwise, this Small-Group Amalfi Coast Day Cruise from Positano is affordable no matter how many are in your crew; you'll visit the Emerald Grotto, enjoy views of Praiano, go swimming and snorkeling in secluded coves, and more. Click here to book it.
Hike "II Sentiero Degli Dei" (The Path of The Gods)
This is the most famous hiking trail on the Amalfi Coast! Hiking the ancient Path of The Gods is an intimate way to experience the landscapes, fresh air, and surrounding sea of the Amalfi Coast. The hike is about four miles long and reachable by car or bus to Nocelle (nearby Positano) or Bomberano (close to Amalfi).
If you're keen on learning the rich history and significance of this trail, book your Trail of the Gods Hike with Local Guide Saveria Fiore. Her guidance is revered!
Click here to book your epic guided journey of the Path of The Gods.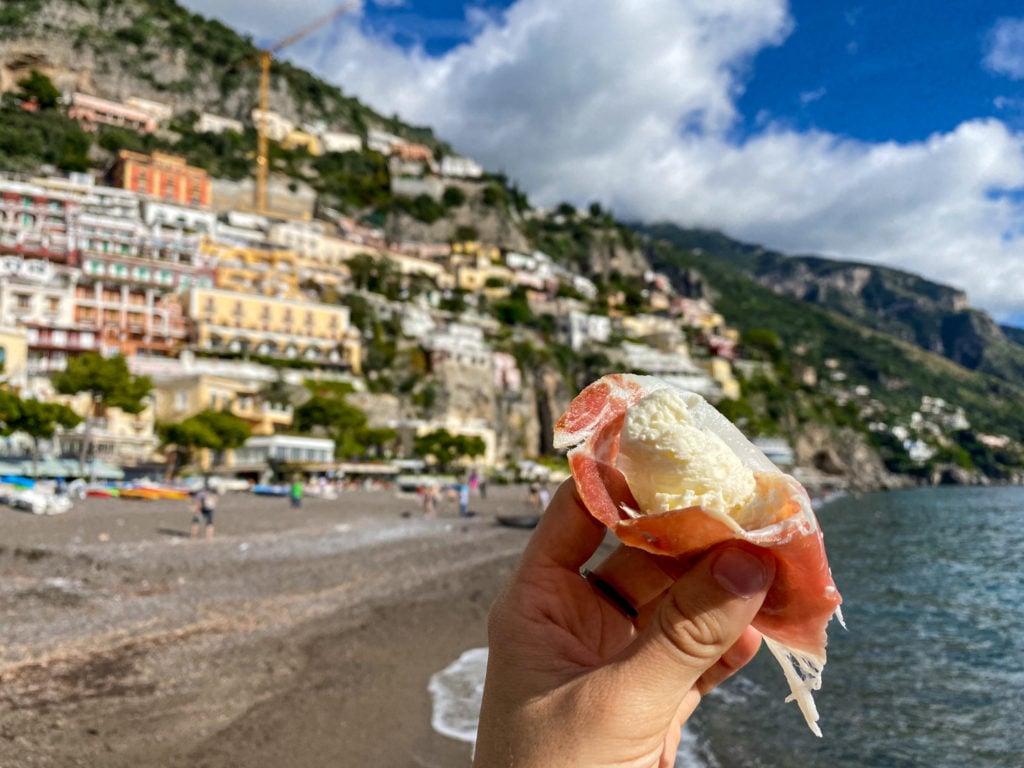 Positano
The picture-perfect Marina Grande Beach, bougainvillea-laced walls, and dazzling energy will have you smitten with Positano. This village (yes, Positano is a village!) is often called the "vertical city" because of its marvelous stacked buildings that cling to the cliffside and peer out over the Tyrrhenian Sea.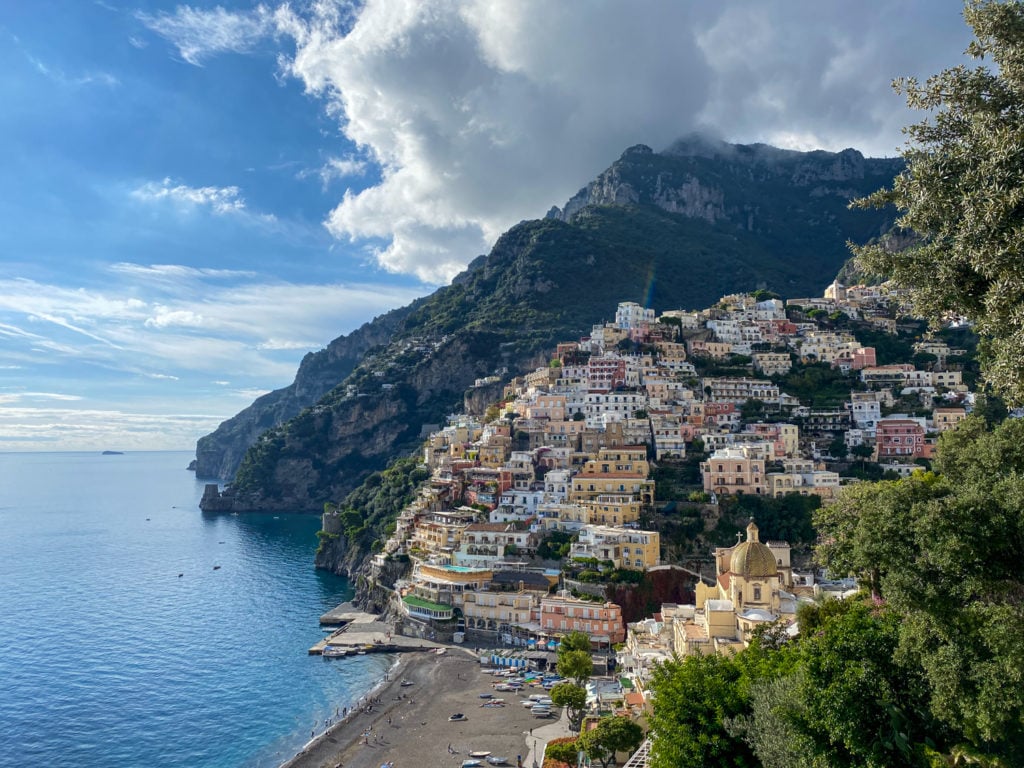 Positano is less about "doing" and more about "being". As the kids would say, Positano gives you "main character energy", so take all the pleasure in strolling, sitting, sipping, and staring at those views!
Catch some Mediterranean sun at Arienzo or Marina Grande Beach, then peruse the upscale boutiques, and make your way to a series of restaurants for aperitif hour(s).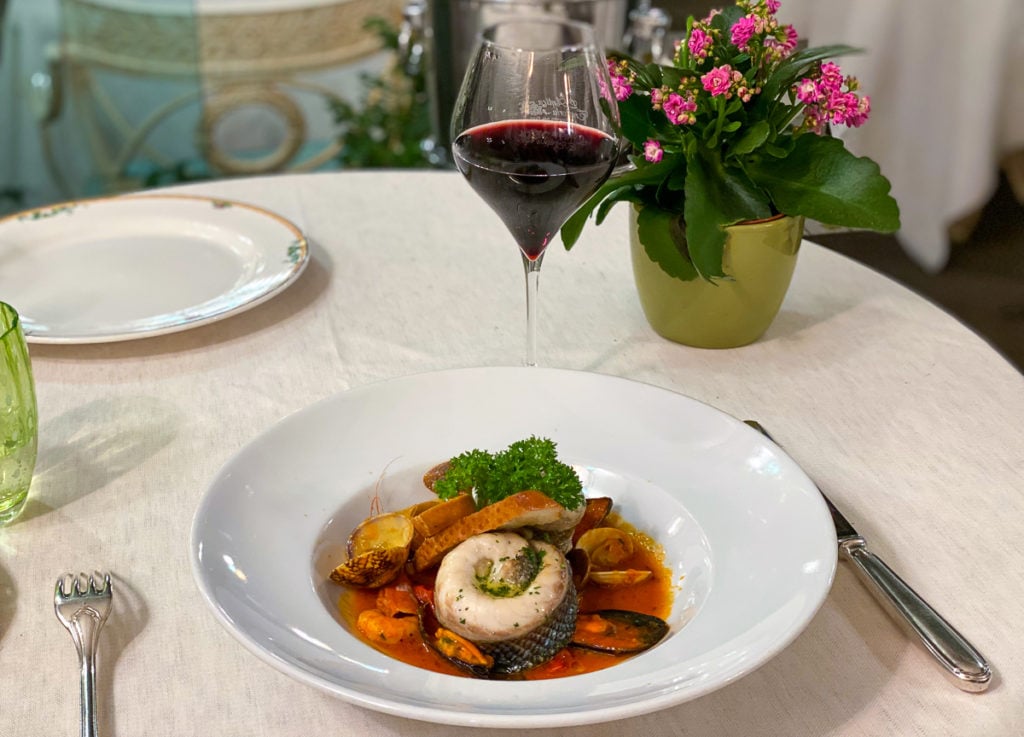 Where to Eat & Drink in Positano
RELATED READING: 10 Unforgettable Things to Do in the Amalfi Coast
Day 4: Capri
Though it's not really part of the Amalfi Coast, every Amalfi Coast itinerary should include a day trip to Capri! This is one of the most famous towns in all of Italy.
Island of Capri
To get to Capri, you can take the ferry, or book one of these boat tours to make your life easier! Each of the below options will pick you up and make sure you see all the points of interest!
Best Capri Island Boat Tours
Here are some of the best Capri boat tours. Each one is epic in its own way, so your main consideration should be where you need to be picked up from – i.e. Sorrento, Naples, Positano, or Capri itself!
Capri Must-Sees from the Water
Faraglioni Rock Formations
Arco Naturale (Natural rock arch)
Grotta Azzurra (Blue Grotto)
Grotta Bianca (White Grotto)
Grotta Verde (Green Grotto)
Faro Di Punta Carena (historic lighthouse)
Already on the Amalfi Coast? Try this tour. From Sorrento, book this private Capri tour, or this affordable small group tour. This particular boat tour picks you up from Capri's Marina Grande with limoncello and snorkel gear!
Things to Do in Capri
Hang at one of the many beach clubs
Take the funicular from Marina Grande up to Capri Town
Walk Via Krupp To Marina Piccola
Visit the town of Anacapri to see Villa San Michele
Stroll through the lovely Giardini di Augusto (Gardens of Augustus)
Visit Villa Lysis for elegant gardens and views
The Monte Solaro Chair Lift is a must-do open-air chairlift in Anacapri
Where to Eat in Capri
Ristorante Panorama Capri: Ready to feast upon classic Italian food (hi, pizza) on the most chic of terraces overlooking the Bay of Naples? This is your spot.
Da Paolino: Dine seaside, amongst fragrant lemon trees, on caprese and fresh seafood at Da Paolino; come here to take all the pleasure in a picturesque Capri evening.
Ristorante Il Geranio Capri: Classic Neapolitan flavors you love (chili, olive oil, and garlic) pair effortlessly with fresh-caught fish, seafood, and shellfish, epic views, and romantic ambience here.
Day 5: Sorrento
Ah, a day of strolling about the streets of historic Sorrento. Take this day to relax a bit. It's been an exhausting week of sightseeing!
Explore Sorrento
While in Sorrento, people-watch in Piazza Tasso and snap up all the last-minute, lemon-inspired souvenirs.
Visit the Cathedral of Saints Philip and James, then sit in the Villa Comunale with the locals.
Feel a sense of gratitude as you peer out over the Gulf of Naples at Mount Vesuvius.
And finally, to wrap up your lovely day exploring, have a romantic dinner at L'Antica Trattoria.
Pompeii & Mt. Vesuvius
If you want to use your last day doing something super epic, then I have just the thing for you! A tour of Pompeii and Mt. Vesuvius will be the cherry on top of your perfect Amalfi Coast trip!
Roam the fascinating, UNESCO-listed ruins of Pompeii with your expert guide, and learn about how the devastating eruption of Mt. Vesuvius in AD 79 preserved the village – and the paintings, artifacts, and thousands of villagers inside of it – in a blanket of ash and pumice. Then, hike up to the crater rim of the volcano. What a day!
Click here to book your Skip-The-Line Pompeii Guided Tour & Mt. Vesuvius Trip from Sorrento.
The Dreamiest 3, 4, or 5-Day Amalfi Coast Itinerary
It is my hope that this dream Amalfi Coast itinerary helps you to create lifelong memories under the Amalfi Coast sun!
With 5 days on the Amalfi Coast you will discover why this UNESCO site is a "bucket list" destination. The aroma of lemon trees, warm Italian hospitality, and refreshing Tyrrhenian Sea never cease to affirm the Amalfi Coast as a special place in history and in our hearts. Enchanting memories made during your Amalfi Coast trip will beg you to bring your daydream into fruition once again. You'll be back!
Amalfi Coast Itinerary: FAQs
How many days do I need in the Amalfi Coast?
To get the full Amalfi Coast experience and experience all the best things to do in Amalfi Coast, you should plan to spend at least 3 days there. In 3 days, you'll have time to explore the beautiful towns of Vietri sul Mari, Amalfi, Atrani, Ravello, and Positano. You'll savor local dishes, sip on limoncello, go for swims in the stunning Tyrrhenian Sea, go for a boat tour, and more. With 4 days, you'll be able to take in the island of Capri and discover all of its natural wonders. With 5 days, you can also visit Sorrento (or Pompeii & Mt. Vesuvius) too. Even though Sorrento isn't technically part of the Amalfi Coast, it's a common jumping-off point for exploring the Amalfi Coast, and it's worth including for its own unique charm and things to do. This Amalfi Coast Itinerary includes all of the best experiences, whether you have 3 days, 4 days, or 5 days to spend. If you want to stay even longer, you totally can! There are enough delicious restaurants and views, beautiful beaches, and fun activities to fill up a couple more days.
Is 10 days too long for Amalfi Coast?
How long is too long in paradise? You only need 3 days to see all of the Amalfi Coast's main attractions, towns, and beautiful views and beaches. But if you don't mind going slow, relaxing, and luxuriating in long lunches, sunset drinks, and lazing on the beach, then no, 10 days is not too long for Amalfi Coast!
Is it better to visit Positano or Amalfi?
It's hard to compete with Positano. If you have time, you should make sure to explore the village of Positano and the town of Amalfi. Both destinations are home to beautiful architecture, beaches, lovely restaurants, and epic views. But if you have to choose one, choose Positano. The picture-perfect beach, bougainvillea-covered buildings, colorful buildings that cling to the cliffside, and dazzlingly magical energy make Positano a place you'll never forget! And we can't forget the amazing terrace bars and heavenly hotels, like Le Sirenuse. Overall, Positano is better to visit than Amalfi – but in my book, they're both winners.
Is it easy to get to Amalfi Coast?
Yes, it is very easy to get to Amalfi Coast. Whether you're coming from the Naples Airport, from Sorrento, or from Salerno in the south, you have a number of options. This itinerary includes everything you need to know about how to get to Amalfi Coast – and what to do once you arrive!
How long do you need in Amalfi Coast, Italy?
To fully experience the charm of the Amalfi Coast, you need at least 3 days. Anywhere between 3-5 days is perfect. This best Amalfi Coast Itinerary covers everything you need to know for the dreamiest 3-5 day trip on this wondrous coastline.
SAVE THIS POST ON PINTEREST FOR LATER!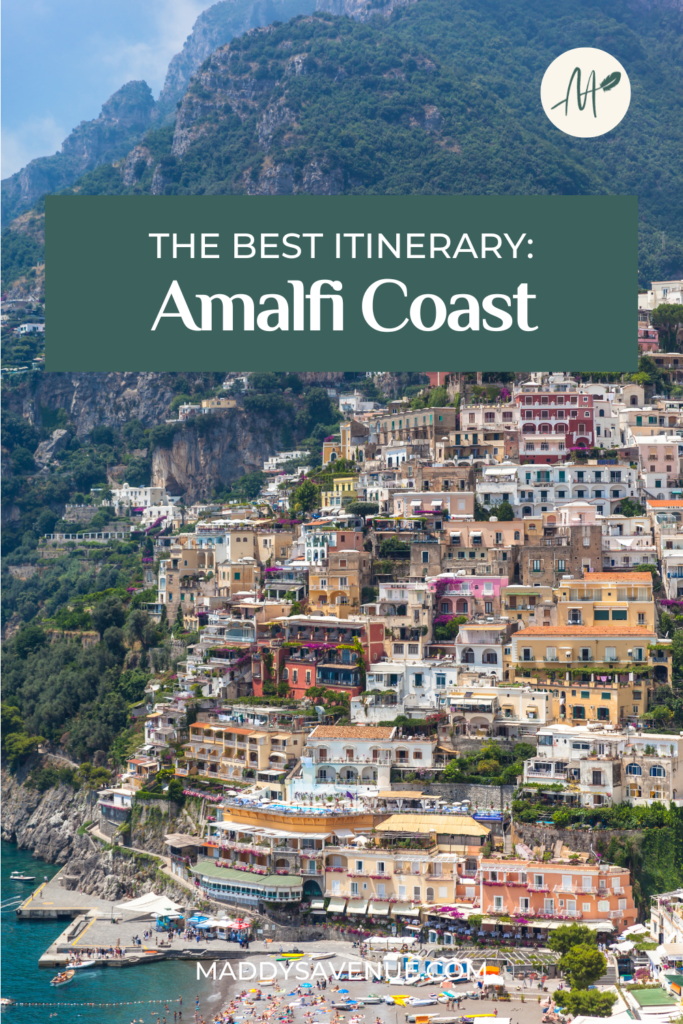 When you book travel or purchase something through our links, we receive a small commission, at no extra cost to you? Your support enables Maddy's Avenue to keep producing helpful travel content. Thank you!
Disclaimer: This post may contain affiliate links. When you click through a link on this page and make a valid purchase, Maddy's Avenue may receive a small commission (at no extra cost to you!). We only recommend products/services that we believe in and know you will love too. Your support enables us to continue making helpful travel content. Thank you for reading, and thank you for your support!