Between the recycled air, the stiff seats, the crying babies, and the many sedentary hours, long-haul flights are hard. But what if I told you there was something you could do to make it better? You like the sound of that, don't you?
Today, I want to share with you the art of the "comfort pack" — as I like to call it.
No doubt, the travel comfort pack is everything you've been missing in your traveling life. And of all my tips for surviving long-haul flights, the travel comfort pack is paramount! So friends, today, I am here to tell you all about my invention — the travel comfort pack (also known as the travel comfort kit) — and to convince you of its absolute necessity in your carry-on bag.
Are you ready for this? It's going to be extremely simple, but nonetheless life-changing.
What's a Comfort Pack, and Why Do I Need One?
Essentially, a travel comfort pack is a beautiful little parcel that holds all of the items you will need during your flight to keep yourself feeling comfortable, happy, and fresh.
Comfort packs make travel days easier and better for a few reasons.
They contain everything you need to stay happy, healthy, and comfy on your flight.
They keep all of those necessities together in one spot, so there's no need to hunt through your carry-on to find everything.
You can easily slip your comfort pack out of your carry-on and into your seat-back pocket as soon as you sit down.
You won't need to get into the overhead bins during your flight, which is convenient for you and other passengers.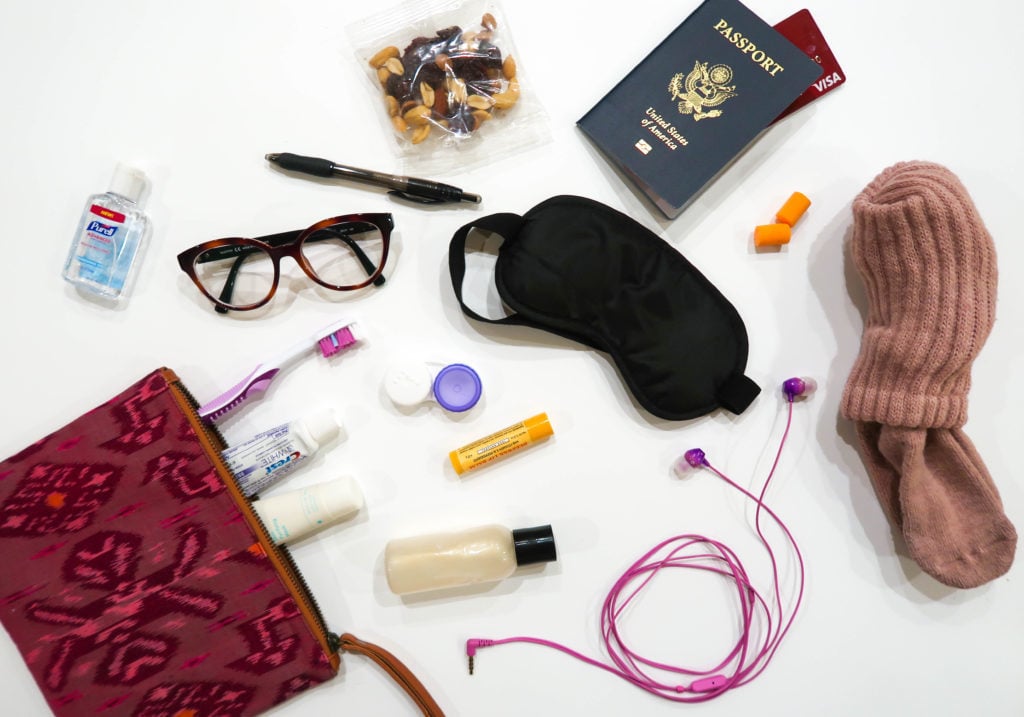 What Do I Need to Create My Comfort Pack?
To create your own travel comfort pack, you first need the pack itself!
What you're looking for is a small, lightweight bag that's flat and tall. It needs to be big enough to hold all of your things, but small enough to fit into a seat-back pocket on an airplane.
These comfort packs make security checks a breeze because they're transparent.
(The bag you see in my photos is made by one of my favorite travel-inspired brands, INLAKESH. While they no longer carry this specific bag, you should still check out all of their other cute stuff, here!)
Once you have your bag, the other things you'll want to purchase are some durable travel bottles and travel tubs to fill with necessary items like lotion and pills.
What Should I Put in My Comfort Pack?
Everyone's travel comfort pack items will vary, but as a general rule, you should fill your pack with mini versions of the items that you use on a daily basis, as well as anything that will help you fly more comfortably.
Here are the items that I always have in my comfort pack:
A soft and comfy contoured eye mask
Some good airplane ear plugs (these are the best!)
Travel-sized deodorant
Lip balm – I'm addicted to this stuff!
Hand and body lotion
A mini hand sanitizer
A travel pack of soft tissues
A travel pack of facial cleansing towelettes
Some super comfortable earbuds for watching movies
Compression socks for warmth and good blood flow
My glasses (in their case) for when my eyes are too tired for contacts
My contact case (already filled with fresh solution), so I can remove my contacts
Any medications
Snacks, like nuts and granola bars
A credit card, in case I want to buy any extra food or drinks
My passport, for filling out customs forms
A pen, also for filling out customs forms
---
Other Helpful Tips:
---
Did you know…
When you book travel or purchase something through our links, we receive a small commission, at no extra cost to you? Your support enables Maddy's Avenue to keep producing helpful travel content. Thank you!
The Art of the Comfort Pack
Mark my words. Once you make your own travel comfort pack, you will never travel without one again!
The sheer convenience, ease, and well, comfort, they allow are exactly what you need during any long-haul journey. Before your next trip, throw together your own travel comfort pack, and you will wonder how you ever traveled without one.