There's nothin' like scooping up some fresh and spicy salsa roja on crispy, lightly-salted tortilla chips. Am I right?
But here's the thing.
If you want some good salsa — and I mean some really good salsa — you'd be hard-pressed to find it in a store. And that's because the flavors usually come in 1: overly processed, 2: bland, and 3: not spicy enough.
So if you want your salsa roja done right, you have to make it yourself. And luckily, making this mouth-watering homemade Mexican-style salsa roja (red salsa) is fun, easy, and oh-so rewarding.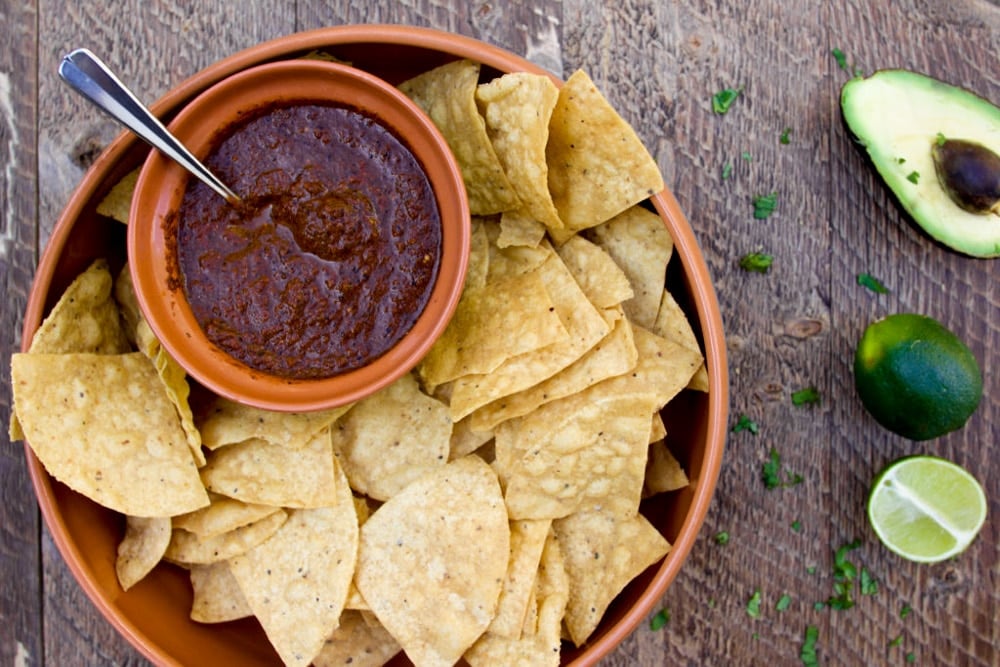 If you're ready to have a go at this extremely addicting, flavor-packed, and highly delicious salsa roja, then I'm ready to share the recipe with you.
Here's our recipe for the best-ever salsa roja, complete with spicy roasted chiles, fresh flavors of tomato and cilantro, and smoky chipotle peppers.
Best Homemade Salsa Roja (Mexican Red Salsa)
Since my dad created this recipe years ago, this salsa has become a refrigerator staple at our house. We probably make a new batch of it every two to three weeks. (And when you open the fridge, only to find that it's already been devoured, it's a sad, sad day.)
This salsa roja is one of those things that, once you make it, you can't live without it. You'll see!
The ingredients
To make this salsa roja, you first need to round up everything that's spicy and delicious in this world:
Tomatoes
Tomatillos
Habaneros
Jalapeños
Garlic
White onion
Cilantro
Lime juice
Vinegar
Salt
Just by the list of ingredients, you can already tell how amazing this salsa is, right? It's loaded up with tons of bright flavors and spice. (So in other words, no, this is not the salsa for those who can't handle a little heat! You've been warned.)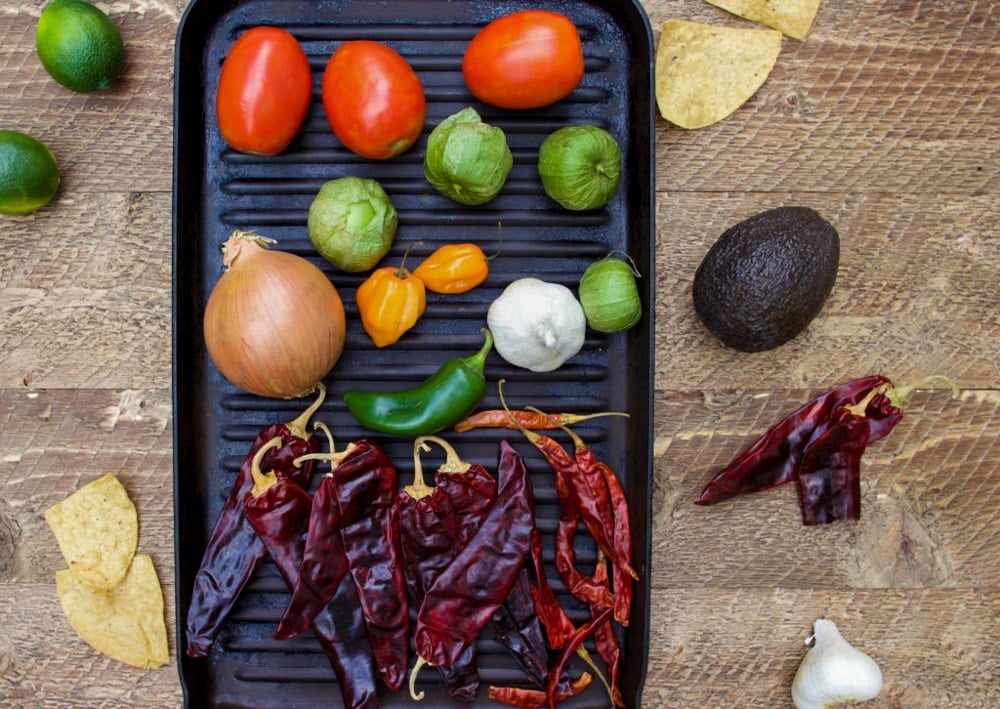 How to make Salsa Roja
Making this salsa roja couldn't be simpler. I'll walk you through the steps.
First, simply throw (most of) the ingredients onto a hot grill pan, and get to roasting!
Roasting the chiles and other ingredients imparts a smoky richness into the salsa that you're going to love.
Then, after all of your ingredients are prepped, charred, and ready to go, throw everything into a good blender, and let it whirl until the salsa is smooth. Now all that's left to do is season the salsa to balanced perfection!
See how simple this recipe is?
You will never have an excuse to buy store-bought salsa again.
And what's more, you won't want it!
Okay, guys. Get to it!
Run to the store now and fill up a basket with fresh ingredients and dried chiles. Then race back to your kitchen to make this salsa roja, and try — just try — to tell me it's not the best salsa you've ever had.
My guess? You won't be able to.
Instead, you'll be too busy stuffing your face with chips coated in this addicting deliciousness. Oh, yes!
Print
The Best Mexican-Style Salsa Roja with Roasted Chiles
Looking for the best Mexican salsa roja recipe? This red salsa is packed with flavors of roasted tomatillos, tomatoes, chipotles, habaneros, guajillos, garlic, and more. So delicious, we bet it'll become a refrigerator staple in your home.
Author: Maddy's Avenue
Prep Time:

20 minutes

Cook Time:

20 minutes

Total Time:

40 minutes

Yield:

2 cups

1

x
Category:

Sauce/Dip

Method:

Grill & Blend

Cuisine:

Mexican

Diet:

Vegan
1 tbsp

olive oil

4

tomatillos (husks removed)

3

tomatoes

10

dried árbol chiles (stems removed)

5

dried guajillo chiles (stems and seeds removed)

2

habaneros (stems removed)

1

jalapeño (stem removed)

1

white onion (sliced)

3

cloves garlic (peeled)

1

chipotle pepper

1 tbsp

adobo sauce

1/4

bunch cilantro (with stems)
hot water
juice of

1

lime
salt, to taste
vinegar, to taste
Instructions
Heat up a grill pan on the stove over medium heat. Once hot, drizzle with olive oil.
Put the tomatillos, tomatoes, árbol chiles, guajillo chiles, habaneros, jalapeño, and onion onto the grill. Roast until everything is browned on all sides — about 15 minutes.

Add the garlic onto the grill for about two minutes, being careful not to burn it.

Turn off the grill pan. Separate the guajillos and arboles, and add them to a bowl of hot water. Soak them for about 20 minutes, until the chiles are rehydrated and soft.
Reserve 3/4 cup of the water from the bowl. Add the reserved water and all of the ingredients (except for the salt and vinegar) into a blender. Blend until the salsa is a smooth purée.
Add salt to taste. Add vinegar to taste, slowly; you may not need much vinegar, depending on how juicy the lime was! As you season, re-blend to combine, and taste as you go. Once the salsa is balanced and to your liking, it's finished.
Allow the salsa to cool in the refrigerator, then serve it with fresh tortilla chips or on top of your favorite Mexican dishes!
Keywords: homemade red salsa recipe, mexican salsa roja recipe, salsa with fire-roasted chilies, smoky salsa
Did you make our Mexican red salsa? Let us know in the comments what you thought! If you have any questions about this salsa roja, feel free to leave those below, too.