If you're looking for the perfect seaside destination to experience coastal Peruvian culture, go on a few adventures, and sip Pisco sours pool-side, then Paracas, Peru is just the place for you. From exploring the Islas Ballestas to flying over the Nazca lines, there are so many things to do in Paracas!
After an exciting whirlwind of nonstop adventures through Lima and Cusco, and trekking to Machu Picchu, I guarantee you will be ready to slow down and relax in Paracas.
Paracas is a cute, little beach town located about three hours south of Lima, by car. Beautiful vistas, delicious seafood, luxury resorts, adventurous excursions in Paracas National Reserve, and sea lions and rare marine life abound in Paracas.
If this sounds like the place for you, then read on for my guide to Paracas, complete with the best things to do in Paracas and the top Paracas hotels!
Paracas, Peru Travel Guide:
Everything You Need to Know
Read on to discover everything you need to know to plan your trip to Paracas – or use the table of contents below to jump to the content you want to read!
Is Paracas, Peru Worth Visiting?
Everyone wants to know whether Paracas is worth visiting.
And in short, the answer is yes. You should visit Paracas.
Let me paint you a picture of our time in Paracas.
First, we checked ourselves into our beautiful beachfront resort: Hotel Paracas, a Luxury Collection Resort. We booked in for massages. We lounged by the pool in our cabana, and ate our weight in fresh ceviche. And we drank plenty of Pisco sours. (This was heavenly after our trek to Machu Picchu!)
But also, we visited the Paracas National Reserve; boated out to the Islas Ballestas (which, to warn you, were stinky because of all the birdlife… and their poo); encountered some amazing wildlife including sea lions and Humboldt penguins; wondered at the mysterious Nazca Lines; and explored the small town.
If that sounds like a good time to you, then yes, Paracas is certainly worth visiting.
How Long Should You Stay in Paracas?
Up to 4 days is the perfect amount of time to spend in Paracas.
If you plan to stay at a nice resort, then 4 days is perfect, as you'll have enough time to see all the sights and still relax a bit by the pool.
On the other hand, if you're backpacking and just want to see the Nazca Lines, Islas Ballestas, and other main attractions, then 2 full days is ideal.
Paracas is just a bit too far from Lima to take a day trip, which makes it the perfect off-the-beaten-path Peruvian destination.
A few days is the perfect amount of time to visit Paracas!
Paracas Hotels: Where to Stay in Paracas, Peru
We decided we wanted to spoil ourselves a bit, so we checked into Paracas's swankiest resort: Hotel Paracas: a Luxury Collection Resort. And can you blame us, after four days of hiking, biking, rafting, and zip-lining all the way to Machu Picchu?
Since Paracas is a tiny town, the accommodation options are slim; we stayed at one of the few five-star resorts in town, though there are a couple of four-star properties, as well as plenty of budget hotels and hostels, some with private rooms as options.
Here are the other top places to stay in Paracas!
How to Get to Paracas, Peru
Paracas, Peru lies three to four hours south of Lima, depending on traffic. But since traffic is insane in Lima, you can pretty much count on a four-hour journey to the Paracas Peninsula.
There are two ways to arrive in Paracas from Lima: via bus or car.
If you prefer, you can rent a car yourself, which will allow you to easily check out Pisco, Paracas, Huacachina, and beyond on your own. Alternatively, you can arrange a private shuttle transfer from Lima. But note, these are definitely the pricier options!
The easiest, cheapest way to get to Paracas from Lima is to take the direct bus. Cruz del Sur is the operator, offering multiple buses between Paracas and Lima each day. We booked first-class (they were only a couple dollars extra – totally worth it) round-trip tickets, and enjoyed an ultra-comfy direct bus ride in giant leather seats with personal screens to watch movies.
It's super easy to book your bus tickets online directly with Cruz del Sur.
You can also book a trip to Paracas from Lima as a day trip if you don't have the time to spend longer here. This day trip also includes sand boarding in Huacachina and a boat tour of the Ballestas Islands. Well worth it if you are short on time! Book the tour from Lima here.
Best Things to Do in Paracas, Peru
Now that the logistics are out of the way, let's talk about the best things to do in Paracas!
1. Experience the Islas Ballestas: "Poor Man's Galapagos"
The Islas Ballestas, off the coast of Paracas Bay, are widely known as the "Poor Man's Galapagos."
While a trip to the Galapagos Islands off the coast of Ecuador will likely cost you thousands of dollars, a short boat ride to the Ballestas Islands will cost about $25 USD per person. You can book a tour of the Islas Ballestas here!
After a 40-minute boat ride from Paracas, you'll find yourself surrounded by sea lions and marine life you may never have laid eyes on before. And along the way, you'll see one of the many mysterious Nazca Lines!
From Peruvian boobies and Humboldt penguins to cormorants and pelicans, you will see thousands of birds. You'll also encounter lots of lazy sea lions sprawled out along the rocks. If you're really lucky, you might also spot a pod of dolphins making their way through the Pacific!
These islands are the main attraction in Paracas for a reason!
I do have to tell you though, the Ballestas Islands are covered in bird poo… so they absolutely reek.
That said, this Ballestas Islands Tour is a beautiful way to see the wildlife of Paracas and enjoy a nice boat tour along the Paracas peninsula. This tour is so cheap, you can't not!
Click here to book your tour of the Islas Ballestas.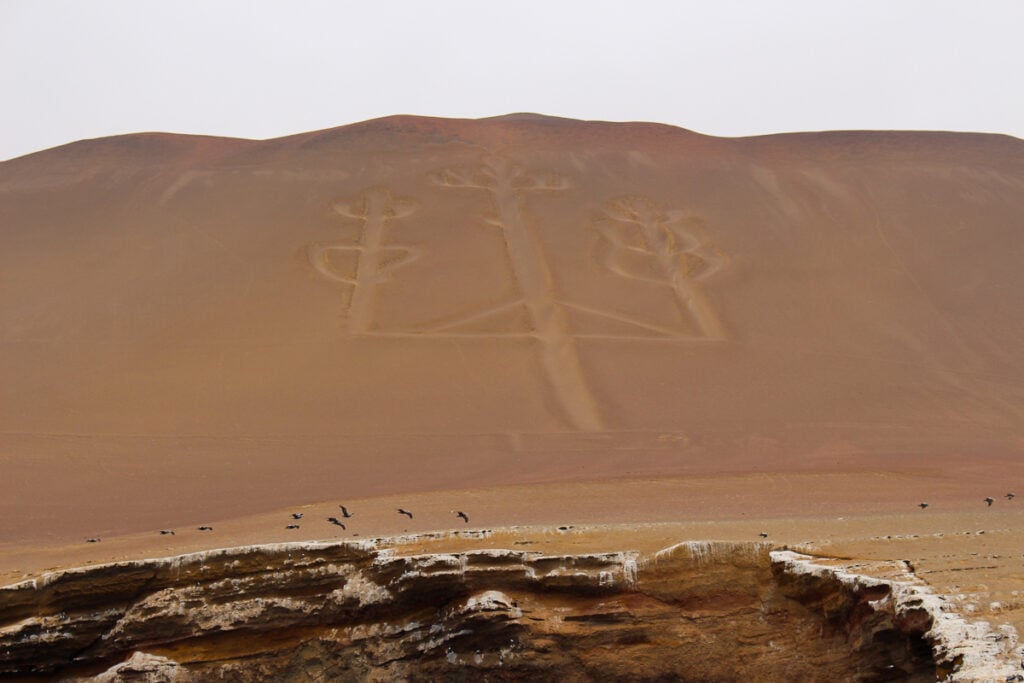 2. See the Nazca Archaeological Sites
Throughout Southern Peru, there are many interesting pre-Inka archeological sites to explore, like the Nazca Lines.
The mysterious Nazca Lines are geoglyphs that were etched into Southern Peru's desert landscape by the Nazca people, between 200 BCE and 600 CE.
Just inland from Paracas, in and around Nazca, there are over 10,000 lines, stretching over more than 1,000 square kilometers across the sand dunes, depicting figures like animals, humans, and plants. Many of these lines were actually pointing toward water sources or connected to sacred sites.
The best way to see the Nazca Lines is from above! If you're looking for an adventure, you should book a flight over the Nazca Lines! A little indulgent, but thrilling, and totally worth it. Click here to book your flight over the Nazca Lines.
However, you can also see a giant geoglyph on your Boat Tour to the Islas Ballestas. This geoglyph, known as the Paracas Candelabra, has been dated back to 200 BCE. While its meaning and creators are unknown, there are some interesting theories about the symbol. Read more about it here.
The Nazca Lines are an important part of Paracas culture – and the history of ancient civilizations in South America. Seeing these ancient lines makes a visit to Paracas well worth it. So fascinating!
3. Adventure in the Paracas National Reserve
The Paracas National Reserve is another huge draw to Paracas. Including the Paracas desert, coast, and sea, this area is committed to protecting Peru's unique marine ecosystems and its pre-Inka archaeological sites (such as the Candelabra).
Within the Paracas National Reserve, you can check out the wildlife, go fishing, diving, kayaking, and hiking, and you can also go on ATV tours and sandboarding tours across the sand dunes!
Click here to book your ATV tour of the National Reserve.
Other great options for thrill seekers in Paracas National Reserve is to take a buggy ride or if you are even more daring you can paraglide over the reserve and take a whole other view from the sky!
Make sure to visit the beautiful Playa Roja (Red Beach) while you're there!
4. Discover the Ancient History of Paracas
The ancient and mysterious history of this area is absolutely fascinating. While in Paracas, there are two museums you must visit: the Paracas History Museum and the Museo de Sitio Julio C. Tello de Paracas.
In these museums, you'll find all sorts of ancient artifacts, like pottery and art. But the main draw is the collection of elongated skulls, which are evidence of Peru's history of head-binding; although some say it's evidence of aliens! Take a visit to the museum and decide for yourself!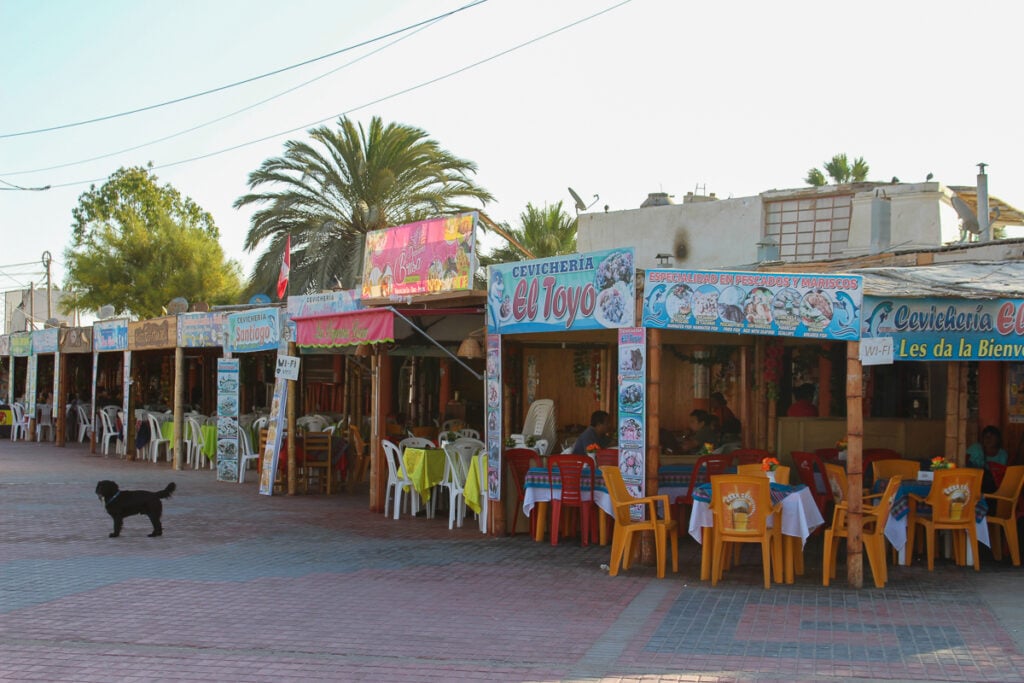 5. Explore Paracas Town
When it comes to the "downtown" of Paracas, there's not a whole lot to do. After roaming the town for an hour or two, you'll have seen it all. This is partially due to the fact that an 8.1 magnitude earthquake devastated much of Paracas back in 2007.
However, as you walk through the sleepy town, you'll enjoy shopping for Peruvian handmade goods and chatting with the locals. There are also plenty of restaurants throughout the town and along the boardwalk where you can enjoy some ceviche, and maybe a Pisco sour!
This small town is the perfect place to soak up some Paracas culture, stop in a restaurant for a long, lazy menu del dia, and take the day at your own pace.
6. Relax and Rejuvenate at Hotel Paracas
For the most part, our four-day stay in Paracas was spent on the property of the Hotel Paracas: a Luxury Collection Resort. We just wanted to kick back and relax, before our flight back to Los Angeles. Plus, since we had the cutest beach villa around, it was hard to stray too far!
We lounged in the cabanas by the swimming pool, explored the resort's restaurants, and hit the spa for massages. And it was exactly what we needed to rejuvenate!
If I were you, I'd do the same!
Click here to book your stay at Hotel Paracas: a Luxury Collection Resort!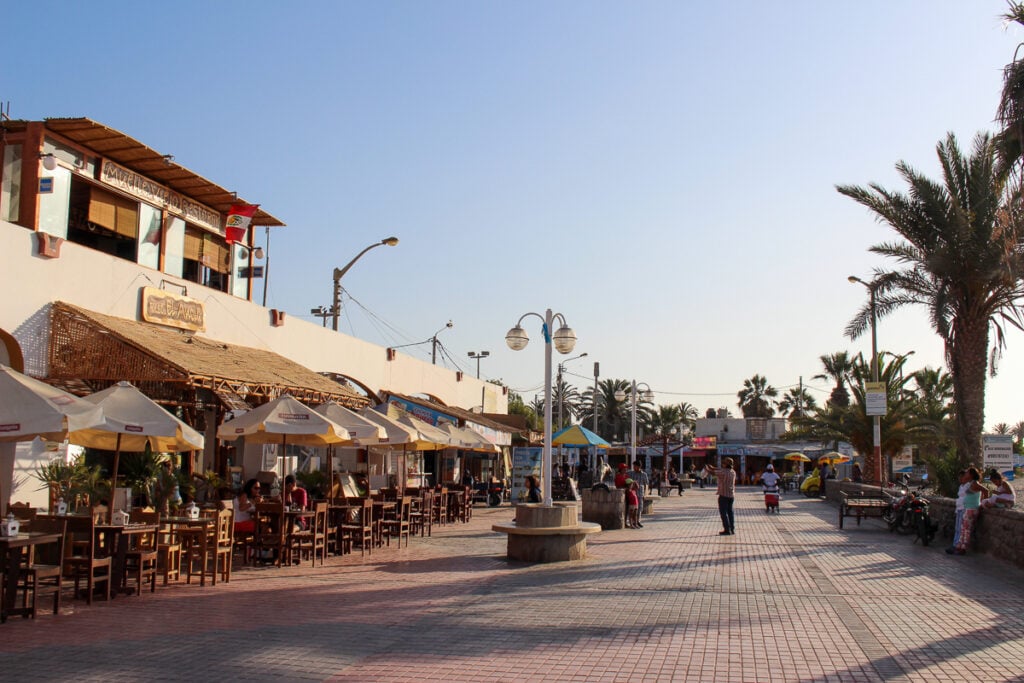 Quick Tips for Paracas, Peru
HOTEL: I use this website for scoring amazing deals on accommodation worldwide. We splurged and stayed at Hotel Paracas: a Luxury Collection Resort, zero regrets!
HOSTELWORLD: If you're traveling on a budget, this is the best website to score cheap hostel deals.
VACATION RENTAL: I use this site for finding the perfect vacation rental for an unforgettable getaway.
TRAVEL INSURANCE: Never go on a trip without travel insurance! For frequent travelers, SafetyWing offers an affordable monthly subscription (I currently use SafetyWing).
GUIDED TOURS & EXCURSIONS: Many of the tours I recommend are hosted with Viator, which also works with local tour operators. This tour of the Islas Ballestas is excellent, as is this epic flight over the Nazca Lines.
CHEAP FLIGHTS: Jorge Chávez International Airport in Lima is the obvious choice if you are flying straight in. Get great deals on flights using my favorite flight fare aggregator.
TRAVEL GEAR: A collection of all of my must-have travel gear are all listed here. But most important to remember is bug spray, and suncream, nobody needs bites and burns on their vacation photos!
STAY CONNECTED: Get a local eSIM for your phone so you can use your maps app, talk, text, and post to Instagram without roaming fees!
What to Pack for Paracas, Peru
Paracas, Peru Travel FAQ
What is Paracas Peru known for?
Paracas is known as a sleepy beach town perfect for relaxing. It is home to Paracas National Reserve, the Ballestas Islands, stunning beaches, ancient Nazca Lines, and lots of sea lions!
How safe is Paracas Peru?
Paracas is pretty safe, especially compared to the big, bustling capital city of Lima. Follow common sense, and you should have a safe and lovely time in this small community and fishing town.
Is it worth staying in Paracas?
Absolutely yes! If you have been hiking Machu Picchu or exploring Lima, it is the perfect place to rest and relax away from lots of tourists and busy hiking trails. While in Paracas, you can take a boat trip to the Ballestas Islands, see the Nazca Lines, spend time in the Paracas Nature Reserve, and experience more of Peru's coastal culture and food.
How long do you need to spend in Paracas?
Between 2-4 days is the perfect amount of time to spend in Paracas. There isn't a whole lot to do, but with a few days you can explore the Paracas Reserve, take a trip out to the Ballestas Islands, visit a few history museums, see the Nazca Lines, take a day trip to Huacachina, and enjoy relaxing at a beautiful resort like the Hotel Paracas: a Luxury Collection Resort.
Paracas, Peru Travel Guide: Best Things to Do in Paracas
Well, there you have it – my complete guide to Paracas, Peru, with the best things to do and where to stay!
If you're a fan of marine adventures, fresh seafood, and history, Paracas is somewhere you shouldn't leave off of your Peru itinerary. And if you're anything like us, you'll crave a few lazy days by the sea after climbing in high altitude all the way to Machu Picchu!
SAVE THIS POST ON PINTEREST FOR LATER!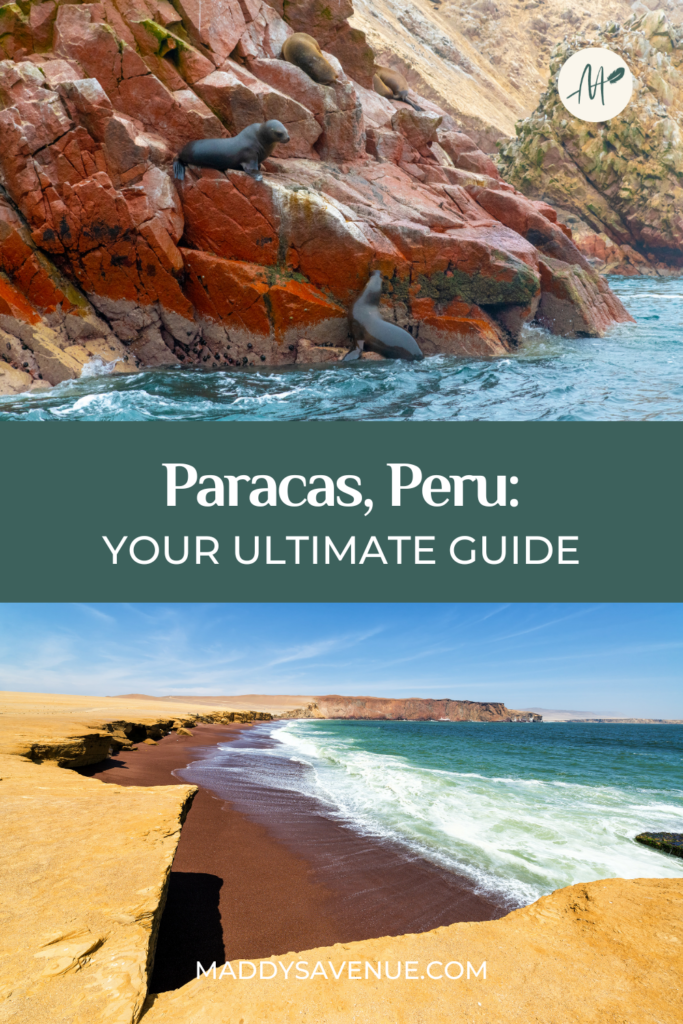 Have you been to Paracas before? What did you think of it? Have questions? Leave your comments below!
*This travel guide for Paracas, Peru contains affiliate links. When you make a purchase through the links on our website, we will receive a small commission, at no extra cost to you. We never recommend any products/services that we don't absolutely love. These commissions help keep Maddy's Avenue up and running, and we thank you for your support!