Planning to spend three days in Cusco, the heart of the Inca Empire, before setting off on your trek to Machu Picchu?
Between eating everything in sight, browsing traditional markets, exploring Cusco's charming cobblestone streets, playing with baby alpacas, visiting museums, and checking out the stunning colonial architecture and ancient ruins, your three days in Cusco are going to be jam-packed. And totally awesome!
In this Cusco itinerary, I'll detail exactly how you should spend three days in Cusco, to make the most of your time!
I'll go over the best things to do, where to eat, where to stay, and the best day trips. Plus, I'll let you in on some top tips and must-know info to help your trip run smoothly!
Let's do this.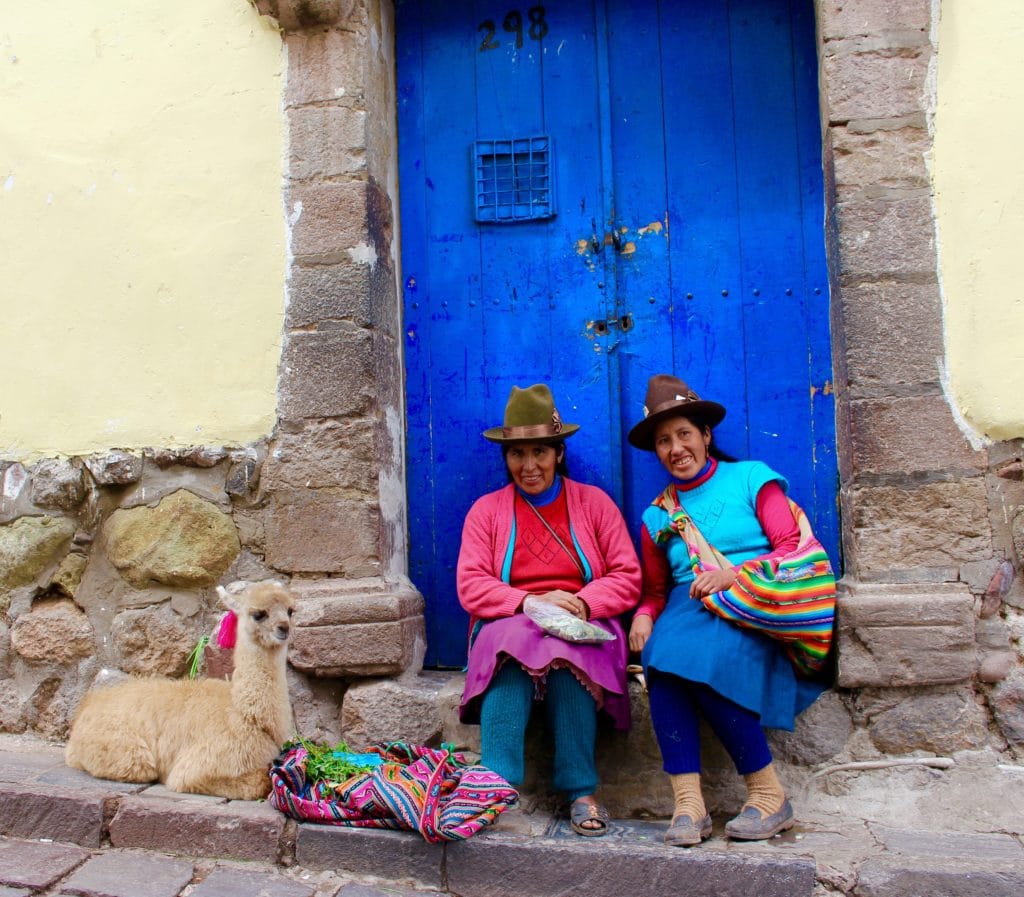 How to Spend Three Days in Cusco
Prepping for Your Trip to Cusco
Before we get to the fun stuff, let's quickly talk about what you need to know before you visit Cusco…
This information is vital to a successful, fun, and healthful trip to Cusco! Note: I'm not a doctor, and my words should not be taken for professional medical advice. When traveling out of the country, it's best practice to consult your doctor!
Cusco's Altitude
If you didn't already know, Cusco is nestled up in the Andes at 11,152 feet (3,399 meters) above sea level.
Altitude sickness is no joke, so don't take it lightly. Before you visit Cusco, there are a few necessary precautions to take.
Drink Lots of Water
When you travel to high-altitude destinations like Cusco, it's very important that you stay hydrated.
It's a good idea to start drinking lots of water the day before you arrive in Cusco, during your flight, and especially throughout your first day in Cusco. Drink enough water, and you'll have a better shot at avoiding symptoms of altitude sickness.
Sip on Coca Tea
Let's get this out of the way first! Yes, cocaine is derived from the coca plant, but coca itself is not cocaine. It's perfectly safe for you to consume. In fact, for centuries, Andean people have used coca leaves to treat altitude sickness, among many other ailments.
During your time in Cusco, you will likely be offered coca tea, or coca leaves. Our hotel actually offered a 24/7 coca tea station, and I indulged often.
In my opinion, chewing on coca leaves or sipping coca tea helps immensely with altitude sickness, and aside from that, coca tea tastes quite good.
Get Altitude Pills
A few weeks before you plan to leave for Peru, call your doctor, and let them know that you need some medication to help you acclimatize quickly. (If you're acclimatizing slowly, traveling to Cusco by land, this may not be necessary. But if you are flying in after spending one day Lima, I highly recommend it!)
Usually, you'll be prescribed acetazolamide, which, is used to prevent and reduce the symptoms of altitude sickness. This medication can decrease headache, tiredness, nausea, dizziness, and shortness of breath that can occur when you climb quickly to high altitudes (WebMD).
The moment we arrived at the Cusco airport, I started feeling a bit queasy. But because of the pills, the feeling subsided quickly. Otherwise, I would have spent my whole day in bed, sick! And there's no way I would've survived the Inca Trail without them.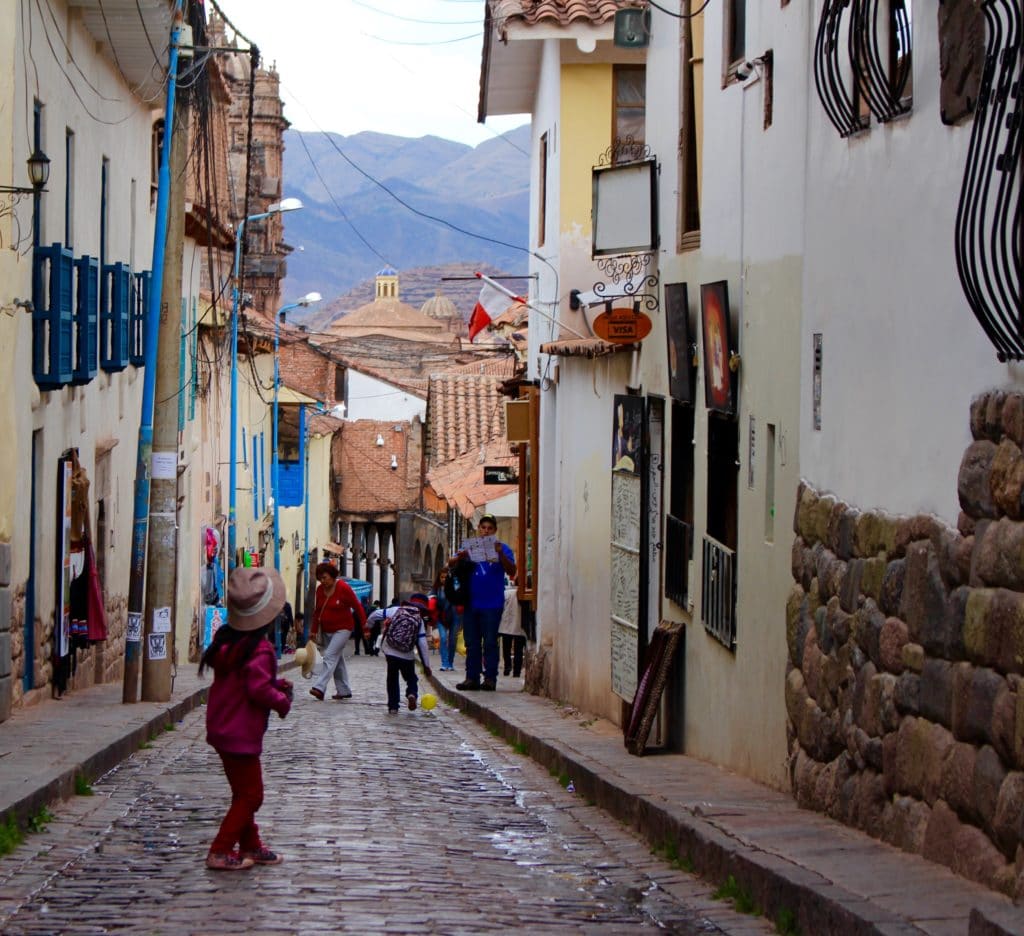 Avoiding Food Poisoning
Aside from altitude precautions, remember that it's easy to get food poisoning/traveler's diarrhea in Cusco and along the Inca Trail!
My guide on keeping a happy tummy while you travel, How to Avoid Traveler's Diarrhea in Developing Countries, covers top tips you need to know!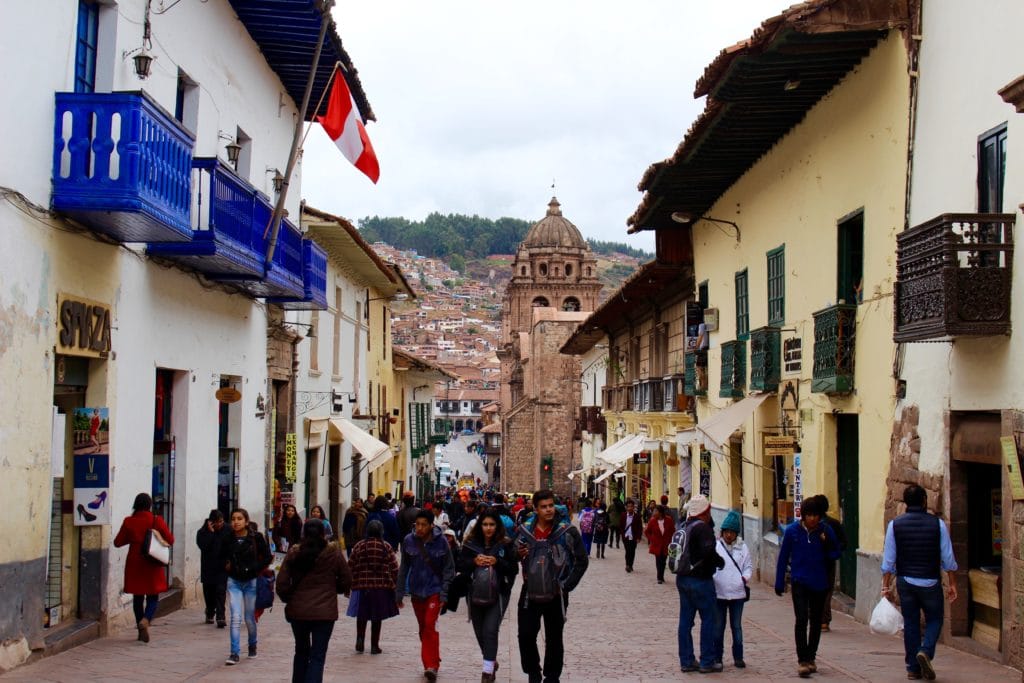 Where to Stay in Cusco for 3 Days
From affordable five-star hotels to hostels, accommodation options in Cusco are endless! When choosing your accommodation, the most important thing is to book somewhere within the Centro Histórico, so that you can walk everywhere!
These are my top Centro Histórico accommodation recommendations in each price bracket.
Best Luxury Stays in Cusco
If you're after a more luxurious (but still affordable!) stay, the Palacio Del Inka or the JW Marriott El Convento Cusco are the very best! Their locations in the heart of Centro Histórico, charming ambiance within historical buildings (like the old convent!), amazing food, and impressive service can't be topped.
My two cents? When you're acclimatizing, or completely exhausted after your trek to Machu Picchu, an ultra-comfy bed, nice shower, and a quiet room are all you want. So if you can, splurge a little on your accommodation in Cusco!
Best Mid-Range Stays in Cusco
Best Budget Stays in Cusco
You can find other great deals on centrally located Cusco accommodations here!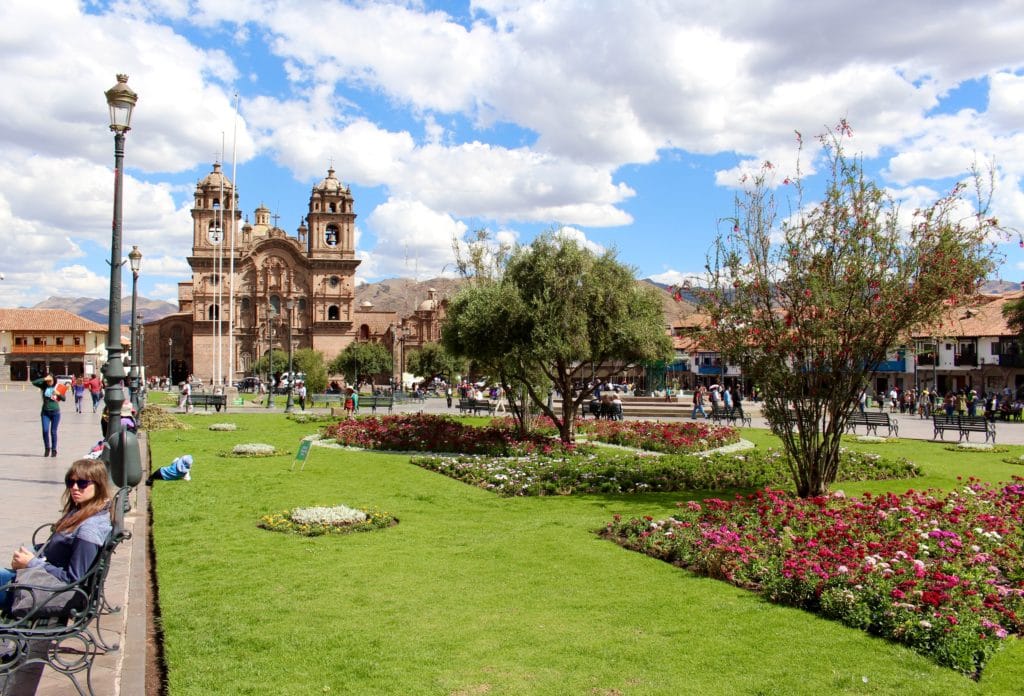 What to Do in Cusco in 3 Days
1. Explore El Centro Histórico
While in Cusco, the Centro Histórico is likely where you'll spend most of your time. In this bustling, enchanting neighborhood, you'll find a mix of locals and tourists, all enjoying the city's beautiful architecture and lively atmosphere.
Within the Centro Histórico, there are also many important points of interest and historic sites like the Plaza de Armas, Cusco Cathedral, Museo Inka, and the Convento y Museo de Santa Catalina.
2. Visit La Plaza de Armas
The Plaza de Armas is the heart of Cusco's Centro Histórico. Everyone gathers here to enjoy the city's colonial architecture, gardens, street food (like fried guinea pigs; AKA cuy…), and people-watching.
The Plaza de Armas is home to the Cusco Cathedral and the Compañía de Jesús Church, along with a slew of amazing restaurants, and cute shops, so there's no way you can miss it!
During your three days in Cusco, make sure to spend some time in the plaza, simply sitting on a bench and observing life in Cusco unfold. Watch the kids playing soccer, the locals chatting it up, and the street vendors peddling artwork and bracelets. Just sit back, and admire the beauty of it all.
3. Check out the Cusco Cathedral
The Cusco Cathedral demands the attention of all who visit the Plaza de Armas.
This cathedral, which opened in 1654, oozes with history. It's absolutely stunning, giant, and well worth going inside for a look around. Every inch of the structure, inside and out, is beautifully and ornately crafted – and there's no shortage of gold-leaf detail either!
Note that you'll need a ticket to enter the cathedral, which will cost just under $10 USD.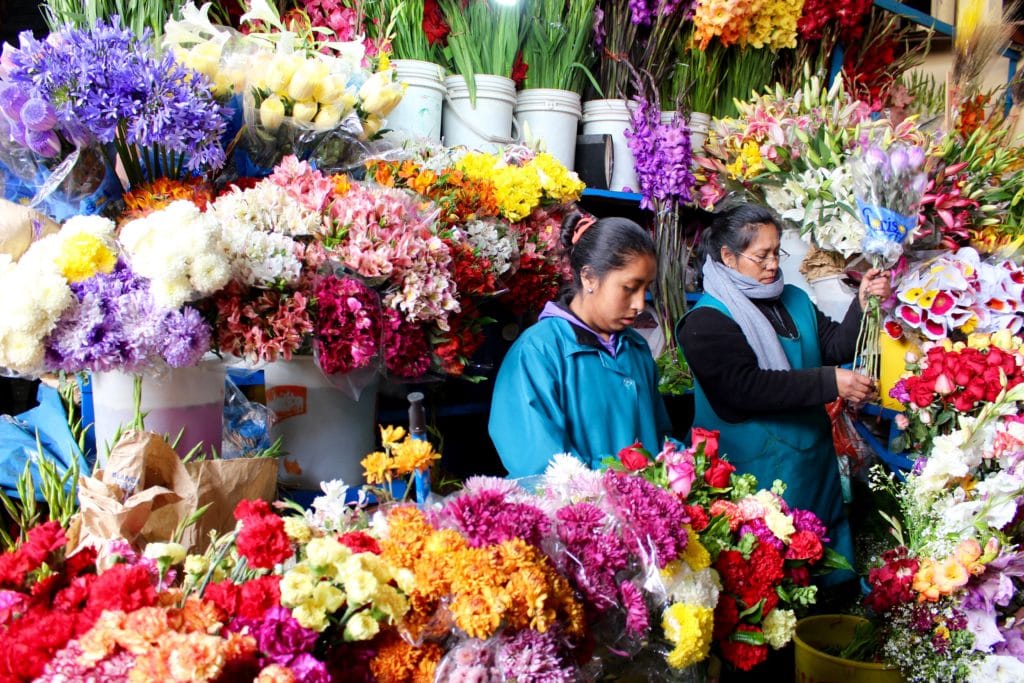 4. Browse the San Pedro Market
The Mercado Central de San Pedro is, quite possibly, my favorite place in Cusco. And no doubt, it's the most colorful. We spent a few hours here, meandering through the aisles, sampling exotic produce, learning about local life.
This traditional market is where everyone in Cusco goes to buy and sell handmade goods, ingredients, produce, flowers, homewares, and more. There are also stalls that serve up hot, traditional meals.
Any day of the week, this market is bustling with people and bursting with authenticity, so if you want to understand the culture of Cusco, this is the place to do it.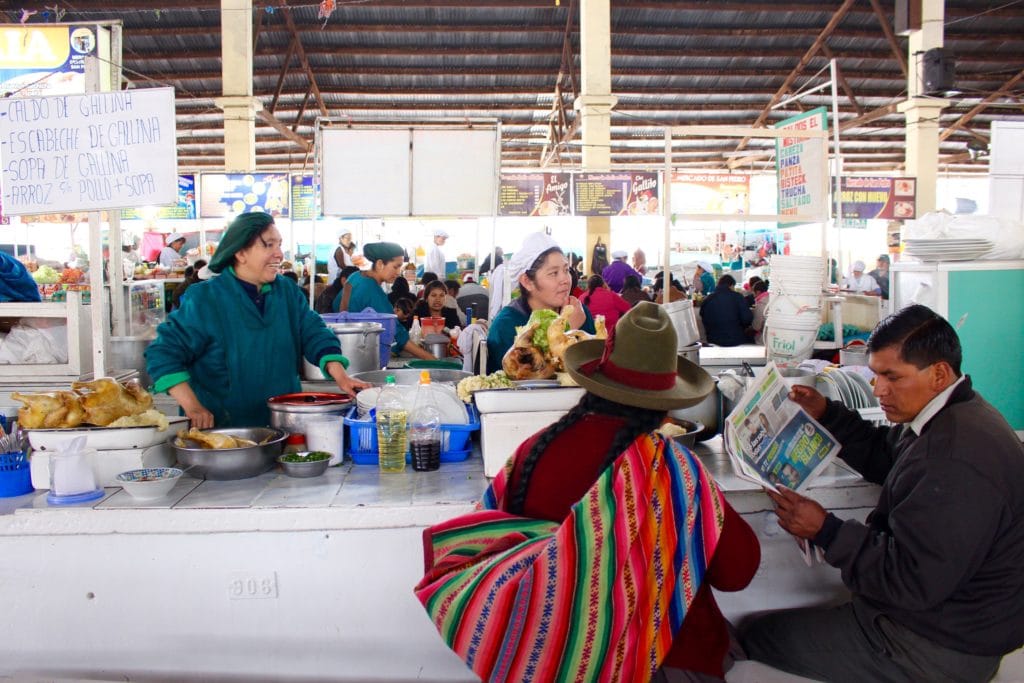 5. Take a Cooking Class at Marcelo Batata
Even if you're not a fan of cooking, I highly recommend booking this cooking class in Cusco. After all, Peruvian food is one of the greatest (and most underrated!) cuisines in the world.
This class includes a trip to a traditional market to pick up some traditional ingredients and try exotic fruits. Then, you'll head to the kitchen where you'll learn to cook a delicious multi-course Peruvian meal. Think: ceviche, lomo saltado, and ají de gallina.
And then, of course, you'll eat it all up – with a Pisco Sour or two on the side. Epic!
You can book your cooking class, which includes a visit to a local market, HERE!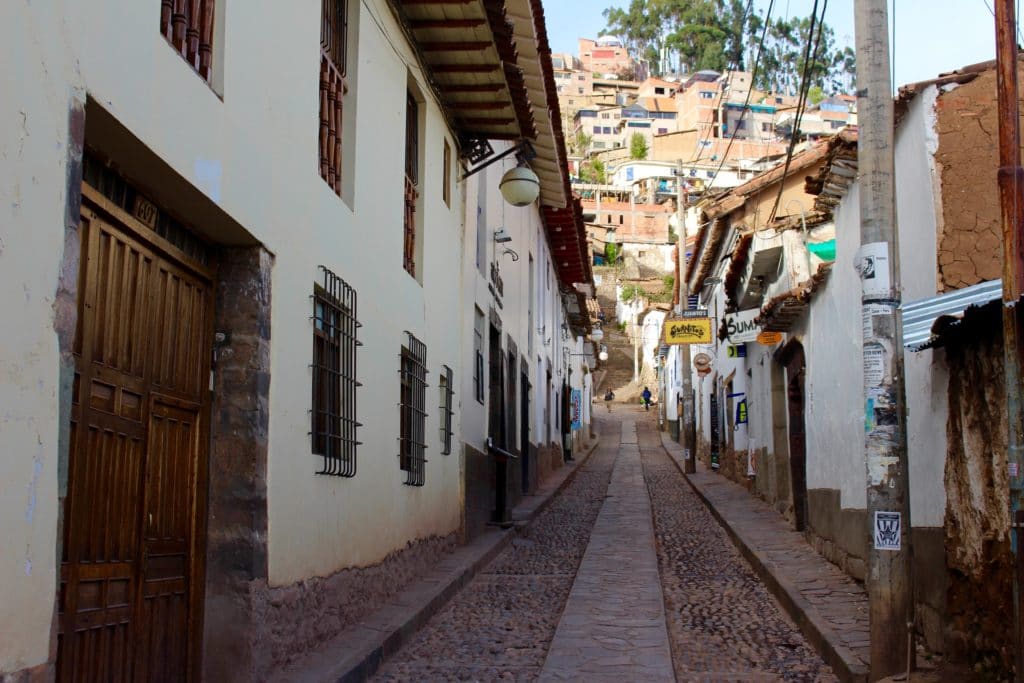 6. Discover the San Blas Neighborhood
The bohemian San Blas neighborhood is Cusco's most picturesque, captivating district. It's the artsy quarter of the city, for sure. The many vibrant art and handicraft boutiques that line the quaint cobblestone pedestrian streets make this fact immediately clear! The main goal here is to just explore, walk around, aimlessly.
San Blas is one of Cusco's hilliest areas, with steep stairs lending incredible panoramic views of Cusco's orange rooftops and the surrounding Andes.
During your three days in Cusco, San Blas is the district you can't miss!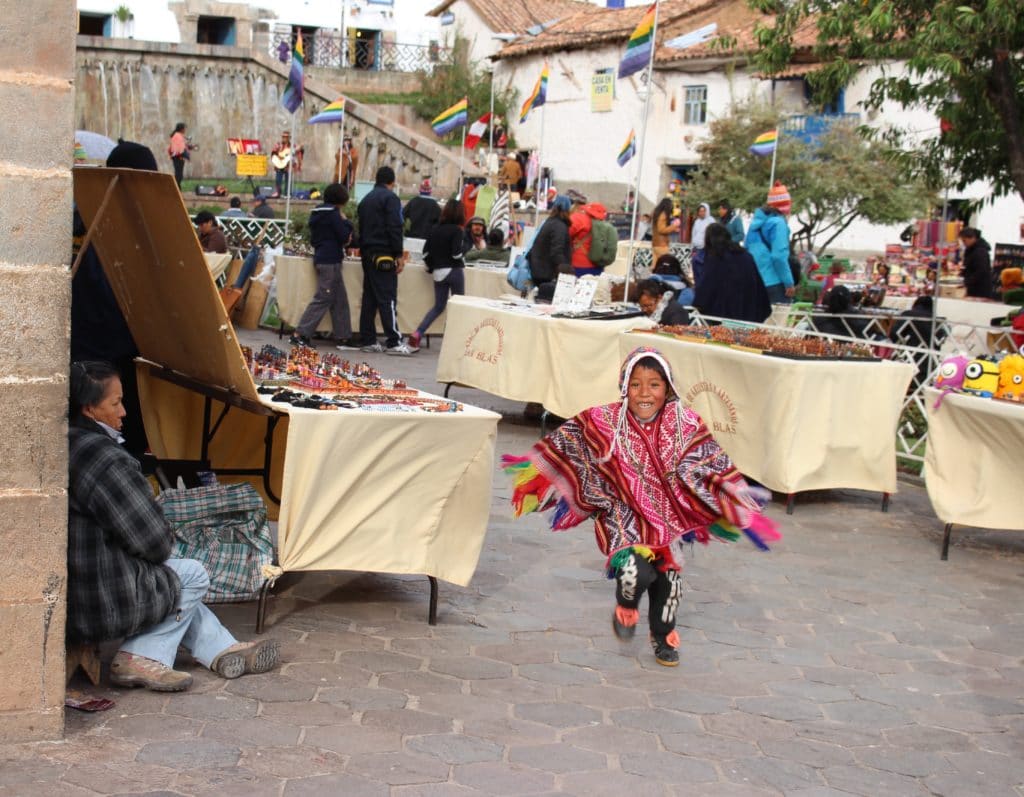 7. Stop by Plaza San Blas
Cusco's Plaza San Blas is home to an open-air artisanal market that often features live Andean music. This is just another one of the many places to buy jewelry, artwork, and local souvenirs to bring home to your friends and family.
While you're exploring San Blas, the main plaza is definitely worth a visit – especially for the music!
8. Visit the Museo Inka
For a fascinating glimpse into the lives of the ancient Inca, head to the Museo Inka. Here, you'll learn about Inca history, see amazing ancient artifacts, and even see real mummies.
This museum is small, the tourist ticket costs about $3 USD, and will take up about an hour of your time in Cusco. While this museum is not a must-see, if you have a bit of downtime, or if it's raining, it's worth a visit!
9. Sip on Pisco at the Museo del Pisco
Pisco is an aromatic, complex brandy made from fermented grapes, and produced in the winemaking regions of Peru (and Chile). If you haven't already tried Peru's national drink, the Pisco Sour (made with pisco, egg whites, lime, bitters, simple syrup) then the Museo del Pisco is the place to do it!
Pisco sours, delicious traditional Peruvian nibbles, and a fun atmosphere… You can't go wrong.
10. Shop Everywhere
Throughout Cusco, you'll have so many opportunities to pick up beautiful handmade jewelry, accessories, decor, and homewares that you and your friends will love. So when it comes to shopping in Cusco, let me give you two words of advice: buy everything.
When I visited Cusco, I found so many handcrafted items that I loved. And of course, they were all super affordable. But I only bought a few items, thinking that I might find better things later. But I was wrong!
The best of everything you can buy in Peru can be found in and around Cusco and the Sacred Valley. Not in Lima. Not in Paracas. So get your shop on!
P.S. If you're traveling around Peru, click here for my guide to One Day in Lima, Perú and my Travel Guide to Paracas!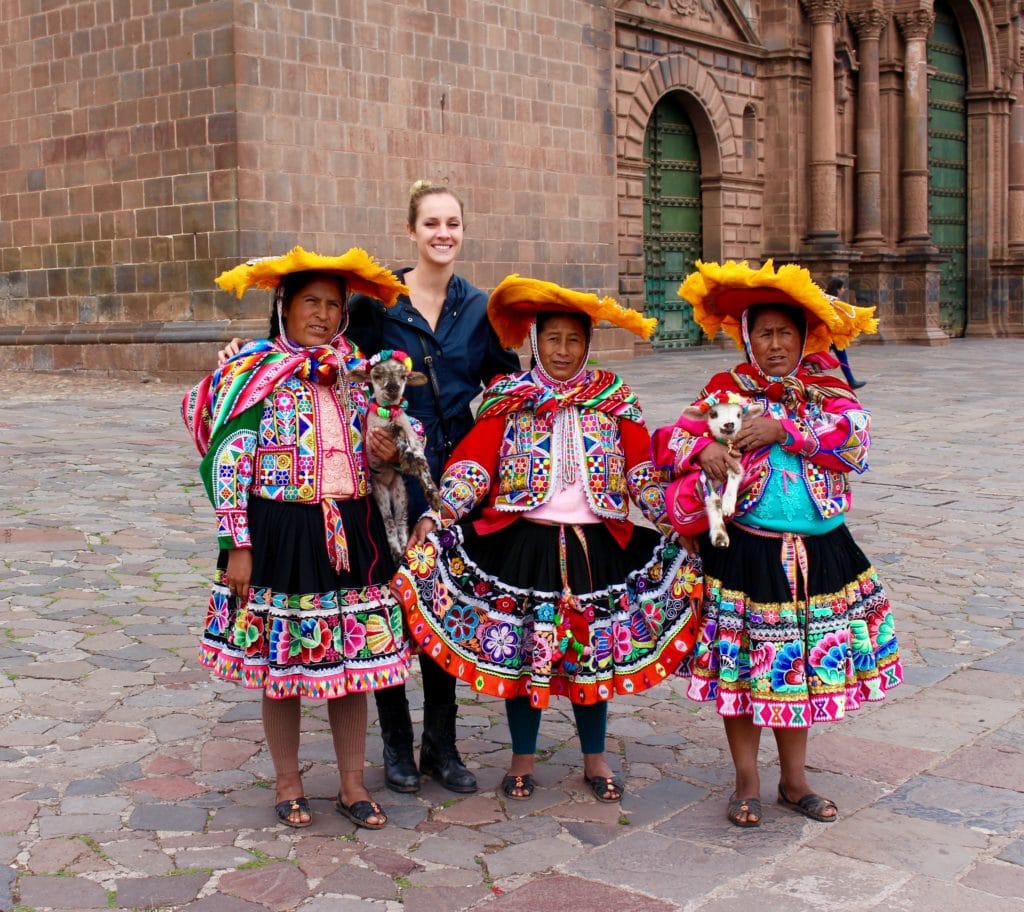 11. Take Photos with the Locals
And by locals, I mean both the baby llamas and the humans.
However, keep in mind that these women dress up in traditional clothing and allow you to take photos with them and their llamas because it's their job.
In other words, after you finish your photoshoot, they will expect a tip from you.
While that may seem cheesy to you now, it's worth it because you'll cherish the photos forever! (Even if you look as awkward as I do here. Hahaha.)
12. Take a Day Trip into the Sacrey Valley
If you're trekking to Machu Picchu later on, you might opt to skip touring the Sacred Valley so you maximize your time in beautiful Cusco.
However, Cusco is the perfect jumping-off point to explore the Sacred Valley. So for those who have extra time, taking a few day trips is a good idea. And there are plenty of adventurous options to choose from!
Throughout the Sacred Valley, points of interest range from ancient Inca ruins, busy markets, and quaint towns, to salt flats, rivers, and of course, the Insta-famous Rainbow Mountain.
Here are the best day trips to take from Cusco.
Hike Rainbow Mountain
Want to get out into nature and get your body moving? Then take a day trip to Rainbow Mountain! Also known as Vinicunca, or the Mountain of Seven Colors, Rainbow Mountain gets its name from its colorful stripes of mineral deposits.
Although it's a long tour (about 12 hours!) and a lot of it is spent in the car, it's well worth it for the adventure of hiking to the summit. The rainbow landscape, and the views from the top, are some of the most beautiful in the Andes!
Click here to book your day trip to Rainbow Mountain!
Go ATVing in the Sacred Valley to Moray and Maras
You're in Cusco to adventure, right? Then why not explore the Sacred Valley on four wheels?
Book a half-day guided ATV tour, ride through the valley, past rugged mountains and open plains, to see the ancient ruins of Moray (the Inca agricultural laboratory used for experimenting with different growing techniques and microclimates) and the beautiful pink salt mines of Maras.
If you only have time for one day trip, choose this one!
Book your ATV Tour to Moray, Maras and Salt Flat in the Sacred Valley from Cusco here.
Take the Train to Machu Picchu
This UNESCO World Heritage Site needs no introduction!
Some people visit Machu Picchu as a day trip… And I'll say that I would definitely NOT recommend this option! Simply because you miss all of the magic (and hard work) of the Inca Trail. The journey there, on your own two feet, over four days, is indescribably difficult and amazing.
However, if taking a day trip is your only option, of course, do it! No matter how you get there, Machu Picchu is the mother of all experiences in Peru.
Click here to book your day trip to Machu Picchu!
Explore the Markets at Pisac and Chinchero
If – after you've visited the Mercado Central de San Pedro – you still want to shop, the towns of Chinchero and/or Pisac should be your next stop! These towns both lie less than an hour outside of Cusco, and their outdoor markets are nothing short of chaotic and spectacular.
If you can, visit on Sunday when the markets are largest and busiest. Otherwise, the Chinchero Market is also open on Tuesdays and Thursdays, while the Pisac Market is open daily.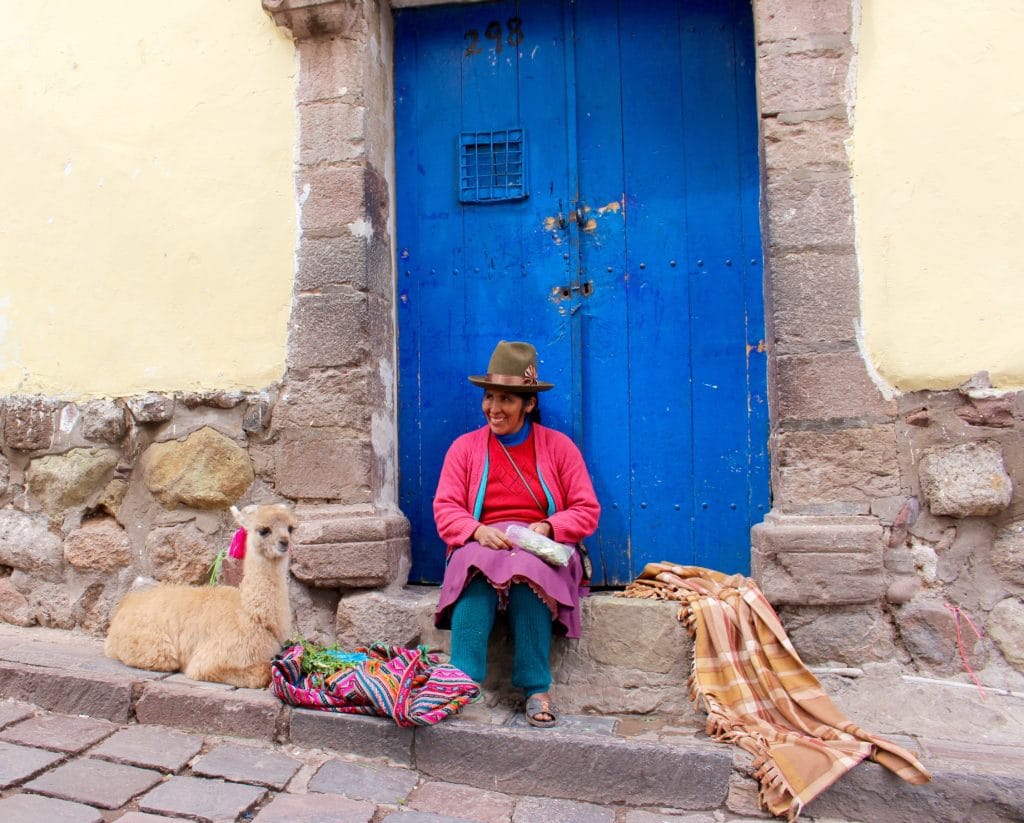 Where to Eat in Cusco
Cusco is a foodie's dream!
Whether we ate at a market stall, out on the streets, or in nice restaurants, everything we tasted in Cusco was memorable and delicious.
For all of my fellow foodies, spending three days in Cusco might not be enough. But nevertheless, here are the best places to eat during three days in Cusco!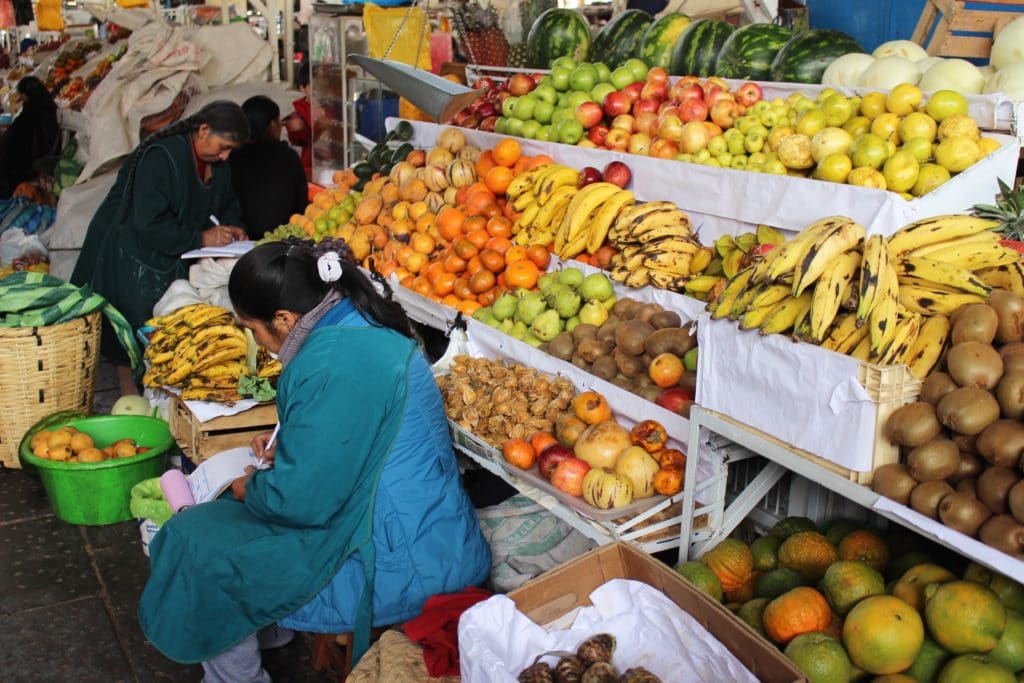 Mercado Central de San Pedro
The Mercado Central de San Pedro is the place to experience Cusco's bright, flavorful food culture.
Between food stands serving up traditional dishes like caldo de gallina (chicken soup), lomo saltado (Peruvian beef stir fry), and roasted cuy (guinea pig), rows upon rows of exotic, fresh produce, and stalls selling Peruvian grains (like quinoa), spices, dried fruits, nuts, and more, the Mercado Central de San Pedro is any curious foodie's paradise!
We spent a few hours roaming through the market, looking at everything. We sampled the fruits we'd never seen before, and I was even brave enough to eat at a seemingly locals-only food stall; I tried the caldo de gallina, which was rich, homey, and absolutely delicious – and no, I did not get sick whatsoever from eating it!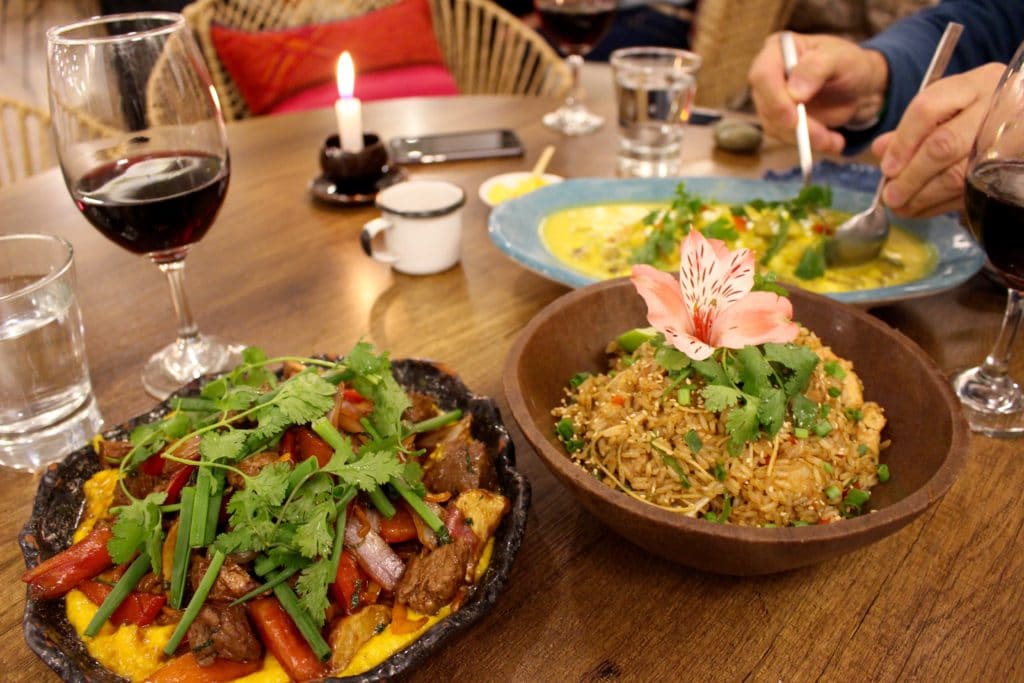 Morena Peruvian Kitchen
Morena Peruvian Kitchen is a trendy, atmospheric restaurant that features modern Peruvian cuisine.
Here, we savored Amazonian-style anticuchos (skewers) marinated in wild lemongrass, garlic, ginger and lime, and served with jungle chili chutney and toasted sacha inchi nuts; traditional Peruvian ceviche with tangy lime marinade; lomo saltado (Peruvian-style beef stir fry) served with potatoes, peppers, onions, mild yellow chili, pisco, and soy sauce, among other ingredients; and tacu tacu criollo, a traditional pan-fried mixture of rice and beans, lomo saltado, prawns, calamari, scallops, mild yellow chili and fresh herbs.
Like the rest of the restaurants on this list, you can't miss Morena Peruvian Kitchen during your three days in Cusco.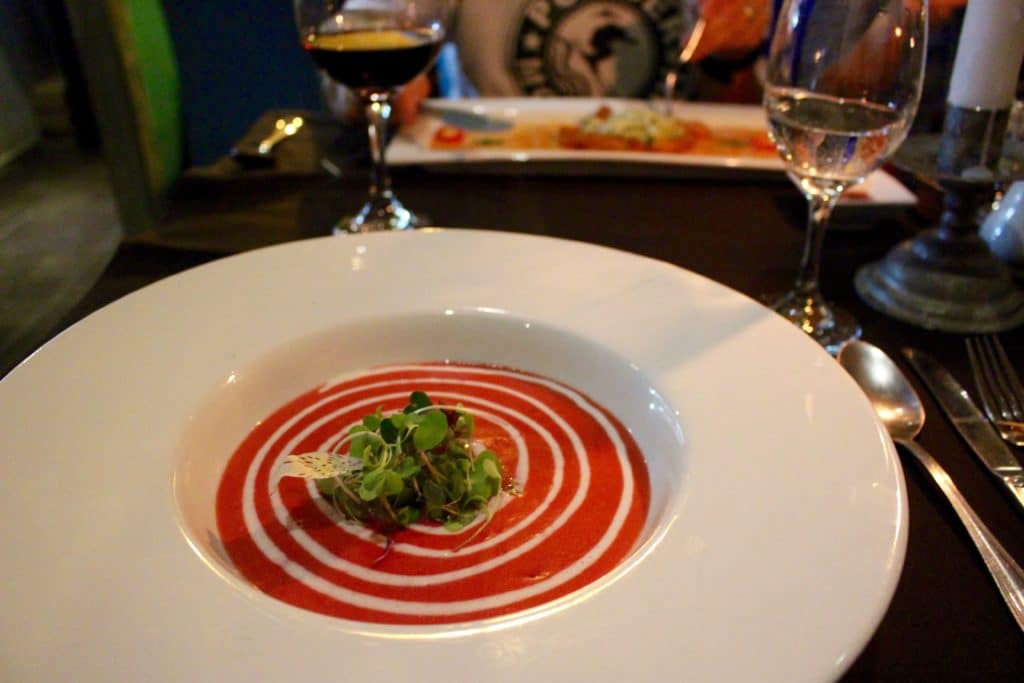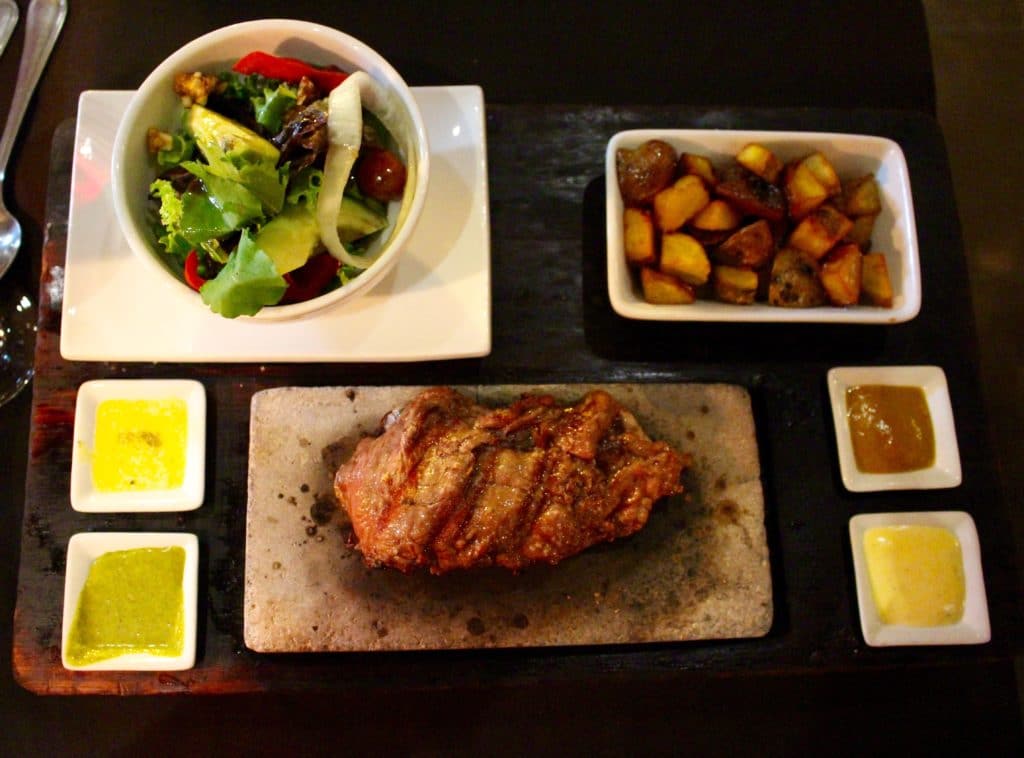 Uchu Peruvian Steakhouse
Uchu Peruvian Steakhouse is one of the best restaurants in Cusco, serving up modern steakhouse fare with a distinctly Peruvian twist.
We tried quite a few dishes at Uchu, and each of them dazzled; I'm not kidding when I say I still think about this meal at least once per week! And on top of that, the service was top-notch.
If you don't go to Uchu, during your three days in Cusco, you are missing out. Just don't forget to make a reservation!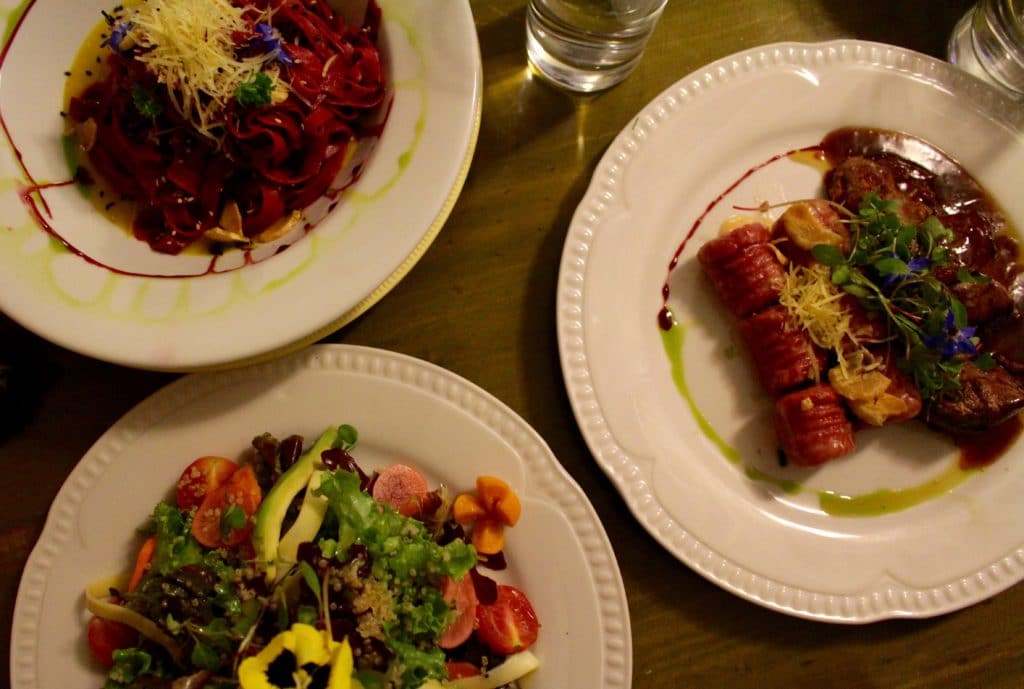 Organika
Organika is another restaurant you can't miss during your three days in Cusco!
This restaurant grows its own organic produce on its own farmland, somewhere in the Andes. Organika celebrates each ingredient and puts an unmistakably Peruvian spin on this farm-to-table cuisine; needless to say, everything is incredibly fresh, vibrant, and simply beautiful – and you will probably never have produce this pure again in your life.
When you go, I dare you to try something different! Order the grilled alpaca with handmade gnocchi, and you'll be in for an interesting, but surprisingly delicious culinary journey.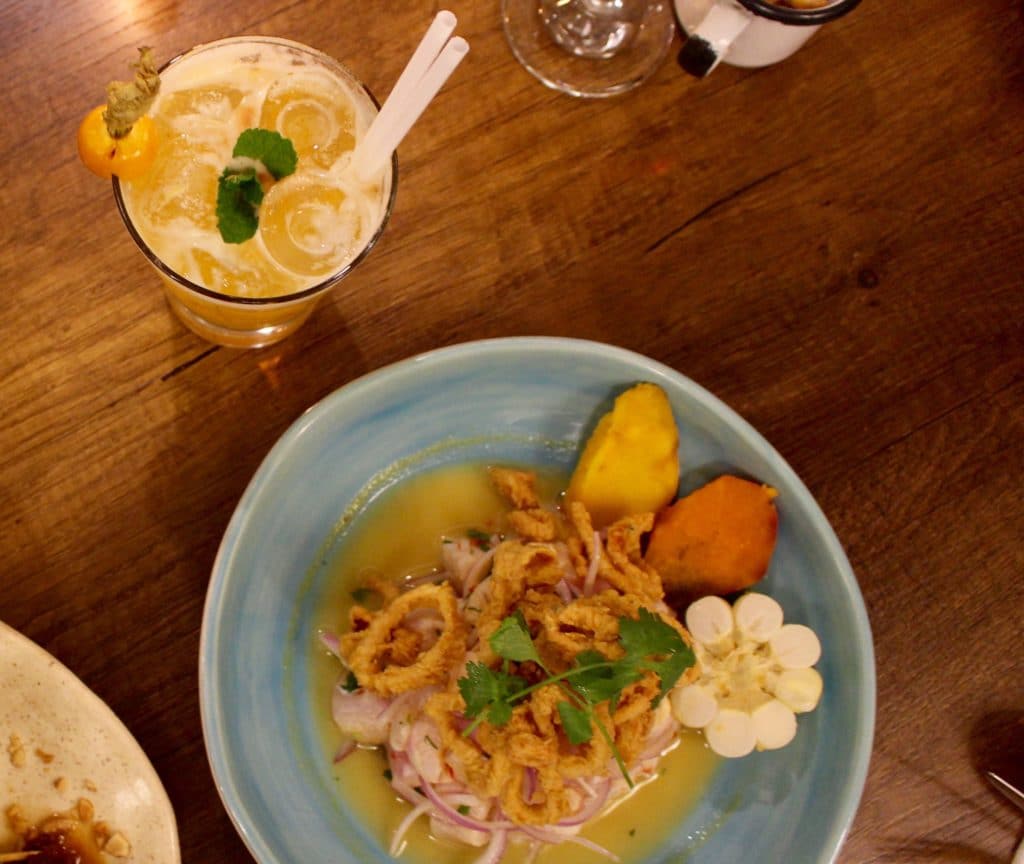 Barrio Ceviche Seafood Kitchen
Barrio Ceviche is the place for seafood in Cusco.
And since this is Peru we're talking about, indulging in at least one amazing plate of ceviche is necessary. Trust me, you can do that at Barrio Ceviche.
We tried the ceviche dish called Barrio, with cubes of fresh fish marinated in lime juice, spiced with onion and mild yellow chili, topped with crispy calamari, and served with Andean corn and sweet potato… Seriously, it doesn't get better than that.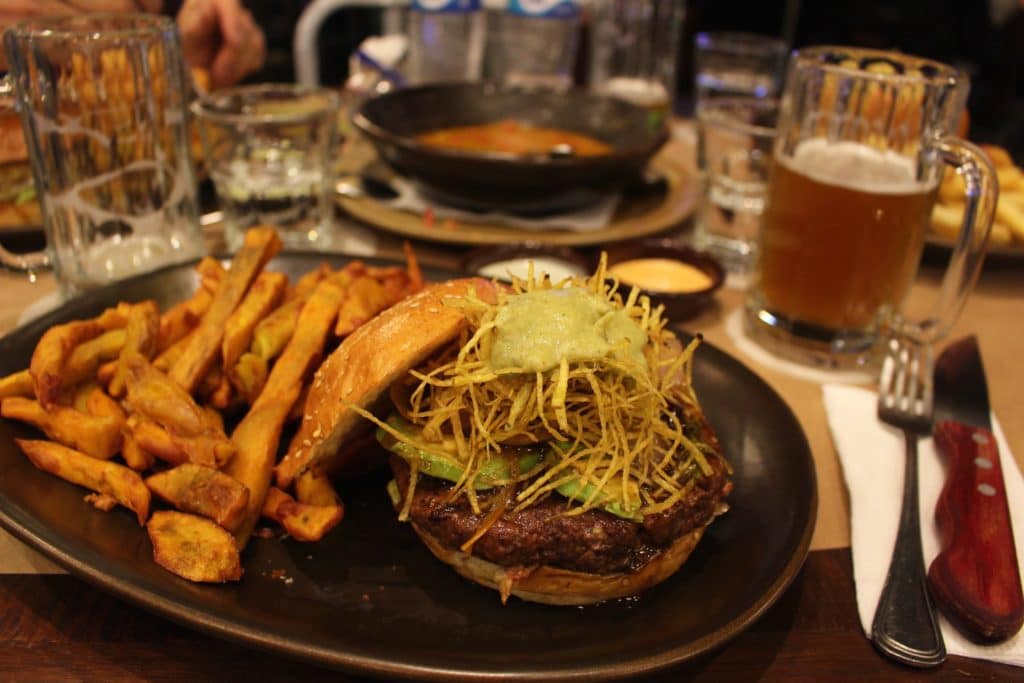 Papacho's
If you're in the mood for a juicy, flavorful cheeseburger, Papacho's is the spot for you.
This place has 17 succulent burgers on the menu, emphasizing both classic and Peruvian flavor profiles. After a long day of exploring Cusco – or better yet, after returning from your trek to Machu Picchu – a giant burger, fries, and beer will be exactly what you want and need.
Note, however, that the portions at Papacho's are quite large. If you're super hungry – like we were – don't make the mistake of ordering way too much food – just like we did.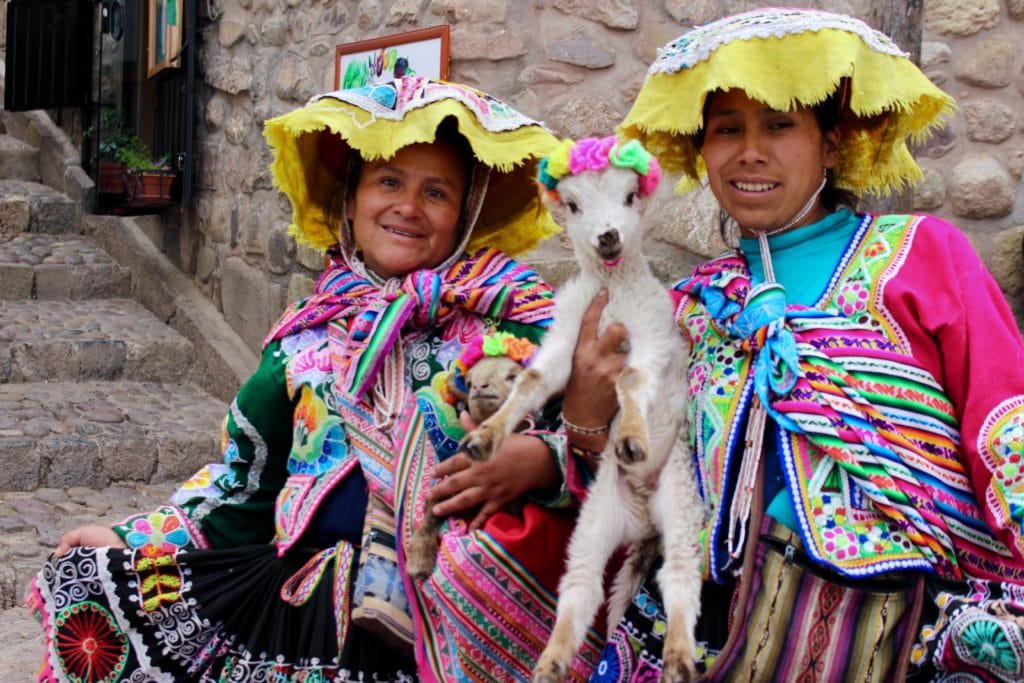 The Best Things to Do in Cusco on a Three-Day Itinerary
Ready to explore Cusco over three magical days? After reading this post, I think you are!
For us, Cusco was one of the (many) highlights of our trip. Between eating all of the incredible food, experiencing the city's rich, unique culture, and meeting so many warm, kind-hearted locals, we loved everything about Cusco.
Like I said before, our only regret was not staying longer.
When you book travel or purchase something through our links, we receive a small commission, at no extra cost to you? Your support enables Maddy's Avenue to keep producing helpful travel content. Thank you!
Is Cusco worth visiting?
Situated in the Sacred Valley of the Incas, the city of Cusco is rich in culture, amazing food, beautiful colonial architecture, and amazing markets. Whether you're a crew of foodies, history buffs, or if you're simply stopping to acclimatize before you hike the Inca Trail to Machu Picchu, Cusco is absolutely worth visiting. It's a magical place; a non-negotiable when it comes to your Peru itinerary!
How many days do you need in Cusco, Peru?
Three days is the perfect amount of time to allocate for your Cusco itinerary, taking in the sights, browsing the markets, roaming the cobblestone streets, and stuffing your face with delicious Peruvian food. Seriously, there are so many good restaurants. Not to mention all of the amazing places to see in the Sacred Valley. If you're a history lover or want to do some trekking in the area, then you could easily fill a few days extra, but overall, three days is perfect.
What's the best way to get around Cusco?
The best way to get around Cusco is on foot – the city is small and easily walkable. Plus, it's the best way to experience However, if you need to get somewhere a little further out of town, the city does have an excellent bus system. And of course, you can always call an Uber or take a local taxi.
*This post contains affiliate links. When you make a purchase through the links on our website, we will receive a small commission, at no extra cost to you. We never recommend any products/services that we don't absolutely love. These commissions help keep Maddy's Avenue up and running, and we thank you for your support!