Feeling adventurous? While in Oaxaca City, why not take a self-guided day trip? Rent a car, get out there, and explore the best that the region has to offer! Hopping between artisanal mezcal distilleries, visiting Zapotec weaving workshops, discovering ancient archeological sites, and meandering through a traditional indigenous market are just a few of the incredible cultural experiences waiting for you on a self-guided day trip from Oaxaca City!
Below you'll find everything you need to know for the most incredible day trip from Oaxaca City. From the ultimate route, to where to get your rental car, I'm going to give you all the tips and tricks to set you up for the most epic self-guided full day trip from Oaxaca City!
It's going to be a long day and there are a lot of stops to make! But I can guarantee, it's going to be amazing.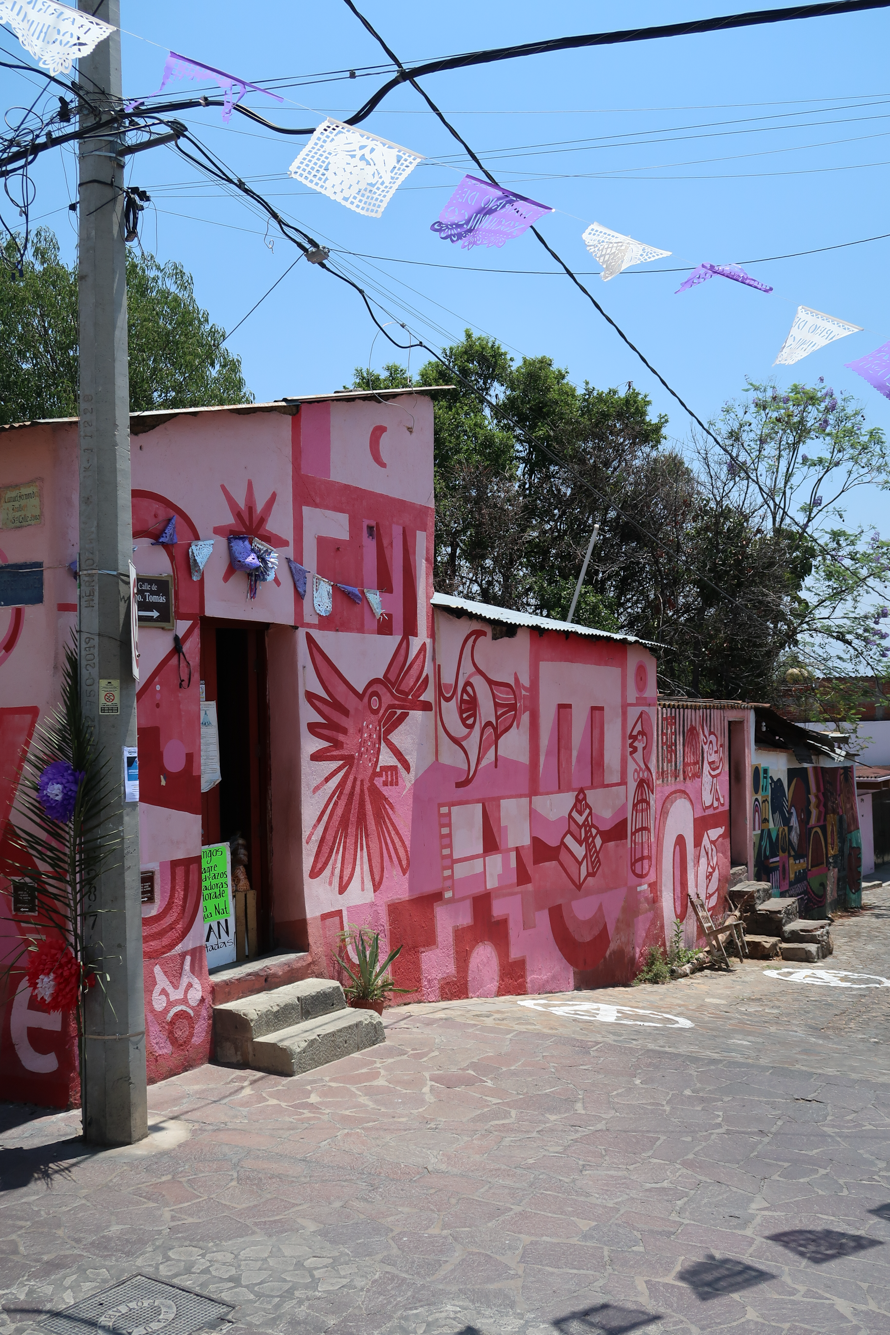 Is it Safe to Drive Outside of Oaxaca City?
Generally speaking, yes, it is safe to drive in and around Oaxaca City!
Getting out of Oaxaca City is the sketchiest bit, because if you haven't noticed, driving in Mexico is a little crazy! (Road rules? Who needs 'em?) But once you're out on the open road, cruising the highway, it's mostly smooth sailing. Just watch out for the "topes" or "reductores" (speed bumps). You'll find out quickly that they are randomly in the middle of the highways, they come out of nowhere, and often are not well-marked. Like, at all! My boyfriend started calling them "speed jumps" because, yes, we flew over one of two! I told you this was going to be an adventure!
As far as threats to your personal safety go (outside of traffic incidents), obviously, anything can happen. That said, I have always felt safe in and around Oaxaca City – and I have spent many weeks in the area, living there as a digital nomad in Mexico.
The most important safety tip? Drive during daylight hours only (7 AM to 7 PM) and you should be fine!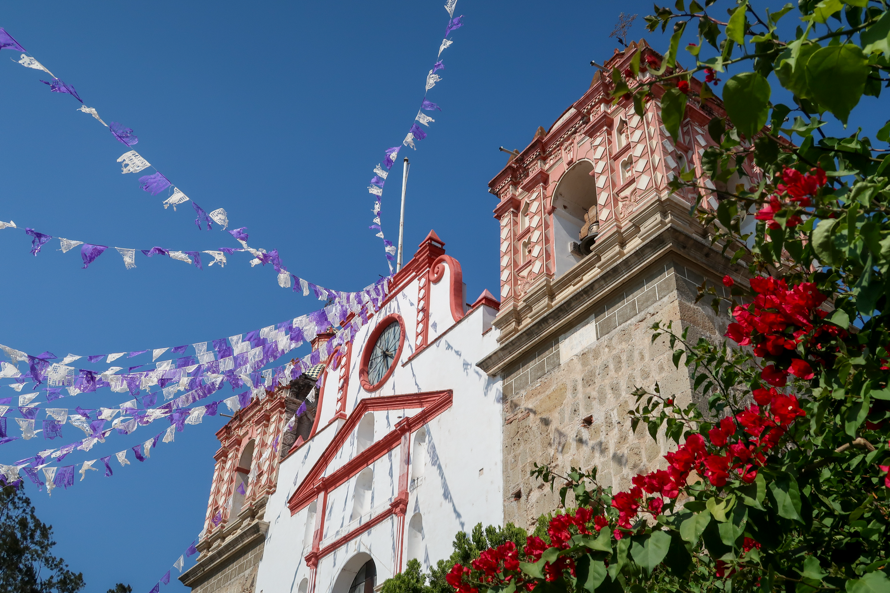 Tips for Taking the Best Day Trip from Oaxaca City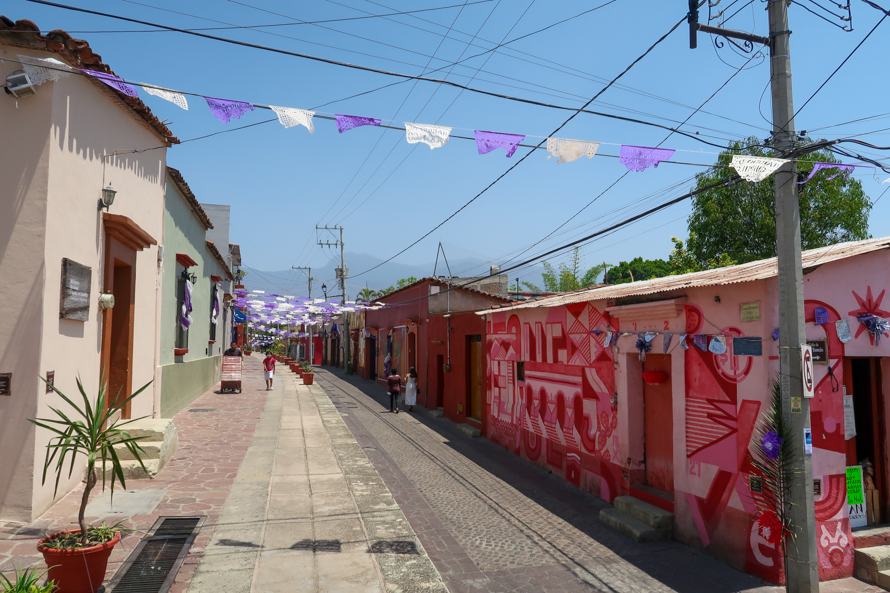 Where to Rent a Car in Oaxaca
Obviously, a car is a pre-requisite to an epic day trip outside of Oaxaca City. If you need a rental, I have just the place!
There's a family-owned car rental company situated just outside of Oaxaca's city center that I can't recommend enough. I arranged a rental car with Mixteca Car Rental twice for day trips outside of Oaxaca City, and both times, they were great to deal with.
They charged me $60 for per day (inclusive of insurance). Which, already is very affordable, but when you split that rate with your mates (and compare it to the combined cost of taking this group tour), it's well worth it! They were also willing to open early (at 7 AM) and close late (7 PM) to accommodate our day trip plans.
Mixteca Car Rental is, by far, the best place to rent a car in Oaxaca City. Their full 5-star rating speaks for itself.
How to Take a Self-Guided Day Trip from Oaxaca City
Now that your rental car is sorted, let's talk about the fun part: the route!
I'll walk you through the best places to check out, in the order you should see them in, and why you can't miss them! With this information, you'll be able to plan out your ideal self-guided day trip from Oaxaca.
As you go through this guide, make sure to "Save" each location in your Google Maps app on your phone. That way, you can view your route as you travel, even if you don't have cell service! Too easy.
Route for the Best Oaxaca Day Trip
#1. Monte Alban OR Hierve El Agua
To kick off the best day trip from Oaxaca City, you have to make a choice: Monte Alban or Hierve El Agua. You won't have time to do both!
Here's what you need to know to make your choice.
Monte Alban
Inhabited by groups of Olmecs, Zapotecs, and Mixtecs over 1,500 years, Monte Alban is the most important archaeological site and ancient city in the Oaxaca Valley. This UNESCO World Heritage Site is absolutely amazing. It's one of the most impressive archaeological sites I've seen – and definitely one of the top reasons to visit Oaxaca City!
Monte Alban is only an 18-minute drive from Oaxaca's city center, but it's in the complete opposite direction of the rest of the other must-visit places in the Oaxaca region. It also doesn't open until 9 AM, so that really delays your day if you want to get started early.
Instead, you can opt to take this Monte Albán Half Day Tour on a different day, so that you can head to Hierve El Agua first thing. This is my recommendation! Click here to book your Monte Albán Half Day Tour.
Hierve El Agua
On the other hand, Hierve El Agua is quite far from the city, but in the same direction of the other stops on the route.
A sacred site for the ancient Zapotecs, Hierve El Agua is a breathtaking spectacle of nature. At Hierve El Agua, you will find two petrified waterfalls (made of calcium carbonate) as well as green pools that are filled by natural springs. While there, you can swim or simply take in the views of the Sierra Juarez mountains and the valley below.
If you want to visit Hierve El Agua, make sure it's your first stop of the day! Leave Oaxaca City around 6:30 or 7 AM and head straight there. This is a super popular destination on guided bus tours, so it gets busy. The only (and I mean only) way that visiting here is worth it is if you arrive first thing in the morning.
The drive to Hierve El Agua from Oaxaca City takes about 90 minutes, when you take the toll road. When we drove there, the toll booth attendant told us that the paved road to Hieve El Agua was closed, so we had to turn back and take the winding dirt road through the town of Xaaga. If this happens to you, drive slowly, as this mountainous road is not the best. The drive takes about 2 hours in that case.
Not feeling up to driving yourself? No worries. You can also book this top-rated Hierve el Agua, Mitla, Teotitlán del Valle, Mezcal, and El Tule day trip. It includes most of the best things to do!
#2. Mitla Ruins
After Monte Alban, Mitla is the second-most-important ancient archaeological site in Oaxaca.
In the Nahuatl language, Mitla means "place of the dead." Legend has it that the Zapotec people buried their elite – kings, priests, and great warriors – here.
Mitla is a surprisingly small archaeological site, so it doesn't take very long to walk the grounds. Certified tour guides will likely be hanging around the entry gates when you arrive, so if you want to take a guided tour, barter for a price that suits both parties. Outside of Mitla, there's also a giant outdoor souvenir market if you feel like having a little browse.
Keep in mind that the Mitla ruins close at 12:30 PM on Sundays, and at 3 PM Wednesdays through Saturdays. Mitla is closed Mondays and Tuesdays.
If you'd rather opt for a guided tour, this tour includes a visit to Mitla (as well as Hierve el Agua, Teotitlán del Valle, a Mezcal Distillery, and El Tule). I have done this guided tour before (as well as driving myself), and I would recommend it!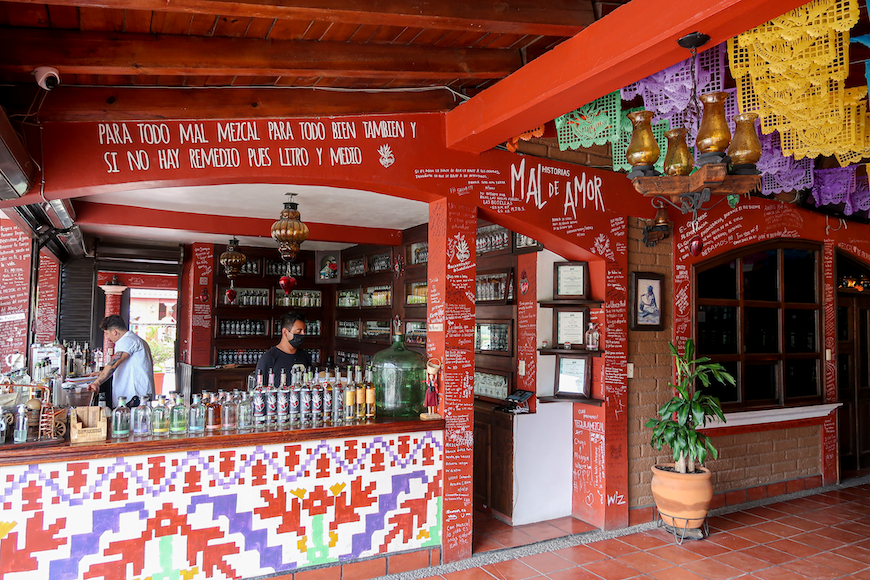 #3. Mezcal Distilleries in Santiago Matatlán
Have you noticed that mezcal is a big deal in Oaxaca? That's because the nearby town of Santiago Matatlán is the "World Capital of Mezcal."
After Mitla, this valley should be your next stop, so you can tour a mezcal distillery or two! When you arrive, a bartender will offer to walk you through a mezcal tasting, teaching you interesting facts about how the mezcal was made. You will also be able to walk through the factory and learn about the mezcal-making process.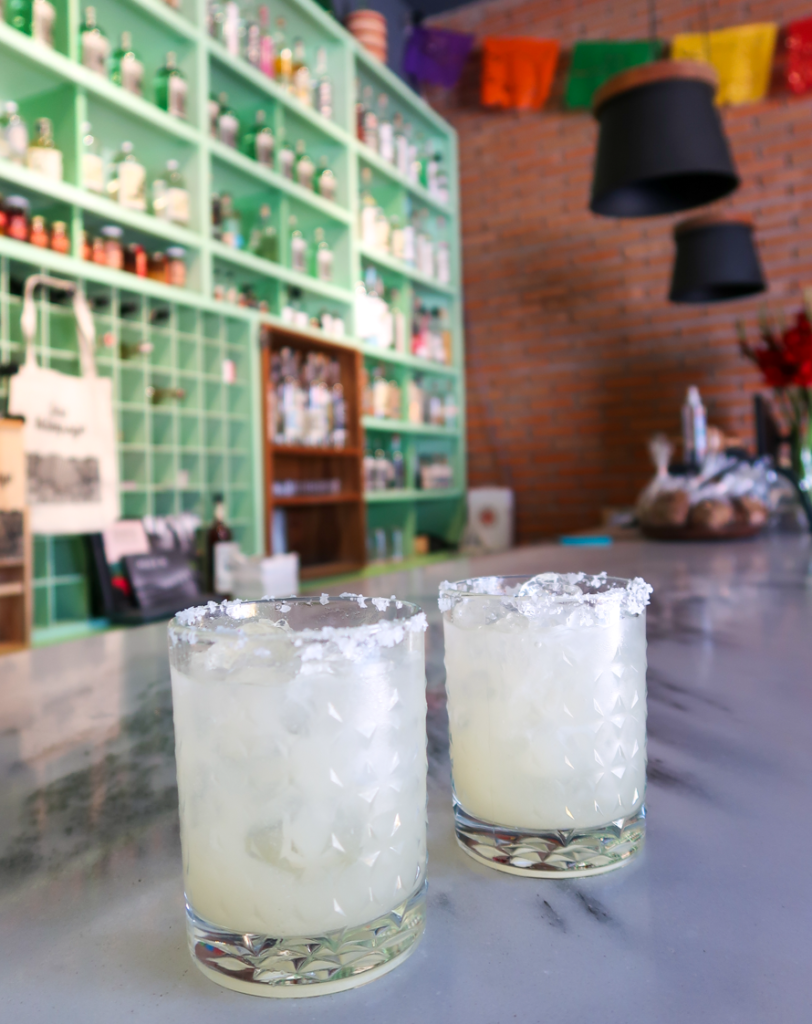 Here are the distilleries in Matatlán that I recommend visiting:
Make sure to buy a bottle or two of your favorite mezcals to bring home with you. The best souvenir!
If you want to take a guided tour (no driving = tasting as much mezcal as you want!), then this book this tour. It includes a mezcal tour and mezcal tasting, as well as visits to Hierve el Agua, Mitla, Teotitlán del Valle, and El Tule. I took this tour a few years ago, and I definitely recommend it!
#4. Jaguar Sanctuary
This came as a surprise to me too, but there's a jaguar sanctuary in Oaxaca!
On Fridays, Saturdays, and Sundays only (between 10 AM and 4 PM), you can take a guided tour of the sanctuary to see and learn about these magnificent animals and the conservation work the sanctuary is doing.
You can reserve your guided tour online.
For animal lovers, stopping by and supporting this sanctuary is a must!
#5. Tlacolula Sunday Market
Next, head to the town of Tlacolula de Matamoros to experience a "tianguis" – a traditional Zapotec and Mixtec open-air market. (Note: the regular market is open every day of the week in Tlacolula, but the tianguis is on Sunday only!)
The Sunday market explodes to at least triple its usual size, spilling out into the streets, creating a sprawling sea of interesting sights, sounds, aromas, colors, and culture. Eating here is an unparalleled and incredibly authentic experience; you'll have the opportunity to try indigenous dishes you may never lay eyes on again!
If I can give you one more piece of advice… Buy the chocolate. As much as you possibly can. Oaxacan dark chocolate – with its combination of cinnamon, almonds, and sometimes chile – is some of the best chocolate I have had in my entire life. (And I am something of a bean-to-bar chocolate connoisseur.)
#6. Weaving Workshops in Teotitlan del Valle
Visiting a weaving workshop in Teotitlán del Valle is an absolute can't-miss cultural experience. You will be blown away by the Zapotec's traditional weaving techniques – from how they extract their dyes from different natural sources to how they make the wool yarn. It's an amazing, ancient art form that we can help keep alive by supporting it!
Even if you don't plan on dropping a few hundred dollars on rugs (like I did!), you still need to go check it out!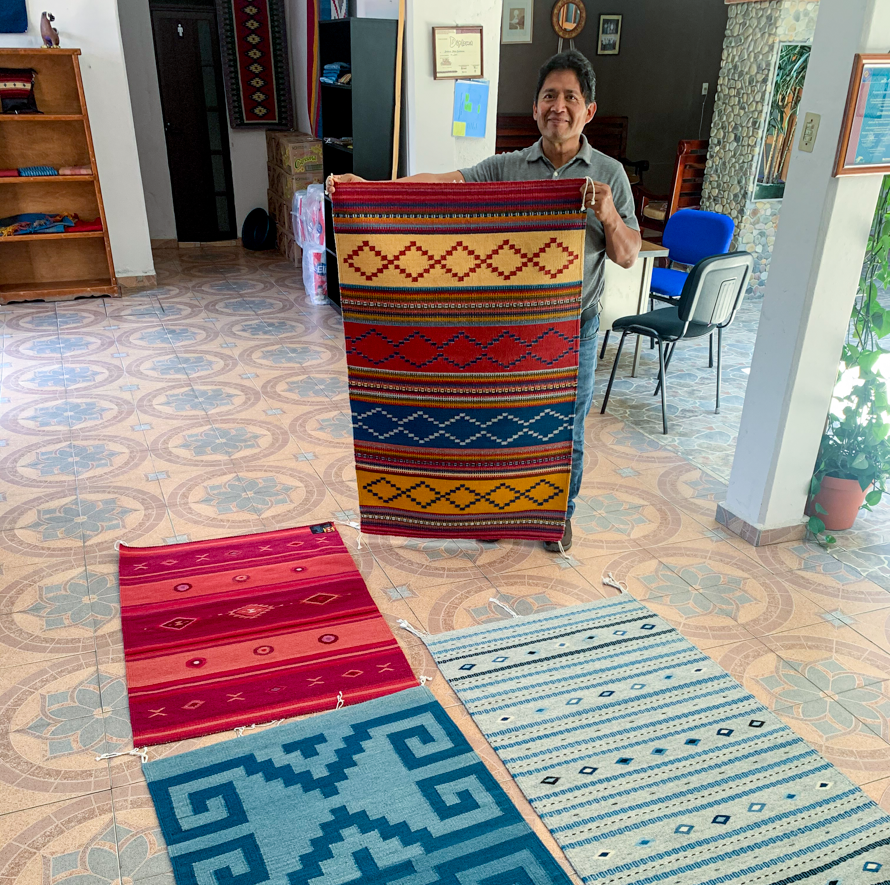 When you arrive, make sure to ask for a demonstration so you can see how the rugs are made!
There are so many rug workshops to visit in Teotitlán del Valle, but some of my favorites include:
You can also stop by the Teotitlán del Valle Craft Market, though I've found the quality there is not as high as what you'll find in some of the workshops. (But lower quality = cheaper. So that may be a plus, if you're on a budget!)
If you decide you don't want to drive yourself, I recommend booking this Hierve el Agua, Mitla, Teotitlán del Valle, Mezcal, and El Tule day trip.
#7. Santa Maria Del Tule
Have time for one last stop before driving back to Oaxaca City? Stop by the quaint town of Santa Maria Del Tule to see the main attraction: El Tule.
This legendary tree is estimated to be about 1,500-2,000 years old. But it's real claim to fame? It has the widest tree trunk in the world, at 42 meters (137 feet) wide. It's crazy and worth a quick stop if you have time.
Best Guided Day Trips & Tours from Oaxaca City
Obviously, when you drive yourself on a self-guided day trip from Oaxaca, you have more freedom, and space for spontaneity. But if you've decided that driving is too much of an adventure, then no worries. There are plenty of amazing guided Oaxaca tours to book.
The first time I visited Oaxaca, I did all of these guided tours and loved them!
Here are the best day trips from Oaxaca: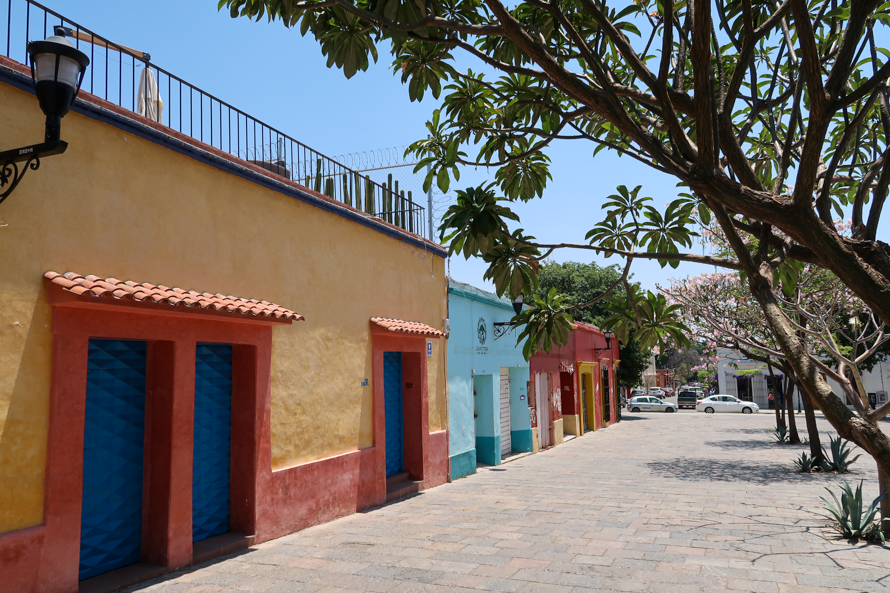 How to Take the Best (Self-Guided) Day Trip from Oaxaca
There are so many incredible things to do in Oaxaca City itself, but equally as many amazing cultural experiences can be discovered, with just a quick drive from town. From where to rent a car, to the top traveler hotspots and hidden gems to visit, you have the perfect guide to an epic self-guided, self-driving day trip from Oaxaca City.
If there's one thing I can guarantee, it's that you're in for an adventure – filled with delicious food and mezcal, amazing cultural experiences, and memories that will last a lifetime.
And if you're not feeling so intrepid, then you can always book a guided tour! Buen viaje!
When you book travel or purchase something through our links, we receive a small commission, at no extra cost to you? Your support enables Maddy's Avenue to keep producing helpful travel content. Thank you!