Oaxaca City (Oaxaca de Juárez) is quickly becoming one of the top best places to live in Mexico as a digital nomad… And it also happens to be my favorite place in all of Mexico.
I can easily think of 100 reasons why you should consider living in Oaxaca City as a digital nomad! From the incredibly rich culture, amazingly delicious food, and cool rooftop mezcal bars, to the beautiful colonial streets, and endless things to do in Oaxaca City, you will never get bored here! And, of course, the affordable cost of living, fast and reliable wifi, and variety of co-working spaces and coffee shops make digital nomad life in Oaxaca City a breeze.
I lived in Oaxaca City for a few months as a digital nomad and I can't wait to get back soon! There's no way you won't love living here.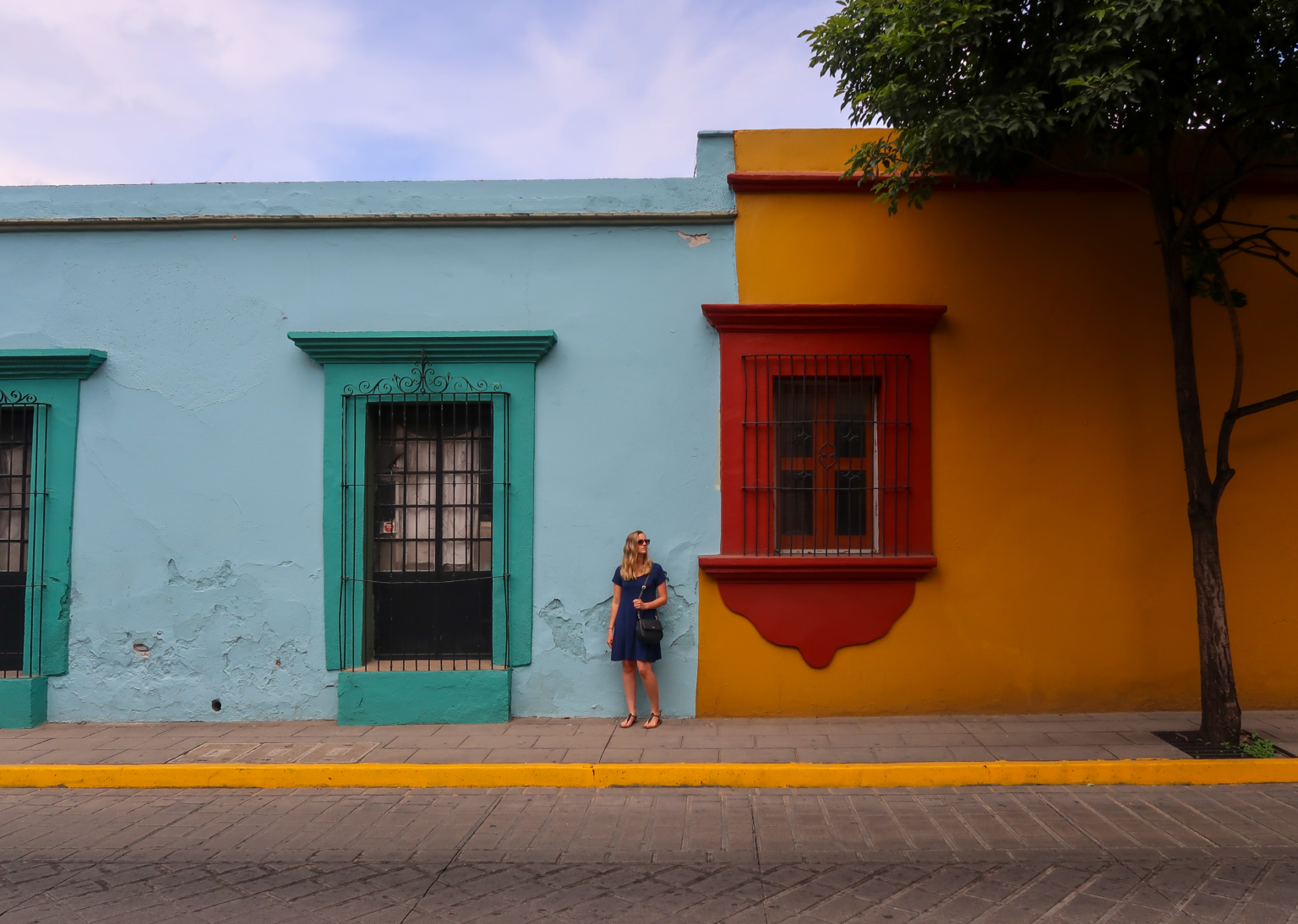 Oaxaca City Digital Nomad Guide
In this guide to Oaxaca digital nomad life, you'll find everything you need to settle in.
Feel free to use this table of contents to jump to subjects you want to read about.
Living in Oaxaca as a Digital Nomad: My Experience
As I mentioned, I lived in Oaxaca City for a few months as a digital nomad. I've lived in lots of other places in Mexico, and it's one of my favorite places to stay long-term. But as an overall destination, it's my favorite place in Mexico (by far).
In my opinion, digital nomad life in Oaxaca City has it all:
Fast and stable wifi
A community of other remote workers and digital nomads
Plenty of co-working spaces and laptop-friendly cafés
Affordable prices and a relatively low cost of living
Strong cultural traditions
Amazing restaurants and delicious street food
Colorful local markets with fresh produce
Great coffee culture (cafés usually source local Oaxacan coffee beans!)
Decent gyms and yoga studios
Plenty of fun and interesting things to do
Safe neighborhoods
Obviously, this state capital is an inland city… So there are no beaches. There is abundant nature nearby, in the surrounding Sierra Madre mountains (like the hot springs of Hierve el Agua!), but if you don't have a car, you may not be able to access it so easily. These are the main drawbacks, in my opinion.
Otherwise, Oaxaca City is a digital nomad's dream!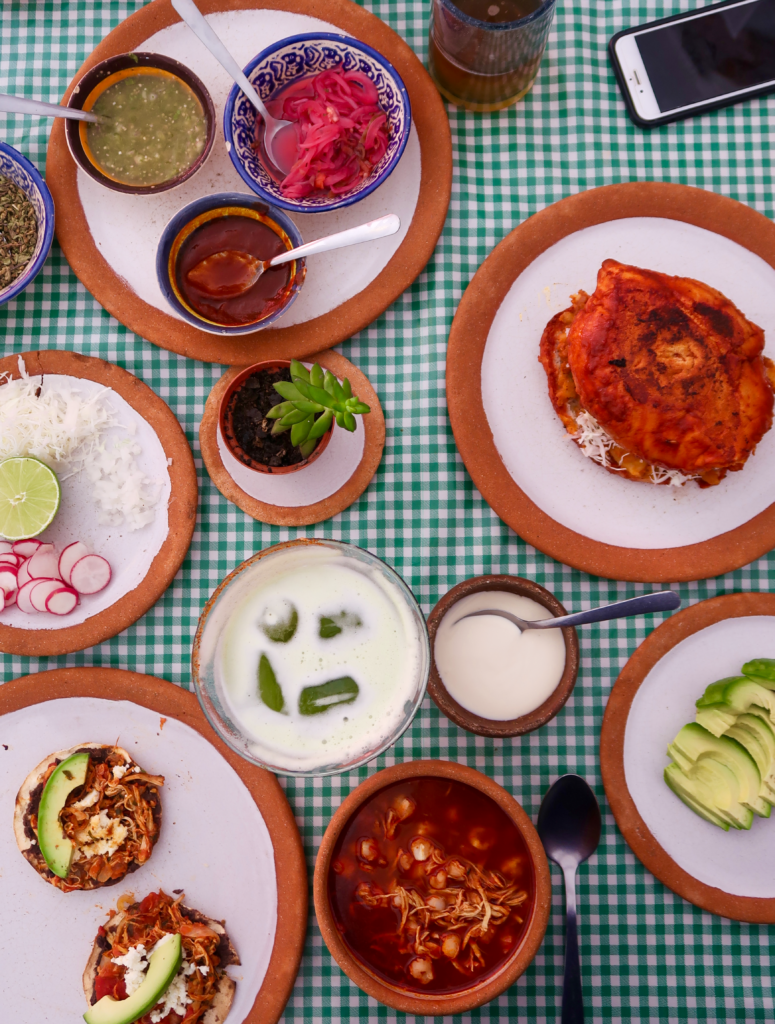 Why Live in Oaxaca as a Digital Nomad?
We've covered how great the wifi and co-working spaces are. But let's be honest, we didn't become digital nomads to seek good wifi. We can find that at home.
We're digital nomads to explore, learn, and enjoy our lives to the fullest when we're not working! And that's exactly what you will do when living in Oaxaca City.
Offering bustling traditional markets, rainbow-colored architecture, nearby ancient ruins (like Monte Alban and Mitla), artisan workshops, art galleries, and museums galore, some of the world's best street food, amazing chocolate, cool coffee shops, chic rooftop bars, and world-class restaurants, Oaxaca is bursting with authentic local Oaxacan and Mexican culture. Not to mention, Oaxaca is the home of mezcal (tequila's smokier, more delicious cousin.)
If you love food – or if you love the city life (infused with a local, small-town vibe and relaxed atmosphere) – then there are practically endless reasons why you'll love Oaxaca City.
The Many Things to Do in Oaxaca
When you're not working, there are so many amazing things to do.
Some of my favorites include:
Eating at the many amazing cafés and restaurants
Visiting the ruins of Monte Albán
Checking out the fascinating museums (like the Museo de Las Culturas and the Museo de Textiles)
Browsing the local markets (like Abastos, Benito Juarez, Tlacolula, La Merced, and more)
Strolling the Botanical Garden
Check out the Best Things to Do in Oaxaca City in this guide. I've also detailed a recommended Self-Guided Day Trip from Oaxaca City if you feel like renting a car and exploring (I highly recommend doing this!).
Can't-Miss Oaxaca Excursions:
WiFi Speeds in Oaxaca City
You can reliably find good internet – with a fast and stable connection – in Oaxaca City.
While living there, we had zero issues while working from our apartment (with 33 Mbps wifi speed) or from the many cafés in town. With 33 Mbps, we could make Zoom calls, stream Netflix, and everything else just fine!
Wifi can be a worry in other places in the state of Oaxaca (like Puerto Escondido), but in Oaxaca City, it's all good!
Co-Working Spots & Cafés in Oaxaca
In my experience, there's no reason to pay for a co-working space in Oaxaca, because there are so many great, co-working-friendly cafés to work remotely from.
Here are the best laptop-friendly cafés:
Muss Cafe
Kiyo Cafe (my favorite!)
Café SL28
Cafébre
Marito & Moglie
Cafe Brújula
However, if you insist on joining a co-working space, consider these options:
Céntrico CoWork
Co404
EnCojunto
Selina
Psicowork
How to Find Apartments in Oaxaca
Short-Term Stays
If you're 100% set on Oaxaca, and if you want to book an apartment online via Booking.com, Vrbo, or Airbnb, then my best advice is to do your research and book at least a month in advance! The great short-term accommodations in Oaxaca are few and far between and fill up quickly – by other digital nomads, and tourists booking a few random nights within your stay. You can make bookings up to 3 months long on Airbnb.
You should be able to find a comfortable, central apartment with great wifi and air conditioning (and maybe even a weekly cleaning service!) for around $600-900 per month. Our place in El Centro was $890 per month, including all of the taxes and fees. Prices may vary a bit, depending on the season.
There are pros and cons to booking online. Obviously, you spend more through services like Airbnb, and you may be charged if you have to cancel. But on the other hand, it's easy, you can read reviews, and you're insulated by Booking.com, Vrbo, or Airbnb policies, should anything go wrong.
Long-Term & Local Stays
If you're looking for something long-term (more than 3 months), or if you're looking for a bargain, then wait until you arrive in Oaxaca to secure a place. Stay somewhere like La Casa Carlota, GRANA B&B, or Selina to start off. (Hostal de Las Américas is cheap if you need something super budget-friendly!) Then you can begin your search!
Pay attention to local ads, join some Oaxaca Facebook groups, and talk to locals when you arrive. You should be able to find something decent (albeit, very basic) for as little as $400 per month.
The Oaxaca Expats, Locals, Digital Nomads & Entrepreneurs Facebook Group members can help you find your way.
What to Look For in an Oaxaca City Apartment
Best Neighborhoods
When looking for a place to live in Oaxaca, a central location is key. For convenience and safety! Getting a place within walking distance of El Zócalo (the main plaza) is ideal. That way, you won't spend even a peso on transportation.
Consider staying in these neighborhoods:
El Centro
Barrio Jalatlaco
Xochimilco
Reforma
Personally, I would not consider living outside of these barrios.
Specific Features
High-speed wifi is a must. Obviously. So make sure you confirm the wifi situation before you commit to a place and move in.
Any time outside of winter, air conditioning is a must (for me, at least). It can get very hot (and sometimes, humid) in Oaxaca City.
Another thing to note: Mexico is a loud place. On a daily basis, you can expect to hear: People yelling out advertisements. Cars/trucks blaring advertisements ("estufa, microondas…" OMG, if you know, you know). Church bells ringing. Fireworks. Mariachi music. Dogs barking. And the list goes on. If you can't handle that, or if you're constantly on work calls, maybe don't live in El Centro. Find an apartment on a quiet street in either Barrio Jalatlaco or Xochimilco instead.
That's all you need to thrive in Oaxaca de Juárez.
Pricing
You can expect to spend anywhere between $400-$1,000 on monthly rent in Oaxaca.
As mentioned above, it really depends on the location, how nice the place is, what season it is, and above all, how you found/booked the place (i.e. online via Booking.com, Vrbo or Aibnb vs. a poster or Facebook ad and paying in cash).
Find something that suits your budget, and settle into your dream digital nomad life!
What is the Cost of Living in Oaxaca as a Digital Nomad?
From food to housing, the cost of living in Oaxaca City as a digital nomad is relatively low. So that means, you can really enjoy life – the mezcal bars, the rooftop bars, the fab restaurants, and everything in between – while stacking up your savings. (Amen.)
General Costs of Living in Oaxaca
Rent: $400-$1,000
Taxis anywhere in town: Up to $5
A week's worth of fresh produce from a local market: $10-20
Latte: $3-4
Street food meal: $1-3
Casual restaurant meal: $3-15
Local beer: $2
Margarita: $3-10
Co-work day pass: About $10
Co-work month pass: About $100
Our Costs
Other digital nomads might cringe when they see what we spend. I (kind of) do, too. Because yes, we could spend a hell of a lot less. And yes, it's a work in progress…
But if there's one thing to know about me, it's that I LOVE food. I live for it. And much of mine and Cacey's relationship revolves around our love of coffee, food, cooking elaborate meals, eating out, drinking margaritas together, buying nice bottles of wine, and so on. So to me, it's worth it. And Oaxaca prices are low enough that we can still save up a lot!
All of this to say, below are our rough monthly costs to…
Live in a comfortable, modern-ish studio in El Centro, with good wifi and air conditioning (10-minute walk to El Zócalo)
Go to co-working-friendly cafés every single morning for coffees and pastries, and maybe breakfast too
Make lunch at home (or grab street food on the way back from the café)
Eat dinner at home 2-4 nights a week, eat out the rest (including weekend splurges and fine-dining experiences like Casa Oaxaca, Origin, Los Danzantes, and more)
Go to bars after work 1-2 nights per week, plus on the weekends
Explore all of Oaxaca City's best things to do
Take occasional self-guided day trips to explore Oaxaca's surroundings, from Monte Albán to Tlacolula, via rental cars
All prices below are in USD.
Rent: $890/month
Groceries from Local Markets: $150/month
Supermarket Staples: $150/month
Cafés: $350/month
Restaurants/Bars: $800/month
Activities/Tours/Cultural Attractions: $200/month
Transportation: $0 (We walk everywhere!)
So, being Oaxaca digital nomads costs us roughly $2,540 USD per month, for two people.
If you're more conservative with your spending, you could easily cut this amount in half.
Healthcare in Oaxaca City
If you need medical care while in Oaxaca City, no worries. From clinics, hospitals, pathology labs, and pharmacies, to dentists, holistic health shops, naturopaths, and beyond, you can get the health care that you need while living in Oaxaca.
While in Oaxaca, I didn't need to take care of any health issues. Although I did have some nasal saline-copper spray delivered (hello, sinus infection!) via the Rappi food/grocery delivery app. This is a super handy delivery service!
My boyfriend, Cacey, went to see an English-speaking dentist (who studied in the USA) twice in Oaxaca City. The first time, for a cleaning. The second time, for a small procedure. He paid roughly 500 pesos (about $25 USD) and 1000 pesos (about $50 USD) out-of-pocket, respectively.
If you do need any medical attention while in Oaxaca, you can go see Dr. Alberto Zamacona Esparza (I have not seen him – but according to Google reviews, he's a great English-speaking doctor) or Hospital Reforma for something more serious – just to name a couple.
Digital Nomad Insurance While Living in Mexico
This section may be the most important part of this entire article!
If you're living abroad as a digital nomad (whether in Oaxaca City, or literally anywhere other than your home country), then you need to take out a travel and medical insurance policy.
I've had way too many sketchy experiences living abroad to tell you otherwise… Including getting into a motor cycle accident and experiencing dangerous flash flooding in our Airbnb during a hurricane.
SafetyWing Nomad Insurance is specifically designed for digital nomads, covering travel medical and travel claims worldwide:
Medical: Covers you if you're get in an accident or become sick while abroad.
Travel: Covers you for unforeseen travel issues like delays, lost checked luggage, natural disasters, personal liability, and more.
The best part is, SafetyWing is super affordable, coming in at $42 per 4 weeks. You pay monthly, just like your Netflix subscription!
Use the SafetyWing widget below to get an instant quote or click here to learn more.
Is Oaxaca City Safe?
Overall, yes, Oaxaca City is perfectly safe to live in as a digital nomad! But let me elaborate.
In the popular, tourist-friendly neighborhoods (El Centro, Xochimilco, Barrio Jalatlaco, and Reforma), Oaxaca City is safe enough. Obviously, this is still Mexico we're talking about, so you need to stay vigilant. Always be aware of your surroundings, use common sense, stay on well-lit streets at night, and keep an eye on your belongings.
I personally have felt much safer in some of the other Mexican cities I've lived in, such as Mexico City (in Mexico City neighborhoods like La Condesa and Roma), Cholula, Puerto Escondido, and San Pancho.
But that said, I have not had any alarming or unsafe experiences in Oaxaca City, at all, whatsoever… I'm just going off my internal "sketchy meter," if you will.
Outside of the neighborhoods listed above, Oaxaca's safety levels start to decline. That's not to say don't explore the more local neighborhoods, just stay aware!
Side note: I have noticed a lot more tagging (potentially alluding to more gang activity, but definitely to heightened political unrest, per the context of the tags) and missing persons signs around the city than I remember seeing when I first visited back in 2016.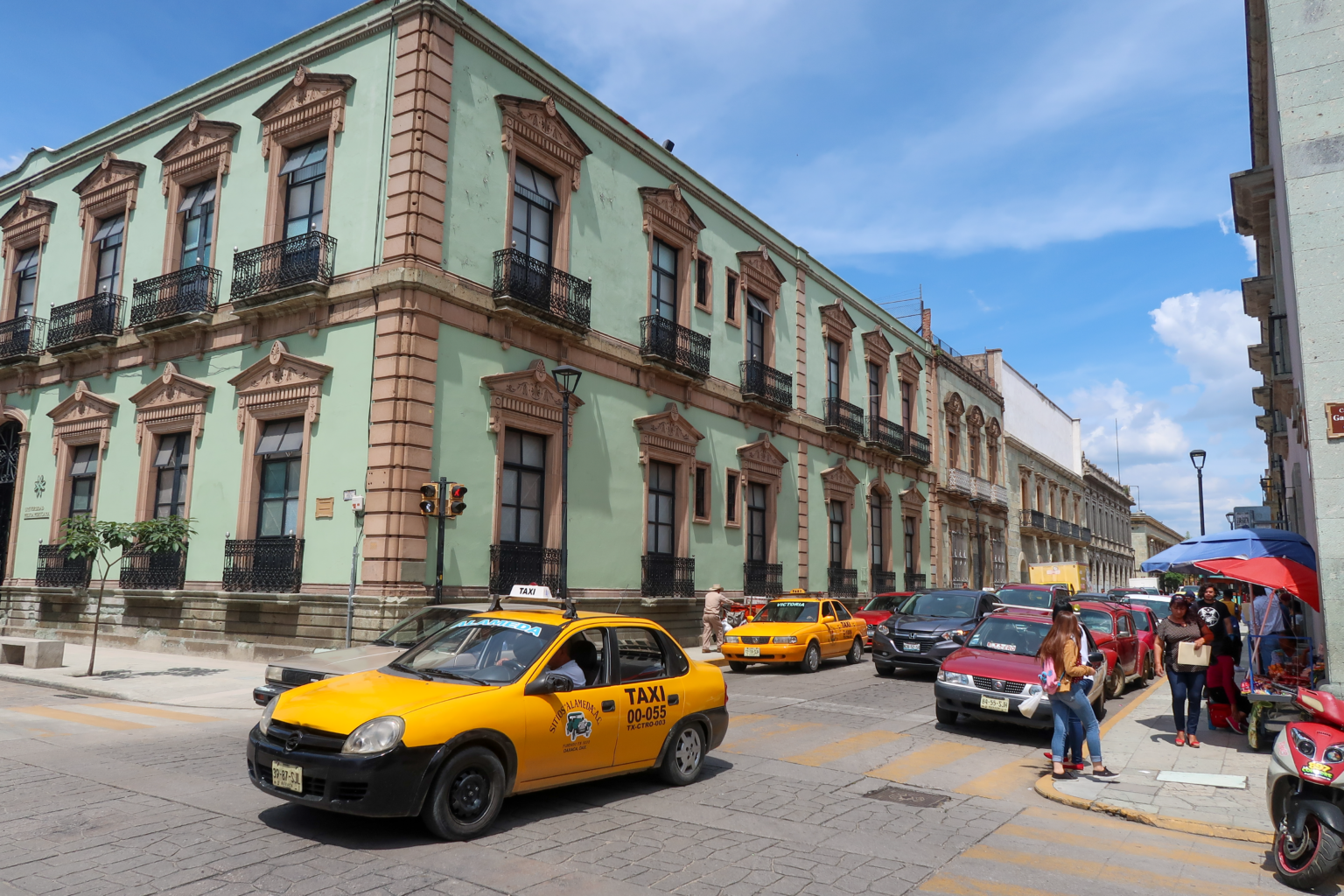 Transportation: How to Get Around Oaxaca
Oaxaca is a super walkable city, so there's really no need to pay for transportation.
If you base yourself in El Centro, almost everything is within a 15-minute walk. If you base yourself in Xochilmilco, Barrio Jalatlaco, or Reforma, add on a few more minutes. No big deal!
However, if you do need a ride, you can hop in a local taxi or hail a car on the Didi app. Hailing a car on Didi is the safer route, considering the paper trail. Either way, it'll be cheap. You won't pay more than a few dollars for a ride anywhere within the city limits.
Side note: Uber isn't available in Oaxaca City.
Pros & Cons of Living in Oaxaca as a Digital Nomad
Life in Oaxaca is not super modern, so digital nomads may have to give up some of the things their used to at home – like, let's say, delicious Asian food, easy access to organic veggies, organic health and beauty products, time in leafy parks, nature in general, and easy access to major grocery stores. There aren't any large supermarkets close to El Centro.
Note: There are grocery delivery services (like Rappi), but let's be honest. It's better for your personal health – and the local population – when you buy fresh veggies and other products from the local markets. So do that!
After living in Oaxaca City (and Mexico City and Cholula prior), we couldn't wait to leave. Not because we don't love Oaxaca. (Because we do. Endlessly. And we can't wait to go back.) But because we were itching to escape the general noise, poor air quality, hustle and bustle, and lack of nature that comes with living in a concrete jungle. For us, cities are great, in doses. Exploring the jungles of Costa Rica – in La Fortuna, Nosara, and Playa Negra – was a welcome change.
Overall though, there aren't many cons to living in Oaxaca City! You're going to love it… Whether for 1 month or 6 months or beyond!
Is There a Digital Nomad Visa for Mexico?
Technically, no, there is not a "digital nomad visa" for Mexico. However, Mexico does offer a very generous (and free) 6-month tourist visa to most travelers upon arrival.
According to the immigration lawyer I spoke to here in Mexico, it's perfectly legal to be a digital nomad in Mexico, as long as you are working for a foreign company. It doesn't matter if it's your own company or not. (To be clear, it is not legal, to work for a local company and receive any money from them, while on a tourist visa.) Though if you are asked by customs officials what your primary purpose of travel is, of course, you should say that it is tourism.
If you decide you want to be a digital nomad in Mexico indefinitely, you can look into getting a temporary resident visa, as long as you can prove economic solvency. To qualify, you have to meet specific income and/or bank account balance requirements. If you are granted the visa, you can get a Mexican bank account, Mexican drivers license, buy a car, and obviously, be entitled to a longer stay. If you know you want to stay in Mexico long-term, look into it!
I'll caveat this section by saying that you should not mistake this for legal advice. I am not a lawyer, so speak to your lawyer if you have any legal questions!
Oaxaca City Digital Nomad Guide:
Everything You Need to Know
Living in Oaxaca City as a digital nomad has its pros and cons (but mostly, pros)! This amazing city is definitely one of the top cities in Mexico for digital nomads. From delicious street food, affordable rent, great wifi, and endless enriching cultural experiences to uncover, to coworking coffee cafés, and amazing local markets, digital nomad life in Oaxaca City is the good life. Not to mention, it's a great base to explore more of this beautiful country!
WANT MORE MEXICO INSPIRATION?
Are you a digital nomad living in Oaxaca? What's your experience? Do you have anything to add? Are you considering taking the plunge into digital nomad life? Have questions? Leave your thoughts in the comments section below!
SAVE THIS POST ON PINTEREST FOR LATER!
When you book travel or purchase something through our links, we receive a small commission, at no extra cost to you? Your support enables Maddy's Avenue to keep producing helpful travel content. Thank you!
Disclaimer: This post may contain affiliate links. When you click through a link on this page and make a valid purchase, Maddy's Avenue may receive a small commission (at no extra cost to you!). We only recommend products/services that we believe in and know you will love too. Your support enables us to continue making helpful travel content. Thank you for reading, and thank you for your support!