The postcard-perfect villages and towns of the Amalfi Coast are so enchanting, it's as if they appeared out of an Italian fairytale. Each and every twisting olive tree, drop of Mediterranean Sea, sandy beach, mouthful of fresh pasta, sip of local wine, and vibrant bougainvillea vine on La Costiera Amalfitana is positively superb – and protected by UNESCO to boot.
If you're planning a getaway to this coveted coast in Southern Italy, you may be wondering… Which are the most beautiful Amalfi Coast towns? What are the best Amalfi Coast destinations for adventurers? For families? And for romantic getaways? And where should I stay in the Amalfi Coast to suit my personal travel style and interests?
Well, you're in luck, because this guide details the 10 most magnificent Amalfi Coast towns to stay in – and why! Plus, you'll find details on the best things to see, do, and eat in each town.
Ready to handpick the perfect Amalfi Coast town for your own fairytale vacation? Let's do it!
10 Best Amalfi Coast Towns
In this guide, you'll find the 10 best Amalfi Coast towns, plus the best places to eat, stay, and play in each town! Feel free to use this table of contents to jump to specific sections – or simply read on!
1. Cetara (Best Town for Foodies)
Do you seek out traditional culinary experiences over tourist attractions and shopping? We do too. What better way to get to know the Amalfi Coast than through the flavors of the sea?
Cetara is a tuna and anchovy fishing hub, making it a popular destination for gastronomic tourism! Plus it's an absolutely gorgeous town!
This picturesque fishing village is the best Amalfi Coast town for fresh-off-the-hook seafood and mouth-watering dining experiences.
The town has its own sparkling majorca domed church, cliff-hung homes, and beach clubs. Plus, from the port of Cetara (Porto di Cetara), you can hop on the ferry to take day trips to the other Amalfi Coast villages and towns.
Where to Stay in Cetara
What to Do in Cetara
Eat spaghetti con la Colatura di Alici (spaghetti with anchovy sauce) at Ristorante Cetara Punto e Pasta
Dine on fresh tonno rosso (red tuna), and deep fried anchovies at La Frittura del Golfo
Visit the Torre di Cetara (Tower of Cetara) and check out the museum inside
Wander the main street, Corso Garibaldi, and grab a coffee at Bar Miramare
Beach day at the gorgeous pebble beach, Spiaggia del Lannio
2. Positano (Best Town for Extravagance)
Towns on the Amalfi Coast are adored for their uniqueness; be it tuna fishing traditions, romantic villa vibes, or artisanal ceramic art. Positano has captured the hearts of many for its over-the-top luxury and endless charm.
Staying in Positano is a great way to immerse yourself in the never-casual style of Southern Italy. Think of the high-end-boutique-shopping, champagne-pouring, oysters-on-your-private-chartered-boat type of splendor.
John Steinbeck said, "Positano bites deep. It is a dream place that isn't quite real when you are there and becomes beckoningly real after you have gone."
The only way to know is to go!
Where to Stay in Positano
Il San Pietro di Positano: This is the most famous luxury hotel in all the Amalfi Coast, and one of the most renowned in all of Italy! Your room has its own balcony with panoramic coastal views and distinct Amalfi style interior design. Of course there is a Michelin-starred restaurant, Zass, on site. Click here to book it.
Le Sirenuse: A five-star stay: sumptuous rooms, sea-view pool, and world class dining. Staying here is worth the price tag for the ambiance alone! Click here to book it.
Venus Inn B&B: One of the best long-standing bed and breakfasts in Positano. The complimentary breakfast is a full spread and served on the patio with a picture-perfect view. Click here to book it.
What to Do in Positano
3. Atrani (Best Town for Value)
Walking into Atrani is like walking into the pages of a fairytale storybook. Pass through ancient stone archways into the historic old town, sip a cappuccino in Piazza Umberto I, then take a stroll on Atrani's black-sand beach dotted with colorful fishing boats.
This is the smallest town in all of Italy – with less than 1,000 residents!
Staying in Atrani is a wise idea; it's centrally located and will charm your socks (or sandals) off. This adorable fishing village is a speedy ten-minute walk to Amalfi town, minus the crowds and steep prices. But with an added dash of old-world charm!
Where to Stay in Atrani
Palazzo Ferraioli: Since you're in Atrani, why not spoil yourself to a tasteful stay at Palazzo Ferraioli? Click here to book it.
Domus Claudia: Take in unending ocean vistas on the sundeck, and enjoy the perfect location, right on the curve of the coast. Click here to book it.
La Scogliera Rooms: This family-run hotel will make you feel right at home, on the edge of the Mediterranean Sea!
What to Do in Atrani
Get lost in the narrow white staircases that connect the longstanding residences of Atrani. Let the scents and sounds of Italian living lead the way.
Hike the ancient stairs to Ravello and back
Visit the Collegiate Santa Maria Maddalena, Atrani's famous white Baroque church.
Grab an Aperol and Caprese salad at Bar Nettuno
Savor a long, luscious three-hour dinner at Le Palme
4. Ravello (Best Town for Romantics)
Classical music would be the soundtrack to a waltz around Ravello, Italy: the most romantic of all Amalfi Coast towns. Ravello is a bit of a hike to the sea, but the incredible vistas and villas are worth it!
These ancient cobblestone pathways hold the memory of lovers who've walked these roads since the sixth century. Ravello also hosts the renowned annual Ravello Festival with warm summer nights filled with music and dancing to delight the senses.
You won't find a sandy beach up on this mountain slope, and there's not much nightlife, but for a romantic getaway, that's music to your ears!
Where to Stay in Ravello
What to Do in Ravello
Be swept off your feet by the Terrace of Infinity inside Villa Cimbrone's magnificent gardens
Take romantic photos at Villa Rufolo under the Italian stone pine trees
Hike the steep staircase of Ravello down to the coast
Admire the simple design of Duomo di Ravello
Wine and dine at Babel Wine Bar Bistrò & Art
MORE AMALFI COAST TRAVEL INSPIRATION:
5. Conca dei Marini (Best Town for a Seaside Hideaway)
The captivating landscape of Conca dei Marini extends from olive groves to rocky coastline. Beautiful villas, gardens, terraces, and a laid-back vibe have made Conca dei Marini one of the most popular towns for high-profile vacationers on the Amalfi Coast for centuries.
Even Jacqueline Kennedy would day trip here from Ravello to bask in the tranquility that this quieter town provides!
The main tourist attraction in Conca dei Marini is the Grotta dello Smeraldo, or Emerald Grotto, with its sunlit cave rowboat tour.
Find inspiration from the fabulous Villa Chandon (designed by Coco Chanel), and become entranced by the blue hues of the Gulf of Salerno below. Conca dei Marini is the ultimate Amalfi Coast town to live la dolce vita!
HOT TIP: If you're not staying in Conca dei Marini, you can still check out the Emerald Grotto. This Amalfi Coast Private Boat Tour from Positano, Praiano or Amalfi brings you to see the grotto and the Fiordo di Furore, with a glass of Prosecco in hand. (This tour is perfect for large groups, as it's a little pricey on your own!). Otherwise, consider this Small-Group Amalfi Coast Day Cruise from Positano; you'll visit the Emerald Grotto, go swimming and snorkeling in secluded coves, enjoy incredible views of Praiano, and more. Click here to book it.
Where to Stay in Conca dei Marini
What to Do in Conca dei Marini
Ready to book your Amalfi Coast getaway? These are my go-to sites for the best deals!
6. Furore (Best Town for Adventurers)
Do you recognize Furore's famous beach, Fiordo di Furore? This is where the Mediterranean Club High Dive Championship is held every July!
Old fishermen's houses line the rocky gorge with the arch bridge passing overhead; this sight of the Fiordo di Furore makes Furore one of the most iconic Amalfi Coast destinations.
It's best to leave staying in Furore for the adventure seekers; those who are more than willing to do a bit of hiking, scooter-riding, or bridge-jumping (just kidding!).
In all seriousness, Furore is one of the most beautiful Amalfi Coast towns, but was once referred to as "the village that doesn't exist" since it's hard to reach from the road.
Where to Stay in Furore
What to Do in Furore
Hike the La Volpe Pescatrice Path early for a beach day at the Fiordo di Furore – and make sure to bring a camera!
Tour Cantine Marisa Cuomo, a small family-owned vineyard and winery
Hike Dal Fiordo di Furore a Bomerano to reach the ancient Path of the Gods trail to Nocelle
Walk along the Amalfi Coast road to the Emerald Grotto
Take a nature walk on Passeggiata dell'Amore and read the painted quotes along the way (if you can read Italian, that is!)
7. Praiano (Best Town for Nature Lovers)
The incredible coastline and sheer cliffs of Praiano make this medieval resort town the best of all the Amalfi Coast towns for nature lovers.
Spend your days meandering about the cute village center, hiking the ancient hiking trail, the Path of the Gods, and discovering the treasure of a hidden beach amongst the rocky cliffs.
Perched above the Tyrrhenian Sea, Praiano hosts the only beach along the Amalfi Coast that gets sun until sunset! (Many Amalfi Coast towns only offer sunny beaches until early afternoon.)
Where to Stay in Praiano
What to Do in Praiano
Make your way to Bomerano or Nocelle to hike the Path of the Gods; take this Trail of the Gods Hiking Tour with Local Guide Saveria Fiore to learn about the area's rich history as you hike!
Take a nature walk to Torre di Grado and hike the steep stairs to the secluded beach
Enjoy an early morning at Marina di Praia while the sun is overhead
Rent kayaks and enter the Grotte di Suppraiano
Fancy an afternoon at a gorgeous public (free!) beach? Then head to Marina di Praia, a quick walk east of town
Head to Lido One Fire Beach club at Gavitella Beach, located just west of town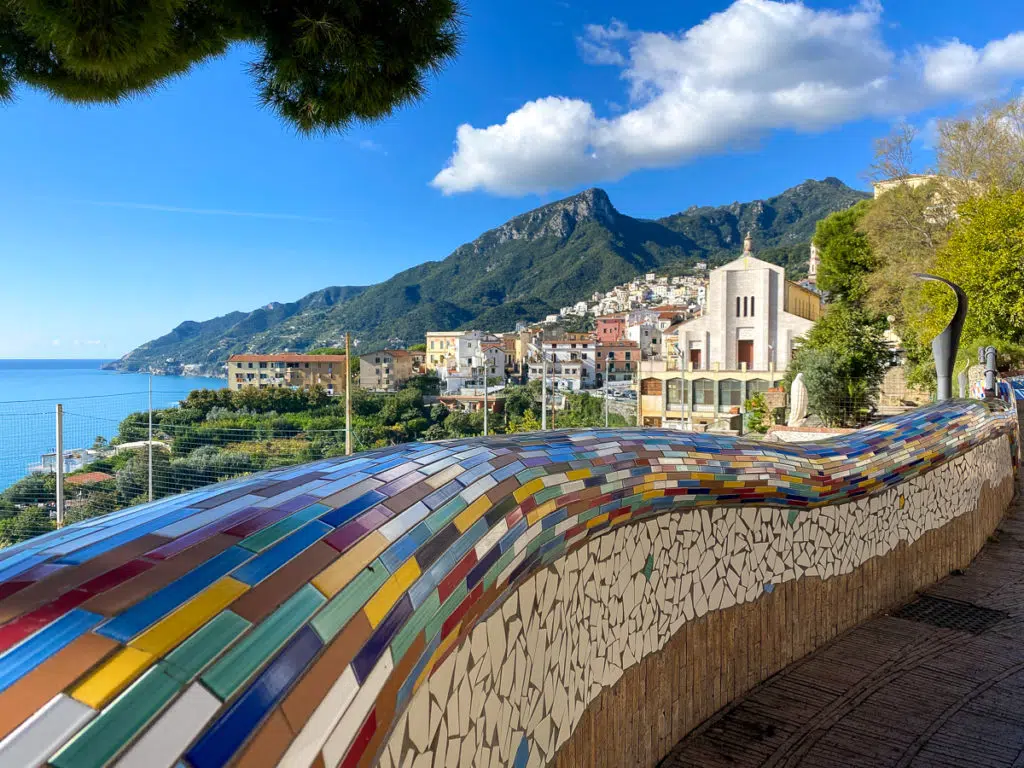 8. Vietri Sul Mare (Best Town for Art Lovers)
The easternmost of these 10 amazing Amalfi Coast towns is the artistic epicenter of Vietri sul Mare. This seaside town is more relaxed and less touristy than other Amalfi Coast towns, but offers many things to do and sights to see.
Come for the sandy beaches, stay for the Ceramica Vietrese (traditional Italian ceramics)! You can delight in colorful ceramic art pieces all over town.
For ease of travel, there's a large ferry port and multiple bus stops. Vietri sul Mare is a perfect day trip or home-base for your stay on the Amalfi Coast.
Welcome to the "first pearl of the Amalfi Coast"!
Where to Stay in Vietri sul Mare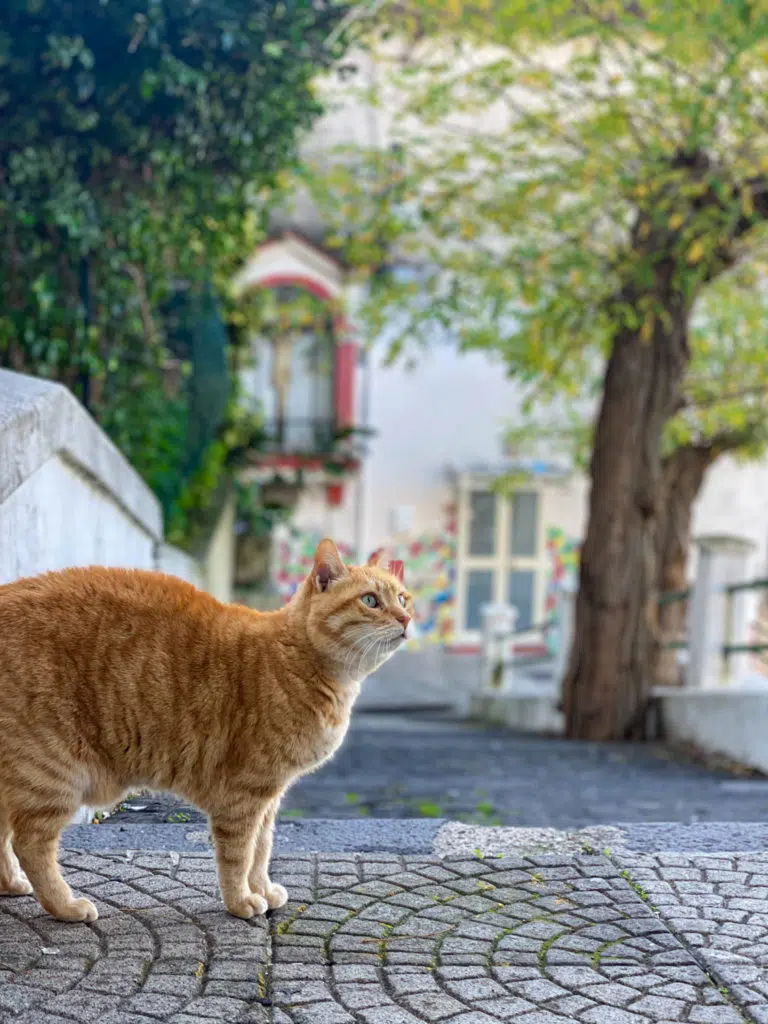 What to Do in Vietri sul Mare
MORE AMALFI COAST TRAVEL INSPIRATION:
9. Amalfi (Best Town for Ease of Travel)
Staying in Amalfi is convenient because of its central location. Amalfi is a major transportation hub; there's a ferry port, scooter rentals, kayak rentals, boat rentals, plenty of taxis (water and land), and, of course, buses.
However, Amalfi isn't the namesake of the Amalfi Coast for nothing! You'll find everything you need here: spectacular restaurants and bars, nightlife, and quiet parts of town.
Amalfi is the largest town in the Amalfi Coast, and has the tourist draw to match! Explore the main beach and private beaches, snap up all your souvenirs (limoncello and Amalfi paper!), visit museums, and catch a ride to other Amalfi Coast towns all in one spot!
Where to Stay in Amalfi
What to Do in Amalfi
Spend time lazing at Spiaggia Grande (Marina Grande Beach)
Walk the staircase to the gold-leafed cathedral, Duomo di Amalfi
Visit the Museo Della Carta, learn about Amalfi's traditional paper-making methods, and buy some soft, handmade Amalfi paper or stationery
Stop at Amalfi's maritime museum, Antico Arsenale della Repubblica di Amalfi, after exploring the port
Take an Amalfi Coast Sea Kayak Tour to explore the area's most enchanting sea caves, coves, and rock formations. Click here to book it.
Eat a Cuoppo Fritto – fried seafood (and sometimes veggies and cheese!), served in a cardboard cone, with a squeeze of lemon – at Cuoppo d'Amalfi
10. Minori & Maiori (Best Towns for Families and Budget Travelers)
Traveling families and budget-conscious travelers: Minori and Maiori are two of the best towns on the Amalfi Coast for you!
These sister towns offer more affordable lodging, dining, and recreational activities than other Amalfi Coast towns like Amalfi and Positano. Plus, they are relatively flat, and don't get as much foot and car traffic.
Hoping for sandy beaches? Maiori has the largest uninterrupted sandy beach of the entire Amalfi Coast – about 1km! Then, just one mile west is Minori's kid-friendly beach, protected from the boat traffic at the Maiori marina.
Getting around to other towns on the Amalfi Coast is easy in this transport hub! Each town has its own ferry port and bus stop, and is just a quick twenty-minute drive to the bustling town of Amalfi.
Prefer to go on foot? An ancient walking path called Sentiero dei Limoni (Path of Lemons) links Minori and Maiori and passes by lemon trees and scenic lookouts.
Where to Stay in Minori
What to Do in Minori
Check out Piazza Centrale, the main square with a collection of local shops, cafes, and restaurants
Visit the town's baroque cathedral, Basilica di Santa Trofimena
See the richly decorated and historic Roman Villa
Rent chairs or sunbathe in the free section of Spiaggia Di Minori (Minori Beach)
Eat scialatielli pasta – Minori is famous for it!
Where to Stay in Maiori
What to Do in Maiori
Shop for souvenirs on the main street, Corso Reginna
See the historic Santa Maria a Mare church
Pack a lunch for a beach day at Acquachiara Spiaggia (Clearwater Beach)
Climb the Castello di Toro Plano for views of Maiori and Ravello
Have a decadent meal at Casa Mandina
MORE AMALFI COAST TRAVEL INSPIRATION:
Ready to book your Amalfi Coast getaway? These are my go-to sites for the best deals!
The Best Amalfi Coast Destinations
Lemon-laced breeze and a blissful state of mind are signs you've entered the Costiera Amalfitana.
The truth is, you really would be hard-pressed to have a bad time with any Italy itinerary, but the Amalfi Coast is simply too gorgeous to miss! With this Amalfi Coast town guide, you have the details on some of the best towns to stay on the Amalfi Coast to ensure you squeeze the most loveliness out of your trip to this one-of-a-kind coastline.
Let me know which you choose!
What to Pack
Depending on the season you visit will depend on the layers you need, summer is very warm but the winter is incredibly cold. Italy is very stylish and Italians famously dress well, so avoid white sneakers where possible and opt for a smart shoe or boot. Always have a beautiful coat in winter, it will hide anything less stylish you may be wearing as you explore in the colder months.
Here are a few top tips of what to wear:
Quick Tips
Best Towns Amalfi Coast: FAQs
What are the towns of the Amalfi Coast?
There are 13 main towns on the Amalfi Coast, with hamlets and villages in between. There's easternmost Vietri sul Mare (the ceramic town), Amalfi (the coastline's namesake town), Ravello (which is romantically tucked into the hillside of the Lattari mountains), and the picture-perfect, postcard-famous town of Positano (the vertical town). Atrani, Cetara, Conca dei Marini, Maiori, Minori, Praiano, and Furore are some of the other towns of the Amalfi Coast.
What are the best towns to stay in Amalfi Coast?
The best towns to stay in Amalfi Coast are Atrani, Amalfi, Positano, Ravello, Praiano, Cetara, Vietri sul Mare, Minori, and Maiori. To find the best town to stay on the Amalfi Coast for your unique taste and budget, simply use this Amalfi Coast towns guide!
What is the main town on the Amalfi Coast?
The main town on the Amalfi Coast is Amalfi town, the coastline's namesake. This is the largest town, which has its own large port (La Marina), as well as the impressive cathedral (Duomo di Amalfi), and many scooter rentals, hotels, restaurants, cafes, museums, buses, and taxis. The other main town on the Amalfi Coast is Positano, which is famous for being the most photographed town on the Amalfi Coast!
What is the best area in Amalfi Coast?
The best area in Amalfi Coast is between Ravello and Positano. In this area there are some of the best things to do on the Amalfi Coast, such as: Path of the Gods hiking trail, Emerald Grotto, Fiordo di Furore, Terrace of Infinity, Villa Rufolo, and many heavenly beaches and beach clubs.
Is Positano or Amalfi better?
Positano is better than Amalfi, in our book. Both towns have their own port and beautiful cathedrals, but, simply put, Positano is more stunning. Plus, Positano has better private beaches, and more options, as far as shopping and dining go.
What is the most beautiful coastal town in Amalfi?
The most beautiful coastal town in Amalfi is Positano. Positano is known for its pastel-colored buildings that are perched on the edge of the Lattari Mountains, overlooking the Bay of Positano. Positano has an unbeatable, one-of-a-kind view. There's no way you won't fall head over heels in love with this town – its incredible views and endless romantic charm.
Is it best to stay in Sorrento or Positano?
It is best to stay in Sorrento if you have a modest budget, and Positano if you have a larger budget. Technically, Sorrento is not part of the Amalfi Coast, but it is a popular "home base" for Amalfi Coast travel since it has a large ferry port, affordable lodging, and plenty of taxis and buses to all of the best towns on the Amalfi Coast.
Where should I stay on the Amalfi Coast for the first time?
For your first time on the Amalfi Coast, you should stay in either Atrani or Positano. Atrani is very close to Amalfi town, which has a port for ferry travel, but is smaller, and more quiet and affordable. Positano is a great place to stay because it is (by far!) the most beautiful town on the Amalfi Coast – and has its own ferry port too.
Is Amalfi cheaper than Positano?
Amalfi town is cheaper than Positano, since Positano, in general, is more of a high-end place to stay. In Amalfi, you will find more options for affordable hotels, restaurants, and souvenir shops.
Which is better, Amalfi or Sorrento?
Amalfi town is better than Sorrento because it is in the heart of the Amalfi Coast. Sorrento, though it is more affordable, is not on the Amalfi Coast, and thus does not offer the full experience of an Amalfi Coast vacation.
SAVE THIS POST ON PINTEREST FOR LATER!
Disclaimer: This post may contain affiliate links. When you click through a link on this page and make a valid purchase, Maddy's Avenue may receive a small commission (at no extra cost to you!). We only recommend products/services that we believe in and know you will love too. Your support enables us to continue making helpful travel content. Thank you for reading, and thank you for your support!