If you're seeking a path less trodden along Italy's Amalfi Coast, you'll delight in all the wonderful things to do in Vietri sul Mare. Spend your days basking in the Mediterranean sunshine, savoring breathtaking views (and flavors) on charming restaurant terraces, and living "il dolce far niente" – all with a fraction of the crowds in nearby Amalfi and Positano.
Upon arrival, I was completely captivated by this lovely seaside town.
Vietri sul Mare, Amalfi Coast, will dazzle you with its sparkling vistas of the Tyrrhenian Sea, rugged mountain landscapes, unspoiled beaches, and mesmerizing traditional ceramics and architecture.
In this Vietri sul Mare guide, you'll find all the best things to do in Vietri sul Mare, plus how to get there, where to stay, and where to eat! Let's get started, shall we?
Why Visit Vietri sul Mare?
Part of the Province of Salerno in the Campania region of Italy, the Amalfi Coast is known as the land of sun, sea, and culture. This curvaceous coastline spans 31 miles, starting in the east with Vietri sul Mare along the northern shore of the Gulf of Salerno, and ending with Positano to the west.
Overshadowed by towns like Positano and Amalfi, Vietri sul Mare hasn't been on the mainstream tourist path for long. Thus, this authentic Amalfi Coast town remains somewhat of a hidden gem.
Plus, unlike other Amalfi Coast towns, Vietri sul Mare is easy to reach, and has one of the longest sandy beaches on the Amalfi Coast. This town also offers unique views of the Gulf of Salerno, from its slope on the Latteri mountains.
As the "gateway to the Amalfi Coast," Vietri sul Mare is the perfect place to start or conclude your Amalfi Coast adventures. A must-include on your Amalfi Coast itinerary!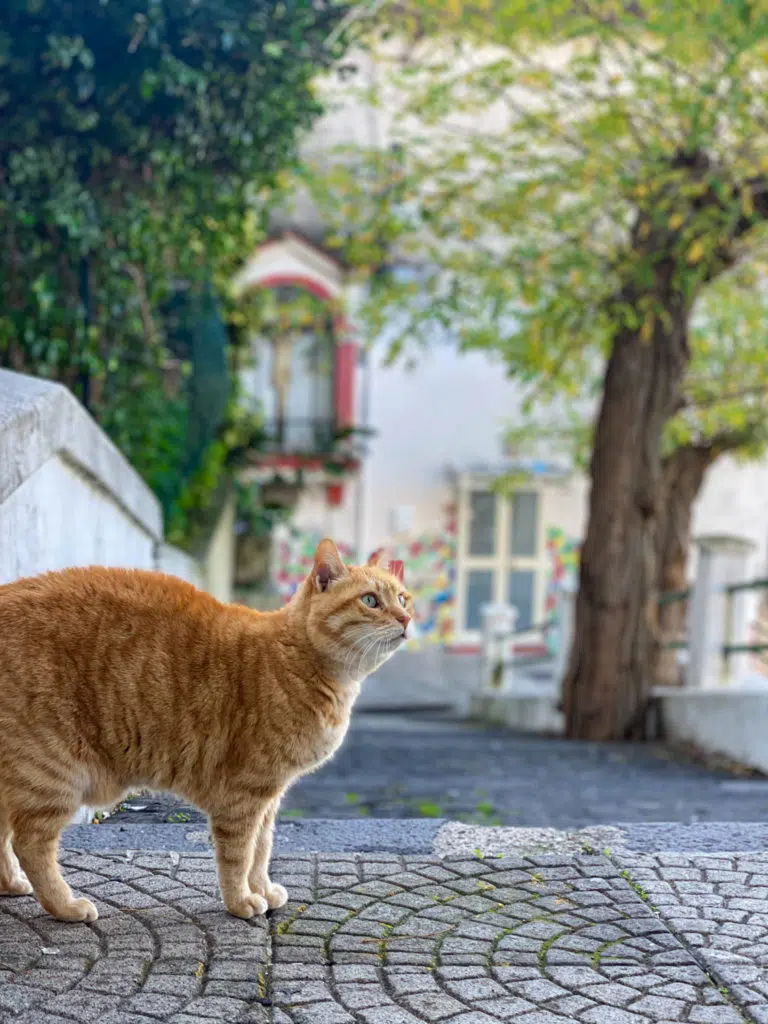 Must-Know History of Vietri sul Mare
Vietri sul Mare is famous for its art!
Italian craftsmen have refined their skills of wooden boat carving, glass work, and ceramic artisanry here since the Renaissance period.
In the 1800s, Vietri sul Mare solidified its name as a renowned ceramic capital, producing precious porcelain ceramics and majolica to be distributed throughout the region.
Fun fact: Ironically enough, Vietri ceramics reached their peak thanks to German chemists who formulated the iconic Vietri yellow – which colors those classic Amalfi lemons.
Without further ado, here's exactly what to do in Vietri sul Mare!
10 Best Things to Do in Vietri sul Mare
#1 Meander About the Village
Let the narrow, winding streets of Vietri sul Mare guide you, only by the scent of something sweet and the sight of something beautiful. Like glimpses of the sparkling Tyrrhenian Sea around colorful ceramic-covered street corners.
The beating heart of Vietri sul Mare is the main street, Corso Umberto I. Here, you'll find decoratively tiled shopfronts with collections of ceramic art pouring into the streets, plus plenty of delicious cafes, restaurants, and cats (my favorite!).
I highly recommend Cafe Russo for a coffee and cornetto integrale (whole wheat croissant, also my fav!) before beginning your meander.
For a sugar break, hit Bar Gelateria Eco Del Mare for a gelato cool-down at Marina Di Vietri. La dolce vita!
#2 Visit Museo della Ceramica Vietrese (Vietri Ceramic Museum)
When visiting Vietri sul Mare, you must explore the Vietri Ceramic Museum (A.K.A. the Provincial Museum of Ceramics). Here you'll be transported back in time through the history of Vietri sul Mare's Italian ceramic and majolica production.
Though Salerno's first record of ceramic production dates to the 5th century BC, Vietri's pottery production only began in the 16th century: a time when the Royal court of Naples was the top client!
Vietri's ceramic-tiled piazzas, colorfully decorated walls and paths and homes, and opulent cathedral domes will impress you even more after this museum visit.
To get to the museum, take a taxi for a short ride, or head on foot for a 40-minute walk to the Villa Guariglia in Raito, a small hamlet just above Vietri.
#3 Hit the Beaches
Of course, one of the best things to do in Vietri sul Mare is to relax at one of the beautiful beaches. Here are the best ones to check out!
Main Beach (Marina di Vietri)
When I was at Vietri's main beach, Marina di Vietri, there was hardly anyone there. Just a couple old Italian men catching their daily sun.
While I visited the Amalfi Coast in October, and the summer months will see more beach-goers, Vietri beaches are guaranteed to host less crowds than those in Amalfi, Positano, Minori and Maiori.
At Marina di Vietri you'll find a number of beach clubs with daybeds and umbrellas, as well as a free section to lay out on the sand.
Lido California Beach offers some shaded space, and nearby, at Vietri Vacanze Noleggio Barche, you can rent a kayak or canoe. If you want to explore, ask about a boat tour!
Other Must-Visit Beaches in Vietri sul Mare
Spiaggia Crestarella is another popular yet uncrowded beach, since it's a bit hidden from the marina. Comfy daybeds, umbrellas, a bar, and a restaurant make a day pass at Crestarella well worth it!
Just east of Crestarella is Baia Beach, whose stretch of sand is the longest in all of the Amalfi Coast! It's easily accessible, and half the beach is free (no clubs).
Then there's La Lucertola Beach, "the lizard." This small seaside hangout in Vietri sul Mare has a lovely view of I Due Fratelli, two boulders jutting out of the sea – a Vietri icon! Make sure to get there early, since the mountain's shadow creeps in by early afternoon!
Just slightly outside of Vietri proper is another stellar beach: Marina di Albori. This little cove is a hike or short taxi from town, but offers a peaceful and quiet retreat.
#4 See the Chiesa Parrocchiale di San Giovanni Battista
One of my favorite features of Amalfi Coast towns are the glittering cathedral domes, which catch the Mediterranean sunlight and send back a stunning visual.
When it comes to the Chiesa Parrocchiale di San Giovanni Battista, its ceramic-covered dome features Renaissance-period Italian majolica, handcrafted in Vietri sul Mare, the ceramics capital of Campania!
With origins dating back to 1036, the Chiesa Parrocchiale di San Giovanni Battista (Church of Saint John the Baptist) is an absolute must-see in Vietri sul Mare.
In the 17th century, the dome was covered in a splendid blue, green, and yellow maiolica tile design. Standing proudly beside this Neapolitan Renaissance Church, its colorful bell tower is covered in hand-painted Vietri ceramic.
Inside, you'll find some lovely frescos and statues that are also worth seeing if you have the time!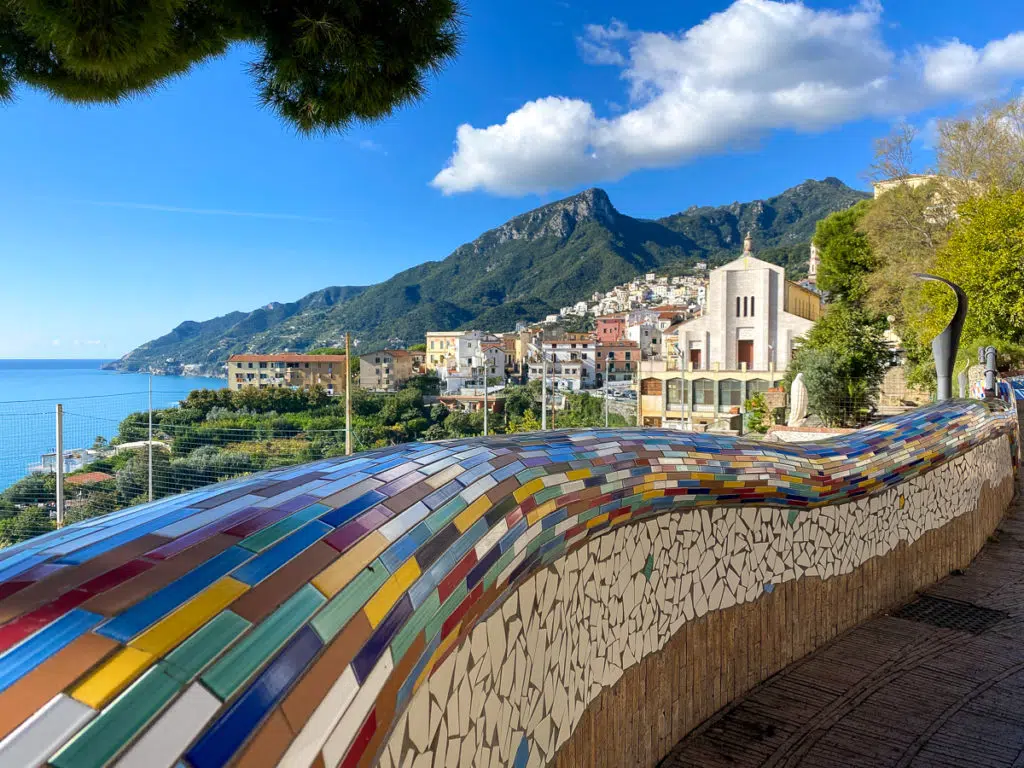 #5 Relax at Villa Comunale Vietri sul Mare
There's only one Amalfi Coast town that's home to the "Parc Güell of the Amalfi Coast," and that town is Vietri sul Mare!
Take prosciutto and mozzarella to-go (per andare) from Antichi Sapori DI G.Mammato, or a slice of heavenly pizza from Pizzeria Da Giggino (yum!) to the Villa Comunale Vietri sul Mare, to relax among beautiful scenery.
From the meticulously hand-placed multicolor tile staircase, to panoramic views of the Tyrrhenian Sea through lush greenery, Villa Comunale Vietri sul Mare is one the most jaw-dropping settings in all of the Amalfi Coast.
If you're lucky, you might happen upon live music and dance at the amphitheater, where blue waters sparkle below.
#6 Attend a Private Ceramic Workshop
You don't have to be an artist to make Vietri ceramics. Take the wheel and discover what it's like to spin this unique southern Italian clay in this Private Ceramic Workshop!
Your handmade design can even be shipped home for you after firing in the kiln. An authentic experience that you can only have here in Vietri sul Mare, on the ineffably lovely Amalfi Coast of Italy.
This is one of my top picks for the best things to do on the Amalfi Coast!
Click here to book your Ceramic Workshop!
#7 Eat a Traditional Italian Dinner
Vietri sul Mare boasts plenty of worldly dining experiences. Think Brazilian street food and sushi at Paràna, and high-end Japanese cuisine at Japit.
However, you simply must have a traditional Italian dinner at Ristorante La Sosta: a rustic and authentic family-owned restaurant right at the start of Amalfi's coastal road.
Generous portions, pours, and hospitality made Ristorante La Sosta a favorite among locals and travelers alike. Order frutti di mare pasta (seafood pasta), a cut of local beef, or both, like I did by accident (language barrier blessings).
The owner is incredibly sweet and has a knack for serving you exactly what you didn't know you needed. This was one of my favorite and most affordable Italian dinners I had along all of the Amalfi Coast!
P.S. If you want a hands-on foodie experience, then book this Private Pizza & Tiramisu Class in a Local Chef's Home, or this Private Cooking Class with Lunch or Dinner!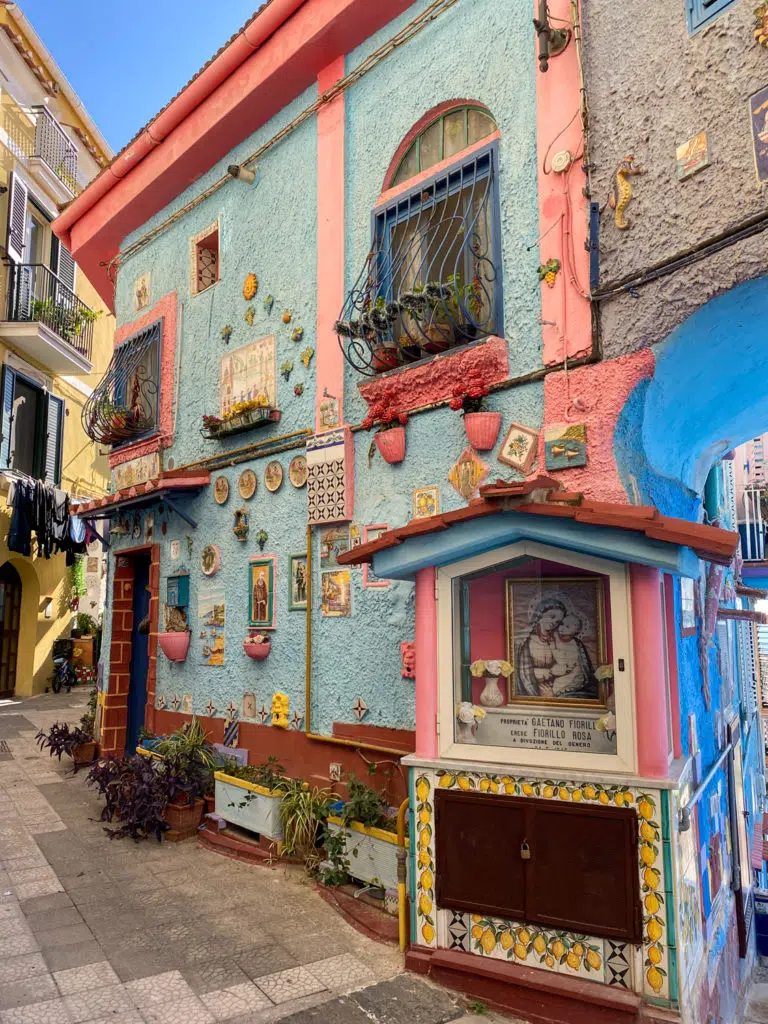 #8 Snap a Photo at Vietri's Instagram Street
Okay, so you may not be an influencer (me neither), but I promise you do need a photo at the most adorable street corner in Vietri sul Mare.
Bright blue and hot pink paint make this house nearly unmissable, but please pull up the directions on your phone. The winding alleys of Vietri sul Mare can turn the place into a maze if you're not careful!
This vibrant home plastered in traditional Vietri ceramic art is one of the top attractions in town. It offers the perfect photo-op to remember your time in the Vietri sul Mare.
#9 Book an Organic Wine Tasting Tour
The Campania region produces wines revered around the country, and the Amalfi Coast vineyards offer up their own unique essence.
Of all the Vietri sul Mare tours, the wine tour and tasting at Le Vigne di Raito's boutique, organic vineyard and winery is an absolute treat.
After the tour, enjoy a picnic with curated tasting plates of select local culinary delights and wine (of course) in the vineyard.
Prepare to be swept away by the breathtaking views of the Amalfi Coast from the rolling hills at Le Vigne di Raito. Oh, how blue sky melts into the Mediterranean Sea – bellissima!
#10 Shop for Handmade Vietri Ceramics
Appreciated far beyond the Amalfi Coast, Vietri sul Mare ceramics are a world-renowned genre of Italian clay craftwork all their own. Brightly painted lemon dishware and traditional hand-painted "ciucciariello" (donkey) make Vietri ceramics unmistakable.
Looking for a fantastic gift? Most of the shops around Vietri's small town center sell hand-painted ceramic corks. You can fit plenty of corks inside your luggage to give to loved ones back home. Plus, they're just a couple euros!
Who wouldn't love a pretty little piece of Vietri? Snap up something colorful!
Day Trip or Stay the Night in Vietri sul Mare?
Day trips to Vietri from other Amalfi Coast towns are nice, but by staying the night, you'll have time to experience all the amazing things to do in Vietri sul Mare!
Considering all there is to do, plus access by ferry, bus, or car to the rest of the Amalfi Coast and Naples, Vietri is not just a perfect stopover, but a worthy destination on its own.
Where to Stay in Vietri sul Mare
B&B Vietri 360: The perfect bed and breakfast for those looking to stay in the historic heart of downtown Vietri sul Mare. You can enjoy a clean, spacious room and bathroom, and wake up to a decadent breakfast spread to start your day! Click here to book it.
Palazzo Suriano Heritage Hotel: Undoubtedly an elegant stay. This historic, family-owned 18th-century villa boasts lush manicured gardens, an impressive antique library, and expansive views of the Tyrrhenian Sea. Plus, a rich complimentary breakfast is included! Click here to book it.
Relais Paradiso: Chic and modern yet immersed in nature. Relais Paradiso has two outdoor pools, a spa, a rooftop sundeck, cocktail bar, and high-end restaurant (with complimentary breakfast). For the ultimate romantic experience, book a suite with a whirlpool tub! Click here to book it.
How to Get to Vietri sul Mare
Arriving in Vietri from other towns on the Amalfi Coast is a breeze. Choose between bus (cheapest), ferry (fastest), or taxi (most comfortable). Just note that the ferries do not operate during the off-season (from around mid-October to late-April).
From Amalfi: You're a short 20-minute taxi ride from Vietri. By ferry, the trip is about 40 minutes, and around an hour by bus.
From Positano: Vietri is about 40 minutes away by taxi, and 2.5 hours by bus. The ferry from Positano to Vietri takes 1.5 to 2 hours.
From Salerno: Reaching Vietri takes just 10 to 15 minutes by taxi or SITA bus. The fastest option is a train operated by Trenitalia, which will get you to Vietri in just 8 minutes!
From Naples: If you're arriving into Naples International Airport, simply hop in a taxi, train, or SITA bus on the "Napoli – Salerno" route for an hour ride to Vietri.
From Sorrento: A taxi ride is your quickest mode of transportation at around 1 hour, though this will be pricey. Trains (Trenitalia) and buses (SITA) take double the time and require a switch in Pompei.
FAQs Vietri sul Mare
Is Vietri sul Mare worth a visit?
Vietri sul Mare is absolutely worth visiting – for a day, or three! Vietri sul Mare, located on the eastern end of the Amalfi Coast, is a destination all its own. A mainstay of Italian ceramic and majolica production, this quiet fishing village has an artistic flair that sets it apart from the rest of the Amalfi Coast's towns. Vietri's many beaches are spectacular, and less crowded than Amalfi, Positano, Maori, or Minori. Plus, there's a wide selection of restaurants, from worldly cuisine to authentic Italian flavors, and many striking views of the Mediterranean Sea. In other words, there are many more things to do and see in Vietri than you might've thought!
What is Vietri sul Mare known for?
Vietri sul Mare is known for being the ceramic capital of Campania, and one of the top producers of traditional Italian ceramics and majolica in all of Italy. Every dramatic cathedral dome on the Amalfi Coast features locally made, colorful ceramic tiles. During its height, Vietri's top client was the Royal Court of Naples!
How do you get to Vietri sul Mare?
Getting to Vietri sul Mare from Naples, Sorrento, Salerno, Positano, and Amalfi is easy. Travelers have the option of taking trains (Naples and Salerno only), buses (each town), or taxis and private transfers. Ferries are the most beautiful mode of transportation to Vietri, but are only available during the "on-season" of tourism, which is usually around mi-April through mid-October. This Vietri sul Mare guide details all of the best transportation options, no matter where you're coming from.
What town is closest to Vietri sul Mare?
The closest town to Vietri sul Mare is Salerno, which lies just ten minutes due east. Other close towns are Amalfi and Naples, which are both around 40 minutes away by car.
What are the best things to do in Vietri sul Mare?
Some of the best things to do in Vietri sul Mare are: meander about the village, visit Museo della Ceramica Vietrese (Vietri Ceramic Museum), hit the beaches, attend a private ceramic workshop, and eat traditional Italian food. But that's far from all… This Vietri sul Mare itinerary and guide includes everything you need to know – from what to do in Vietri sul Mare to the best restaurants, beaches, and more!
Final Thoughts on What to Do in Vietri sul Mare
Where colorful towns cling to the Latteri Mountains above the Mediterranean Sea, every inch of the Amalfi Coast is absolutely dreamy. The small, artistic fishing village of Vietri sul Mare holds its own frequency, inviting visitors to relish the simplicity of art, food, and nature. Of all the Amalfi Coast towns, Vietri sul Mare is one of the very best. And a can't-miss in any Amalfi Coast itinerary.
Spending time here is one of the best things to do in the Amalfi Coast. And way more relaxing, compared to often over-crowded Amalfi and Positano!
From ceramic art history and architecture, to rolling vineyards, pristine beaches, and outstanding cuisine, Vietri sul Mare is the perfect place to begin or end your Amalfi Coast travels.
What to Pack for Italy
Depending on the season you visit will depend on the layers you need, summer is very warm but the winter is incredibly cold. Italy is very stylish and Italians famously dress well, so avoid white sneakers where possible and opt for a smart shoe or boot. Always have a beautiful coat in winter, it will hide anything less stylish you may be wearing as you explore in the colder months.
Here are a few top tips of what to wear:
Italy Quick Tips
SAVE THIS POST ON PINTEREST FOR LATER!
Disclaimer: This post may contain affiliate links. When you click through a link on this page and make a valid purchase, Maddy's Avenue may receive a small commission (at no extra cost to you!). We only recommend products/services that we believe in and know you will love too. Your support enables us to continue making helpful travel content. Thank you for reading, and thank you for your support!