After riding Vespas through Tuscany with Walkabout Florence, we're convinced it's an experience you simply cannot forego during your trip to Italy.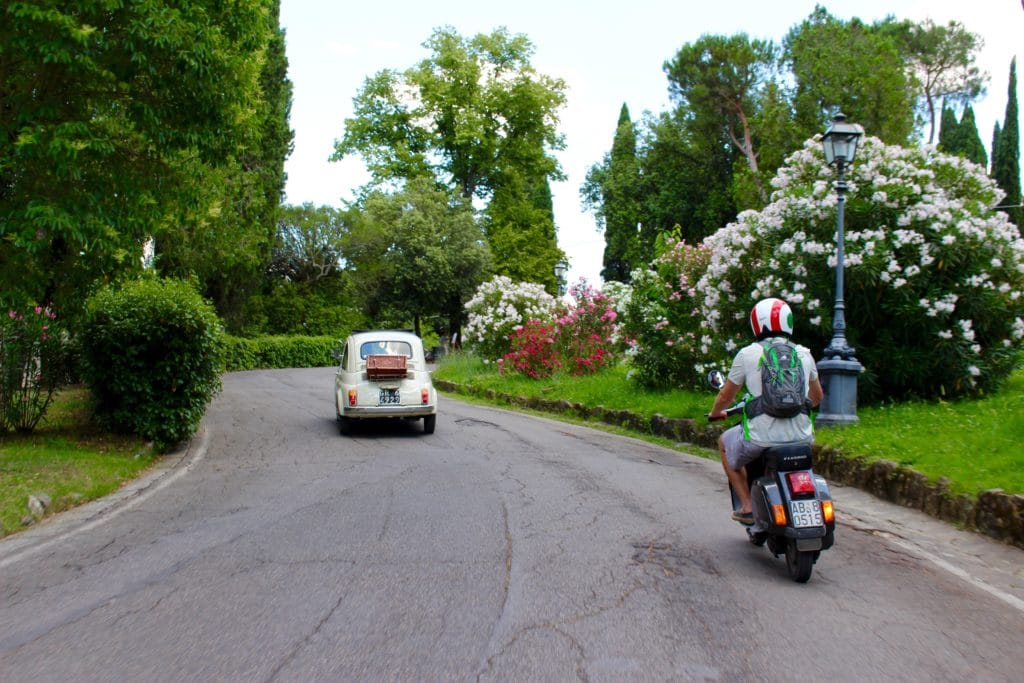 Picture this:
We drove vintage Vespas out of the narrow alleyways of Florence and into the countryside, under the blazing Tuscan sun.
The breeze cooled us down as we zipped by views of tall cypress trees, rolling hills, and terracotta roofs.
We stopped occasionally at centuries-old monuments, learned about their history, and snapped some photos.
And then we arrived at Walkabout Florence's breathtaking Tuscan farmhouse. And drank red Chianti wine. And ate fresh pasta. And savored a beautiful antipasto platter.
And then we made our way back into the city center, like Vespa-riding pros, becoming an iconic spectacle for all of Florence's tourists to see.
Obviously, riding Vespas through Tuscany with Walkabout Florence is one for the bucket list. And if I were you, I'd do it sooner than later. It's just that good.
Riding Vespas through Tuscany with Walkabout Florence
So here's how our day went, riding Vespas through Tuscany.
We arrived at the Walkabout Florence office just after 2 p.m., nervous, but ready to learn to ride Italian scooters.
After a quick crash course on turning on the Vespas, putting them in gear, and giving them gas, we each hopped on a Vespa and practiced driving down the street, turning around, and coming back.
We all lived through the test drive, so it was time to take to the streets of Florence, and then to the countryside of Tuscany!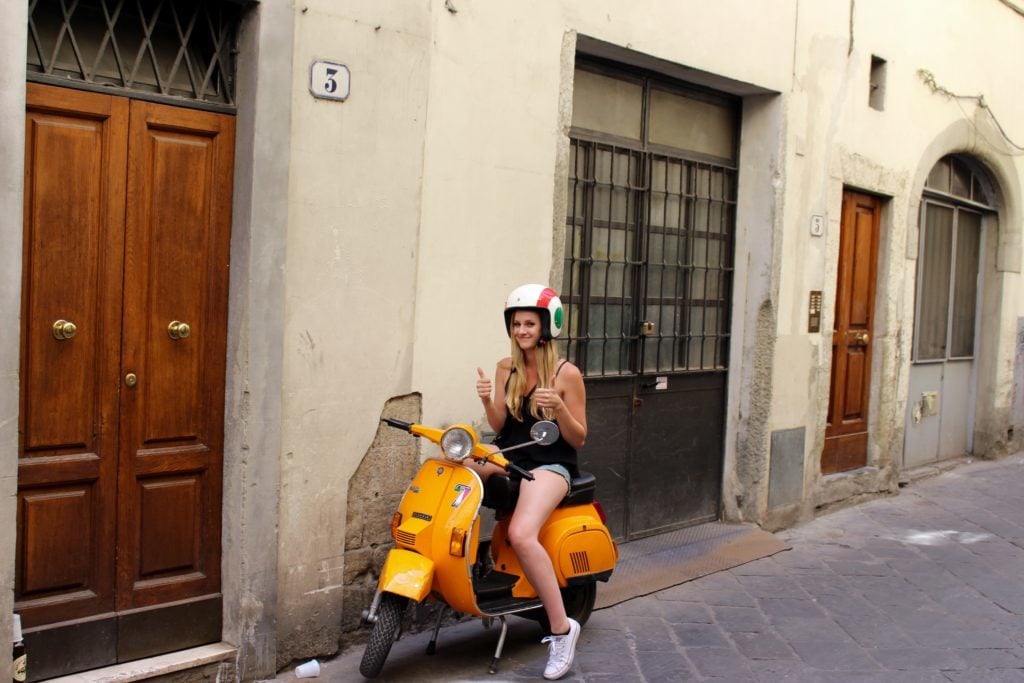 Our group was small and intimate, which we loved. In total, there were just four Vespas, and two Fiats driving through Tuscany on the tour. Nine people in total. Amazing!
And yes, if you don't feel comfortable driving a Vespa (because it is a daring thing to do for the first time in a big Italian city), Walkabout Florence also offers Vintage Fiat 500 Tours! Awesome, right?
Before we knew it, we were off, driving our Vespas through the busy streets of Florence! We drove up, up, up past Piazzale Michelangelo and stopped at Abbazia di San Miniato al Monte, which is a beautiful 11th-century church with a Romanesque façade, an ornate cemetery, and some of the city's best views.
We stopped at the church for about twenty minutes. Our tour guide, Angel, told us all about the history of the church, and gave us a few minutes to go inside, before continuing on our journey through Tuscany.
---
OTHER ITALY POSTS:
---
The highlight of the stop, though, was the views of all of Florence below. It was breathtaking.
And before we left, we took plenty of photos!
As we drove through the countryside, it was difficult to focus on the road. The views were just too beautiful to ignore. I mean, it's not every day that you find yourself in Italy, mounting a vintage Vespa, and driving past some of the most sought-after vistas on the planet.
But if that actually is your every day routine, can I be you? Please?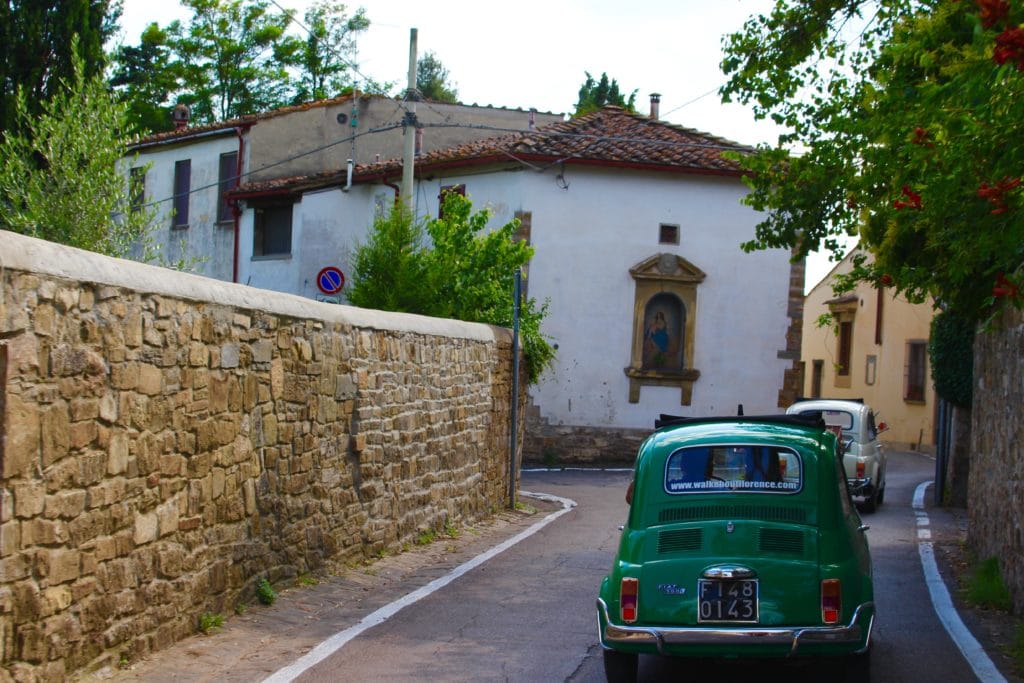 For about two hours, we drove and drove. We passed by old castles and churches, little Tuscan villages, endless rolling hills, tall trees, and bright flowers.
The entire experience was wildly beautiful.
The views, of course, were stunning. But what about the freeing feeling of riding through Tuscany, fresh air hitting you in the face, waking you up, reminding you that this is real life, and seeing nothing but luscious, green land and sunshine stretching for what seems like an eternity?
Yes, you want that in your life. Need it, even.
And just like that, it was lunchtime.
I did not expect that we'd have a full-on feast on this tour. But thank goodness we did, because after riding Vespas through Tuscany for over two hours, we were starving, and oh, so parched.
Angel guided us to Walkabout Florence's farmhouse in the countryside, where we were greeted by panoramic views of Tuscan vineyards, lots of pink flowers, and more happy travelers who were just finishing up with Walkabout Florence's cooking class.
We sat down at two beautifully made outdoor tables, allowing us to savor the views as long as possible.
Next, plates of fresh marinara pasta were placed in front of us, along with bread, water, and red wine.
And now, some of you might be thinking, "Hmmmm, wine and Vespas. How can that be safe?" I can't say I wasn't thinking the same thing.
But like Angel explained it, the Italian way is to drink wine with food. You eat and you drink. And that's the way life goes. But in the case of the Vespa tour, the wine is absorbed by the bread and pasta you eat, and since we only had about a glass or so, we were all just fine!
And just when we thought it couldn't get any better, there was more!
Next, a beautiful platter of cheese, salami, prosciutto, artichokes, olives, bruschetta, and frittata appeared. And at that moment, I think, we all experienced a state of pure bliss.
As we ate and drank, Angel, who is a master sommelier (impressive, right?), gave us a quick lesson on wine pairings and Chianti wines. This man, originally from Spain, has a wealth of food, wine, and historical knowledge. And lucky for us, he was willing to tell us everything he could, in the short time we had together.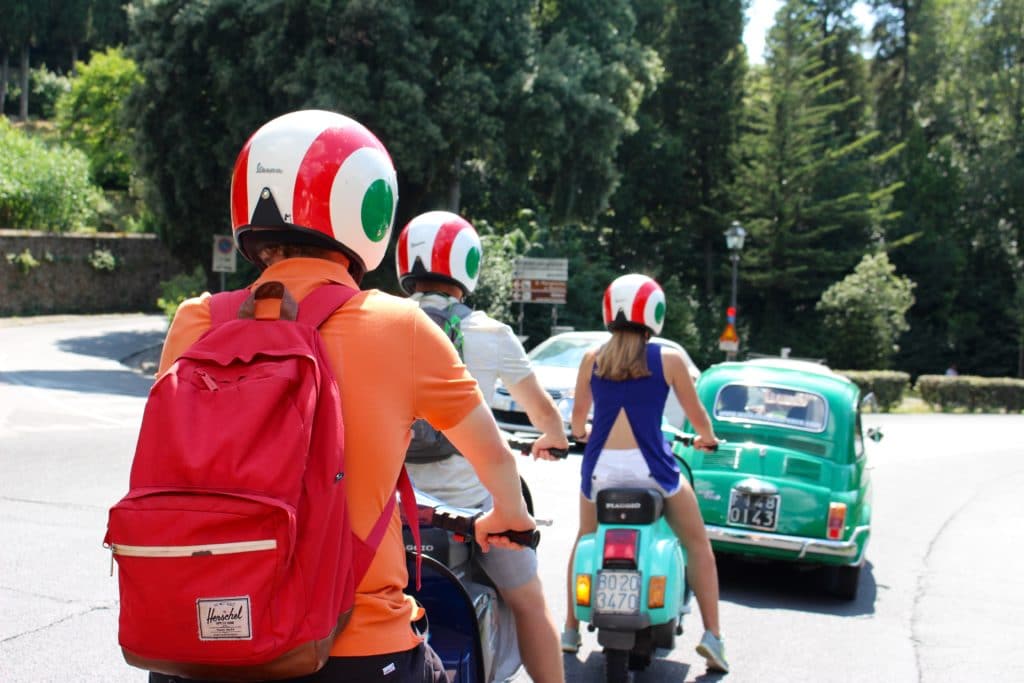 We spent about an hour at Walkabout Florence's quaint farmhouse, eating, chatting, laughing. But let's be honest, an hour wasn't long enough. I never wanted to leave.
We were so relaxed, full of good food, and fixated on those views, that only the promise of another fun Vespa ride back to Florence could convince us to peel ourselves from that pretty picnic bench.
Riding Vespas through Tuscany with Walkabout Florence really was the quintessential Italian experience. After three trips to Italy, to all different regions, I can honestly say that this Vespa tour is one of best things — if not, the best thing — I've ever done in Italy.
In short, riding Vespas through Tuscany with Walkabout Florence rocked. It's an experience we'll never forget. Given the chance, you should do it, too.
All the details:
The Vintage Vespa Tour runs year-round.
It's four hours long.
Tours start at either 9:00 am or 2:30 pm, your choice.
You must be 18 or over and have a valid driver's license to participate.
Prices start at 85 euros per person.
Don't forget to bring water, sunscreen, and something to cover your legs/shoulders to enter the church!
Click here to book a tour with Walkabout Florence.
---
Did you know…
When you book travel or purchase something through our links, we receive a small commission, at no extra cost to you? Your support enables Maddy's Avenue to keep producing helpful travel content. Thank you!
OTHER ITALY POSTS:
---
Have you ever ridden Vespas through Tuscany with your loved ones? What did you think? If not, are you adding it to your bucket list?
*This post contains affiliate links. When you make a purchase through the links on our website, we will receive a small commission, at no extra cost to you. We never recommend any products/services that we don't absolutely love. These commissions help keep Maddy's Avenue up and running, and we thank you for your support!
Walkabout Florence welcomed Maddy's Avenue as guests, but as always, all opinions are our own.