If you know us at all, then you might guess that we went to Mexico City to eat. And you wouldn't be wrong.
During our 4.5 days in Mexico City, our goal was to consume everything, in order to make the best Mexico City foodie guide we could! So it's safe to say that there wasn't a time we weren't either stuffing our faces, or completely stuffed already. And it was all in the name of research… (Or at least that's what we tell ourselves.)
As the capital of Mexico and a sprawling metropolis of more than 8 million people, this city is filled to the brim with restaurants, eateries, food carts, and taco stands.
While there, we searched high and low for the best al pastor tacos, we dined at some of the world's finest restaurants, we roamed the many food markets, and had a blast scouring the city for its best bites.
So without further ado, here's our Mexico City foodie guide, complete with 17 different places to tackle during your time in Mexico City.
Good luck and happy eating!
Mexico City Foodie Guide:
Where to Eat in Mexico City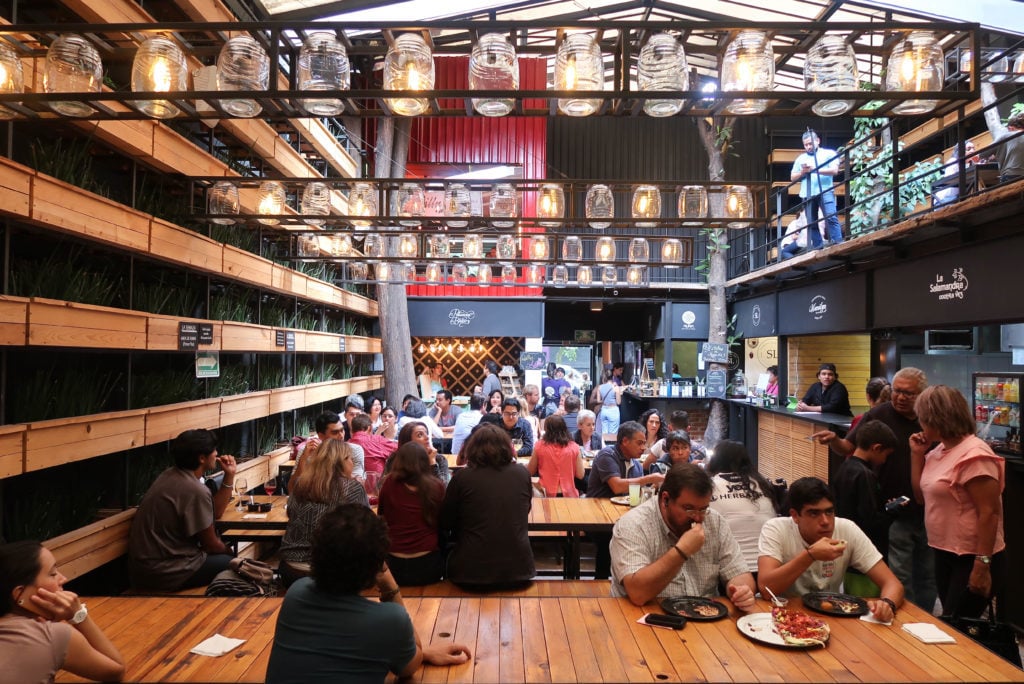 Mealtimes in Mexico City
First things first, you can't eat properly in Mexico City if you don't understand the different mealtimes.
In the USA, we have three meals: breakfast, lunch, and dinner. If you arrive in Mexico City expecting the same meal types and times, then you may be shocked.
In Mexico City, there are four main mealtimes: el desayuno, el almuerzo, la comida, and la cena. Below, we'll cover what you need to know about each meal, as well as where we recommend going!
Photo by John Watson
Light Breakfast (El Desayuno)
El desayuno is a light breakfast eaten first thing in the morning. It usually consists of some coffee or hot chocolate, and some pan dulces (sweet breads). And maybe some fruit or yogurt and granola.
For this meal, many people simply stop into a coffee shop or grab something to-go from a street cart.
For el desayuno, we recommend…
Cafe Avellaneda and Rompeolas Cafe are two awesome coffee shops offering carefully crafted cups.
There's also Cielito Querido, which is like the Mexican version of Starbucks — but better.
Otherwise, see which street carts and stands are busiest, and go there!
Breakfast (El Almuerzo)
Next comes el almuerzo, which is a heavier breakfast or brunch, usually consumed sometime between 10 am and noon.
This meal often consists of a dish based around tortillas, like chilaquiles or enchiladas, for example.
For el almuerzo, we recommend…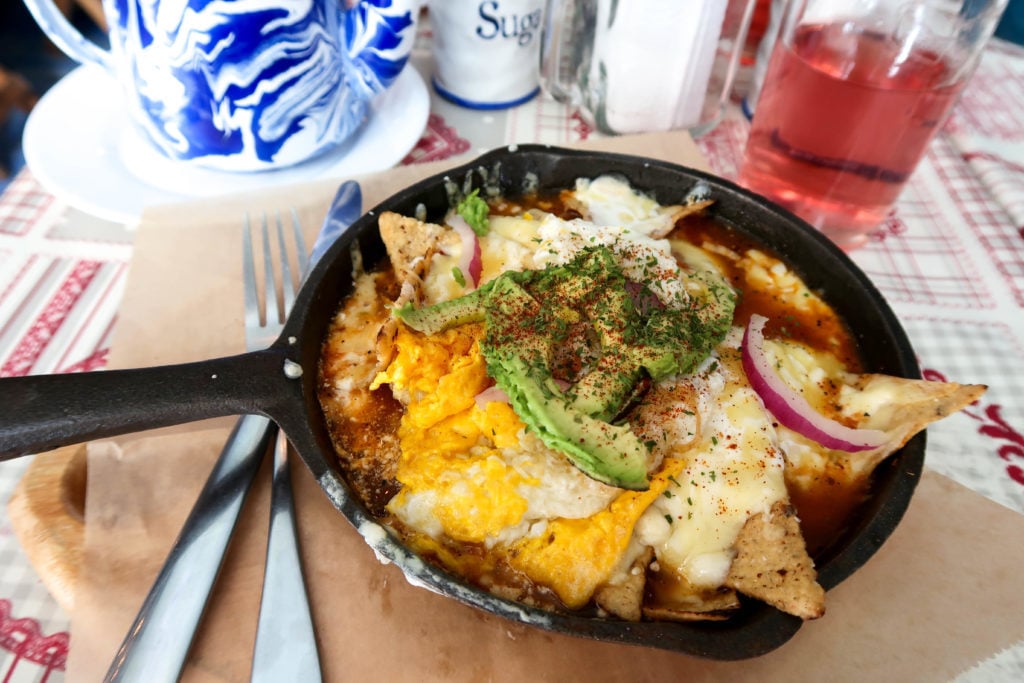 Los Amantes Café & Bistro
In Coyoacán, you will find a tiny place called Los Amantes Café & Bistro.
Los Amantes offers freshly baked pastries, amazing coffee and tea, and all kinds of typical breakfast dishes, like chilaquiles and Mexican-style omelets, as well as international options like waffles and eggs Benedict.
Make a point of roaming around the beautiful Coyoacán district one morning, and then come in here for a delicious almuerzo! We loved this place, and know you won't be disappointed!
San Ángel Inn
Originally a Carmelite monastery dating back to 1776, the San Ángel Inn transformed into an iconic restaurant and hotel for Mexico's elite in 1906.
San Ángel Inn's romantic property offers flower-filled gardens, old fountains, and colonial-style decór.
During our visit, we started off with a selection of sweet bread and cappuccinos, followed by fresh fruit bowls, and of course, chilaquiles divorciados (half red sauce, half green sauce).
Great food, unmatched service, and a beautiful setting are three reasons you can't miss San Ángel Inn!
El Cardenal
El Cardenal is something of a Mexico City institution, and as such, it is the place to be for almuerzo. Since 1969, El Cardenal has been serving up typical recipes in a family-style restaurant for its many patrons.
We recommend starting off with a sweet bread along with El Cardenal's famous hot chocolate, and follow that up with chilaquiles, enchiladas michoacanas, or huevos rancheros!
Main Meal (La Comida)
La comida is the main meal of the day, generally enjoyed between 2 and 4 pm.
As businesses in Spain shut down for siesta, the same goes for la comida in Mexico City so that workers can enjoy the meal at home with family.
La comida is usually a leisurely affair, consisting of a few courses and lots of chatting.
For la comida, we recommend…
Azul Histórico
Right in the middle of the city, you'll find a gem called Azul Histórico, which prides itself on serving the best quality food in a beautiful courtyard setting.
When we visited, it was the season for chiles en nogada, so you know we had to get one!
If you aren't familiar, this delicacy consists of chiles poblanos, stuffed with picadillo (a glorious mixture of ground beef, fruits, and spices), doused in a walnut cream sauce, and sprinkled with pomegranate seeds. (Notice this festive dish's resemblance to the Mexican flag!)
At Azul Histórico, we also indulged in some pozole, chicken with mole, and a flight or two of mezcal.
It's also worth noting that the chef of Azul Histórico taught world-famous Chef Enrique Olvera of Pujol a thing or two about mole… So you know this place is a can't-miss!
Contramar
Contramar is a restaurant that gives a landlocked city a taste of the coast.
Which coast you ask? Well, Contramar offers a mixture of flavors hailing from the Pacific Coast, Sea of Cortez, Veracruz, and Yucatán.
A few of the dishes you'll love include the fish sopes in pibil sauce, shrimp aguachiles, ahi tuna tostadas, and the Galician-style octopus.
In this smog-filled concrete jungle, a trip to Contramar serves as a quick and scrumptious escape to the coast!
Floating Gardens of Xochimilco
Guaranteed, you've never had a dining experience like this one.
The Floating Gardens of Xochimilco is a place made up of canals once built by the Aztecs, and surrounded by greenery. When you arrive, you'll negotiate a price for your own boat and a rower.
Then, food vendors float past you in their own boats, offering all kinds of delicacies such as tacos, quesadillas, chicken with mole, carne asada, esquites, rice, grilled corn, homemade potato chips with lime and hot sauce, sopes, and tamales! When you see something you like, just flag over a food vendor and place your order. They'll cook your food on the spot, and you'll enjoy it on the table built into your boat!
As an added bonus, if you want, mariachi bands will boat next to you and sing exclusively for you! There are also boats floating by filled with handmade trinkets and souvenirs, in case you feel like shopping.
Xochimilco is a giant party of food, beer, music, and good times! You won't find an experience like this anywhere else in the world, so take advantage!
Mercado del Carmen Coyoacán
The people of Coyoacán cried out for more artisan food options, and in 2016, Mercado del Carmen Coyoacán opened and granted that wish!
Mercado del Carmen Coyoacán is a two-story industrial-style foodie space where you can satisfy pretty much any craving. Tlayudas, mole, tacos, chiles en nogada, ice cream, pastries, lots of beer and cocktails, and Spanish tapas are just a few of the offerings at this market.
Come with some friends, order a little bit of everything, and enjoy at one of the market's communal tables!
Mercado Roma
The world of artisan food and drinks has hit Mexico City, and the Mercado Roma is the epitome of trendy, new-age food halls.
With more than 50 food stands offering mouthwatering food, creative cocktails, craft beer, delicate desserts, handmade candies, fine wine, and other specialties, this Mexico City foodie guide wouldn't be complete without the mother of all markets.
We recommend grabbing a local craft beer from Paradigma, some tacos from the famous José Guadalupe, another taco or two from Barbacoa de Santiago, and a cemita poblana from Ochentaocho.
Dinner (La Cena)
The last meal of the day, la cena, is usually enjoyed sometime between 7 and 9 pm.
Since la comida is a heavier meal, la cena is usually much lighter and consists of something like soup or tacos, or maybe just some bread and a hot drink.
However, if you're going out, la cena is a chance to head to a nice restaurant, or maybe hit up a cool taco joint.
Pujol
As of 2020, Pujol is the 12th best restaurant in the world and the #1 restaurant in Mexico. So of course, it deserves a place in this Mexico City foodie guide!
Famed chef, Enrique Olvera, is the creator of Pujol and the culinary genius who elevated Mexican food to a level that no chef had before.
At Pujol, Mexican street food is transformed into a true fine-dining experience. For our visit, Olvera's pre-fixe menu featured a glorious appetizer of street snacks like wagyu beef sopes and baby corn charred to perfection inside of a pumpkin.
Then our next few courses consisted of succulent octopus, Mediterranean sea bass ceviche, softshell crab, and tender wagyu beef with peppers and herbed guacamole.
And then was Pujol's famous mole — aged for 1,354 days — served alongside a new mole for contrast. "And," you ask, "what was served with the mole?" Nothing. Nothing but tortillas with hoja santa. Crazy, right? But Olvera's mole is so good that it deserves to be its own course.
Make a reservation a few months in advance, because you don't want to miss this!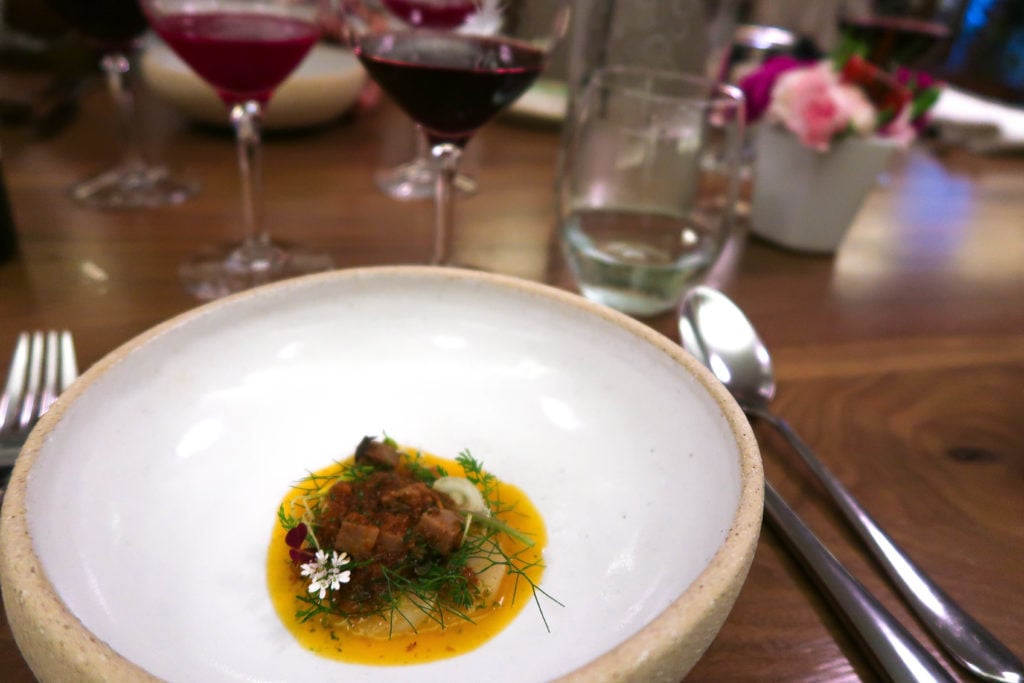 Quintonil
Coming in hot behind Pujol on the world's best list is Quintonil! In 2020, Quintonil was the 24th best restaurant in the world, and the 2nd best in Mexico.
Though honestly, we don't think either one is better than the other. They're both incredible, and if you don't have to choose just one, don't. Go to both.
Chef Jorge Vallejo owns and operates Quintonil with his wife Alejandra Flores. One thing we love about Quintonil is how unpretentious and relaxed, yet how refined and elegant it is. The restaurant's concept is based on a love for veggies and greens, and local produce took center stage in many of the dishes we enjoyed.
Some of the highlights of our tasting menu were cactus ceviche with beet and orange juice; tartar of avocado, escamoles (ant larvae), and greens; and duck confit in achiote, purée of bitter almonds and habanero, and red onion.
The restaurant manager, Ulises, even invited us into the kitchen to meet Chef Jorge and the rest of his team. What an experience this was!
Between the thoughtful food, flawless service, and great ambiance, we can't recommend this place enough.
If you want to dine at Quintonil, make your reservation a few months in advance!
Nudo Negro
Nudo Negro is an innovative and absolutely mesmerizing fusion restaurant that brings Asian styles and flavors to Mexico City.
During their travels, owners, Daniel Ovadia and Salvador Orozco, brought back cooking styles, flavors, and dishes typical of the Middle East, Southeast Asia, China, Japan, and Korea, and flawlessly combines them with typical Mexican food!
At Nudo Negro, we couldn't resist the 10-dish tasting menu, which included culinary masterpieces such as pozole xiao long bao, jerk pork ribs, duck dumplings, and green tea flan.
What a wild, but incredibly satisfying combination of flavors and cuisines! Don't miss it.
La Casa de Toño
La Casa de Toño is another Mexico City institution, with a few locations throughout the city.
One evening, as we searched for some Mexican comfort food, we happily stumbled upon this spot. Flautas, pozole, sopes with tinga, and tacos de cochinita are just a few of the many dishes we feasted on.
Though La Casa de Toño is known for its pozole, everything is good. And super cheap.
This restaurant is perfect for those times when you don't want anything fancy and you just want to chow down!
El Progreso
The first taqueria we visited was a stone's throw from our hotel (we highly recommend staying there, by the way).
El Progreso is a small hole-in-the-wall taco joint with a continuous 5-10 person line — day or night! This taqueria made our Mexico City foodie guide for their tacos de chorizo con queso and bistec con queso, best topped off with some frijoles de olla and their spicy salsas.
Simple, cheap, and of course, delicious!
El Tizoncito Cholula
El Tizoncito is the creator of the legendary and widely loved tacos al pastor!
To make these tacos, they skewer thinly sliced pork onto a shawarma rotisserie, top it with juicy pineapple slices, and then cook it slowly. Then you throw the pork and pineapple onto a handmade corn tortilla, spoon on onion, cilantro, and spicy chipotle salsa, and squeeze on some lime juice.
The result is a sweet, spicy, salty, bold flavor combo that you will love.
Mexico City Foodie Guide:
The Best Restaurants in Mexico City
So there you have it! That's our Mexico City foodie guide.
After lots of delicious research, and savoring at least four meals per day, we're confident that each and every one of these restaurants will be a winner in your book.
What to Pack for Mexico City
What to pack for your trip to Mexico City of course varies on the seasons. Check the weather before you travel and as a general rule pack layers. Year round there are a few essentials I would recommend:
Comfortable footwear: A lot of Mexico City is really walkable so make sure you have comfortable shoes that don't ruin your time exploring this incredible city. These are my go to boots for colder months or you can pack a good pair of sneakers. A decent pair of comfortable sandals like these are perfect for the summer.
Water bottle: Speaking of walking around, remember to keep hydrated! Bring a reusable water bottle to save on plastic bottles.
Sunscreen: This is Mexico, the sun is strong and it gets hot, remember to pack a good mineral sunscreen and avoid the sun in the middle of the day during the hotter months.
Bug spray: If you are prone to being eaten by bugs pack a deet free bug spray and keep it with you to reapply during the day.
Lightweight scarf: This always comes in useful, it is great to keep in your bag for when visiting religious sites and is also great to use when the sun gets a little strong, even when it gets cooler! This scarf is always handy to pack.
Mexico City Quick Tips
HOTEL: I use this website for scoring amazing deals on accommodation worldwide. There are some incredible hotel options in Mexico City, go for Agata Hotel Boutique & Spa in Coyoacán and Felix Boutique Apartments in Condesa.
HOSTELWORLD: If you're traveling on a budget, this is the best website to score cheap hostel deals.
VACATION RENTAL: I use this site for finding the perfect vacation rental for an unforgettable getaway.
TRAVEL INSURANCE: Never go on a trip without travel insurance! SafetyWing has an awesome monthly subscription for digital nomad insurance (I currently use SafetyWing).
GUIDED TOURS & EXCURSIONS: Many of the tours I recommend are hosted with Viator, which also works with local tour operators. For Mexico City you absolutely have to book a trajinera in the Floating Gardens of Xochimilco for an epic boat party, Mexico City style.
CHEAP FLIGHTS: Mexico City airport is the obvious choice if you are flying straight in. Get great deals on flights using my favorite flight fare aggregator.
TRAVEL GEAR: A collection of all of my must-have travel gear are all listed here. But most important to remember is bug spray, and suncream, nobody needs bites and burns on their vacation photos!
CAR RENTAL: It's unlikely you will need a car if you are staying in Mexico City but if you are using this as a starting point for a road trip and need a rental car book in advance here for the best deals.
Have you been to any of these restaurants? Do you have any favorites that didn't make it onto our Mexico City foodie guide? If so, let us know in the comments!