New York City is a sprawling metropolis of vibrant cultures, standout architecture, and damn delicious food. And with so much to enjoy and discover, it's a city where phrases such as, "I'm bored," simply don't exist. It is, without a doubt, the greatest city in the world.
This New York City Bucket List includes 100 awesome things to do, see, eat, and explore during your visit to the Big Apple.
With this bucket list, I encourage you to discover the real, authentic side of New York City.
There's so much more than just the touristic sites, like Times Square, the Statue of Liberty, Staten Island, and the Empire State Building, so let's get to it!
Note: Checking off all 100 items on this list in one trip is impossible, unless it lasts weeks and you have a bottomless bank account! But that just means you'll have to go back, again and again, to experience everything. And really, who would complain about that?
Without any further ado, here's our New York City Bucket List, which includes 100 things to do before you die!
NYC Bucket List:
100 Amazing Things to Do in New York City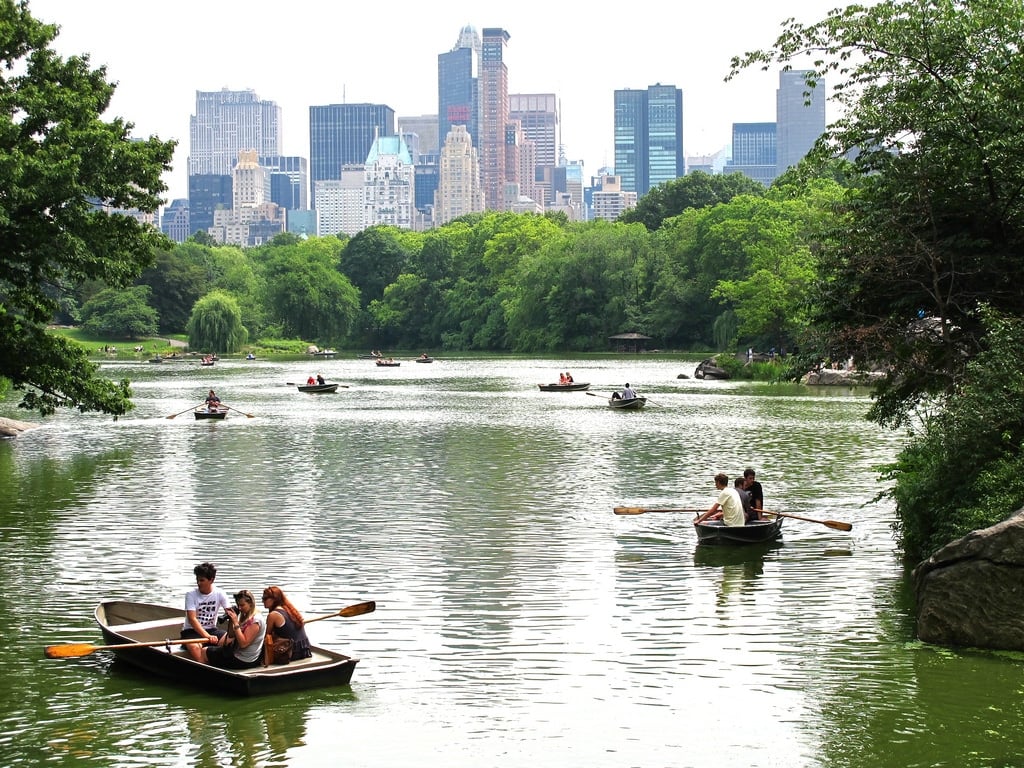 Photo by Steel Wool

1. Row a boat at The Loeb Boathouse.
Let's kick off this New York City Bucket List with something special, shall we?
Warm, sunny days are not to be wasted indoors! When the temperature cracks 65 degrees, head over to Central Park's Loeb Boathouse to row a boat on one of the lakes. After, have a picnic or hit a cafe for a cocktail or two!
Want to stay nearby Central Park? Find amazing deals on Central Park hotels by clicking here!
2. Find your dream brownstone.
You may not be able to afford one now — or ever — since the going rate for a Brooklyn brownstone is about $2 million. But it's nice to dream, right?
When it comes to classic New York City architecture, it doesn't get any better than those beautiful brownstones. Spend some time walking through Park Slope, Cobble Hill, or Forte Greene to find your favorite.
3. Grab a slice at the City's best pizzerias.
If you could only choose to do one thing on this entire list, eating authentic New York-style pizza would be the most important — or, at least it is to us! New York's Prince Street Pizza, Lombardi's, and Motorino are among our favorite pizzerias.
And if you love food tours, then check out this five-star Pizza Walking Tour of Manhattan!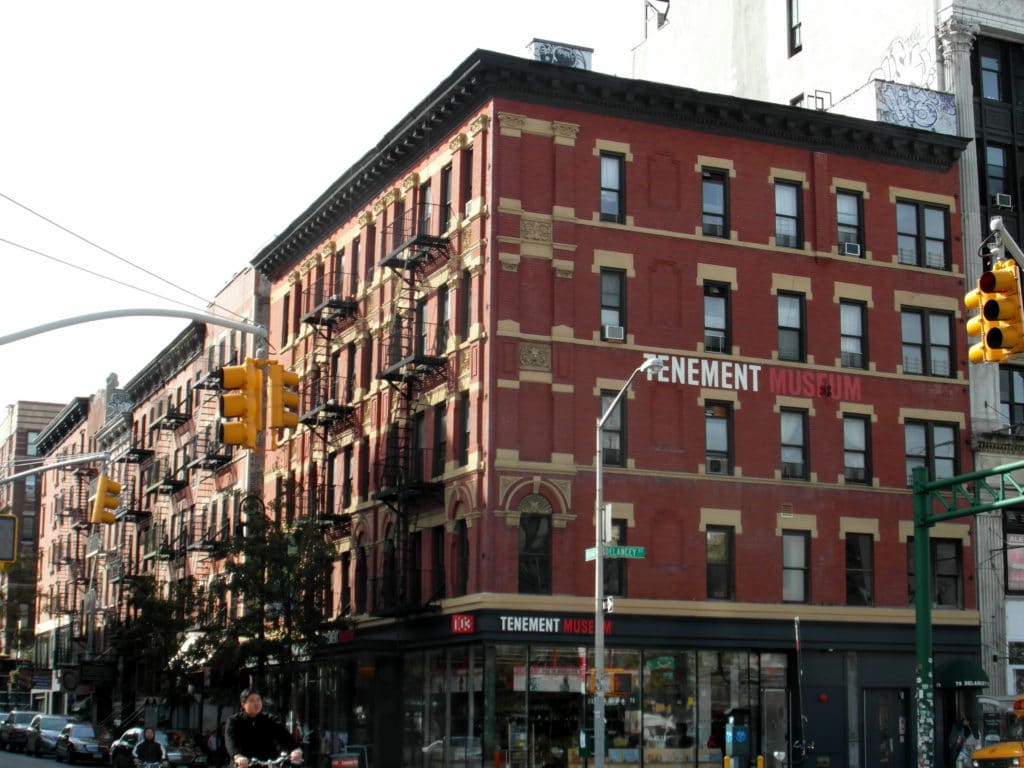 The Tenement Museum/Tom Bastin
4. Check out the Tenement Museum.
New York City was built by and for immigrants, and the Tenement Museum is the ultimate tribute to the city's spectacular history. There, you'll explore the everyday lives of immigrants who lived in Lower East Side tenements; from their housing and food, to their jobs and family histories, you'll be fascinated by America's stories.
5. Helicopter over the city.
The best way to see the world's most famous skyline is by helicopter. No doubt about that one.
Sure, it's a little pricey. But if you can manage it, a helicopter tour of New York City will be a magical experience you'll never forget.
Click here to book your New York City helicopter tour.
6. Discover every corner of Central Park.
When the chaos of the city becomes too much, Central Park in Manhattan is always there. And thank goodness for that!
We recommend carving a few hours out of your itinerary to simply stroll though the park, enjoy nature, and relax. Maybe rent a bike, read a book, or even have a picnic.
Want to stay nearby Central Park? Find amazing deals on Central Park hotels by clicking here!
7. Take a food tour.
If you've ever taken a food tour before, then you know they're a must when visiting any great foodie city. New York City is no exception.
Each of the food tours listed below offer tastings from some of the city's best eateries, interesting stories about New York's culinary history and culture, and an expert guide.
Here are some of the city's best food tours. Which one will you choose?
8. Devour dumplings in Flushing, Queens.
Please, allow us to introduce you to a neighborhood in Queens, called Flushing. This is the real, authentic "Chinatown," so forget about the one in Manhattan.
If you want Chinese food, Flushing is the only place you get it. From xiao long bao and wonton soup, to steamed pork buns and stir-fried noodles, you'll find it all, and more, in Flushing.
For xiao long bao (soup dumplings), our favorite spot is Nan Xiang Xiao Long Bao, which was introduced to us by our Chinese friend, Wenjie!
9. Browse the Union Square Greenmarket.
The Union Square Greenmarket is our favorite New York City farmer's market. Whether you have a kitchen to cook in or not, a visit to the Union Square Greenmarket is worth it for the happy vibes, beautiful food, and lots of samples!
The market is open Mondays, Wednesdays, Fridays, and Saturdays, from 8 am to 6 pm, and we guarantee you won't find fresher or more vibrant produce anywhere else in the city!
10. Enjoy a true New York bagel.
Of course, this New York City Bucket List wouldn't be complete without a New York-style bagel. Some of the highest-ranked bagel spots include Absolute Bagels, Russ & Daughters, and Ess-a-Bagel!
---
READ MORE:
---
11. Or try a bialy.
If you don't live in New York City (or Los Angeles), then you probably don't know what a bialy is. But this is important, so find out here! Then — once you're in the know — head over to Kossar's to try New York's most authentic bialys!
12. Drink at a speakeasy.
The Roaring Twenties may be long gone, but that doesn't mean you can't get all dressed up and spend your evening knocking on the doors of New York 's swankiest, most secretive bars and nightclubs! Here's a recent list of the best speakeasies in the city. Cheers!
13. Snag tickets to a show on Broadway.

Seeing a show on Broadway is pricey, but oh, so worth it. Whether you're in the mood for Wicked, The Book of Mormon, or Hamilton — yeah, you know you want to those ever-so-elusive Hamilton tickets — you'll have a brilliant time that you won't soon forget.
Going to a Broadway show is a must for your New York City Bucket List
Photo by Tomás Fano
14. Get lost in the MoMA.
All of New York City's museums are special in their own way, but The Museum of Modern Art is special in every way. Of all the places you can go to be inspired (there are many!), the MoMA is one of the very best.
If you love and appreciate modern art, the MoMA in Midtown is a must. And if you don't like art at all, then this place might just be the one that changes your mind. Pick up a skip-the-line advance ticket here.
15. Walk across the iconic Brooklyn Bridge.
You can't miss taking a leisurely stroll across the beautiful Brooklyn Bridge. You just can't. Period.
Best case scenario, it will be a sunny, windless day, and you'll enjoy a lovely walk and spectacular views of New York's skyline and the East River. Worst case scenario, it will be cold and windy, but you'll still love every second.
16. Eat your weight in Italian goodness at Eataly.
Italian food lovers, where you at?
During your visit, make sure to stop by our beloved Eataly for the ultimate Italian cuisine experience. We're talking about a full-blown market, full of high-quality, authentic Italian ingredients that you can't find anywhere else; from freshly baked breads, handmade pastas and fine Italian wines, to full-bodied olive oils and aged cheeses, Eataly has it all.
But let's not forget that Eataly also features many different eateries, serving up everything from seafood and pasta, to pizza and hearty meat dishes! Yes, please.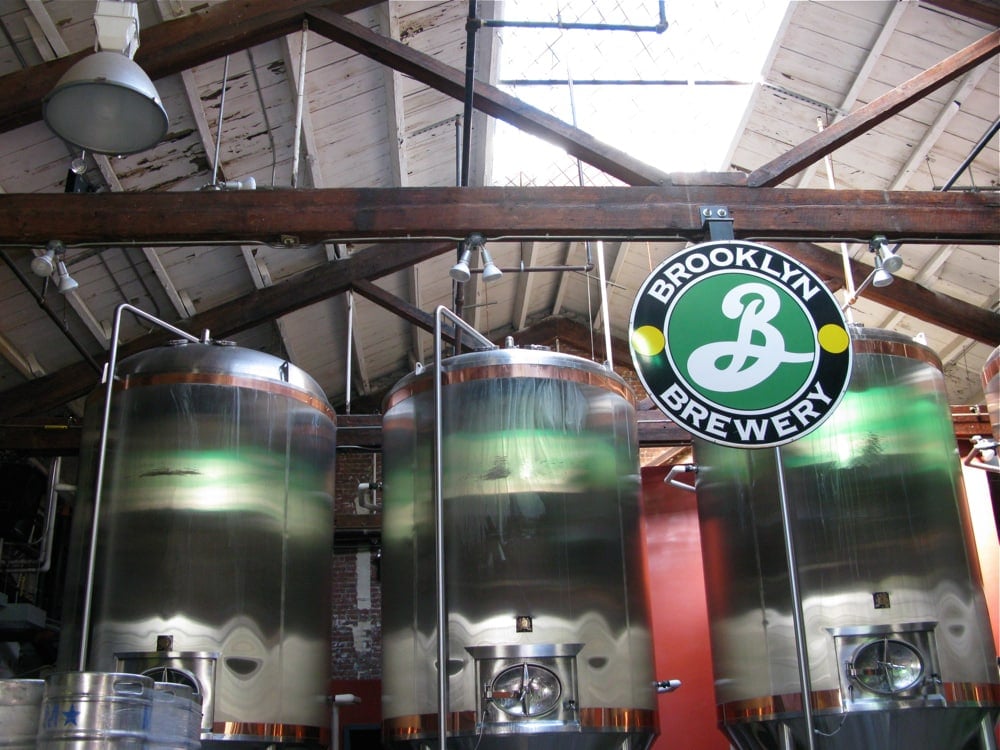 Photo by Michelle Grimord Eggers
17. Drink to your heart's content at the Brooklyn Brewery.
Like craft beer? We do, too. We especially like it when it's straight from the tap at Brooklyn Brewery.
When you visit, you can go on a Small Batch Tour of the brewery or have a flight in the tasting room — and either way, you're sure to have an awesome time! Plus, as you spend your day drinking beer with lots of other beer enthusiasts, you can have your own pizza delivered!
Now, that's our kind of place.
18. Hop on the Roosevelt Island Tramway.
If you want to catch some awesome aerial views of New York City, riding the Roosevelt Island Tramway is a great way to do it. And at only $2.25 each way, it's a cheap way to do it, too!
Find more information about the tram here.
19. Eat pastrami at Katz's.
If you leave the city without eating a pastrami sandwich at Katz's Delicatessen, did you even go at all? Nope.
$20 for one sandwich might sound a little crazy (okay, a lot crazy), but in this case, the hype and the price are justified.
New York Public Library/Jiahui Huang
20. Work at the New York Public Library.
Okay, okay. So working isn't usually something you'd add to any bucket list. But sometimes, stuff's gotta get done. While in NYC, there's no better place to work/study than the historic and beautiful New York Public Library on 5th and 42nd.
---
READ MORE:
---
21. Attend a New York sporting event.
It doesn't matter who you root for or who your rivals are. Given the chance, you should attend a sporting event, whether that means a Mets, Yankees, Nets, Knicks, Jets, or Rangers game!
22. Chill out in Washington Square Park.
Washington Square Park is the unofficial center of NYU, so naturally, the area teems with students, artists, and other interesting individuals. You'll see a variety of people, but around these parts, most will be very good-looking and well-dressed.
In the summer, enjoy the sunshine and do a bit of people watching.
Tiger at the Bronx Zoo/Erick Gustafson
23. Get wild at the Bronx Zoo.
The Bronx Zoo is the largest metropolitan zoo in the United States, so yeah, it's kind of a big deal. The zoo's most popular furry friends include lions, tigers, giraffes, polar bears, and even gorillas! Pick up an advance ticket here.
24. Experience The Met.
The Metropolitan Museum of Art — which has been around since 1870 and features over 5,000 years of human history — is amazing on its own.
To make sure you see as much as possible in one visit book a guided tour, so you don't miss all the best bits!
The Met is a must on any New York City bucket list!
25. Eat everything at the Chelsea Market.
The Chelsea Market is a legendary food hall located in — you guessed it — Chelsea. Basically, any craving you have can, and will, be satisfied here. Fresh sushi, Italian specialties, warm soups, authentic tacos, and hand-pulled noodles are just a few of the many delights found at the Chelsea Market.
You can also take a food tour to make sure you sample all the best bits. This one also includes The High Line.
26. Enjoy springtime at the Brooklyn Botanic Garden.
Within this crazy concrete jungle lies a beautiful, quiet, and much-needed oasis: the Brooklyn Botanic Garden. 250 acres, more than one million living plants, fresh air, and bright colors will give you the break you need from all the high rises and taxis.
Photo by erica frank
27. Walk The High Line.
When the sun's out, there's no better place than The High Line to spend an afternoon!
Back in the 1930s, the The High Line was home to nothing more than freight train tracks. But today, The High Line has been refurbished into a mile-and-a-half long park, filled with greenery and awesome views of Chelsea.
This will be an experience you won't forget!
28. Unleash your inner-Cookie Monster at Levain Bakery.
Levain Bakery is home to the world's best cookies. Don't believe us and thousands of others? Good! Then we dare you to go try those cookies for yourself! You'll see…
No doubt, a must for your New York City Bucket List!
29. Wander through Greenwich Village.
Home to NYC's famous Washington Square Arch and Park, as well as NYU, Greenwich Village features Bohemian vibes, in stark contrast with the rest of the city. Greenwich is a neighborhood full of eclectic, artsy people, and we highly recommend strolling around for great food, people watching, and thrifting!
Greenwich Village is also a great area to stay! You'll absolutely love Gansevoort Meatpacking, The Standard – High Line, the Walker Hotel.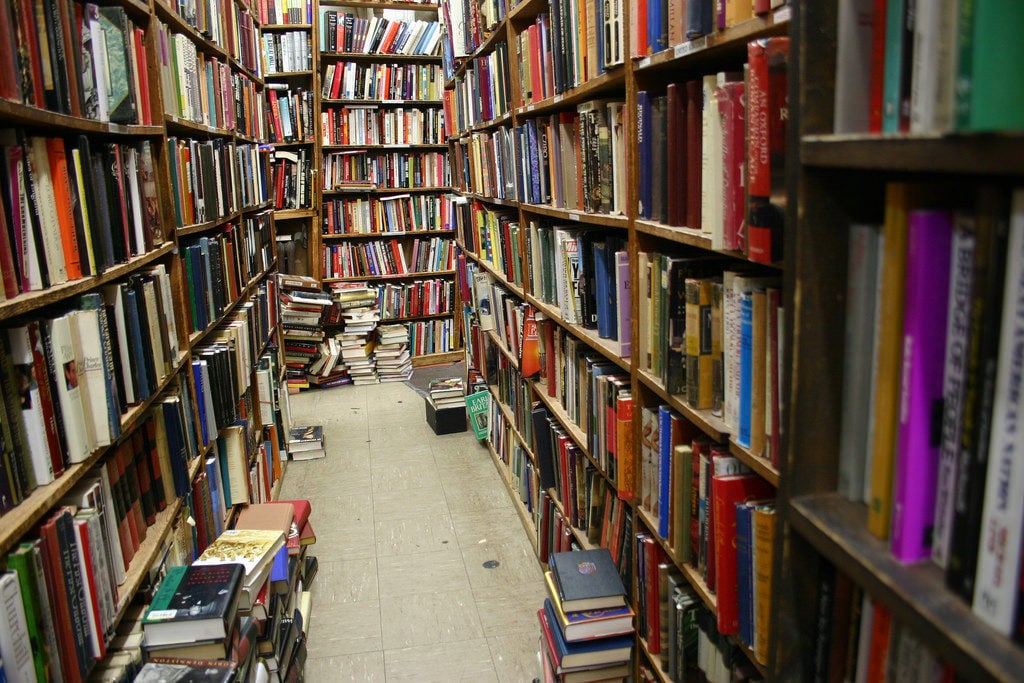 Photo by Sun Brockie
30. Find an awesome read at the Strand.
The Strand Book Store is the place for the literary fiends. The Strand's endless rows of shelves overflow with new, old, rare, and out-of-print books. The famous store, which has been open since 1927, offers over 2.5 million different books and cannot be missed!
Ahhh, that lovely old book smell — do you know what we mean?
31. Try out Shake Shack.
Shake Shack is quite possibly the city's favorite burger! Since its humble beginnings as a summer cart between 2001 and 2003, today Shake Shack has expanded its empire and has even ventured into California and Nevada. All of this, without losing the quality of their burgers.
Just know that In-N-Out still is — and always will be — better than Shake Shack. This is the obvious truth, but since we're Californians first and foremost, we're obliged to say so!
32. Snag tickets to a comedy show.
We love spending an evening laughing our asses off at a comedy club. In our opinion, the best one is the legendary Gotham Comedy Club, which always features the best headliners around.
Click here to see Gotham's upcoming acts and to buy tickets.
33. Admire the views from Top of the Rock.
Some say that the views from Top of the Rock Observation Deck are the best in the entire city. We can't say we disagree. You really can't beat 360° views of this chaotic, beautiful concrete jungle — especially at sunset.
Click here to book your tickets for the Top of the Rock Observation Deck.
34. Grab a sandwich from Faicco's Italian Specialties.
In our opinion, Faicco's Italian Specialties is a New York staple and a beautiful gem of a deli — though so many people don't know about its greatness. So without further ado, let us introduce you to the best Italian sandwich you might ever find in the States!
The sandwich above features crispy, juicy chicken cutlet, broccoli rabe, pesto, and fresh mozzarella. Yaaaasssss.
35. Shop for less at sample sales.
When in New York City, keep your eyes and ears out for sample sales! "But," you ask, "what is a sample sale?" Well, basically, sample sales are like pop-up shops selling high-fashion garments at crazy low prices. This is because brands are either trying to test out future products, or get rid of past merchandise.
Photo by Dan Nguyen
36. People watch in Union Square.
Union Square is like the cousin of Washington Square Park. But the rebellious cousin, of course.
This area is filled with people doing their own thing; they don't care who you are, and they don't care if you watch. This is the New York City that I know and love. There are street performers everywhere, a farmer's market a few days per week (see #9 above), and nice views all around.
Find awesome hotel deals on Union Square accommodations here!
Photo by Yelp Inc.; CC BY-NC-ND 2.0
37. Take a street food tour.
Whether you take a self-guided food cart/truck tour, or go with an expert guide, the important thing is that you do have a street food feast! There are some great guided options here, so pick whichever looks tastiest!
Some of the city's best bites can be found on the street, so don't miss out.
38. Watch a free summer concert.
On a beautiful summer's day, can you imagine anything you'd rather do, over relaxing in a park, listening to awesome, free music with friends? Nope.
You can check this website for all of the upcoming free summer concerts!
39.

Visit The Frick Collection.
Throughout his life, Pittsburgh industrialist, Henry Clay Frick, assembled one of the greatest art collections of all time. The Frick Collection, which is displayed in Frick's former 5th Avenue residence, provides a serene setting for guests to enjoy famous works by Rembrandt, Goya, Vermeer, and Bellini, among many others.
So underrated, and definitely a must-include on your New York City bucket list.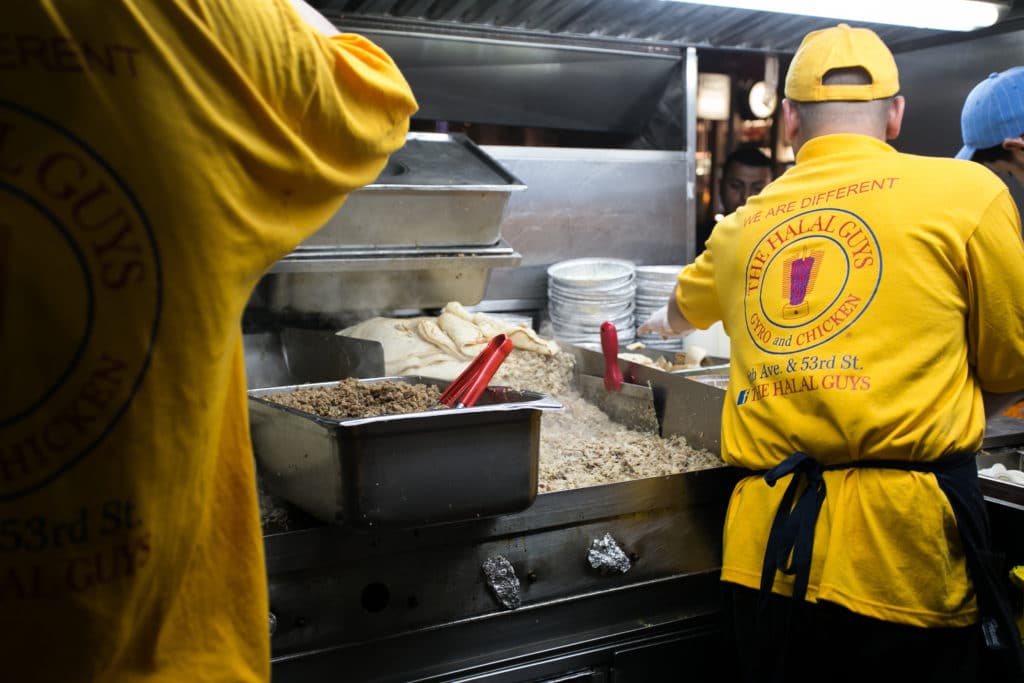 40. Feast The Halal Guys after hours.
The Halal Guys is our go-to food cart any time of day, but especially after a long night out. Many of The Halal Guys carts are open late – some of them until 4:00 am, every day of the week – and their chicken and gyro platters smothered in white sauce always hit the spot.
41. Go thrifting.
Everyone wants to go shopping on 5th Avenue when they visit New York City. But if you'd rather save money, have a unique experience, and escape from the heavy crowds, go thrifting instead.
Beacon's Closet, Crossroads, What Goes Around Comes Around, and Buffalo Exchange are some of NYC's best thrift shop options.
Photo by Yelp Inc.; CC BY-NC-ND 2.0
42. Eat chicken and waffles.
New York City has bestowed upon us so many glorious gifts. But the greatest of all? Chicken and waffles — as if it weren't obvious enough!
Do yourself a favor and make your way to Sweet Chick in Williamsburg for some crazy good chicken and waffles — along with a slew of other delicious comfort food like mac and cheese, shrimp and grits, and crawfish hush puppies! YES.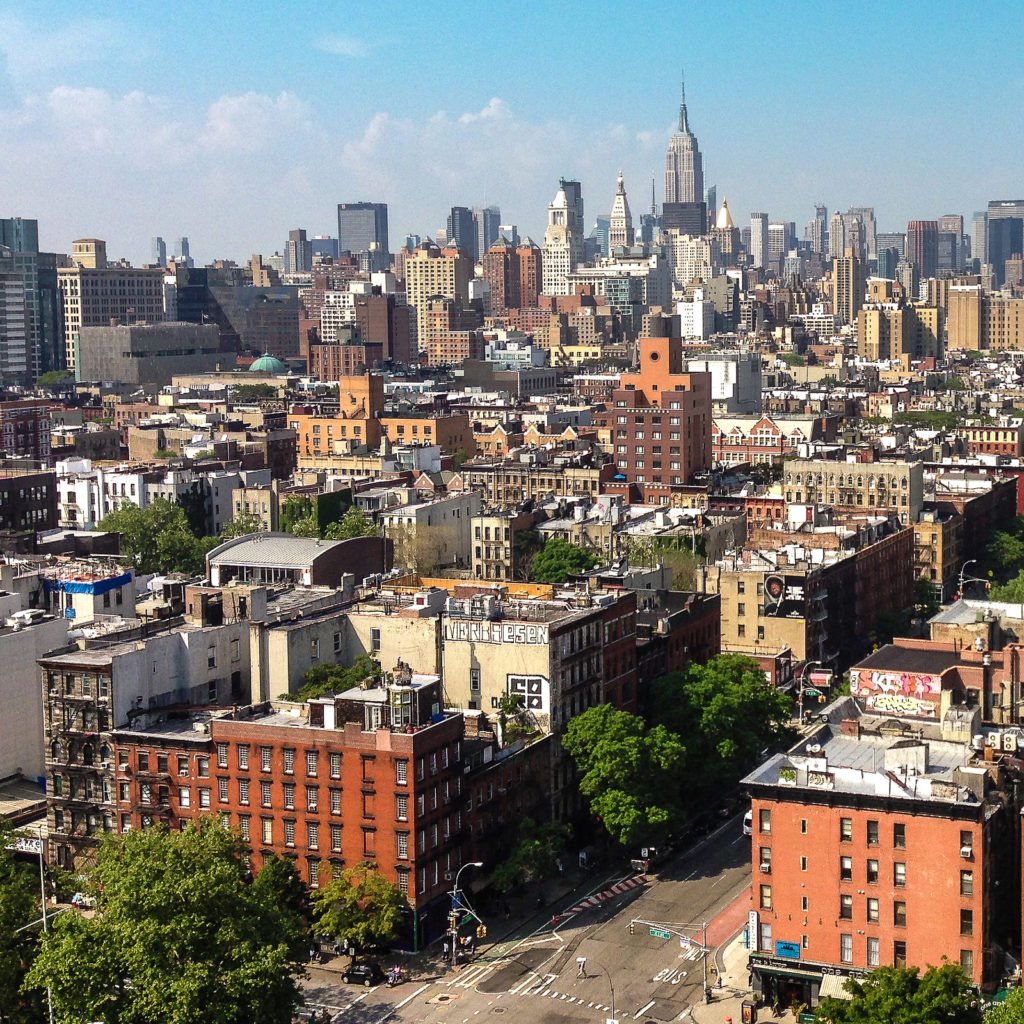 43. Spend time in the Lower East Side.
The traditional home of immigrant, blue-collar workers has slowly transformed into one of the city's hottest culinary destinations, meanwhile still maintaining its rugged, urban charm. In the Lower East Side, you'll find skateboarders roaming the streets, pop-up restaurants galore, and some of the city's oldest residents.
You can find great deals on hotels in the Lower East Side here!
RELATED READING: NYC Neighborhood Guide: Exploring the Lower East Side
44. Watch chaos unfold at Grand Central Station.
Grand Central Station is the busiest train station in the States, but that probably comes as no surprise.
Thousands of people come here daily to take tours, enjoy the station's 60 different retailers and 35 eateries, and of course, to simply get to where they're going. As you can imagine, it's the kind of chaos that makes for great people watching.
45. Pay your respects at the 9/11 Memorial.
9/11 still is — and probably always will be — a very sensitive, emotional subject for us all to talk and think about. It's an important part of our history that we'll never forget. If you'd like to, you can visit the National September 11 Memorial & Museum to remember what happened that day, learn more about the tragedy, and pay your respects.
You can pick up an advance ticket for the museum and book a guided tour of the site here.
Photo by Eric Gross
46. See great street art in Bushwick, Brooklyn.
Most people traveling to New York City have never even heard of Bushwick, let alone visited. But they're missing out! Bushwick, Brooklyn is home to some of the world's best street art — it's colorful, inspiring, sometimes downright strange, and seems to never end!
You can take a free Bushwick street art tour, led by a local expert, where you'll learn about the history of graffiti, see Bushwick's greatest artwork, and gain a new understanding and appreciation for street art.
47. Attend the New York Food and Wine Festival.
If you love food and wine, then snagging tickets to the annual New York City Food and Wine Festival is a must. This ultimate foodie weekend is your opportunity to mingle with globally-renowned chefs and famous food personalities, indulge in hundreds of food and wine tastings, attend exclusive events and parties, and more.
But the best part is that 100% of the proceeds go to two amazing charities: No Kid Hungry and the Food Bank for New York City.
Who wouldn't want to do that?!
48. Watch The Tonight Show live.
The Tonight Show Starring Jimmy Fallon requires no introduction. Watching a live taping of the show is free, you just need to plan ahead to reserve your tickets! This website explains how and when you can do so.
49. Enjoy the views in DUMBO.
DUMBO provides one of the most iconic and sought-after views in New York City — and for good reason! Why not make a pit stop at Brooklyn Roasting Company and then roam around DUMBO for a while with coffee in hand?
50. Get your seafood on at Le Bernardin.
Chef Eric Ripert's three-Michelin-star restaurant, Le Bernardin, is a must for seafood lovers. Here, the seafood is always the star of the plate, and everything is simple, yet elegant and absolutely delicious.
If you can spare $228 (plus more for the wine pairing), definitely splurge on the Chef's Tasting Menu!
---
READ MORE:
---
51. Explore the East Village.
Although the East Village has gone through some extreme changes in the last few decades, there are a few things you can count on: counterculture, great nightlife, amazing coffee, a no-nonsense attitude, and some of the best hotels in town.
During your time here, be sure to spend an evening exploring the East Village. Or better yet, stay there! Between The Standard, The Bowery Hotel, and the Hyatt Union Square, the hotels in East Village are spectacular and provide some of the best guest room views around!
You can find other great deals on East Village hotels here!
52. Browse Chelsea's many art galleries.
Chelsea's art district is home to hundreds of awesome galleries, making this the perfect outing for art lovers. This article lists a few of the best galleries in the area.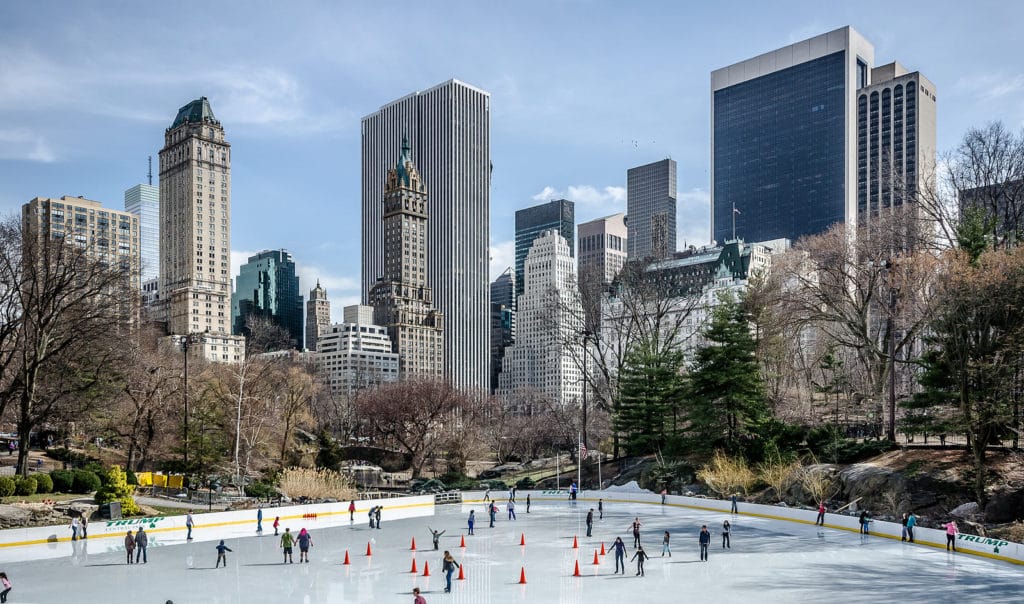 Central Park ice rink/Maciek Lulko
53. Ice skate in Central Park.
During the winter months, you've got to check this iconic experience off of your New York City Bucket List! Fact: there are few things quite as magical as ice skating with your loved ones, with that shining city skyline in the background. Wrap up with a warm hat, gloves, scarf and a good coat to stay cozy.
Want to stay nearby Central Park? Find amazing deals on Central Park hotels by clicking here!
54. Chow down on Indian food at The Masalawala.
Far and away, The Masalawala is the best Indian restaurant in town, and you should not leave without eating here. Period.
Even if you think you don't like Indian food, go here. I promise, you'll have your mind blown.
55. Shop in SoHo.
SoHo is one of the city's best neighborhoods to shop, with offerings to suit anyone's price range.
Plus, there are tons of coffee shops, juiceries, and pizza places in the area, should you get a craving during your shopping spree!
56. Nab tickets to NYFW.
If you're into fashion, attending New York Fashion Week is probably a life goal of yours! Next time you're in New York City — during February or September — make it happen!
This article explains how you can snag those coveted NYFW tickets.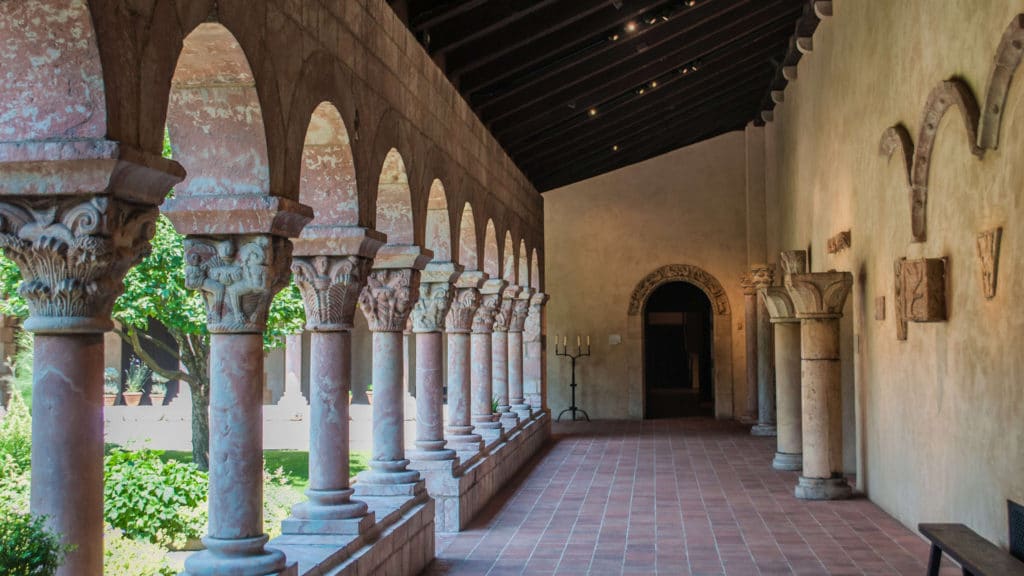 57. Explore European culture at The Met Cloisters.
The Met Cloisters is a branch of The Met, which is "dedicated to the art, architecture, and gardens of medieval Europe." Really, you couldn't ask for a more peaceful place — in the middle of the city, no less — to appreciate such an interesting part of Europe's history.
To include a stroll around The Met itself you get the best experience with a guided tour, so you don't miss all the best bits!
58. Enjoy the views from Brooklyn Bridge Park.
There's no way I could leave the Brooklyn Bridge Park off this list!
This waterfront park is one of the city's many parks, perfect for a stroll, picnic, or bike ride. What sets this park apart from the rest, though, is its jaw-dropping views of the Brooklyn Bridge, the East River, and beautiful Manhattan.
I could sit there for hours just admiring that stunning vista. Definitely one of my favorite things to do on this New York City Bucket List!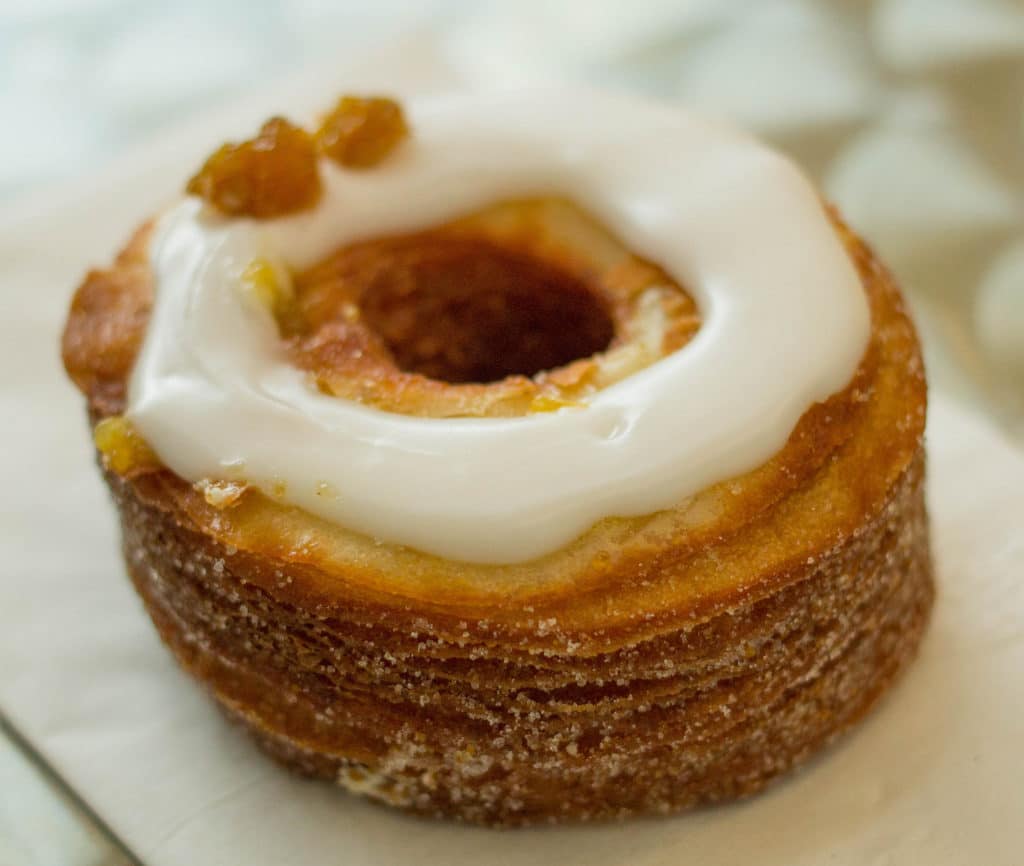 59. Indulge in a cronut at Dominique Ansel Bakery.
This, friends, is where the cronut craze began. And if you haven't heard, the cronut is Dominique Ansel's naughty, naughty cross between a doughnut and a croissant. WHAT? Oh, yes.
Just do yourself one favor. Make sure to arrive at Dominique Ansel Bakery when it opens at 8 am, or you'll wait in line a lot longer than you might like!
60. Stop by St. Patrick's Cathedral.
St. Patrick's Cathedral on 5th Avenue is regarded as one of the USA's most beautiful cathedrals. As you stroll down 5th, make sure to stop in and have a look around — or simply admire the structure's facade from across the street!
It is also just down the street from the Rockefeller center so it is a great opportunity to take a combined tour of Top of the Rock at Rockefeller and a tour of St. Patrick's Cathedral.
61. See the Berlin Wall.
Did you know that five small portions of the Berlin Wall now live throughout New York City? This article lists the five places you can go to admire the wall, its historic significance, and its colorful street art!
62. Drink at (many) rooftop bars.
On a breezy summer afternoon, there's nowhere I'd rather be than a Manhattan rooftop bar, soaking up the booze and awesome views. This article details some of the city's best rooftop hangouts!
Photo by Krissa Corbett Cavouras
63. Peruse the Brooklyn Flea in Williamsburg.
If you're looking for some really cool stuff, whether it be clothes, vintage books, awesome artwork, antique furniture, or random trinkets, the Brooklyn Flea is the place to go.
In the warmer months, the market is held outdoors, and in the colder months, it's held indoors along with Smorgasburg (see #76 below).
64. Dine at Peter Luger Steak House.
New York City's most iconic Michelin-star restaurant, Peter Luger Steak House, might be touristy and old school, but its food is world-class, nevertheless.
Your 60-something-year-old server, who's probably been working there for 40 years, will recommend you order the creamed spinach, French fried potatoes, and of course, the prime dry-aged beef. Then you'll say, "yes," and prepare yourself for a heavenly steakhouse meal.
65. Hang out in Williamsburg.
By now, you've heard of the hipsters, right? Well, this Brooklyn neighborhood is the capital of the hipsters. The new, younger crowd has transformed Williamsburg into a foodie haven and art mecca.
Williamsburg is one of the trendsetting areas of the city, and it's one of our absolute favorite places to hang out any day or night of the week.
Photo by Steel Wool
66. Savor a slice of New York-style cheesecake.
Right there with pizza, bagels, and pastrami, cheesecake is one of the city's most iconic bites. You might think you've had a great slice before, but once you visit Eileen's Special Cheesecake in Nolita, you'll understand what New York-style cheesecake is really supposed to taste like!
67. Walk through the Trinity Church Cemetery.
This iconic cemetery is where Alexander Hamilton was laid to rest, along with some of the city's earliest inhabitants. Settled right in the middle of Wall Street, among the towering skyscrapers, the Trinity Church Cemetery is one of the only remnants of the past that remain in the area.
68. Bike your way around the city.
From late spring to early fall, the best way to get around this massive city is on a bike. And the benefits are endless! You're exercising, getting a tan, and exploring the city, rather than simply sitting in an old cab or in subway silence. You can pick up a bike rental in Central Park and explore from there!
Really, what mode of transportation tops biking?! Just make sure you watch out for those crazy taxi drivers!
69. Eat a new type of cuisine.
Ethiopian? Trinidadian? Moroccan? Ukrainian? Cuban? Jewish? As one of the most diverse places in the world, you can try pretty much every cuisine imaginable. That's just about the coolest thing ever.
So what type of cuisine will you brave next? For us, it'll probably be Haitian food!
Photo by José Juan 'Potti' Luna
70. Explore Little Italy.
Hundreds of thousands of Italian immigrants moved into Little Italy during the late 19th and early 20th centuries. Nowadays, their legacy lives on in the form of Italian restaurants and specialty stores. Plan your visit around the 11-day San Gennaro festival in September and you'll get the full Little Italy experience!
You can also take a really great tour that explore the food of Little Italy and also heads over to Chinatown for a truly international experience
71. Attend the Tribeca Film Festival.
Since 2002, the Tribeca Film Festival has been on a mission to showcase international and artistically adventurous films. Get a pass and experience the best films in the world, among the stars.
72. Dine at Blue Hill.
The chef and co-owner of Blue Hill, Dan Barber, is the genius who brought the farm-to-table concept to New York City in 2000. He has since become a legend. Seasonal foods from the Blue Hill Farm north of the city, paired with some of the world's finest wines, make for a dining experience you'll never forget.
Solomon R. Guggenheim Museum/Jean-Christophe Benoist
73. Check out the Guggenheim.
The Guggenheim provides one of the world's best collections of modern and contemporary art.
Here, you'll be able to explore human creativity from civilizations across the globe. You can pick up a ticket in advance here.
74. Go out in Koreatown.
Koreatown might be a tiny neighborhood consisting of only a few blocks, but it's bursting with eclectic Korean culture, loads of restaurants, bars, spas, and karaoke clubs. Before a crazy night out in Koreatown, chow down on Korean barbecue at Jongro BBQ. Then proceed to drink the Korean way (a lot!) and sing your heart out.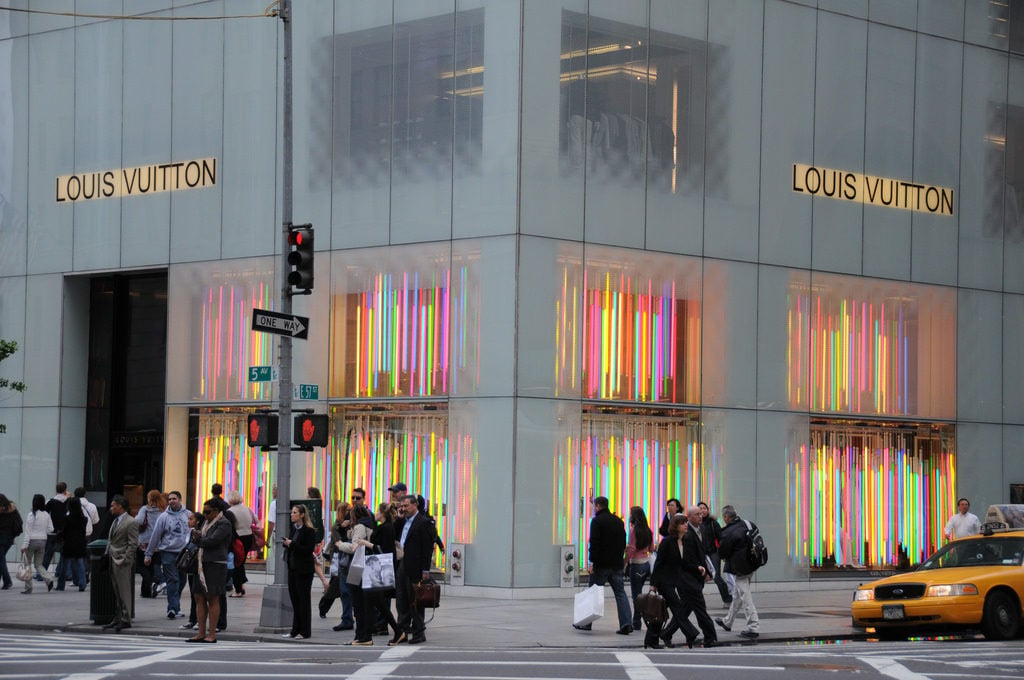 75. Window shop on 5th Avenue.
One of the world's best, and most expensive, shopping streets is the perfect place to figure out exactly what you want to buy (when you become a billionaire)!
Stores like Tiffany & Co., Louis Vuitton, Gucci, Cartier, and Chanel call this street home, but fear not, because 5th Avenue also features stores for all kinds of shoppers.
Photo by Steel Wool
76. Snack at Smorgasburg.
The warmer months are the best time to visit, for one very important reason! It's when Smorgasburg, the "largest weekly open-air food market in America," is in full swing.
Located in Williamsburg, this market features some of the city's absolute best street food from 100 different vendors. I highly advise eating as much as you can at Smorgasburg.
Photo by Dan Nguyen
77. Go kayaking.
On a warm, sunny day, why not paddle through the city's waterways to enjoy the sunshine and gorgeous views? Definitely one of the most fun and unique things to add to your New York City bucket list!
78. Jam at The Governors Ball Music Festival.
Is The Governors Ball Music Festival the Coachella of the east? Or is it secretly even better? In early June, many of the world's best musicians come together to perform their music, in the sunshine, on an island, with over 50 of the city's best food vendors.
This should be more than enough to convince you to book your flight and buy your ticket!
Photo by Peter Roan

79. Experience Christmastime in the city.
There's no place like New York City during Christmastime. Whether you celebrate Christmas or not, you can't deny the delight of seeing the city aglow and feeling all warm and fuzzy inside, despite the freezing winter air! Wrap up warm with a good coat and enjoy the festivities!
I think this one is on everyone's New York City Bucket List!
80. Bake at a Momofuku Milk Bar Class.
The world-famous Momofuku restaurant family published a cookbook full of their Milk Bar's legendary recipes. And now, you can learn how to make those recipes first-hand, from the Milk Bar's top bakers! Cakes and pies are some of the more popular desserts that you can learn to make the many classes on offer.
---
READ MORE:
---
81. Try a knish at Yonah Shimmel's Knish Bakery.
Since 1910, Yonah Shimmel's Knish Bakery has been making one of New York City's favorite Eastern European snacks! In case you don't know, a knish is deep-fried, baked, or grilled dough stuffed with your choice of fillings — usually cheese, sauerkraut, mashed potatoes, or onions.
Okay, the history lesson's over. Now, go try a knish for yourself.

82. Take a free outdoor yoga class.
Sometimes all you need is a mental break and some exercise. And when you do, New York City has you covered.
This article details some of the places you can find free outdoor yoga throughout the city.
Photo by seaternity

83. Satisfy your chocolate craving at Mast Brothers.
Williamsburg's famed bean-to-bar chocolate makers, the Mast Brothers, offer all kinds of chocolate bars, from vanilla & salt, smoked maple, and miso & sesame, to classics like milk and dark.
You can visit their store and factory to learn all about bean-to-bar craft chocolate making.
84. Brunch. A lot.
Brunch is the most important meal of the day. It's true! And luckily, there are tons of great brunch spots around the city. A few of our favorites include Sweet Chick, Jack's Wife Freda, Miss Lily's, and Clinton Street Baking Company.
Promise us that you'll brunch, at least once?
85. Learn to make pizza.
What better city is there — outside of Italy, of course — to learn how to make pizza? None!
Book your class at Pizza a Casa Pizza School for the city's ultimate pizza-making experience. After this class, you can impress your friends and family with your excellent pizza-making skills and take a slice of the city with you everywhere you go!
86. Attend a show at the Apollo Theater.
Harlem is the home of African-American culture, and the Apollo Theater is the stage where it's presented to the world! With a Hall of Fame that includes Aretha Franklin, Michael Jackson, Marvin Gaye, and James Brown, a ticket to the Apollo Theater is a ticket to watch history in the making. It's here that some of the world's greatest African-American performers take the stage, and you won't want to miss out!
This is a great tour that covers the history of Harlem and the heyday of the Apollo Theater, it is a great way to immerse yourself in musical history!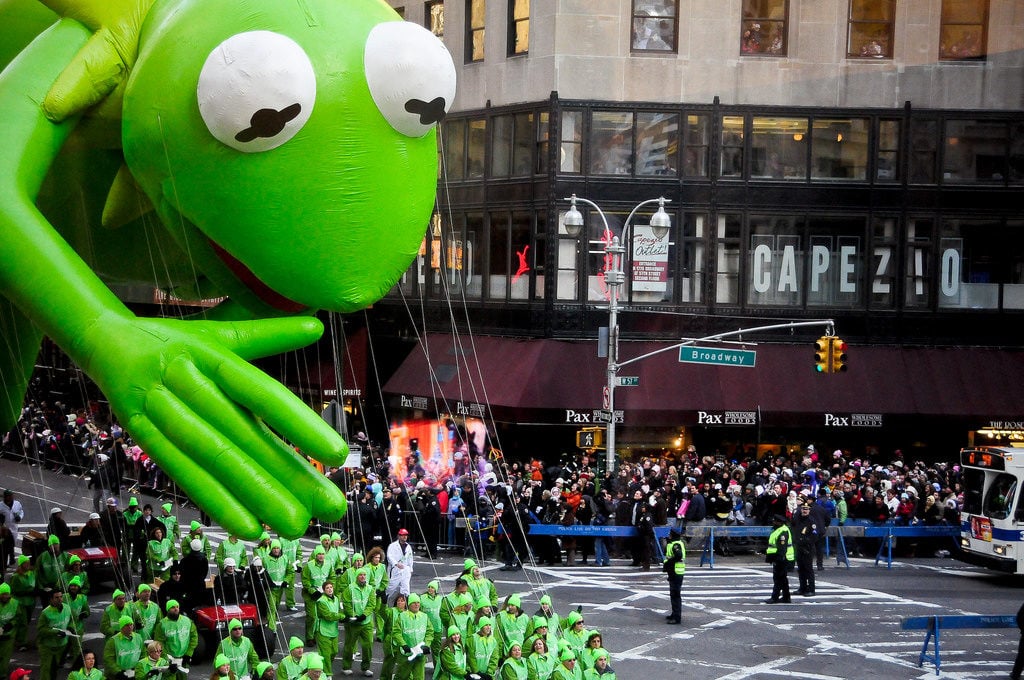 87. Watch the Macy's Thanksgiving Day Parade.
2021 will be the 95th Macy's Thanksgiving Day Parade. Crazy, right? This American tradition continues to grow in popularity and is a yearly tradition in many homes. The parade is truly marvelous, and always includes some of America's favorite television characters. Yes, I'm talking about you, Kermit the Frog!
88. Relax at the Aire Ancient Baths.
Have you ever wondered what it would be like to bathe like the ancient Greeks or Romans? Well, maybe you haven't. But now that you have, of course you want to try it. Don't you?!
At Aire Ancient Baths, you can experience thermal baths, aromatherapy, and massages, paired with delicious food and wine. Treat yourself!
89. Hail a cab.
You'll quickly learn that New Yorkers have a love-hate relationship with the city's cabs, but they rely on them nonetheless. During your visit, you might find yourself in the same situation.
New York City taxis have been glorified by pop culture, so if you haven't hailed a taxi before on New York's chaotic streets, it's an experience you should have.
90. Stand on top of the Empire State Building.
From 1931 to 1972, the Empire State Building was the tallest building in the world, towering 1,250 feet (381 meters) above New York City. Now, the Empire State Building is the 34th tallest structure in the world, but it's still a great place to catch 360° views of the city!
You can book your tickets to the Empire State Building Observatory here!
91. Watch a basketball game at Rucker Park.
Basketball is king in New York City and streetball, specifically, is like a religion. Rucker Park is the mecca of that religion and ground zero for legends like Kareem Abdul-Jabbar, Julius Erving, and Wilt Chamberlain. Stop by, and you might just spot basketball's next superstar!
92. Marvel at the Flatiron Building.
The Flatiron Building is a landmark, and rightfully so. This steel-framed building has was built in 1902, and since then, its unique and gorgeous architectural design has stolen the hearts of many.
Make sure you don't leave the city without a shot of the one of the world's most photographed buildings!
93. Dine at Sushi Nakazawa.
Chef and Owner of Sushi Nakazawa, Daisuke Nakazawa, is one of the most highly acclaimed sushi chefs in the world.
If you appreciate the finer things – detail, precision, incredible service, mystical cocktails, and arguably the best sushi you will ever try – then you can't miss this place. Reservations can be made 30 days in advance, so don't wait. Once you're in, you'll be at the mercy of the chef with his Omakase-style dining, and 21 courses.
94. Play ping pong in Bryant Park.
From April to November, Bryant Park has free, state-of-the-art ping pong tables, paddles, and balls available for you and your friends! All you have to do is walk up to the ping post host and reserve your time slot.
95. Mill about in Chinatown.
Chinatown is one of the few places in the country that feels like you're actually in another country. Craving hand-pulled noodles? Looking for some exotic Asian produce? Want some boba tea? These are just a few of the activities you can partake in. Ultimately, you'll experience New York City the way Chinese immigrants do on a daily basis, and you'll love it.
For food enthusiasts this is also a great place to take a food tour and discover all the hidden spots of Chinatown. This tour also covers Little Italy, for a truly international experience!
Just make sure to also experience Flushing, Queens (see #8 above)!
96. Run the New York City Marathon
The New York City Marathon started more than 50 years ago, and now draws more than 50,000 participants per year.
If you don't feel like you're in marathon shape, then just stop by and be a part of the festivities. The event raises money and awareness for non-profits, so make a point of checking it out!
97. Ring in a New Year.
Starting off a new year in the greatest city? This is another thing I just couldn't leave off of this New York City Bucket List. While standing out in the freezing cold for hours to watch the ball drop is questionable, there are hundreds of other epic celebrations happening throughout the city!
Wrap up warm with a cozy hat, scarf, gloves and a warm coat, the winter is really cold but you can't miss this iconic way to start a new year.
98. Go to Coney Island.
In the summer, Coney Island becomes a hot spot for beachgoers looking to get a tan or cool off in the ocean. But there are plenty of other activities to enjoy, from roller coasters and boardwalk games, to arcade games, bike riding, and much more. Go and see how New Yorkers and tourists spend their warm summer days!
Coney Island has a rich history as hotspot for New Yorkers escaping the city. There is a great history and food tour you can take which shows you the best places to grab a bite of New Yorks favorite foods at Coney Island, as well a tour of the immigrant history of Brighton Beach
PS: On the 4th of July, Nathan's Hot Dogs hosts its annual Hot Dog Eating Contest!
Photo by MsSaraKelly
99. Take in the chaos of Times Square.
If you're visiting for the first time, there's almost no way Times Square won't be on your list. Times Square is one of the most colorful, chaotic, and captivating places in the city, no matter how many times you've seen it.
The endless stream of bright, flashing billboards, the crazy bustle of tourists, the annoying people trying to hand you flyers and sell you bus tours, and the smells of street food carts, are all part of the experience.
Want to stay in or nearby Times Square? Click here to find amazing deals on Times Square hotels.
100. Tour the Statue of Liberty and Ellis Island.
First-time visitors to New York City usually wouldn't dream of missing Lady Liberty and Ellis Island! The Statue of Liberty is an iconic landmark and is the final point for you to head over to on our list. Take the ferry and cruise to Ellis Island to visit this famous statue, it is also a great location to see the lights of the city.
You can book an All Options tour which includes access to the Liberty Island Museum and the Immigration Museum at Ellis Island with tour guide. Get your ticket here.
The Ultimate New York City Bucket List:
100 Things to Do in NYC
That's it! There you have our New York City Bucket List, complete with 100 things to do before you die!
If you had fun reading this post, then imagine all the fun you'll have once you book your hotel, buy that plane ticket, and start checking these items off! Get going, and let us know in the comments below once you've completed our New York City Bucket List.
New York City Quick Tips
HOTEL: There is no shortage of hotels in New York City, but be sure to book in advance. I use this website for scoring amazing deals on accommodation worldwide. You can even get a great deal on iconic Times Square hotels.
HOSTELWORLD: If you're traveling on a budget, this is the best website to score cheap hostel deals.
VACATION RENTAL: I use this site for finding the perfect vacation rental for an unforgettable getaway.
TRAVEL INSURANCE: Never go on a trip without travel insurance! If you are a remote worker and/or traveling regularly, SafetyWing has an awesome monthly subscription for digital nomad insurance (I currently use SafetyWing).
GUIDED TOURS & EXCURSIONS: Many of the tours I recommend are hosted with Viator, which also works with local tour operators.
CHEAP FLIGHTS: There are several airports you can fly into for New York City, pick the best one for your origin airport. I always use my favorite flight fare aggregator to get great deals.
TRAVEL GEAR: A collection of all of my must-have travel gear are all listed here.
CAR RENTAL: It is highly unlikely you will need or want to drive while in New York City but if you are taking a road trip from here remember to book in advance here for the best deals.
---
READ MORE: