While traveling throughout Southeast Asia, avoiding a layover at Singapore Changi Airport is almost impossible. When we found out that we'd be stopping there, at Southeast Asia's largest transportation hub, we decided to clear our schedules for a 24-hour layover in Singapore!
Many vibrant, yet vastly different cultures converged to create Asia's most clean and modern city: Singapore. In Singapore, chewing gum and spitting is illegal, the street food rivals some of the world's very best, and the juxtaposition between the old and hyper-modern is striking. Exploring a city so inexplicably and simultaneously wonderful, wild, and weird, will confuse you, but excite you. *This post contains affiliate links.
After a 24-hour layover in Singapore, you may not be able to explain how or why this place became the modern metropolis it is today, but either way, you'll be glad to have experienced it.
With so much to see and so little time, you better get moving!
In this post, you'll find our guide to a 24-hour layover in Singapore, encompassing all of the things you must do, see, and try while there.
As soon as we landed at Changi, our 24-hour layover in Singapore began. With the clock ticking, we quickly hopped in a cab, dropped off our luggage at our hotel, and headed straight for a hawker center – as if you could expect anything less from us.
A quick note on where we stayed… We chose to stay at The Westin Singapore and had an amazing stay; though we were there for only a few hours, we enjoyed our very large, clean, and comfortable guest room. This hotel also features an amazing rooftop pool, and is worth staying there just for the views alone!
Find other great deals on Singapore accommodation here!
Maxwell Road Hawker Centre
For those of you who aren't familiar with Singapore's famous hawker centers, they're basically food centers filled with rows upon rows of delicious street food stalls.
Eating at hawker centers is a must-do in Singapore to experience the city-state's passionate food culture, taste a variety of Asian cuisines, and to find the city's cheapest eats.
At Singapore's hawker centers, you'll find street food flavors coupled with food safety regulations – so in other words, traveler's diarrhea will not be an issue. The hawker centers, in my opinion, are Singapore's most important attractions, and as such, I challenge you to try at least ten new dishes during your 24-hour layover in Singapore!
First, we visited Maxwell Road Hawker Centre in Chinatown. We sampled a couple of different dishes, most notably, the chicken rice from Tian Tian Hainanese Chicken Rice. If you try just one new dish while in Singapore, let this be it: fragrant, moist, tender, spicy, Hainanese chicken rice. It doesn't get any better than that, friends.
Chinatown
Next, we explored Chinatown. The neighborhood of Chinatown, historically populated by Chinese immigrants, positively bursts with color, energy, and Chinese culture. During your 24-hour layover in Singapore, make sure to visit Chinatown to check out the shops and markets, take in the sights and smells, and join in the hustle and bustle.
Also situated in Chinatown (directly across from Maxwell Road Hawker Center) is the Buddha Tooth Relic Temple, a Buddhist temple and cultural monument whose Chinese architecture stands out among the modern skyscrapers that surround it.
Located in the heart of Chinatown, the Sri Mariamman Temple stands as a symbol of Singapore's multicultural lifestyle. This vividly-painted, historic landmark is the oldest Hindu temple in Singapore, and it should not be missed.
We could've easily spent many hours milling about Chinatown, but with only 24 hours in total, we needed to move on.
Gardens by the Bay
From Chinatown, we climbed onto the MRT (the cheapest, most efficient way to travel in Singapore) and rode it to the Tanjong Pagar stop. From there, we made our way over to Gardens by the Bay.
Gardens by the Bay is quintessentially Singapore. Modern, clean, tranquil, and completely over-the-top, Singapore's Gardens by the Bay is a public garden which serves as an escape from Singapore's high-energy way of life.
Purchase tickets to the Gardens by the Bay here!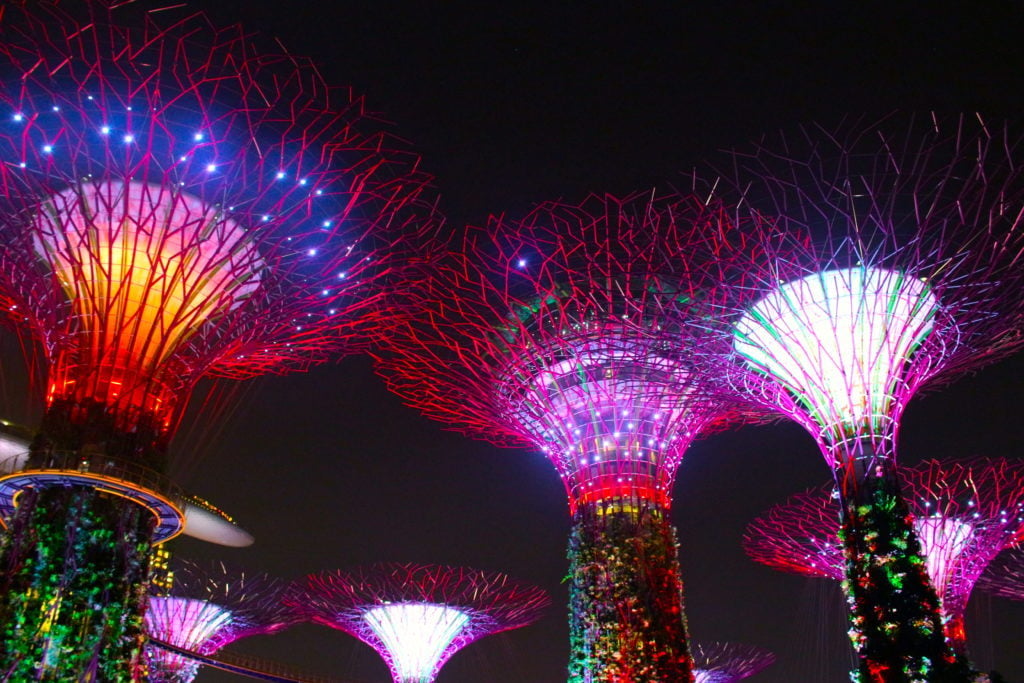 At Gardens by the Bay, we strolled through the greenery, gazing at popular icons such as the Supertrees, Flower Dome, and of course, the Marina Bay Sands Hotel. After a bit of relaxation, we scooted on to the next stop.
Little India
At lunchtime, Little India is the place to go. For biryani, fish-head curry, chicken tikka masala, meats cooked in a tandoori oven, and all other things delicious in this world, head straight for Little India.
When you visit Little India, you'll transport yourself to another world. With Tamil music blaring from every shop, strong scents of Indian spices, and the craziness of hundreds of people darting every which way, Little India is a true cultural experience.
While in Little India, make sure to stop by the Sri Veeramakaliamman Temple, the Mustafa Centre, and the Sri Srinivasa Perumal Temple.
Orchard Road
Just three MRT stops away from Little India lies famous Orchard Road. Just like New York City's Fifth Avenue, Zurich's Bahnhofstrasse, and Tokyo's Ginza, Orchard Road is Singapore's most prestigious shopping street. If you fancy a bit of shopping (or window-shopping), Orchard Road is the perfect place.
Marina Bay
As the sun goes down, Singapore lights up into an unforgettable spectacle of color. During your 24-hour layover in Singapore, don't miss a stroll along the waterfront as night falls.
At 8:00 p.m. and 9:00 p.m. nightly, the Marina Bay Sands hosts Southeast Asia's largest water and light show. If you're in the area, don't miss it!
In the Bay area, you'll also find Merlion Park, which is as much of an iconic symbol of Singapore as it is a peaceful place to hang out.
Lau Pa Sat
Next is yet another hawker center. Of course! If you ask the locals which hawker center is Singapore's best, they'll direct you here, to Lau Pa Sat.
Visit Lau Pa Sat for dinner, and you'll be in for the ultimate Asian treat. Chicken rice, chili crab, fish ball soup, wontons, fish head curry, chicken satay… You name it, you'll find it here!
At night, the street adjacent to Lau Pa Sat turns into an enthusiastic frenzy of food stalls and hungry people. Most of the outdoor food stalls at Lau Pa Sat grill up satay of all kinds, so snatch a few skewers, grab a seat, and dig in!
Inside the 19th century building, food stalls selling all kinds of Asian cuisines can be found. Remember to step out of your comfort zone at Lau Pa Sat; try things you can't pronounce, and don't be reluctant to taste new things. Dive into Singapore's world-renowned food culture headfirst!
Still hungry for more?
Check out some other attractions to enjoy during your 24-hour layover in Singapore:
While planning our recent Asia tour, we simply couldn't pass up the opportunity to spend 24 hours in Singapore. During that whirlwind day, we tried – and somewhat succeeded in – conversing with the Singaporean people (good luck understanding Singlish!); we ate more delicious food than we'd ever imagined possible; and unavoidably, we overloaded our senses with the many colors, smells, and flavors that make Singapore so classically Singapore.
Over to you! Will you be traveling through Southeast Asia soon? If so, are you thinking of stopping in Singapore for a day? Have you visited Singapore before? If so, what did you think?
*This post contains affiliate links. When you make a purchase through a link on our site, we will receive a commission, at no extra cost to you. These commissions help keep Maddy's Avenue up and running, and we thank you for your support!