If you're planning to spend 2 days in Zurich, you're in the right place! This itinerary is the perfect guide for first-timers and includes everything you need to know for a successful trip.
Zurich holds the title for Switzerland's largest city with around 400,000 inhabitants, and quite frankly, it's no wonder all the Swiss are flocking there. While the city was once seen as Switzerland's stuffy, incredibly expensive (okay, it still is!), and stuck-up banking and financial capital, it has changed immensely in recent years.
With its groovy nightlife, cool arts district, burgeoning foodie scene, modern shopping streets, and brilliant museums, I wouldn't blame you if Zurich made it onto your must-visit European city list. Not to mention, with its perfectly preserved Old Town, serene lake views, and the wondrous snow-capped Alps, the setting couldn't be more stunning.
Two days in Zurich is the perfect amount of time to explore the best that Zurich has to offer, and this itinerary is jam-packed with the best things to do, see, and eat!
Here's the perfect itinerary for 2 days in Zurich!
How to Spend 2 Days in Zurich:
Perfect Zurich Itinerary for First-Timers
Arriving for 2 Days in Zurich
Arriving in Zurich is an absolute breeze. Here's what you need to know.
ARRIVING VIA AIRPLANE
If you're arriving in Zurich via airplane, don't bother with an expensive taxi fare. Instead, hop aboard the airport train to Hauptbahnhof (HB), the main station in Downtown Zurich. The journey from airport to city center takes just 10 minutes!
ARRIVING VIA TRAIN
If you're taking a train to Zurich from another city in Switzerland – or even from a neighboring country like Italy, France, or Germany – Hauptbahnhof (HB), the central station, should be your final destination. This is the largest railway station in Switzerland, located smack in the middle of Zurich's downtown. You can either walk to your accommodation or hop on a tram/cable car from there.
The best way to book train tickets for your journey around Europe is via Rail Europe!
ARRIVING VIA BUS
If you take a bus to Zurich, you will be dropped off at the Zurich Bus Station, which is also centrally located. You can easily walk to your accommodation or hop on a tram/cable car from there.
I recommend booking your bus journeys through Europe via Flixbus! There are routes to everywhere you want to go, fares are very cheap, and their buses are equipped with wifi, toilets, air conditioning, and power sockets.
Where to stay in Zurich
Overall, the four best neighborhoods to stay in are:
Bahnhofstrasse
Old Town (Altstadt)
Langstrasse
District 2
I recommend you stay in Old Town (Altstadt) because it's centrally located – it's close to tram/cable car stops, the lakefront, and all of the best things to see and do – it's quaint and absolutely beautiful, and overall, it offers the best bang for your buck. Stay in Old Town, and you'll be set up for a perfect 2 days in Zurich!
These are my top accommodation recommendations in each price bracket.
Best Luxury Hotels IN OLD TOWN
Best Mid-Range Hotels IN OLD TOWN
BEST budget OPTIONS IN OLD TOWN
You can find great deals on accommodation in Old Town and other Zurich neighborhoods HERE!
NOTE: If staying in a central location is totally out of your price range, don't worry! You can book accommodation further from the city center because Zurich's public transport (trams and trains) system is very thorough and easy to use. Even though Zurich is Switzerland's largest city, it's not really all that big; most of the major sites are within walking distance from Hauptbanhof (Zurich's Central Station).
What to do in Zurich in 2 days
With two days to spend in Zurich, there are a few must-sees and must-dos to add to your list!
Your itinerary should include mixture of taking in the mountain views, meandering the quaint Old Town streets, shopping in the modern city center, visiting museums, drinking wine by the lakefront, experiencing the nightlife, and indulging in a few Swiss delicacies!
Here are the best things to add to your two-day Zurich itinerary.
Day 1 of 2 Days in Zurich
On your first day, get acquainted with the city on foot, explore the historic sites, and take in all of the stunning views. Enjoy meandering the old streets, stopping into a cafe for a coffee, sampling Swiss chocolate, sipping on a glass of Swiss wine.
#1 Explore Altstadt (Old Town)
Kick-off your 2 days in Zurich by heading straight to Altstadt, or Zurich's Old Town. Here, wander through the narrow and winding cobblestone streets, gawk at the colorful, wonderfully-preserved buildings, and stroll along the Limmat River.
Niederdorf is a pedestrian-only zone, making it the perfect place to browse the small shops, sit and have a drink, buy some Swiss chocolate, and do a bit of people-watching. Spend a decent amount of time in this area, simply meandering through the alleys, taking in the beauty, history, and small town vibes. Free and fun!
#2 See the views from Grossmünster
As you roam Altstadt, you will probably stumble upon Grossmünster – a centuries-old Romanesque cathedral that also happens to be Zurich's most iconic landmark!
For breathtaking panoramic views and brilliant photo opportunities of the city, the Alps, and Lake Zurich, visit Grossmünster and climb the 187 stairs to the top of the tower.
It wouldn't be a European city without a few famous churches or cathedrals to visit, would it?!
#3 Stop by Lindenhof Hill
Next, cross the Rathausbrücke (pedestrian bridge) and head over to the other side of the Limmat River. There, you'll find Lindenhof!
This historic plaza, located in the heart of the city, offers the most beautiful views of the Old Town and the shimmering blue river below.
#4 Check out Fraumunster
Next, pay Fraumunster – AKA the Church of our Lady – a visit to appreciate its beautiful architecture and stained glass windows.
The Gothic-Romanesque style church was first built in the 9th century. Then, in the 1960s, world-famous artist Marc Chagall's stained glass windows were installed, giving the beautiful church an extra draw-card.
#5 Walk Bahnhofstrasse
Once you've had your fill exploring Zurich's historical sites, make your way to modernity and pay Bahnhofstrasse a visit.
Bahnhofstrasse is Zurich's premier shopping street, and as one of the most bustling places in Zurich (day or night!), it's a must-visit during your time in Zurich.
Here, you'll find high-brow institutions like Chanel, Louis Vuitton, Burberry, and Cartier (hello, window shopping!) and you'll also find the likes of Zara, H&M, and Mango. There are also plenty of restaurants and cafes to discover.
This is also a great people watching spot!
#6 Eat fondue
Let's face the facts here. The Swiss aren't exactly known for their food in general… But they are known for their cheese. On your first day, don't forget to try some traditional Swiss food – specifically fondue!
Where should you go for fondue? My pick is a fondue place frequented by locals: Zebra Bar!
P.S. all of my recommendations for the best places to eat in Zurich are toward the bottom of this post.
Day 2 of 2 Days in Zurich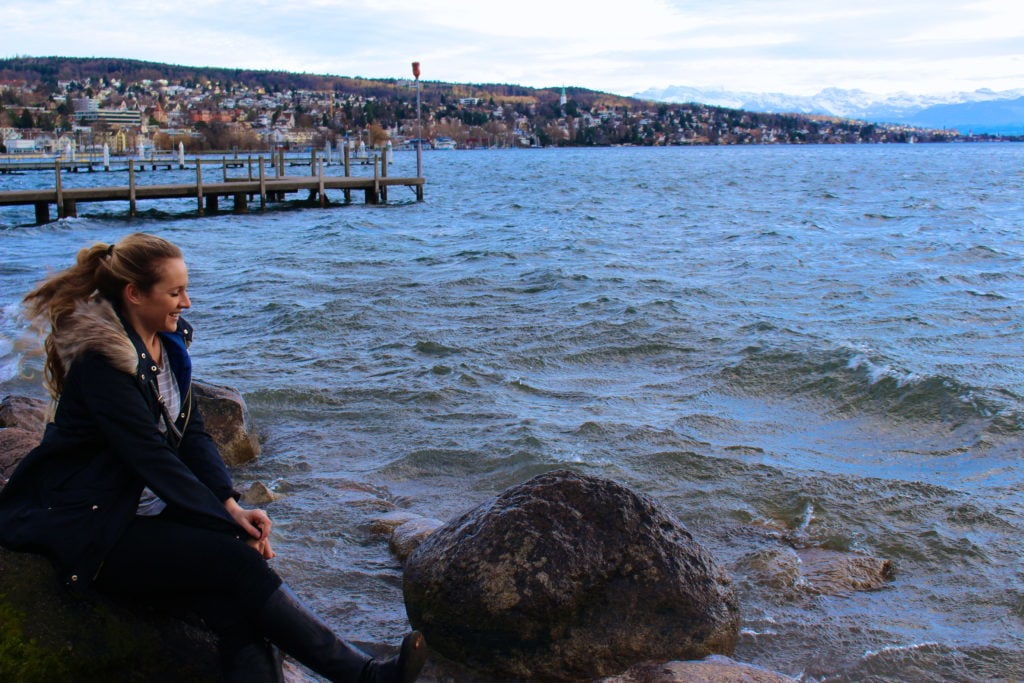 #7 Spend some time at Lake Zurich
Of course, a trip to Zurich wouldn't be complete without a stroll along the Lake Promenade of Lake Zurich.Walk and take it slow, enjoy the cool breeze, watch the geese float along the docks, and let the lake's peaceful, calming vibes take over.
Consider bringing cheese, bread, wine, and all your favorite bits for a lakeside picnic in the sunshine! In the warmer months, you can also opt for a refreshing swim in the lake. No doubt, this is one of the top Zurich attractions in summer.
Another popular thing to do is to cruise on Lake Zurich! I haven't done this myself, but I have heard there are all kinds of cruises, from relaxing sightseeing ones to gastronomic cruises (think cheesy fondue and frothy beer). There are also nighttime party cruises – if that floats your boat!
#8 Peak at Uetliberg Mountain
For an unbeatable view of Zurich, take to the mountains! Hike, jog, bike, or take the train up to Uetliberg Mountain. The perfect half-day activity for day 2!
Once there, take in the sweeping panoramic views, sit down for a glass of wine, and continue to be wowed by Zurich's beauty.
In the summer, hiking and mountain biking are great activities to partake in at the top of Uetliberg. In the winter, hiking trails are converted into sledding runs so you can go tobogganing!
#9 Visit a museum or two
If you have any extra time, you might fancy a visit to a museum or two. There are many different museums on offer in Zurich, but if I were you, I'd go with Kunsthaus Zurich or Rietberg, both of which are excellent art museums.
Neither one are free, but if it's freezing or raining outside, why not!
Where to eat in Zurich in 2 days
To be frank, I wasn't super impressed with the foodie scene the first time I visited, but over the past few years, Zurich has upped its game! With only 48 hours in the city, there are plenty of good (albeit expensive) options to explore!
Here are my top picks for the best places to eat in Zurich:
What to Pack for Zurich
Wool coat: During the colder months a beautiful wool coat is essential for style and practicality. You will fit in with the locals with this one. For your time in the mountains, a more practical hiking jacket will be better.
Comfortable boots: As expected, you'll walk a lot in Zurich, so opt for a comfortable but stylish boot that you've worn in. You can't go wrong with a smart Chelsea boot, like these. For hiking in the mountains bring a good pair of hiking boots.
Daypack: Make sure you are prepared with essentials, a decent backpack will be needed for your water bottle, snacks, and extra layers. This one is great and the perfect size for a day hike.
Hat and gloves: In the winter it will be much colder so prepare with a good warm hat and gloves to take that chill away.
Sunscreen: Nothing spoils your trip (and your photos!) more than sunburn, and snow glare is no joke. Remember to prepare with a good, natural sunscreen and stay protected.
Reusable water bottle: Remember to keep hydrated during your adventures; it can't all be wine and coffee all the time! Bring a reusable water bottle so you can keep topped up, you will especially need this when hiking and snowshoeing.
Travel insurance: As with any trip, you should ALWAYS purchase travel insurance in case anything goes wrong. I've had my fair share of travel mishaps!
Quick Zurich Tips
---
GOING ON A GRAND EUROPEAN TOUR? Check out these other resources:
---
QUICK FACTS ABOUT ZURICH
How many days should you spend in Zurich?
Zurich isn't a huge city, so 2 days is the perfect amount of time to explore all the interesting activities and beautiful sights Zurich has to offer. You could spend several days in Zurich, but it's definitely not necessary. Your time would be better spent heading somewhere else nearby, like Lucerne!
Is Zurich worth visiting?
Absolutely! Though Zurich is one of the more expensive cities to visit in Europe, it's also one of the most beautiful. The views alone – of the old, colorful architecture along the Limmat River, the snow-capped mountains in the distance, and serene Lake Zurich – are reason enough to visit. Not to mention, the high-end (window) shopping, amazing design, cool bars and restaurants, and interesting museums. There's more than enough reason to visit Zurich Switzerland.
Is Zurich expensive?
Yes. In fact, Zurich is among the top three most expensive cities to live in the world. Don't be surprised when the most basic, blah plate of plain spaghetti costs $20. But spending 2 days in Zurich is affordable enough! There are plenty of free activities to occupy your time, and you can easily pick and choose what's worth splurging on to make sure you don't blow the budget. This 2 day Zurich itinerary mixes free activities with worthwhile expensive ones to make sure you see the best of Zurich Switzerland.
Is Zurich safe?
Yes! Zurich Switzerland is one of the safest cities in the world. Whether you're a solo female traveler or visiting with young kids, you should feel safe and secure in Zurich. Generally speaking, you can feel free to roam aimlessly, explore, and let your guard down. My vacations in Zurich have been nothing but fun, safe – and expensive! But of course, always keep your wits about you and watch out for pickpockets! As with anywhere else in the world.
Is the Zurich Card worth purchasing?
Yes! If you need to stick to a budget, the Zurich Card can help. There are only 24 or 72 hour options for the Zurich tourism card, so you might consider buying one or two 24-hour cards. The card includes unlimited travel via tram, bus, train, boat and cableway in and around Zurich. It also grants you free (or discounted) access to 40+ museums and many other benefits. Vacations to Zurich are easy and cheaper when you have the card.
48 Hours in Zurich Itinerary: A Guide for First-Timers
Well, there you have it, my friends! That's my 2-Day Zurich Itinerary, perfect for first-timers!
I had an amazing time in Zurich, and you will too! How could I not, while taking in those incredible views and sipping on fabled Swiss wines? (Really, when have you ever seen Swiss wines? It's likely that you never will… unless you travel to Switzerland!)
Over to you! Have you visited Zurich before? Did you do exactly what I did? Or do you have other recommendations to add? If not, is Zurich on your bucket list?
*This post contains affiliate links. When you make a purchase through a link on our site, we will receive a commission, at no extra cost to you. These commissions help keep Maddy's Avenue up and running, and we thank you for your support!