Bergen, Norway has to be one of the most breathtaking cities on the planet, but for some reason, most people have never even heard of the place.
On the one hand, this is a terrible, horrible shame because Norway is highly underrepresented as one of the most beautiful countries on the planet, with its seaside cities, bright green landscapes, sky-high mountains, and narrow fjords.
But on the other hand, Norway's lack of tourists (in comparison to other European countries like France or Italy) leaves the land mostly uncrowded, untouched, and unknown. I'm helping to spoil one of the best-kept secrets in Europe as I write this post, but not sharing Bergen, Norway and all of its charm would be selfish of me, even wrong.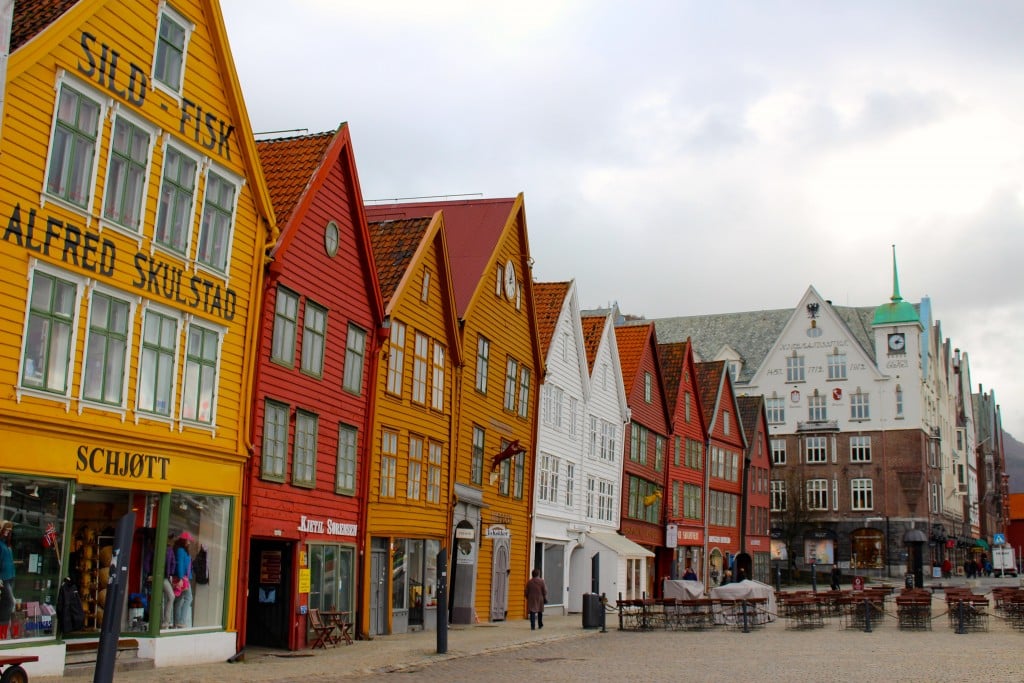 In April, just as spring had sprung, we spent 3 days in Bergen, Norway. We arrived in Bergen, Norway via Norway in a Nutshell (the most amazing journey from Oslo, via trains and boats, through incredible mountains, valleys, and fjords – book it here – and yes it's worth the price tag) and stayed at a beautiful waterfront hotel, the Clarion Hotel Admiral.
Bergen, Norway, often referred to as the "Gateway to the Norwegian Fjords," is Norway's second largest city, yet it exudes small-town character and charm.
Situated on the ocean between two of Norway's most beautiful fjords, Hardangerfjord and Sognefjord, Bergen, Norway could not be more picturesque. Think bright, historic buildings on the old wharf and deep blue water glistening in the sun, with sky-high, tree-covered mountains as the backdrop.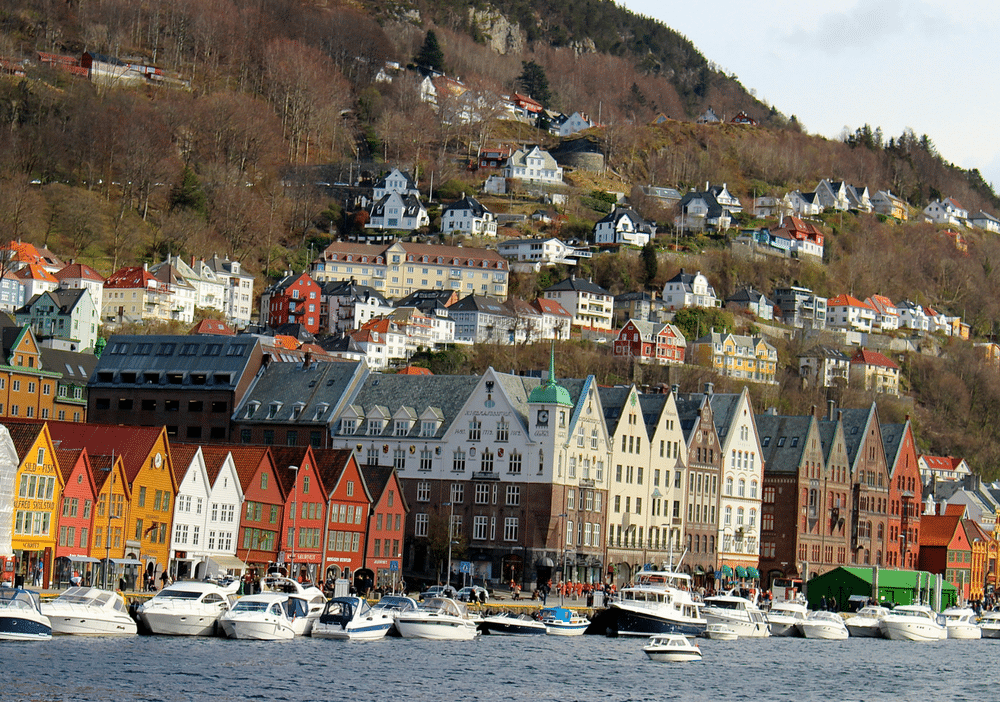 Yet Bergen, Norway is so much more than just a pretty setting. As one of Scandinavia's most-loved cities, there is plenty to see and do.
3 days in Bergen should be well spent visiting museums, hiking, kayaking, cruising the fjords, fishing, and of course, taking in Bergen's impressive views. For nature lovers and history buffs alike, Bergen is the ultimate Scandinavian destination.
And though it may not seem likely to you, Bergen is an international port city, meaning that it's filled with all kinds of tantalizing cuisines for you, my foodie friends.
With some of the friendliest locals on the planet, amazing architecture to marvel at, outdoor activities galore, and cultural festivals throughout the year, Bergen, Norway has something exciting to offer everyone.
Where to Stay in Bergen, Norway
For our 3-day trip to Bergen, we decided to stay at the Clarion Hotel Admiral. And honestly, I can't recommend this hotel enough.
Our waterfront hotel was in the perfect location, just across the way from Bergen's Hanseatic wharf, Bryggen.
The hotel itself is modern, clean, and very comfortable, and the staff are so kind. But perhaps the best part of staying at the Clarion Hotel Admiral is waking up to stunning views of the old, colorful Bryggen houses, gleaming seawater, and soaring mountains! And the next best part is definitely the location — exactly in the center of Bergen and right where you want to be!
Like I said, I highly recommend booking your stay at the Clarion Hotel Admiral.
However, you can find other great deals on Bergen accommodation here.
Three days in Bergen, Norway: Day One
After a quick, yet scrumptious breakfast at the Clarion Hotel Admiral, we set out for our first day of exploring!
Visit Bergen & Bergen Cards
To kick off our first of 3 days in Bergen, Norway, we headed straight for the Visit Bergen tourism office to pick up our Bergen Cards.
With the Bergen Card, not only did we travel free on the buses and light rails in and around Bergen, but also we received free or discounted admission to every place we visited, from museums and attractions, to sightseeing tours.
Costing only a fraction of the price we would've paid for all the activities we packed into our time in Bergen, the Bergen Card turned out to be a wise and convenient investment.
Here is a list of all of the Bergen Card's benefits (as of Dec. 2019).
Fisketorget
Just underneath the Visit Bergen tourism office stands the Fisketorget, or Bergen's Fish Market, in all its glory, providing the people of Bergen with freshly caught seafood since 1276.
No, I did not mistype. 1276! Can you believe that?
If you're not a seafood fan, this market is still worth a visit to learn a bit about the seafood that Norwegians know, love, and cherish. Yet if you are a seafood fan, there are all kinds of fish and shellfish to send your taste buds into a frenzy.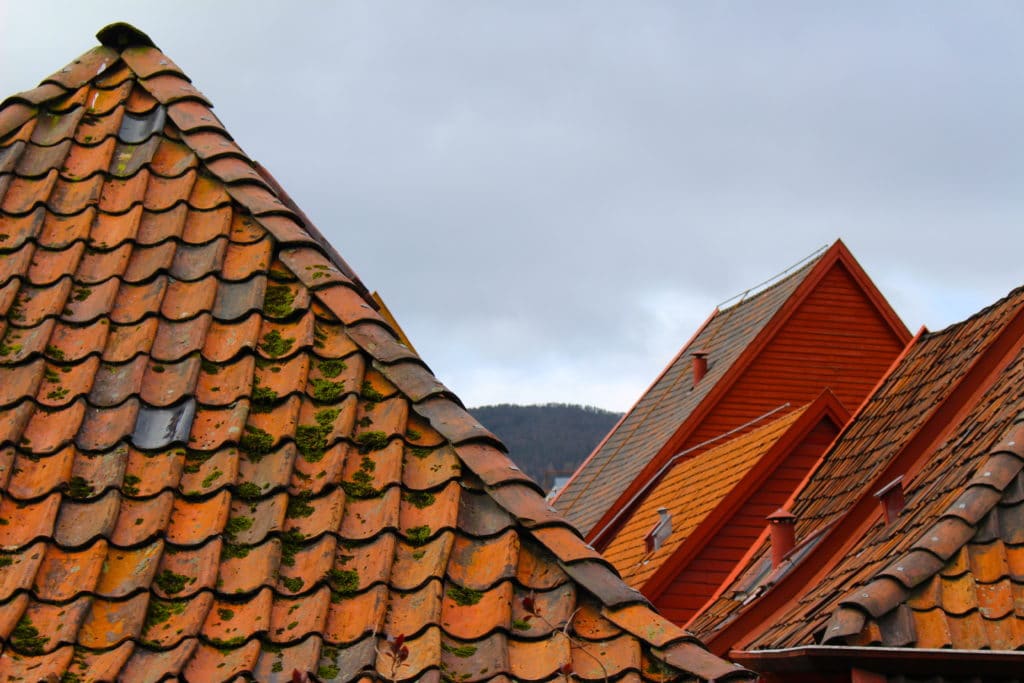 Bryggen
Just a few steps from Fisketorget lies Bergen's most famous and historic site, Bryggen, which also happens to be a UNESCO World Cultural Heritage site.
From a sheer visual standpoint, Bryggen is stunning. Along the Hanseatic wharf, old, wooden buildings stand tall in varied shades of yellow, orange, and red, reminiscent of times when German merchants dominated the area with trade.
Historic fact: As old as the Hansa buildings of Bryggen may look, they were actually rebuilt after 1702, when the Great Fire devastated the entire city, reducing it to nothing but ash. Flames have ravaged through Bryggen time and again, yet its foundation and history date back all the way to the 11th century.
Bryggen, the gem of Bergen, deserves a leisurely stroll or two… Or ten. With so much beauty to take in, so many lovely locals to talk to, and some great museums to peruse, Bryggen won't disappoint.
We meandered through the narrow alleyways of Bryggen, in and out of little shops, and underneath the old wooden overhangs, transporting ourselves back in time several hundred years. If only we really could… The only thing that could make Bryggen even more enticing would be an actual time machine.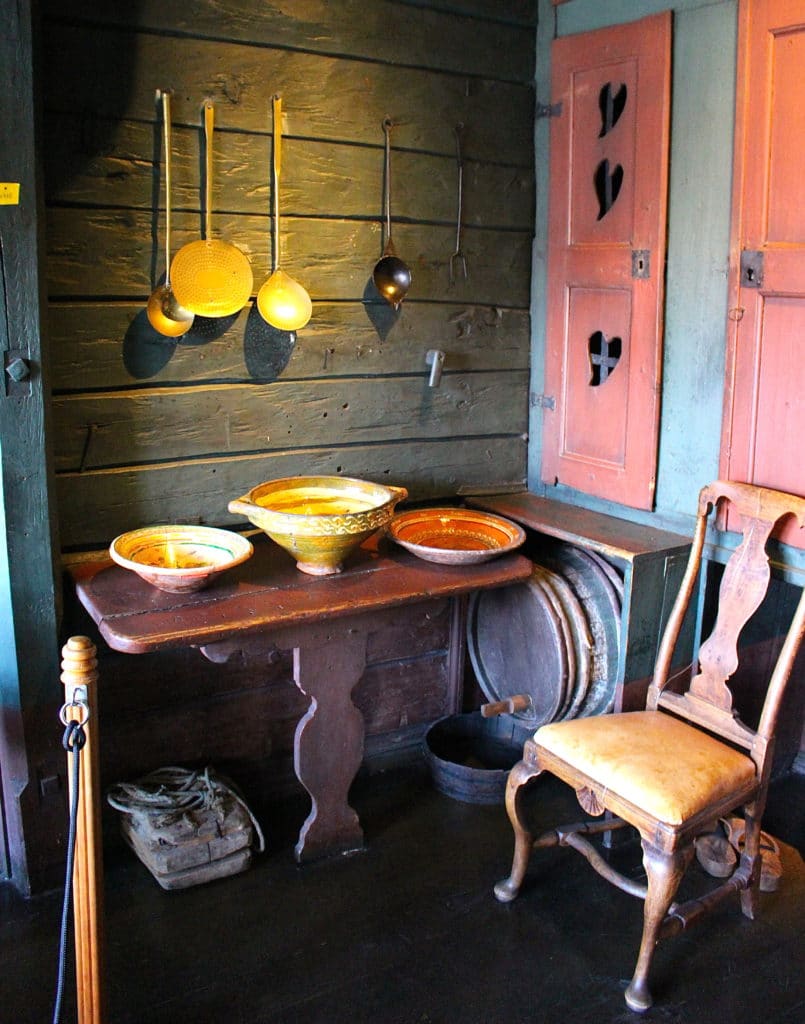 The Hanseatic Museum
At our next stop, The Hanseatic Museum, we glimpsed into the lives of German merchants who lived and worked in Bergen for hundreds of years. This museum has preserved the living quarters and personal artifacts of the Germans who lived in that very building centuries ago, and honestly, it could not be more interesting.
If you are to visit just one museum in Bergen, let The Hanseatic Museum be it, to learn about Bergen's cultural roots and to understand a bit about how the city has evolved.
And best of all, with our Bergen Cards, entry was 20% off!
The Bergen Aquarium
At about noon, it was raining (as it often does during springtime in Bergen). But this wasn't an issue because Bergen features plenty of indoor activities to escape the rain and the cold.
We paid the small Bergen Aquarium a visit (25% off with our Bergen Card) and were delighted to see a variety of sea and land animals. We especially enjoyed the aquarium's adorable sea lion show and collection of penguins.
Visiting Bergan's tiny aquarium served as a great opportunity to learn about the area's unique ecosystem. So thank you, rain!
Time for Thai food
Thai food in Bergen, Norway? Yep, that's right.
For lunch, Samrab Thai is a nice place to go. I know that Thai food seems random, but like I stated before, Bergen is a diverse city, incorporating many different cultures into its food scene. Plus, after being in Scandinavia for a while, you'll crave spicy flavors!
After our Thai feast, I'll admit that we took a nap. Eating makes me really tired. Ooops!

Walking around Bergen, Norway
After our nap, we felt re-energized and ready to explore more of Bergen!
We headed back toward Bryggen and walked throughout the area. We moseyed in and out of shops, checked out the restaurants for future reference, and mostly, just enjoyed the scenery and the fresh air.
There is just about nothing as relaxing as strolling through Bergen's quiet streets, surrounded by tall trees and endless ocean.
Visiting the Bergenhus Fortress
As we walked, we stumbled upon the Bergenhus Fortress, which Bergen used to protect its port during World War II. Inside the museum, three exhibitions feature women's roles in Norway's defense, Bergen's resistance during World War II, and the Bergen media in times of crisis.
The fortress is definitely worth a visit if you find yourself strolling by.
Fløibanen by night
As night fell, we ascended up, up, up to the top of Mount Fløyen on the Fløibanen — discounted 50% with our Bergen Cards.
Just as the sun kissed the horizon, we reached the top, lending the most spectacular view of city lights, ocean blues, mountain tops, and dimming skies tinged with hues of orange, all together in one scene.
Unbelievable.
The Fløibanen operates until 23:00 each and every day, so you'll have no excuse not to experience the views of Bergen from Mount Fløyen at night.
Three days in Bergen, Norway: Day Two
After another quick buffet breakfast at the Clarion Hotel Admiral (where we also pilfered bread, charcuterie, cheese, and fruit for our lunch picnic), it was time for another beautiful day in Bergen.
Hiking in Bergen, Norway
We spent our entire second day in Bergen hiking the path from Mount Ulriken, all the way to Mount Fløyen, which stretches about 22 kilometers. By far, hiking in Bergen, Norway was the best part of the trip, so please, don't miss it! This hike is one of the most beautiful hikes you might ever do! Click here to read more about this unforgettable adventure and to see more photos of Bergen's gorgeous landscape.
20% off with our Bergen Cards, we rode the Ulriken643 cable car up to the top of Mount Ulriken; and once we reached Mount Fløyen, we took the Fløibanen funicular back down! And thank goodness for that, because after hiking 22 kilometers up and down steep mountains, through snow and sludge, we were exhausted.
You can probably guess that after we hiked for about 5.5 hours, we were ready for a little relaxation. So in other words, we were ready for a long nap. And then a lot of food. And then some ice cream.
Three days in Bergen, Norway: Day Three
Hiking in Bergen, Norway. Again.
We just couldn't get enough of Bergen's fresh mountain air, unbelievable views, and fun hiking trails, so yeah, we hiked again.
On top of Mount Fløyen we found dozens of trolls staring down at us and read plenty of signs stating that witches are forbidden. And that's just some Norwegian culture for you!
Hiking up at Mount Floyen is as much of a cultural experience as it is a fun outdoor activity. Mostly, you'll find locals out hiking and enjoying the sunshine, because as a whole, Norwegians are extremely active and nature-loving people.
Fjord cruise to Mostraumen
They don't call Bergen the "Gateway to the Norwegian Fjords" for nothing, do they?
So of course, a trip to Bergen would not be complete without cruising through its surrounding fjords by boat. And that's exactly what we did during our last of 3 days in Bergen, Norway.
With 20% off from our Bergen Cards, we embarked on a 3.5-hour fjord cruise to Mostraumen which was absolutely stunning.
To see even more photos of the Norwegian fjords, click here.
Shopping in Bergen, Norway
During the weekend, shopping in Bergen seems like the hip thing to do. The streets in Bergen's main shopping area are flooded with people streaming in and out of shops, chatting in the streets, listening to live music, and overall, just having a grand ol' time. My suggestion would be to join them!
Go check out the shops Bergen has on offer, which will likely include many Scandinavian stores that you've never heard of.
My favorite, by far, was Illums Bolighus, a Danish store selling some of the chicest (and expensive) clothing I've seen, as well as beautiful décor items and furniture for the home.
Wrapping up
As we rode the airport bus to Bergen Airport (20% off with the Bergen Card), mild feelings of depression set in. We are leaving one of the most beautiful places I have ever visited and I have no idea when I will be back. That's exactly what I was thinking.
And while I still have no idea when I'll visit Bergen, Norway again, I know, in my heart, that I will someday.
And I guess that's good enough for me.
Bergen, Norway stole a little piece of my heart.
Oh, and before you go… Click here to find great deals on Bergen accommodation!
Maddy's Avenue spent three days in Bergen, Norway as a guest of both the Visit Bergen tourism board and the Clarion Hotel Admiral. As always, all opinions are our own. This post may also contain affiliate links, which help keep this site running, at no extra cost to you.
Over to you! Have you spent 3 days in Bergen, Norway before? What did you think of it? If not, is Norway on your bucket list?