If you're planning to spend 3 days in Bergen, Norway, then you're in for a treat! (And you're in the right place too, as you've just stumbled upon the ultimate 3-Day Bergen itinerary and guide!)
Situated in Western Norway, between seven mountains and two of Norway's most stunning fjords, Bergen is one of the most breathtaking cities, in one of the most beautiful countries on the planet.
More than just a pretty setting though, Bergen is packed with things to do. From insanely beautiful hikes, fascinating museums, and the old Hanseatic wharf, to fjord cruises, waterfront wine-sipping, kayaking, fishing, and simply lapping up the views, your 3 days in Bergen will be well spent!
Despite being the second-largest city in Norway (with a population of almost 300,000), Bergen exudes endless small-town charm and character. For nature lovers and history buffs alike, Bergen is the ultimate Scandinavian destination. Armed with the best Bergen itinerary, I know you'll fall in love with Bergen, just like l did.
Here's the ultimate guide and itinerary for 3 days in Bergen, including where to stay, the best things to do, where to eat and drink, and how to stay on budget (because Norway ain't cheap, my friends).
Arriving in Bergen
Before we get into all the best things to do in Bergen, let's talk logistics. What's the best way to get to Bergen, you ask?
Via the Norway in a Nutshell Tour
After spending 2 days in Oslo, I opted to travel to Bergen via the Norway in a Nutshell Tour, and let me tell you, it was the most amazing journey!
Highlights of the trip include riding the historic Flåm Railway (one of the world's most beautiful train journeys), the stunning Bergen Railway route, and cruising through the dramatic Nærøyfjorden and Aurlandsfjorden by boat.
Yes, the Norway in a Nutshell Tour is pricey. (Ha, what isn't in Norway?) But where else will you see such incredible views?
Truth be told, you can book all of the different legs of the journey yourself and save a bit of cash. But it is a lot easier to just book your Norway in a Nutshell Tour from Oslo to Bergen here.
I can't recommend booking the Norway in a Nutshell trip enough. It was one of the best things I did on my entire Scandinavia trip!
Via High-Speed Train
If you want a no-fuss, 6.5-hour train journey from Oslo to Bergen, then simply take the Bergen Line (Bergensbanen).
The train journey is still incredibly scenic and claims the title of Northern Europe's highest railway line – climbing to 1,222 meters above sea level at the Finse train station. You will arrive at the train station in Bergen Sentrum. From there, you'll have a quick walk to your hotel (it's 13 mins to Clarion Hotel Admiral) or you can take a taxi.
Via Plane
Flying to Bergen? Once you arrive at the Bergen airport, getting to the city center is quick and easy. You have two great transport options to choose from:
The Light Rail train, which takes 45 minutes and will drop you off at the Bergen city center station. If you buy the Bergen Card, the Light Rail is free.
The Flybussen bus, which takes 30 minutes to reach the center and has many convenient and central stops, including Bryggen. Overall, the Flybussen is more expensive and you only receive 20% off with the Bergen Card.
Where to Stay in Bergen, Norway
To make the most of your limited time in Bergen, make sure to book a hotel with a central location, close to the city center, waterfront, and Bryggen wharf. My top picks for accommodation are below, and they all offer amazing locations!
My favorite place to stay in Bergen is right on the Vågen Harbor, at the Clarion Hotel Admiral – and honestly, I can't recommend it enough. The hotel itself is modern, clean, and very comfortable, and the staff members are so kind!
But perhaps the best part of staying at the Clarion Hotel Admiral was waking up to stunning views of the old, colorful Bryggen houses, gleaming seawater, and the surrounding mountains! It's located right where the action is, in Bergen city center – exactly where you want to be.
Luxury ($$$)
Opus 16: A beautiful, luxurious hotel perfectly situated in central Bergen, Opus 16 is housed in a historic building from 1876. Offers an amazing breakfast spread and an exhibition of local artists' work.
Bergen Børs Hotel: One of the most luxurious hotels in Bergen in a historic stock exchange building from 1862. Choose Bergen Børs Hotel when only the best will do.
Mid-Range ($$)
Budget ($)
City Hostel Bergen: An impressive location for a hostel, this accommodation is only a few minutes' walk away from the center.
From hotels and B&Bs to hostels and apartments, Booking.com always has the best deals on accommodation. You can find other great deals on Bergen accommodation here.
Staying on Budget: Get the Bergen Card
To make the most of 3 days in Bergen, Norway for less, consider purchasing the Visit Bergen tourism office's Bergen Card.
With the Bergen Card, you will receive free or discounted admission to Bergen attractions, museums, events, and sightseeing tours. Regional bus travel and transportation on the Light Rail to/from the airport (a 45-minute journey) are also included for free.
Spending only a fraction of the price I would've paid for all the activities I packed into my 3 days in Bergen, the card turned out to be a wise and worthy investment.
You can purchase your card online or once you arrive.
Things to Do in Bergen in 3 Days: The Perfect Itinerary
Day 1 of 3 Days in Bergen
On your first day in Bergen, I recommend exploring the city itself.
Check out the scenery, museums, historic sights (like the fish market and Bryggen wharf), restaurants, cafés, and shops. Just roam around, see what you find, and get a vibe for Bergen.
If you're up for it, squeeze in some kayaking too.
#1 Coffee & Brunch
Norway's cities take coffee culture pretty seriously, and Bergen is no different. I don't know about you, but for me, the best trips start with an excellent coffee! So kick off Day 1 at one of Bergen's best spots for a cuppa and a pastry.
My top three picks for Bergen cafés are Blom, Det Lille Kaffe Kompaniet, and Kaffemisjonen.
Toward the bottom of this article, you'll find all of my top picks for cafés, restaurants, and bars to try during 3 days in Bergen!
#2 Kayak Around Bergen's Magnificent Coastline & Islands
If it's summertime (when the days are long!), you may want to get out into nature straight away, before exploring Bergen. If that's the case, then this guided kayaking tour is the perfect place to start.
On this kayaking excursion around Øygarden, you'll explore the magnificent seas and island chains in the region. As you kayak between islands and reefs, you'll see some breathtaking scenery and sea life, and your guide will share Bergen's interesting history.
The tour leaves every day at 9:30 AM. It's 5 hours long, so you'll have plenty more time to enjoy the day on land! Make sure to book in advance! Click here to book it now.
#3 Roam around Bergen City Center
After breakfast, start to get to know Bergen by exploring the modern city center and the Vågen Harbor on foot. Roam the streets, see the parks, mosey in and out of shops, people watch, and enjoy the fresh air.
When the weather's good, there is nothing better than an early morning stroll through Bergen's charming streets, surrounded by so much natural beauty – tall trees, soaring mountains, and endless ocean.
#4 Savor Seafood at the Bergen Fish Market (Fisketorget)
Just underneath the Visit Bergen tourism office (where you can pick up your Bergen Card), you'll find the Fisketorget – or Bergen's fish market – in all its glory.
Providing the people of Bergen with freshly caught seafood since 1276, this historically important and iconic market is definitely worth a visit.
(And no, I did not mistype: 1276! Can you believe that?)
In the summer, the market sprawls outdoors with fresh fish and seafood, fruit, and vegetable stands, as well as restaurants serving up the freshest regional delicacies. Meanwhile, there's an indoor portion that's open year-round.
If you're a seafood fan, the fish market is sure to send your taste buds into a frenzy! You'll never see such a wide range of options. It's literal seafood heaven.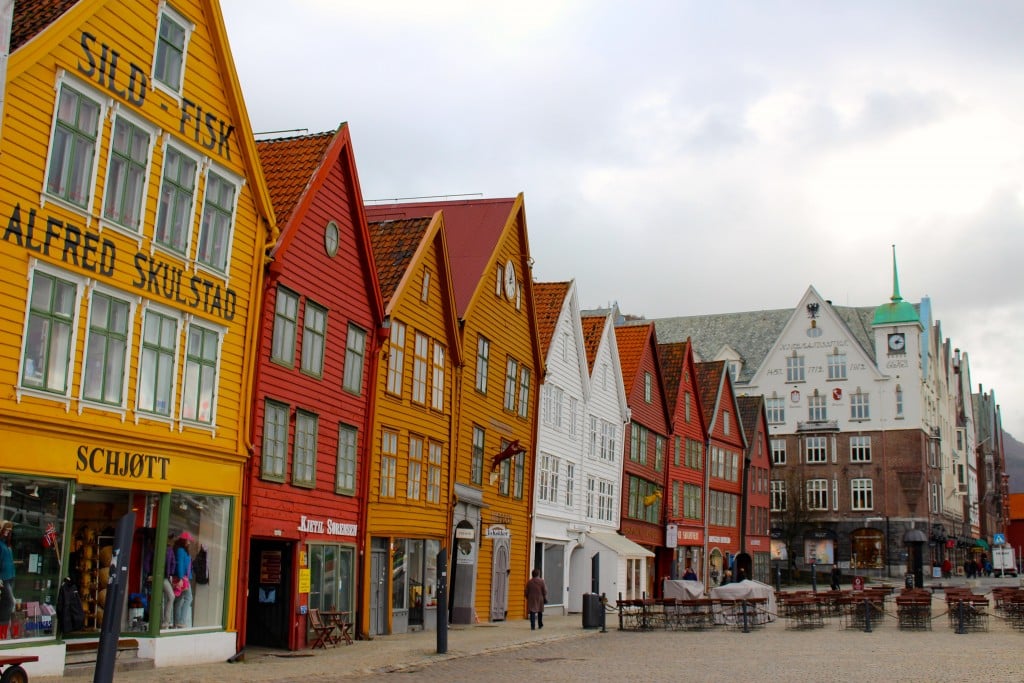 #5 Explore Bryggen: The Historic Hanseatic Wharf
Just a few steps from Fisketorget lies Bergen's most famous and historic site, Bryggen, which also happens to be a UNESCO World Heritage Site.
From a sheer visual standpoint, Bryggen is stunning. Along the wharf, old, wooden colorful buildings stand tall in varied shades of yellow, orange, and red, reminiscent of times when German merchants dominated the area with trade.
Historic fact: As old as the Hansa buildings of Bryggen may look, they were actually rebuilt after 1702, when the Great Fire devastated the entire city, reducing it to nothing but ash. Flames have ravaged through Bryggen time and again, yet its foundation and history date back all the way to the 11th century.
Bryggen, the gem of Bergen, deserves a leisurely stroll or two… As you meander through the narrow alleyways, in and out of little shops and historic buildings, and underneath the charming old wooden overhangs, you'll transport yourself back in time several hundred years.
With so much beauty to take in, so many lovely locals to talk to, and some great museums to peruse, Bryggen won't disappoint.
#6 The Hanseatic Museum
At The Hanseatic Museum, you'll glimpse into the lives of Germanic traders and merchants of the Hanseatic League, who lived and worked in Bergen for hundreds of years and put Bergen on the map.
At the museum, you'll understand the impact they had, see how they worked and lived (in their actual living quarters!), and witness many of their personal artifacts.
If you are to visit just one Bergen museum, let this be it, so you can learn about Bergen's cultural roots and discover how the city evolved into what it is today.
#7 Visit the Bergenhus Fortress
As you explore the harbor, you will stumble upon the imposing Bergenhus Fortress, which is one of Norway's oldest and best-preserved fortresses.
The only time the fortress actually came in handy in battle was in 1665, when a large Dutch fleet took refuge in Bergen as they were pursued by English warships. The fortress strongly opposed the British attacks in what is now known as The Battle of Vågen. During World War II, the German occupying forces also used the fortress as their western headquarters.
There's a free museum on-site too, whose exhibitions include women's roles in Norway's defense, Bergen's resistance during World War II, the illegal press from 1940-45, and the Bergen media in times of crisis.
No doubt, the fortress and museum are worth a quick visit during your three days in Bergen.
#8 Fløibanen Funicular for Sunset
After an amazing first day of kayaking, exploring the city center, eating delicious food, and perusing museums, why not finish it off with an amazing view?
Right before night falls, ascend up, up, up to the top of Mount Fløyen on the Fløibanen Funicular cable car!
Just as the sun kisses the horizon, you'll be rewarded with the most spectacular view of city lights, ocean blues, mountain peaks, and dimming skies with hues of orange, pink, and lavender.
In that moment, you'll feel completely content. (Or maybe you'll feel that the moment would be even better if you had brought a sneaky bottle of wine – and perhaps some other snacky, picnicky bits. Just helping you think ahead, friend!)
The Fløibanen Funicular cable car operates until 23:00 each and every day, so you'll have no excuse not to experience the views of Bergen from Mount Fløyen at night.
Day 2 of 3 Days in Bergen, Norway
Known as the "Gateway to the Fjords," Bergen is situated between the Sognefjord – the deepest and longest fjord in Norway – and the jaw-droppingly beautiful Hardangerfjord. So it's only natural that you should pack in plenty of outdoor activities during your stay.
That's what Day 2 of your 3 days in Bergen is all about.
#9 Vidden Hike from Ulriken to Fløyen
I kicked off my second day in Bergen with a scrumptious breakfast at the Clarion Hotel Admiral (where I also pilfered bread, charcuterie, cheese, and fruit for my lunch picnic) – ready for an unforgettable hike from Mount Ulriken, all the way to Mount Fløyen.
Stretching 11 miles (or about 18 kilometers), this hike is one of the most amazing hikes I have ever done in my life… And from New Zealand to Peru to Belize, I have hiked a lot, so that's saying something!
I promise, hiking in Bergen, Norway will be an unforgettable adventure and the absolute highlight of your 3 days in Bergen. With constantly changing, stunning landscapes, the beautiful cities below, ocean blues stretching as far as the eye can see, deepest fjord trenches, gleaming lakes, countless mountain peaks, and even views of the Folgefonna Glacier if you're lucky, these are some of the most spectacular views ever.
Vidden Hike Details
I did this hike in April and there was still quite a lot of snow on the ground! (Late May through early October is ideal for hiking in Bergen. April is okay. Throughout the winter months, hiking isn't possible; cross-country skiing or snow-shoeing is the way to go.)
Through the snow and sludge in April, the hike took about 5.5 hours.
To begin the hike, I rode the Ulriken643 cable car up to the top of Mount Ulriken, and then took the Fløibanen Funicular back down Mount Fløyen after. I recommend you do the same!
And as with any mountain hiking, check the conditions before you go and be prepared for anything.
Read my post about Hiking in Bergen, Norway for more information about this hike!
And if you're visiting in the winter, consider booking this Snowshoe Hiking Tour!
#10 Try Traditional Norwegian Food
After your big hike, you'll surely have worked up an appetite! So tonight, why not treat yourself to traditional Norwegian cuisine – perhaps at Norway's best fjord-to-table seafood restaurant?
Toward the bottom of this article, you'll find all of my top picks for cafés, restaurants, and bars to try during 72 hours in Bergen!
Day 3 of 3 Days in Bergen
Hopefully, you're well-rested after your massive hike… and ready for another day exploring Bergen's great outdoors on Day 3!
#11 Nature Walk to Revurtjern Lake
I couldn't get enough of Bergen's fresh mountain air, unbelievable views, and fun hiking trails, so on Day 3, I decided to ascend Floyen again (via the funicular) for a super easy walk to Revurtjern Lake.
There are also plenty of other easy trails to explore – many complete with trolls staring down you from the trees and signs stating that "witches are forbidden." And that's just Norwegian culture for you!
Hiking up at Mount Floyen is as much of a cultural experience as it is a fun outdoor activity! Mostly, you'll find locals out hiking and enjoying the sunshine, because as a whole, Norwegians are extremely active, nature-loving people.
#12 Fjord Cruise to Mostraumen
They don't call Bergen the "Gateway to the Norwegian Fjords" for nothing, do they?
Even after the Nutshell Tour, I had NOT had enough of Norway's fjords. And my hunch is, you'll feel the same. So what's the obvious thing to do? Another fjord tour! IMO, your trip to Bergen wouldn't be complete without one.
So on Day 3, book yourself in for this Mostraumen Fjord Cruise.
This fjord cruise through the narrow Mostraumen straits and the dramatic Osterfjord to a beautiful waterfall is absolutely stunning! It's also only 3.5 hours long, so you can easily fit some other Bergen experiences into your day.
The cruise operates year-round and leaves Bergen every day at 2 PM from the harbor in Bergen. It will sell out, so book in advance! Click here to book your cruise now.
And by the way, I haven't done this personally, but I imagine that this private yacht cruise of the fjords would be amazing if you have a decent-sized group of friends or family to split it with! Another quirky choice, a little more budget-friendly friendly than a private yacht is this Viking ship experience, there are very few of these still in use so this is a great nod to Norway's Viking heritage.
#13 Shopping in Bergen, Norway
As an American, I feel like there's nothing quite as cool as Scandinavian design. Do you agree?
During the weekend, shopping in the "new city" area of Bergen seems like the thing to do among locals. The streets in Bergen's main shopping area are flooded with people streaming in and out of shops, chatting in the streets, listening to live music, having a grand ol' time.
You will discover many Scandinavian stores that you've never heard of – and a lot of really beautiful clothes and homewares. (Wallet, beware!)
A random fact, but maybe useful, nonetheless: My favorite shop, by far, was Illums Bolighus, a Danish store selling some of the chicest clothing I've seen, as well as beautiful décor items and furniture.
Where to Eat & Drink in Bergen, Norway
Though it may not seem likely to you, Bergen is an international port city. And you know what that means! Bergen is filled with all kinds of tantalizing cuisines for you, my foodie friends.
A great way to experience the amazing food in Bergen is on a food tour, which is always one of my favorite ways to experience local cuisine! This tour takes you through some of Bergen's best culinary specialties, including spots within the fish market and Bryggen Hanseatic Wharf.
Here are my top picks for places to eat and drink during your three days in Bergen!
Coffee & Breakfast
Blom: A must for amazing coffee while visiting Bergen! Super cute, cozy, great pastries, and obvious care for crafting a fabulous cuppa.
Kaffemisjonen: Known as the best café in Bergen, and for good reason! The coffee and food are top-notch.
Det Lille Kaffe Kompaniet: Really good coffee, amazing cakes, and situated next to the funicular entrance. (Perfect right before a morning nature walk!)
BOD 24 SANDVIKEN: A hidden gem outside of the typical tourist zones. You can't beat the ocean views!
Restaurants
Bars
From cocktail bars to craft beer taprooms, these are the best places to drink in Bergen. Why not hop from one to the next? Especially if it's raining!
Wet Weather Activities in Bergen
Situated on the water, between seven different mountains, Bergen is known for its wet weather!
Hopefully, you'll get lucky during your three days in Bergen, but I've included some quick recommendations for indoor activities if it is a bit rainy (or if you have some free time) during your stay.
Shopping downtown
Bar hopping
3 Days in Bergen, Norway: The Ultimate 72-Hour Itinerary
With some of the friendliest locals on the planet, outdoor activities galore, beautiful fjords, fabulous restaurants, fun bars, fascinating museums, and old, colorful buildings to marvel at, Bergen stole a little piece of my heart. I know you'll feel the same!
Armed with my 3-day Bergen itinerary and guide, you're ready to visit Bergen and have the most action-packed and unforgettable time. From fjord cruising and kayaking, to eating the freshest seafood, hiking with the most spectacular views, and exploring the beautiful city of Bergen, you're sure to have the most incredible 3 days in Bergen!
What to Pack for Bergen
Wool coat: During the colder months a beautiful wool coat is essential for style and practicality. You will fit in with the locals with this one. For your time in the mountains, a more practical hiking jacket will be better.
Comfortable boots: As expected, you'll walk a lot in Bergen, so opt for a comfortable but stylish boot that you've worn in. You can't go wrong with a smart Chelsea boot, like these. For hiking in the mountains bring a good pair of hiking boots.
Daypack: Make sure you are prepared with essentials when snowshoeing and hiking, a decent backpack will be needed for your water bottle, snacks, and extra layers. This one is great and the perfect size for a day hike.
Hat and gloves: When you go into the mountains it will be much colder so prepare with a good warm hat and gloves to take that chill away.
Sunscreen: Nothing spoils your trip (and your photos!) more than sunburn, and snow glare is no joke. Remember to prepare with a good, natural sunscreen and stay protected.
Reusable water bottle: Remember to keep hydrated during your adventures; it can't all be wine and coffee all the time! Bring a reusable water bottle so you can keep topped up, you will especially need this when hiking and snowshoeing.
Travel insurance: As with any trip, you should ALWAYS purchase travel insurance in case anything goes wrong. I've had my fair share of travel mishaps!
Quick Bergen Tips
SAVE THIS POST ON PINTEREST FOR LATER!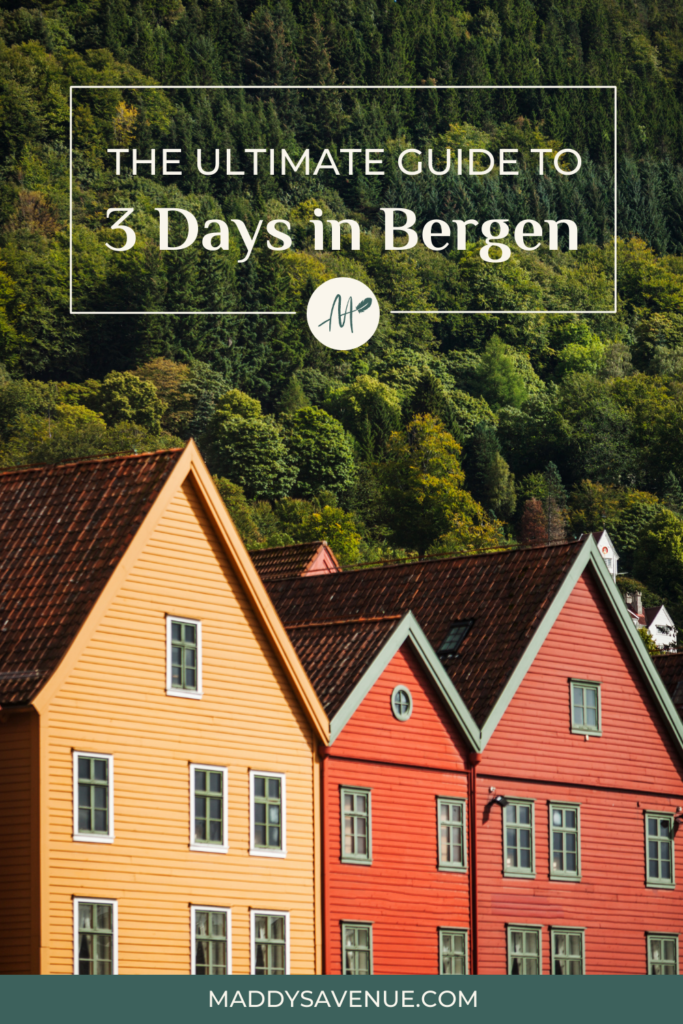 Bergen, Norway FAQS
How many days do you need in Bergen?
You need 3 days to explore the best that Bergen, Norway has to offer! In three days, you'll have enough time for hiking, exploring the fjords, seeing the historic sites (like the fish market, wharf, and fortress), checking out some of the best museums, and enjoying the delicious restaurants – all without feeling rushed. Of course, if you have more time, you can always add on additional activities and take some day trips to more of the surrounding areas!
What is the best time of year to visit Bergen, Norway?
The best time of year to visit Bergen depends on what you want to do while you're in the city. If you're looking to take part in outdoor activities like hiking and kayaking, the best time to spend three days in Bergen is between May through September.

June through August offer the best weather, but this time is also the busiest and most expensive.
I visited in late April and it was a little chilly and there was still a bit of snow in the mountains – but not enough to deter me from plenty of hiking.

If you're interested in snow sports, like ski touring, then, of course, visit during the winter months! Otherwise, I'd avoid it – as the days are short and dark, and the weather is not the best!
Is Bergen, Norway worth visiting?
Of course, Bergen is worth visiting. A trip to Norway would not be complete without spending 3 days in Bergen. Bergen is an incredibly charming and picturesque city with so much to offer! From its stunning natural scenery, amazing hiking, and easy access to the fjords, to its delicious restaurants, vibrant nightlife, rich culture, and fascinating historical sites, there's something for everyone in Bergen.

Highlights include cruising the fjords, hiking through the steep mountains, exploring Bryggen on foot, eating fresh seafood, and kayaking around nearby islands!
How many days should you spend in Bergen, Norway?
3 days is the perfect amount of time to spend in Bergen. 3 days gives you enough time to get a taste of everything this beautiful city has to offer! If you're not into outdoor activities, like hiking or kayaking, I think 2 days would be sufficient. On the other side of the spectrum, if you can't wait to get out into Bergen's surrounding fjords and mountains, you might like to stay longer than 3 days. Generally speaking, though, three days is the perfect amount of time to spend in Bergen.
Is Bergen a walkable city?
Yes, Bergen is very walkable! While it's surrounded by mountains, Bergen downtown is flat. I enjoyed walking around the center and exploring all of the different neighborhoods. If you book a hotel in the Sentrum, Bergenhus, or Bryggen areas, all of the main points of interest will be within short walking distance.
Do you need a car in Bergen, Norway?
No, you do not need a car in Bergen. The public transportation system is excellent and getting around by bus, taxi, or on foot is very easy. Traveling from the airport, train station, and bus station is also easy; I've detailed the best transportation options to the city center above. Plus, if you book a central hotel nearby the downtown and Bryggen, most everything will be within a 15-minute walk
Is Bergen, Norway expensive?
When you visit Norway, you'll find that it's generally more expensive than most other countries! And Bergen is no exception.

While Bergen is expensive, there are ways that you can cut down costs. Between the city tourism board's discount card, booking mid-range accommodation, and enjoying free activities (like hiking and other outdoor activities), you can easily visit Bergen without blowing your budget! Read this guide for everything you need to know!
Is Bergen cheaper than Oslo?
I found Bergen to be cheaper than Oslo, but not by a lot. Generally speaking, both cities are expensive – but no doubt, both cities are 100% worth visiting, and there are ways to make your trip affordable! My guide for 2 Days in Oslo details the best (and free) things to do in Oslo, while my 3-Day Bergen Itinerary above offers activities for every budget!
Maddy's Avenue spent three days in Bergen, Norway as a guest of both the Visit Bergen tourism board and the Clarion Hotel Admiral. As always, all opinions are our own. This post may also contain affiliate links, which help keep this site running, at no extra cost to you! Thank you for your support. :)
Over to you! Have you spent 3 days in Bergen, Norway before? What did you think of it? If not, are you planning to visit Norway? Is Bergen on your bucket list?