After living as a digital nomad in Mexico City, I have no doubt about it: This vibrant, vast, chaotic city of 22 million people is one of the most exciting places on the planet. Bursting with rich culture, fascinating ancient and colonial history, street art, lively nightlife, and boasting one of the best foodie scenes in the world, there are so many amazing things to do in Mexico City.
As legend has it, the Aztec's god Huitzilopochtli directed the people to build a civilization where they saw an eagle perched atop a cactus, eating a snake. That gave rise to Tenochtitlan, the great Aztec capital – and what is now Mexico City. (And you know the Mexican flag? Yep, this is where the national emblem came from too.)
In other words, Mexico City offers you a journey. From antiquity to modern-day. From Aztec Empire ruins, fascinating archaeological museums, the ancient waterways of Xochimilco, and stunning Spanish colonial architecture, all the way to bustling traditional markets, street food stalls, contemporary art, fine-dining, urban parks. And everything else in between.
Drawing on my experience living in Mexico City, this guide to the 49 best things to do in Mexico City includes it all: must-see Mexico City tourist attractions, unique, off-the-beaten-path experiences, diving into Mexico's history, local favorites, and plenty of hot tips to help you along the way.
Buckle up. Here are 49 amazing things to do in Mexico City!
Top 49 Things to Do in Mexico City:
What to See, Do, & Eat in CDMX
#1 Float on the Ancient Canals of Xochimilco
The Floating Gardens of Xochimilco are a must in Mexico City! Designated as a UNESCO World Heritage Site, Xochimilco is an ancient network of artificial islands and canals built by the Aztecs – and today it's one of the best places in the city for an authentic cultural experience and a lively, good-times-only atmosphere.
Go to the Floating Gardens of Xochimilco on the weekend (around noon) and cruise around the canals on a gondola, known as a trajinera, that seats up to 16 people. Come hungry, bring all your friends, and get ready to party! In a world of color, you'll dance, drink micheladas, eat elote, enchiladas, tacos, and mole, and listen up as mariachis serenade you with Cielito Lindo!
And yes, you may think this sounds touristy, but in reality, Mexico City locals and visitors all flock to leave the hustle and bustle behind!
#2 Explore the Teotihuacan Ruins
The mysterious ancient ruins of Teotihuacán (or "City of the Gods" in the indigenous language, Nahuatl), located about an hour outside of Mexico City, are a can't-miss!
A UNESCO World Heritage Site, this pre-Aztec civilization, built between the 1st and 7th centuries A.D., was once the largest city in the Americas, and it's one of the most impressive archaeological sites in all of Mexico.
The entire place is incredible, but the highlight is climbing to the top of the towering Pyramid of the Sun – the second largest pyramid in Mesoamerica. There are also a few museums on site, including the Museum of Teotihuacan Murals and Museum of Teotihuacan Culture that you can't miss!
Hot tip: To avoid the crowds (and the heat), arrive early in the morning. Take a guided tour so you can learn about what you're seeing! And remember to bring plenty of water!
Best Teotihuacan Tours:
#3 Take a Street Food Tour
When I think of the world's best street food cities, Mexico City is definitely in my top five.
From al pastor tacos, tlacoyos, tamales, churros, and esquites, to papitas preparadas, dorilocos, and gomichelas, Mexico City street food ranges from the traditional classics you love, to exciting, new (and sometimes, downright chaotic) culinary creations.
When it comes to experiencing Mexico City's street eats, there's no better way than on a guided tour with an expert – who knows everything there is to know about Mexico's history and culture, traditional cooking techniques, local ingredients, and modern innovations.
Best Street Food Tours:
#4 Stroll through Chapultepec Park (Bosque de Chapultepec)
Strolling (or biking) through Chapultepec Park (Bosque de Chapultepec) is one of the best things you can do during a weekend visit in Mexico City. On a nice day, the park is always packed with people enjoying the peaceful, yet fun, carnival-like atmosphere.
In the park, you'll find a sprawling outdoor market selling all kinds local street food "delicacies" like dorilocos and papas preparadas, along with handicrafts and other souvenirs.
There are also a handful of different cultural gems to explore, from the Chapultepec Castle and National Museum of Anthropology to the Museo Nacional de Historia and the Moctezuma Baths. One of the many reasons it's one of the most-visited urban parks in the world!
#5 Visit Chapultepec Castle (Castillo de Chapultepec)
Chapultepec Castle is an 18th-century palace, located atop a hill inside the leafy, sprawling Chapultepec Park. The castle is known for its immaculate gardens, stunning stained-glass windows, opulent interior, and amazing views over Mexico City's skyline.
Chapultepec Castle is the only real castle in North America – where royals actually lived. It's the former home of Emperor Maximilian I (an Austrian prince of the Habsburg dynasty) and his wife Empress Carlota.
Nowadays, the castle houses the Museo Nacional de Historia. It's 85 MXN or about $4 USD to enter and well worth a stop as you explore Chapultepec Park on foot.
#6 Wander the National Museum of Anthropology
The National Museum of Anthropology (Museo Nacional de Antropología) is my absolute favorite museum in Mexico City… And maybe even in the world. It's insane!
Dedicate a few hours to exploring this giant museum, where you'll learn about Mexico's many ancient cultures – from the Maya, Aztecs (Mexica), and Zapotecs, to the Mixtecs, Olmecs, and Toltecs.
You'll lay eyes on their ancient art, weapons, cooking utensils, tools, clothing and weaving, learn about their daily lives, their buildings, trading and commerce, food, sports, political systems, and so much more.
Visiting the National Anthropology Museum is one of the top things to do in Mexico City… and for good reason. Seeing the amazingly giant Olmec head sculptures should be reason enough. If you are to visit just one of Mexico City's museums, let the Anthropology Museum be it!
#7 Fine-Dine at Pujol & Quintonil
From street eats to fine dining, Mexico City is a foodie city through and through.
If you have a bit of extra cash to splurge with, then long and extravagant meals at two of the world's best restaurants are in order! Chef Enrique Olvera's restaurant Pujol (which you may know from Netflix's Chef's Table) and Chef Jorge Vallejo's Quintonil are two of the very best restaurants in the world. In 2022, they were ranked 9th and 27th, respectively, on the World's 50 Best List.
Make your reservations well in advance (like 2-3 months early) and prepare yourself to experience elevated Mexican gastronomy at its best – with imaginative and deeply personal twists, showcasing only the best native ingredients, ancient and modern techniques, bold and surprising flavors, fabulous cocktails, and Mexican-made wines.
Hot tip: Personally, I've been to each restaurant twice, and both times, preferred the underdog, Quintonil… By far. If you can only go to one, choose Quintonil. Read more in my Mexico City Foodie Guide!
#8 Brunch at San Angel Inn
There are so many other great places to eat Mexican food in CDMX, but San Angel Inn gets a special shoutout. Few locales are as legendary or as beautiful as this brunch spot.
Located inside a 17th-century ex-monastery and hacienda, the ridiculously beautiful courtyard, cozy interior, distinguishably Mexican hospitality, and delicious traditional breakfast dishes all make brunching at San Angel Inn a must.
In the Mexico City way, start with a chocolate caliente and pan dulce de la casa (hot chocolate and a pastry). From there, move on to something extra delicious, like Huevos con Escamoles en Salse de Frijol Negro (eggs with ant larvae – probably my favorite Mexican delicacy, ever! – and black bean sauce) or maybe Chile Ancho Relleno de Hongos (ancho chili stuffed with mushrooms).
Just make sure to reserve your table in advance; it gets busy on the weekends!
#9 Browse the Saturday Bazaar in San Angel
El Bazar Sábado is a must-visit for any art-lover or anyone looking for one-of-a-kind handcrafted souvenirs (that you'll actually want!) to bring home. This colorful and sprawling outdoor market is full of talented artists selling their paintings and sculptures, handmade silver jewelry and leather huaraches (sandals), hand-painted ceramics, beautifully embroidered fabrics, traditional wool blankets, traditional folk art, and so much more. You're sure to find something you love here, and the best part is that it's all very reasonably priced.
El Bazar Sábado (Saturday Bazaar) is located in the quaint, off-the-beaten-path neighborhood of San Angel and is a must-visit on a late Saturday morning.
The best way to get here is via Uber, as this neighborhood is far away from the city's other hotspots. Oh and while you're there, make sure to piggyback on a stop at Rivera's house nearby.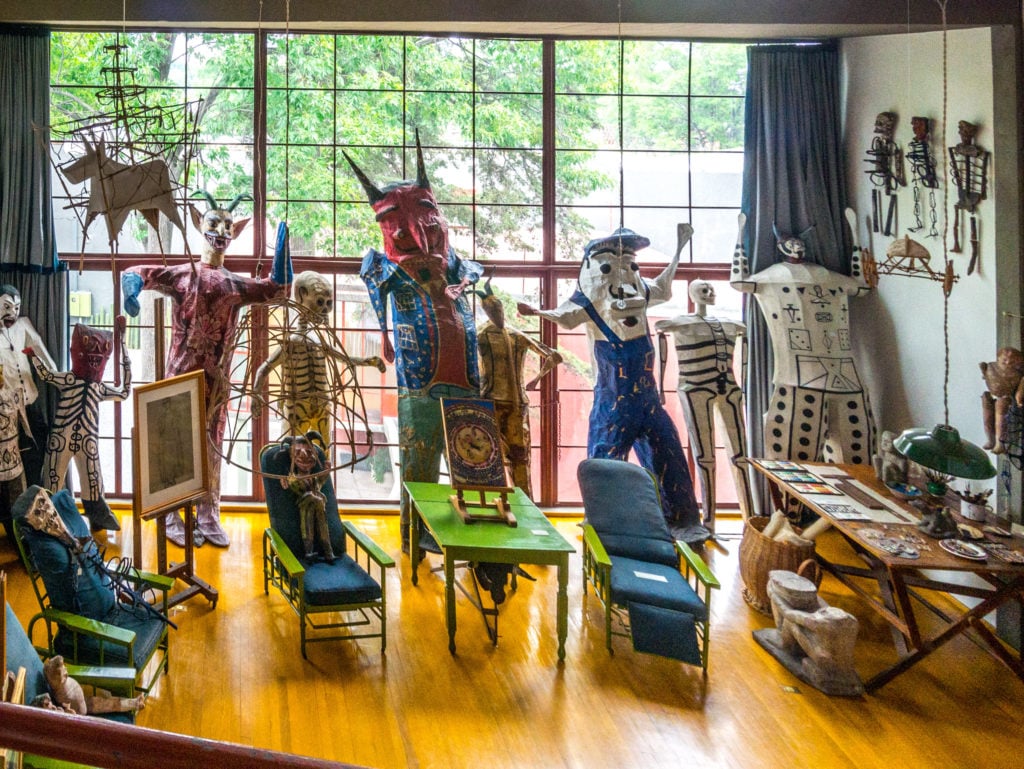 #10 Stop by Diego Rivera's House & Studio
The Museo Casa Estudio Diego Rivera y Frida Kahlo is is another must-visit in the cute San Angel neighborhood. This museum is a functionalist architectural marvel in itself, designed by the famous architect and Mexican artist, Juan O'Gorman (whose house is next-door to Diego's and part of the exhibition too).
But obviously, it's also the former home and studio of two of the most iconic Mexican artists: Frida Kahlo and Diego Rivera. And that's the real draw!
Compared to Frida's House in Coyoacán, this place is a hidden gem. A visit takes 30 minutes tops, but you'll love seeing Diego's many sculptures, paintings, and other works, and his sources of inspiration.
#11 Try Tacos Al Pastor
If you go to Mexico City and don't eat tacos al pastor, can you actually say you experienced Mexico City? Nope.
Tacos al pastor is arguably the most-loved street food dish among Chilangos (people from Mexico City). In some neighborhoods, you can hardly walk three blocks without seeing a trompo (rotisserie/spit) piled high with pork, marinated in chiles and spices. The aromas are other-worldly.
The tacos themselves consist of corn tortillas, topped with thinly sliced marinated pork, roasted pineapple, fresh onions and cilantro – plus salsa and limes, of course.
Some of the most popular places in CDMX to get your fill of al pastor include El Vilsito and Tacos Don Güero. But generally speaking, anywhere that smells good, looks good, and has a long line is probably worth a shot!
And don't worry – if you're vegan or vegetarian, you don't have to miss out. Taqueria El Califa (in Juárez and Roma) offers a plant-based version of al pastor!
#12 Explore La Condesa on Foot
On a broader scale, simply exploring the neighborhood of La Condesa on foot is one of the best things to do in Mexico City!
By far, one of the coolest Mexico City neighborhoods, La Condesa is trendy, chilled-out, modern, European-esque, and yet, still authentic. When you arrive, you'll instantly notice the barrio's leafy tree-lined streets, relaxed vibe, and beautiful architecture.
The neighborhood is very safe and packed with some of CDMX's best restaurants and cafés, chic rooftop bars, trendy coffee shops, contemporary art galleries, designer boutiques, artisanal bakeries, charming bookshops, hipster concept stores, traditional markets, and more.
La Condesa feels like a slice of Paris in the middle of Mexico! It's in my top two Mexico City neighborhoods, for sure.
Hot tip: Condesa is the best, safest place to stay in Mexico City! Plus it's walking distance to Chapultepec Park and neighboring Roma. Everything else is just a cheap Uber-ride away. Here are my best recommendations for accommodations in Condesa.
Staying in Condesa
Affordable Luxury Stays in Condesa
Mid-range Stays in Condesa
#13 Chill out in Parque Mexico
Spending time in Parque Mexico (in the Colonia Hipódromo area of La Condesa) on a beautiful weekend afternoon is one of my all-time favorite things to do in Mexico City.
On any given weekend, you can kind find it all. Live music. Vendors selling aguas frescas and ice cream. Dog and cat adoption fairs. Masseuses offering their services under the shady trees. Dogs with their humans out for strolls. Swans swimming in the pond. Skaters doing kickflips. People playing frisbee. Kids running around. And just about anything else you can imagine.
An unmissable experience on a nice day in CDMX – it's so nice to get amongst the action, enjoy the Art Deco architecture, and spend time in nature!
#14 Take a Cooking Class
Other than exploring markets, my favorite thing to do when traveling is a cooking class!
Taking a cooking class, led by a local who's passionate about their culture and cuisine, is an amazing way to get a deeper understanding of Mexico City. (And in my opinion, it's one of the very best and most memorable things to do in Mexico City.)
In this top-rated cooking class (complete with a market visit), you'll learn how to make traditional dishes like guacamole, salsas, tacos, and guisados (stews) like mole.
CLICK HERE to book your cooking class now!
#15 Explore Coyoacán On Foot
The best way to explore, Coyoacán, Mexico's City's most romantic neighborhood, is on foot – meandering aimlessly. When you arrive, you'll question whether you're still in North America's most populated city or a traditional, artsy Mexican town.
While in Coyoacán, make sure to browse the many vibrant indoor and outdoor markets, filled with colorful handicrafts, Mexican folk art souvenirs, paintings on traditional Aztec paper (so cool!), handmade jewelry, fresh veggies, exotic fruits, and just about everything in between. And super friendly locals!
Start with the main Coyoacan Market and venture to the outdoor markets next.
Then, stroll the leafy, cobblestone streets past colorful homes, cafés, cute boutiques, brilliant murals, and lush parks.
Check out the cathedral and spend some time people-watching in the lively central plaza as it comes alive with music, laughter, and the aromas of street tacos and esquites.
This guide details the Best Mexico City Neighborhoods to Explore, including Coyoacán. Check it out now!
Staying in Coyoacán
If you really want to immerse yourself in Mexican culture during your stay, book accommodation in the Coyoacán neighborhood.
It's safe, there's a lot more sunshine (due to shorter buildings), the food is good… It's just an all-around good vibe.
AFFORDABLE Luxury Stays In Coyoacán
Mid-range Stays In Coyoacán
#16 Visit the Frida Kahlo Museum (Casa Azul)
The Frida Kahlo Museum is one of the main Mexico City attractions to Coyoacán – and all of Mexico City. Also known as the Blue House (Casa Azul), this beautiful former family home of the iconic Mexican artist is now a museum dedicated to her life and her legendary work.
Visit the museum to see some of Frida's lesser-known artwork, to gain insights into her upbringing and struggles, to see her wardrobe, her belongings, and a bit of what inspired her unmatched talent.
Plus, the home itself is such a vibe! The courtyard is stunning. And I'm obsessed with the iconic cobalt blue exterior, hence the name Casa Azul. It is so beautiful!
Hot tip: To be frank, you may be underwhelmed if you expect to see a lot of Frida's art. This museum is small, with a lot more focus on the home, and Frida herself. It takes about 30 minutes to see the entire museum and costs $250 MXN – or about $13 USD (and $270 MXN on the weekend). Also, you must buy your ticket online in advance, for a specific day and time slot. This ticket also includes access to Museo Diego Riviera.
#17 Check out Museo Dolores Olmedo
On the other hand, inside of a 16th-century stone hacienda in Xochimilco, you will find a collection of Diego Rivera's and Frida Kahlo's work that is unrivaled anywhere else in the world.
El Museo Dolores Olmedo is surrounded by a lush garden of Mexican plants and inhabited by beautiful peacocks and hairless Xoloiztcuintle dogs.
The combination of the beautiful setting and fabulous collection of art (along with 900+ indigenous artifacts) makes this museum a must-see for anyone who loves Diego Rivera and Frida Kahlo.
This is one of the more off-the-beaten-path Mexico City museums on this list.
#18 Brunch at El Cardenal
El Cardenal is something of a Mexico City institution, so it's the place for brunch in the historic downtown! Since 1969, El Cardenal has been serving up typical Mexican recipes to locals in their casual, family-style locale.
When you go, start off with their famous hot chocolate (made and served tableside), along with a freshly baked pastry or two. Then, move on to classic dishes like chilaquiles, gorditas, huevos rancheros, and enchiladas – accompanied by coffee and fresh juice of your choice.
Delicious, affordable, and a truly authentic and traditional Mexico City experience, El Cardenal should not be missed.
#19 Stop by the Zócalo (Plaza de la Constitución)
A visit to El Centro (the city's historic center) isn't complete without stopping by the Plaza de la Constitución – commonly known as the Zócalo, or the main square.
As one of the largest public squares in the world, the Zócalo is always bustling with activity. From political rallies and protests to open-air concerts and festivals, there's always something going on here! Even if it's just a whole bunch of people hanging out.
Even if there's nothing specific happening during your visit, it's still worth checking out the square – especially the massive Mexican flag in the center of it all.
While you're here, be sure to stop by the Metropolitan Cathedral, the National Palace, and El Templo Mayor, all of which line the Zócalo's edges.
#20 Visit the National Palace (Palacio Nacional)
Built in 1522, the National Palace was once the home of Hernán Cortés – the infamous Spanish conquistador of the Aztecs – and is the current home of the Mexican President.
The palace is one of the most significant (and beautiful) buildings in Mexico City – and it's completely free to enter!
While much of what you'll see inside are modern-day offices, there are also a few interesting museums, plus Rivera's world-famous murals depicting the Mexican Revolution and other important history.
Don't miss it!
#21 Explore the Templo Mayor Ruins
Dating back to 1305, El Templo Mayor was the main temple of the Aztec/Mexica people, in their great capital of Tenochtitlan. Excavations show that the most significant Aztec ritual and ceremonial activities took place here.
Now, the Templo Mayor Ruins (and the museum housing the many artifacts from the excavation) are one of the most famous tourist attractions to visit in Mexico City. You can simply peek into the ruins from the plaza above, or buy a ticket and explore within. (It's free if you visit on a Sunday.)
If you're interested in indigenous Mexico City history, you can't miss the Templo Mayor! It's in the heart of the city, just outside the Zócalo.
#22 See the Metropolitan Cathedral
Demanding the attention of everyone who visits the city's main square, the Metropolitan Cathedral claims the title of the oldest and largest cathedral in Latin America.
One of Mexico's most adored architectural masterpieces, this cathedral is stunning. Inside and out. You can't visit Mexico City and not step foot inside of this gem.
The Metropolitan Cathedral is open daily from 8 am to 8 pm, and admission is free!
#23 Marvel at the Palace of Fine Arts
El Centro is home to some of Mexico City's most beautiful architecture, but the Palace of Fine Arts (Palacio de Bellas Artes) is the highlight!
The building itself is stunning. And inside, you'll find an architecture museum, a collection of murals by some of Mexico's most famous artists (including Rufino Tamayo, Roberto Montenegro, and David Alfaro Siqueiros), and an incredible concert hall.
If you're lucky enough to get a ticket to a performance, it's one of the most special things to do in Mexico City.
If you don't manage to get tickets, simply seeing the beauty of the palace from outside is a must!
#24 Wander Alameda Central Park
After you check out the Palacio de Bellas Artes, make sure to stroll through Alameda Central Park. It's right next-door. From street food vendors selling ice-cold aguas frescas, nieves, and dorilocos to street performers doing ridiculous stunts, there's something here for everyone!
The lively yet relaxed atmosphere and time spent underneath the leafy trees is all you need to rejuvenate yourself before more El Centro exploring. Fun fact: Created in 1592, Alameda Central Park is the oldest public park in all of the Americas.
#25 See Masterpieces at Museo Mural Diego Rivera
If you still need more Rivera in your life (who doesn't), then don't miss out on a trip to the Museo Mural Diego Rivera. This museum is home to several of his most famous murals, such as The Making of a Fresco Showing the Building of a City and Dream of a Sunday Afternoon in the Alameda Central Park.
The museum is located in El Centro, right next to Alameda Park.
#26 Pop into the Golden Post Office
Guaranteed, you'll never see a more beautiful post office in your life.
Located in the city center, the Golden Post Office (Palacio de Correos de Mexico) is one of the most ornate, impressive, and gold-covered buildings in the city.
A must-visit in Mexico City, the Palacio de Correos is right next to the Palacio de Bellas Artes, making it a quick and easy stop as you're exploring the area on foot.
#27 See the views from the Latin American Tower
One of Mexico City's most important landmarks, the Latin American Tower (Torre Latinoamericana) stands 182 m (597 ft) high over the historic downtown.
If you want an amazing bird's-eye view over the massive metropolis that is Mexico City, the observation deck on the 44th floor is the place to go.
Just make sure to visit on a clear day, to get the most bang for your buck. Mexico City smog is no joke!
#28 Try a Michelada
In my opinion, the best things to do in Mexico City all revolve around food and drink. Sipping on micheladas (or new-age gomichelas) is no exception.
There are so many different variations of micheladas throughout Mexico, but generally speaking, a michelada consists of ice-cold beer, with things like lime juice, sauces (like Worcestershire), spices, tomato juice, and chili all mixed in. Basically, we're talking about a Mexican bloody mary of sorts!
In my opinion, the best micheladas are the supersized ones, complete with a chamoy-and-sesame-seed rim. Oh, and I love me some gummy worms along for the ride too. (AKA, the gomichela.)
It may sound strange. And it is… I guess. But you never know, you may love it.
#29 Explore Roma Norte on Foot
This vibrant, hipster neighborhood is one of the best neighborhoods in Mexico City. It's also very safe.
On a weekend afternoon, explore Roma Norte on foot. There, you'll find an abundance of amazing restaurants, artisanal breweries and taprooms, cocktail bars, chic boutiques, hipster coffee shops, indoor bazaars, impromptu street markets, and modern art galleries galore. There is so much to see and do in Roma Norte!
If you're keen to take a food tour in Roma Norte, while learning about the neighborhood's history, check out this Colonia Roma Food Tour.
Hot tip: Trying to figure out where to stay in Mexico City? Roma Norte is a great option. You have everything you could ever want right at your doorstep! Including plenty of cool co-working spaces and coffee shops if you need to get some work done.
Here are my top Roma Norte accommodation recommendations.
Staying in Roma Norte
Affordable Luxury Stays in Roma Norte
Mid-range Stays in Roma Norte
#30 Watch Lucha Libre at Arena Mexico
Whether you're a fan of professional wrestling or not, you won't want to miss a live lucha libre match at the Arena Mexico in Mexico City. This is the place where all the big names in Mexican wrestling perform (in their colorful outfits and iconic lucha libre masks) and, as such, it's always a full house. The atmosphere is chaotic and exciting and the matches are always super dramatic and action-packed… So amp up the experience with a shot of tequila. ¿Porqué no?
Watching lucha libre live is a once-in-a-lifetime Mexico City experience. You can CLICK HERE to book your tickets to a live match or try to buy them at the box office on the day of the event.
Hot tip: With a reputation for armed robbery, Colonia Los Doctores (the neighborhood where the arena resides) is not safe. When you go, take an Uber there and back, and don't hang around outside at nighttime.
#31 Browse the San Juan Market (Mercado de San Juan)
If you want a really exotic Mexican market experience, head to the San Juan Market in El Centro.
From tropical fruits, mole pastes, and exotic meats and seafood, to crickets, tarantulas, and scorpions, you'll see some interesting stuff in this market. That's for sure.
Even if you're not a fan of adventurous eating (if you don't like eating bugs, I don't blame you), you're still sure to find something delicious… Even if it's just a feast for the eyes.
This Historic Center Food Tour will take you through some of the best places to eat in El Centro, including Mercado de San Juan. If you love foodie tours like I do, then this one's for you!
#32 Chow Down at La Casa De Toño
If you're looking for a quick, satisfying meal in Mexico City, look no further than the iconic La Casa De Toño.
Super popular among locals (and a guilty pleasure of my own), this place offers up a wide variety of traditional Mexican dishes, from pozole, tostadas, and flautas to quesadillas, tacos, and sopes.
It's affordable and delicious, and the atmosphere is fun and festive. Perfect for a cheap dinner out, along with a few Modelo Negros.
#33 Stroll Paseo de la Reforma
Paseo de la Reforma is one of Mexico City's most famous streets, and for good reason. This tree-lined boulevard stretches for over 8 miles. It cuts through Chapultepec Park, and runs right through El Centro. It's home home to some of the city's most important landmarks, including the Angel of Independence.
If you're into window shopping and people watching, don't miss a stroll down this avenue.
#34 Angel de la Independencia
If you didn't know any better, you may just think that the Angel of Independence is just a glorious golden statue. But it's so much more.
One of the most iconic Mexico City landmarks, the Angel is a symbol of victory in the War of Independence against Spain. Lying underneath the monument are the remains of the Father of Mexico: revolutionary Miguel Hidalgo y Costilla. Along with the remains of other Mexican heroes, such as Ignacio Allende, Don Nicolas Bravo, Juan Aldama. Plus, one of Mexico's first female journalists, Leona Vicario, also rests here.
You can climb up the steps of the monument, see the bronze statues that symbolize law, war, justice, and peace, gaze up at the golden angel, and revel in the feeling of freedom as you watch the chaos of Paseo de la Reforma unfold in front of you.
#35 Take a Street Art Tour
As you explore Mexico City on foot, you're constantly on a street art tour. As long as you keep your peeled! If you do, you're sure to see countless beautiful murals depicting Mexico's rich culture and history.
Some of the best neighborhoods to check out street are Juárez, Roma Norte, and La Romita! Doctores is also great, specifically, nearby the Museo del Juguete Antiguo México and the Hidalgo Market. Just make sure to be aware of your surroundings; Doctores isn't the safest neighborhood to wander.
If you are really into street art, then I recommend booking this fun Mexico City Street Art Bike Tour that will take you to some of the city's most colorful and unknown neighborhoods!
#36 Check out the National Autonomous University of Mexico (UNAM)
Declared a UNESCO World Heritage Site in 2007, UNAM is more than just your average uni. There are plenty of reasons this place is worth a wander during your time in Mexico City.
To make it quick: The murals around campus (including one by Juan O'Gorman, which totally covers the Biblioteca Central in colorful rocks and stones arranged to depict the history of Mexico) are amazing! The Botanic Garden is lovely. And saving the best for last, the Museo Universitario de Arte Contemporaneo's (MUAC) Sculpture Garden (Espacio Escultórico) is home to giant, impressive sculptures that pop up among the leafy trees as you stroll.
Off the beaten path, UNAM is a true Mexico City gem. Especially if you love art and architecture.
#37 Drink Mexico City Craft Beer
Mexico City's craft beer scene is on the come up!
If you're looking for a delicious brew, some of my favorite breweries and taprooms in the city include: Falling Piano Brewing Co., Cru Cru Brew, Drunkendog, Jardín Juárez, and Escollo.
#38 Experience Mercado La Merced
Mercado La Merced (near El Centro) is the largest traditional market in this big city – and it's also the best. Offering a dizzying array of delicious traditional dishes to try, an abundance of colorful, fresh (and perhaps unfamiliar) produce, mole pastes galore, and so much more, Mercado La Merced is an absolute can't-miss.
With that said, La Merced is also known as one of the most dangerous markets in CDMX, situated in the sketchy, crime-hotbed neighborhood of La Merced.
The safest (and most enlightening) way to visit Mercado La Merced is on a foodie tour with an expert. You'll be a lot safer, you'll try only the best bites, and learn a lot along the way. If you decide to go without a guide, make sure to stay alert, try to blend in as much as possible, and go during the daytime. You may also consider taking an Uber there and back – rather than walking through the La Merced barrio.
Check out this Journey Through La Merced Market Tour for the best experience.
#39 Rooftop Drinks over the Zocalo
When it comes to an Aperol spritz (or a mezcal margarita) and a view, there's nowhere better than the Zocalo.
I've given you a lot of places to check out in Downtown Mexico City. So once you've ticked them all off, you deserve to soak up the historic views over a cocktail. And rest those feet.
El Balcón del Zócalo and Terraza Gran Hotel both offer incredible views over the plaza. Meanwhile, Terraza Catedral is another great, budget-friendlier option, boasting up-close views of the cathedral.
#40 Marvel at the House of Tiles (Casa de los Azulejos)
The House of Tiles, also known as the Casa de los Azulejos, is a beautiful building in El Centro that's worth marveling at. It's not just its stunning architecture that makes it stand out, but also its history.
This 18th-century Baroque palace, built by the Count of the aristocratic Valle de Orizaba family, is covered from top to bottom in blue and white Talavera-style tiles from Puebla.
It's now home to a Sanborns (a popular coffee and department store chain), but as you walk by, make sure to notice just how special this building is.
#41 Eat Churros at Churrería El Moro
Since 1935, Churrería El Moro has been churning out the city's best churros.
Plain, with chocolate or condensed milk, alongside a coffee – however you like 'em – these churros won't disappoint.
There's nothin' like a sweet, cinnamon-y churro on a Saturday night in La Condesa. Plus, decor is stunning! Talk about Instagram-ability.
#42 Try Pulque at Pulqueria Los Insurgentes
Beloved by locals, pulque is a must-try alcoholic drink that's fermented from agave. You'll either love it or hate it. (I happen to be in the latter camp. It's a textural thing for me.) But you'll never know until you try it!
Pulqueria Los Insurgentes is known as one of the best pulquerias in CDMX. When you're exploring the Roma Norte area and your feet need a break, stop by for a cheeky drink.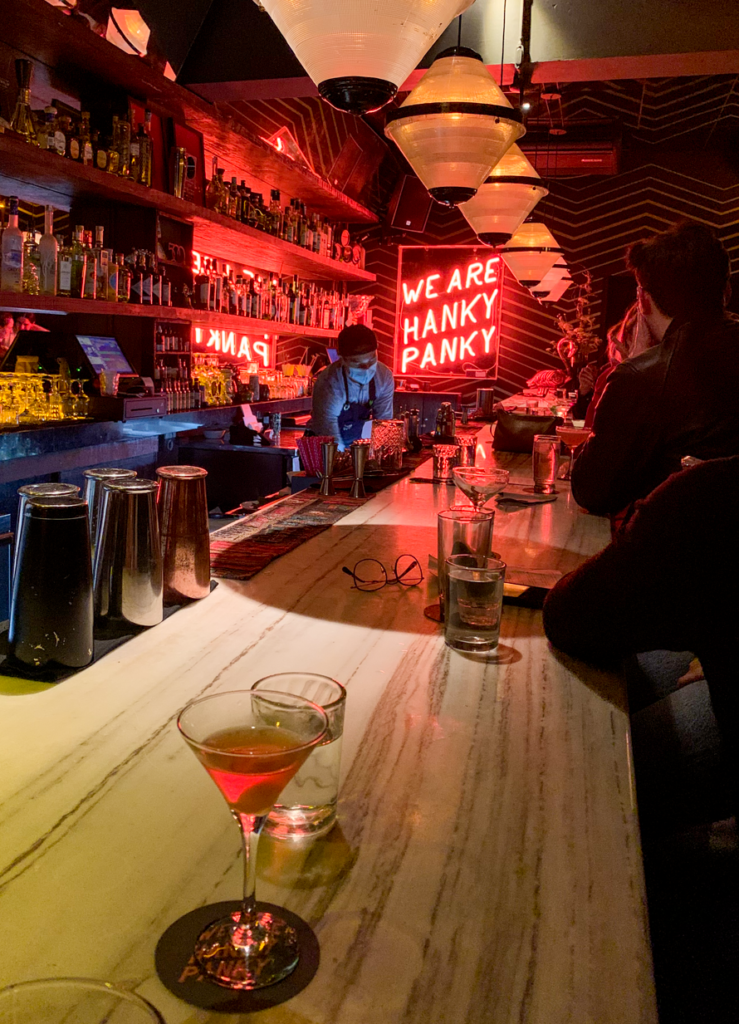 #43 Drink at a Secret Speakeasy Bar
There are a handful of vibey, NYC-style speakeasies throughout the city, but with their own uniquely Mexican flair.
For the perfect nightcap after a dinner out on the town, seek out one or two of these "secret" bars. That is, if you can find them and figure out how to get through their strange, hidden entrances!
Try out Hanky Panky and Xaman Bar in the Juárez neighborhood.
#44 Visit the Soumaya Museum
Located in Polanco, the Soumaya Museum is one of the most iconic museums in Mexico City. The massive cloud-shaped silver building, covered in thousands of silver tiles, is a marvel to behold.
But beyond the pretty exterior, the museum's extensive private collection is made of up 66,000 pieces, spanning centuries, and featuring masterpieces by the likes of Rivera and Tamayo – as well as well-known European artists such as Matisse and Rodin.
If you're an art lover, then a trip to this free museum is one of the best things to do in Mexico City!
#45 Wander the Jumex Museum
Located right next to the Soumaya, Museo Jumex is CDMX's most impressive contemporary art museum.
There are all kinds of mediums on display, from paint to pencil to video to light, and feature the work of geniuses like Andy Warhol, Martin Kippenberger, Jeff Koons, Damien Hirst, and Cy Twombly.
Admission to this museum is also free, so if you love modern art, don't miss Jumex.
#46 Experience a Temazcal Ceremony
Say goodbye to stress!
If you aren't familiar, temazcal is a ceremony steeped in indigenous Mexican tradition for centuries. Generally speaking, temazcal is a prehispanic ritual of sauna, led by a shaman (traditional spiritual healer). Usually, traditional plant medicine is incorporated through application onto the skin, tea-drinking and/or breathing in their smoky vapors.
The spiritual, mental, and physical benefits are endless, and no doubt, this is one of the most unique, intriguing, and memorable things you can do in Mexico City. Seriously.
Click here to book your temazcal experience.
#47 See a Movie at Cineteca Nacional
Want to see a movie in Mexico City? There's no better place than the Cineteca Nacional, located in Colonia Xoco.
One of the city's most treasured attractions, the Cineteca is exists to preserve, catalogue, and exhibit films from all over the world. This museum houses a vast collection of Mexican and international films, as well as a research library and museum.
Make sure to check the schedule before you go, because there are also regular screenings of all kinds of movies. From classic to contemporary. Alternative artsy films to serious documentaries.
#48 Listen to Mariachis at Plaza Garibaldi
Plaza Garibaldi is one of Mexico City's most iconic squares – it's the home of mariachi music!
If you want to hear some live mariachi (and maybe even dance a little), this is the place to go. There are always bands playing in the square – just bring a few pesos, as you'll have to pay them to play the songs you want to hear!
Hot tip: This neighborhood is a little rough! It's probably not somewhere to go with kids in tow. Take care of your belongings and stay aware. Prepare to be hassled by restaurant staff to have a seat; just ignore them.
#49 Stay at Gran Hotel Ciudad de Mexico
This iconic 5-star hotel, located in the heart of El Centro, is known for its incredible art nouveau architecture, amazing views over the Zócalo, fabulous service, and classic elegance.
If you're looking for a luxurious place to stay in El Centro, look no further than the Gran Hotel Ciudad de Mexico.
If you don't stay here, make sure to stop by anyway! For two reasons. First, to see the incredible interior, which is complete with a jaw-dropping Tiffany stained-glass ceiling (which was imported in 1908 from France). And second, to head up to La Terraza for a cocktail and some nibbles overlooking the best, most exclusive views of the city!
Mexico City's Best Things to Do:
Top 49 Mexico City Activities
After eating my way through Mexico City as a tourist, and living there as an expat, I wanted to share with you the ultimate list of the best things to do in Mexico City.
Whether you want to explore Mexico City's history, nightlife, art, traditional Mexican food, or all of the above, you have it all at your fingertips! This list of 49 Mexico City things to do is all you need for a perfect trip to Mexico's capital.
What to Pack for Mexico City
What to pack for your trip to Mexico City of course varies on the seasons. Check the weather before you travel and as a general rule pack layers. Year round there are a few essentials I would recommend:
Exploring More of Mexico? Check out these guides!
Mexico City Quick Tips
Things to Do in Mexico City: Travel FAQs
Is Mexico City a fun place to visit?
Yes! Mexico City is a very fun place to visit. There are lots of fun things to do in Mexico City, from exploring traditional markets, taking a Mexican cooking class, and exploring ancient Aztec ruins to cruising the colorful canals of Xochimilco, cheering on a Lucha Libra match, and listening to mariachi bands perform at Plaza Garibaldi. Not to mention, the lively Mexico City nightlife scene offers countless cocktail bars, taprooms, midnight taco stalls, and even hidden speakeasies. If you're lucky enough to visit Mexico City, you'll have no problem finding fun things to do! Check out this article for a complete list of 49 of the best things to do in Mexico City.
What are the best things to do in Mexico City?
There are endless incredible things to do in this vast city of 22 million people! Some of the best things to do in Mexico City include visiting the National Anthropology Museum, cruising the ancient canals of Xochimilco, visiting the incredible Aztec ruins of Teotihuacán and El Templo Mayor, exploring the best neighborhoods on foot (including the Historic Center, La Condesa, Roma Norte, and Coyoacán), visiting the Frida Kahlo Museum, the Mezcal Museum, and eating as much delicious food as you can! If you're a foodie, this Mexico City Foodie Guide includes some of my favorite places in the city. This article includes 49 of the best Mexico City things to do.
Is Mexico City unsafe for tourists?
No, on the contrary! A trip to Mexico City should be perfectly safe, as long as you take the usual precautions (as you would in any large city). However, it's important to note that there are dangerous areas of Mexico City – just like any other big city. Some of the neighborhoods you should avoid include Tepito and Doctores. You should also exercise caution in El Centro, La Merced, and Xochimilco (especially at night). In addition, it's always best to do your research before you visit, and to use common sense when exploring a new place. When in doubt, follow your gut and trust your instincts. Don't be flashy, dress modestly, and try to blend in with the crowds as best you can.
Is Mexico City safe for solo female travelers?
Overall, Mexico City is a safe enough place for solo female travelers. The main thing to note is that there are so many neighborhoods in Mexico City – some are safe, some are very dangerous! This guide to the 10 Best Mexico City Neighborhoods to Explore details all of the coolest and safest places to visit and stay. In addition, you should always take the usual precautions when traveling, including: be smart, stay aware, use common sense, follow your instincts, don't wander alone at night, don't be flashy with valuables, dress modestly, let loved ones know of your plans, and do your research.
Is 3 days enough in Mexico City?
In Mexico City, there are so many amazing things to do, foods to try, museums to visit, and neighborhoods to explore. 3 days in Mexico City is definitely better than 0, but ultimately, if you want to experience the best of what CDMX has to offer, you need more time. 3 days will be just enough time to scratch the surface and see the most famous tourist attractions in Mexico City. 5 to 7 days is the ideal amount of time to spend in Mexico City. With this amount of time, you'll be able to eat at all of the best restaurants, explore all of the coolest neighborhoods, check out the ancient ruins (like Templo Mayor and Teotihuacan), meander through the markets, visit the must-see museums in Mexico City, and more.
What is Mexico City best known for?
Mexico City is best known for its colonial architecture, vibrant culture, and delicious food. It's also the most populated city in North America. From world-class museums (like the National Anthropology Museum, Soumaya Museum, and the Frida Kahlo Museum), and chic restaurants, to traditional markets, amazing street food, lively nightlife, and lucha libre, there's an endless stream of amazing things to do in Mexico City!
Is Mexico City worth going to?
Mexico City is absolutely worth visiting! As the largest city in North America, there's something for everyone in this vibrant, chaotic, beautiful city (which was originally built by the Aztecs, atop an ancient lake bed, by the way). Whether you are into contemporary art, ancient indigenous cultures, fine-dining, beautiful colonial architecture, chowing down on street eats, Mexican history, or if you simply want to immerse yourself in a new and exciting place, Mexico City is the perfect destination.
If you have the chance to visit Mexico City, take it! Mexico City is 100% worth visiting.
Is it safe to walk around in Mexico City at night?
Generally speaking, no. It is not safe to walk around Mexico City at night – especially if you are alone. You never know what could happen, so it's best to err on the side of caution. There are some neighborhoods that aren't even safe in the daytime. However, walking around at night in certain neighborhoods (to be specific Polanco, Roma Norte, and La Condesa) is generally considered safe – though you should always be aware of your surroundings and use common sense.
This post may contain affiliate links, which help keep this site running, at no extra cost to you! Thank you for your support. :)
Over to you! Have you visited Mexico City before? What are your favorite things to do in Mexico City? Have any questions for me? Leave them in the comments!