During the two months I lived in Puglia, I had the pleasure of discovering all of the best things to do in Lecce, Italy. And now, I'm going to share them with you!
Of everywhere I visited in Puglia, I found the most architectural and historical wonders in Lecce. This exuberant Baroque city is hailed as the "Florence of the South," thanks to its beautiful historical buildings made of supple, golden-hued Lecce stone.
Lecce's food and wine scene is also unsurprisingly incredible. The Puglia region is known for decadent olive olive, cured meats and cheeses, precious pasta shapes, and of course bold, flavorful wines. Basically, what Italian dreams are made of.
Plus, Lecce has fascinating Roman archeological remains, a museum of prehistoric ruins, lush public gardens, and typical Italian piazzas all right under your feet.
With this Lecce, Italy travel guide, you can create the Lecce itinerary of your dreams!
In addition to all the best things to do in Lecce, I'll let you in on Lecce's history, best restaurants, hotels, and transportation tips. Andiamo!
Must-Know History of Lecce
Lecce's history goes way back! This magnificent city was founded over 2,000 years ago.
Since the fall of the Roman Empire, the Byzantines, Normans, Lombards, Saracens, and even Orthodox monks have called Lecce home.
During the 15th century, the Kingdom of Naples solidified rule over Lecce, which reached its peak as a cultural center in the 16th and 17th centuries.
In Lecce, you'll find marvelous architecture from the Roman, Medieval, and Renaissance periods. But the Apulian Baroque style grants the most fame, historically and today. Lecce is home to no less than 22 Baroque-style churches and three ancient city gates!
The workability of Lecce stone (a soft limestone) makes it ideal for building and sculpting. Pietra Leccese (Lecce stone) is the city's main export, along with flour, wine, olive oil, and papier-mâché. So, you know the restaurants and souvenir-shopping here are going to be fabulous!
Quick Facts & Context About Lecce
Lecce sits pretty in the southeasternmost region of Italy: Puglia. Pronounced "poo-lee-uh" (forget the g), or "Apuglia" (ah-poo-lee-uh) in English, this area is lovingly known as the breadbasket of Italy.
Astonishingly blue Adriatic and Ionian Seas (both part of the Mediterranean), distinct historic cities (like Lecce, Alberobello, and Ostuni), delicious farm-to-table-style cuisine, and authentic Italian charm has made Puglia one of the fastest-growing destinations in Europe over the last decade.
In Italian, Lecce translates to: walled city. The walled city of Lecce lies just twenty minutes west of the Adriatic Sea on the Salento Peninsula (a sub-region of Puglia). As the largest city in Salento, around 96,000 people live in Lecce.
Lecce is sometimes called "Magna Grecia," or Big Greece, due to its vast Greek influence. There is even a population of Griko people who speak the endangered language of Griko.
And, last but not least, Lecce developed religious sculptures made of lightweight papier mâché (cartapesta) so they could be carried easily during celebrations and parades.
Is Lecce, Italy Worth Visiting?
Lecce is absolutely worth visiting! There are so many things to do in Lecce, you'd be wise to add Lecce to your Puglia Itinerary and stay a while (2-3 days is ideal).
Beyond witnessing outstanding Lecce Baroque structures and ancient ruins, Lecce is worth visiting for its Southern Italian city lifestyle.
I drooled over the window displays of chic clothing boutiques and people-watched from cocktail lounges along the via Trinchese – the street that connects Lecce's historic center with its modern city center. Lecce has the perfect balance of ancient history and modern city life.
When you visit Lecce, you'll feast upon local cheeses paired with honey, sip on Salentino wine, relax in green spaces hidden amongst the bustle, and wander about Lecce's enchanting historic center.
How to Get to Lecce, Italy
There are three easy ways to get to Lecce.
Since I was already in northern Puglia, I took a Trenitalia high-speed train (Trenitalia Frecce) from Foggia to Lecce train station. If you're also trying to reach Lecce from a nearby Puglian town, a high-speed train is the way to go. Use this website to compare train fares and schedules, and purchase tickets, as you travel throughout Europe!
FROM BARI AIRPORT: If you're flying into Bari International Airport (Karol Wojtyla), expect to take a 1-hour-and-40-minute car ride to Lecce, or a 1-hour-and-20-minute high-speed train ride.
FROM BRINDISI AIRPORT: Brindisi's international airport, Brindisi-Casale Airport is the closest to Lecce, at just 26 minutes away by car, and 23 minutes away via Trenitalia Frecce. You can also take the bus from Brindisi to Lecce with various bus companies, like FlixBus and Sita
FROM ROME: Rome is 6 hours from Lecce by car, and 5.5 hours by high-speed train. A bus haul (FlixBus) from Rome to Lecce takes eight hours, while a flight from Rome to Brindisi takes just over an hour
IN & AROUND PUGLIA: If you plan on traveling around other cities in Puglia, I highly recommend renting a car in your arrival city. You can rent a car at a car-rental kiosk at the airport or through this website. Remember that manual cars are much more common in Italy than automatic, so renting an automatic car will come with a higher price tag!
Click here to book a rental car for your Puglia trip! This website offers the best deals in all of Europe.
14 Best Things to Do in Lecce, Puglia, Italy
Now that the Lecce logistics and history lesson are out of the way… Let's talk about the best things to do in Lecce!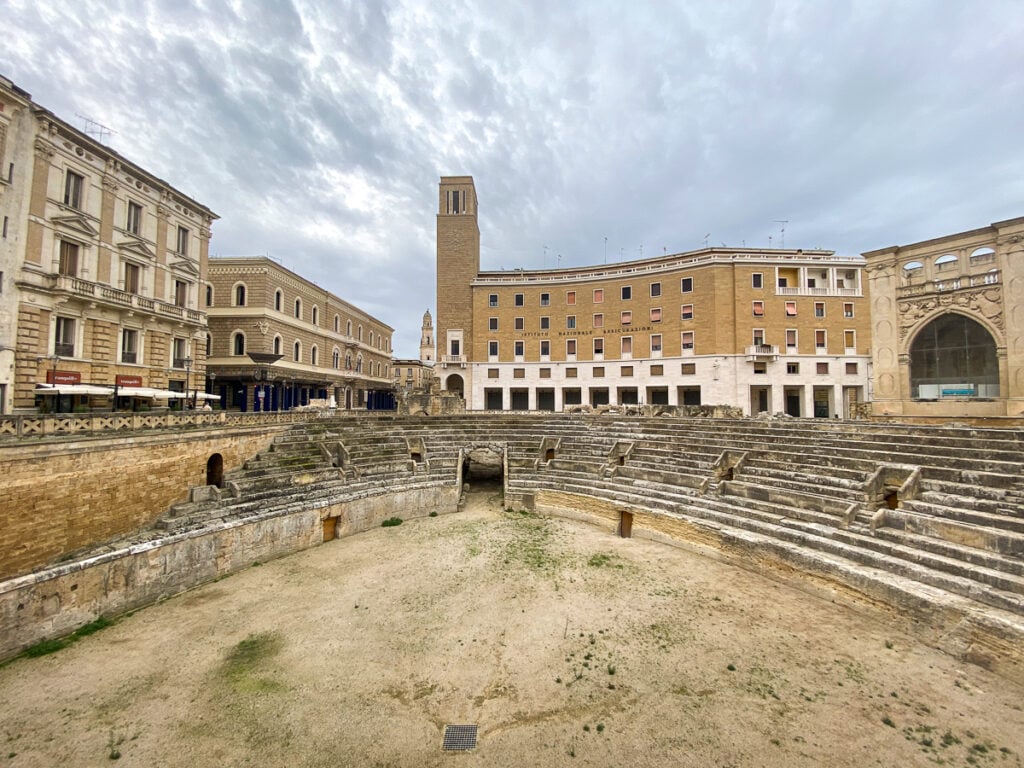 #1 Walking Tour of Centro Storico
Lecce has an immense prehistoric past that is somewhat hard to fathom – especially if, like me, you're from the United States.
Although you could walk around the historic center yourself, a guided tour ensures you'll soak up all the historical significance of this fascinating city.
This small-group Tour to Discover Lecce comes highly recommended; over two hours, your expert guide will lead you to some of Lecce's most important historical sites. Click here to book your guided walking tour.
There are also free daily walking tours organized at Lecce's tourism offices, which you can find in the Piazza Duomo, the Sedile in Palazzo del Seggio, and on Corso Vittorio Emanuele II. They also offer cool specialized tours, such as Lecce by Night and Lecce During the Jewish Period.
Better yet, go on a food tour! This Lecce History & Street Food Tasting Tour ties together an informative journey to Lecce's main points of interest with bites of street food to savor along the way. Click here to book your food tour!
#2 Get to Know the Piazza del Duomo
The Cathedral Square, Piazza del Duomo, might be the most beautiful square in Lecce. Since it's enclosed on three sides, this piazza has an intimate feel.
Just be careful not to walk past the entrance! The Piazza del Duomo is accessed from a small passageway off of Via G. Libertini (Lecce's main street).
The Piazza del Duomo's stunning buildings include the Lecce Cathedral, Bishop's Palace (not accessible for touring) and the Seminary.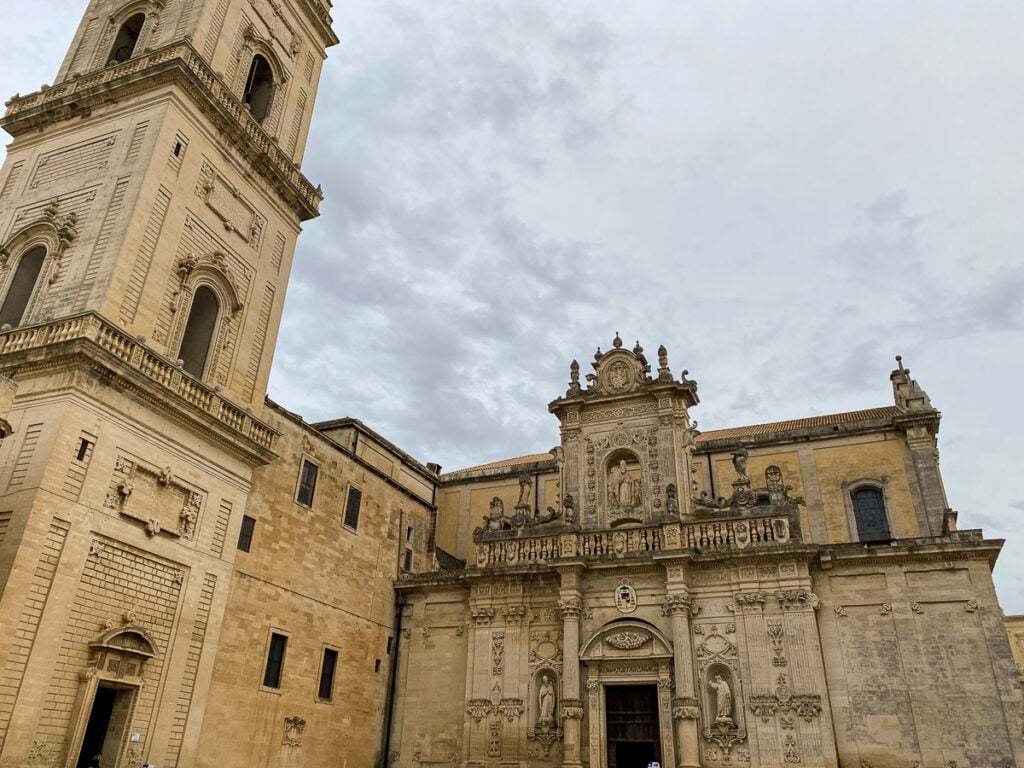 Duomo di Maria Santissima Assunta (Cathedral of Our Lady of the Assumption)
The showstopper of Piazza del Duomo is the Duomo di Lecce, the Lecce Cathedral dedicated to the Virgin Saint Mary. When you enter the square, you'll first see the Duomo's northern facade, which is an outstanding demonstration of Baroque Lecce. Details, details, and more details!
Originally built with Romanesque flair in 1230, the cathedral's Baroque style didn't come about until Lecce's legendary architect Giuseppe Zimbalo completed an epic remodel in 659.
I promise, the interior of the Lecce Cathedral is just as gorgeous, dripping in gold-leafing, ornate saintly statues, and precious pieces of art from the ceiling to the altars.
Campanile del Duomo (Cathedral Bell Tower)
The lovely Cathedral bell tower, Duomo Campanile, stands at 230 feet tall, and was added in 1661 to act as a watch tower – and to symbolize the power of the church (like most of the architecture in Italy)! Tickets to climb to the top for the perfect photo-op of Lecce's city center and the sparkling Adriatic Sea cost €12.
The Palazzo del Seminario (Palace of the Seminary)
Inside the Palazzo del Seminario, you'll discover the Museo Diocesano di Arte Sacra. Lecce's Museum of Sacred Art is filled to the brim with religious statues, paintings, relics of papier-mâché, and ancient artifacts.
The seminary has a lovely cloister to enjoy some fresh air, a cute chapel dedicated to Saint Gregory (San Gregorio), plus a library (Innocence Library).
#3 Learn How to Make Puglia's Traditional Pasta
Typical Puglian cuisine is farm-to-table, as the region was built on the backs of farmers, who tend to olive groves, vineyards, and fields of grain and vegetables. Thanks to them, and the region's fertile soil, some of the freshest food in all of Italy can be found in Lecce!
Taking a cooking class in Lecce is a special experience for foodies and culture lovers. Since Puglia is famous for Orecchiette, little ear-shaped pasta, you can't miss the opportunity to learn to craft it yourself!
Plus, you'll take the recipes home with you, so you can whip up a little batch of Puglia any time.
These cooking classes in Lecce, Italy come highly recommended, and with fine wine pairings to boot!
Click here to book your Lecce cooking class!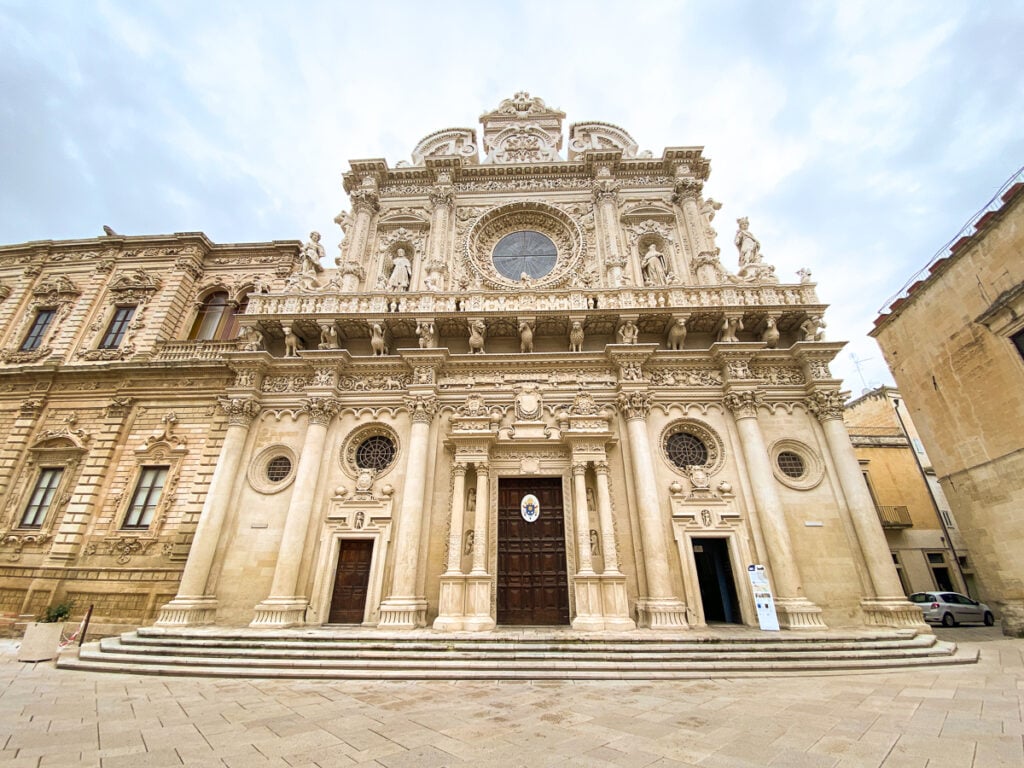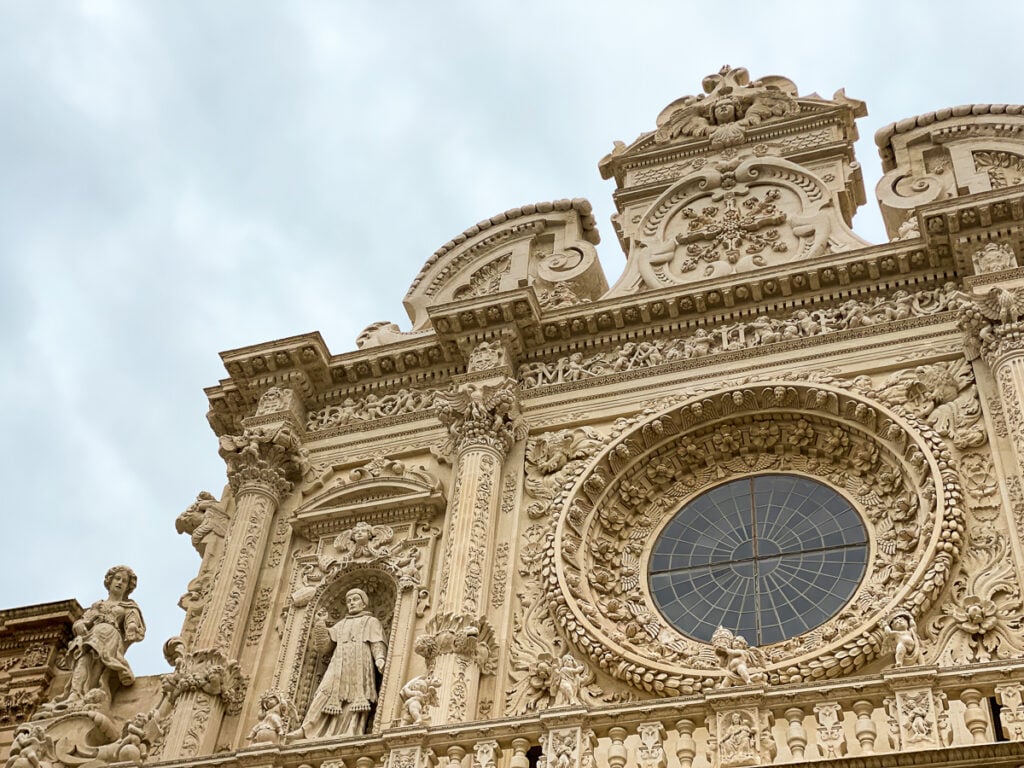 #4 Marvel at the Basilica di Santa Croce (Church of the Holy Cross)
An Apulian Baroque masterpiece, the sensational Basilica di Santa Croce is one of Lecce's crown jewels. And a non-negotiable when you're visiting Lecce.
Over the 16th and 17th centuries, the Santa Croce Basilica was completed with the collaboration of Lecce's chief architects, stonemasons, and stone carvers.
The church's facade almost intimidated me with its grandiose religious symbolism, allegorical mythical beasts and gargoyles, architectural perspective tricks, and tremendous central rose window. I sure felt the power of the Vatican!
Inside are a total of seventeen baroque altars, seven side chapels, a richly gilded wood ceiling, and ornate Lecce stone columns.
P.S. If you're keen on seeing more Lecce Baroque churches, you can walk the Lecce Church Path.
Buy your ticket for €9 at any Lecce tourist office, and follow the route to enter the Duomo, Basilica, Chiesa di Santa Chiara, Chiesa di San Matteo, Chiesa di Santa Maria della Pace, Chiesa di Sant'Irene, and Chiesa dei SS Nicolò e Cataldo.
#5 Admire the Roman Amphitheater
Undiscovered until 1901, this well-preserved, second-century-A.D. Roman Amphitheater was hidden below Lecce's Piazza Sant'Oronzo for over 1,000 years!
It's said that half of the remaining amphitheater still remains buried under the cafes, restaurants, and shops in the square.
Some 20,000 spectators gathered here to witness gladiators fighting with bulls, bears, and lions! Oh my!
#6 Delve into Lecce's Past at Museo Faggiano
Yes, Lecce's grand Baroque churches and megalithic monuments are impressive, but one of my personal favorite things to do in Lecce was visiting a small museum called the Faggiano House.
From the street, 56 Via Ascanio Grandi appears to be just a regular Lecce stone home; and up until 2001, that is exactly what Mr. Luciano Faggiano thought he owned. While working to turn the home into a trattoria, his sons excavated archeological findings from over 2.5 thousand years ago!
The home, now Museo Faggiano, encases a Mesopotamian tomb, a Roman granary, a Franciscan chapel, underground escapeways, etchings from the Knights Templar, and more. To this day, the family is uncovering artifacts dating back to over 2,500 years old!
P.S. Ticket sales and donations go directly to excavation and museum maintenance costs, which (unfortunately) Mr. Faggiano is wholly in charge of paying!
#7 Sample Salento's Finest Wines
The Salento region has flavorful grapes and miles upon miles of vineyards bursting with flavorful, fruit-forward red grapes. One of the best things to do in Lecce is sample the local wines… Duh!
There's no shortage of wine bars in Lecce, though I can personally recommend La Strada Del Vino Wine Bistrot for the perfect tasting plate of local cheese and cold cuts, accompanied by wine pairings and fine hospitality.
For an unforgettable wine tour of Salento, book this Primitivo and Negroamaro Wine Tour.
With an expert sommelier, you'll visit two wineries to learn about local grape-growing and wine-making processes and sip on artisanal wines crafted with Puglia's classic grape varieties: Negroamaro and Primitivo.
Click here to book your Primitivo and Negroamaro Wine Tour with Lunch!
#8 Spend Time in Piazza Sant'Oronzo
Every city has a main square where people come for musings, gossip, and ice cream (or in this case, gelato). In Lecce, that square is Piazza Sant'Oronzo.
You'll notice an incredible Roman amphitheater at the southern side of the square, greatly contrasting the modern shops and eateries surrounding it.
Colonna di Sant'Oronzo (Column of Saint Orontius)
In the center of Piazza Sant'Oronzo is the Colonna di Sant'Oronzo, also called Colonna Romana, which stands 95 feet tall. It may seem like just another column at first (there's no shortage of columns in Italy), but the story behind the Colonna di Sant'Oronzo makes it special!
Originally from the second Century A.D., this grand column has crumbled and been rebuilt over millennia. A gift from Brindisi, the column acted as a "thank you" to Lecce in return for Saint Orontius of Lecce (Sant'Oronzo in Italian) stopping a deadly plague.
Plenty of legends blend into history here in Lecce.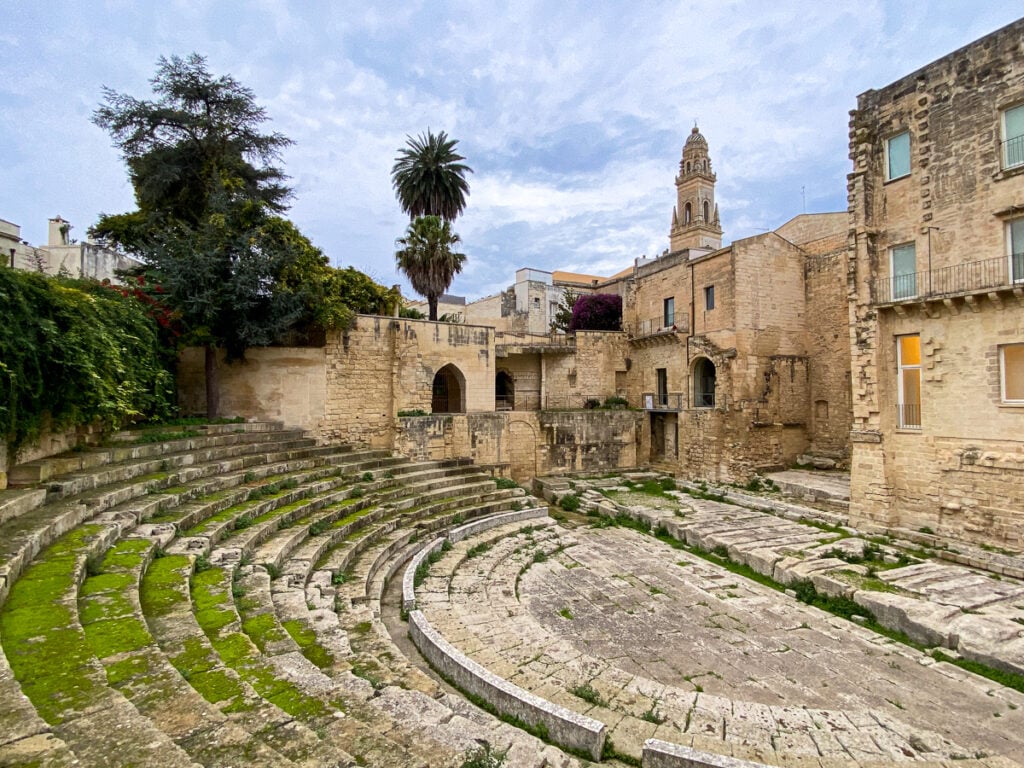 #9 Appreciate the Teatro Romano
Palm trees shade the stadium-like seating of Lecce's second Roman theater, the nearly camouflaged Teatro Romano. You can find this theater tucked behind historic buildings in Lecce's Centro Storico, and will likely run into it while walking around, like I did.
These ancient Roman ruins tell of times past, where up to 5,000 elite guests filed in to enjoy comedies and tragedies on warm Lecce nights.
If you want to explore the inside of the theater itself, it's sometimes permitted through the Museo del Teatro Romano for a small fee, as long as there isn't a restoration or excavation in progress.
#10 Pass Through Lecce's Three City Gates
The (formerly) entirely walled city of Lecce was accessed by three triumphant city gates. Pass through them and pretend you're a merchant entering Lecce to sell your artisanal goods (or something like that).
All three gates are spectacular and offer a different perspective and geographical entrance point into the historic old town.
Porta Rudiae
Pass under Lecce's oldest city gate on the eastern city wall. Porta Rudiae looked towards the ancient destroyed city of Rudiae and was rebuilt in 1703 to include busts of Lecce's founders and patron Saint Orontius, the first bishop of Lecce.
Porta San Biagio
Lecce's southern gate is Porta San Biagio, dedicated to San Biagio, bishop of the city in the 4th century. The rebuild was completed in 1774 and features the coat of arms of King Ferdinand IV, with a sculpture of San Biagio on top.
Porta Napoli
The main and most imposing city gate is the Porta Napoli. This arch was rebuilt in 1548 and is symbolic of war successes in honor of King Charles V. It faces the former road leading to Naples where merchants would have headed to make their next sale.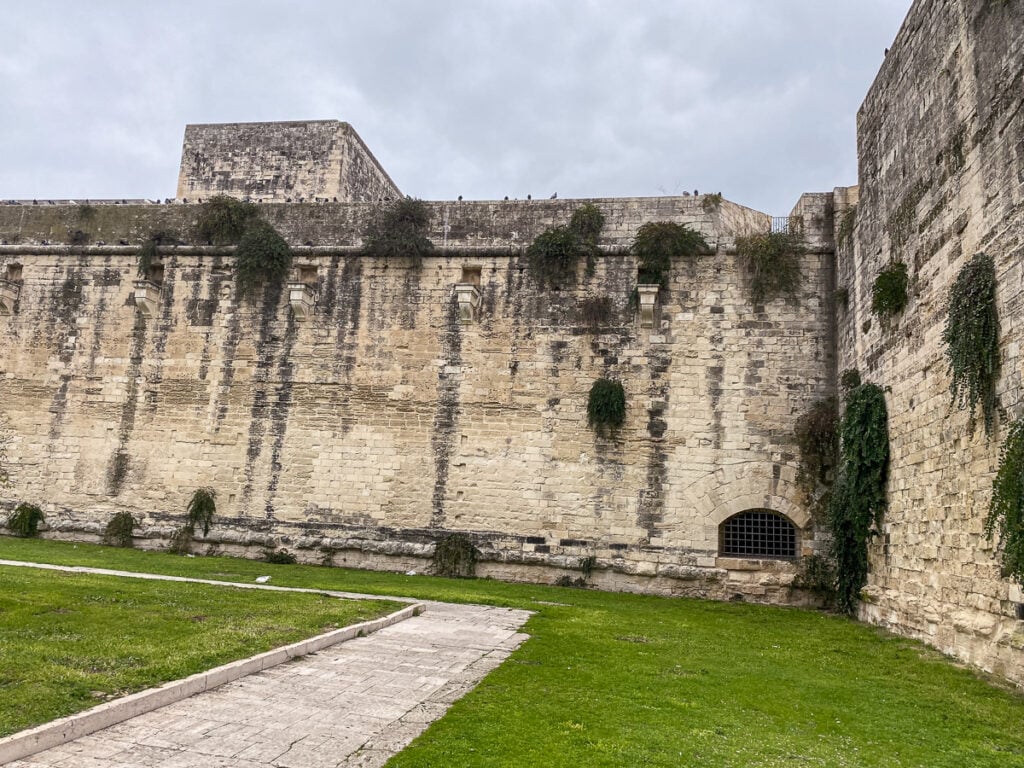 #11 Visit the Castello di Lecce (Castello Carlo V)
One of the most important historical figures of Lecce is none other than Charles V, who inherited Naples and Sicily from his grandfather Fernando de Aragón in 1516 (lucky guy). Lecce prospered under Charles V, who ushered in the Salento Renaissance.
Thanks to the rule of Charles V, Lecce is known as one of the most vital Baroque cities in the world! He had a new city wall and a massive Lecce stone castle fortified. While you're in Lecce, you can visit both!
Inside the castle, you'll explore dungeons, patrol hallways, upper noble quarters, and the Papier Mâché Museum with interesting (somewhat creepy looking) religious paper mâché relics.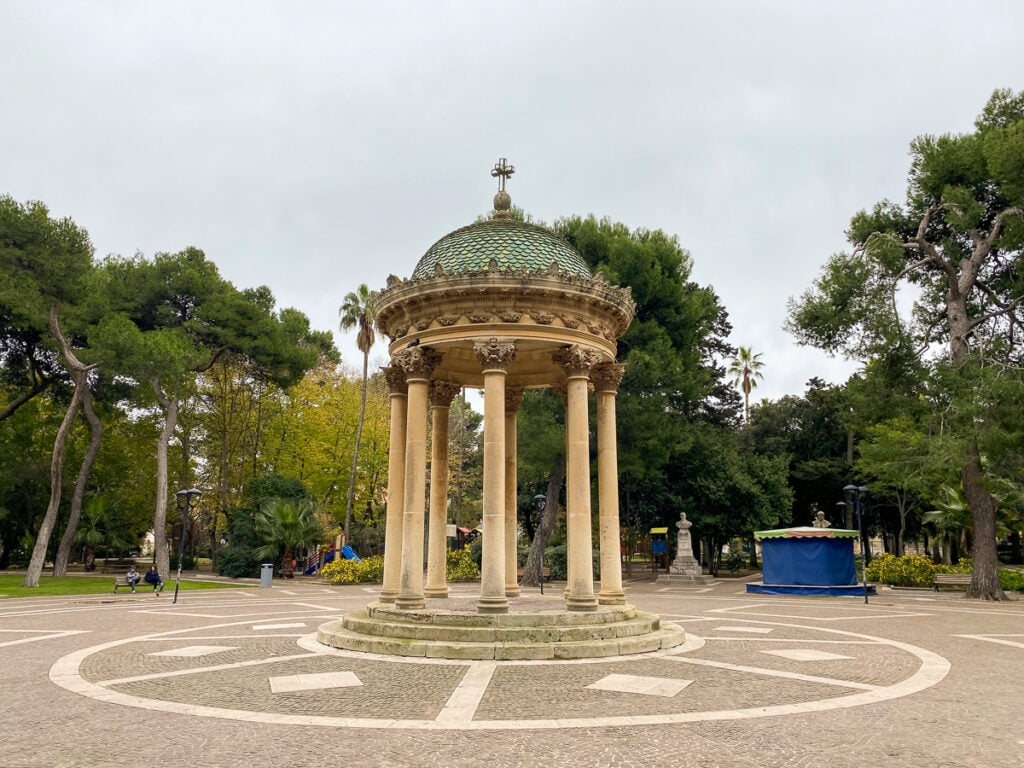 #12 Rest in Giuseppe Garibaldi Public Garden (Villa Comunale Park)
Smack-dab in the middle of Lecce's city center is a vast green park ripe for resting after hours of walking around cobble-Lecce-stone streets.
Giuseppe Garibaldi Public Garden (Villa Comunale Park) is a staple for locals, who walk their dogs and sit on benches to share kisses and bites of cornetto (croissant).
If you're like me, people-watching is an integral part of getting to know a new place. Lecce's Villa Comunale provided just the spot for me to witness simple, Salentino life.
Enjoy vibrant greenery, fountains, and a number of statues and busts of historical figures.
#13 Day Trip to Neighboring Cities
You could spend a week walking around Lecce discovering picturesque, laundry-strewn alleyways, boutique shops, trying different street foods, and dining in high-end restaurants.
But honestly, it would be a shame to visit Lecce Puglia and not explore some of the astounding historical cities surrounding.
This Ostuni, Alberobello and Polignano a Mare Independent Tour departs from Lecce and ensures a full day of exploring nearby Ostuni, the white hilltop city, Alberobello, land of the trulli houses, and Polignano a Mare, a beautiful town by the sea.
Each of these towns live on in my memory, and I promise you: you will leave a piece of your heart in each.
Click here to book your Independent Tour of Ostuni, Alberobello, and Polignano a Mare.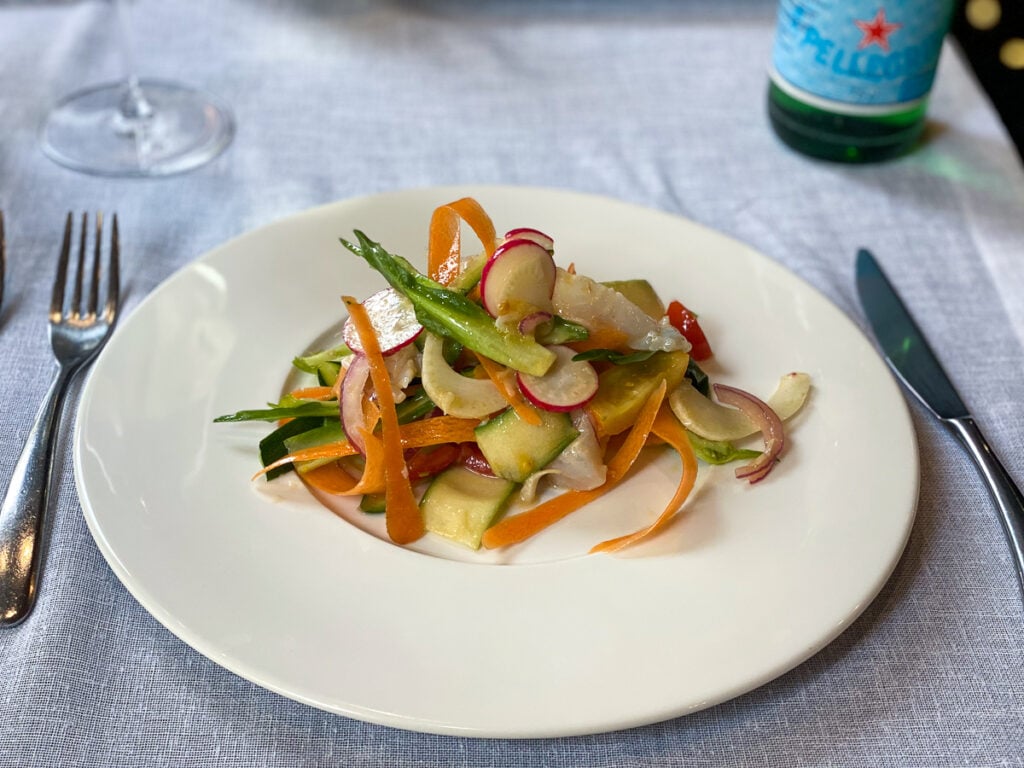 What to Eat & Drink in Lecce
Of course, one of the best things to do in Lecce is to savor all of the typical food. Let's talk about what that is!
Patata Novella di Galatina: Seeing as Lecce is in Puglia (A.K.A. the breadbasket of Italy), potatoes are a regional staple. Try the Patata Novella di Galatina, the Galatina potatoes of Salento. These potatoes are most often served with local olive oil, which you can enjoy with an afternoon aperitif.
Puccia bread: Another crucial part of the Pugliese diet, Puccia is normally stuffed with cheese and cold cuts to make the best sandwich you've ever tried! Promise.
Taralli: Taralli are the go-to snack in Puglia. These crunchy bread rings are seriously addicting and come in many flavors.
Mortadella: This classic Italian cold cut of cured pork sausage is perfect to sandwich between Puccia or to eat by the slice during a picnic in Giuseppe Garibaldi Public Garden.
Pecorino di Maglie: My absolute favorite. Sheep's milk cheese, best topped off with a drizzle of local honey. Orgasmic.
Pasticciotti Leccesi: Lecce's most favorite pastry is an oval-shaped, custard-filled shortcrust pastry, typically enjoyed with coffee in the morning. What a way to start the day!
Caffe Leccese: Lecce's coffee of choice is a short iced coffee with almond milk, and I can attest, it is exactly as delicious as it sounds.
Primitivo and Negroamaro wines: Puglia's local, fruit-forward red grape varieties make some fabulous wine. Experience them on this Primitivo and Negroamaro Wine Tour!
Want to try traditional Pugliese street food while learning about the city's vast and fascinating history? On this Lecce History & Street Food Tasting Tour, you'll journey through Lecce's top sites (and centuries of history) while savoring traditional street food along the way. Click here to book your Lecce food and history tour!
Where to Eat in Lecce
Pizza&Co: Really, what kind of guide would this be without sharing Lecce's top pizza spot? Their pizzas are insane; the "pasta di la pizza" (the dough) is a perfect balance of fluffy and crunchy, just like in Napoli!
Tabisca Il Vico dei Tagliati: This Italian steakhouse serves up tender, juicy cuts alongside an extraordinary wine list. But don't worry, they have plenty of flavorful vegetarian bites as well!
3 Rane Ristoro: As one of Lecce's top fine-dining establishments, you can trust that by the end of the tasting menu, you'll want to make reservations for tomorrow night's dinner too.
Where to Stay in Lecce
Dimora San Giuseppe: "Luxury" and "bed 'n' breakfast" don't normally go together, but here in Lecce, at Dimora San Giuseppe, steps from the Roman Amphitheater, with a romantic terrace view of Chiesa Santa Chiara's bell tower, they do. Click here to book your stay at Dimora San Giuseppe.
Mantatelure: The sweet-spot for affordable luxury, Mantatelure's rooms are beautiful, plus the hotel lobby doubles as a pastry shop and bar, and the gardens provide an oasis in the heart of Lecce's Centro Storico. Click here to book your stay at Mantatelure.
Patria Palace Hotel: A pristine palace dating back to 1780, this hotel is for you if you're looking for the most opulent stay in Lecce. Enjoy your view of Santa Croce's façade from your rooftop hot tub. Pinch me! Click here to book your stay at Patria Palace Hotel.
Lecce, Italy Travel FAQs
Where is Lecce, Italy?
Lecce, Italy is in the southeastern part of Italy, in the region of Puglia (Apuglia), which makes up the heel of this beautiful boot-shaped country. Lecce is the capital of the region of Salento, and the largest city on the Salento Coast. Salento is coined the "land of sea, sun, and legends."
Is Lecce worth visiting?
If you plan to visit Puglia, Italy, then Lecce should be at the top of your Puglia itinerary! Lecce is worth visiting because it is one of the most awe-inspiring Baroque cities in the world. Along with its stunning Lecce Baroque architecture, Lecce offers world-class dining, mind-blowing historic legacy and ruins, and plenty of shopping, wine-tasting, and museums to visit.
What is Lecce, Italy known for?
Lecce, Italy is known for its supple, golden-hued Lecce stone, and for being the "Florence of the South." Lecce has one of a kind Baroque architecture seen in its 22 churches, numerous monuments, and ancient city walls.
What to do in Lecce?
If you're wondering what to do in Lecce, you can refer to this guide for Lecce sightseeing! Some of the best things to do include a historical walking tour of Centro Storico, getting to know the Piazza del Duomo, spending time in Piazza Sant'Oronzo, admiring the Teatro Romano, and taking a traditional cooking class.
What to Do in Lecce, Italy (for the Best Lecce Itinerary!)
From wine-tasting tours and traditional cooking classes, to museums and historical guided walking tours, there are plenty of things to do in Lecce. But simply sitting in quaint piazzas, sensing life go on around you in this Baroque-drenched southern Italian town is the most sublime experience.
Between the stunning Basilica di Santa Croce, the marvelous Lecce cathedral, and the deeply rooted history of Roman ruins, you're bound to fall in love with Lecce. Remember, Lecce is not the Florence of the south, but rather, Florence "is the Lecce of the north"!
What to Pack for Italy
Depending on the season you visit will depend on the layers you need, summer is very warm but the winter is incredibly cold. Italy is very stylish and Italians famously dress well, so avoid white sneakers where possible and opt for a smart shoe or boot. Always have a beautiful coat in winter, it will hide anything less stylish you may be wearing as you explore in the colder months.
Here are a few top tips of what to wear:
Italy Quick Tips
MORE PUGLIA TRAVEL INSPIRATION
SAVE THIS POST ON PINTEREST FOR LATER!
When you book travel or purchase something through our links, we receive a small commission, at no extra cost to you? Your support enables Maddy's Avenue to keep producing helpful travel content. Thank you!
Disclaimer: This post may contain affiliate links. When you click through a link on this page and make a valid purchase, Maddy's Avenue may receive a small commission (at no extra cost to you!). We only recommend products/services that we believe in and know you will love too. Your support enables us to continue making helpful travel content. Thank you for reading, and thank you for your support!