If you're reading this Puglia itinerary, it can mean only one thing: you've decided to venture off of Italy's main tourist trail. And you've made a great choice!
Now is your moment to visit authentic (and affordable) Puglia – the paradise "heel" of Italy's boot – before it becomes the next Tuscany.
After living in (and falling in love with) Puglia for two months, I'm here to be your virtual travel guide on the Puglian road trip of your dreams!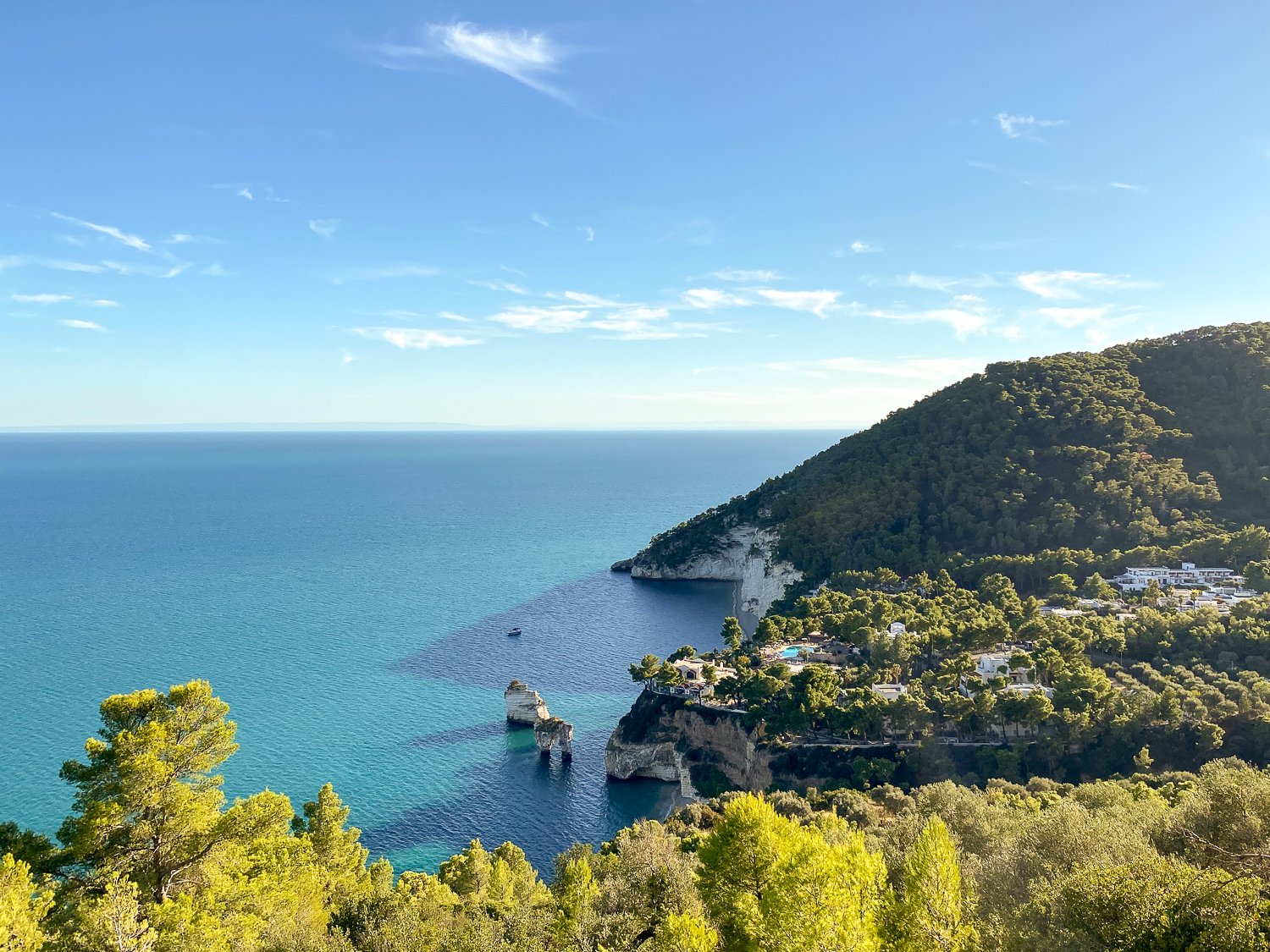 Lovely whitewashed towns, cacti-covered seaside villages, rolling vineyards, miraculous sea caves, golden stone buildings, and ancient forested mountains await you in picture-perfect Puglia.
Consider this Puglia itinerary for 7 days (or 10 days, if you can swing it!) your key to befriending a lesser-traveled, astonishingly beautiful region of Southern Italy.
In this Puglia, Italy itinerary, you'll find the "must-sees" and "must-dos" in Puglia, as well as my top tips for transportation, where to eat and drink, and the best places to stay!
Why Visit Puglia, Italy?
I can come up with endless reasons why you should visit Puglia. In fact, here are my top 10 reasons to visit Puglia ASAP! But if you want a summary…
Puglia's coastal towns along the Adriatic Sea are a mecca for sunbathing and water adventures. Out of the entire mainland of Italy, Puglia has the largest stretch of coastline!
Meanwhile, Puglia's vast farmland provides abundant vegetable, grain, grape, and olive harvest. This fruitful region is even referred to as the tavioliere, or "breadbasket" of Italy.
Need more convincing? The Gargano National Park in northeast Puglia (the spur of the boot) is a stunning mountainous forest that juts out into the Adriatic Sea. Talk about magnificent landscapes…
I'll keep going.
Puglia doesn't have just one UNESCO-listed site, but four: the town of Alberobello and its iconic trulli, the mysterious Castel del Monte, Gargano's Sanctuary of San Michele Arcangelo, and the ancient Foresta Umbra Nature Reserve, also in Gargano.
Fun fact: 40% of Italy's olive oil is made using the precious Pugliese olive. That's 300,000 tons per year, to be exact!
READ MORE: Why Visit Puglia, Italy? 10 Undeniable Reasons to Travel to Puglia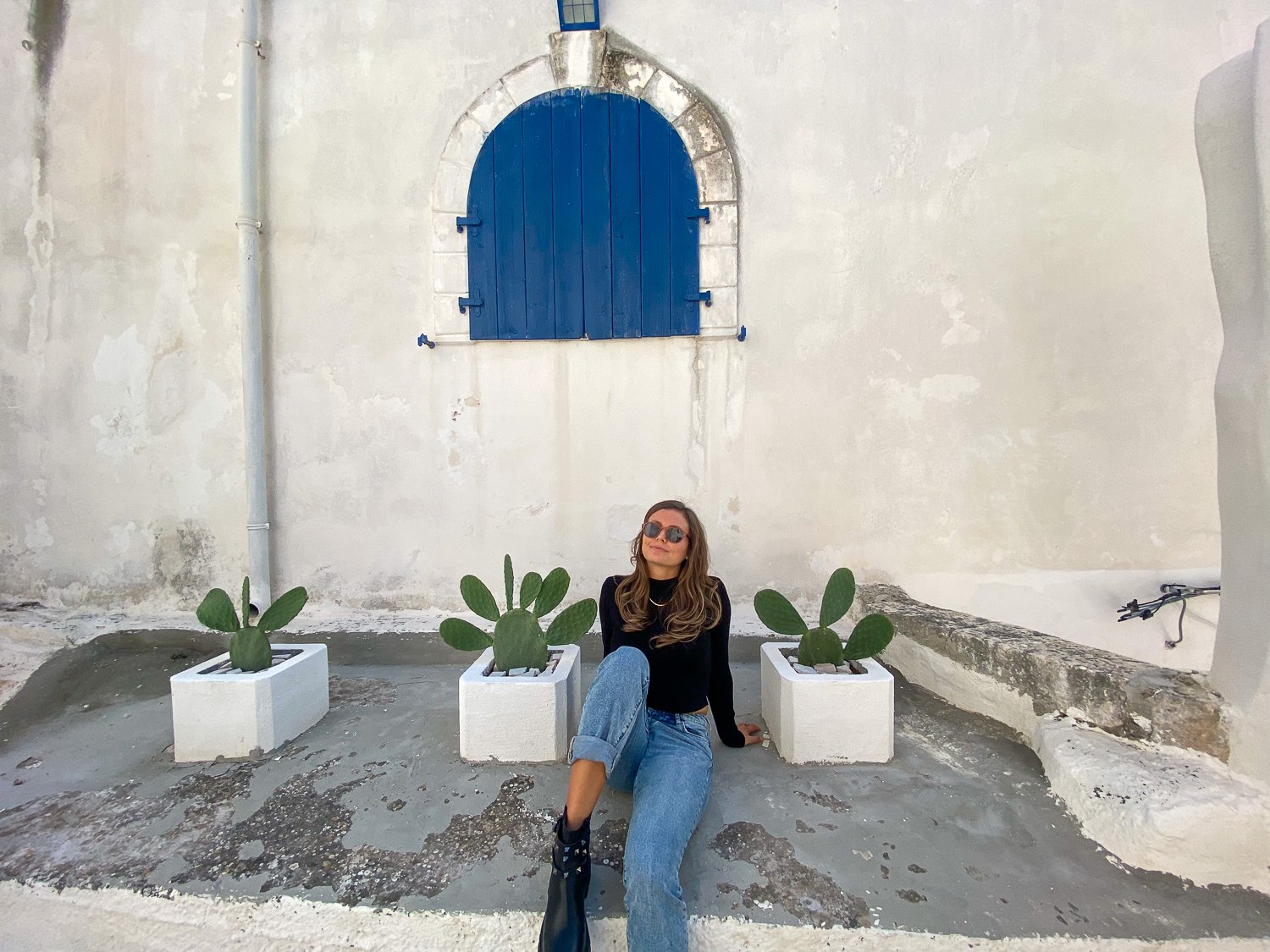 How Many Days Should You Spend in Puglia?
At 400 kilometers, Puglia is the longest region in Italy. That means you'll:
Need to rent a car… Or be comfortable with lots of trains, buses, and taxis; and
Need at least one week to see, more or less, all of the highlights of Puglia.
But not to worry! This 7 to 10 day Puglia itinerary is here to help you squeeze the most out of every moment.
On a 7-day Puglia road trip, you'll visit Lecce, Ostuni, Locorotondo, Alberobello, and Polignano a Mare.
If you've got 10 days, your Puglia road trip includes all the above-mentioned towns, plus the Gargano National Park, the Santuario di San Michele Arcangelo, the Castel del Monte, the picturesque seaside towns of Vieste and Peschici, and the incredible Tremiti Islands!
No matter how many days you can spend in Puglia, you'll leave with memories to last a lifetime.
You could even pick and choose your favorite places in Puglia and use this as a Puglia itinerary for 5 days!
How to Travel to Puglia
Arriving in Puglia is as easy as saying "Puglia." Just kidding! The secret to pronouncing Puglia is the silent "g": Say it like "poo-lee-uhh."
But really, arriving in Puglia is easy!
DOMESTIC ARRIVALS: If you're arriving from another Italian city, simply take the high-speed train (usually the Trenitalia Frecce) to one of Puglia's large cities, like Bari, Brindisi, or Lecce. You can also take a domestic flight to Bari or Brindisi airport.
INTERNATIONAL ARRIVALS: If you're coming from outside of the European Union, you can fly right into Bari International Airport (Karol Wojtyla).
Traveling to Puglia from within the EU? You've got options. There are many flights into Brindisi Airport (also known as Salento Airport) too. Even though I was already in the EU, I chose to fly into Bari because it was cheaper.
Hot tip: While we're on the subject of flights… Travelers outside of the EU should consider finding a departure airport with affordable non-stops to Europe. I was living in Nicaragua at the time of my trip to Puglia, so I decided to fly from San Jose, Costa Rica to Madrid, Spain for $400. Once you're in the EU, flights with budget airlines like Ryanair are super cheap! My fare from Madrid to Bari was about €55!
Renting a Car for Your Puglia Road Trip
Since this is a road trip, you're going to need a car!
When booking your rental car, keep in mind that manual cars are commonplace in Italy, so an automatic transmission is going to cost you a bit extra (I'm looking at you, fellow Americans!).
And that's also to say, make sure to select the "automatic" filter (if you need to) while searching for your rental, so you don't accidentally book a manual! Reserve your rental car in advance here!
This rental car site aggregates the best rental car deals throughout Europe. Plus, they offer free cancellation, just in case!
Click here to book your rental car!
How to Get Around Puglia
With a Rental Car
I'm going to give it to you straight: driving in Southern Italy is not a cakewalk. The roads are chaotic, often with confusing signage, potholes, and cliffside hair-pin turns. Not to mention, Italian drivers are rather passionate, if you know what I mean.
This isn't meant to discourage you, but to prepare you! This Puglia road trip itinerary is an adventure for the books!
Now, back to the facts.
Puglia travel is much more liberating with a rental car, as many Puglian towns are just a short distance from each other, and not every town is easily accessible by bus or train.
With Public Transportation
If you decide to go with public transportation (which I do not recommend), here are my best tips for you. The high-speed Trenitalia Frecce is a fantastic way to get from city to city. But to get to smaller towns, like Alberobello and Locorotondo, and off-the-beaten path historical sites, you'll be looking to take a bus (often the Ferrovie del Sud Est).
If you're following this as a 10-day Puglia road trip itinerary, you should rent a car for at least the Gargano portion of your trip. Trust me, you'll want to stop for photos on the roadside left and right!
Click here to find a great deal on your rental car, with free cancellation!
The Best Puglia, Italy Itinerary Overview (For 7-10 Days)
I've designed this Puglia road trip itinerary to take you all the way down to Lecce, in the south of Puglia, first. That way you can spend a night in each of the picturesque towns as you work your way back toward your departure city.
But let's not talk about departures!
Here's a quick summary of your dream Puglia itinerary, day by day:
Days 1-3: Lecce
Days 3-4: Ostuni
Days 4-5: Locorotondo
Days 5-6: Alberobello
Days 6-7: Polignano a Mare
Days 7-8: Vieste, Santuario di San Michele Arcangelo & Forest Umbra
Days 8-9: Peschici, Day Trip to Isole di Tremiti
Days 9-10: Airport, stop at Castel del Monte
Puglia Map: Your Itinerary
Puglia Road Trip Itinerary, Part 1: Days 1-7
Okay, let's dive into the day-by-day details of your Puglia itinerary, starting with Lecce!
Days 1-3: Lecce
In the south of Puglia lies the romantic, wildly historic, Baroque city of Lecce.
Lecce is the capital of Salento, a sub-region of Puglia. It's characterized by whitewashed villages that sit atop a honey-colored limestone peninsula along the Adriatic Sea.
This limestone is Lecce stone, or Pietra Leccese in Italian. It constructs the Baroque buildings that make Lecce so well known, and so dang gorgeous!
Spend two full days exploring the town (there are so many things to do in Lecce!), or take a day trip to surrounding beaches like Otrano on the Ionian Sea.
Where to Stay in Lecce
Patria Palace Hotel (Luxury): This immaculate 18th-century palace is Lecce's most luxurious stay.
Mantatelure (High Mid-Range): Opulent yet affordable and right in the heart of Centro Storico.
Dimora San Giuseppe (Low Mid-Range): Enjoy views of Baroque architecture during breakfast on the terrace.
Click here to find the best deals on Lecce hotels, vacation rentals, and more.
What to Do in Lecce
1. Guided tour of Centro Storico
Lecce is the largest and most historic city in Salento, so you'd be wise to join a Lecce Walking Tour on the first day to get the lay of the land and its history.
Head out on this top-rated Lecce Walking Tour, or sign up for a daily free walking tour at one of the Lecce tourist offices dotted throughout the historic center. My guide spoke perfect English and pointed out the best spots to eat in addition to historical sites and their significance.
Next time I'm in Lecce, I would love to go on this Lecce Street Food and History Tour! Click here to book yours!
2. Explore the Piazza del Duomo
The secluded Piazza del Duomo (Cathedral Square) of Lecce is a must-see.
You'll explore this important square on a guided tour, but I recommend going back on your own time so you can admire what's inside. In the piazza, check out the following: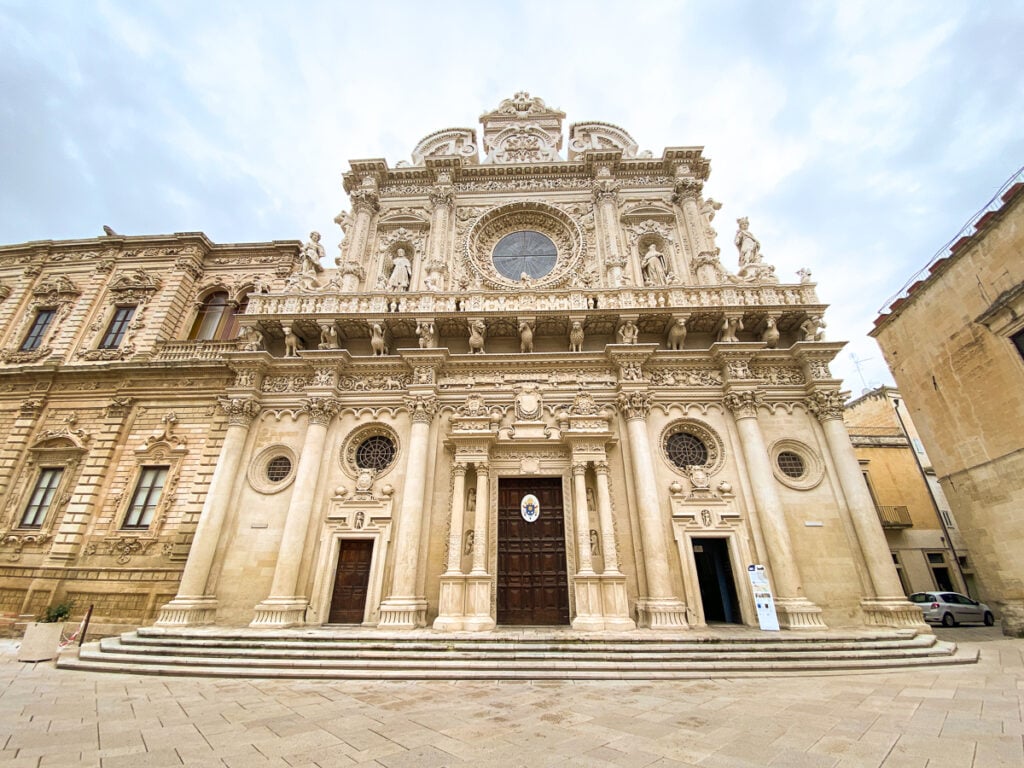 3. Admire the Basilica di Santa Croce
Baroque Lecce is best exemplified by the Basilica di Santa Croce, an architectural wonder designed by generations of Lecce's top architects, including Giuseppe Zimbalo.
Again, you'll want to revisit the Basilica di Santa Croce on your own time after your walking tour, since the groups merely pass in front of the facade, which, admittedly, is the most impressive feature in my opinion.
4. Tour the Museo Faggiano
I'm not a huge history buff, but this family house-turned-history museum completely blew me away.
Long story short, what was meant to be a plumbing project for a restaurant conversion turned into a decades-long (and still ongoing) excavation, where archeological findings from over 2,500 years ago (think: Mesopotamian tombs and etchings from the Knights Templar) have been recovered.
The Museo Faggiano is a museum unlike any other!
5. Visit the two Roman Amphitheaters in Centro Storico
Roman Amphitheater: Part of what makes Lecce so fantastical is the juxtaposition of Roman ruin and modern city. What better example of that than the Roman Amphitheater in Piazza Sant'Oronzo, Lecce's main square lined with shopping boutiques and high-end eateries. P.S. Be sure to visit the Amphitheater at night, the lighting is gorgeous!
Teatro Romano: I imagine this Roman Theater to be somewhat of an underdog, living in the shadow of the Roman Amphitheater's popularity in the main square… But the Teatro Romano has its own unique juxtaposition. Moss covered Lecce stone seating framed by the rising of tall palm trees in the background. I always prefer the underdog.
6. Join an Organic Vineyard Tour
While in Lecce, why not learn about (and drink!) native Salentine wines with an expert sommelier?
On this Primitivo and Negroamaro Wine Tour, you'll visit two wineries nearby Lecce and learn about the grape-to-wine journey.
This tour also comes with a typical Puglian lunch and pitstop at the Museum of Primitivo Civilization.
I can tell you firsthand that the Primitivo and Negramaro grapes make stupendous wine, but don't ask me to choose a favorite! (Okay fine, it's Primitivo.)
Click here to book your Primitivo and Negroamaro Wine Tour.
7. Take a Cooking Class
I have a hunch that one of the reasons you chose to visit Southern Italy is because you love food. Am I right? That's what I thought.
Try your hand at crafting the famous "little ear" pasta of Puglia, orecchiette, with local chefs in a traditional osteria (small menu, casual restaurant) during this Orecchiette Cooking Class.
This cooking class also comes with a tasting plate of delicious cold cuts, cheeses, and wines!
Click here to book your Orecchiette Cooking Class and Wine Tasting in Lecce!
READ MORE: 14 Unforgettable Things to Do in Lecce, Italy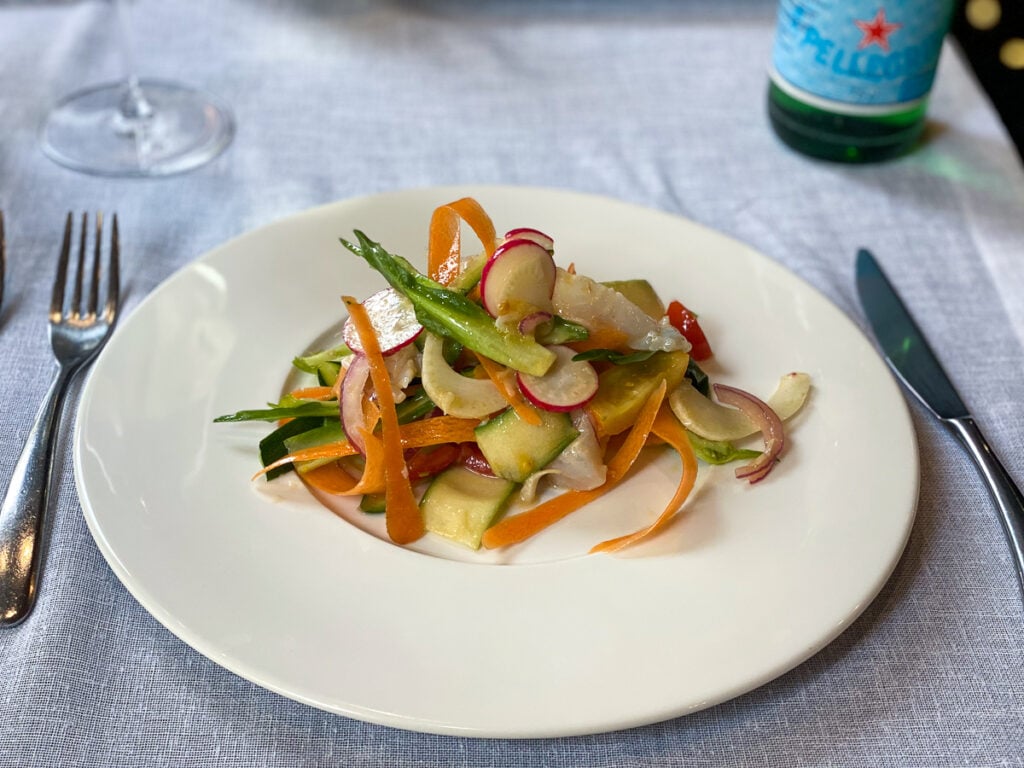 Where to Eat in Lecce
Day 3-4: Ostuni
Ostuni is a must on every Puglia itinerary.
Ostuni, or "La Città Bianca" (the White City), absolutely stole my heart. And I still haven't gotten it back.
Wandering the zig-zag alleys of Ostuni's medieval historic center will make your life feel like a fairytale, while exploring the whitewashed houses of lower town tell you a story of times past.
Best of all, Ostuni's nighttime lights cast a magical glow upon the ancient stone buildings and olive groves below.
Where to Stay in Ostuni
Paragon 700 (Luxury): An incredible restored palace with restaurant, bar, and spa!
Hotel la Terra (High Mid-Range): I loved my stay at Hotel la Terra; stunning terraces and a perfect location.
Dimora Martina (Low Mid-Range): This private residence has everything you need to feel like an Ostuni local!
Click here to find the best deals on Ostuni luxury hotels, apartment rentals, and more.
What to Do in Ostuni
1. Explore Around Centro Storico
The historic center is my favorite part of every old town in Italy, but the absurdly adorable historic center of Ostuni is unmatched.
Was the elderly Italian musician on the street corner playing just for me?
Considering I took my Puglia road trip in November, he actually was, but that's besides the point…
Take a wander and you'll discover for yourself the hidden corridors and laundry-strewn, narrow alleys in Ostuni's Centro Storico. Totally bewitching! I even found a box of kittens one night while wandering around after dinner.
Fun fact: Ostuni's white houses in the lower part of town were historically where the lower-class people of Ostuni lived. The white limestone paint acted as an antibacterial, making up for lack of sanitation services.
2. See the Duomo di Ostuni
The proud gem of the historic center is, without question, the Duomo di Ostuni, which has the second-largest rose window in Europe!
The Romanesque-Gothic cathedral façade against blue Italian sky will be etched into your memory of your time in the White City.
3. Pass Under the Arco Scoppa
Take a photo, you know you want to! The stunning Arco Scoppa creates a lovely protective frame for the cathedral and an aesthetic photo background, too.
But this archway has a function besides being the backdrop for your instagram; it's the passageway from the seminary to the bishop's palace!
4. Visit the Museo Civilta Preclassiche della Murgia Meridionale
Like I mentioned earlier, I'm no history fanatic, but I was moved to tears by this museum's final display.
The Museum of Preclassic Civilizations of the Southern Murgia (that's a mouthful) holds what are believed to be the oldest remains of a mother in history.
Much of the informational plaques are only in Italian, but grab an English pamphlet at the entrance and read her story. Tears almost guaranteed with the price of entry (which is 5 euros by the way).
5. Take a Photo at Porta Azzurra
The Porta Azzurra at the top of Centro Storico is the spot in Ostuni for an aesthetic photo. The colorful blue-green painted door, large potted cacti, and fresh white wall are *chef's kiss* against bluebird skies.
It may be a new city initiative to design "Instagram spots" around this old town, but people seem to like it (myself included).
Don't forget to take in the view of centuries-old olive groves below!
6. Go on an Ape (Tuk Tuk) Tour of the Millenary Olive Groves in Ostuni
You'll see plenty of olive groves during your Puglia road trip, but this private Ape tour (please don't call them tuk tuks) is a fabulous way to truly learn about the historical, spiritual, and symbolic significance of the olives to Puglia. This tour also doubles as a way to rest your feet! Ask for Livio, he is the best tour guide I've ever had.
Click here to book your Private Ape Tour of the Millenary Olive Groves in Ostuni!
7. Go Wine Tasting at a Family-Owned Winery
Familiarize yourself with the palate of the Itria Valley on this wine tour of a traditional Puglian wine cellar and vineyard just outside of Ostuni.
Between sips of red and white, you'll dine on a typical aperitivo or decadent four-course meal prepared by your local guides.
Click here to book your Ostuni Wine Tour!
READ MORE: 16 Enchanting Things to Do in Ostuni, Italy's "White City"
Where to Eat in Ostuni
Day 4-5: Locorotondo
Welcome to Locorotondo, winner crowned one of Italy's most beautiful towns, 'borghi più' belli d'Italia'.
Find this round, whitewashed town set in the stunning Valle d'Itria (Itria Valley), a belt of nutrient-rich land in the province of Bari that cultivates delectable grapes. Locorotondo produces Puglia's best white wines, by the way.
Like Alberobello, Locorotondo is surrounded by trulli houses, but is known for its own unique architectural design, cummersa houses with pitched roofs.
Locorotondo is tranquil, so sit back with a glass of local vino bianco and savor the afternoon sun.
Where to Stay in Locorotondo
Click here to find the best deals on iconic Locorotondo trulli, luxury hotels, apartment rentals, and more.
What to Do in Locorotondo
1. Join an E-bike Tour of the Valle d'Itria
Let the warm Puglian breeze blow through your hair as you discover the vast expanse of vineyards and olive groves of the Itria Valley on this Valle d'Itria E-bike Tour. Your e-bike group will meet in nearby Martina Franca and take you through the Apulian Aqueduct Cycle Route to historic centers of quaint towns around the Itria Valley, from Cisternino to Locorotondo.
Plus, you'll taste typical Apuglian ingredients along the way.
No better way to see the valley than on this tour!
Click here to book your Valle d'Itria E-bike Tour.
2. Walk Through Locorotondo's Churches
Spend a couple hours visiting Locorotondo's regal churches. What's on your list?
The "mother church" Church Saint George Martyr's, the Chiesa di San Nicola's frescoed ceiling, and the Chiesa della Madonna della Greca's rose window (this is the oldest church in Locorotondo)!
3. Hang Out in Centro Storico
You can sense Locorotondo's prestige best from meandering the winding pathways of Centro Storico.
The main square of Locorotondo, Piazza Vittorio Emanuele II, has a wonderful viewing terrace where you can appreciate the olive trees, trulli, and vineyards beyond. The Palazzo Morelli is an intricately sculpted Baroque building whose archway and balconies are accented by vibrant potted flowers.
4. Watch the Sunset from the Top of Locorotondo
Sit on the edge of Locorotondo's ancient city walls at Terrazzamenti Via Nardelli or Punto Panoramico Locorotondo for sunset.
Of course, add in a picnic of goodies from L'Arco Dei Tipici and a bottle of vino. And viola! Your Southern Italian sunset just got even better.
5. Go on an Itria Valley Vineyard Walk & Wine Tasting
You can't not treat yourself to a romantic wine tasting in an ancient terraced vineyard in Locorotondo!
Terra Chevive's vineyard paths bring you to an incredible centuries-old trullo and rose garden. Ideal locations to pause for sips of wine and stories of Itria Valley history and legends.
Where to Eat in Locorotondo
L'Arco dei Tipici: Sample antipasti plates and purchase handmade local products inside!
Pietranuda: This is your spot to indulge in a fancy dinner in Locorotondo.
Controra: An absolute gem. Drink local wines, meats, and cheeses with amazing Itria Valley views.
Day 5-6: Alberobello
It would be remiss of me to suggest only a day trip to Alberobello for your Puglia itinerary. Falling asleep and waking up in a trullo is a core memory from my Puglia road trip!
These whitewashed cone-shaped cottages have a unique history that is somewhat of a Pugliese legend (there's no shortage of those!).
Get to know the land of trulli on Day 5 of your Puglia road trip itinerary, your first UNESCO World Heritage Site of the trip!
Where to Stay in Alberobello
Click here to find the best deals on trulli stays and hotels in Alberobello!
What to Do in Alberobello
1. Stay the Night in a Trullo
About a thousand years ago, Alberobello craftsmen created trulli to avoid paying taxes. Back then, they'd quickly dismantle the trulli's conical stone roofs when the tax man came to town. No roof, no proper dwelling. No taxes, amen.
Now, they're protected by UNESCO! Stay at least one night in a trullo for the ultimate Alberobello experience.
La Mandorla Luxury Trullo, Le Alcove Luxury Hotel, and Trulli Holiday are the three best options!
2. Walk Around the Rione Aia Piccola Quarter
This quarter of Alberobello is full of lived-in trulli homes – no tourist shops here! Take a stroll around and imagine you live in one of Rione Aia Piccola's trulli; that's a magical reality for many locals!
P.S. If your Puglia road trip falls during the holiday season, see the Precepe di Luce, a wonderful nativity light show in Rione Aia Piccola.
3. Be Touristy in the Rione Monti Quarter
I won't lie, much of the trulli in Rione Monti are souvenir shops, but what did you expect from Puglia's most touristic town?
Still, you stand no chance against the charm of Rione Monti. So grab yourself some trulli-shaped cotton hotpads for your kitchen and a trulli-printed canvas tote. You won't regret it!
Pop into Il Trullo Più Piccolo, Alberobello's smallest trullo, and the Trullo Siamese, two conjoined trullo with painted symbols atop.
4. Tour the Trullo Sovrano
I spent more time than I expected in the Trullo Sovrano, which is Alberobello's largest trullo-turned-museum.
Here, you'll learn the fascinating history of trulli and the familial way of life back in the day. The English information plaques are incredibly interesting and worth an intentional read!
5. Eat Pugliese Street Food
Calzones, pulpo puci (get your mind out of the gutter, it's an octopus sandwich), and Pasqualino… These are just a few of the classic street food delicacies of the Puglia region.
Apulian cuisine is hearty and traditionally vegetarian, as seen with the beloved fava bean stew!
6. Make a Pit Stop at Grotte di Castellana
On your way to Polignano a Mare on Day 6 of your Puglia road trip, make a stop at Castellana Grotto for an adventure to one of Italy's most impressive cave systems!
The karst cave system is a cathedral of stalactites, stalagmites, curtains, columns, and precious crystals. Tickets are best purchased online ahead of time here.
While you're there, why not become a certified gelato maker? Try this sweet artisanal gelato-making course in the home of a native Castellan!
Click here to book your Castellana Caves Artisan Ice Cream Class.
READ MORE: 10 Best Things to Do in Alberobello, Puglia, Italy
Where to Eat in Alberobello
Day 6-7: Polignano a Mare
Spend Days 6 and 7 of this Puglia itinerary in the coastal town of Polignano a Mare.
A hotspot for sea activities, Polignano a Mare hosts the annual Red Bull Cliff Diving World Series!
This beautiful town boasts some of Puglia's most spectacular views of the Adriatic Sea – and equally beautiful beaches, which you'll find nestled between towering white-sand cliffs.
Where to Stay in Polignano a Mare
Sei Stelle Mama (Luxury): Gorgeous family-run, luxury boutique hotel in Piazza Vittorio Emanuele.
BAYIT Charming Place (High Mid-Range): A charming stay with complimentary breakfast on the roof and a view of the sea!
CHIALE Holiday Apartments (Low Mid-Range): Your picture-perfect apartment in Polignano a Mare.
Click here to find an amazing deal on your stay in Polignano a Mare! This is my go-to booking website for stays throughout Europe!
What to Do in Polignano a Mare
1. Marvel the Lama Monachile (Playa Lama Monachile)
Polignano a Mare is most famous for its beautiful beaches and breathtaking views of the eastern coast.
The most-taken photograph in this coastal city is probably of Playa Lama Monachile, a rugged cove filled with crystal clear water, lined with sunbathers on golden sand.
Best arrive early if you're traveling during the summer! This spot is popular.
2. Head to the Panoramic Viewpoints
Let the salty breeze blow through your hair as you take in fabled views of the eastern coast of Puglia.
Some of Polignano a Mare's best views of landscapes and turquoise Adriatic Sea are found at these viewpoints:
3. Discover the Grottas of Polignano a Mare
There are thousands of majestic sea caves (grottas) dotted along the Adriatic coast. You must see (at least) a couple of them when you visit Puglia.
Unfortunately, the tours were halted when I visited during the off-season, but this is an incredible adventure for you on Day 6 of your Puglian road trip!
For those on the adventurous side, check out this Kayak Tour of Polignano a Mare. This kayak tour is perfect for beginners and offers the opportunity to swim in the refreshing seawater along the way. Click here to book your Polignano a Mare Sea Kayak Tour.
Want to relax a bit? This Boat Tour of the Polignano a Mare Caves comes with Prosecco in hand and bites to nibble on along the way. Click here to book your boat tour.
When sunlight pours into a sea cave, it's like a heavenly portal opens… That was my experience with the cave tours in Lagos, Portugal, anyway!
4. Go on Another Wine Tour
Wine not? (Okay, that was lame, but this wine tour isn't.)
Italian wine is something you can never grow tired of, so if you want to sample the flavors of a family-owned vineyard in Polignano a Mare, this wine tour is for you!
In addition to growing grapes, the Terre di San Vito produces their own olive oil and harvests their own produce.
Where to Eat in Polignano a Mare
Cucina di Ventura: A family-run restaurant with excellent down-home Puglian food.
Olio su Pane: Order a traditional panino here for a quick meal (the eggplant is SO good).
Grotta Palazzese: One of Polignano's most unique restaurants where you can dine in a cave above the sea!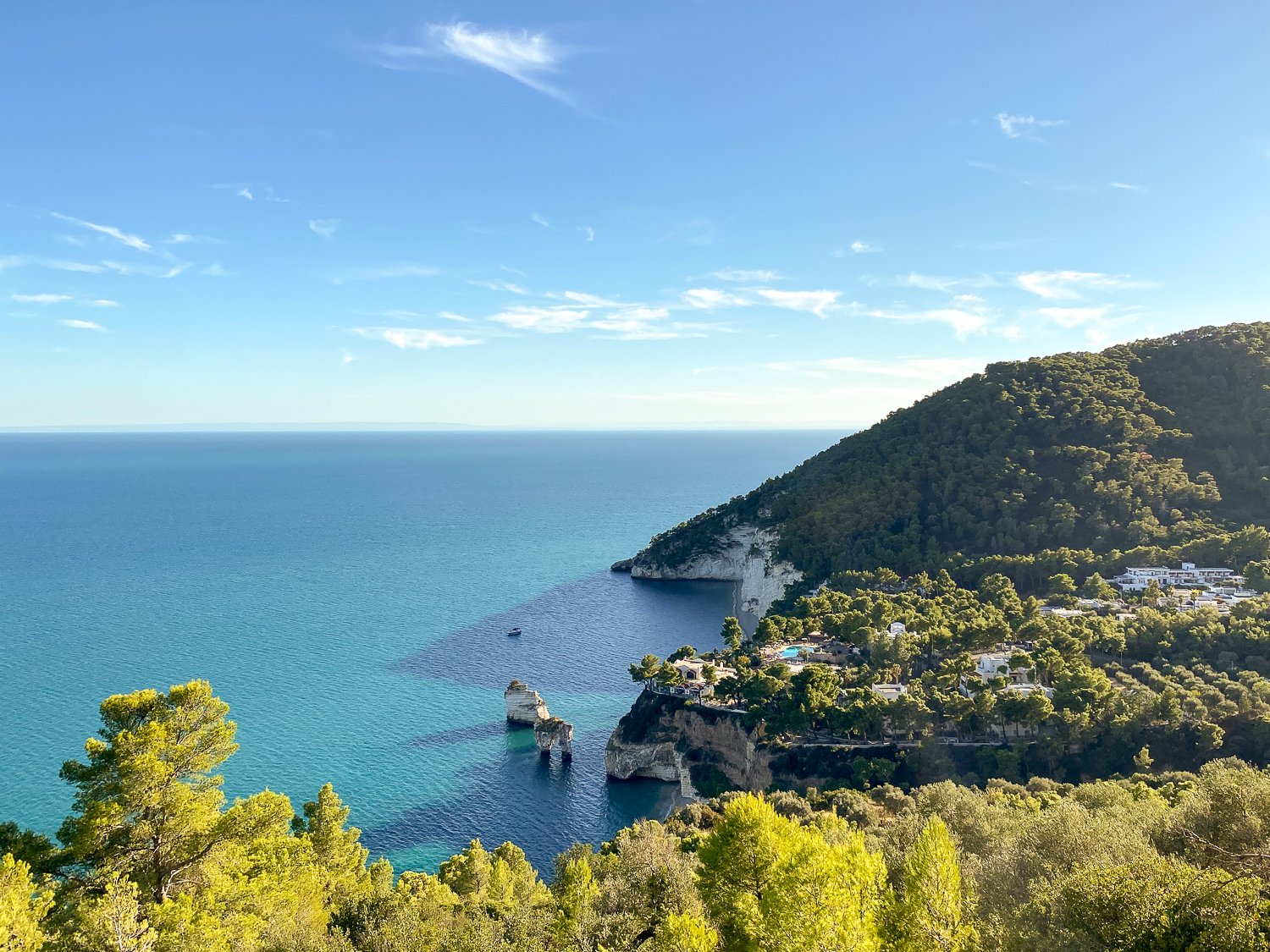 Puglia Road Trip Itinerary, Part 2: Days 7-10
Congratulations, you have an extra three days to explore Puglia!
Which means you're going to witness the true Southern Italian way of life in unspoilt Gargano. Plus, two more UNESCO World Heritage Sites, an almost extinct forest, and the stunning Tremiti Islands.
Day 7-8: Vieste
I fell in love with an Italian who grew up near Gargano National Park, so I spent a lot of time in this part of northern Puglia. I'd be willing to bet you've never heard of Vieste, or maybe even Gargano all together.
I was completely blown away by the landscape: white sandy beaches on the Adriatic Sea, towering cliffs, hidden sea caves, and rugged mountains covered in pine trees.
I had no idea a place like this existed in Italy. Which is why you must add it to your Apulia itinerary!
Vieste's authenticity will move you; look out for ancient fishing trabucco, medieval coastal towers, and dreamy dining experiences.
Where to Stay in Vieste
Click here to book your stay in Vieste!
What to Do in Vieste
1. Stop for Gelato and Natural Wonders on the Way
On the Litoranea, the coastal road to Vieste, are opportunities to stop and witness fantastic Puglian nature and sample some of Italy's best gelato.
As you first make your way around the curve of Manfredonia, stop at Tommasino Gelateria for creamy goodness.
As you near Vieste, pull off to see the Grotta Sfondata cave and the Arc of San Felice, a naturally formed limestone arch over the sea.
You'll also pass by these by boat if you decide to spend a few hours on a boat tour from Vieste.
2. Wander around Centro Storico
Let your feet lead the way as you meander Vieste's historic center.
Pass under La Porta ad Alt and head into the Basilica of Vieste, the Castle (Il Castello Svevo), and main square, Piazza del Seggio.
Then walk along Via Judeca to Punta San Francesco, an iconic peninsula reaching out into the Adriatic Sea.
3. See the Pizzomunno
Sitting below the Castello Svevo is the Pizzomunno, an 82-foot-tall limestone rock, shooting straight up toward the sky.
There's a somber romance legend about how the rock came to be, as there are many tales in Italy.
This monolithic rock is a sight to behold – and when surrounded by birds at sunset, it calms the soul.
4. Go Wine Tasting at Cantine Merinum
At the foot of the Umbra Forest is a family-owned-and-operated biodynamic winery.
Cantine Merinum offers tours from Vieste so you can taste Gargano wines made with local grapes (such as the Bombino Bianco) and share bites of local cured meats, cheese, and "bruschette Garganiche" (Gargano style).
Click here to book your Wine Tasting Tour in Vieste!
5. Explore the Caves of Vieste
Gargano has the highest concentration of sea caves in all the Mediterranean, and this Private Marine Cave Cruise is the only way to see many of them!
Board your boat at the port of Vieste to learn about the history and legends of Gargano's sensational hidden sea caves, such as the famous Grotta Campana (Cave of the Bell).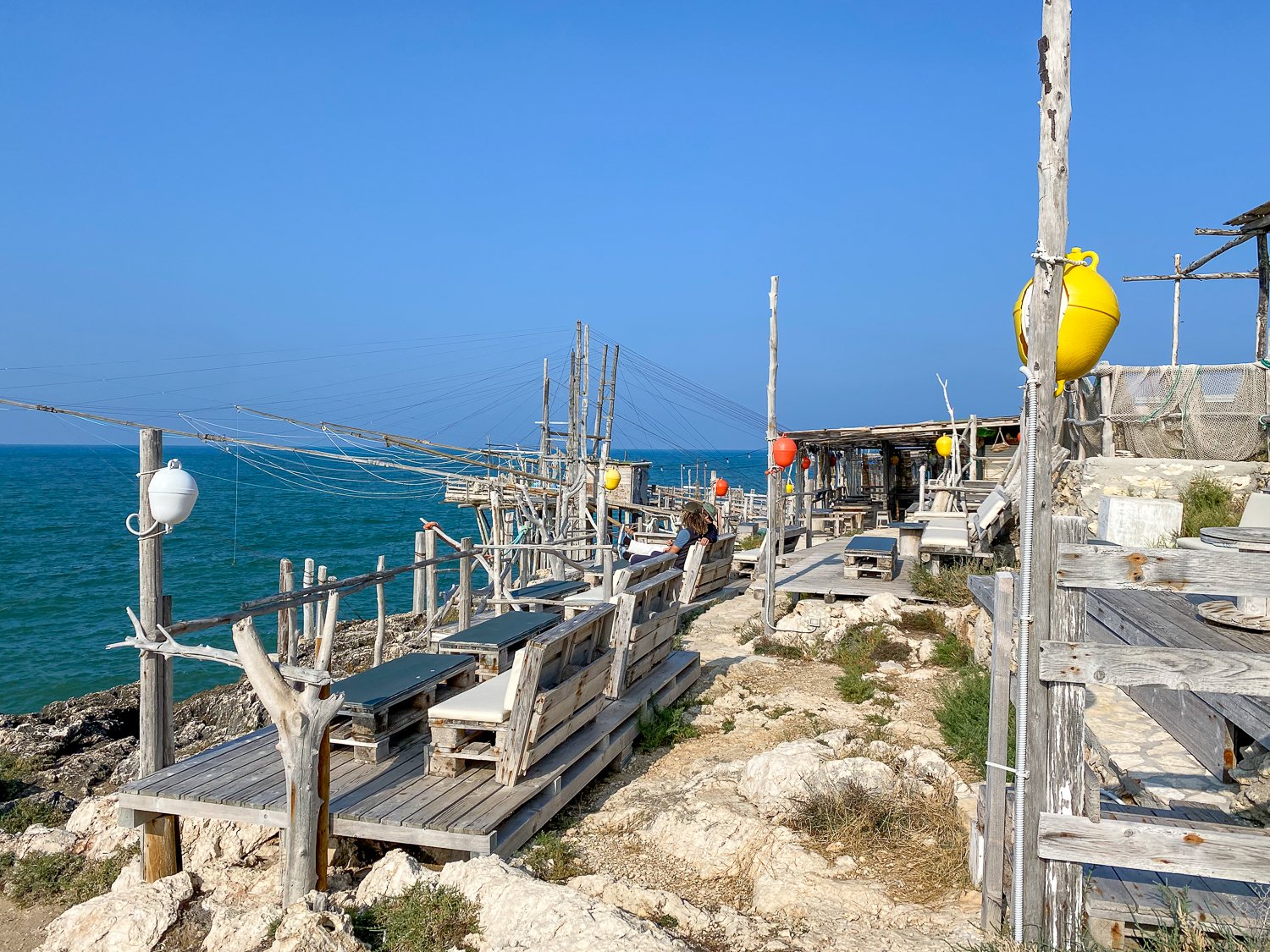 6. Fish on the Traditional Trabucchi
When you fish on a Gargano trabucco, you are taking part in a centuries-old art form and way of life. This experience is one-of-a-kind. A beautiful way to connect with the heritage of the Gargano people and their sea.
Click here to book your Trabucco San Lorenzo Fishing Experience.
Where to Eat in Vieste
Osteria Al Duomo: This is everyone's favorite traditional Italian restaurant in downtown Vieste! Try the frutti di mare pasta.
Al Dragone: Savor succulent mouthfuls of fresh seafood in a cave at this Michelin-starred restaurant.
Molo54: Sip on cocktails and slurp on mussels at this chic spot in the Vieste Harbor.
Day 8-9: Peschici
Like much of Puglia, it's likely that no one in Peschici is going to speak a word of English, and that's just the way we like it!
Plus, what else is there to say besides "Buongiorno" and "Pasta frutti di mare e vino rosso, per favore"?
But really, Peschici is a quintessential whitewashed fishing village, complete with potted cacti and meowing cats around every corner.
While you're in town, take a day trip or spend a night in the Tremiti Islands before heading back to the airport.
Where to Stay in Peschici
Click here to book your stay in Peschici! This website is home to the best deals in Italy and beyond.
What to Do in Peschici
1. Familiarize Yourself with Centro Storico
White houses, narrow cobblestone streets, and an unconquerable amount of really good Italian restaurants and fresh seafood… You know the drill here in Puglia!
The old town of Peschici is filled with killer dining spots, so walk the main street, Corso Garibaldi, and eat your way around to the Castello di Peschici, the Basilica, and the little art galleries selling pottery and Taralli breads.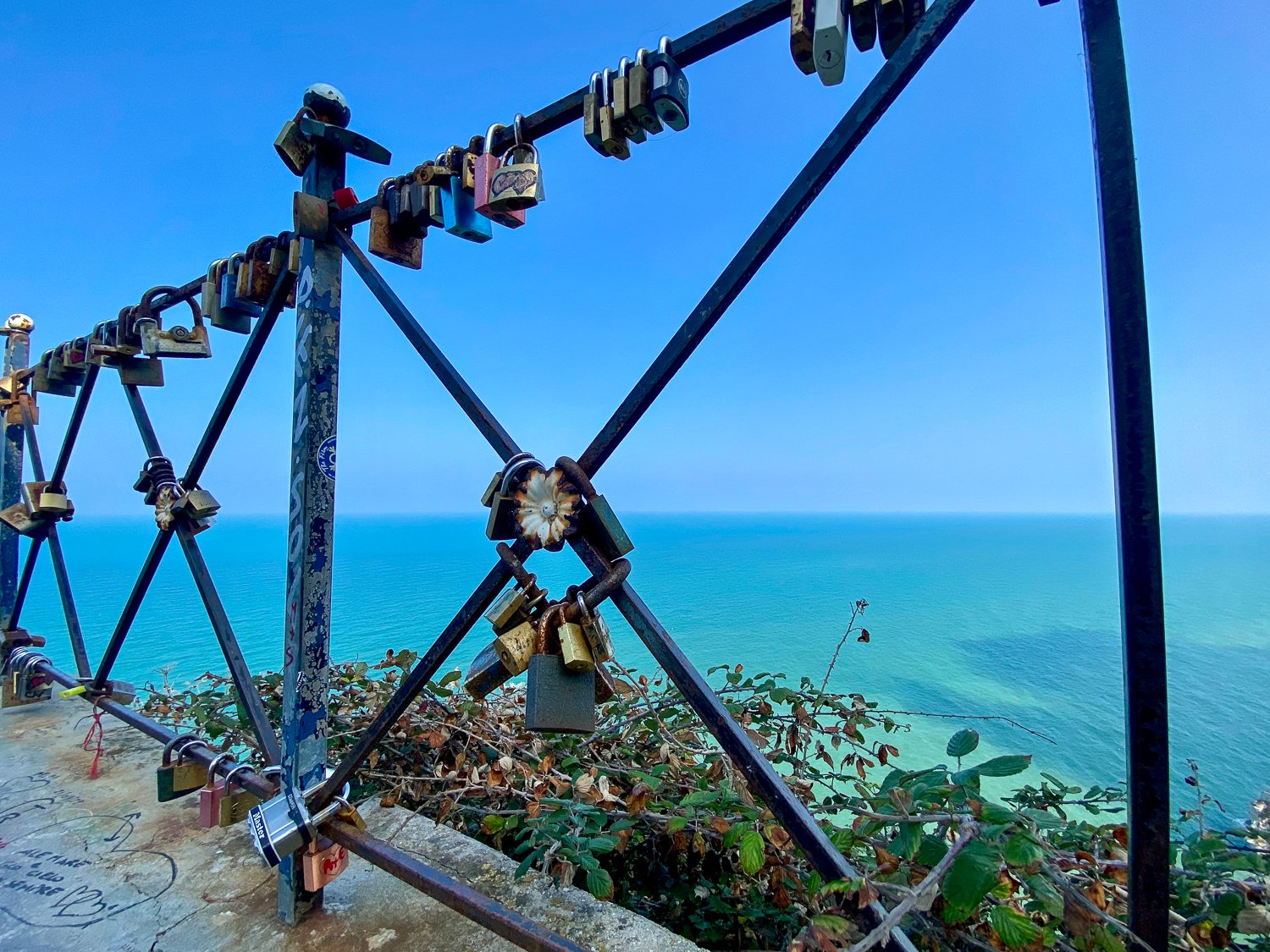 2. See the Love Locks Fence
Peschici has its own version of a lock lock bridge, a terrace where lovebirds come to secure an initial-adorned lock above promisingly blue waters.
Admire the locks, old and new, plus the view of the bell tower of Castello di Peschici below.
Artful vantage points and cozy viewpoints can be discovered all over Peschici.
3. Beach Day on the Adriatic Sea
What would an Apulia itinerary be without a few beach days?
Luckily, this fishing village is not as touristy as Polignano a Mare or the beaches near Lecce.
The main beach, Baia di Peschici, offers a nice spot for people-watching. But for a more secluded beach club, keep walking west to Baia Jalillo da Matteo.
Then there are Spiaggia di Procinisco and Spiaggia Zaiana: both uncrowded, sandy beaches with free sections.
Zaiana is more remote and will require a little hike down into nature.
4. Take a Day Trip to Isole di Tremiti
If you'd like to spend your last two nights of this Puglia road trip exploring Peschici and surrounding areas, then consider taking a self-guided day trip to the Tremiti Islands by booking a round-trip ferry service.
These islands make up Puglia's very own archipelago of sun-soaked beaches and hiking trails.
What Italian dreams are made of!
P.S. If you'd rather spend more time on the islands, read on; Days 9 and 10 of this Puglia itinerary have you covered.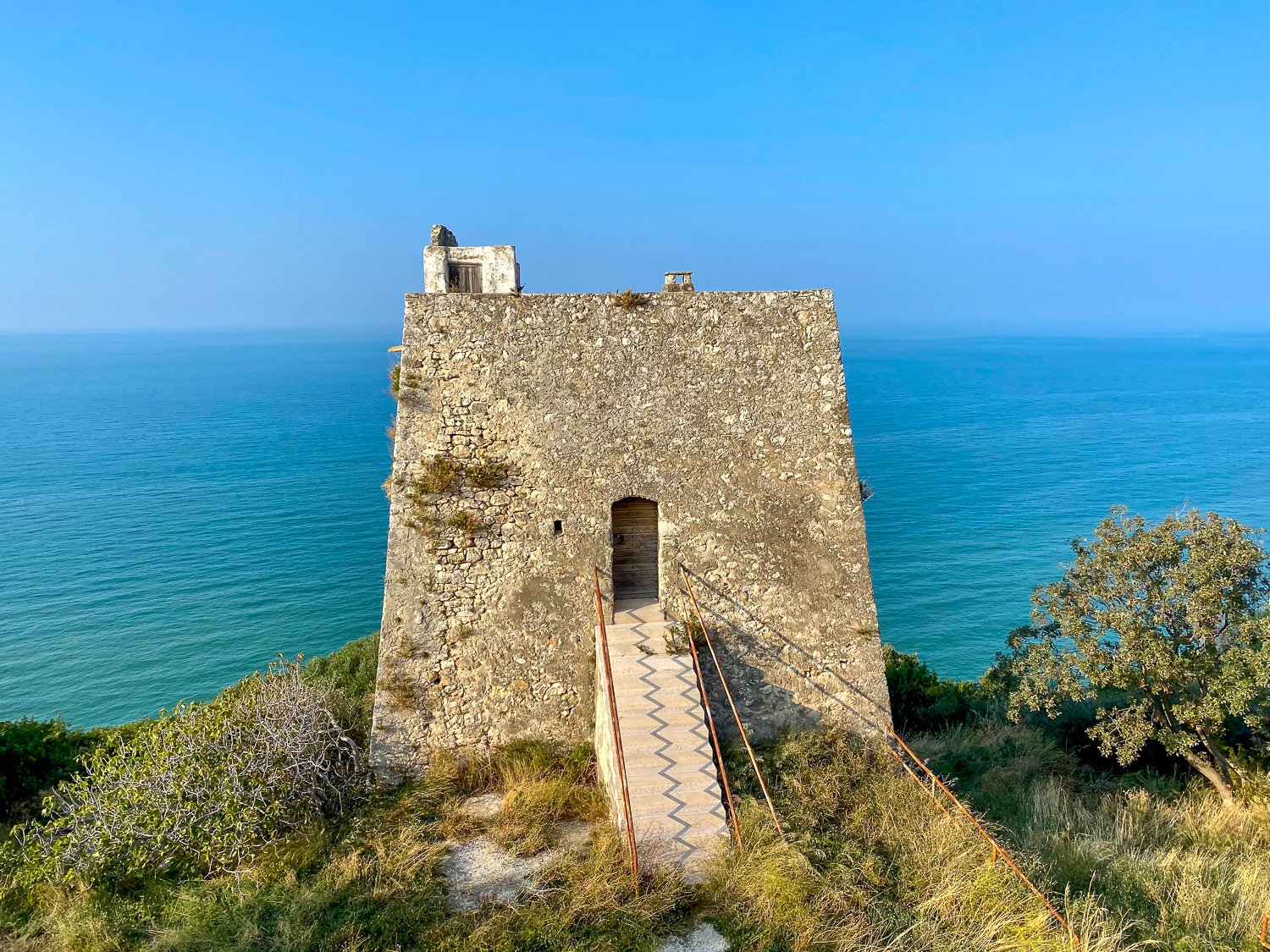 5. Stop for Torre di Monte Pucci
I know you've seen plenty of fortified watchtowers (torri) thus far on your Puglia itinerary. They're so iconic to the region!
But there's one in particular that is quite endearing: the Torre di Monte Pucci, my personal favorite coastal tower.
You'll find it just ten minutes outside of town, near another beautiful beach, Baia Calenella.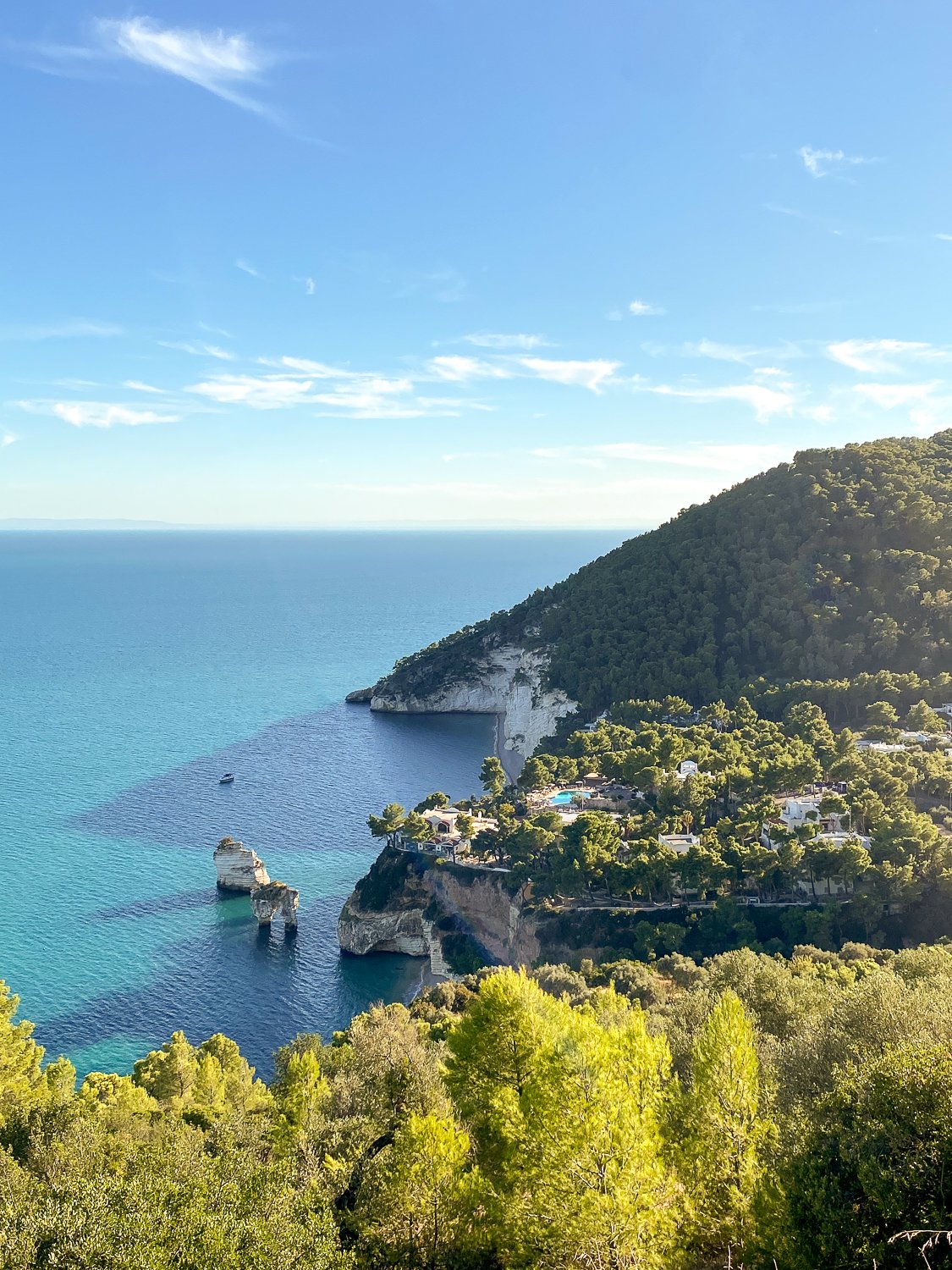 6. Discover the Ancient Foresta Umbra
Are you intrigued by natural history, rich biodiversity, and abundant flora and fauna?
Then you'll love spending a few hours in the UNESCO-protected Umbra Forest before making your way to our next destination.
The Foresta Umbra, in Gargano National Park, is the only remaining Italian section of an ancient forest that once covered much of Europe.
7. Make a Pit Stop at Santuario di San Michele Arcangelo
On your way to the airport, take a detour to Monte Sant'Angelo.
There, visit the stunning Santuario di San Michele Arcangelo, another UNESCO World Heritage Site on this Puglia road trip itinerary.
This is a very historical place of worship inside an underground cave. It's also one of the most famous pilgrimage sites in Europe!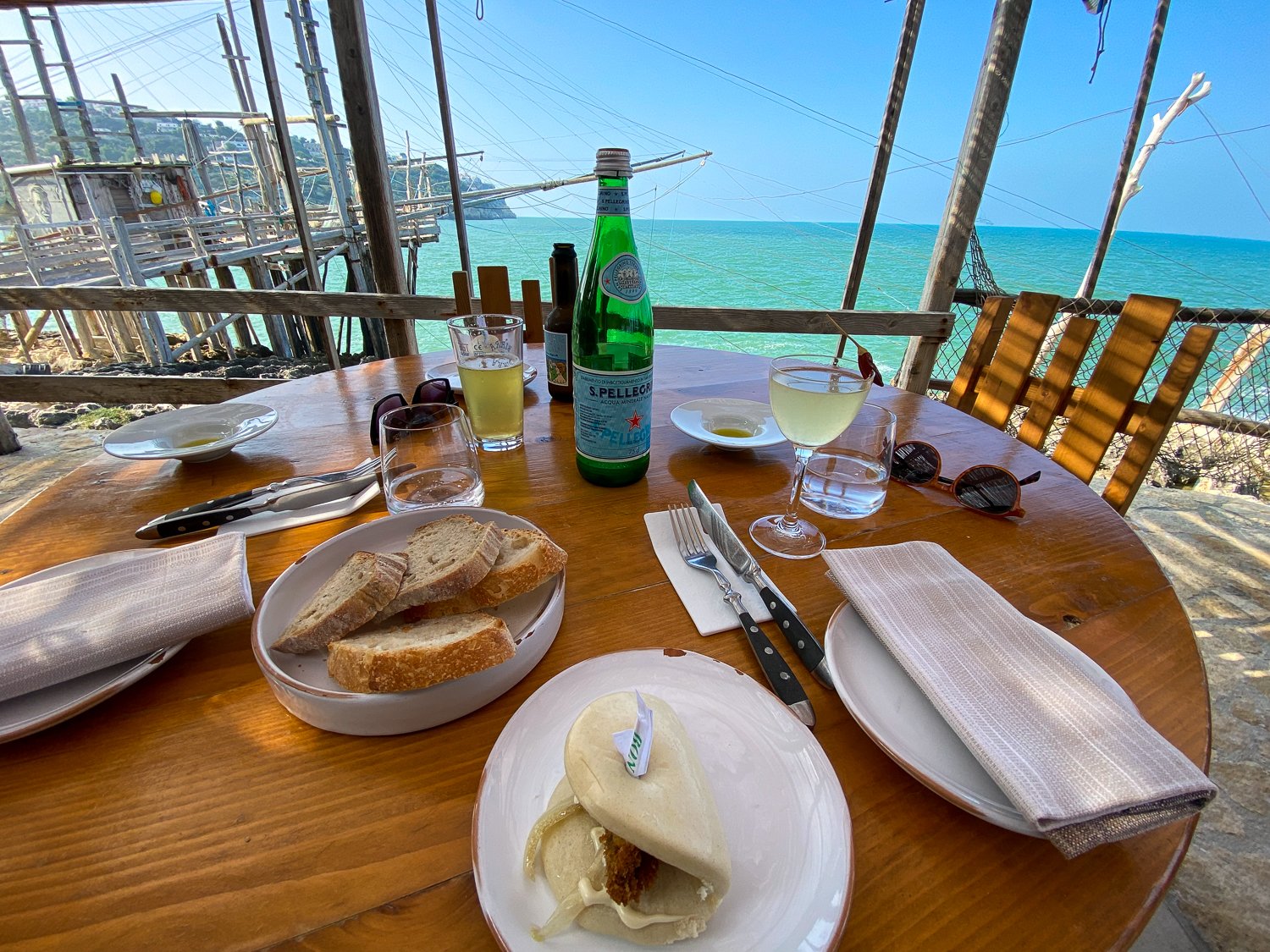 Where to Eat in Peschici
Day 9-10: Tremiti Islands
Have a couple more days to spare? Add the Tremiti Islands to your Puglia itinerary!
Spend your final days visiting Puglia finding relief from the summer heat on the unreal Tremiti Islands, an archipelago off the coast of northern Puglia.
The five lands in total – San Domino, San Nicola, Capraia, Cretaccio, and Pianosa – are all part of Gargano National Park. They all offer incredible snorkeling, scuba diving, hiking and fishing!
San Domino and San Nicola are the only inhabited islands, but still, no cars allowed! So leave yours at the ferry port.
How to Get to the Tremiti Islands
There are ferries departing to the Tremiti Islands from Rodi, Peschici, and Vieste from mid-April through the end of September.
You can use this handy table, and since the departure times vary depending on the season.
The fastest (and most expensive) option from Vieste or Foggia is to fly on an Alidaunia helicopter, which lands on the San Domino Heliport.
How to Get Around the Tremiti Islands
Since the archipelago is car-free (aside from a small minivan-taxi service on San Domino), you'll do lots of walking on the Tremiti Islands.
Enjoy the nature immersion and fresh air!
To hop from island to island, you can hire a boat or by joining a boat tour.
Where to Stay in Tremiti Islands (San Domino)
Villa Lucio Dalla (Luxury): An incredibly scenic and artistic villa on San Domino.
Hotel Kyrie Isole Tremiti (High Mid-Range): This antique hotel is tucked away in a romantic pine forest in San Domino.
Hotel Eden (Low Mid-Range): A cozy place to land with an open-air restaurant and a good location.
What to Do in the Tremiti Islands
You could compare these pine-covered islands with their translucent water and glorious sandy beaches to Capri (see our Amalfi Coast Itinerary for details!), but that would do a great disservice.
Though I did not make it to the Tremiti Islands during my Puglia road trip (November isn't exactly island hopping weather), I dream of scuba diving in the Tremiti Islands and swimming upon sunken planes, ancient shipwrecks, black coral, and numerous sea animals.
Not a diver? By snorkel you can access 23 underwater trails and see much of the same stellar sights.
A sea of five-star reviews follow this Motonave Victor boat tour. The captain grills his catch of the day onboard which you'll have for lunch with local liquors on this day-long excursion through the Tremiti Islands. Snorkel, sunbathe, swim in sea caves and under limestone arches… What a dream.
Where to Eat in Tremiti Islands
Bonus: Stop by the Castel del Monte
While en route to your departure city, if you have time for a little out-of-the-way pitstop, don't miss Castel del Monte.
This 15th-century castle is one of the most iconic and mysterious castles in the world. It's a UNESCO World Heritage Site whose geometric architecture is simply stunning!
Built by Holy Roman Emperor Frederick II, this castle features a peculiar octagonal shape, eight towers of white limestone, and a moat.
Castel del Monte is located roughly 2 hours away from the Tremiti Islands mainland ferry ports. From the castle, driving to Bari's center (for example) takes 1 hour.
Have Even More Time in Puglia?
There are plenty more amazing places to visit in Puglia!
Add these destinations to your Puglia itinerary:
Trani
Gallipoli
Otranto
Monopoli
Brindisi
Matera (not in Apulia but close enough!)
READ MORE: 18 Best Places in Puglia, Italy to Visit
Best Months to Visit Puglia
The best time to visit Puglia depends on what you want your trip to Puglia to be like.
Do you want the warmest weather of the year and to meet lots of people from all over the world? If so, visit Puglia during the summer months of July and August.
If you're looking to miss the summer crowds and experience warm-but-not-terribly-hot weather, try visiting Puglia in September and October! (Amalfi Coast in October is also a fabulous choice if you're staying in Italy for a while.)
When I visited Puglia in November, the weather was quite cold, but top destinations like Alberobello and Lecce were nearly crowd-less. I was able to get good deals on hotels, and have photo-bomb-free photos!
MORE PUGLIA TRAVEL INSPIRATION
Puglia Packing List
P.S. The key to an easy road trip is to pack light and stay organized! Having to move around and re-pack lots of luggage every day is a pain! Use packing cubes to stay organized.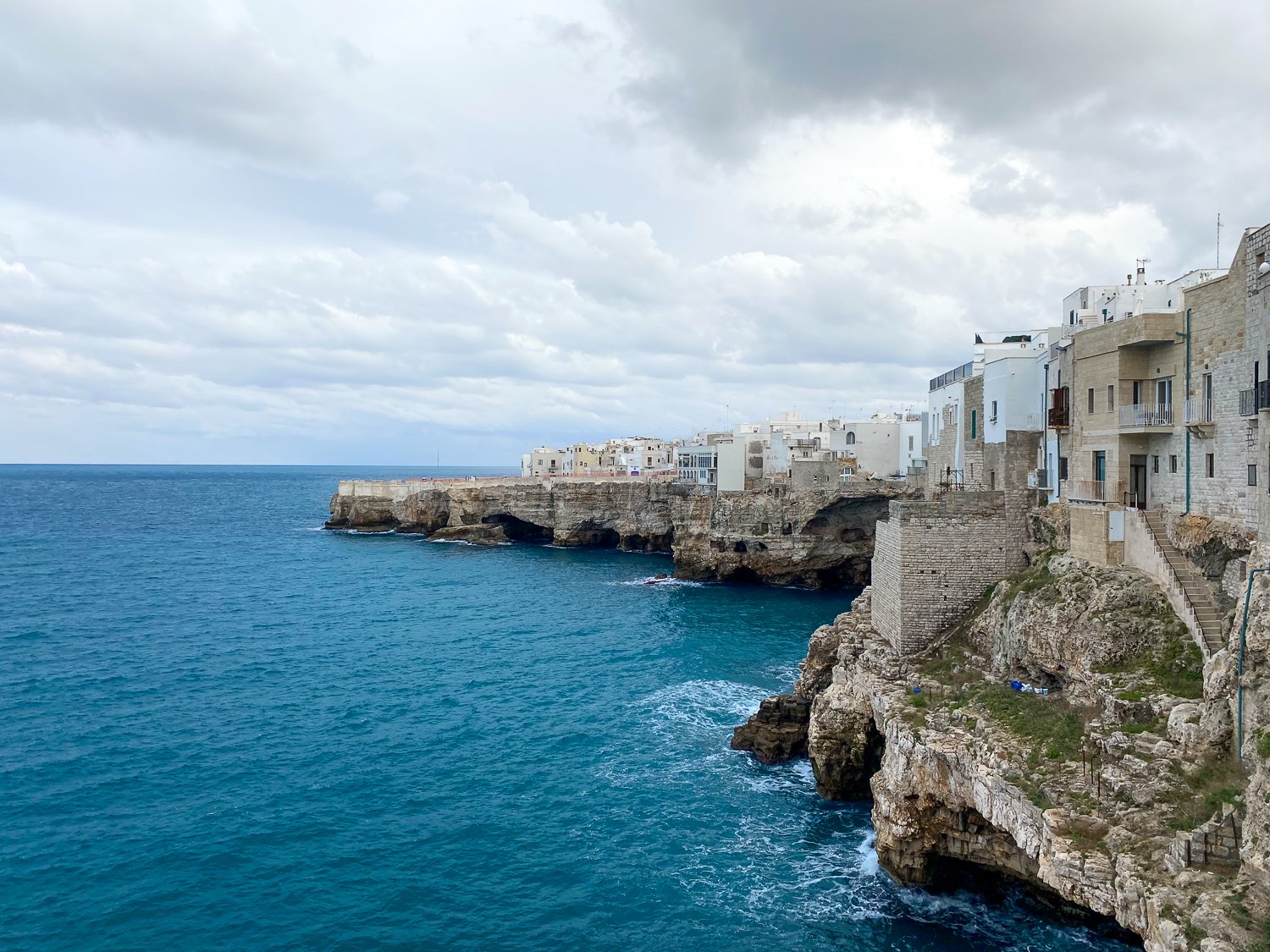 Puglia Travel FAQs
Where is Puglia, Italy?
Puglia is a region of mainland Southern Italy. Puglia is the longest region in the country and stretches from the spur of Italy's "boot" down to the bottom of the heel. The region of Puglia boasts beautiful coastlines on the Adriatic and Ionian Seas, whitewashed villages, ancient olive groves, and endless vineyards. This Puglia itinerary covers all of the best places to explore on your Puglia road trip!
Is Puglia worth visiting?
Puglia is well worth visiting. In fact, I've written an article about all the reasons why you should travel to Puglia. The region of Puglia, Italy offers two stunning coastlines, the Gargano National Park, beautiful cities and beaches, an archipelago called the Tremiti Islands, whitewashed towns, unique architecture, amazing food, and kind people. In addition, Puglia is worth visiting for its rich culture and fascinating history! It's also a lot more affordable than other popular destinations in Italy, such as Florence, Venice, Milan, Lake Como, or Amalfi Coast towns. You will absolutely love Puglia… Especially if you use this Puglia itinerary as your guide!
What is Puglia, Italy known for?
Puglia, Italy (also known as Apulia) is known for producing 40% of Italy's own olive oil. Not to mention, Puglia is known for fine wines, incredible food, and astounding natural landscapes. People also love Puglia for its many beautiful cities, stunning beaches, and unique heritage.
How many days in Puglia?
Anywhere between 5 to 10 days in Puglia is ideal. On a 7-day Puglia road trip, you'll have time to visit Lecce, Ostuni, Locorotondo, Alberobello, and Polignano a Mare; each of these cities and towns offer quintessential Apulian experiences. But if you have up to 10 days, your Puglia road trip can also include the incredibly beautiful Gargano National Park, the picturesque seaside towns of Vieste and Peschici, and the absolutely fabulous Tremiti Islands! This Puglia vacation itinerary gives you a day-by-day summary of the best things to see in Puglia and the best places to visit in a Puglia road trip.
How long does it take to drive around Puglia?
It takes about a week to drive around Puglia and see all of the must-see cities, towns, beaches, and landscapes. Most of Puglia's top places are only an hour away from one another, while driving from mid-region (Lecce) to the north (Gargano) will take about four hours. Driving from the northernmost to southernmost point of Puglia would take around six hours. This Puglia itinerary will walk you through everything you need to know for your Puglia road trip.
Is it easy to drive in Puglia?
It is relatively easy to drive in Puglia. Italians drive on the same side of the road as North Americans; however, Italian drivers can be slightly more unpredictable. Puglia's road signs are fairly intuitive, and the highways are well maintained for the most part. Rent a car and enjoy your Puglia road trip!
Where to base yourself in Puglia?
Wondering where to base yourself in Puglia? Consider choosing a centrally-located city like Ostuni, Polignano a Mare, or Alberobello as a base for your Puglia travels. Otherwise, I recommend renting a car, following this Puglia itinerary, and spending time in different destinations overnight.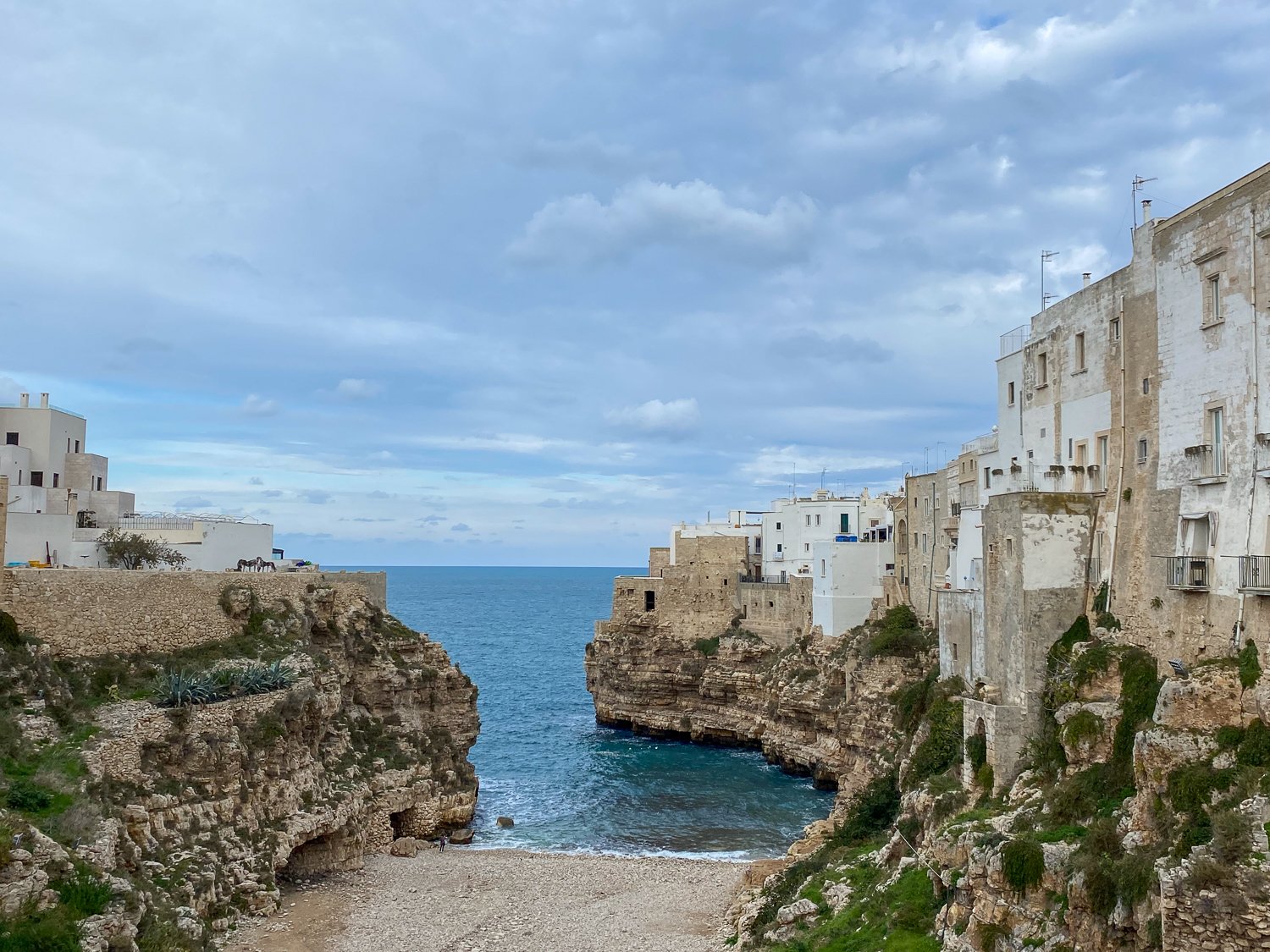 Final Thoughts: The Best Apulia Itinerary (Road Trip!)
With the conclusion of this extensive Puglia road trip itinerary, you're keenly aware of your attraction to this dynamic, history drenched land, its nature, and rustic cuisine.
With landscapes ranging from pine forest to low limestone cliffs, sandy beaches in sleepy fishing villages to Baroque city life and ancient Roman ruins, you're sure to be enchanted…
So extend from 7 to 10 days for your Puglia road trip. Remarkable untrodden islands off the coast beckon you to dig deeper!
Discover all of Puglia, the Italian region that seems to have it all… And then some.
SAVE THIS POST ON PINTEREST FOR LATER!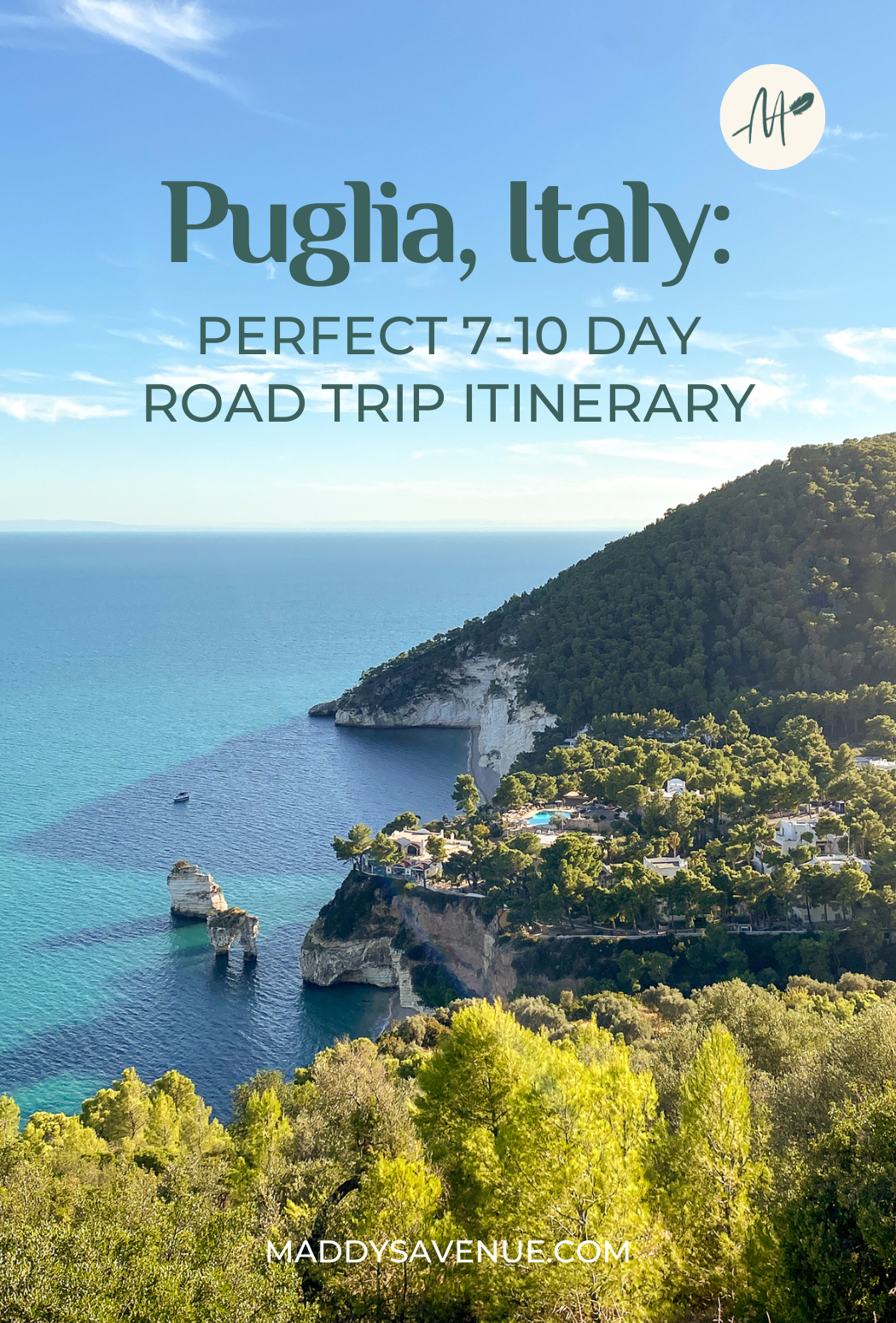 When you book travel or purchase something through our links, we receive a small commission, at no extra cost to you? Your support enables Maddy's Avenue to keep producing helpful travel content. Thank you!
Have you been to Puglia before? Are you using this Puglia itinerary to plan your road trip? Let me know if you have any questions in the comments below!
Disclaimer: This post may contain affiliate links. When you click through a link on this page and make a valid purchase, Maddy's Avenue may receive a small commission (at no extra cost to you!). We only recommend products/services that we believe in and know you will love too. Your support enables us to continue making helpful travel content. Thank you for reading, and thank you for your support!