Alright, I'll be honest with you: I'm completely obsessed with Puglia, Italy. After falling in love with this incredible region in Southern Italy over the course of two months, I can (and will) give you plenty of reasons why you should visit Puglia.
But bear in mind, you should not visit Puglia if you dislike stunning beaches, diverse landscapes, astonishing architecture, amazing food, and minimal crowds. See what I did there?
But really, why visit Puglia?
With 15 Blue Flag Beaches, a Baroque city, miles of ancient olive groves, three UNESCO World Heritage Sites, an archipelago, endless picturesque narrow streets, and two sea-cave-dotted coastlines, Puglia (Apuglia in English) is one of the most spectacular and strikingly beautiful destinations in Italy.
Keep reading for the inside scoop on all of the magic that awaits you in Puglia! Let's talk about what you'll see and do when you visit Puglia, Italy, plus my first-hand tips and your essential packing list.
Mamma mia! Andiamo!
Why You Should Visit Apuglia, Italy ASAP
It would be impossible to list all the reasons to travel to Apuglia, the "heel" of Italy's boot. They are infinite!
This article will merely scratch the surface of what you'll encounter when you visit the lesser-traveled, archetypal Italian region of Puglia, where you'll discover the magic for yourself!
1. Discover a Unique Italian Culture
Since the Paleolithic Age, Puglia has been settled, fought over, and protected by Italic groups such as the Messapii, Byzantines, Lombards, and Greeks.
Endless legends about Puglia's history, heritage, seas, and landscapes have been passed down through generations – along with recipes, traditions, and a sense of Pugliese pride.
Puglia's culture is unique in that it's rooted in agriculture. And historically, it's one of Italy's poorest regions.
Over 83% of Puglia's 3 million-ish acres of farmland has been owned and worked by the same families for generations. Farming is more than a pastime or business… It's a way of life, which is reflected in the region's vegetable-based cuisine.
With its coastline kissed by the Adriatic and Ionian Seas, Puglia's culture is steeped in maritime traditions and the rhythm of the sea. Like in Polignano a Mare, where Patron Saint Vitus protects fishermen from storms. Or in Vieste, where you'll learn the Legend of Pizzomunno.
Why explore Puglia?
To learn tales of times passed.
To taste culture through local cuisine.
And to witness the fascinating traditions of a region that is unchanged by the hands of time (or tourism).
2. Relish in Authentic and Unique Experiences
One of the major reasons to visit Puglia is to experience quintessential traditions of Southern Italy. Like…
Fishing on a wooden trabucco over the Adriatic Sea in Gargano;
Observing how traditional olive oil is produced in underground stone oil mills at a masseria (ancient farmhouse) in the Itria Valley
Waking up in a trullo in the UNESCO World Heritage Site of Alberobello;
My favorite authentic experience in Puglia took place in Polignano a Mare, where I learned how not to use a fork and knife to eat mussels.
My Puglia native boyfriend, along with the owner of the restaurant, taught me to open the mussel shell with my mouth and slurp the meat straight in. That way, full attention is on the flavors of the sea!
My second favorite was sleeping in a trullo at Trulli Holiday Albergo Diffuso in Alberobello. Such an enchanting experience! Add it to your Puglia itinerary right this second!
Puglia is the opposite of touristy. Unlike Rome or the Amalfi Coast, you'll encounter very little English signage or English-speaking people in Puglia. So, although Puglians will be delighted to share their culture with you, be sure to know some Italian phrases or use Google Translate and hand gestures to get by.
READ MORE: The Perfect Puglia Itinerary: 7-10 Day Road Trip
3. Visit Picturesque Whitewashed Towns
You might visit Puglia and wonder if your Italy trip somehow took a wrong turn, and you ended up in Greece. Don't believe me? During the 8th to 5th centuries BC, much of Southern Italy was once an ancient Greek colony called Magna Grecia!
While visiting Puglia, you'll notice Greek influences reflected in many of Puglia's villages and medieval towns.
Like while you drink wine and people-watch in Locorotondo's whitewashed Centro Storico.
Or in Vieste, where alleys of white-painted buildings lead you straight to the turquoise waters of the Adriatic Sea.
For more whitewashed towns, head to the best beaches around Otranto or Gallipoli, "the pearl of the Ionian Sea," then spend an evening under the twinkling lights of Ostuni, "Italy's White City" located in the heart of the Puglia region.
Check out our guide to the best things to do in Ostuni for all the details.
4. Explore the Parco Nazionale del Gargano (Gargano National Park)
Why visit Puglia? To hike down a trail of Aleppo pines and reach a beach of Mediterranean daydreams.
To visit the ancient Umbra Forest (a UNESCO World Heritage Site) in Monte Sant'Angelo, and take a kayak tour of the Grotta Sfondata in Vieste. All while snapping countless photos along the way!
Just over an hour by boat from Rodi, Gargano, you can reach Puglia's very own, little-known archipelago: the Isole Tremiti (Tremiti Islands), part of Gargano National Park!
Scuba dive, snorkel, hike, and get lost in the incredible natural beauty of this five-island archipelago.
5. Delight in Some of the Best Beaches in Italy
The beaches in Italy certainly don't suck. When I say that Puglia's beaches are some of the best in the country, I mean it!
In Gargano, pine-covered mountains tower above sun-soaked nudie pebble beaches. And on the east coast, along the Salento Peninsula on the Adriatic, white limestone cliffs offer secluded coves in towns like Polignano a Mare.
On the west coast, Salve's sandy beaches stretch on like the Maldives towards the southern tip of Puglia.
What's more? The Tremiti Islands off the northern coast of Puglia offer a retreat not unlike that of Capri, minus the constant boat traffic and sea of tourists.
It's no wonder all of northern Italy vacations in Puglia's beach towns!
(Sorry, Amalfi Coast. I love you too, but this coast has you beat.)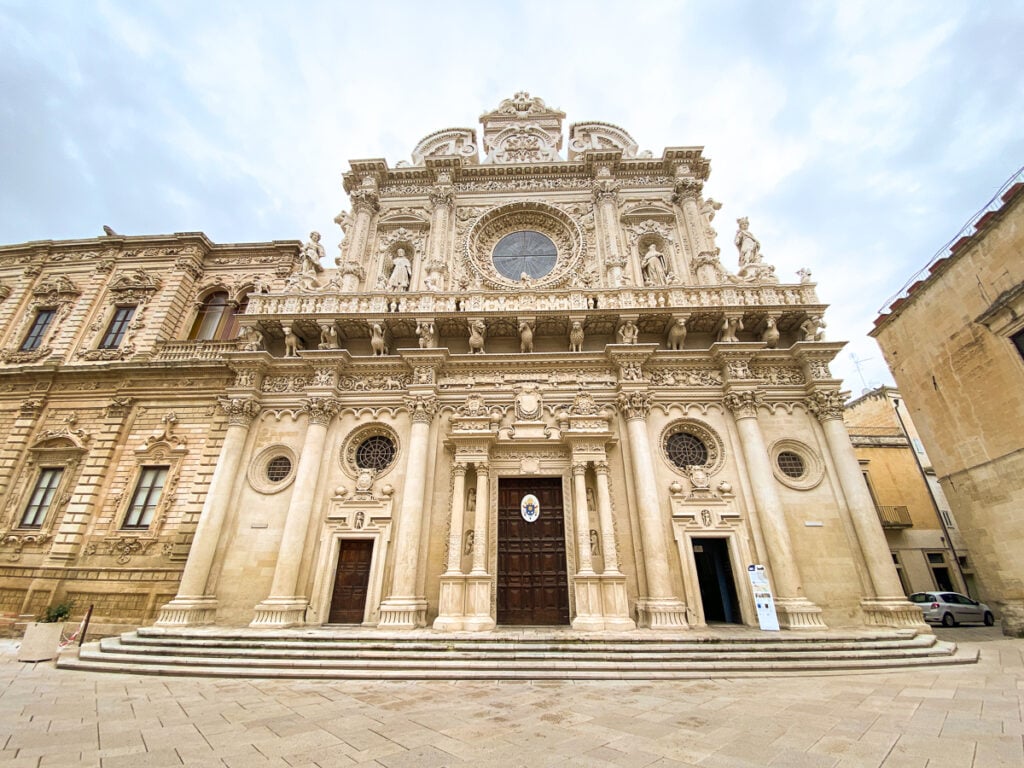 6. See One-of-a-Kind Architecture
Lecce Baroque, Alberobello trulli, and Locorotondo cummerse; there are one-of-a-kind architectural wonders to be marveled at all over Puglia!
The golden-hued Baroque architecture in Lecce is alone one of the top reasons to visit Puglia. You'll know why when sunlight hits the Baroque buildings in the Piazza del Duomo.
Check out our guide to the best things to do in Lecce, Italy for more inspiration!
Alberobello's conical-roofed stone dwellings, known as trulli, are adorable and have a humorous origin story, while Locorotondo's cummerse look like something out of a winter wonderland! You can only find these historical treasures in Puglia, Italy!
There's also the Castel del Monte, a UNESCO World Heritage Site and an emblem of the 13th-century military architecture that's iconic to the Puglia region.
7. Savor Divine Food & Wine
Puglia's rich soil grows the freshest ingredients for real Italian cuisine: flavorful grains for pasta, grapes for wine, veggies for sides, and olives for 40% of Italy's own olive oil production.
Savor some of Italy's most delicious food when you visit Puglia! The region's cuisine of poverty, cucina povera, is similar to farm-to-table style food: local, fresh, and veggie-focused.
Taste Apuglian culture in its extra virgin olive oil and traditional cuisine such as the famous Orecchiette pasta (little-ear-shaped pasta).
Don't forget to try Panino al Polpo (octopus sandwich), Taralli (bread snack), and the many veggie-based bites like Melanzane Grigliate (grilled eggplant), and Patata Novella di Galatina (Galatina potatoes).
While in Puglia, there are a few foodie experiences you can't miss:
Red wine lovers will find heaven in the Primitivo and Negroamaro wines of Salento, while the rolling vineyards of the Itria Valley produce some of Puglia's finest white wines. You must visit at least one local vineyard for a wine-tasting while visiting Puglia!
Here are some of the top experiences for oenophiles:
8. Meet the Lovely People of Puglia
When I traveled to another region in Italy and told someone I was living in Puglia, a huge smile spread across their face.
Though Italy has some strong regionalism, everyone loves Puglians for being relatively laid-back, open-minded, and kind-hearted people.
If you're in need of directions, don't hesitate to stop someone and request their help. Puglians are proud of their wonderful region and eager to share with you all the things that make Puglia worth visiting.
9. Experience Relaxed Tourism
Northern Italian tourists seeking a relaxing holiday in warm weather are drawn to Puglia's stunning beaches. Northern Europeans also visit Puglia, Italy to sample wine and olive oil, and explore the coastal towns.
In Puglia, you won't find hordes of tourists like you do in Florence or Venice.
But make no mistake, tourism is growing.
For the ultimate laid-back Puglia holiday, visit during the off season (from October to March), like I did! I was often the only American tourist around, and I liked it that way.
10. Puglia is Perfect for Road Trips
Apuglia has decent public transport. But you won't be able to stop for road-side gelato or the perfect photo of that cute medieval corridor while riding a bus or train!
Puglia is best explored by car. So book your rental car (find the best deals on this website!), and road trip Puglia to drive cactus-lined highways past hippy-style beach campgrounds.
Cruise rugged coastlines and pull over to appreciate ancient fortified watch towers, sea caves, and natural rock formations like the San Felice Arch.
It was the nameless parts of Puglia between towns where I really felt the essence of this region, full of hidden gems and some of the kindest people you'll ever meet.
My Puglia Itinerary lays out the perfect Puglia road trip route for 7-10 days.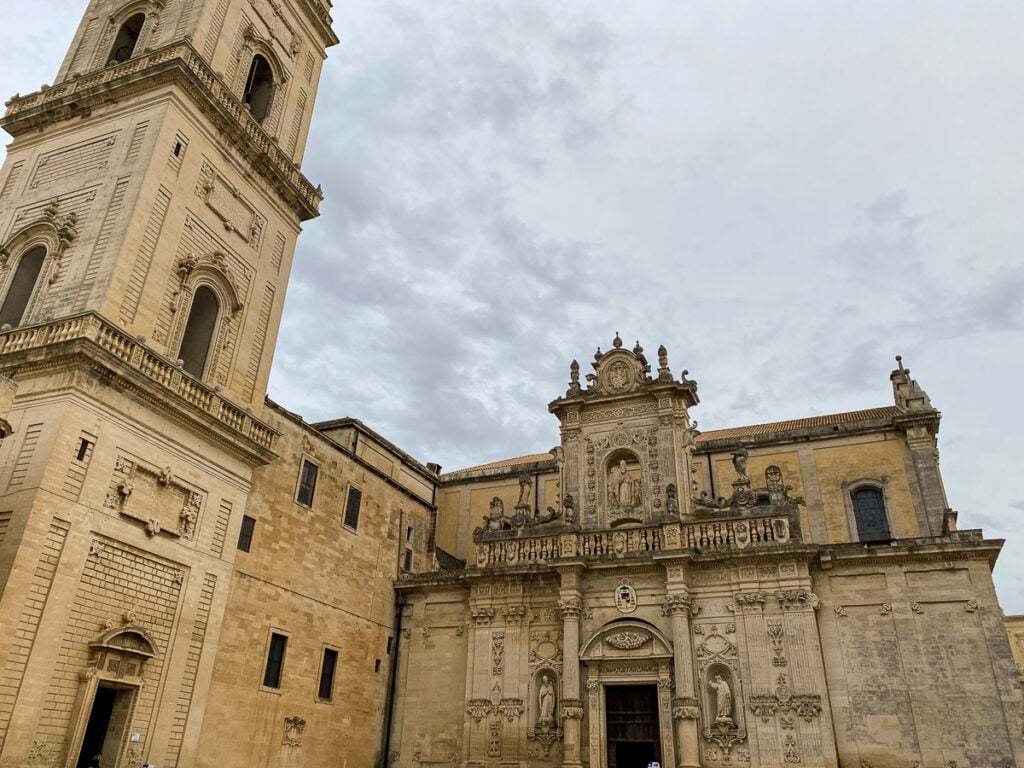 Final Thoughts on Why You Should Travel to Puglia Italy
Well, there you have it. Those are my top 10 reasons to visit Puglia ASAP; 10 reasons why you're going to fall head over heels for this region – and its people, food, history, and traditions.
If you're ready for the trip of a lifetime, then it's time to visit some of the best places in Puglia.
From the Baroque city of Lecce to the whitewashed fishing village of Polignano a Mare, to the evergreen forests of Gargano National Park, Puglia is full of hidden gems and natural beauty. But most of all, the experience of true Italian life makes Puglia worth visiting.
Puglia, Italy Packing List
Italy Quick Tips
MORE PUGLIA TRAVEL INSPIRATION
Puglia, Italy FAQs
What is so special about Puglia?
If you're wondering what makes Puglia so special, it's the slow-paced southern Italian way of life, stunning landscapes, and unique, down-to-earth culture. Plus sandy beaches, ancient forests, beautiful cities, and delicious food. Puglia is also special because it produces most of Italy's olive oil!
Why do people go to Puglia?
People go to Puglia for sandy beaches, whitewashed fishing villages, Gargano National Park, a variety of UNESCO World Heritage Sites, and architecturally masterful cities. Many Italians find themselves visiting Puglia for warm weather during the winter months, too.
Is Puglia Italy worth seeing?
Puglia, Italy is well worth seeing. In fact, Puglia is a top destination in Italy for road trips, since it's the longest region in the country and has endless ancient olive groves, medieval towns, and cute seaside fishing village.
How many days do you need in Puglia?
You need at least one week in Puglia to see all of the beautiful cities, absolutely amazing beaches, and lush Gargano National Park, plus to sample the delicious food, wine, and olive oil of this southern region.
What month is best to visit Puglia?
The best month to visit Puglia is October, but really any time from early-July through October is fabulous. The summer months are best for beach holidays, but the crowds lessen around mid-September. The best months to visit Puglia for fewer crowds are September and October.
Why visit Apulia?
People visit Apuglia for whitewashed towns and seaside fishing villages, but fall in love with Apuglia for its people, hidden gems, and slower pace of life.
SAVE THIS POST ON PINTEREST FOR LATER!
When you book travel or purchase something through our links, we receive a small commission, at no extra cost to you? Your support enables Maddy's Avenue to keep producing helpful travel content. Thank you!
Disclaimer: This post may contain affiliate links. When you click through a link on this page and make a valid purchase, Maddy's Avenue may receive a small commission (at no extra cost to you!). We only recommend products/services that we believe in and know you will love too. Your support enables us to continue making helpful travel content. Thank you for reading, and thank you for your support!