Planning the Belize vacation of your dreams? My collection of must-know Belize travel tips is here to guide you in soaking up all the tropical magic this Central American paradise has to offer!
From Belize's top destinations and safety tips to transportation ideas, budgeting details, what to pack, and other must-know facts, this guide covers everything you need to know before you go.
With these Belize travel tips, you'll dive into the incredible underwater world of the Belize Barrier Reef; spelunk in ancient caves; explore Maya ruins deep in the jungle; relax on incredible white-sand beaches; and experience the country's melting pot of rich cultures.
I was so mesmerized by the striking beauty and vivid energy of this tiny Central American country that I spent almost two months exploring Belize from top to bottom! (And yes, I accidentally overstayed my 30-day tourist… Whoops!)
Ready to learn from my travel mishaps, favorite experiences, and expert insights? Here's your ultimate Belize travel tips guide!
Belize Travel Tips: What to Know Before You Go
Put on your goggles because we're about to dive in! This ultimate Belize guide covers all of the Belize travel tips you need to know before you go!
Feel free to use this table of contents to navigate this guide.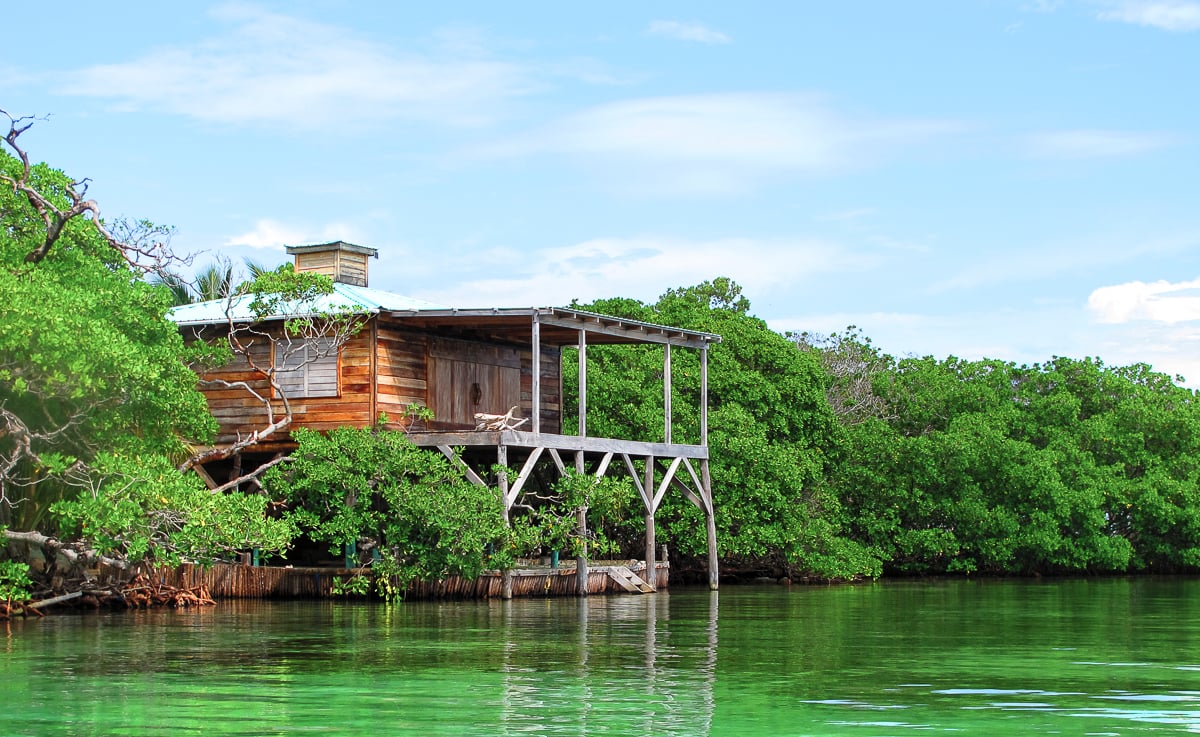 1. Belize Travel Safety Tips: Is Belize Safe?
As far as Central America goes, Belize falls in the middle on the safety scale; it's not as safe as Costa Rica, but not as dangerous as Guatemala or Nicaragua, for example.
Belize has its fair share of violent crime and theft. However, crime in Belize is mostly gang-related, inflicted by citizens upon citizens, and occurs mainly in the south side of Belize City. Typically, tourists are not targets.
As a solo female traveler, I made a point to stay away from Belize City – which was very easy, considering I was only there to access the port and airport!
Otherwise, I felt perfectly safe while traveling in Belize by practicing the safety tips below.
Best safety practices for travel to Belize include:
Using common sense and always staying aware of your surroundings
Not wearing expensive jewelry or being flashy with electronics
Not openly carrying large sums of cash
Not walking on low-lit streets or beaches alone at night
Getting an eSIM for your phone so you always have access to Google Maps, Whatsapp, etc.
It's also very important that you realize this: Belize is a developing country. This means that there may be fewer safety requirements and regulations than you're used to – in all categories, from food safety requirements to road safety. Belize is also an intrepid destination, ripe for incredible adventures! This all adds up to one fact: Things can go wrong.

You should NEVER travel to Central America (or anywhere internationally!) without travel insurance that covers you for medical emergencies and travel incidents

This is the travel insurance I personally use and recommend.
2. The Languages of Belize (English & Spanish!)
Belize was formerly a British colony known as British Honduras. So naturally, English became the official language of Belize.
Belize is the only country in Central America whose national language is English. For this reason, I recommend Belize to first-time international and solo travelers who don't speak Spanish.
However, English is not the only language spoken in this small country. Actually, about 43% of Belizeans speak another mother tongue!
Nearly 45% of Belizeans speak Belizean Creole, while just under 3% speak Garifuna (you'll hear it in villages like Hopkins). Plus, more than 56% of the population speaks Spanish!
There are even Mayan languages still alive in Belize, though a very small percentage of people speak them.
This just goes to show that Belize is a beautiful melting pot of cultures!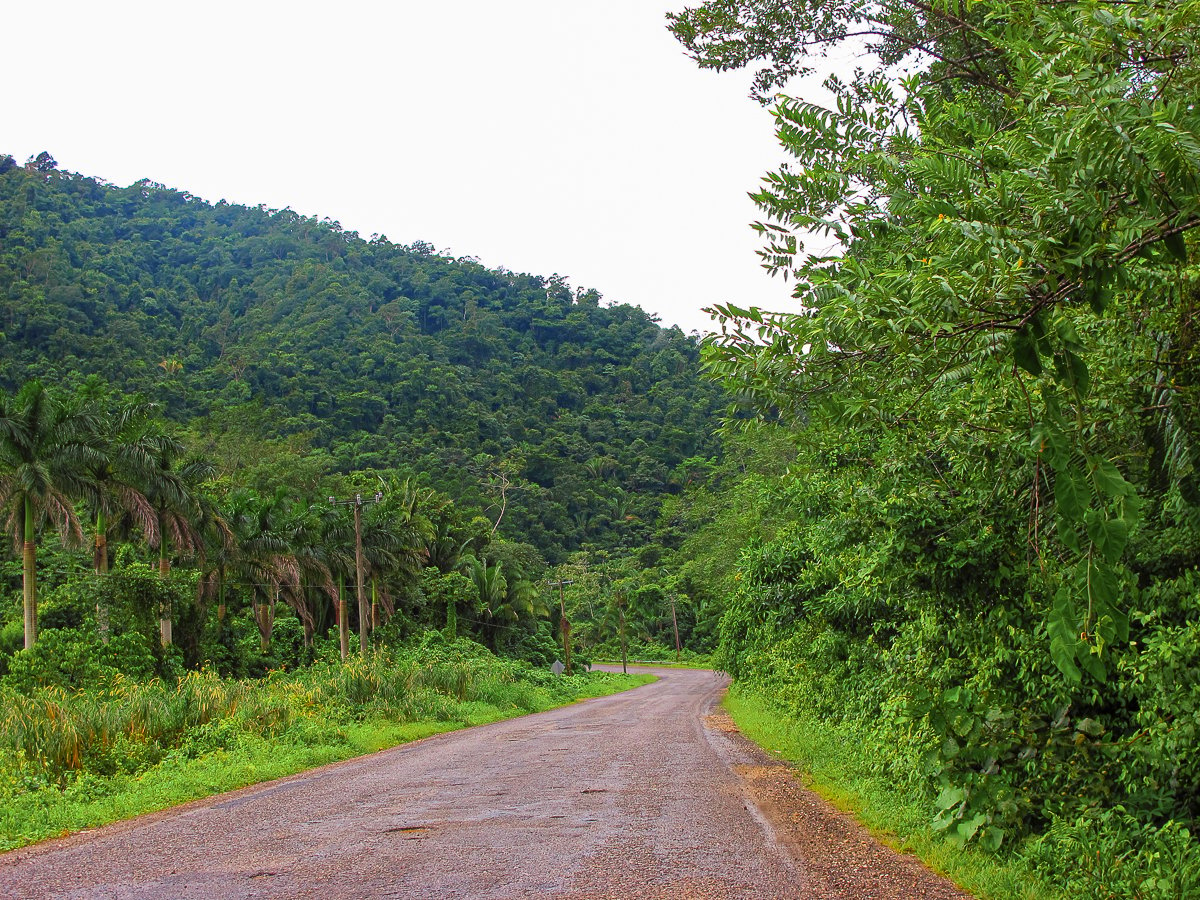 3. Belize Transportation: How to Get Around in Belize?
Airplane
All international flights arrive in Belize at Philip S.W. Goldson International Airport in Belize City. This is the only international airport in Belize!
You can take domestic flights to smaller airports around the country using domestic airlines like Tropic Air and Maya Island Air.
For example, you might take a flight from Belize City to Caye Caulker, San Pedro, or Dangriga (nearest to Hopkins).
This is my favorite website for finding the cheapest flights!
Car Rental
I highly recommend renting a car when you visit Belize!
Having the freedom of your own rental car makes all the difference while traveling around the mainland.
In fact, some of my favorite places in Western Belize, like Rio on Pools and the epic Caracol Maya Ruins, are not serviced by buses.
Driving yourself in Belize is easy enough on the paved highways. However, once you get out onto the first roads, it can get a little trickier. But don't worry. Just "go slow" and enjoy the (bumpy) ride.
You'll need a 4X4 car rental to maneuver Belize's wild rainforests and backcountry roads! Especially during the wet season, from roughly June through November.
This is my favorite website for finding the best rental car deals in Belize!
Shuttles
Private and shared shuttles are the next best options for safe and comfortable transportation.
I traveled in group shuttles from Belize City to other towns in Belize, like Hopkins, and loved my experience.
To get you started, here are some of the most popular shuttle routes from Belize City:
Ferries
A ferry or water taxi is the most accessible, affordable, and eco-friendly way to get to Belize's main islands, like Caye Caulker and Ambergris Caye. You can get to the ferry terminal from the airport in about 25 minutes.
You can easily purchase tickets online or in person at the ferry port outside of Belize City! Find more details on this in tip #12 below!
Public Transportation
There's decent enough public transportation in Belize. Of course, buses are the most eco-friendly and affordable transportation option. However, these "chicken buses" can be hot, slow, and jam-packed.
Overall, I don't recommend traveling by bus!
On long-haul bus rides (like Belize City to Hopkins), you'll likely need to make some transfers.
READ MORE: Best Belize Itinerary (1 & 2 Weeks) for Nature & Adventure Lovers
4. When to Visit Belize: Dry Season vs. Wet Season in Belize
The best time to visit Belize is during the dry season, which roughly spans from December through late April.
The dry season is the peak season for tourism in Belize since there are much lower chances of rainy days! Keep in mind that I said lower, not zero.
I experienced a decent amount of rain when I visited Belize during the months of January and February – but, for the most part, only in the country's interior.
If you're keen on off-season travel (you go Glen CoCo), then you might appreciate visiting Belize during the rainy season (May through November).
During the wet season, you'll find better deals on everything from hotels to food and excursions. Bear in mind that August is Belize's hottest month, and October is the wettest, so plan accordingly.
5. Best Places to Visit in Belize
I wrote a whole article about where to go in Belize and why, but let's cover some of the best Belize destinations quickly here!
Caye Caulker
When I think of Belize, I almost immediately think of the palm-tree-laden, laid-back island of Caye Caulker. This is the best island in Belize to explore Belize's Barrier Reef from!
Plus, with the motto "go slow," you couldn't pick a better island for swaying in a hammock and listening to the saltwater kiss the shore. Belikin in hand.
Not to mention you can't visit Belize without drinking Lizard Juice at the Split and eating a grilled lobster from Kareem's Unbelizeable Lunch!
Wondering where to stay? I recommend Caye Reef Condos, Jan's Hotel, and Island Magic Beach Resort.
READ MORE: 15 Totally Awesome Things to Do in Caye Caulker, Belize
San Ignacio
Belize is mostly known for its white sandy beaches and Caribbean islands… But the jungle town of San Ignacio in the Cayo District of Western Belize has my heart.
San Ignacio is a tourist destination, yes. But it's also a very lived-in, authentic place to visit in Belize!
While you're in San Ignacio, go on a chocolate-tasting tour, see majestic birds at the Raptor Center, visit ancient Maya archaeological sites.
Plus, play at the natural water park Rio on Pools, walk around the Belize Botanic Gardens, and buy artisanal goodies at the local market!
Ready for an unforgettable stay in an eco-lodge? The Lodge at Chaa Creek, Ka'ana Resort & Spa, and Gaia Riverlodge are all incredible hotels surrounded by lush jungle.
READ MORE: 15 Incredible Things to Do in San Ignacio, Belize
Hopkins
I spent almost two weeks just chilling on the sandy beaches in Hopkins, a cute little Garifuna fishing village in eastern Belize. My suggestions?
Watch every sunrise. Because they often look just like the photo above. Spectacular.
Try this Drumming, Dancing, and Dinner Cultural Experience with the local Garifuna people. Circle up for drumming lessons, join a cooking class, or learn their native dance! Click here to book it!
And you simply must get sunset cocktails on the pier at the Lodge at Jaguar Reef. There's nothing like sipping on their tart piña coladas while taking in views of the turquoise Caribbean Sea.
Spend all day at the beach, then order a whole fried fish at Ella's Cool Spot at a picnic table on the sand.
A traditional Garifuna meal at Innie's Restaurant is also a must.
Feeling adventurous? Mayflower Bocawina National Park and Cockscomb Basin Wildlife Sanctuary are two of Belize's top spots for hiking, waterfall chasing, ziplining, and rappelling! Both happen to be under an hour's drive from the sandy shores of Hopkins.
Plus, hike to Maya King Waterfalls (there are two of them!) for freshwater dips in the middle of the rainforest!
If you want it to, Hopkins offers the perfect mix of rustic beach vibes, authentic culture, and a luxurious oceanside stay. Take your pick between The Lodge at Jaguar Reef and Hopkins Bay Belize (a Muy'Ono Resort). You can't go wrong!
San Pedro
On the island of Ambergris Caye is the lively town of San Pedro – which Madonna so enthusiastically sang about in her song "La Isla Bonita". Might I suggest singing that during karaoke night at Roadkill Bar?!
One of the most fun things to do in San Pedro is rent a golf cart and drive to Secret Beach.
At Secret Beach, you can let your inner child run free. Plunge into the water from a floating slide, jump around an inflatable water park, and let yourself spend too much money on delicious cocktails served in whole fruit.
Other activities around town include taking a chocolate-making class at Belize Chocolate Company, hitting the Level Up arcade to continue the fun, or going on this Hol Chan Marine Reserve Snorkel Tour on a stunning sailboat (a must!).
Wondering where to stay in San Pedro? Alaia Belize, PUR Boutique Cabanas, and Mahogany Bay Resort and Beach Club are my top three picks!
Placencia
Looking for a don't-have-to-leave-the-resort, luxury-style vacation when you visit Belize?
Pack your bags and head straight for Placencia.
Not only is Placencia totally gorgeous and full of yummy restaurants and boutique shopping, but it's also extremely close to Laughing Bird Caye!
This national park is one of the most picturesque places in Belize for scuba diving, snorkeling, and photography. Click here to book your Snorkel and Island Experience at Laughing Bird Caye National Park.
In colorful Placencia, The Ellysian Boutique Hotel, the Caribbean Beach Cabanas, and the Maya Beach Hotel are the best beachside stays!
6. Belize Budget Tips: Cost of Travel, Food & Accommodation
Even though Belize is not the cheapest country to travel to in Central America, it's affordable compared to other tropical destinations like the Maldives, the Bahamas, or Hawaii.
So you shouldn't have to shell out an arm and a leg for an extremely enjoyable and adventurous (or relaxing) Belize vacation!
I suggest setting aside around $1,500-2,000 per person for a one-week trip to Belize.
With this budget you can eat out for every meal (if you want to!), indulge in fruity cocktails, buy souvenirs, stay in mid-range hotels in any city, and book shuttle transportation and excursions.
But if you plan to book a rental car, add on another $500-800 total for the car and mandatory insurance.
The latter two expenditures will be the largest categories, especially if you do scuba diving and snorkeling trips. (Please do!)
Here's a list of average prices (in USD) for common purchases on your Belize trip:
Typical fry jack breakfast: $4-7
Whole fried fish: $10-18
Steak dinner: $12-20
Small bottled water: $1-3
Belikin beer: $2-3.50
Cocktail at The Split in Caye Caulker: $10-13
Cocktails in most cities: $4-8
Mid-range hotel in most cities: $70-100
Snorkeling tours: $60-120
Adventure tours: $40-125
Scuba diving tours (two dives): $150-180
One-week rental car: $500-800
7. Belize's Can't-Miss Experiences
For the whole scoop, check out our guide to the best things to do in Belize! But quickly, here are my top five…
Underwater Adventures in the Great Barrier Reef
Explore the largest barrier reef in the Northern Hemisphere, the Belize Barrier Reef Reserve System! This is the only UNESCO World Heritage Site in the country – and the crown jewel in Belize's treasure trove of natural wonders!
And you don't need to venture far to experience it. There are plenty of organized trips to choose from to ensure you see all the sea animals and colorful coral!
Try this Hol Chan Marine Reserve and Shark Ray Alley Snorkel Tour from Ambergris Caye, this Belize Barrier Reef Snorkel Trip from Hopkins, or this Scuba Diving Trip from Ambergris Caye.
My love for scuba diving began among the incredible marine life and colorful coral on the Belize Barrier Reef. I highly recommend getting scuba-certified in Belize!
Whether you explore Belize's Barrier Reef System by snorkel or scuba, you're guaranteed to make memories that'll last a lifetime!
Actun Tunichil Muknal (ATM) Cave Excursion
This ATM Cave Tour was one of the most unique experiences I've had in my entire life. You have to do it!
During your ATM Cave Tour, you will hike, swim, and climb through a rugged and sacred ancient Maya cave system!
Don't worry, you'll be wearing a helmet… In case you're clumsy, like me.
As you explore the ATM Cave, your guide will share intriguing facts and history about the cave.
You'll also have the chance to see the crystalized remains of a real Maya sacrifice victim! It's moving and kind of creepy, but most of all, extremely fascinating.
Don't skip this ATM Cave Tour on your trip to Belize! Click here to book it now.
Fly Over the Great Blue Hole
Soar high above the turquoise waters of the Caribbean Sea, in a puddle-jumper plane, over the Great Blue Hole.
This centuries-old collapsed underwater cave off the coast of Belize is one of the largest sinkholes in the world. It's 1,000 feet across and 400 feet deep!
For me, seeing the Great Blue Hole from above confirmed just how magnificent our planet is!
An aerial tour of the Great Blue Hole is one of the best experiences you can have in Belize. Book it here.
Explore Ancient Maya Ruins
Belize is home to numerous astonishingly well-preserved Maya ruins.
But let's talk about Western Belize, specifically:
Xunantunich & Cahal Pech
In Western Belize, you've got to visit Xunantunich, located just up the road from the Guatemalan border, and Cahal Pech, which is within walking distance from downtown San Ignacio!
Caracol
You'll also want to reserve a whole day for Caracol, since it's located quite far away from just about everything. It's also one of the most impressive sites!
This Caracol Maya Ruins Tour is a sweet little combo tour departing from San Ignacio. It includes stops at the magnificent natural rock slides, Rio on Pools, and the mysterious Rio Frio cave system too! Both reside in the lush Mountain Pine Ridge Reserve! Click here to book it.
A perk about booking this tour is that you won't have to worry about driving the off-road trails through mud and rain puddles! Phew!
Tikal (in Guatemala)
If you do make it all the way out to Xunantunich in Western Belize, it's worth the extra effort to drive across the border into Guatemala to visit Tikal!
Seeing the incredible Maya ruins of Tikal – one of the largest, most powerful kingdoms of the ancient Maya – will blow your mind! And close by, you can see the colorful lake town of Flores.
You can opt to go on this Tikal Day Trip from San Ignacio or hop in your rental car and stay the night in Flores.
If you spend the night in Flores, you can climb the gigantic Temple IV in Tikal to watch the sun rise over the jungle.
READ MORE: A Quick Travel Guide to Flores, Guatemala
Hike to Epic Waterfalls
I've done a fair share of hiking in my life, but very few hikes compare to the epicness of the waterfall hikes I did in Belize!
I personally recommend checking out Antelope Falls in Mayflower Bocawina National Park (my favorite!); the 1,000 Foot Falls in Mountain Pine Ridge Forest Reserve; and the Maya King Waterfalls outside of Hopkins.
If you do it right, your Belize itinerary will be packed with plenty of humid hikes to stunning waterfalls – followed by dips into freshwater pools, obviously!
READ MORE: 27 Amazing Things to Do in Belize: Ultimate Belize Bucket List
8. Money in Belize
The official currency of Belize is the Belize Dollar (BZD; symbol BZ$). The fixed exchange rate is a simple 2:1. So, BZ$2 equals $1 USD.
It's common practice for businesses to accept USD in Belize, so you don't necessarily need to exchange all of your money for Belizean dollars. Though for tips, taxi rides, bus fares, or quick meals, having some BZD on hand is convenient!
The easiest (and cheapest) way to get BZD is from an ATM when you arrive. You can find ATMs in Belize's main cities and towns, including Belize City, San Ignacio, San Pedro, Caye Caulker, and Dangriga.
Upon arrival, you can also head to the currency exchange counter at Philip S.W. Goldson International Airport to change over your USD. This is almost always more expensive than using an ATM though!
9. Wifi, Internet & Power Outages in Belize
Hotels, restaurants, airports, and public spaces usually offer free high-speed wireless internet in Belize.
Though if you plan to stay a while, and need to get work done, there are chances of power outages in Belize! Especially in the rainy season.
During my trip, I experienced power outages that coincided with storms; each one lasted for a short period, typically no more than a few hours. You can always hotspot with your phone's eSIM if you need to.
Power outages are common throughout all of Central America!
10. Mobile Phone Data in Belize
The best and simplest option for mobile data in Belize is to purchase an eSIM online before you arrive. As soon as you land, you'll have phone data for Google Maps and beyond.
Simply purchase a Belize eSIM here or a Latin America Regional eSIM if you're traveling through a variety of Latin American countries.
As for local phone carriers (for data and calling), Digil is the most popular in Belize; Smart! is the second. If you plan to purchase a physical SIM card, choose one of those two.
Note that the international airport does NOT sell SIM cards. In addition, some mobile operators will need to see your valid passport to sell you a SIM card. This is a hassle, so in most cases, purchasing an eSIM is easier and cheaper!
No matter which SIM you get, you may not have a strong signal (if any) in Belize's rural jungles.
Before you head out, you should always:
Load your route on your Google Maps app (and take a screenshot, just in case the app closes!)
"Save" your destinations in your Google Maps app
That way, if your signal goes out, you'll still have access to the information you need!
eSIMs make traveling abroad so easy! Click here to purchase your Belize eSIM. If you plan to travel throughout Latin America, you're better off getting a Latin America Regional eSIM.
11. What to Pack for Belize
12. Best Belize Booking Resources
When it comes time to book your trip to Belize, I've got you covered with the best resources!
Booking Accommodations in Belize
Deciding where to stay is one of the most important parts of your Belize itinerary! Here are the best accommodation resources for Belize:
Car Rentals
The best way to get around mainland Belize is by car! That way, you can explore the national parks, Maya ruins, and authentic towns at your own pace.
Shuttles in Belize
Don't feel comfortable renting a car in Belize? Your next best option is to book private shuttles.
Here are some of the most popular shuttle routes from Belize International Airport to get you started:
Belizing, Belize Shuttle, and Belize Paradise Shuttles are a few local shuttle companies to look into.
Adventure Tours & Cultural Experiences in Belize
While in Belize, there are a handful of tours you should consider booking, they include:
This is my favorite website for booking tours in advance and reading reviews.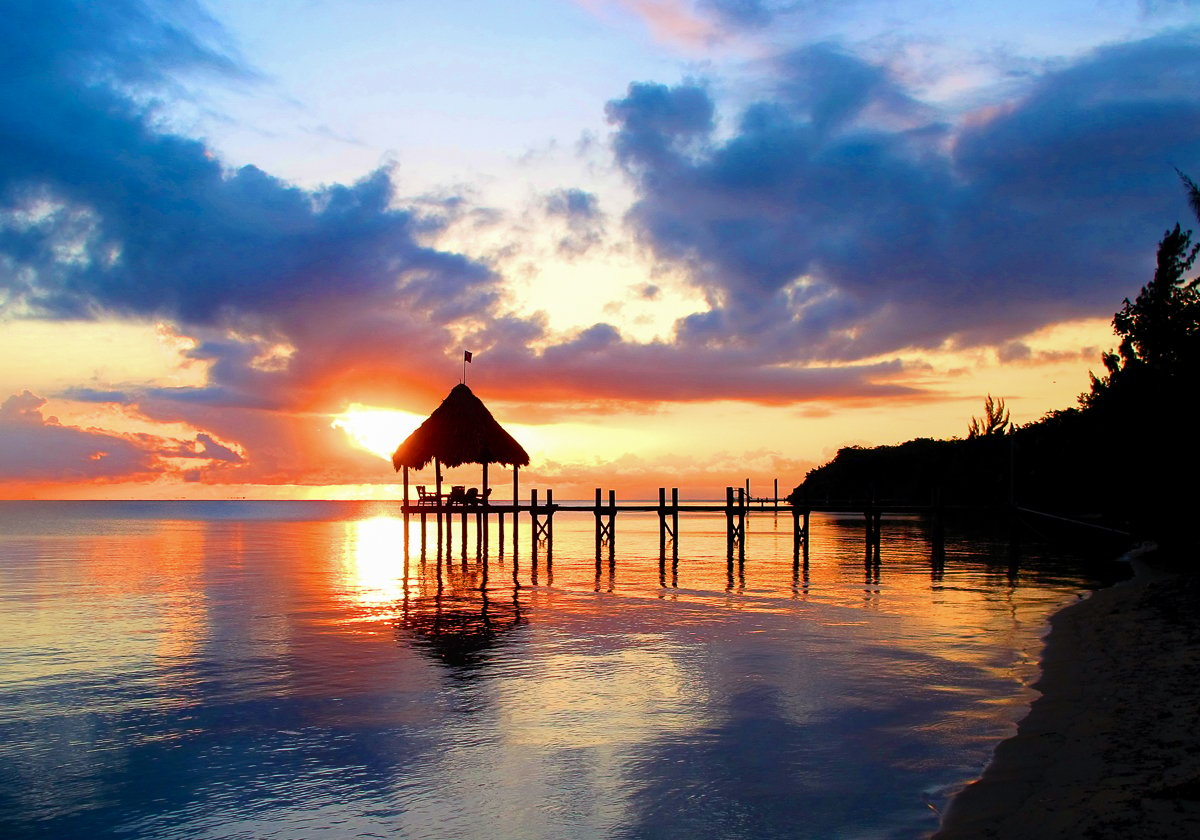 Ferries/Water Taxis in Belize
Ferries and water taxis are the best way to get to/from Ambergris Caye, Caye Caulker, and beyond. Look into these options:
Flights To & Within Belize
Final Thoughts: Must-Know Belize Travel Tips
Now that you're set up for success with important pre-travel information like the BZD to USD exchange rate and what kind of car to rent (hint: rent a 4-wheel drive!), it's time to charge up your GoPro, pack your hiking boots, and pick out your favorite swimsuit.
Belize awaits!
Let your worries slip away while you "go slow" on Caye Caulker and party at Secret Beach in San Pedro.
Fall in love with scuba diving on the Belize Barrier Reef (like I did).
Then discover the mysteries of the ancient Maya on the ATM Cave Tour (my number one must-do near San Ignacio!).
I hope that my Belize travel guide full of practical and personal Belize travel tips helps you make un-Belize-able memories you'll look back on for years to come.
Just remember not to overstay your 30-day visa – learn from my mistake!
Looking for more Belize travel inspiration? READ MORE:
Belize Itinerary (For 1 & 2 Weeks) for Adventure Lovers
10 Reasons Why You Should Travel to Belize ASAP!
Where to Go in Belize: 5 Most Beautiful Belize Destinations
26 Amazing Things to Do in Belize: Ultimate Belize Travel Bucket List
15 Totally Awesome Things to Do in Caye Caulker, Belize
A Week in Hopkins, Belize: Relaxation & Adventure
SAVE THIS POST ON PINTEREST FOR LATER!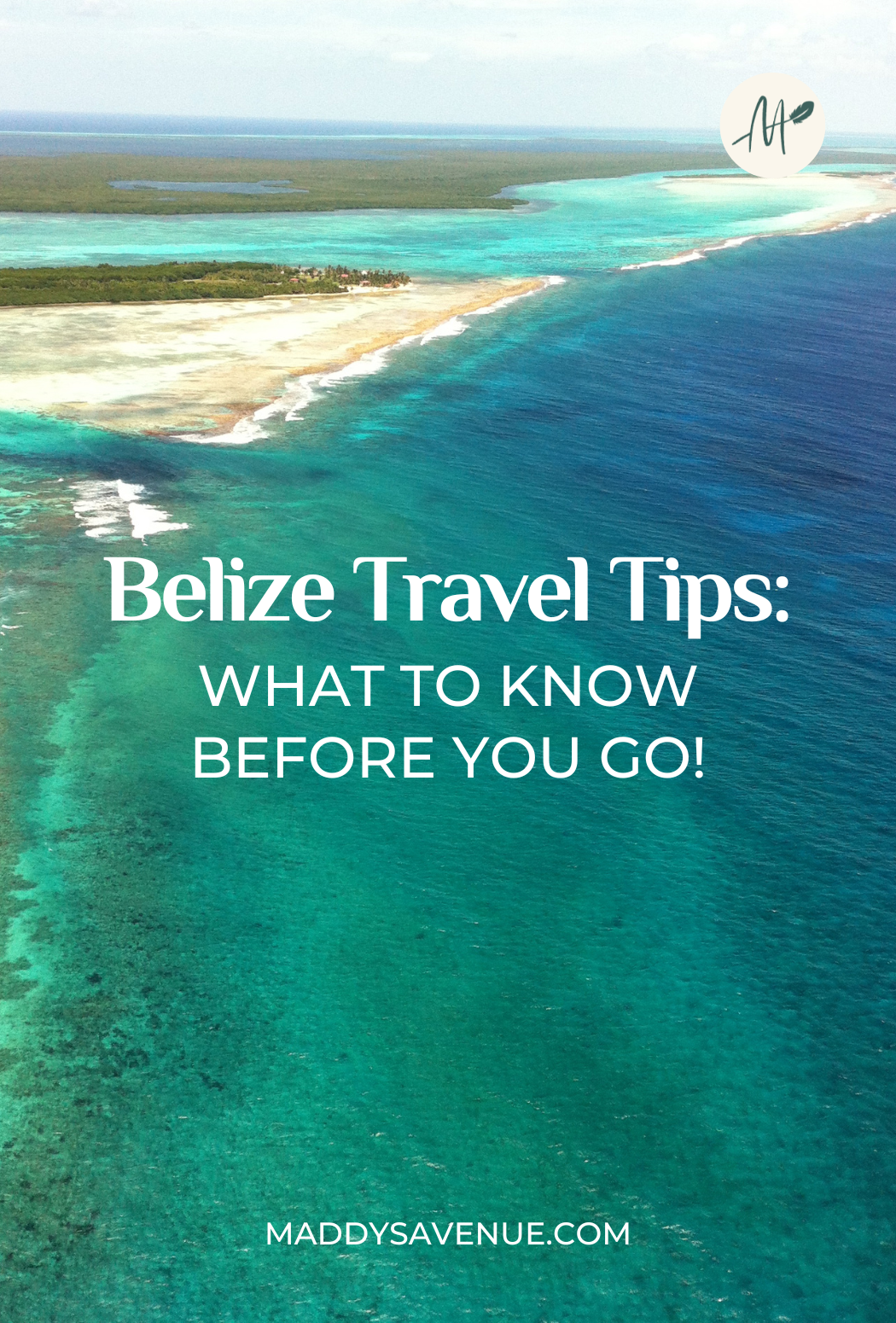 When you book travel or purchase something through our links, we receive a small commission, at no extra cost to you? Your support enables Maddy's Avenue to keep producing helpful travel content. Thank you!
Have you visited Belize before? Are there any other Belize travel tips that you think others should know? Add them to the comments section below!
Disclaimer: This post may contain affiliate links. When you click through a link on this page and make a valid purchase, Maddy's Avenue may receive a small commission (at no extra cost to you!). We only recommend products/services that we believe in and know you will love too. Your support enables us to continue making helpful travel content. Thank you for reading, and thank you for your support!