The charming colonial city of Valladolid is an essential stop on your journey through the jungles of the Yucatán Peninsula. From roaming vibrant streets to diving into cenotes to exploring Maya ruins, there are so many incredible things to do in Valladolid, México!
Founded in 1543, Valladolid is packed with rich history, palpable Maya heritage, and authentic Yucatecan culture and traditions.
Valladolid is officially designated as a "Pueblo Mágico," and I couldn't agree more.
A magical town, indeed, Valladolid is home to colorful streets, churches, a former beautiful convent, fascinating museums, boutique shops, traditional restaurants, and the most peaceful, slow-paced vibe.
Plus, Valladolid is the perfect base for day trips to other must-visit places in the Yucatán.
During my month-long trip exploring the Yucatán state, Valladolid was probably my favorite destination. With this guide to the best things to do in Valladolid, I know you'll feel the same!
In this guide, you'll find 22 epic things to do in Valladolid. Plus, my top tips on where to eat, where to stay, and other must-know tips!
Should You Stay Overnight in Valladolid, Mexico?
Valladolid is often visited on day trips from other destinations along the Riviera Maya. But in my opinion, you need more time here!
The first time I visited Valladolid, I only stayed two nights (at the beautiful Le Muuch Boutique Hotel*). I wish I had stayed a third night, as I had to come back again to do everything in this article!
One night is the minimum amount of time you should stay in Valladolid. That way, you can experience all of the best things to do in Valladolid, and even squeeze in an early-morning trip to Chichen Itzá.
If you have even more time, you can plan a day trip or two to some other Mayan ruins, like Ek Balam and Cobá, and natural wonders like the Rio Lagartos biosphere. These places are all short drives away!
Just make sure that you book a rental car!
This is my favorite website for finding affordable rental cars in Mexico and beyond.
In conclusion, you should plan on staying in Valladolid for up to three nights! No less than one.
Best Hotels in Valladolid, Mexico
So, you're spending a night or two in Valladolid? Great choice.
Here are the best accommodation options to choose from.
Le Muuch Boutique Hotel
Le Muuch Boutique Hotel was my home base for exploring Valladolid and its surroundings.
Featuring exquisite Mexican design and a dash of luxury, each room is inspired by a different Mexican "Pueblo Mágico".
I stayed in the Tulúm room. This "Superior Deluxe" suite featured a giant outdoor tub (what dreams are made of!), a super comfy king-size bed, and beachy boho-chic design elements. Perfection.
Beyond the stunning rooms, this hotel features endless greenery, vibrant Mexican design elements, a few different rooftop terraces for relaxing, and two beautiful pools.
This hotel is a charming oasis, located in the heart of Yucatán's most enchanting town.
Everything about my stay at Le Muuch was perfect, I already can't wait to come back!
Click here to book your stay at Le Muuch Boutique Hotel!
Other Top Places to Stay in Valladolid, Yucatan
Still looking? From luxurious city stays to peaceful haciendas surrounded by nature, this is my favorite website for finding affordable stays throughout Mexico. Click here to book your stay in Valladolid!
22 Amazing Things to Do in Valladolid, Mexico
Now that the logistics are out of the way, let's talk about the best things to do in Valladolid!
Add each of these Valladolid activities to your Valladolid itinerary for a comprehensive and unforgettable visit to this magical town.
1. Roam Valladolid's Colorful Streets
This colonial town – with its colorful streets, parks, churches, and particular Yucatecan charm – couldn't be more beautiful.
If the only thing you do in Valladolid is roam the streets, soaking up the magical atmosphere, then you'll have done the most important thing!
Beyond El Centro, there are five other colonial neighborhoods in Valladolid to explore, each with its own church and park: Sisal, Santa Lucía, Candelaria, Santa Ana, and San Juán.
2. Hang Out in the Main Square
The main park and plaza, Parque Principal Francisco Cantón Rosado, is a non-negotiable stop as you explore Valladolid.
It's the perfect place to people-watch from one of those iconic white "Confidant Chairs."
My favorite part is the square's fountain, featuring "La Mestiza" (a mixed-race Maya-Spanish woman), dressed in her traditional outfit, pouring water from a ceramic pot. This monument celebrates the Yucatecan woman – and the fusion of two cultures.
There'll also be plenty of street food vendors and ladies selling traditional handicrafts here. So browse and be merry!
3. Pop into Iglesia de San Servacio
The Iglesia de San Servacio towers above Valladolid's central plaza.
This beautiful Catholic church, complete with two bell towers – and two tall palm trees to match – is pretty photogenic.
Originally built in 1545, you can't visit Valladolid and not pop into this church.
4. Go on a Free Walking Tour
Want to join in on a free guided walking tour of downtown Valladolid?
Offered daily at 10 AM, 5 PM, or 7 PM, your passionate guide will lead you through town, regaling you with stories of Valladolid history and culture. You'll also get to taste some traditional food and drinks along the way!
The free tours begin in the main plaza, at the fountain. Just look out for the red umbrellas that say "Walking Tour"!
Check their Instagram profile for any schedule changes.
P.S. If you love a more active guided tour, then check out this Maya Bike Tour. You'll bike through Valladolid, learning all about its history. You'll also visit the traditional market, swim in Cenote Xkeken, and visit Dzitnup (a Maya village), where a local family will introduce you to their ancient Maya traditions, including making tortillas by hand. Click here to book your Maya Bike Tour!
5. Stroll Along Calzada de los Frailes
Calzada de los Frailes is a beautifully vibrant pedestrian street that connects the heart of El Centro to Parque Sisal, the colorful Valladolid sign, and the San Bernardino Convent.
Lined with beautiful boutique stores, antique bazaars, art galleries, coffee shops, restaurants, and bars, you could stroll along Calzada de los Frailes for hours…
And you should!
Plus, this charming 16th-century street is the perfect place for a photo op.
Make sure to pop into Coqui Coqui Perfumeria for the most extraordinarily elegant scents inspired by the Yucatán. Simply sublime.
6. Tour Xkopek Beekeeping Park
The Maya have been keeping bees for centuries… But not just any bees – native stingless bees called Melipona.
Visiting the Xkopek Beekeeping Park was the best thing I did in Valladolid!
On this Mayan Bees and Honey Tasting Tour, we entered a dry cenote to observe a variety of different bee and wasp hives, while our guide taught us all about them.
Next, we headed up to the apiary to peek into a few of Xkopek's hives. We watched in complete awe as these tiny, yet incredible creatures carried out their work!
Finally, the experience ended with tastings of different types of honey, all sustainably produced at Xkopek. The Melipona honey is so floral and unique, I couldn't resist buying a bottle to take home!
Melipona bees are an important part of Maya history and culture; visiting Xkopek Beekeeping Park helps keep their beekeeping tradition alive.
You will love this fascinating cultural experience!
Click here to book your Mayan Bees and Honey Tasting Tour. This will be one of your favorite experiences in Valladolid; I promise!
7. Visit the Convento de San Bernardino de Siena
Located in the charming neighborhood of Sisal, the San Bernardino Convent was founded in 1552 by the Franciscans of Siena, Italy.
Visiting this beautiful former convent – with its stunning pink corridors and a small museum – is one of the best things to do in Valladolid. Inside the grounds, there's an old cenote (no, you can't swim in it!) with an ingenious irrigation system.
Simply stroll down the Calzada de los Frailes to get here!
8. Watch the Light Show at the Convent of San Bernardino
Most nights after dark, crowds gather around the Convent of San Bernardino to watch a spectacular video mapping light show – as the sweet aromas of marquesitas (a traditional Yucatecan crepe-like dessert) fill the air.
The light show is projected onto the façade of the convent and tells the story of Valladolid – from the days of the ancient Maya to the Caste War of 1847 to the present day.
During the high season (November through April), the show runs almost every night. When I visited in late August, it was only happening on weekends.
The show is about 25 minutes long. The first showing is in Spanish, starting around 9 PM. The English version follows immediately after, at around 9:25 PM.
It's free to watch! Get there early to snag a good spot.
This is one of the most iconic things to do in Valladolid, Mexico.
9. Swim in Cenote Zaci
Cenote Zaci is a magnificent cenote, located in the heart of downtown Valladolid. Since it's almost always HOT in Valladolid, this is a major perk.
But on the flip side, since Cenote Zaci is so accessible and affordable to visit (entry is just 60 pesos!), it's almost always busy.
Open daily from around 8:00 AM to 5:00 PM, I recommend that you visit as early as possible to avoid the crowds.
If not, you'll probably have to wait a long while to enter (they have a maximum capacity).
We visited on Sunday afternoon, and what a mistake that was! It was so, so busy.
Also, note that it's mandatory to wear a life jacket, which is included in your ticket.
10. Visit the Mercado Municipal
I love a good Mexican market! And Valladolid's Mercado Municipal is no exception.
Strolling through the Mercado Municipal's many aisles is a great way to start your foray into Mayan cuisine.
Talk to the locals, learn some Mayan words, and ask questions about the endemic ingredients you see (like recados, the flavorful spice pastes used in dishes like cochinita pibil and relleno negro).
My boyfriend, Cacey, and I had so much fun shopping and sampling different hot sauces, sweets, chocolate, and more.
From traditional handicrafts and clothing to street food, this market is filled with all sorts of treasures.
P.S. Love a guided bike tour? Me too. This Maya Bike Tour takes you to the Mercado Municipal, as well as Cenote Xkeken for a swim, and the Maya village of Dzitnup, where a local family will introduce you to centuries-old traditions – including how they hand-make tortillas from scratch. Click here to book your bike tour!
11. Explore Casa de Los Venados
Visiting Casa de Los Venados is one of the best things to do in Valladolid for art lovers.
This casona, owned by an American couple, houses more than 3,000 unique pieces of Mexican folk art. It's actually the largest private collection in Mexico!
You'll see vibrant and impeccably crafted sculptures, paintings, ceramics, textiles, and furniture that showcase the rich and diverse cultures of Mexico.
Tours are available every day at 10 AM. The suggested donation for entry is $5 USD or 100 pesos – all of which goes to local charitable causes. No reservation is required.
12. Explore the Museum of Mexican Ethnic Clothing (MUREM)
The Museo de Ropa Etnica de Mexico, also known as MUREM, celebrates Mexico's rich textile heritage.
In my opinion, Mexico is one of the most culturally rich and diverse countries on earth!
MUREM's colorful collection of intricately crafted garments – that hail from different regions and ethnic groups across the country – displays the incredible diversity of Mexico. Each piece of clothing tells a story of its region's unique traditions and history.
MUREM is open daily from 10 AM. Entry is by donation.
13. Discover the Museo San Roque
The San Roque Museum offers a peek into the region's rich history.
Housed in a 16th-century building and former hospital, this museum dives into stories of pre-Hispanic life, the founding of Valladolid, the bloody Caste War, the colonial period, the era of pirates, and the Mexican Revolution.
There's also a room dedicated to ancient Mayan traditions, medicine, and crafts.
The museum is open daily from 9 AM. Entry is free!
14. Try Traditional Yucatan Cuisine
You'll quickly discover that Yucatecan cuisine is nothing like the food you've tried elsewhere in Mexico! It is very distinctly Maya.
Of course, you probably already know about the famous cochinita pibil: suckling pig, that's marinated in sour orange juice and achiote paste, before it's slow-roasted in banana leaves underground in a pit (pib).
Beyond that, you have to try sikil pak (a pumpkin seed dip), sopa de lima (a flavorful soup with shredded turkey or chicken and lots of lime juice), and panuchos (bean-filled tortillas topped with meat and garnishings) – just to name a few!
Plus, Lomitos de Valladolid and Longaniza de Valladolid are a couple of Valladolid-specific dishes you can keep your eye out for (that is, if you love a giant helping of pork… Yucatecans sure do!).
Some of the best places to try local food in Valladolid are Ix Cat Ik and the traditional market.
15. Go on a Chocolate Tour
All thanks to Mesoamerican natives for inventing my favorite thing ever: chocolate.
At Choco-Story Valladolid, you'll walk through 12 different exhibition rooms that tell the story of the Mayan people and their relationship with cacao.
From cultivation to sacrificial rituals to the industrialization of cacao in the 20th century, the history of chocolate is absolutely fascinating!
Of course, the experience ends with an interactive chocolate demonstration and tasting.
Choco-Story is open daily from 9 AM to 7:30 PM, and the experience takes about 45 minutes.
Personally, I popped into the gift shop, but I didn't go on the tour; I've done many other chocolate tours in places like Antigua, Guatemala and La Fortuna, Costa Rica, so I gave this a miss. It looked pretty cool, though!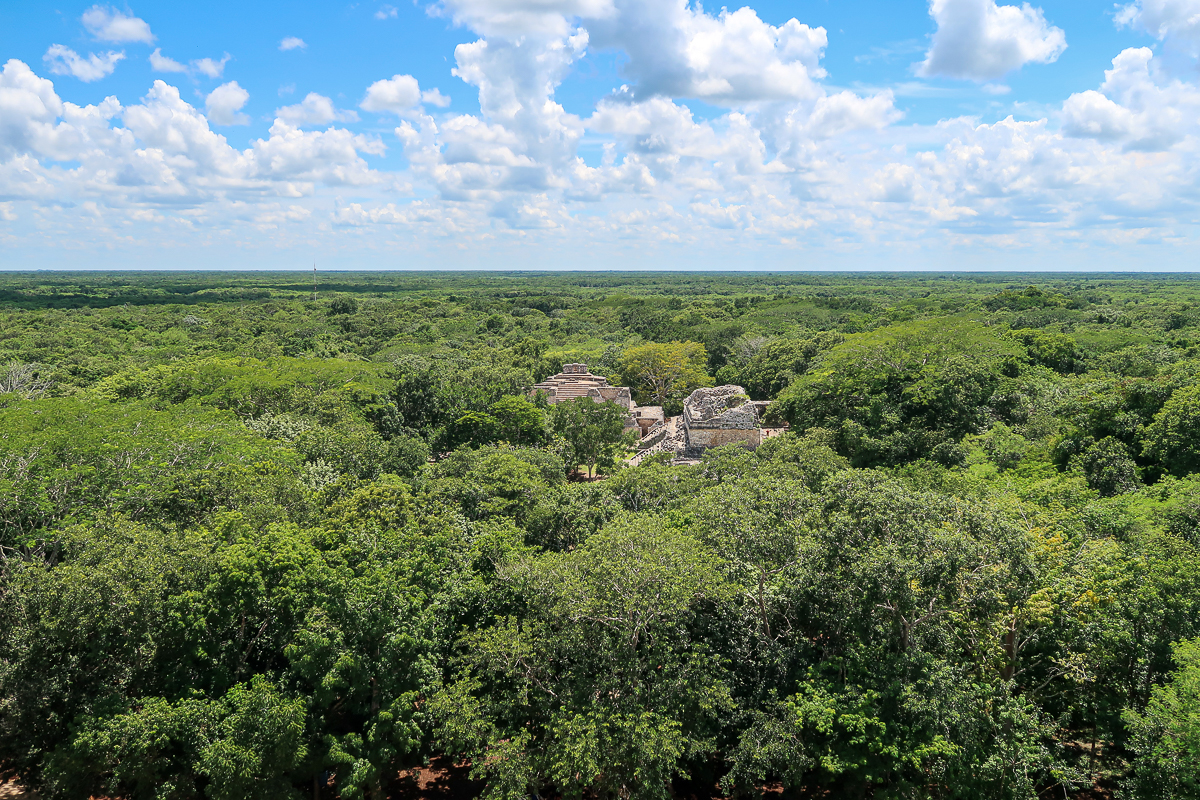 Best Day Trips from Valladolid, Mexico
As I mentioned, Valladolid is the perfect base to explore Mexico's Yucatan Peninsula! Here are the best things to do outside of the city on half and full-day trips!
Ideally, you should book a rental car for your time in Valladolid, so you can tackle all of these destinations on your own. However, there are also guided tours available to each one. I've linked all the details below.
By the way, some of these can (and should) be combined, like Chichen Itza and cenotes, and Ek Balam, Rio Lagartos, and Las Coloradas.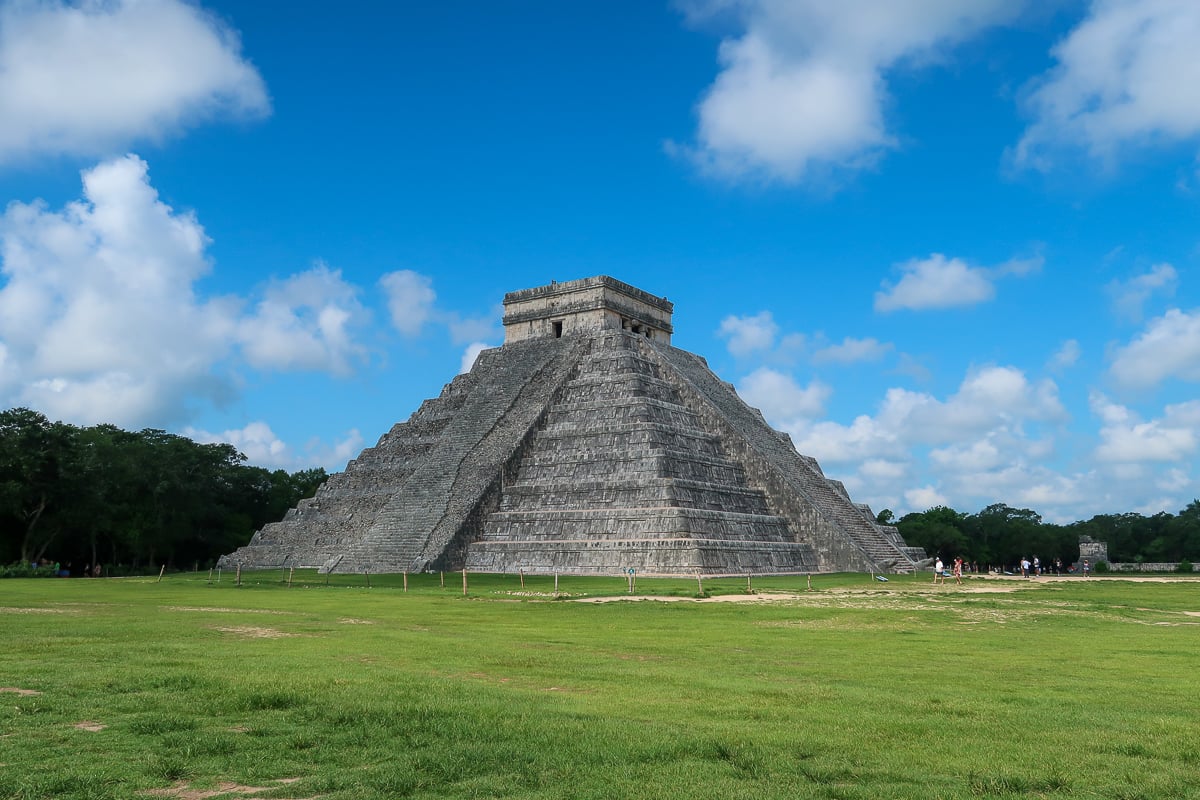 16. Visit Chichen Itza
You can't visit the Yucatan Peninsula and not go to Chichen Itza. This grand UNESCO World Heritage Site holds about 1,000 years of Mayan and Toltec history.
Valladolid is the perfect gateway to exploring Chichen Itza, since it's just 45 minutes away!
From the Great Ball Court to El Castillo (the Temple of Kukulcan) to the circular observatory known as El Caracol, you'll be blown away by Chichen Itza's grandeur: the structures' gigantic proportions, refined construction, and stunning sculpted decorations.
The trick to having the best experience at Chichen Itza is getting there before it opens at 8 AM. Why? After 9 AM, it gets HOT and BUSY.
You only need an hour or two to see Chichen Itza in its entirety, so get in early and get out early!
Then you have the rest of the day to check out some nearby cenotes (Cenote Ik Kil is the most popular/busy one) and visit another colonial town or two.
Plan to drive yourself in your rental car, or book one of the tours below.
17. Adventure Underground at Kantun Chi Ecopark
You're going to need a rental car for this one!
On our way from the Cancún airport to Valladolid, my boyfriend and I stopped by Kantun Chi Ecpark* for a few hours of adventuring through caves, underground rivers, and five different cenotes.
There are a whole bunch of eco-parks scattered around the Riviera Maya, but we chose to visit this one because it's completely natural, authentic, and beautiful! (Some of the other parks are manmade.)
Plus, there was hardly anyone there – so we had this incredible natural oasis almost all to ourselves!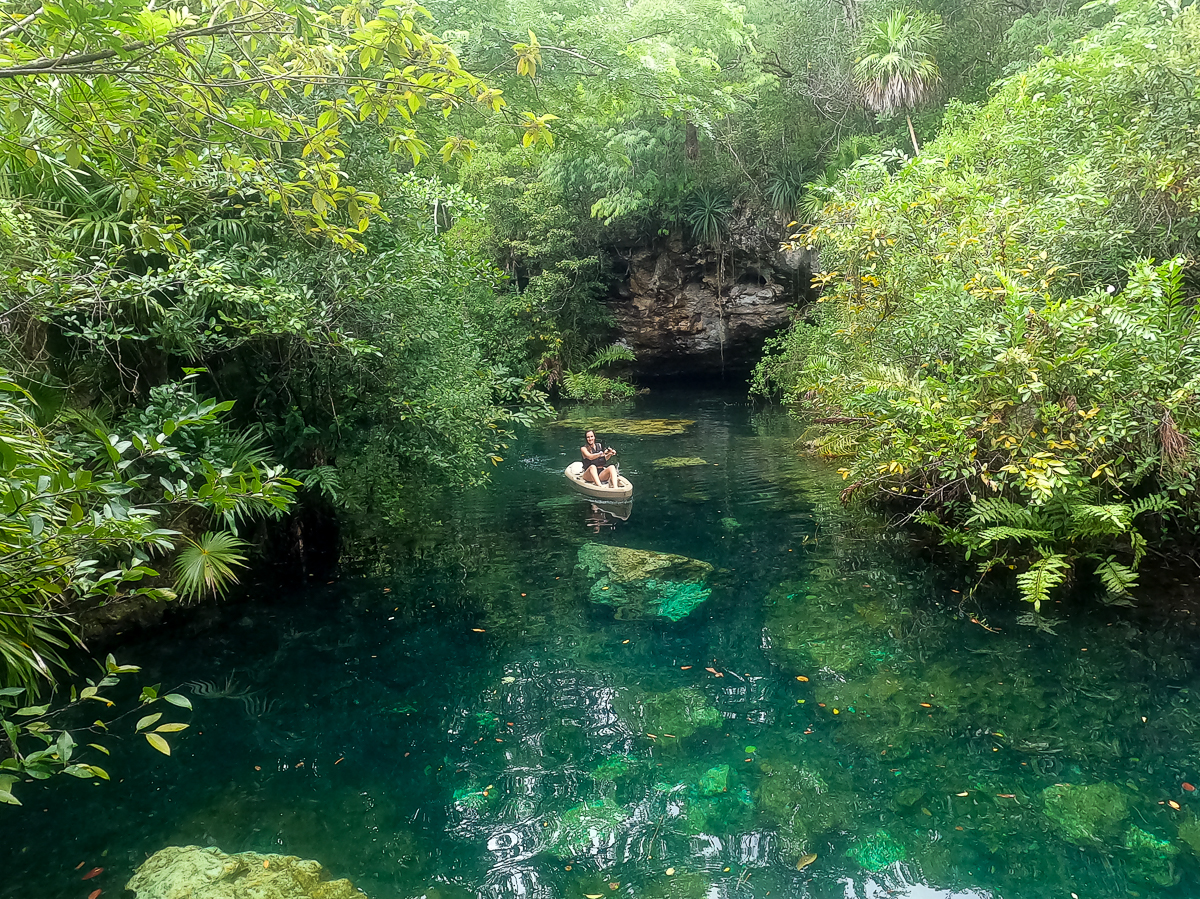 The turquoise crystalline waters of the underground caves and lakes were absolutely stunning. So clean and clear, there were even fish swimming around!
Spelunking through the bat-filled caves, under eons-old stalactites, kayaking around the cenotes, and dipping into the refreshing waters are some of my favorite memories!
Click here to grab your tickets to Kantun Chi Ecopark.
18. Explore Río Lagartos Biosphere & Las Coloradas
Drive 1.5 hours north of Valladolid, Mexico, and you'll reach the town of Rio Lagartos and the UNESCO Ria Lagartos Biosphere Reserve.
This tiny village is nestled onto the side of a biosphere reserve that teems with life. Eat some freshly caught seafood for lunch, then go on a boat tour through mangroves, lagoons, marshes, and estuaries to see all kinds of beautiful birds (including flamingos!) and crocodiles.
For our two-hour boat tour – which we booked on arrival at La Mojarrita – we paid 500 pesos per person.
Looking back, I'm a little freaked out by how close we got to the crocodiles… Such a crazy but cool experience.
You can also visit the Insta-famous pink lakes of Las Coloradas, which are pink thanks to the incredibly salty water that attracts plankton, red-colored algae, and brine shrimp.
Plan to drive yourself in your rental car (and stop at Ek Balam on the way!), or book one of the tours below.
19. Roam the Ruins of Ek Balam
The ruins of Ek Balam were so spectacular! Especially because – compared to Chichen Itza – there was hardly anyone there!
The ancient archeological site of Ek Balam is a quick 30-minute drive from Valladolid.
Hop in your rental car, or book one of the two tours below:
20. Bike Around the Coba Ruins
Hop in your rental car and drive out to the town of Cobá for an epic experience of Maya ruins and culture.
First, explore the Zona Arqueológica de Cobá. These ruins are spread out across three different areas, which makes for a long walk in the hot and humid jungle…
But instead of walking, you have the option to rent a bike (for 50 pesos) and explore the ruins on two wheels! Highly recommend this!
You can also hire a tricycle "taxi" for two people (for 150 pesos) if you want someone else to do all the hard work for you.
After you've explored the ruins, you can dive into Cenotes Tamcach-Ha and Choo-Ha or Multum Ha Cenote to cool off.
And finally, if you have even more time, you can visit an Aldea Maya (Mayan village), like Xunáan Kab, to learn about the traditional shamanic practices, beekeeping, food, chocolate, and more.
Drive to Cobá in your rental car, or book one of these tours:
21. Explore More Cenotes
If visiting Cenote Zaci wasn't enough, there are more famous cenotes to explore around Valladolid.
Here are some of the best ones!
22. Visit the "Yellow City" of Izamal
Another "Pueblo Magico" in Yucatán, Izamal is known as the "Yellow City." And you'd be hard-pressed to find a more charming town in all of Mexico!
This town is tiny, so it can easily be explored during a day trip from Valladolid.
While there, you can climb to the top of a Maya pyramid called Kinich Kak Moo, roam the beautiful yellow streets (snapping dozens of photos!), and visit the yellow Convento de San Antonio de Padua.
We climbed up the pyramid for sunset, which was such a beautiful experience!
Drive yourself there in your rental car (it's an easy drive!), or go on this guided combo tour of Izamal, Chichen Itza, and Cenote Yokdzonot.
Click here to book your day trip to Izamal, Chichen Itza, and Cenote Yokdzonot.
EXPLORING MEXICO? HERE'S MORE INSPIRATION:
Is Valladolid, Mexico Worth Visiting?
Yes, the "magic town" of Valladolid, Mexico is absolutely worth visiting.
If you're mostly planning to spend time along the Riviera Maya (such as in Playa del Carmen or Tulúm), a visit to Valladolid will infuse some much-needed authentic culture into your trip.
Valladolid is a Yucatecan and Mayan culture hub – from food to language. In the city, you'll find typical Maya restaurants, a traditional market, the lively main square (where you can watch locals' daily life unfold), a Maya beekeeping park, a beautiful former convent, and so many colorful streets to roam.
In other words, there are so many things to do in Valladolid!
Plus, this town is steeped in significant Mexican history; many confrontations between the native Maya and Spanish happened here, including the Guerra de Castas (Caste War) of 1847.
Plenty of ancient Maya ruins, cenotes, unique biospheres, and Maya villages are scattered around the city's outskirts too.
You'll love Valladolid for its peaceful vibe, beautiful streets, and strategic location for taking a day trip or two to explore the Yucatán – such as this Chichen Itza, Cenote Yokdzonot, and Izamal "Yellow City" day trip.
It's hard to choose, but I think Valladolid was the best place we visited in all of Yucatán!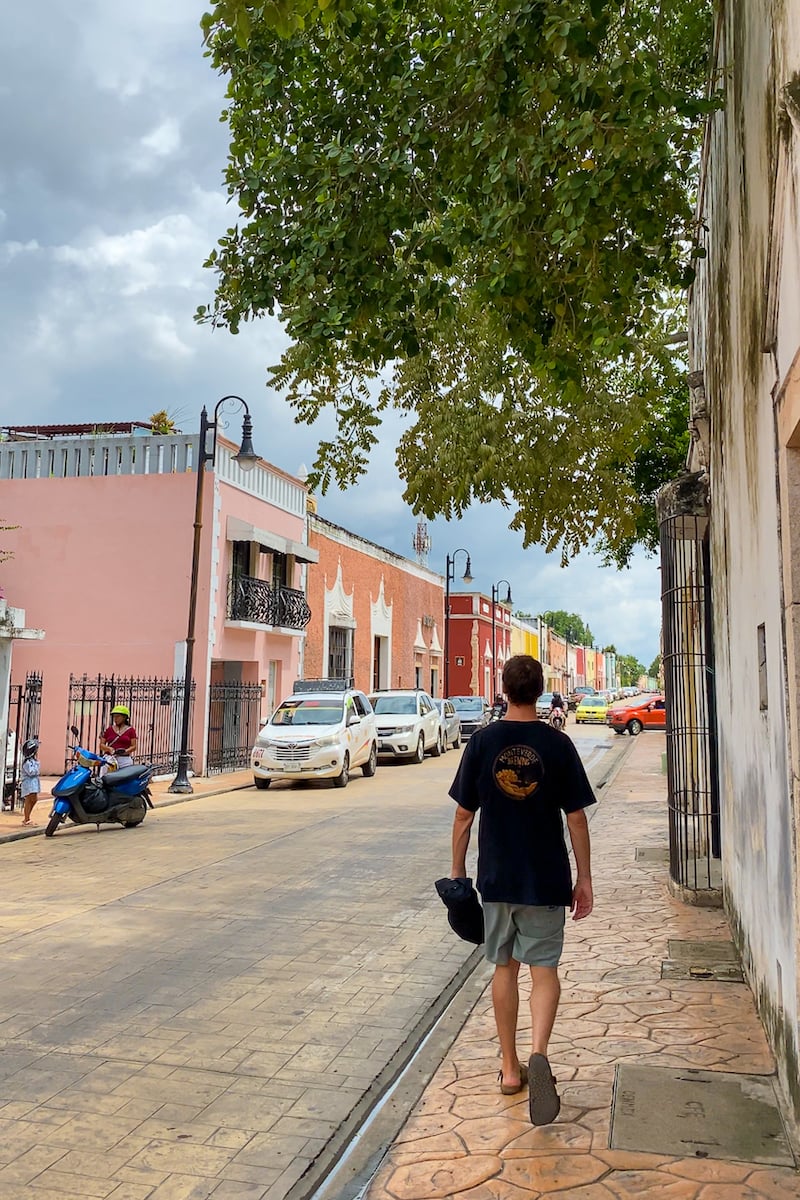 Is Valladolid, Mexico Safe?
I have traveled through Mexico extensively and lived long-term as a digital nomad in Mexico. In general, I have never felt safer in Mexico than I did in the Yucatán. Valladolid is no exception!
I felt so safe in Valladolid, walking around and exploring – no matter the time of day or night. The same went for all of our day trips in our rental car.
Valladolid's friendly, welcoming locals and the relaxed, small-town atmosphere will make you feel right at home.
That said, you should always take standard precautions and stay alert.
For example, make sure to stay in a hotel in El Centro (see my recommendations below); stick to well-lit, populated areas at night; and keep valuable belongings out of sight.
Plus, you should always make sure that you purchase travel insurance when you travel to Mexico.
Valladolid, Mexico Travel FAQs
Is Valladolid Yucatan worth visiting?
Absolutely! You won't regret visiting Valladolid, Mexico. This colorful city is home to beautiful old streets, parks, churches, street food stalls, an old convent, chic boutique shops, beautiful hotels, a traditional market, and a cenote – just to name a few of the highlights! There are so many wonderful things to do in Valladolid. Plus, Valladolid is also the perfect base for exploring more of the Yucatan. You can easily take day trips to Chichen Itza, Coba, and other archaeological sites.
Is Valladolid cheaper than Tulum?
Yes, Valladolid is much cheaper than Tulum! Compared to touristy Tulum, Valladolid is off the beaten path. That means that everything is cheaper in Valladolid – from hotels to restaurants to things to do.
How many days should I stay in Valladolid?
Many travelers only visit Valladolid on a day trip. But there are so many amazing things to do in Valladolid that warrant a longer stay! If you stay for two or three nights (stay at Le Muuch Boutique Hotel!), you'll have time to experience the best of Valladolid, from walking down Calzada de los Frailes, trying traditional food, visiting the Convent of San Bernardino, experiencing Mayan culture, and touring Xkopek Beekeeping Park. Plus, Valladolid is the perfect base for day trips to nearby archaeological sites, cenotes, and more. If you don't stay at least one night in this colorful city, I think you'll regret it!
Is it safe to drive from Cancun to Valladolid?
Yes, it's generally considered safe to drive from Cancun to Valladolid. Just make sure to drive during daylight hours only – this is the best practice for driving in all of Mexico! We rented a car and drove from Cancún to Valladolid and then on to Mérida without any issues!

This is my favorite website for finding affordable rental cars in Mexico and beyond.
Is Valladolid safe to walk at night?
Yes, generally speaking, it's safe to walk around at night in Valladolid, Mexico. We walked around extensively at night and felt perfectly safe. That said, I'd recommend sticking to the tourist areas and well-lit streets only. If you feel unsure, hopping in a taxi is always best!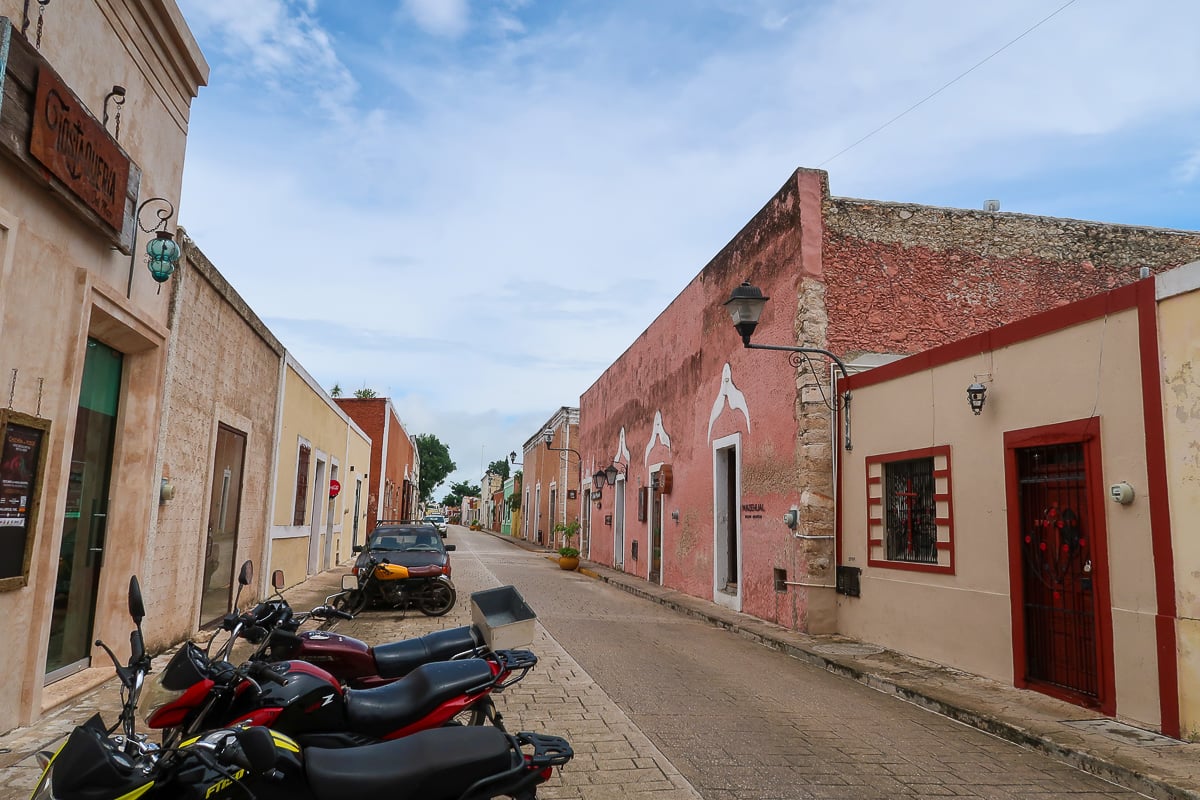 Valladolid Itinerary: 22 Unmissable Things to Do in Valladolid, Mexico
A small town boasting big Yucatecan charm, the "Pueblo Magico" of Valladolid, Mexico is a must-visit on every Yucatan itinerary.
From cenotes to boutique shops, and museums to traditional restaurants, there are endless things to do in Valladolid. Plus, this city offers the perfect location for taking day trips.
Vibrant Mayan culture, beautiful colonial streets, and a peaceful vibe await you in Valladolid!
I absolutely loved my time in this city. And with this Valladolid guide at your fingertips, I know you will too!
SAVE THIS POST ON PINTEREST!
*Disclaimer: I stayed at Le Muuch Boutique Hotel and visited Kantun Chi Ecopark free of charge to aid in the creation of this travel guide to Valladolid. In addition, this post may contain affiliate links. When you click through a link on this page and make a valid purchase, Maddy's Avenue may receive a small commission (at no extra cost to you!). We only recommend products/services that we believe in and know you will love too. Your support enables us to continue making helpful travel content. Thank you for reading, and thank you for your support!