In the heart of central Mexico, you'll find the most charming colonial city you can imagine: Guanajuato. Known for its maze-like cobblestone alleyways, mountainous surrounds, endlessly colorful buildings, underground tunnels, rich silver mines, and its fascinating 500-year-old history, it's impossible not to love Guanajuato City.
I recently spent one week uncovering all of the best things to do in Guanajuato City, and can confirm that this city is worth visiting… Like, ASAP!
From roaming the enchanting streets and sipping spicy mezcalitas on chic rooftop bars (oh, those views!), to visiting the many museums, exploring the silver mines, and hiking to your heart's content… Here are 23 of the very best things to do in Guanajuato City!
Feel free to use this table of contents of the best things to do in Guanajuato to jump to different sections in this post!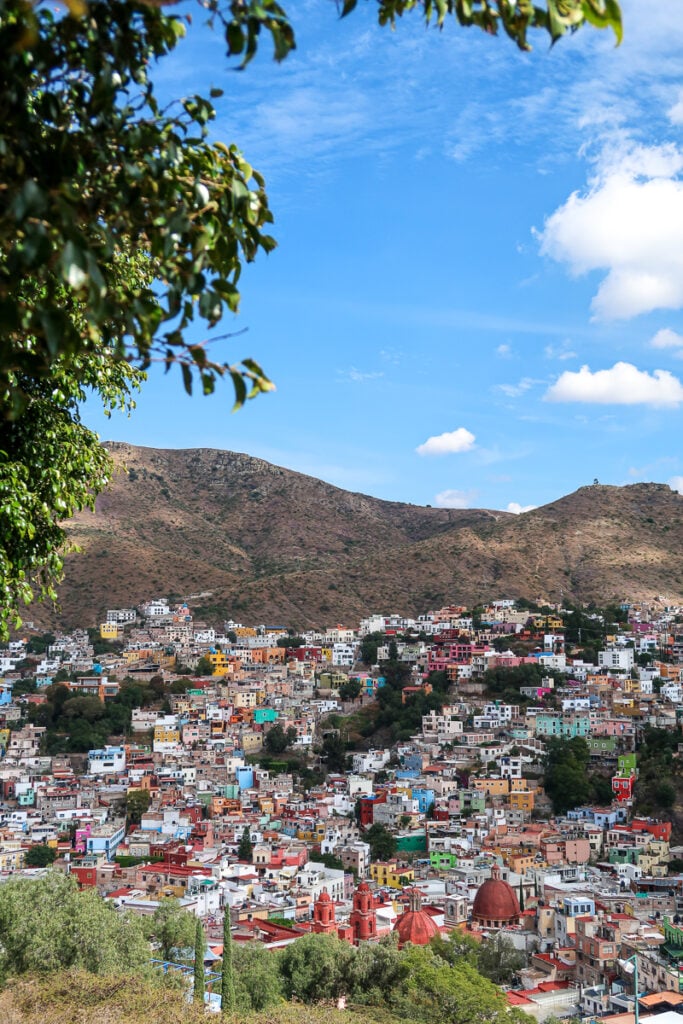 Guanajuato City: A Quick Overview
If the only thing familiar to you about Guanajuato City is the amazing vista at the top of the funicular (pictured above), then you're not alone. Pretty much, that was me, too, before I visited! But it's now abundantly clear to me why people often call it the most beautiful city in all of Mexico!
So that you're better-prepared for what you're about to experience, let's run through a quick overview of this epic city.
Guanajuato City is the capital of the central Mexican state of Guanajuato.
The population is roughly 200,000.
Overall, Guanajuato's historic city center is safe. You should stay alert, always, but there's no reason to be overly alarmed if you stick to populated, tourist-friendly neighborhoods.
Guanajuato City is historically significant for two reasons. Firstly, it was founded by the Spanish in the mid-16th century, and became one of the richest silver mining centers in the world. Secondly, Guanajuato City was the first major city to fall to the "Father of Mexico", Miguel Hidalgo, in Mexico's War of Independence against the Spanish. So, it goes without saying: there's a lot of history to discover here.
The historic town of Guanajuato, and its surrounding mines, are classified as a UNESCO World Heritage Site.
Guanajuato City is not a "touristy" city, as far as Mexican destinations go.
23 Amazing Things to Do in Guanajuato City, Mexico
Now that you're acquainted with Guanajuato's background, let's talk about what to do there.
Here are 23 of the most incredible things to do in Guanajuato City, Mexico!
Explore Guanajuato's Historic Center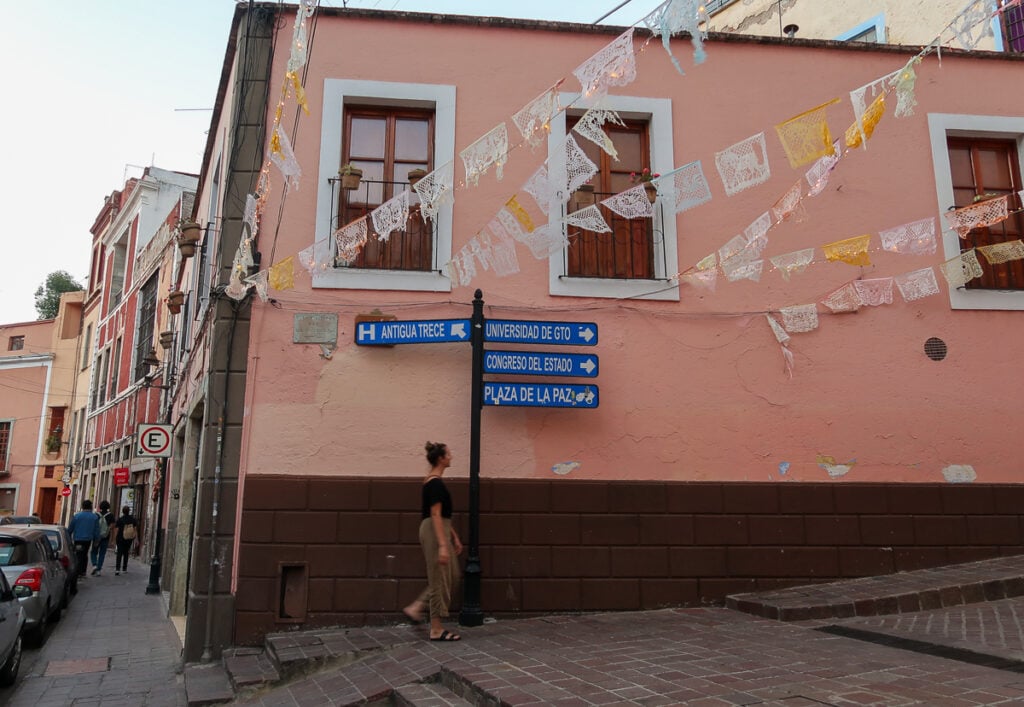 1. Take a Guided Walking Tour
It quickly became clear to me that Guanajuato City is unlike any other in Mexico. It feels raw, authentic, and gritty, yet simultaneously enchanting. Plus, it's home to so much rich history and unique culture.
A visit to Guanajuato wouldn't be complete without getting to know the city through its storied past. So, spend two to three hours on a guided walking tour for the perfect introduction to this fascinating city.
On this 3-hour guided tour, you'll explore the city on foot with your expert guide, learning about the city's history, legends, and unique cultural traditions. You'll even get to taste a few Guanajuato specialities along the way.
Some of the sites you'll visit include Plaza de la Paz, Callejón del Beso, Mercado Hidalgo, and the Alhóndiga de Granaditas.
Click here to book your group guided tour!
If a private walking tour is more your speed, then opt for this one. Since it's private, you'll have the freedom to customize the tour to suit your interests.
But still, you can expect to visit the city's main sites, stroll through the underground tunnels system, and hear interesting tales about the city's mining past and the Mexican War of Independence.
Click here to book your private tour!
2. Get Lost in the Colorful Alleys
Looking at a map of Guanajuato gives you an idea of how convoluted its streets are. They're narrow and winding, making up a colorful labyrinth of centuries-old buildings, quaint plazas, cafés, and street food stalls.
Plus, so many of the streets are 100% inaccessible by car, which means it's an amazing city to wander about aimlessly.
As you explore, make sure to stop by these bustling plazas, churches, and other points of interest! (That is, if you didn't already, on your guided walking tour.)
Plaza de la Paz
The beating heart of this vibrant city, the Plaza de la Paz (or Plaza of Peace) is home to the city's magnificent yellow Basilica de Guanajuato, an impeccably manicured garden, and a collection of splendid colonial buildings that house restaurants, bars, and souvenir shops.
In the plaza, you'll find locals hawking handicrafts, street food, fresh produce, and more.
Basilica Colegiata de Nuesta Señora de Guanajuato
The most iconic and spectacular church in the city, the Basilica Colegiata de Nuesta Señora de Guanajuato looms radiantly over the Plaza de la Paz.
Originally built in 1671, this basilica is a must-see while in Guanajuato.
Jardín de la Unión
Jardín de la Unión is the perfectly manicured garden located in front of the impossibly stunning 19th-century Juarez Theater, surrounded by countless bars and restaurants.
Plaza de los Ángeles
This beautiful and bustling plaza is right around the corner from the iconic Callejón del Beso, but it's an attraction all on its own.
The candy-colored buildings, central fountain, and countless street food stalls make the atmosphere of this plaza worth experiencing.
Callejón del Beso
The ridiculously narrow Callejón del Beso, or Alley of the Kiss, is a folkloric icon in Guanajuato. People line up here to take photos kissing each other. More on this later in the post!
Universidad de Guanajuato
Perhaps the most grandiose building in the entire city, make sure to stop by la Universidad de Guanajuato (Guanajuato University), sit on one of the dozens of steps, and do some people-watching. Then, climb the steps and take in the view.
Templo de San Francisco
This pink baroque church, constructed in the early 1700s, is one of the most beautiful churches in the city, inside and out.
Save all of these places on your maps app to make life a little easier as you roam! Of course, there are more must-see sites, but we'll get to them below…
3. Ride the Funicular up to the Mirador Panorámica (Al Pípila)
Of course, no trip to Guanajuato would be complete without a ride on the funicular up to the Mirador Panorámica (panoramic viewpoint)!
Gazing out over the city – dotted with hundreds of colorful houses, ornate churches, and other historic architectural masterpieces (paid for by the riches of the silver mines!) – and the surrounding Sierra de Santa Rosa hills is a surreal experience. Especially at sunset, when the sky casts light pink hues upon everything, and the city starts to slowly light up the night.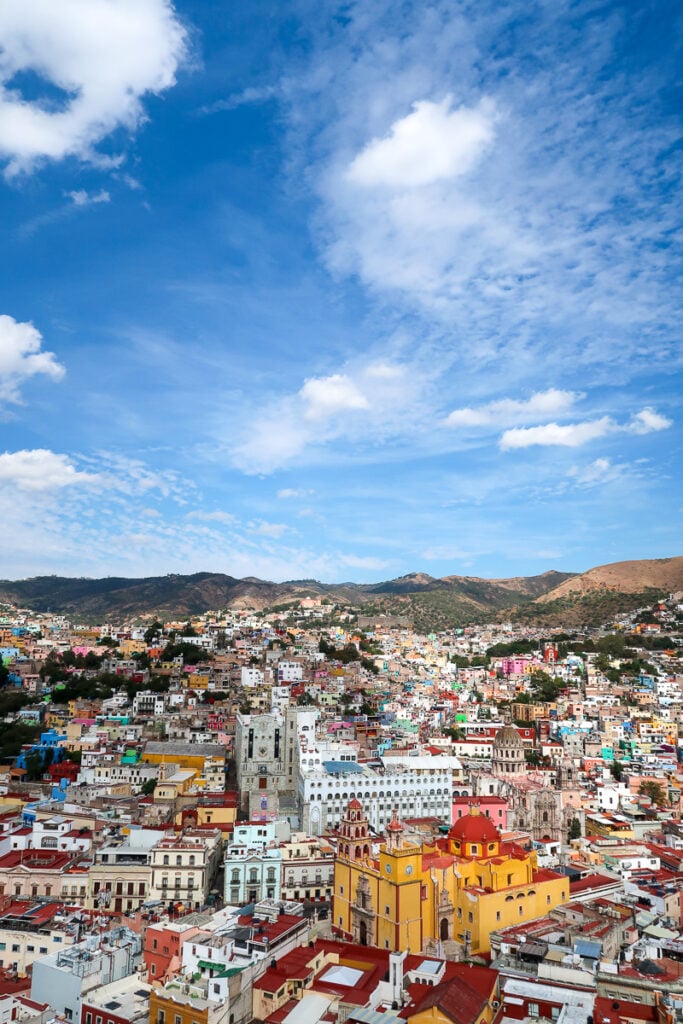 The massive statue that towers above the lookout, El Monumento al Pípila, is dedicated to a now-legendary indigenous miner who valiantly led the first riotous victory against the Spanish in Mexico's War of Independence at Guanajuato's Alhóndiga de Granaditas.
It costs 30 pesos (roughly $1.50 USD) for a one-way trip (60 pesos for roundtrip), but you can also walk up and back down if you're feeling ambitious. The walk uphill takes about 15 minutes.
Personally, I feel that the area around the viewpoint is a little sketchy after the sun sets, so I wouldn't roam too far away!
4. Try Enchiladas Mineras (Mining Enchiladas)
I'll be honest, Guanajuato City is not a great food city, by any means. But if there's one traditional dish you must try, it's enchiladas mineras – or mining enchiladas.
Miners' wives would make these super hearty vegetarian enchiladas to provide plenty of carbs and protein to their hungry miner husbands. This dish consists of fresh corn tortillas, filled with ranchero cheese, and topped with carrots, potatoes (and sometimes chicken), and a super tasty guajillo chili salsa.
The best enchiladas mineras I had in Guanajuato City was at Los Huacales. They were seriously delicious! And actually, this restaurant was one of the best places we ate, overall. I highly recommend it!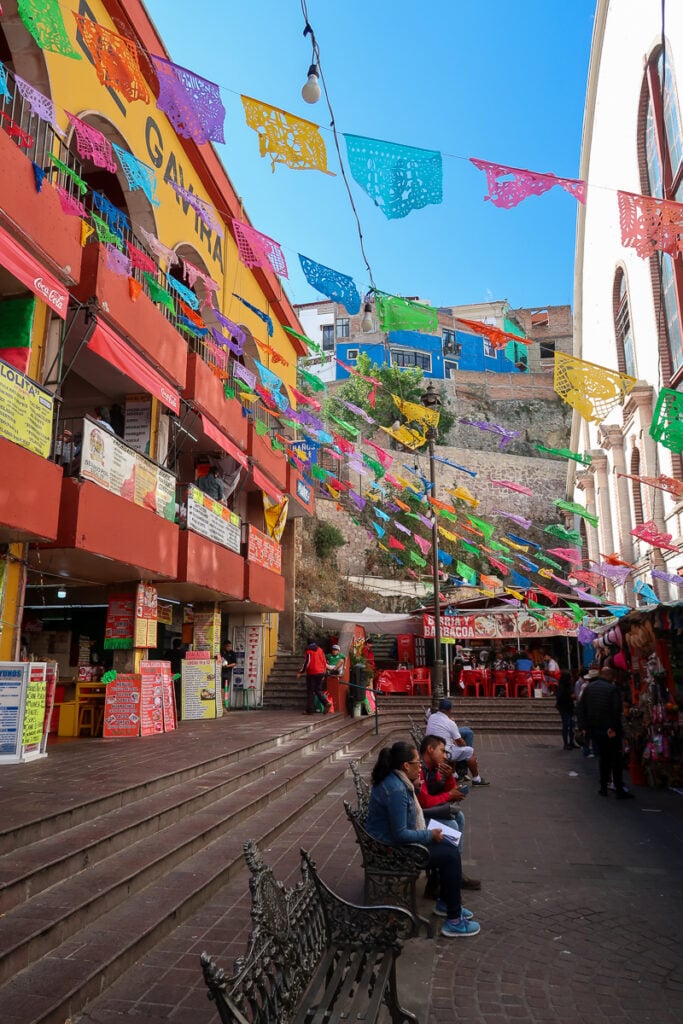 5. Browse El Mercado Hidalgo (Hidalgo Market)
One of the best things to do in Guanajuato – and every Mexican destination, for that matter – is exploring the traditional market. It's the best way to get to know the local culture, hands-on.
At Hidalgo Market (El Mercado Hidalgo), you'll have the opportunity to mingle with the locals, taste some traditional food, see exotic fruits, watch tortillas being freshly made, learn about indigenous herbs and traditional healing remedies, and check out the local art and handicrafts.
If you want to try some classic Mexican street food dishes, go for enchiladas, enfrijoladas, pozole, a torta, guaraches, or tacos. The options are endless, really!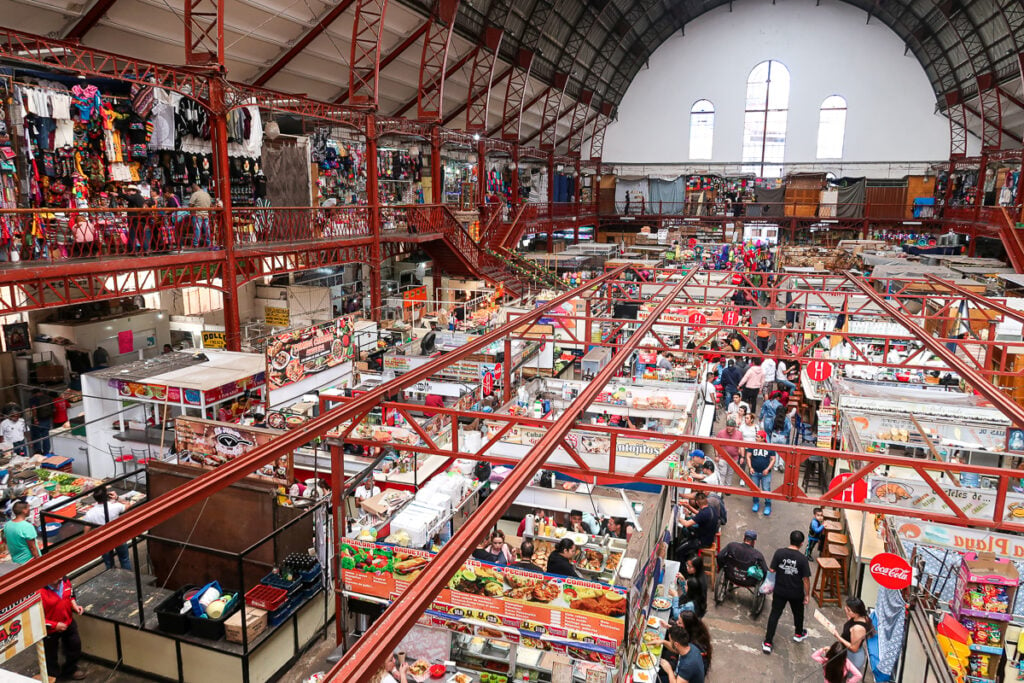 Though the market itself isn't too big, it spills out into the surrounding plaza and sidewalks, and there's also a street food hall next door. You can expect to spend about an hour here, browsing to your heart's content.
Crafts-wise, you'll see a lot of baskets, some pottery, and tacky souvenirs, but nothing really worth buying. If you're looking for some incredible ceramics, then pop into the many boutique shops around town, including Rincón Artesanal Ceramica and The Gorky Gonzalez Workshop.
6. Hang Out in Plaza de San Fernando
Plaza de San Fernando (sometimes called Plaza San Roque) is a breath of fresh air in Guanajuato's city center – completely different than the tourist-packed Plaza de la Paz.
This quaint cobblestoned plaza, surrounded by little cafés and greenery, is where locals love to spend some time, sipping on a cold beer in the sunshine. It is lovely. And there's usually a mariachi band making their rounds. We paid for a few songs, because, why not?
La Bohemia's outdoor patio is the best spot in the plaza for a drink.
Then, head over to Estación Gelato afterward for the best gelato in the city.
7. Sip Local Wine from Guanajuato
I had no idea that Central Mexico produces so much wine – especially natural, organic wine! Most of the natural Mexican wine I'm familiar with (and love) is from Baja California. But lucky for me, my visit to Guanajuato City just so happened to fall during the annual Catando México wine and food festival (pictured above)!
Every November, this wine festival brings together some of Mexico's best winemakers for two evenings of unlimited wine and food tastings along one of Guanajuato's most beautiful and bustling pedestrian streets. If possible, attend this festival!
And if not, then at least sip on some local wines at Guanajuato City's best wine bar, Francisca Enoteca & Cocina.
Unfortunately, there aren't any wine country tours leaving from Guanajuato City. Though if you plan to visit San Miguel de Allende too (an absolute must!), then make sure to book this Local Vineyard, Tasting, and Culture Tour of the Independence Valley.
8. See a Show at Teatro Juárez (Juarez Theater)
A Guanajuato City icon, this lavish 19th-century theater is located in the heart of the city center. Inspired by Roman and Greek architecture, the outside looks similar to Rome's Pantheon with its 12 splendid columns. The top is crowned by bronze statues of eight of the nine Greek mythological muses.
At the very least, stop by Teatro Juárez to see the absolutely stunning exterior. You can also grab a ticket for a guided tour of the interior.
While there, make sure to check out the posters outside to see what's playing. You can buy (cheap!) tickets to a show from the theater's box office.
A night at the theater would be perfectly preceded by a lovely dinner at Los Campos, Costal Cultura, or even Casa Valadez. After-show drinks at Nigromante Cocktail Rooftop, a must!
9. Kiss Your Lover at El Callejón del Beso
The legend of the Alley of the Kiss is Guanajuato's very own Romeo & Juliet-style tragic love story:
So it goes, the daughter of a wealthy family fell in love with a boy from a poor miner family. Forbidden to be together, the genius lover boy rented out a room directly across the narrow alleyway from hers. At night, they would secretly spend time together, whispering, kissing from their respective balconies. Soon, the young lovers' romantic encounters became the talk of the town. When the gossip finally reach the girl's father, enraged, he barged into her room, and caught them in the act. The boy leapt (or fell) from the balcony to his death, before the father beat his daughter to death.
Intense story, right?
Nowadays, it's said that the two lovers' spirits have stuck around to bless couples who kiss there.
If you visit after 9 am, you will see hordes of people lining up to kiss each other in the colorful El Callejón del Beso – either from the laneway (for free), or from across the two balconies (for a small fee, of course).
We couldn't be bothered to do this, honestly. But if you're keen, go early to avoid the crowds!
10. Drink at a Rooftop Craft Cocktail Bar
Guanajuato City is home to cool rooftop bars aplenty. If you love a carefully crafted cocktail like I do, then this one's for you.
Make sure to take in Guanajuato's epic views (because you can't ever get enough!) over a mezcal cocktail at Nigromante Cocktail Rooftop (my favorite), BARTOLA, or Condesa Rooftop.
Oajillo, located inside of the Carcamanes 17 Gastro-Hotel (this is a great place to stay, by the way, as it's tucked into a quiet corner of the center; click here to book it!) is another popular option for cocktails and creative (albeit, slightly strange) bites, though the view isn't quite as fabulous.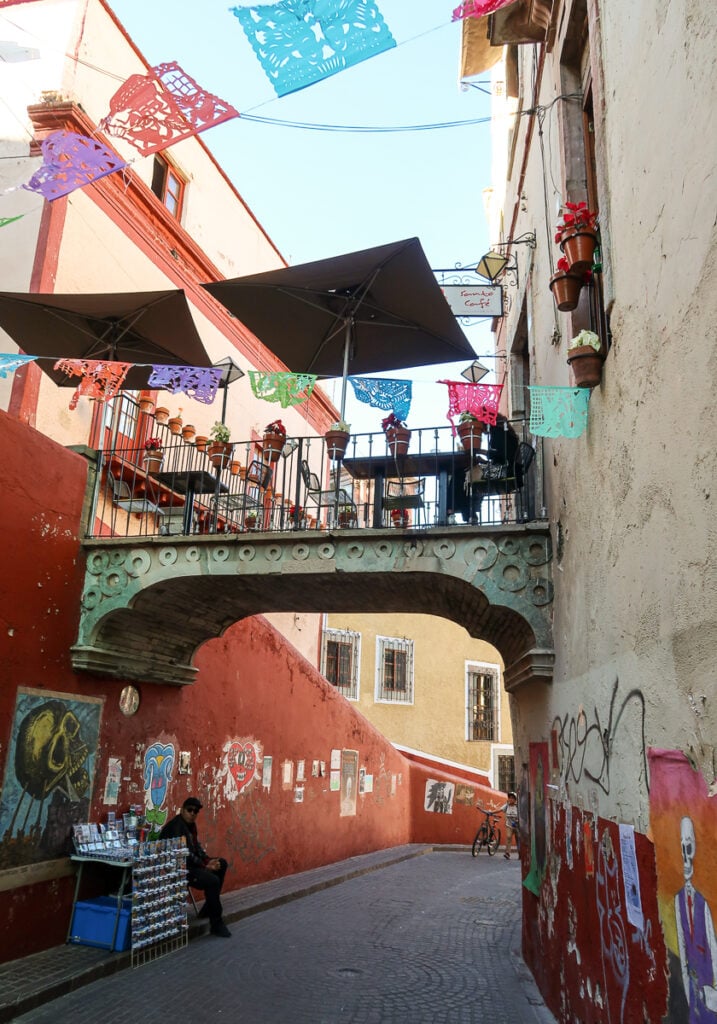 11. Brunch at Santo Café
Eating a traditional brunch on the bridge that leads into Santo Café, overlooking a busy pedestrian street, is one of the most charming dining experiences you'll have in Guanajuato.
Santo Café serves up all of the Mexican classics, along with a selection of international favorites.
Is the food amazing? No, definitely not. But is it good? Overall, yes. Should you wait until a table on the bridge is available? Yes, that's the whole point; the atmosphere inside doesn't come close.
If it's proper, good coffee you're after, then the nearby Vivo Café or Café Tal are the best places in town.
12. Explore Barrio de la Presa
The quiet, high-end, and all-around lovely neighborhood of Barrio de la Presa is worth a wander while in Guanajuato.
Home to some of the city's best restaurants, a scattering of government buildings, great views of the surrounding hills, and plenty of greenery, it's totally different than the city center.
La Presa is also home to Presa de la Olla, the city's dam where locals love to relax, go for boat rides, and hang out. (This private Guanajuato City, Mines, and Tunnels Tour will take you there.)
While in Barrio de la Presa, DO NOT MISS Parlamento Bar. Their imaginative and fun cocktails are beyond delicious, and the old-world, speakeasy vibe is super cool. Visiting here is one of my favorite things to do in Guanajuato!
Plus, some great pre-cocktail restaurants in the area are La Victoriana and AMAXTI Cocina Auténtica.
13. Stay at Casa de Tillie
Staying at Casa de Tillie was a huge part of what made my time in Guanajuato City so special.
This bed and breakfast, operated by the nicest Mexican-American couple, is everything you could hope for in a Guanajuato City accommodation. The guest rooms and bathrooms are incredibly spacious, the beds are ultra-comfy, the wifi is super fast (perfect for digital nomads!), and the location is perfect.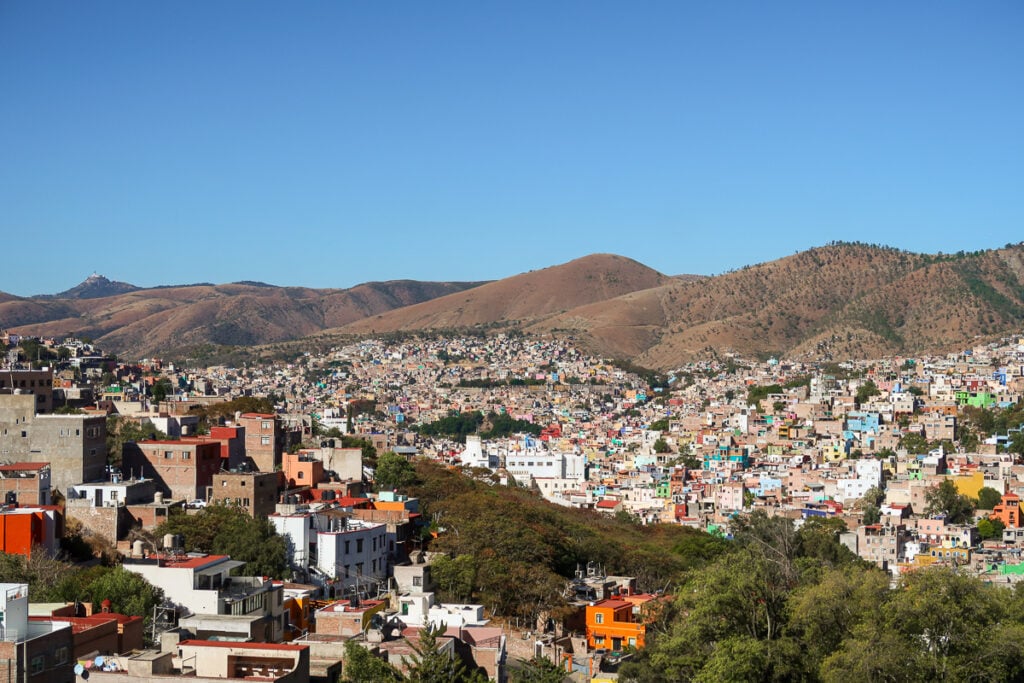 Perched up on the Panorámica, Casa de Tillie offers incredible views of the Sierras and the city's rainbow-colored houses. And most importantly, peace and quiet. (I literally think I would've gone insane if we stayed in the city center! Guanajuato is a university town – a party city. So in the center, it's loud, pretty much every night of the week.)
But the best part? Definitely, it was getting to know Flo, René, and their daughter, Tillie – and hearing their perspectives of Guanajuato – over delicious breakfasts each morning. Leti, the Casa's chef, whipped us up everything from chilaquiles to guaraches. So yummy.
I can't recommend staying at Casa de Tillie enough! Click here to book it!
Check Out Guanajuato's Many Museums
14. Regional Museum of Guanajuato Alhóndiga de Granaditas
Visiting the Regional Museum of Guanajuato Alhóndiga de Granaditas is one of the best things to do in Guanajuato.
As mentioned, the insurgents' first major victory against the Spanish, the Capture of Alhóndiga de Granaditas of 1810, took place at this grain storehouse. This building is arguably the most historically significant place in the entire city, as this battle gave way to the birth of México.
Now a museum, you'll find all sorts of interesting historical artifacts and artwork, spanning from pre-Hispanic times through to present day.
The museum is closed on Mondays, and costs 60 pesos (about $3.50 USD) to enter.
15. Diego Rivera's House & Museum (Museo Casa Diego Rivera)
I've now visited three of Diego Rivera's homes (the other two were in Mexico City), and Guanajuato City's Museo Casa Diego Rivera has been my favorite.
If you're not familiar, Diego Rivera was the greatest Mexican painter of the 20th century. And he was married to painter Frida Kahlo, an absolute icon in Mexican culture. Talk about a power couple!
The home itself is beautiful, but of course, the impressive artworks that adorn the walls are the main event. Some of Rivera's most significant works are on display here, plus it's interesting to see all of his personal artifacts. Make sure to check out the giant mosaic mural in the upstairs courtyard – ask the security guard if the door is closed. It's amazing!
It costs just 20 pesos (about $1 USD) to enter Diego Rivera's House & Museum. A must-do.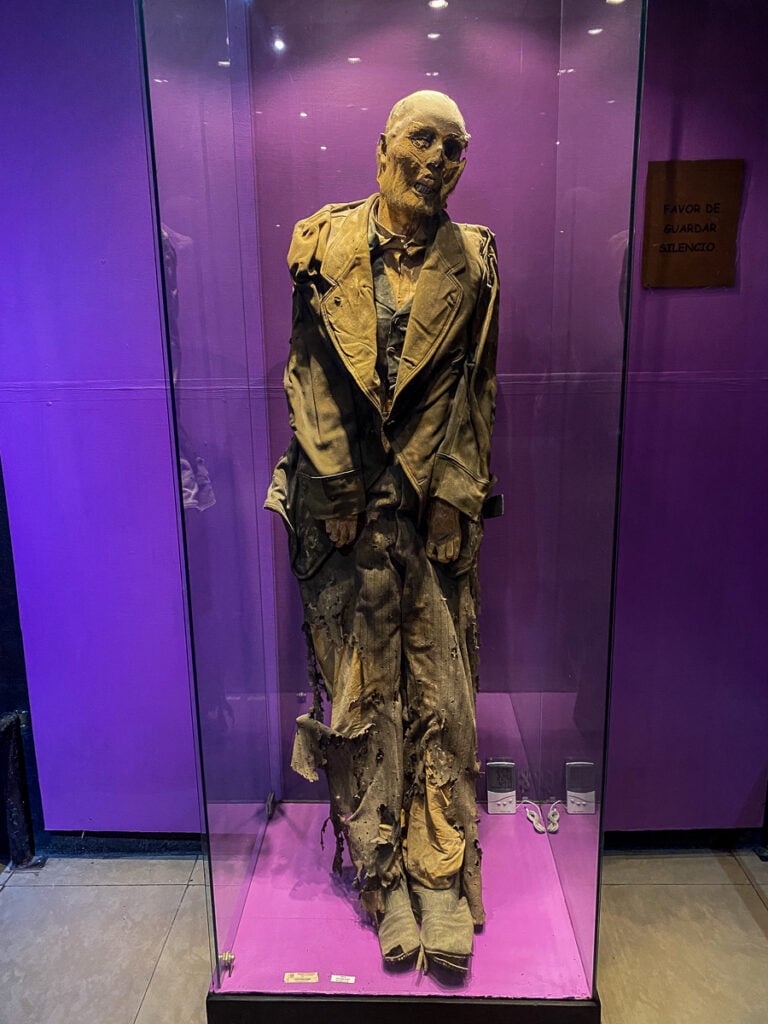 16. Guanajuato Mummy Museum (Museo de las Momias)
Often referred to as the best thing to do in Guanajuato, the Mummy Museum is, by far, one of the strangest, spookiest places you will ever visit. In your life. That is, if you decide to go at all.
I went, and, well, it was weird. And icky. I kept thinking, Who were these people? Would they have been happy to be on display like this? While the government rakes in the cash from museum tickets? Who knows. But I think not.
At the same time, it was pretty fascinating to see 100% naturally preserved mummies, wearing the same tattered clothes they were buried in – thanks to Guanajuato's exceptionally dry soil.
One thing I must-mention is, while Western cultures are squeamish about the concept of death, in Mexico, it's normalized, and celebrated even (i.e. el Día de Muertos!). Mexicans have a certain reverence and curiosity about death. Merely, a cultural difference. Is the Mummy Museum a must-see? I'll leave it up to you to decide.
It costs about 100 pesos (about $5 USD) to enter.
The Story Behind the Mummies
So, what's the story with the Guanajuato Mummy Museum anyway?
Well, between 1865 to 1958, the local government required relatives to pay a grave tax for their passed-away loved ones. When they failed to pay up, for three years in a row, they were dug up and evicted from the graveyard. The mummies were kept in a creepy ossuary underneath the cemetery, just in case family members came by to pay for a reburial. After a few decades, they had so many incredibly preserved mummies that the ossuary became more of a museum than anything else.
Other Guanajuato Museums to Visit
If you have extra time, there are a couple of other museums to check out in Guanajuato City:
Don Quixote Iconographic Museum (Museo Iconográfico Del Quijote)
Palace of the Powers Museum (Museo Palacio del los Poderes)
Guanajuato City Museum (Museo del Pueblo de Guanajuato)
I didn't go to any of these three, so I can't vouch for how amazing they are (or are not).
Exploring Guanajuato's Outskirts & Abundant Nature
17. Explore Guanajuato's Silver Mines & Underground Tunnels
The immense wealth that miners extracted from Guanajuato's silver mines made the city what it is today.
So, it makes sense that you should go explore the nearby mining town of La Valenciana; discover the maze of tunnels under the city; and learn about the region's rich mining history under Spanish rule.
On this Private Guided Tour of Guanajuato's Tunnels and Mines, you'll do just that!
With your expert guide, you'll discover the labyrinth beneath the city, visit Mina Valenciana, Mina Guadalupe, and Mina San Ramón, check out the amazing Museo Ex-Hacienda San Gabriel de Barrera (another one of the best things to do in Guanajuato!), and La Presa de la Olla.
Click here to book your Tunnels and Mines tour!
18. Stop by Templo La Valenciana
While in La Valenciana on your make sure to stop by the incredible Templo La Valenciana.
Officially known as Templo de San Cayetano Confesor, this 18th-century pink stone church sits atop a hillside, offering the most jaw-dropping of interiors and panoramic views of the surrounding rolling landscape.
Since this is a rich mining town, it only makes sense that this church's large altars were absolutely decked out in intricate gold leaf detailing, to the highest caliber of craftsmanship.
On this private tour (same as above), you'll visit the Templo La Valenciana, along with the mine and the Museo Ex-Hacienda San Gabriel de Barrera. Click here to book your Tunnels and Mines tour!
19. Hike Up to Cerro de la Bufa
Feeling adventurous? Then set out on the 5-mile round trip hike to the beautiful rock formations of Cerro de la Bufa.
Overall moderate in difficulty (with some steep and rocky sections), almost anyone can accomplish this hike, while taking in epic views of Guanajuato and the surrounding hills.
You can find details about the route here. You can also book this Guided Hiking Tour Through Guanajuato, so you can go with the safety of a guide and a small group.
Click here to book your hiking tour!
Annoyingly, I cut my foot pretty badly on something underneath the seat in the plane on the way to Guanajuato from San Pancho (ugh!), so hiking and other outdoor adventures that required closed-toe shoes were off-limits for me. If I could have, then I would definitely have done this hike!
20. Go Biking in the Sierra Santa Rosa
If you prefer biking to hiking, this one's for you!
On this 3.5-hour Historical Tour in the Sierra Santa Rosa by Bicycle, you'll pedal your way through the town, up into the Sierra de Santa Rosa, past endless greenery, cacti, and rocky outcrops, while learning about the region's culture, fascinating history, and diverse flora and fauna.
Click here to book your bike tour!
21. Go ATVing in the Mountains
I've heard from quite a few people that one of the most fun things you can do in Guanajuato is embarking on an ATV tour through the city and mountains!
On this adventure from the city's underground tunnels and narrow alleyways and through the hilly Sierras, you'll visit countless off-the-beaten-path destinations, learn more about the area's culture and history, and have the most adrenaline-rushing, fun time.
The five-star rating speaks for itself. I bet this will be the highlight of your trip to Guanajuato.
Click here to book your ATV tour!
22. Go Horseback Riding
I say, whenever you get to horseback ride through Mexico's amazing landscapes, do it! We did it in Cholula and loved the experience.
On this private, half-day Mexican Equestrian Experience through Guanajuato, you'll pass by working mines, weave through colorful alleyways, trot through the mountains, explore small towns, and get an in-depth understanding from your guide of what life's like in this beautiful area of Mexico.
Click here to book your horseback riding excursion!
23. Visit San Miguel de Allende
If you don't have an extended trip planned to the impossibly beautiful colonial city of San Miguel de Allende, then, at the very least, take a day trip there. After Oaxaca City, this is my favorite place in all of Mexico.
Located just 1.5 hours from Guanajuato, it's an easy trip! This private guided day trip also includes visits to the quaint and historic towns of Dolores Hidalgo and Atotonilco.
You can also take the bus back and forth.
Check out our guide for all of the best things to do in San Miguel de Allende!
Where to Stay in Guanajuato, Mexico
As mentioned, staying in the very center of Guanajuato is a big mistake!
A dear friend I met up with while in the city said he couldn't sleep (at all!) due to all of the noise. This is a university town, after all, and the Callejonada theater tours (a must-do if you're fluent in Spanish!) and general shenanigans carry on around the clock!
Here are the best places to stay in Guanajuato!
Must-Know Guanajuato Travel Tips
OUTDOOR ACTIVITIES: Guanajuato is surrounded by hills, so there are plenty of outdoor activities to enjoy! Make sure to bring the right footwear. These are my favorite hiking boots, ever.
LOCATION: Guanajuato City is located just one hour from the magical colonial city of San Miguel de Allende. The big, bustling cities of León, Querétaro, and Guadalajara are also semi-nearby for even more exploring.
ARRIVING: If you're flying in, land at the Bajío International Airport, BJX (in Silao/León), which is a 30-minute taxi ride away from Guanajuato city center. The taxi tariff from the official kiosk is about 420 pesos (about $23 USD) and you can pay via cash or credit card.
TRIP LENGTH: You can cover all of the best things to do in Guanajuato City in about three days.
WIFI: In general, wifi is good in Guanajuato City. If you're traveling as a digital nomad in Mexico, then you don't have to worry about a steady connection.
WHERE TO STAY: Guanajuato City is a university town, which means it's party central, and loud until the early hours of the morning! It's best to stay outside of the noisy parts of the city center, but still within walking distance. Hotel Villa María Cristina (luxury), Casa de Tillie (mid-range, this is where I stayed and loved!), and Capital O Casa Santa Fe (budget) are my top picks for places to stay.
What to Pack for Guanajuato
Quick Tips for Guanajuato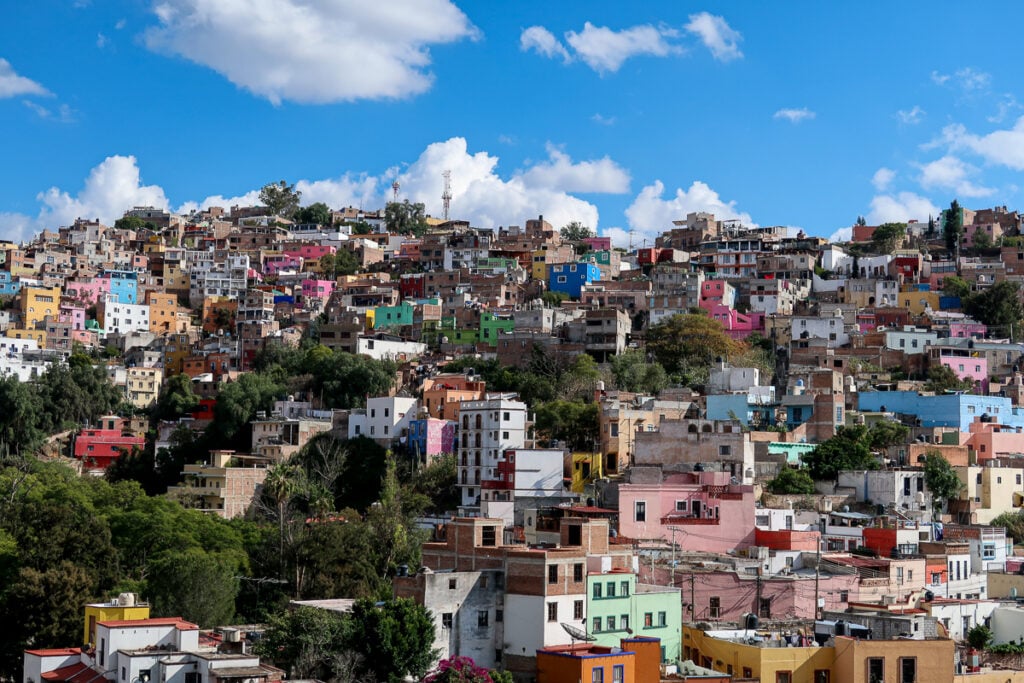 Guanajuato, Mexico Travel FAQs
What is Guanajuato best known for?
Guanajuato is known for being the most beautiful city in all of Mexico. The rainbow-colored buildings, narrow, maze-like alleyways, extensive underground tunnels, and the scenic hills that surround the city make this city incredibly stunning, and totally unique. Guanajuato is also known for its fascinating history. A Spanish colonial city, Guanajuato was once one of the richest silver mining towns in the world. Later, in 1810, the city saw the first victorious battle against the Spanish in the Mexican War of Independence.
How many days should I spend in Guanajuato?
You should plan to spend at least three days so you can experience all of the best things to do in Guanajuato, Mexico. With three days, you can visit some of the city's best museums, eat delicious traditional food, visit the silver mines, go up the funicular to the panoramic viewpoint, browse Hidalgo Market, and go on an outdoor adventure in the surrounding hills (such as a hike to Cerro de la Bufa or ATVing in the mountains). On my last visit, I stayed for a whole week, and absolutely loved my time exploring this unique, picturesque city.
What is something unique about Guanajuato, Mexico?
The vast underground tunnel system in Guanajuato, coupled with its position at the bottom of a valley, surrounded by beautiful mountains make Guanajuato unique. Not to mention, the city's rich and fascinating history. Guanajuato is a very authentic city, making it a must-visit city for travelers interested in Mexican culture. This guide details all of the very best things to see and do in Guanajuato.
What is Guanajuato's famous food?
Guanajuato's famous food is enchiladas mineras, or miners enchiladas in English.

Back in Guanajuato's silver mining heyday, the miners' wives would make these hearty vegetarian enchiladas to provide their husbands with much-needed carbs and protein. This traditional dish consists of fresh corn tortillas that are filled with cheese, and topped with carrots, potatoes (and sometimes chicken), and a guajillo chile sauce. They are delicious!

This guide on what to do in Guanajuato includes the best places to try enchiladas mineras!
Is it safe to visit Guanajuato right now?
As a whole, the state of Guanajuato is not safe. There is a lot of violent crime due to drug trafficking. That said, Guanajuato City, and other tourist centers in Guanajuato state, are safe. When visiting the capital city, make sure to stay aware and follow safety best practices, as you would anywhere else in Mexico, or in the world. Do that, and you will have a fun and safe time exploring this incredibly beautiful city.
How many days is enough for Guanajuato?
Anywhere from three to five days is the ideal time to spend in Guanajuato. This guide details all of the best things to do in Guanajuato City, from exploring museums and traditional markets, to going hiking, wandering the maze-like alleyways, and checking out the panoramic view from El Pipila.
When you book travel or purchase something through our links, we receive a small commission, at no extra cost to you? Your support enables Maddy's Avenue to keep producing helpful travel content. Thank you!
Final Thoughts: What to Do in Guanajuato, Mexico
I loved the colorful city of Guanajuato. Though it's not the best food city in the world, this beautiful city more than makes up for that in fascinating museums, rich culture, ridiculously scenic views, endless outdoor activities, and overall authenticity levels.
From the eery underground tunnels to the winding alleyways to the hilly landscapes dotted with centuries-old colorful buildings, there's no place else on earth like this city.
There are so many interesting and unique things to do in Guanajuato; whether you're traveling to Mexico specifically to see Guanajuato, or if you're heading further afield to San Miguel de Allende or Mexico City, you won't be disappointed!
SAVE THIS POST ON PINTEREST FOR LATER!
Planning on visiting Guanajuato? Have questions? Leave them in the comments section below and I'll get back to you ASAP!
Disclaimer: This post may contain affiliate links. When you click through a link on this page and make a valid purchase, Maddy's Avenue may receive a small commission (at no extra cost to you!). We only recommend products/services that we believe in and know you will love too. Your support enables us to continue making helpful travel content. Thank you for reading, and thank you for your support!