Cholula is a magical, 2,500-year-old town in Puebla, Mexico that most travelers have never heard of. (Although everyone loves the hot sauce inspired by this gem of a place!) Worth visiting for its ancient Great Pyramid, ornate Spanish churches, proximity to two massive volcanoes, and its lively atmosphere, Cholula is one of the best off-the-beaten-path destinations to visit in Central Mexico.
I lived in Cholula for a month (which is a long time, considering most people visit Cholula as a day trip) and absolutely fell in love with this tiny, yet unexpectedly cool town: with the people, the traditional food, the history, the colorful colonial buildings, and the many fabulous restaurants, bars, and things to do in Cholula.
If you're one of the lucky few who has heard of Cholula, and if you're thinking about visiting, then you're in the right place!
Whether you're taking a day trip from Puebla or staying in Cholula for a few days, this Cholula travel guide is packed with all of the best things to do in Cholula, Mexico – plus where to stay, where to eat, and everything else in between.
Day Trip from Puebla City? Or Stay in Cholula?
Cholula is a super easy day trip from Puebla, so if you only have limited time, taking a day trip is better than not visiting at all! You can take a guided tour or simply Uber to Cholula. Though if you can, you should definitely consider staying in Cholula for one or two nights.
It may be small, but there is a surprising amount to see, do, and eat! From snaking through the tunnels underneath the Great Pyramid to marveling at the many beautiful Spanish churches, you won't get bored in Cholula.
Plus, there's another important benefit to waking up there! You'll catch mystical views of the Popocatépetl and Iztaccíhuatl volcanoes before the smoke and the heat of the day cloud them from view.
If you don't have that much time, you can book this Private Day Trip to Cholula from Puebla or this Semi-Private Guided Day Trip to Cholula from Puebla.
BOOK YOUR GUIDED DAY TRIP TO CHOLULA:
Where to Stay in Cholula
So, you've decided to spend a night or two in Cholula? (Great choice!)
There are two sides to Cholula: San Andrés Cholula and San Pedro Cholula. San Andres is the younger, "cooler" part of town with plenty of nightlife, due to its population of university students. Meanwhile, San Pedro is home to the town's main museums, religious and archaeological sites. It's slightly more traditional, but just as lively and awesome.
To make it easy for you, I've rounded up all the best places to stay in San Andrés and San Pedro. And the best part? They're all super affordable.
Here are the best places to stay in Cholula!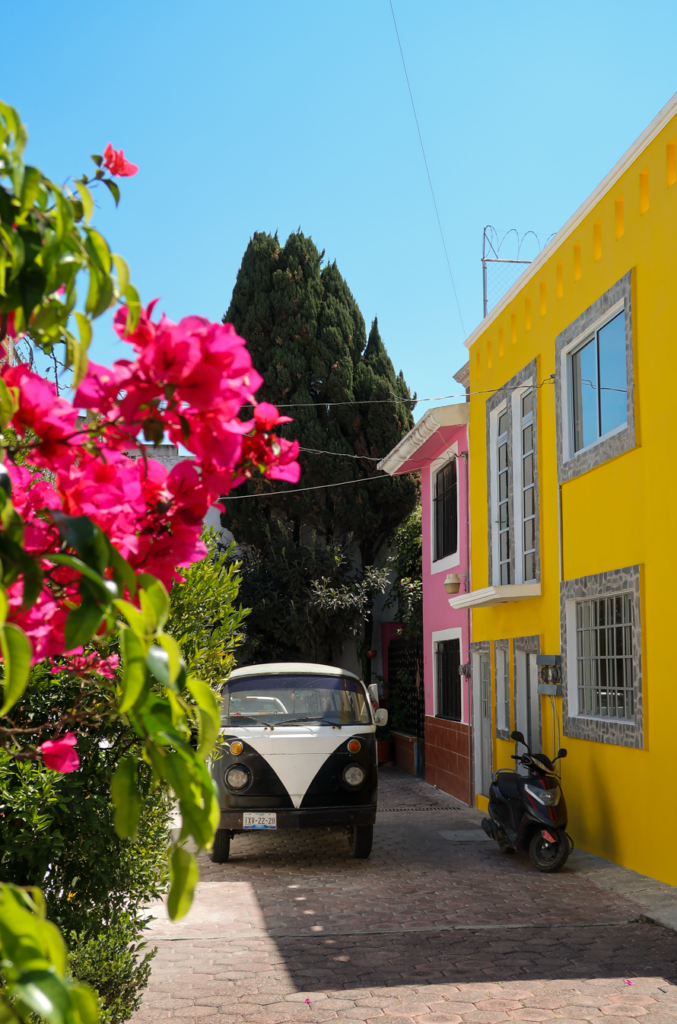 San Pedro Cholula Accommodation
Casa Eva Hotel Boutique & Spa: This is definitely my top choice for a Cholula hotel! Super central location, beautiful locale, and a pool to top it all off.
Santa Josefita B&B: A super cute B&B with an authentic Mexican feel.
Quinta Luna: Super lovely courtyard and garden, and beautiful colonial architecture. Super central location, close to the archaeological site.
San Andres Cholula Accommodation
Estrella de Belem B&B and Spa: It gets hot in Cholula, so a rooftop pool is always welcome! This place is so charming, there's no way you won't love it. You can't beat the amazing location either.
Majikal B&B – Cabañita: If you want more of a local, homestay vibe in a cozy place, this B&B is perfect for you.
You can find more amazing deals on Cholula accommodations here!
Quick, Must-Know Facts about Cholula, Mexico
Cholula (officially, Cholula de Rivadavia) is a magical town in the Mexican state of Puebla, located 30 minutes away (by car) from the state capital city of Puebla (de Zaragoza).
The Mexican Secretary of Tourism has actually officially named Cholula a "pueblo mágico" (magical town).
Cholula is one of Mexico's most historically important towns. Its earliest recorded history dates back to around 500 B.C., making it the oldest continually inhabited place in North America.
Ancient cultures such as the Olmecs, Mexica (Aztecs), and Toltecs all lived and thrived in the area at different times. At its peak, Cholula was the second largest city in the area (after Tenochtitlan in Mexico City) and a very important religious and cultural center.
Cholula is home to the Great Pyramid: the largest pyramid (by volume) in the world. Yes, it's even larger than the Egyptian Pyramid of Giza.
So far, archeologists have excavated about 5 miles of tunnels underneath the pyramid mound.
After the Spanish arrived in the Puebla area in 1519, they exerted their power by building ornate churches atop each of Cholula's sacred temples – and sadly, committing the Cholula Massacre.
"There's a church for every day of the year in Cholula," so the saying goes.
Authentic Poblano culture and Catholicism are alive and well in Cholula. In my experience, not a day goes by without the constant ringing of church bells and fireworks in celebration – of different saints' days, God, of life, or otherwise.
Best Things to Do in Cholula, Mexico
Okay, now that the logistics are out of the way… Here are the best things to do in Cholula, Puebla, Mexico.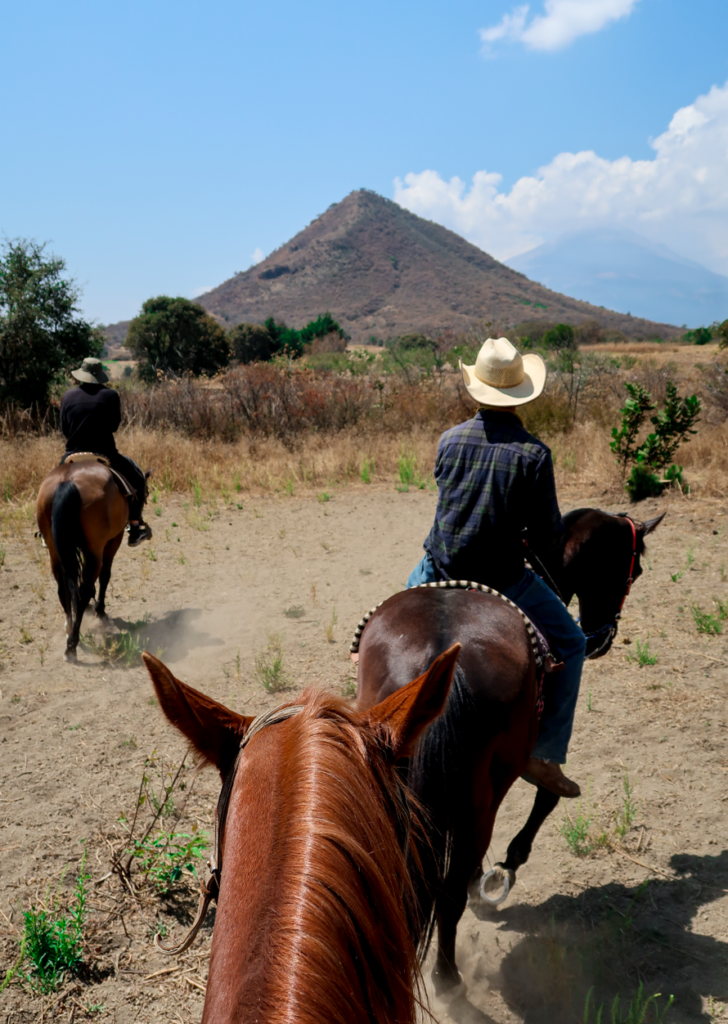 #1. Go Horseback Riding nearby Volcán Popocatepetl
Every morning, I'd wake up to see Volcán Popocatepetl spewing out ash and smoke across pink skies. So when I found out that a local family offers horseback riding guided tours nearby this massive active volcano (which is the second highest peak in Mexico), I jumped at the opportunity.
It was so fun to get out into nature, spend time with the family's beautiful, well-loved horses, learn about the Cholula valley landscape, and get a closer view of this magnificent volcano!
If you're interested in booking a horseback riding tour, I'll leave a link to their Instagram profile, so you can get in touch via DM or WhatsApp. In my opinion, this is one of the best things to do in Cholula!
#2. Visit the Great Pyramid of Cholula
Cholula's Great Pyramid is the town's main drawcard. Also known as Tlachihualtepetl, it is the largest pyramid (by volume) known to man. That's pretty impressive, no?
But if you weren't privy to it, you may not even know it was there.
These days, the pyramid, which the ancient indigenous people built in honor of their feathered serpent god, Quetzalcoatl, looks more like a pyramid mound… Or just an ordinary hill. It's been completely overgrown by plants!
Not much of the pyramid has been excavated yet, considering the Spanish built a beautiful – and now religiously significant – church (Iglesia de Nuestra Señora de los Remedios) right on top of it.
Miles of dark, spooky tunnels snake underneath the pyramid though, which you'll have the opportunity to walk through! No doubt, exploring the tunnels are one of the best things to do in Cholula.
#3. Explore the Archaeological Zone & Museo de Sitio de Cholula
After you check out the pyramid's tunnels, discover the archaeological ruins around it, at the Zona Arqueológica de Cholula. Exploring these excavated areas won't take you too long (maybe 20 minutes), but the area is well worth a visit!
There, you'll find an Aztec-style altar, large stone slabs, a very obviously reconstructed section of the pyramid, tombs, living areas, and more.
You ticket to the ruins also includes a visit to the small Museo de Sitio de Cholula, where you will find a recreation of the pyramid, helping you to understand what it looks like inside – and how the different indigenous civilizations actually built three different pyramids on top of each other, over time! You'll also find plenty of ancient artifacts, like ceramics and weapons.
#4. Climb up to Iglesia de Nuestra Señora de los Remedios
Sitting atop an imposing steep "hill" in the middle of town, the Iglesia de Nuestra Señora de los Remedios is the first thing you'll notice when you arrive in Cholula. This yellow Spanish colonial-style church (that becomes even more beautiful as it gets lit up at night!) is actually built on top of the Cholula Pyramid.
The church's incredible stained-glass windows and Baroque altars are highlights, to be sure.
But the best part about climbing to the top? Definitely, the views!
For the best experience, go twice. Once in the early morning (before the heat!) and once around sunset.
So epic.
#5. Stop by the Museo Regional de Cholula
If you want to learn about the geological evolution of the valley – as well as the cultural development of the Cholula area from pre-Hispanic times until present day – then you can't miss the Regional Museum of Cholula.
Located inside the historic Nuestra Señora de Guadalupe psychiatric hospital, this small museum offers an impressive collection of ancient artifacts (from tools and weapons to sculptures and paintings), collected during recent excavations of the Great Pyramid and the surrounding archaeological site.
The museum also features a fantastic historical photographic archive and an exhibition of traditional and modern art – from typical Poblano ceramics to amazing alebrijes.
This museum is right next to the pyramid and will only take up an hour of your time… maximum! You can't miss it.
#6. Browse the Mercado San Pedro Cholula
I don't know about you, but one of my favorite things to do when I travel is to explore traditional markets.
I love watching local life unfold in the markets; interacting with locals, learning about new ingredients, seeing beautiful handicrafts, and eating authentic (and cheap!) food.
A visit to the Mercado San Pedro will provide that, and more!
Full of color, friendly locals, and epic food stalls, you can't go wrong… This is the best market in Cholula.
#7. Try Mole Poblano
While you're at the market – and exploring Cholula in general – there are so many delicious and traditional Poblano foods to try.
The best, and most obvious, place to start? With mole poblano! Of course.
It's not clear whether mole originated in Puebla or Oaxaca (both states claim they invented it), but either way, you must try mole in Puebla. If you aren't familiar, mole poblano is a dark reddish-brown sauce made with ancho chiles (which are dried poblano peppers) and chocolate, along with a slew of other ingredients like spices, fruits, nuts, and seeds. It's rich, complex, and one of the most celebrated culinary creations in Mexico.
It's typically served with turkey in Puebla, but there are all kinds of variations – including vegetarian ones – these days.
Other Traditional Dishes to Try:
Cemita poblana: Cemitas are poblano tortas (sandwiches) on sesame-seed bread rolls, piled high with your choice of meat (which, personally, I skip), Oaxacan cheese/quesillo, onion, whole chipotles, avocado, and a delicious fresh herb called pápalo (which is similar-ish to cilantro). They usually cost about 30 pesos (or $1.50 USD).
Chile en nogada: Only available from mid-August to early-October, after the walnut harvest, chiles en nogadas are a super festive dish, resembling the Mexican flag. They're poblano chiles, stuffed with picadillo, topped with a walnut cream sauce, pomegranate arils, and parsley.
Chalupas: A typical street dish consisting of a super small, thin, and crunchy fried corn "tortilla," topped with either green or red salsa, and things like shredded meat, potatoes, cheese, and onions.
Tacos Árabes: The culinary invention of a Lebanese family in Puebla in 1933, tacos árabes consist of middle-eastern-spiced lamb (or nowadays, pork), roasted on a spit, and served atop pita bread instead of tortillas. These tacos gave rise to the modern-day, most-loved street tacos: al pastor – tacos of marinated, spit-roasted pork and pineapple, plus fresh onion and cilantro.
Pipián: A green mole sauce, predominantly made with pumpkin seeds, usually served atop meat, such as turkey. But just like mole poblano, there are so many variations these days – including vegetarian-friendly ones.
You can find all of these traditional dishes from the state of Puebla around town. Plus, all of my Cholula restaurant recommendations are toward the bottom of this post!
#8. See the Many Beautiful Churches
As legend has it, the infamous conquistador Hernan Cortes ordered one church to be built for every day of the year in Cholula. Some also say he wanted a church built on top of every pagan temple.
In reality, the Spanish conquest made Cholula home to roughly 40 churches. Which is a lot, considering how small Cholula actually is!
They range from small and basic, to giant, colorful, ornate, and absolutely striking.
Must-See Churches in Cholula:
Iglesia de Nuestra Señora de los Remedios (the church atop the pyramid mound)
Parroquia de San Andrés Cholula (located in the main plaza of San Andrés)
Convento de San Gabriel Arcángel (on the site where the Quetzalcoatl Temple once stood) is home to a small Franciscan library and three iglesias: Templo de San Gabriel, Capilla de Tercera Orden, and Capilla Real
Templo de Santa María Tonantzintla
San Francisco Acatepec
#9. Hang Out at Parque Soria
Parque Soria is where all the action happens on the weekend! Located right next to the ruins, you'll find everything in this park, from bustling outdoor souvenir markets and street food vendors, to Mexican pole flyers (Danza de los Voladores) and indigenous dancing, and traditional healers.
In this general area, you will also find the Ferrocarril Station Markets (next to the old tourist train station) as well as a collection of food trucks. Go to the rock 'n' roll bar truck for the best michelada with chamoy rim!
FYI: That's what you see, from my camera roll, above! And the gummy worms? A must… I made my own "gomichela".
#10. Eat and Party at Container City
Container City is a collection of shipping containers that have been converted into a variety of different restaurants, bars, clubs, shops, tattoo parlors, and more.
This hipster, open-air mall of sorts is pretty quiet during the daytime, but is the place to be a nighttime – especially when there's live music on!
#11. Take a Yoga Class at Amma Yoga Center
While living in Cholula, I became a member at Amma Yoga Center and was blown away by the quality of the amazing teachers here in this town!
The studio itself is beautiful, and they allow drop-ins any time, but they also offer community classes on Saurday mornings. These community classes are by donation – with a minimum donation of 50 pesos (or about $2 USD).
The perfect way to kick off a day of exploring is with a little vinyasa! But not before an epic coffee too. (Find my café recommendations toward the bottom of this post!)
#12. Hike in Izta-Popo National Park
If you want to get out into nature, then visiting the Iztaccíhuatl – Popocatépetl National Park is one of the best things you can do while in Cholula! The park is only a 1.5-hour drive away.
These volcanoes are the second and third highest peaks in Mexico, and some of the highest in North America. Needless to say, the views in this national park are insane! There are a handful of challenging hiking trails to choose from – and not a lot of crowds. You can even hike to the peak of Iztaccíhuatl.
As always, before you go, make sure you have a solid plan and are prepared for anything. Check the weather, bring a pack with enough water and food, wear proper hiking shoes, be fit for the high altitude, and layer up with thermal clothing.
BOOK YOUR HIKING TOUR (leaving from Puebla):
#13. Take a Day Trip to Puebla
If you decide to choose Cholula as your base (I highly recommend this – you won't regret it!), then you can still easily take a day trip to explore Puebla city!
Simply take an Uber there and back. The one-way journey takes about 30 minutes and costs between 80 to 200 pesos (or $4 to 10 USD), depending on how busy it is when you go.
Where to Eat & Drink in Cholula
Even though Cholula is a small town, there are too many amazing cafes, restaurants, and bars to list! After living there for a month, I'm confident that I found most of the best spots, from local joints to hipster spots, and everything in between.
P.S. Everything here is cheap. I'm talking, $1 USD for a street snack, like tamales or esquites. $4 USD for the best mezcal cocktail of your life. $3 USD for mole enchiladas. And $8 USD for an artisanal wood-fired pizza. Life is good.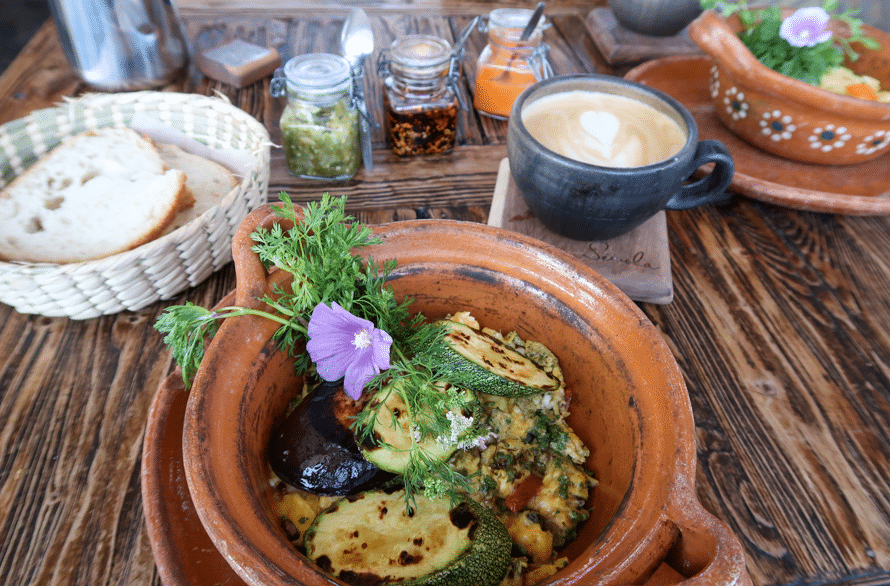 Best Cafes & Bakeries in Cholula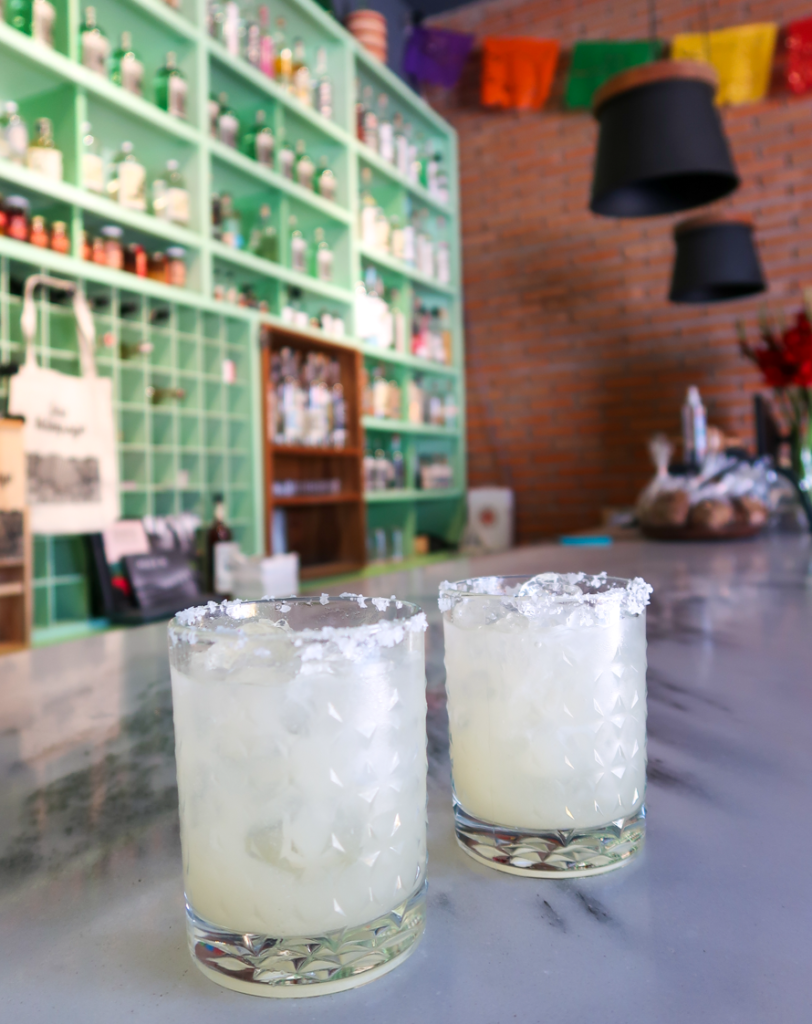 Best Breweries, Taprooms & Bars in Cholula
Finca Ensemble: They're always busy on the weekend! They have an extensive selection of bottled craft beer across a few fridges to choose from. So pick your poison and enjoy the outdoor seating in the sunshine!
Pagana: This tiny bar serves cocktails, beer, and most importantly, wild-fermented organic wine. My favorite.
Copa de Oro: Copa de Oro is one of the top cider brewers in Mexico, and they just so happen to be from Cholula! You can pop in and learn about how cider is made – and of course, get some to enjoy!
Best Local Joints in Cholula
Pescados y Mariscos Moby Dick: A local friend (shout out to you, Paulina!) took me to this place. Amazing Veracruz-style seafood, from ceviche and tostadas to shrimp cocktail, wow – it's good!
San Pedro Tortas y Cemitas: I ordered a quesillo (cheese) cemita with escabeche (pickled veggies) and chipotle from here for lunch most days. Delish… and less than $2 USD for a big sandwich.
Jugueria Urbana: Super cheap, delicious breakfasts and fresh juice. I'm still dreaming about their fresh juices… which I had literally every morning for a month. So good.
Tacos PP: You won't find their address on Google Maps. It's on the corner of C. 8 Poniente and Av. 5 de Mayo. For breakfast and lunch, this place serves up cheap, local food: tacos, mole, chilaquiles, and tortas, the whole lot! At night, this place turns into two other stalls (I don't know their names!) but both are amazing. One is all about elotes and esquites (best esquites I've had – ever!) and the other serves up street tacos and the like.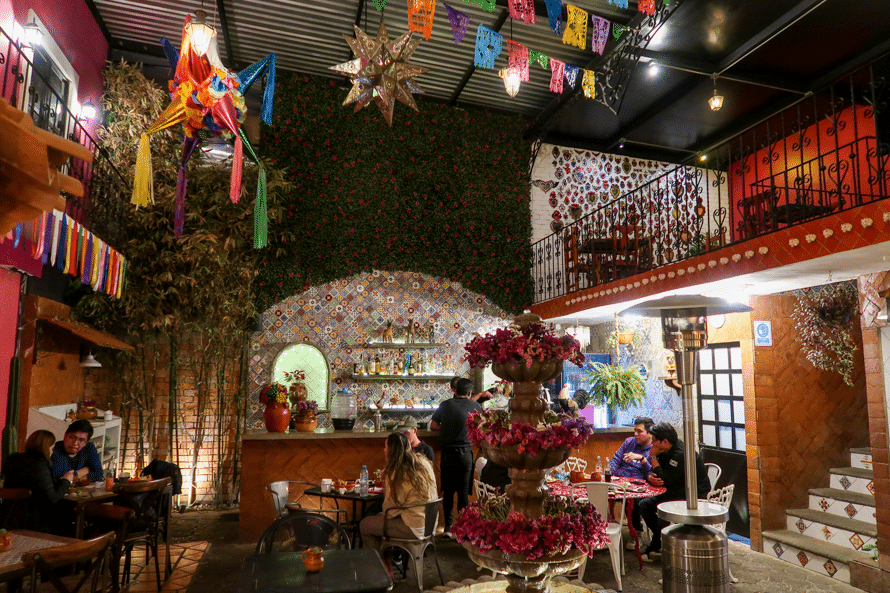 Best Restaurants in Cholula, Mexico
BOOK YOUR GUIDED DAY TRIP TO CHOLULA FROM PUEBLA:
When you book travel or purchase something through our links, we receive a small commission, at no extra cost to you? Your support enables Maddy's Avenue to keep producing helpful travel content. Thank you!
Cholula, Mexico Travel: FAQs
What is Cholula, Mexico known for?
Cholula has been designated as a "magical town" by the Mexican government. This beautiful and colorful city is home to the largest and widest pyramid in the world.
Is Cholula, Mexico expensive?
No! Cholula is not expensive at all, especially when compared to other places you could travel! I would say that Cholula is very affordable, for any kind of traveler. Relatively, it's one of the cheapest places I've traveled to in Mexico.
Here are some examples. You'd be hard-pressed to spend more than $100/night (USD) on one of the best hotels in Cholula. (You could also spend a lot less.) I rented a nice, central 2-bedroom apartment on Airbnb for $800/month (USD), and a local friend told me that was expensive. Street food costs between $1-3 USD. A nice mezcal cocktail or craft beer might cost $5, tops. And a meal in a restaurant will cost $10 or less.
Is Cholula, Mexico safe?
The small town of Cholula (in the state of Puebla) is very safe! I spent a month in Cholula, and despite being one of the only foreigners there, I felt totally safe everywhere I went, day or night. Not only did I feel safe, I felt totally welcomed.
Is Cholula worth visiting?
Absolutely! If you have the chance, make sure you visit Cholula. Between the Great Cholula Pyramid, views of the volcanoes, incredibly ornate Spanish churches, colorful colonial streets, museums, and fabulous restaurants and markets, there are so many things to do and see in Cholula. I spent 1 month in Cholula and had the best time. I can't recommend visiting here enough.
What are the best things to do in Cholula?
This Cholula Travel Guide includes all of the best things to do in Cholula. They include: the Great Pyramid of Cholula, the Archaeological Zone, seeing the incredible Spanish iglesias, trying traditional Poblano food, browsing the markets and art galleries, visiting the Regional Museum of Cholula, and even horseback riding or hiking near an active volcano!
Best Things to Do & See in Cholula
After living in Cholula, Mexico for a month, I can vouch for this beautiful colonial town. Given the chance, my advice is to jump at a visit to Cholula. Little-known, but totally worth your time and attention, there are so many things to see, do, and eat in Cholula!
From the hipster cafes, colorful cobblestone streets, and fun mezcal bars, to fascinating history museums, traditional markets, lively plazas, beautiful churches, and of course, the Great Pyramid, Cholula offers the perfect mix of interesting history and modern pleasures.
With this guide at your fingertips, covering all of the best things to do in Cholula, plus where to stay, eat, and everything else in between, you're sure to have a magical time.
Traveling through Mexico? Check out my other Mexico travel guides!