As far as we're concerned, figuring out where to eat in Rome is the most important part of planning your trip.
The location of your hotel, the fascinating tours you book, and the impressive historical sites you don't want to miss are all important, too. Of course!
However, the dining experiences you'll enjoy — the plates of cacio e pepe you'll scarf down by the forkful, the gelato you'll savor down to the very last lick, and the carafes of vino rosso you'll wish were magically bottomless — are what it's really all about.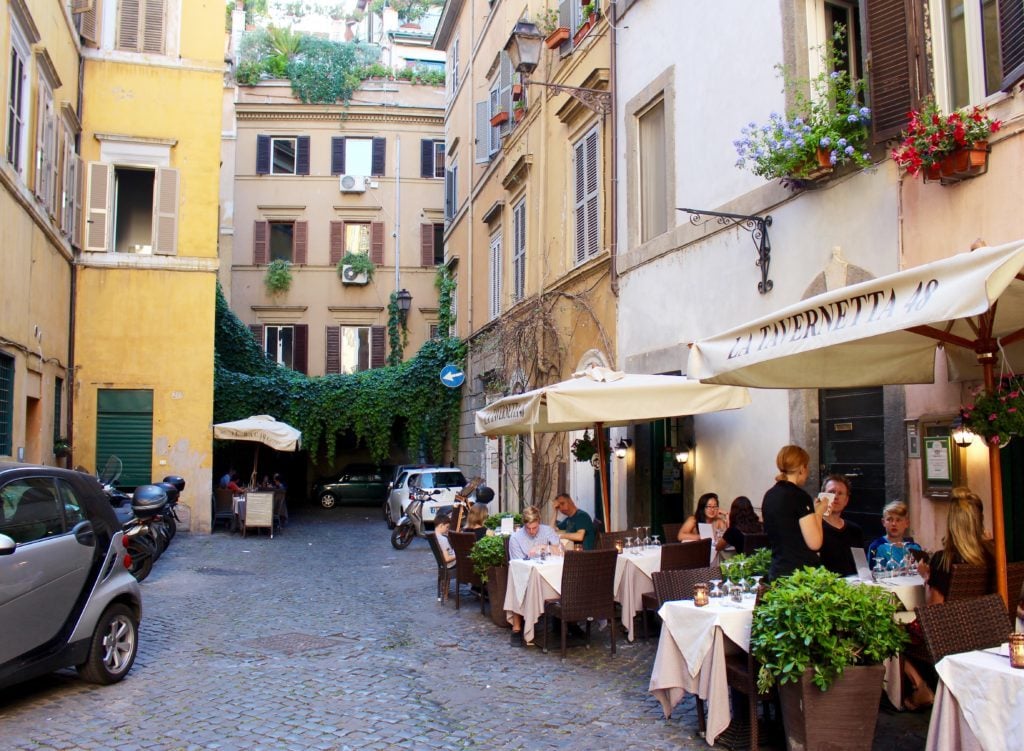 In Rome, plentiful are the mouth-wateringly delicious restaurants that you'll remember for the rest of your life. But so are the tourist traps. And that is why knowing where to eat in Rome is so vitally important!
So to help you get the most out of your trip to the Eternal City, we did the research for you. Here are eight authentic and traditional, absolutely amazing eateries and gelaterias not to miss during your trip!
Where to Eat in Rome, Italy


Ristorante La Tavernetta 48
Okay, first of all, let's talk about how charming Ristorante La Tavernetta 48's outdoor dining area is. When we turned the corner of the old cobblestone street and saw that we'd be dining outdoors, among centuries-old, vine-covered buildings and bright pots of flowers, we were all about it.
But the food. Oh, the food was incredible.
To start, we had a seriously awesome platter of Italian cheeses with honey, walnuts, and pears. And a bottle of vino bianco, of course.
Then, it was a delectable dish of cacio e pepe, which is a traditional Roman pasta recipe consisting of spaghetti with cheese and pepper. The chef's version also included a generous shaving of black truffle and crispy pancetta. It was so simple, yet one of the best pasta dishes I've ever had.
We also ordered an equally scrumptious platter of spaghetti topped with succulent, perfectly cooked pieces of lobster.
We finished off our meal with a tiramisu — because our waitress insisted — and we did not regret it.
Trust us on this one. You can't miss La Tavernetta 48, so make sure to make a reservation in advance!
---
OTHER ITALY POSTS:
---
La Proscuitteria
One of our favorite things to eat is a good charcuterie and cheese platter.
As you explore the streets of Rome, the most perfect lunch you can have is a giant wooden board loaded up with savory meats and cheeses, juicy fruits and vegetables, freshly baked breads, robust olive oils, balsamic reductions, and fruit jams! Am I right?
Just don't forget the wine, of course.
La Proscuitteria Trastevere is just the place for that sort of fun-to-eat midday meal.
Hostaria La Boticella
Hostaria La Boticella is probably our favorite restaurant in all of Rome.
La Boticella is a small, cozy, traditional Roman restaurant that is packed with locals and tourists alike, every single night. As soon as we walked in and saw the buzzing crowd of happy eaters, we knew we were in for something special.
At La Boticella, we indulged in an amazing meal that we'll never forget. And it all started with a charcuterie board and a hefty carafe of red wine. (Are you starting to notice a trend yet?!)
Then, for our out-of-this-world main courses, we ordered some beautifully marinated, grilled lamb chops, as well as ravioli in the most luscious black truffle and cheese sauce. Both of these dishes were daily specials, and they were both heavenly.
After we finished dessert, we were full, happy, and didn't think our dinner could have been any better. But then, the restaurant owner swung by our table and handed us a bottle of the restaurant's house red wine as a parting gift. How sweet is that?!
For real, this food is damn near some of the best I've had — and that's saying something, since you guys know we're always seeking out the best food in every place we go!
Guys, you can't afford to miss La Boticella. Make sure to reserve your table at least one day in advance!
Ai Tre Scalini
There are three very great things aboutAi Tre Scalini:
The food is delicious.
The place is packed with locals.
It's cheap.
For lunch at Ai Tre Scalini, we ordered freshly made gnocchi, doused in a sweet, rich marinara sauce, and topped with parmesan and fresh basil. It was so simple, but so tasty. And it was only €8!
We also ordered the lasagna special, layered with meat and a cheesy white sauce, which totaled just €7.50.
Talk about a filling, delicious lunch, made with only fresh ingredients, for just about €15… Yes, please!
Osteria Barberini
If you love truffles like we clearly do, Osteria Barberini is a must!
Think about this, guys. Fresh lasagna with porcini mushrooms, black truffles, mozzarella, and parmesan. Or how about creamy, cheesy risotto topped with black truffles?
Aside from the truffle menu, Barberini also has a lovely selection of antipasti, seafood, and meat dishes.
And did we mention the wine list? Like Barberini's menu, the wine list is extensive, and can accommodate just about everyone's tastes and price points!
This charming, traditional restaurant — which emphasizes its love for truffles, fresh ingredients, and simplicity — is another one not to miss during your trip to Rome!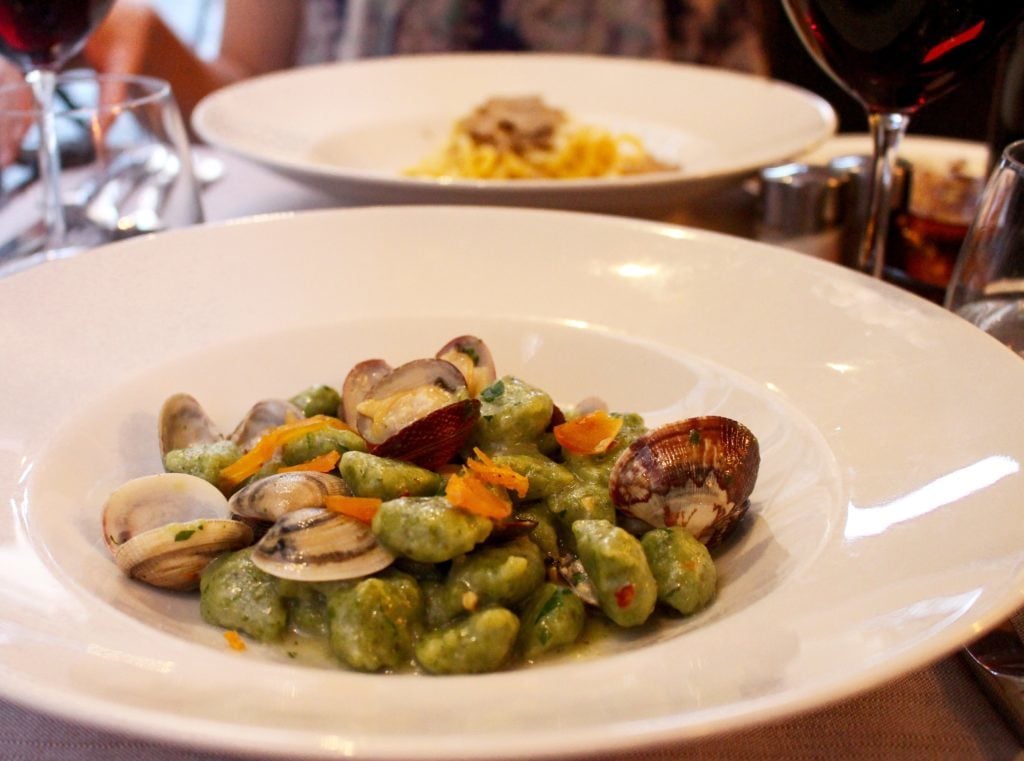 Osteria Quarantaquattro
If you're celebrating a special occasion while in Rome, or if you're just feeling a little fancy, Osteria Quarantaquattro is a great option!
At Quarantaquattro, we enjoyed a seafood gnocchi dish, some tasty, traditional carbonara, and delicate baked sea bass served up with Jerusalem artichokes and potatoes.
What made this dinner extra special, however — other than the complimentary Prosecco and limoncello — was that the kind restaurant owner, Signor Sergio, sat down with us during our meal and told us all about his restaurant, the ingredients and love put into our meal, and his beloved city.
From what we can tell, Sergio treats every one of his guests like an old friend, and that's what really sends this dining experience over the top.
Giolitti
And now, for the battle of the best gelato in the city. Isn't this the moment we've all been waiting for?
Giolitti is one of Rome's legendary gelaterias, and some say it's the clear winner. After trying six different gelato flavors at Giolitti, I agree that it's damn good. I will repeat, it is damn good.
But the question is, is it the best?
It's a close call. But guys, no. I don't think it is.
Gelateria dei Gracchi
I declare Gelateria dei Gracchi to be the best gelato in Rome!
Gelateria dei Gracchi makes its gelato daily, to ensure the freshest, most delicious gelato possible.
And with flavors like figs, apples and cinnamon, dates and walnuts, and pear caramel — along with all of the traditional flavors like pistachio, stracciatella, and dark chocolate — Gelateria dei Gracchi simply cannot be beat.
Real, fresh ingredients and attention to perfection win. Every. Single. Time.
Where to Eat in Rome, Italy
If you love food like we do, figuring out where to eat in Rome can seem like a daunting task!
But now, armed with this guide of our favorite places to eat in the Eternal City, you're ready to tackle Rome's awesome culinary scene — as well as countless gelati and Roman specialties!
Keep these recommendations in mind, and we guarantee that your trip to Rome will consist of nothing but one unforgettable culinary experience, after another.
And since this is Italy we're talking about, we believe you should strive for nothing less!
Don't you agree?
What to Pack for Italy
Depending on the season you visit will depend on the layers you need, summer is very warm but the winter is incredibly cold. Italy is very stylish and Italians famously dress well, so avoid white sneakers where possible and opt for a smart shoe or boot. Always have a beautiful coat in winter, it will hide anything less stylish you may be wearing as you explore in the colder months.
Here are a few top tips of what to wear:
Italy Quick Tips
---
OTHER ITALY POSTS:
---
Did you try out any of our recommendations for where to eat in Rome? What did you think? Have you been to Rome before? What are your favorite places to eat there?