Mexican food tastes like home to me, and lately, I've been missing California a little extra. Needless to say, Mexican ingredients like chipotle, cumin, and cilantro have been on heavy rotation in my kitchen here in Byron Bay, and I've been spending plenty of time reinventing (and veganizing) some of the comfort food classics I grew up with. That's where the inspiration for these crispy, spicy Vegan Jackfruit Tinga Tostadas came from.
Picture this: Crispy corn tortillas, slathered with flavor-packed refried black beans, topped with smoky, spicy pulled jackfruit tinga, and sprinkled with all the best toppings: creamy avocado, fresh cilantro, punchy onion, crunchy cabbage and radish, lime juice, sour cream, and salty cheese. My mouth is watering at the thought alone.
Are you ready to make some tostadas?
You'll love these Jackfruit Tinga Tostadas. They are:
Full of crispy, crunchy, smooth + chewy textures
Packed with smoky, spicy, sour + salty flavors
Quick + easy
Fun to assemble
Comforting + authentic
Versatile; mix and match your toppings
Healthy, vegan + gluten-free
These Vegan Jackfruit Tinga Tostadas are quick and easy enough to whip up for a weeknight dinner, but fun, flavor-packed, and impressive enough to enjoy with your foodie friends. I know you are going to love them.
What is Tinga?
Not familiar with tinga?
Tinga is a dish that hails from Puebla, México, a beautiful colonial city – nearby Mexico City – known for its food, colonial architecture, and pottery.
Typically, tinga is shredded chicken (or sometimes pulled pork), simmered in a sauce of tomatoes, chipotles, and onions. It's smoky, a little spicy, and usually served with corn tortillas, either as tacos de tinga or tostadas de tinga.
Tinga tostadas are usually accompanied with a layer of refried beans, and topped with shredded lettuce, crumbled cotija cheese, crema, salsa, and slices of avocado.
My vegan version of tinga uses canned young jackfruit instead of chicken, but it stays true to the Poblano roots of the dish, making this recipe as authentic as it can possibly be.
Why use Jackfruit?
When it comes to dishes that traditionally require shredded meat, jackfruit is the ultimate plant-based substitute. Unripe, young jackfruit has a neutral flavor, so it easily soaks up the flavors of marinades, herbs, and spices, and it also shreds up beautifully into stringy chunks.
Unlike other vegan "meat" alternatives, jackfruit is a whole food. It's nutrient-dense – packed with vitamin A, calcium, magnesium, and potassium – and it's rich in fiber. Jackfruit is also a truly eco-friendly and sustainable crop. Jackfruit trees grow fast, do not require very much water, don't need pesticides to survive, and can yield up to three tons of organic fruit per year.
You can see why I love using jackfruit to make these Jackfruit Tostadas de Tinga – and so many other dishes (like my Roasted Tomatillo & Black Bean Soup with Pulled Jackfruit).
NEED TO STOCK UP ON JACKFRUIT? SHOP IT HERE!
Ingredients for Jackfruit Tinga
To make the Jackfruit Tinga itself, you'll need a combination of fresh ingredients and pantry items. They include:
NEED THESE INGREDIENTS? SHOP THEM HERE:
Other Ingredients & Toppings
In addition to the Jackfruit Tinga itself, you will need to prepare the tostada shells from corn tortillas, as well as the refried black beans. Click HERE for my Easy Refried Black Beans recipe.
Toppings to mix and match:
Chopped cilantro
Sliced avocado
White onion or green onions
Sliced radish
Shredded green cabbage or iceberg lettuce
Lime wedges
Cotija or aged cheddar cheese
Sour cream or Mexican crema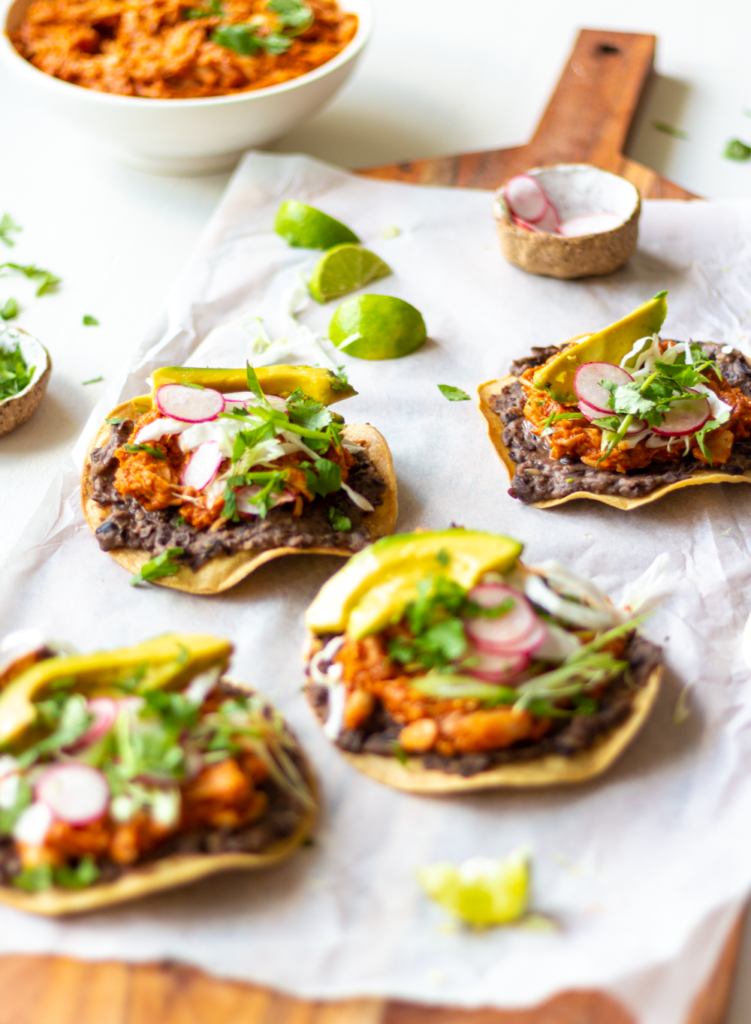 How to Make Pulled Jackfruit Tostadas
Have 30 minutes to spare? Then it's time to make some Jackfruit Tinga and perfectly crunchy tostada shells.
Here's the gist of the process… (As always, full instructions can be found in the recipe card at the bottom of this post!)
1. First, prep the jackfruit by pouring out the brine, rinsing it off with water, and squeezing out the excess liquid with your hands. Then, shred the jackfruit into small strips and chunks and set them aside.
2. Next, make the tinga sauce by heating olive oil in a heavy-based pot (like a Dutch oven). Sauté the onion and garlic, and toast the spices. Add in the vegetable stock, tomatoes, chipotles, adobo sauce/chipotle sauce, and salt. Let it cook.
3. Pureé the sauce by pouring the contents of the pot into a blender. Give it a whirl until smooth, then set the sauce aside.
4. Brown the jackfruit in the same pot, with a bit of hot olive oil and spices. Once the jackfruit is golden-brown and delicious-looking, move on to the last step.
5. Now, pour the sauce back into the pot and allow the jackfruit to simmer and soak up all the smoky, spicy flavor. The sauce will thicken as the tinga simmers.
6. As the tinga simmers, preheat your oven and brush the corn tortillas with olive oil. Then, bake the tortillas until they're golden-brown and crispy.
*Note: while you're making the tinga, you will also need to prepare the refried black beans and slice/chop up your desired toppings. These tasks are quick and simple to do and can be multitasked easily.
Click HERE for my Easy Refried Black Beans Recipe.
Once the tinga is finished, you're ready to spoon it atop crispy tostada shells! You can also enjoy this tinga in tacos, burritos, and burrito bowls.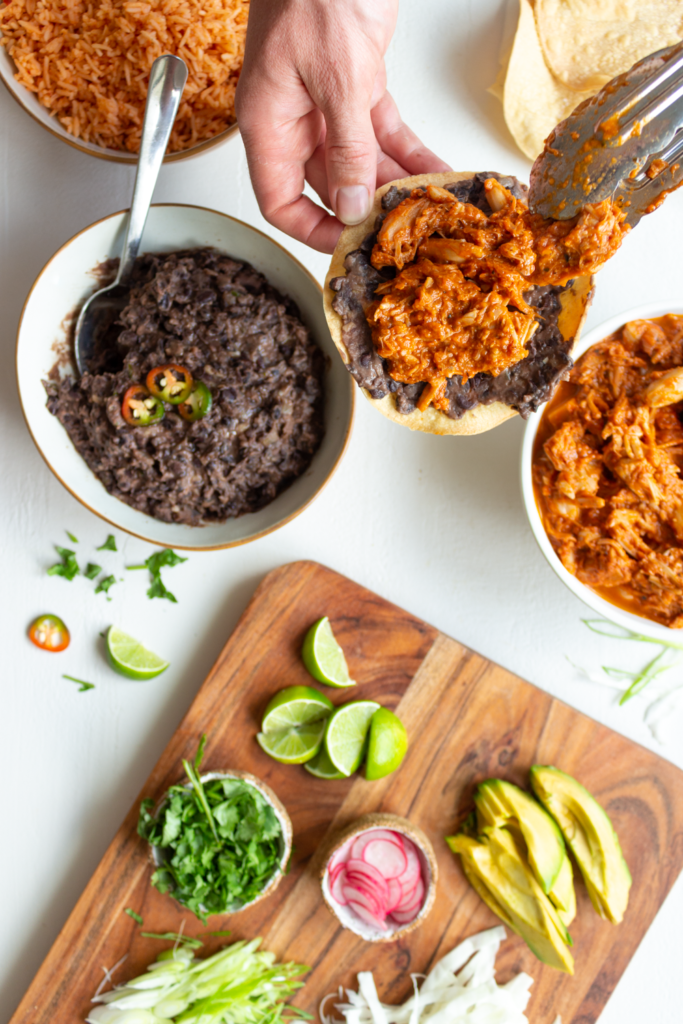 How to Assemble the Jackfruit Tinga Tostadas
Once the tinga is ready, all that's left to do is assemble the tostadas. AKA: The fun part!
Here's what you do:
Grab a freshly baked and perfectly crispy tostada shell
Slather on a layer of warmed refried black beans
Spoon on some of the jackfruit
Sprinkle on your favorite toppings
In my opinion, the must-add toppings are shredded cabbage or lettuce, avocado slices (or guacamole), chopped cilantro, sliced green onions, some radish slices, and a big squeeze of lime!
You may also like to add some salsa roja for an extra kick, sour cream, and maybe some crumbled cotija cheese or grated aged cheddar cheese.
Nobody likes a soggy tostada, so eat 'em while they're hot and fresh!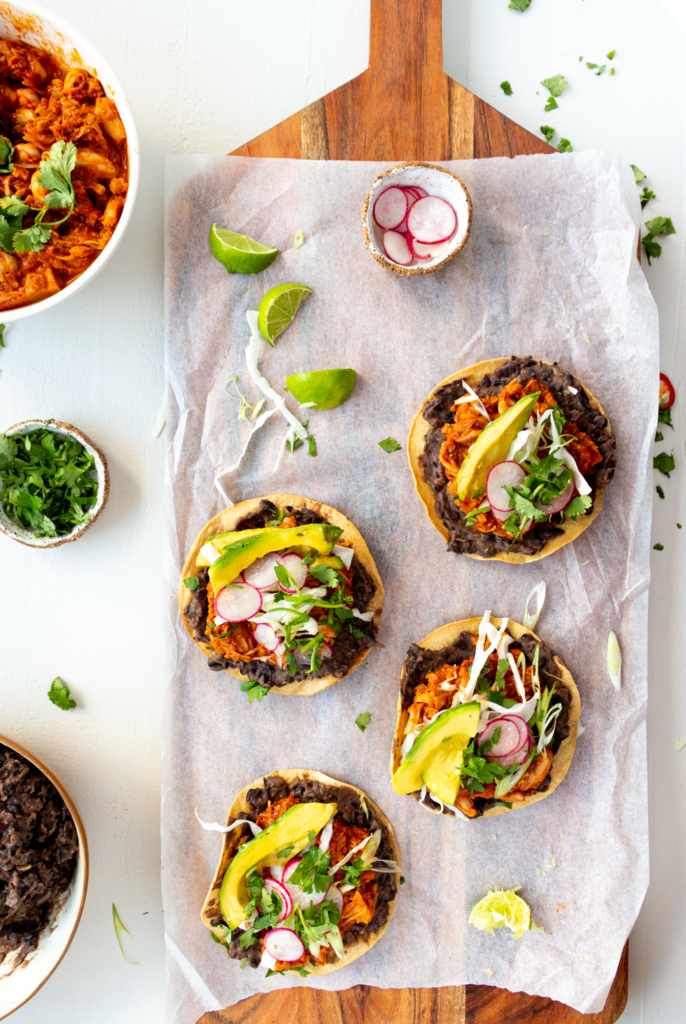 Crispy Pulled Jackfruit Tinga Tostadas with Refried Beans
What do you think? Crispy tortillas, slathered in smooth and garlicky refried beans, and topped with smoky jackfruit? Garnished with creamy avocado, zingy lime juice, and chopped cilantro? That sounds like my idea of some gooooood vegan Mexican comfort food.
Plus, for as vibrant and delicious as these Jackfruit Tinga Tostadas look, you'd think they'd take hours to whip up. But nope! These beautiful babies will be hot on the kitchen table in under 40 minutes, ready for you to top with all of your favorite fixings.
So, are you ready to feast on the delicious flavors of México?
Into Mexican-inspired vegan recipes? Check these out!
If you tried these Crispy Jackfruit Tinga Tostadas or any other recipe on Maddy's Avenue, let me know how you liked it! Leave a comment/rating below. Be sure to follow along on Instagram and Pinterest for more delicious recipes and adventures around the world!
Print
Jackfruit Tinga Tostadas
Jackfruit Tinga Tostadas make for an easy and delicious Mexican-inspired dinner! These tostadas are crispy, slathered with flavor-packed refried black beans, then topped with smoky, meaty pulled jackfruit. Quick, healthy, and flavor-packed, you'll love this Vegan Jackfruit Tinga in tostadas, tacos, and burritos!
Author: Maddy's Avenue
Prep Time:

10 minutes

Cook Time:

25 minutes

Total Time:

35 minutes

Yield:

8

–

10

tostadas

1

x
Category:

Main Dish

Method:

Stove

Cuisine:

Mexican

Diet:

Vegan
FOR THE TINGA:
3 tbsp

olive oil, divided

1

large yellow onion, chopped

3

–

4

garlic cloves, minced

1/2 tsp

dried oregano, divided

1 tsp

ground cumin, divided

1/2

ground Ceylon cinnamon, divided

3/4 tsp

black pepper, freshly cracked

2 tbsp

adobo sauce

1

can diced tomatoes (regular or fire-roasted)

1

and 1/4 cups vegetable stock

1

and 3/4 tsp salt, divided

2

cans young jackfruit, drained, rinsed, squeezed, and shredded
FOR THE TOSTADA SHELLS:
TOSTADA TOPPINGS:
1

batch of refried black beans (CLICK HERE for recipe)
Green cabbage, shredded
Green onions, sliced
Radishes, sliced
Avocado, sliced
Cilantro leaves and stems, chopped
Lime wedges, for squeezing
Salsa or hot sauce

Cotija or aged cheddar cheese
Sour cream
Instructions
PREP THE JACKFRUIT: Pour out the brine, then rinse the jackfruit with filtered water. With your hands, squeeze out any extra liquid from the jackfruit, then shred it into small strips and chunks. Set aside.
MAKE THE SAUCE: Heat a heavy-based pot (like a Dutch oven) over medium-high heat. Warm 2 tbsp olive oil, then add in the chopped onion and sauté it for 5 minutes, until it is tender and beginning to brown. Add in the garlic and sauté for 1 more minute. Next, add in 1/4 tsp dried oregano, 1/4 tsp Ceylon cinnamon, 3/4 tsp ground cumin, and 1/2 tsp black pepper. Toast the spices for 1-2 minutes, stirring constantly to avoid burning. Add a little more oil here if necessary. Next, stir in the vegetable stock, canned tomatoes, chipotle peppers, adobo sauce, and 1.5 tsp salt, and allow the sauce to cook for 3-4 minutes. Make sure to scrape up any browned bits from the bottom of the pot to capture all the flavor!
PUREÉ THE SAUCE: Carefully transfer the sauce to a blender and pureé it until smooth. Set aside momentarily.
BROWN THE JACKFRUIT: In the same pot over medium-high heat, warm 1 tbsp olive oil. Throw in the shredded jackfruit, plus 1/4 tsp of each: dried oregano, ground cumin, Ceylon cinnamon, black pepper, and salt. Sauté until the jackfruit is golden-brown, about 3-5 minutes.
COMBINE AND SIMMER: Carefully pour the sauce back into the pot with the jackfruit and stir to combine. Bring the sauce to a low boil, then turn the stove down to low heat to simmer for 15 minutes, stirring occasionally.
BAKE THE TORTILLAS: While the jackfruit simmers, preheat the oven to 400°F or 200°C. Brush the corn tortillas with olive oil on both sides. Place them on baking trays lined with baking paper. Bake them for 5 minutes on one side. Flip them over and bake for a further 5-7 minutes, until they are golden-brown and crispy.
LAYER THE TOSTADAS: Spread a layer of warmed refried beans onto one side of a freshly prepared tostada shell. Spoon on some of the jackfruit tinga. Add your desired toppings. Must-add toppings include shredded cabbage, avocado, cilantro, green onions, radishes, and a squeeze of lime! You may also like to add some salsa, sour cream, and/or cheese. Enjoy immediately.
Notes
Have leftover tinga? It's also great in tacos, burritos, and burrito bowls!
Keywords: jackfruit tinga, jackfruit tostadas, jackfruit tinga tostadas, vegan tostadas, vegan tinga, vegan jackfruit tostadas, jackfruit tacos, vegan mexican recipes, jackfruit tostadas recipe, jackfruit tinga recipe