If you're like most people, then you probably know little, to nothing, about visiting Luxembourg and its capital city. But if you're visiting Western Europe, and you're ready to stray off the beaten path, you might consider a trip to this small country. Two questions might come to mind, though: Is Luxembourg City worth visiting? And if it is, then why?
You've come to the right place to find out.
Is Luxembourg City Worth Visiting?
During a fiasco with a notorious low-cost airline that left me stranded in Belgium for six extra days, I had plenty of time on my hands. So after exploring Brussels, Bruges, and Antwerp, I headed southeast by train for a little trip to Luxembourg City.
Unlike the capital cities that surround it (Berlin, Paris, and Brussels), Luxembourg City is often overlooked and unknown by tourists. You may not know anyone who has visited Luxembourg.
If you plan to stay in Luxembourg for a day or two, or if you're just passing through, then the medieval capital city of Luxembourg will be the perfect place to make a stop.
In short, Luxembourg City is absolutely worth visiting.
Read on to find out why… Plus what to do, see, and eat while you're there!
Why Visit Luxembourg City?
I can think of eight great reasons off the top of my head. Here we go!
Luxembourg City is gorgeous. You won't find a shortage of stunning vistas, interesting landscapes, or beautiful architecture in this beautiful capital city.
It's seen a lot of history. You'll find fascinating museums, incredibly old buildings, historic monuments, and cemeteries throughout Luxembourg City, it is a very old town!
It's not very touristy. Most people don't even consider Luxembourg City as a travel destination, so it's never too packed with tourists.
It's a convenient stopover when passing between France, Belgium, and Germany, even just for a day trip through the small country.
It's easily walkable.
There are cute cafés and restaurants aplenty.
You'll feel as if you've gone back in time with Luxembourg City's old town narrow alleyways, cobblestone streets, and centuries-old structures.
You'll be able to say something that billions of others can't: "I've been to Luxembourg City!"
What to Do in Luxembourg City
Simply wandering around on foot is the best way to experience Luxembourg City.
Between its impressive fortress walls, Old Town quarter, narrow alleyways, endless greenery, and its charming canals, Luxembourg is a medieval gem to behold.
Much like the medieval Czech town, Český Krumlov, visiting Luxembourg City is more about wandering, taking in the beautiful views, and soaking it all in. Luxembourg City is a place to appreciate history and the convergence of many European cultures, snap some photos, and drink a few beers in the city center sunshine.
There aren't any "must-see" items to check off of your list; rather, you should take the entire city for what it is as a whole.
However, if you have plenty of time to spare, there are a few attractions in Luxembourg City worth seeking out.
Luxembourg City Attractions
Le Chemin de la Corniche
Le Chemin de la Corniche is known as Europe's most beautiful balcony. Walk along this charming promenade to savor the breathtaking views of Barrio Grund and the Alzette and Pétrusse Rivers in the gorge below.
The Barrio Grund
The Barrio Grund is Luxembourg City's oldest quarter; settlement here began in the 10th century. This fortified city is known as the "Gibraltar of the North" and served as a stronghold against attackers through the centuries, until 1867. Today, Barrio Grund is a UNESCO World Heritage Site.
The Passerelle
The Passerelle is the city's old, arched bridge, constructed between 1859 and 1861. Because of its stunning, but uneven landscape along the Pétrusse Valley and two rivers, Luxembourg City features many bridges, complete with panoramic amazing views of the very green city.
National Museum of Art and History
The National Museum of Art and History has something for almost anyone. If you're into archaeology, European history, fine art, or coin collections, this museum is worth a look around.
Notre Dame Cathedral
The Notre Dame Cathedral, which beautifully combines Renaissance and Baroque styles of architecture, was constructed between 1613 and 1621. Housing detailed stained-glass windows, intricate religious paintings and sculptures, and impressive pillars decorated in arabesque designs, this cathedral is a nice sight to see. Definitely stop to take a look inside Notre Dame Cathedral.
Palais Grand Ducal
The home and seat of the Grand Duke is one of Luxembourg's most important historic buildings and is reminiscent of fairy tale castles. The Grand Duchy is the head of state for Luxembourg and they maintain their official residence here. The Palais is only open to the public on select days of the year so plan ahead if you want to take a look inside.
Luxembourg American Cemetery Memorial
The Luxembourg American Cemetery Memorial is a popular attraction among American tourists in Luxembourg City. Across 17 acres of lush green grass, 5,076 fallen American soldiers – most of which died fighting in the Battle of the Bulge – lay to rest, honored with white cross gravestones and a powerful Eisenhower quote.
If you prefer to visit the museums on your own time but have the informational aspect of a private guide there is a really great independent audio tour you can access via an app. The tour takes you to 7 of the city's museums and passes by 36 points of interest along the way. The price also includes the cost of entrance to the museums and is valid for 2-days, so you can take your time!
Alzette River
Strolling the footpath alongside the Alzette River in the Barrio Grund is a peaceful can't-miss activity.
Luxembourg City History Tours
Luxembourg City has a long and fascinating history, which you can explore by visiting some of the museums. But it is definitely worth booking a tour so you can optimize your time to find the more hidden historical sites. This guided walking tour is a great way to visit the city; you'll explore the Grand Palace and the Neumünster Abbey, before sampling local food and drink. Alternatively, if you feel like saving your feet you can take a similar tour on an e-bike.
If you are coming to Luxembourg to visit historical sites specifically, there is also a private Battle of the Bulge tour for World War II history buffs. The Battle of the Bulge was one of the most significant battles for the United States during World War II – and was the final major German offensive attack in Europe. The private tour takes you to significant sites while explaining the battle's history and importance, you also stop at local bakeries and artisan stores to sample local delicacies. If you have more than one day in Luxembourg it is worth taking this tour to learn more about the importance of the world wars.
What to Eat & Drink in Luxembourg City
As you might expect, food in Luxembourg has a lot of French, Belgian, and German influence. Local delicacies are rooted in the country's farming background and feature a lot of potatoes, beans, meats, and cheeses.
Luxembourgish Food
In winter, the perfect dish to warm yourself is the bouneschlupp and gromperenzopp (green bean and potato soup) – a hearty soup of local vegetables and topped with smoked bacon or spiced sausages. In the autumn, a delicious plum tart, quetschentaart is available in most bakeries. This is made from the ripened damsons harvested at the end of the summer, baked into a sweet pastry, and topped with sugar. Other varieties also have a sprinkling of cinnamon crumble.
Luxembourgish Wine & Schnapps
You should also sample another use of the damsons with a small sip of the strong damson schnapps!
Luxembourg also produces a sparking wine called crémant, which is exclusive to this region of Europe. It is similar to champagne, but without the higher price tag, despite being produced in the same way. There are also other wines produced in the beautiful Moselle Valley. Luxembourg wine production is very niche, but well worth exploring. The best way to do it is with on a wine tour departing from Luxembourg City.
This wine tour is well-recommended and also includes a visit to the folk museum, Musée "A Possen', in a small village in the Moselle Valley region outside the city, it is a perfect place for a wine tasting. If you want to stay within the city center there is a wine tour doing just that as a wine and walking tour.
Where to Stay in Luxembourg City
If you plan to spend a night or two in Luxembourg City, there are fantastic options for every price range.
If you're after a luxury hotel, then there's no place better than Hotel Le Place d'Armes. Click here to book your stay.
For something comfortable, but not too pricy, then the City Hotel is a good choice. Click here to book your stay.
And lastly, if you're backpacking on a budget, then the Youth Hostel Luxembourg City is for you. Click here to book your stay.
What to Pack for Luxembourg City
People in Luxembourg tend to dress very classically, with a hint of the French crisp style and the Belgian casual vibe, though the season of your visit to Luxembourg City will help determine what you need to pack!
Of course, summer is warmer in Luxembourg City, and you can dress as you would in France or Germany. But as expected in Western Europe, the winter is very cold. Always bring a beautiful coat in winter!
Here are a few top tips of what to wear in Luxembourg:
Quick Luxembourg City Travel FAQS
What is the official language of Luxembourg?
The official language of Luxembourg is Luxembourgish. French and German are also widely spoken as one of three official languages. It was actually only in 1984 that Luxembourgish became the official national language.
What is the population of Luxembourg?
As of 2023, the population is 655,346, making it one of the least populated countries in Europe. Luxembourg City is home to a large part of the population with around 129,000 inhabitants.
What is the currency in Luxembourg?
As part of the Eurozone, the national currency is the Euro. Luxembourg is also the home to the village of Schengen, which is where the original Schengen agreement was signed in 1985, signifying the start of free movement around Europe and the European Union.
Is Luxembourg worth going to?
Luxembourg City is a great place to spend an easy relaxed weekend trip. Explore the museums and enjoy relaxing in cafes. It is a beautiful city with pretty old streets, canals, and historical architecture including a UNESCO World Heritage Site.
What are some quick phrases to know in Luxembourg City?
Hello = Hallo. Goodbye = Äddi. Thank you = Merci.
Is there anything interesting in Luxembourg?
Le Chemin de la Corniche is known as Europe's most beautiful balcony and is worth visiting as part of your Luxembourg itinerary. This part of the city is also incredibly pretty and walking distance from some of the best sights to see in Luxembourg City.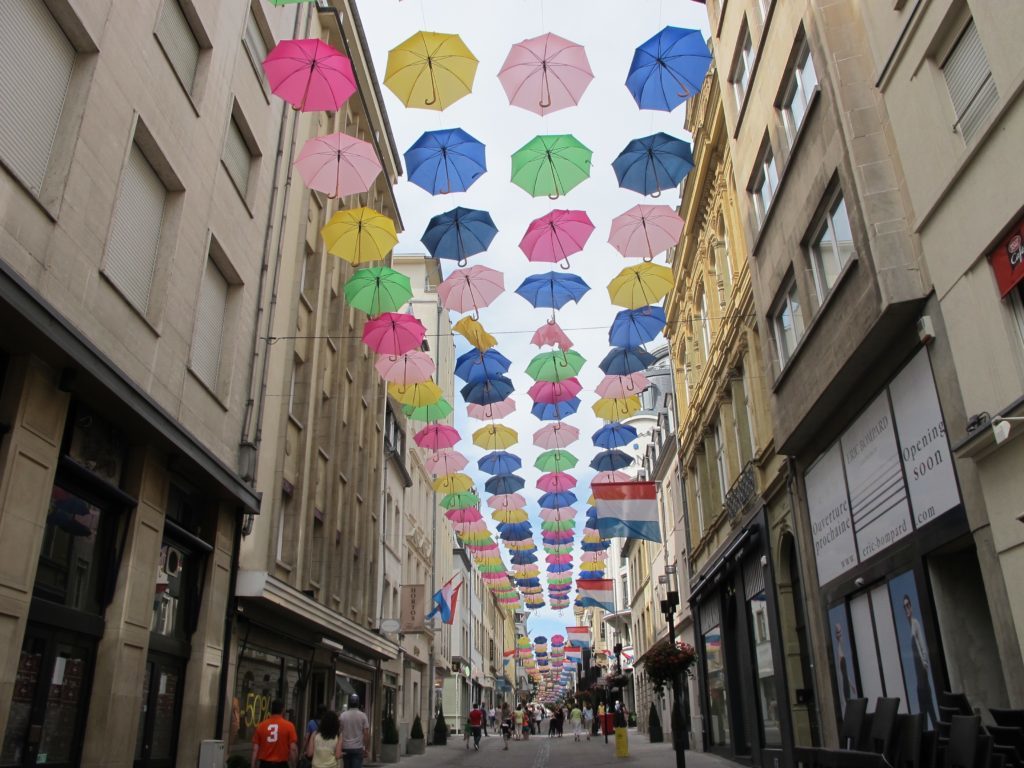 Final Thoughts: So, is Luxembourg City Worth Visiting?
This capital city isn't your typical one. No, my friend, it's not like Paris or Rome. It's tiny, quaint, relaxed, and oh, so beautiful. But the question remains: is Luxembourg City worth visiting?
Here's my conclusion.
If you're driving between France, Belgium, and Germany, you might have to pass through Luxembourg. Given the chance, you should absolutely stop in Luxembourg City for a day or two (make sure to CLICK HERE for great deals on accommodation.) And if you have some time for a day trip from another nearby city, grab that train ticket and go!
The choice is all yours, but I vote YES! Luxembourg City is worth visiting.
Quick Luxembourg City Tips
So what do you think? Have you been before? Do YOU think Luxembourg City is worth visiting? Let me know in the comments below!