If you're like most people, then you probably know little, to nothing, about Luxembourg and its capital city. But if you're visiting Western Europe, and you're ready to stray off the beaten path, you might consider a trip to this teeny tiny country. Two questions might come to mind, though: Is Luxembourg City worth visiting? And if it is, why?
Let's find out!
Luxembourg City/Tilemahos Efthimiadis
Is Luxembourg City worth visiting?
During a fiasco with a notorious low-cost airline that left us stranded in Belgium for six extra days, we had plenty of time on our hands. So after exploring Brussels, Bruges, and Antwerp, we headed southeast by train for a day trip to Luxembourg City.
Unlike the capital cities which surround it (Berlin, Paris, and Brussels), Luxembourg City is often overlooked and unknown by tourists. If you plan to stay in Luxembourg for a day or two, or if you're just passing through, then the medieval capital city of Luxembourg will be the perfect place to make a stop.
In short, Luxembourg City is absolutely worth visiting.
Read on to find out why…
Old town Luxembourg City/BriYYZ
What to Do in Luxembourg City
Simply wandering around on foot is the best way to experience Luxembourg City. Between its impressive fortress walls, Old Town quarter, narrow alleyways, endless greenery, and its charming canals, Luxembourg is a medieval gem to behold.
Much like the medieval Czech town, Český Krumlov, visiting Luxembourg City is more about wandering, taking in the beautiful views, and soaking it all in. Luxembourg City is a place to appreciate history and the convergence of many European cultures, snap some photos, and drink a few beers in the sunshine.
There aren't any "must-see" items to check off of your list; rather, you should take the entire city for what it is as a whole. However, if you have plenty of time to spare, there are a few attractions in Luxembourg City worth seeking out.
Reflection of Luxembourg City/nate2b
Luxembourg City attractions
Le Chemin de la Corniche is known as Europe's most beautiful balcony. Walk along this charming promenade to savor the breathtaking views of Barrio Grund and the Alzette and Pétrusse Rivers in the gorge below.
The Barrio Grund is Luxembourg City's oldest quarter; settlement here began in the 10th century. This fortified city is known as the "Gibraltar of the North" and served as a stronghold against attackers through the centuries, until 1867. Today, Barrio Grund is a UNESCO World Heritage Site.
The Passerelle is the city's old, arched bridge, constructed between 1859 and 1861. Because of its stunning, but uneven landscape along the Pétrusse Valley and two rivers, Luxembourg City features many bridges, complete with panoramic views of the very green city.
The National Museum of Art and History has something for almost anyone. If you're into archaeology, European history, fine art, or coin collections, this museum is worth a look around.
The Notre Dame Cathedral, which beautifully combines Renaissance and Baroque styles of architecture, was constructed between 1613 and 1621. Housing detailed stained-glass windows, intricate religious paintings and sculptures, and impressive pillars decorated in arabesque designs, this cathedral is a nice sight to see.
The Luxembourg American Cemetery Memorial is a popular attraction among American tourists in Luxembourg City. Across 17 acres of lush green grass, 5,076 fallen American soldiers – most of which died fighting in the Battle of the Bulge – lay to rest, honored with white cross gravestones and a powerful Eisenhower quote.
Where to Stay in Luxembourg City
If you plan to spend a night or two in Luxembourg City, there are fantastic options for every price range.
If you're after a luxury hotel, then there's no place better than Hotel Le Place d'Armes. Click here to book your stay.
For something comfortable, but not too pricy, then the City Hotel is a good choice. Click here to book your stay.
And lastly, if you're backpacking on a budget, then the Youth Hostel Luxembourg City is for you. Click here to book your stay.
Why visit Luxembourg City?
1) It's gorgeous. You won't find a shortage of stunning vistas, interesting landscapes, or beautiful architecture in this capital city.
2) It's seen a lot of history. You'll find fascinating museums, incredibly old buildings, historic monuments, and cemeteries throughout Luxembourg City.
3) It's not very touristy. Like we stated earlier, most people don't even consider Luxembourg City as a travel destination, so it's never too packed with tourists.
4) It's a convenient stopover when passing between France, Belgium, and Germany.
5) It's easily walkable.
6) There are cute cafés and restaurants aplenty.
7) You'll feel as if you've gone back in time with Luxembourg City's narrow alleyways, cobblestone streets, and centuries-old structures.
8) You'll be able to say something that billions of others can't: "I've been to Luxembourg City!"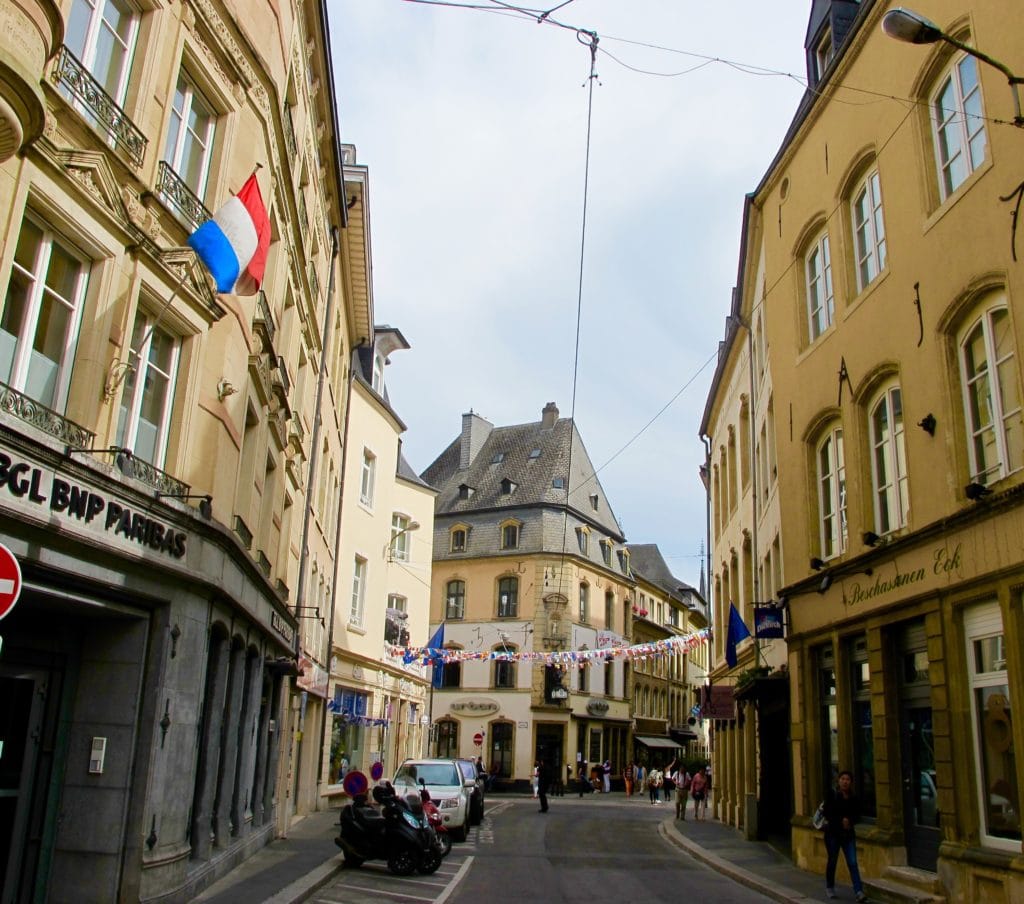 Quick facts about Luxembourg:
Official language: Luxembourgish
Country population: 562,958 (as of 2015)
Capital population: 110,499 (as of 2015)
Currency: Euro
Neighboring countries: Germany, France, Belgium
Quick phrases to know:
Hello = Hallo
Goodbye = Äddi
Thank you = Merci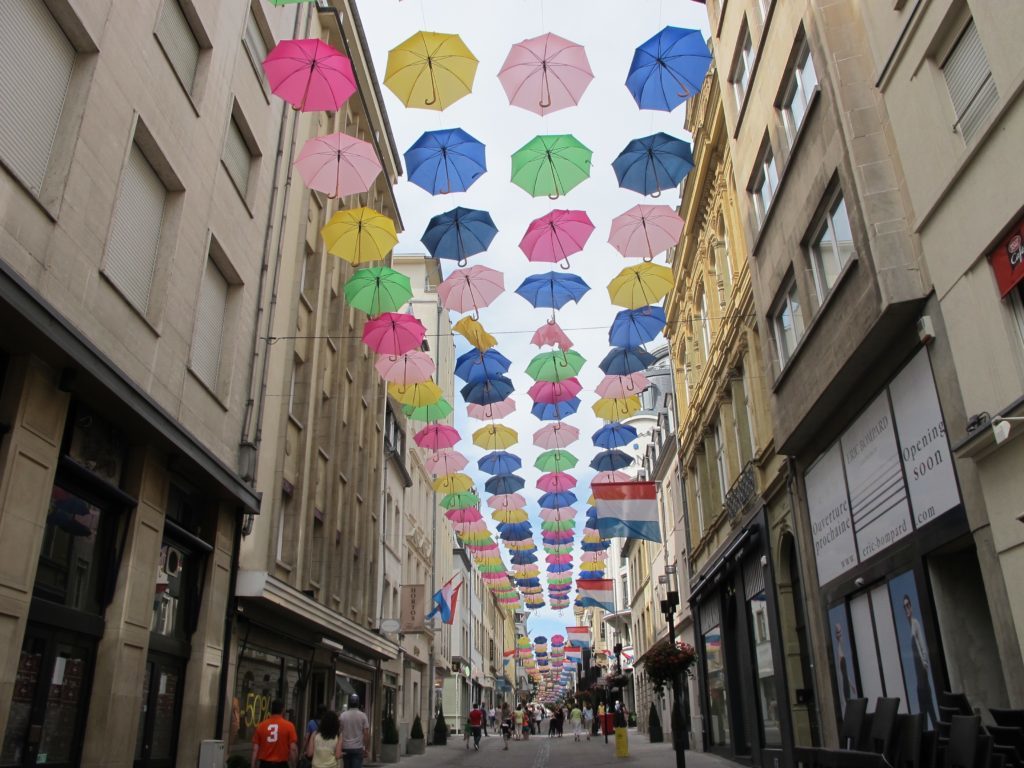 Is Luxembourg City Worth Visiting?
This capital city isn't your typical one. No, sir, it's not like Paris or Rome. It's tiny, quaint, relaxed, and oh, so beautiful. But the question remains: is Luxembourg City worth visiting?
Did you know…
When you book travel or purchase something through our links, we receive a small commission, at no extra cost to you? Your support enables Maddy's Avenue to keep producing helpful travel content. Thank you!
Here's our conclusion.
If you're driving between France, Belgium, and Germany, you might have to pass through Luxembourg. Given the chance, you should absolutely stop in Luxembourg City for a day or two (make sure to CLICK HERE for great deals on accommodation.) And if you have some time for a day trip from another nearby city, grab that train ticket and go!
The choice is all yours, but we vote YES! Luxembourg City is worth visiting.
So what do you think? Have you been before? Is Luxembourg City worth visiting